Everywhere you turn in the air rifle world, you can hear the buzz around the Benjamin Trail NP2.
Crosman has put a lot of effort (and money) into marketing the Benjamin Trail series which features Nitro Piston 2 Technology.
They promise less cocking effort, less vibration, less cocking force, less noise, a crisper trigger and the most important thing: accuracy.
Sound too good to be true?
Is this gun overhyped? 
In this review, we will take a closer look at the rifle Crosman has been bragging about.
Gun Type
The Benjamin Trail NP2 is powered by all-new nitro piston technology, generation 2. 
(For more on How nitro piston technology can make your gun sport more exciting, see this post)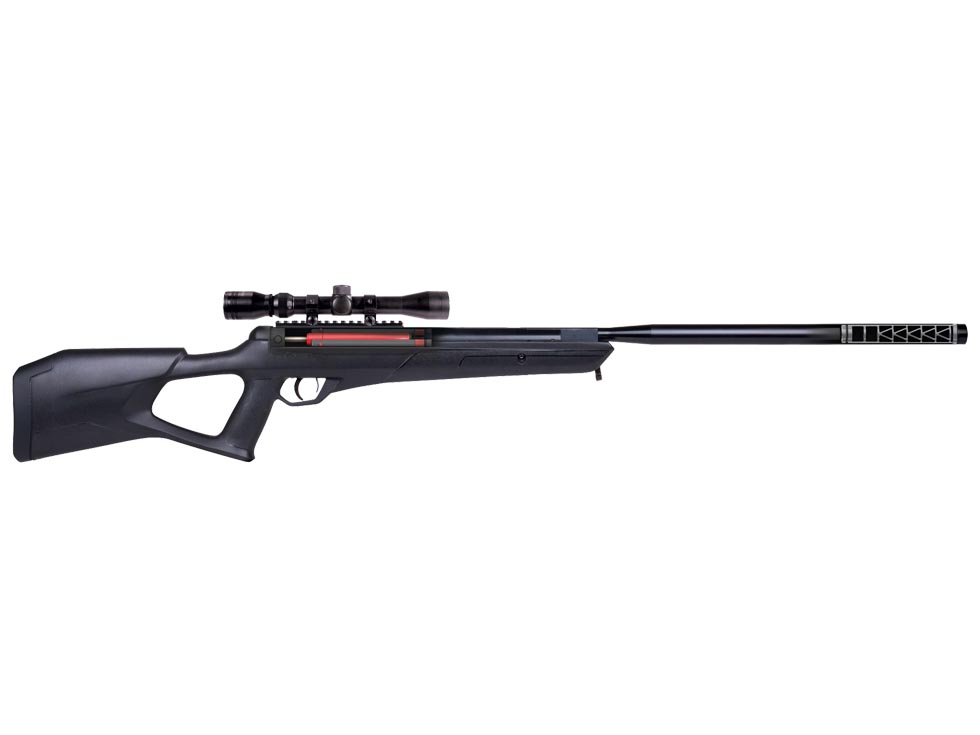 Check out how the Nitro Piston 2 was made: 
They have different stations for building different parts of the NP2 air rifle.
Starting with the piston, the first step in assembling the piston is putting the piston head (or crown) inside of the base,
And then they have a rubber bushing on top of that.
Then they put on the piston and bolt it down.
Next, they move it to another base where they have a neat little tool that puts the piston seal for them.
After they remove that, they take the real things (or the piston skirt button as we always call them)
And they install those and we have an assembled piston.
Next is the gas ram and putting the end cap on.
Then they move to the trigger assembly station where the trigger housing comes with the primary seal and the trigger weight is predetermined. 
The Nitro Piston 2 has so many advantages over the original Nitro Piston and almost every other gas spring air gun on the market.
Most gas springs have the reputation of being hard to cock, but the NP2 put an end to that by reducing the cocking effort up to 10 lbs.
According to air gun godfather Tom Gaylord, this is the easiest cocking gas piston he's ever shot.
Moreover, NP2 is 15% faster and doubles the effective shooting range.
This gun really over-delivers on what you demand of an air gun.
The Benjamin Trail NP2 is available in both .177 and .22 calibers.
While .177 is a popular and perfect choice for target shooting,
.22 is the king of hunting and is the go-to caliber for hunters and pest eliminators.
(For more on the differences between .177 & .22 and which jobs they do best, see this post.)
Besides, this gun is a single–shot break barrel gun so you can only shoot once at a time.
After the first shot, you have to break the barrel to manually reload the pellet.
Single-shot guns make you a disciplined shooter:
You have to make your first shot count since you have only 1 chance to hit the animal or target.
The barrel is rifled with helical grooves inside the bore to make a pellet spin.
Spin stabilizes the bullet, improves accuracy, and enhances its shooting range.
Furthermore, the barrel is shrouded i. e. it has a jacket enclosing the barrel A
nd containing the violent release of compressed air from the muzzle.
It lets the pellet escape but forces the air to use up as much of its energy before it leaves the shroud, thus reducing the noise.
(For more on things you should know about air rifle barrels before buying, see this post.)
Benjamin Nitro Piston 2 Stock
The stock is black synthetic.
Unlike wooden stock which is heavy and easily affected by weather, synthetic stock is lighter and works perfectly in any outside condition.
Additionally, the modern synthetic stock is robust, durable, and easy to stand the rigor of field use,
So it's best for hunters and for pest eliminators who live in fickle weather.
(For more on the in-depth comparison between synthetic and wood stock, see this post.)
This gun has a thumbhole in the stock
So it provides a more relaxed grip on your wrist by resting the stock on your wrist as opposed to holding up the stock with your hand.
The thumbhole stock is best for hunters and shooters who spend lots of time in a shooting position, such as bench-rest shooting.
Ammo
The Benjamin Trail NP2 uses .177 and .22 pellets as its sources of ammunition.
As you can see from different e-commercial sites, the .177 pellet is cheap, easy to find, and very popular among target shooters.
On the other hand, .22 pellets have more stability in their trajectory than .177 pellets so you can shoot it under windy conditions.
Besides, .22 hits targets with serious authority and often gets the job done in one clean shot,
So you can handle every nuisance in your backyard or bring home dinner after a hunting session.
(For more on how to choose the right air gun caliber for your game, see this post.)
Sight
This gun doesn't have a traditional open sight: No front sight, no rear sight.
Instead of an iron sight, you have a 3-9 x32 Center point scope for more precision in the shooting.
32 is the diameter of the front lens, measured in millimeters.
3-9 is the magnification power of the scope.
It means that the scope magnifies the picture 3 to 9 times bigger than the image you see without it.
Having this variable power scope gives you confidence in long-range shooting and a successful hunting day is within your reach.
(For more on how many types of air gun sights are out there and which one is suitable for you, see this post.)
The rail is manufactured in Picatinny style.
A Picatinny rail is almost identical to the weaver rail, except it has a series of ridges located at precise intervals along the rail.
This type of rail gives you lots of benefits:
You have more mounting options and you can swap scopes from one gun to another and use different scopes in one air rifle as well.
And yes, no more worrying about tube length, eye relief, etc since you can place scope rings any place you want.
Cocking and Loading
Cocking the gun:
First, put the gun ON SAFE, hold the gun by your side, then firmly tap the muzzle end to expose the breech.
Let the gun rest on your upper thigh and grasp the muzzle end.
Continue to pull the barrel down to its limit to perform cocking action.
Loading the pellet:
With the breech is opened after cocking, put the pellets (with the pellet's nose lying forward into the breech).
Then pull the barrel up to its original position until it locks and you are ready to fire.
Velocity, Power and Accuracy
In .177 caliber, Benjamin Trail NP2 delivers up to 1400 FPS with alloy pellets and up to 1150 FPS with lead pellets.
In .22, this break barrel rifle gives you 900 FPS with lead and 1100 FPS with alloy.
This is a high-end velocity compared to other air guns on the market so this is the rifle you want to use in long-range shooting.
For Crosman Benjamin Trail NP2, various shooting tests have been conducted by different shooters with positive results.
The common shooting groups are:
1"- 1 1/2″ at 40-50 yards,
1" at 30 yards,
3/4″ at 12 yards,
5/8" at 30 yards,
1/2″ at 30 yards,
1/4″ at 25 yards,
1/2″ at 25 yards,
nickel size at 25 yards,
dime size at 20 yards,
1" at 75 feet,
2" at 50 feet,
dime size at 30 yards
and 1/4″ at 25 yards.
Some gunners can even get:
the same hole at 20 yards,
5×5" target at 50 yards,
bull eyes at 30 yards, 
1" at 45 yards,
1/4″ at 50 yards
and hit a cigarette lighter.
As you can see, this is an extremely accurate gun w up to 50 yards.
This nitro piston gun kills a dove at 45 yards, drops squirrels at 20-25 yards, and hits big birds (turkey/seagull/waterfowl) at 80 yards,
So it's the gun that hunters and pest eliminators can use to deal with varmints and small animals.
(For more on the best air rifle for squirrels, see this post)
Watch as AirGun Man, Glenn Elliott, the host of "Pellet Gun Turkey Hunting Television" gets the new Benjamin Trail Nitro Piston 2 air rifle in .22 caliber from Jason Douglas of Crosman, sights it in, and then takes it on 2 successful Spring 2014 Northern California Turkey Hunts including the harvest of a record size Gobbler with a giant 12″ beard at an up-close 3 steps from the blind:
Noise
The advanced technology of Nitro Piston Technology makes this gun very quiet.
Despite being a supersonic gun, it has hundreds of customer reviews without a single complaint about noise
So you can use this gun in the backyard without worrying about disturbing your neighbors
Or you can bring it to the hunting field with a high level of stealth.
Trigger
The Benjamin Trail NP2 features an all-new, enhanced two-stage trigger called CBT (Clean Break Trigger).
Crosman has put lots of effort into this trigger so it feels like it's been tuned. Imagine a factory trigger that breaks crisp and clean.
It has a significantly lighter trigger pull, not one of those so-called "lawyer" triggers that require Thor's strength to shoot.
Shooting range and intended use
The effective shooting range of Benjamin Trail NP2 is 50 yards.
You can use this gun for target shooting, plinking, pest control, and small-game hunting.
Accessories
This gun includes a 3-9×32 Centerpoint scope and mounts (unmounted) as its accessories.
Maintenance
Benjamin Trail NP2 requires little maintenance:
Just make sure you tighten all stock fasteners, check the scope mount, and oil the gun every 20 shots and it will have a long lifespan.
Warranty
As of this date, the Benjamin Trail NP2 has a one-year limited warranty from the date of purchase
Specification
Caliber: 0.177 and 0.22
Velocity: For .177: Up to 1150 FPS with lead and 1400 FPS with allot/ For .22: Up to 900 FPS with lead and 1100 FPS with alloy
Loudness: 2-Low
Barrel Length: 15.75"
Overall Length: 46.25"
Shot capacity: 1
Cocking effort: 28 lbs
Barrel: rifled
Front Sight: None
Rear Sight: None
Scopeable: Weaver/Picatinny
Buttplate: rubber
Suggested for: target shooting/pest control/ small game hunting
Action: Break barrel
Safety: Manual
Powerplant: Gas-piston
Function: single-shot
Body Type: rifle
Weight: 8.3 lbs without scope – 9.8 lbs with scope/mount.
Special note: This gun is assembled by American workers in Crosman's manufacturing headquarters in Bloomfield, New York.
Customer Reviews
There are lots of customer reviews about this break barrel rifle.
Positive reviews show that people love this gun for its high-end power, awesome technology, great design, smooth trigger, and little recoil.
On the other hand, negative reviews mostly complain about defective features during the manufacturing process.
Most buyers think that this gun deserves a better scope for hunting although the scope that comes in the package is just fine for target shooting and plinking.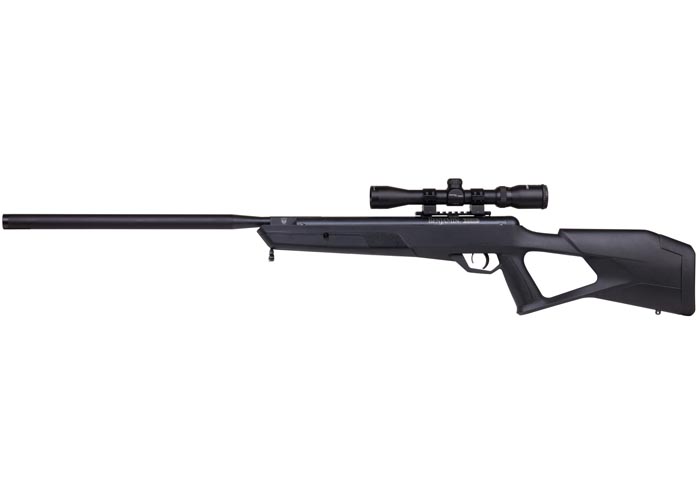 Pros
Advanced technology
Superb power and accuracy
Quiet and recoilless
Crisp , predictable trigger
Fantastic stock with ergonomic thumbhole
Easy to cock and simple to use
Longer shooting range
Made in the USA
Cons
A little bit heavy for young shooters with weak arms
Deserve better scope for hunting
Price
The price for this air rifle is about 200 dollars.
It's a bargain if you consider all of its advanced technology, fantastic craftsmanship, jaw-dropping power, hair-splitting accuracy, and minimum recoil.
Conclusion
Benjamin Trail NP2 is a rifle that will take you to the next level in shooting sports.
It's high-tech, accurate, robust, recoilless, hard-hitting, and easy to handle.
It's incredibly friendly for young shooters and powerful enough to please the most demanding shooter.
I highly recommend it for shooters and hunters who want to experience the thrill of Nitro Piston 2 technology.