The Crosman Recruit .177 air rifle shares lots of similar features with its brother, the Crosman 760 Pumpmaster.
These are in the powerplant, design, scope, loading mechanism, and its double function.
However, it does have some unique characteristics that Crosman 760 doesn't have and you will find out all in this thorough review.
Crosman Recruit .177 – Gun type
This is a variable pump air rifle.
(For more on the 5 types of air rifles you need to know before buying, see this post.)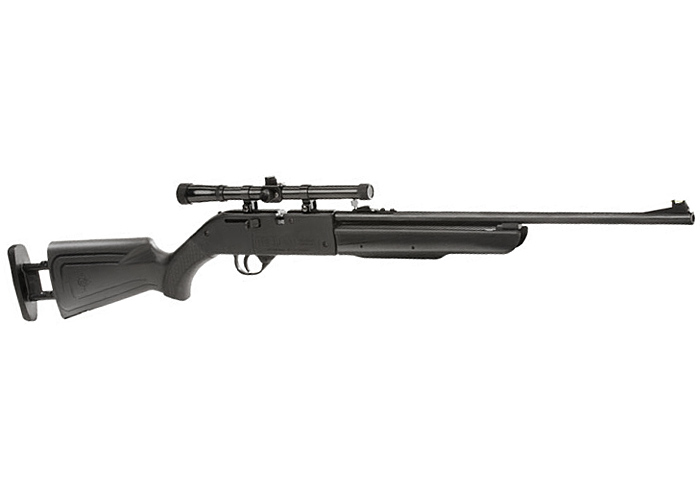 The caliber of Crosman Recruit (the internal diameter of the barrel) is .177 inches (4.5 millimeters).
(For more on how to choose the right air gun caliber for your game, see this post).
The barrel is smoothbore which means that it doesn't have helical grooves inside like the rifled one.
Smoothbore rifles are best for shooting BBs
Because they provide an easy path containing little friction for a BB in the way it travels toward the target.
Crosman Recruit is a repeater air rifle.
Unlike single-shot guns that make you reload every time you want to shoot a single pellet,
Repeater guns allow you to shoot more shots in a given time without bothering the loading action much.
The result? You have more fun in less time. 
Stock
The stock is made of synthetic material.
Synthetic stock is more lightweight than hardwood stock.
In addition, it's more resilient to weather conditions.
If you live in a hot and humid place, a hardwood stock can expand and contract due to the outside temperature.
You cannot shoot accurately with a gun like that.
However, the synthetic stock is not affected by moisture and temperature.
For more on the in-depth comparison between synthetic and wood stock, see this post.
The stock features non-slip checkering in the grip.
It increases friction between the shooter's hands and the grip, adds stability to your arms when aiming, and improves accuracy.
In addition, the stock is ambidextrous.
There is no difference if you are a left-handed and a right-handed shooter.
What I love about this gun is its distinguishing characteristic:
The length of pull (the distance from the middle of the trigger to the end of the buttstock) can adjust from 12.25" to 14" .
As a result, the stock is adjustable from 36.5" to 38.25". It is suitable for shooters from 4' tall to 6' tall.
If your 8-year-old daughter or son is quite small, the special stock will allow them to reach the trigger with ease.
If you want a present for your 21-year-old nephew, this gun is a perfect gift for him no matter what size he is.
Ammo
Crosman Recruit is a dual ammo gun which means that you can use both BBs and .177 pellets with it.
It is really awesome if you think about the upkeep cost of ammo.
BBs are damn cheap: you just have to pay a few bucks for thousands of high-quality BBs.
And .177 pellets are inexpensive too, compared to .22 or .25 pellets on the market.
Therefore, you can save a lot of money on ammo by using this gun.
For more on the differences between .177 & .22 and which jobs they do best, see this post.
Being a double-function gun, Crosman Recruit gives you unique advantages:
Now you have the fun of a BB gun and a thrill of a pellet gun combined in one place.
What's more? Your kids can grow up with this gun!
You teach them the fundamentals of marksmanship with BB ammo,
Then when your children master the basics, you can teach them how to shoot a pellet gun without spending money on another rifle.
Velocity, accuracy and power
For 10 pumps, the maximum velocity is up to 680 FPS (207.26m/s) with steel BBs and up to 645 FPS with .177 pellets.
This air rifle has medium velocity compared to other pellet guns but it has high-end speed compared to other BB guns.
For Crosman Recruit, various shooting tests have been conducted by different shooters with positive results.
The common shooting groups are 1/4" at 20 yards and 1/4" at 40 feet.
Most shooters have no problem shooting this gun in less than 100 feet range.
Thus, you can shoot up to 100 feet for maximum performance.
With this air rifle, you will have hours of fun plinking targets.
Common objects such as soda cans, shaving cream bottles, glass bottles, etc don't stand a chance of not getting blown up.
In addition, Crosman Recruit can penetrate through 10 cans at a time so it has more than enough knockdown power to deal with small pests.
Now you can get rid of those annoying critters around your house such as crows, chipmunks, pigeons, peacocks, rabbits, and so on.
Cocking and loading
Loading BB:
First, you put the gun ON SAFE, and locate the BB loading port on the left side of the gun.
Then you push the loading port cover rearward to open the port.
Pour BB only into the reservoir (the reservoir can hold up to 200 BBs at a time).
Move the cover forward to close the port. Pull the BB retainer button back.
After that, point the barrel straight down.
Shake and twist the gun to fill the visual magazine (the magazine can keep up to 18 BBs ).
Push the BB retainer button back to keep the BBs in the magazine.
Next, position the pellet clip so that the bolt lines up with one of 5 pellet chambers and you're done.
To shoot BBs:
Tilt the barrel downward, pull the bolt all the way back, and then push it all the way forward.
The magnetic bolt will pick up a BB automatically and you are ready to shoot.
Loading pellets:
Crosman Recruit has a fast-loading pellet clip that holds up to 5 pellets at a time.
To load the pellet into the clip, place a pellet (with the pellet's nose pointing forward) into one of 5 chambers.
It's best to put the pellet's skirt level or slightly over the rim of a pellet chamber to avoid jamming
To shoot pellets:
Move the bolt rearward.
Insert the pellet clip right into its place.
Each time you shoot one pellet, you move another one over for the coming shot.
When the clip is empty, reload it and add another 5 pellets.
Cocking the gun:
Point the gun in a safe direction.
Hold the forearm firmly and open it all the way until it stops.
Return the foregrip to its position and you just pump the gun 1 time.
You should pump this gun at least 3 times but no more than 10 times to achieve the best results.
Sight
The sight of Crosman Recruit is far more than you can expect from a BB/pellet gun.
The rear sight is fully adjustable for windage (allowing you to adjust the sight left and right)
And for elevation (allow you to adjust up and down).
But the most amazing thing is the bright, fiber-optic front sight.
In case you don't know what a fiber-optic sight is, here is a quick explanation:
A fiber-optic sight is the use of optical fiber for the dots.
It gathers and channels ambient light to the rear sight in a way that it's brighter than the dark surroundings.
Fiber optic sight is a huge advantage when you shoot in low-light conditions and it provides more accuracy in normal circumstances.
For more on how many types of air gun sights are out there and which one is suitable for you, see this post.
As if the fiber optic sight is not enough for an average shooter to get a tight shooting group, Crosman adds a 4x15mm scope in the package.
This scope gives you more confidence in shooting, although a fiber-optic sight is more than enough in my opinion.
Loudness
Crosman Recruit is a quiet gun you can use in your backyard.
It has hundreds of online reviews without a single complaint about noise.
Thus, you don't have to buy hearing equipment to use it or worry about your neighbor reporting a gunshot.
Shooting Ability
The effective shooting range for Crosman Recruit is up to 30 yards.
It is suggested for backyard bench shooting, fun plinking, and target shooting.
Specifications
Caliber: .177 (4.5mm)
Powerplant: variable pump
Barrel: smoothbore
Ammo: BB and .177 pellet
Stock: Synthetic, adjustable
Front sight: fiber optic
Rear sight: fully adjustable for windage and elevation
Optic: 4×15 Scope
Scope Rail: 11mm dovetail
BB reservoir capacity: hold up to 200 BBs
Pellet clip capacity: hold up to 5 pellets
Safety :Manual
Velocity: up to 680 FPS with BB, and up to 645 FPS with pellet
Cocking effort: 3-10 pumps
Weight: 2.93 lbs
Overall Length: 39"
As you can see, the Recruit weighs only about 3 lbs so you can rest assured that your kids can handle this gun with ease.
Pros and Cons
Pros
Cons

Unbelievably cheap
Awesome BB/pellet repeater
Extremely cost-effective in long term
Astonishing adjustable stock
High velocity
Impressive power and accuracy
Excellent iron sight
Decent scope
Made in the USA

Pumping action can be tedious
Require some practice to master the pumping action
Price
The price for this Crosman Recruit is just about $40.
It's so cheap if you consider that this gun is a double BB/pellet repeater.
The price of ammo like BBs and .177 pellets is also cheap, too.
You cannot find another BB gun on the market that is even close to this one.
There are a couple of different listings online with different prices but the listing I found with the lowest price is the cheapest price among online e-commercial sites like Amazon, PyramydAir, Walmart,etc.
Warranty
As of this date, the Crosman Recruit air rifle has a one-year limited warranty from the date of purchase
Customer review
The Crosman Recruit has lots of positive reviews on the biggest commercial sites like Amazon, Walmart, and Pyramydair.
People who rate it 4 and 5 stars love its lightweight, double function, amazing sight, and scope.
They also find it so fun to shoot with their families.
Still, there are some negative reviews about Recruit.
Those reviews belong to people who find it below expectations.
They said that the stock is a joke and the gun does not consist of lots of metal as they expect.
I mean, come on, this gun is only $40, if it has more wood in the stock, the price definitely will go up.
Conclusion
The Crosman Recruit air rifle is a wonderful gun for the money.
It offers a whole lot more than you can expect from a $40 gun.
It's super cheap, lightweight, fun to shoot, cost-effective, and easy to hit the bulls' eye with.
This rifle is a great gun for beginner shooters, the best gift for kids who can grow up with it,
And a fantastic which gun families can enjoy together.