The beast has arrived!
The elephant of break barrels!
The Hatsan 135 Vortex.
Even the Godfather of air guns, Tom Gaylord, is intrigued by its jaw-dropping caliber!
There are only a few ways to describe this airgun:
From its amazing ratings to the new impressive .30 big bore, this pellet gun is certainly here to stay
And is surely going to give all other air guns a run for their money.
Gun Type
The Hatsan 135 QE Vortex is a gas piston-powered gun.
A gas-powered gun works the same as a spring-powered one; however; in this case, the coiled spring in the chamber is replaced with a gas strut.
The air in the strut is already compressed and when the gun is cocked, more pressure is applied to it.
The pressurized air is kept under tension until the trigger is pulled.
When the gun is fired, the pellet is propelled downrange in the barrel due to the propellant force from the compressed air.
A gas piston rifle has no spring fatigue or spring torque, even if left cocked for hours.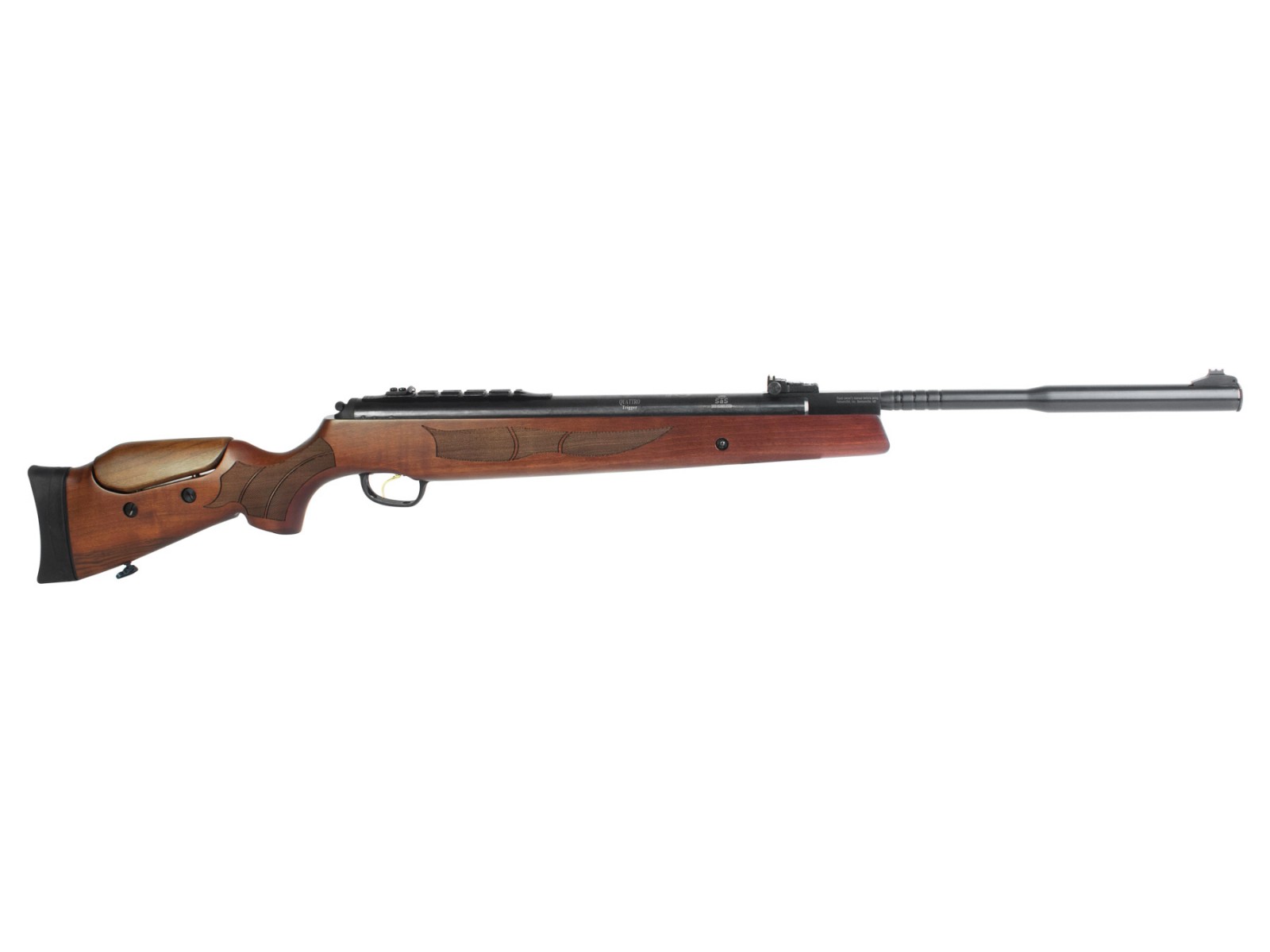 It provides you with smoother cocking and shooting and still less recoil.
It also functions perfectly in low temperatures than when shooting in spring.
The gas piston can be affected by harsh weather conditions and lasts longer than the metal spring.
Want to know more about the differences between gas piston, spring piston, and other types of air guns like PCP or CO2? Click here!
Hatsan 135 QE Vortex air rifle has a caliber (the internal diameter of the bore) of:
.177(4.5 millimeters),
.22(5.5 millimeters),
.25(6.35 millimetre) and
.30 (7.62 millimeters).
(For more on how to choose the right air gun caliber for your game, see this post.)
Hatsan 135 QE Vortex is a break-barrel gun.
In order to cock it, you need to pull the barrel downwards while holding the gun upwards.
You then insert the pellet and swing it back to its natural position.
The first few times may seem difficult but after a couple of practices, you'll be able to work it perfectly.
Break barrel guns give you unlimited shooting capacity.
You can shoot thousands of rounds without worrying about running out of gunpowder.
Also, the Hatsan 135 QE is a single shotgun, which means you can only shoot one pellet at a time.
After each pellet is hot, you'll have to manually cock it and insert another pellet.
Single-shot action gives you control over what type of pellet you want to shoot and how you want to shoot it.
It also improves your shooting skills because you'll always want your first shot to count.
Stock
The stock on the Hatsan 135 QE is made of beautiful Turkish walnut.
It has a beautiful, even matte finish all over.
Both sides of the forearm and pistol grip are generously checkered with fine diamonds that provide a decent grip.
The comb is adjustable for height and the rubber butt SAS (shock absorber system) plate adjusts up and down.
This rifle offers an impressively wide range of ergonomic adaptations for fit.
The forearm is square-sectioned, and this allows it to be thin enough for a good hold while also being deep enough for great strength.
(For more on the in-depth comparison between synthetic and wood stock, see this post.)
The stock is 99 percent ambidextrous, which allows for both right and left-handed folks to use it comfortably.
The automatic safety button is located at the center of the spring tube end cap.
However, the forward sling swivel favors the right-handed a bit because it comes from the factory on the left side of the stock.
Furthermore, it appears that it could be switched to the right side easily enough.
The rear sling swivel is centered at the bottom rear of the butt.
Still, though, this rifle should be equally comfortable for both left and right-handed shooters.
Ammo
Since it can hold four different types of calibers, Hatsan 135 QE Vortex has four types of ammo for each caliber:
.177 cal uses .177 pellets,
.22 cal uses .22 pellets,
.25 cal uses .25 pellets
And .30 cal uses .30 pellets.
.177 pellets are lightweight, popular, and very cheap, which makes them cost-effective and suitable for plinking and target shooting.
The .22 pellets are heavier than the .177 pellets
And can produce more downrange knockdown power with a more stable trajectory (its path towards its target).
(For more on the differences between .177 & .22 and which jobs they do best, see this post.)
These features are suitable for field hunting and pest control.
The .25 pellets are heavier than .22, but they produce less velocity than .22.
If you're hunting small game, the .25 will surely take down critters with a single shot.
There isn't much difference with the .22.
However; if you're larger critters like raccoons, there is a substantial difference in placement and range
Because .22 requires a precise headshot while .25 can do the job with a chest shot.
The .30 pellets are the heaviest and slowest of the pack, and they produce greater knockdown power than the .22 and .25
Provided that the shooter is within the required range of the target.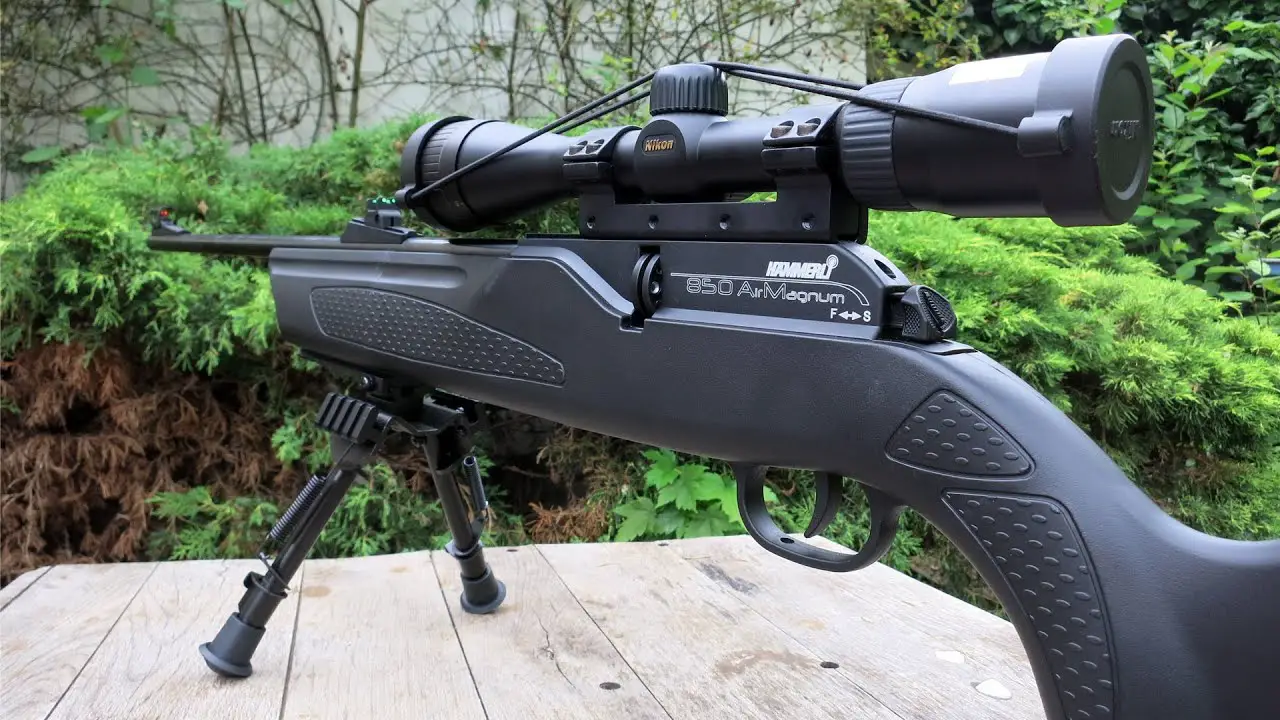 Sight
The Hatsan 135 QE Vortex has a very cool open-sight technology: the sights are fiber optics front and rear.
The front sight is a red TruGlo fiber-optic sight and it uses optical fiber for the dots.
This channels the ambient light to the rear sight in a way that makes your target brighter than the dark surroundings.
The rear sight is a green TruGlo fiber-optic sight and fully adjustable for windage (adjust it left and right) and for elevation (adjust it up and down).
Fiber optic sights are the brightest sights in the air gun industry. It provides greater sight contrast under diversified shooting circumstances.
This gives you quicker sight alignment, faster target acquisition, and a clearer view of targets.
Fiber optic sight is great for shooting in low light conditions and is a preferred model for hunting.
(For more on how many types of air gun sights are out there and which one is suitable for you, see this post.)
Although the fiber optic sight is more than enough for the desired accuracy, Hatsan has included a 3-9×32 Variable scope to provide more accuracy for every shot.
The diameter of the front lens is 32 and the magnification of the scope is 3-9.
This means that the image on the scope can be magnified 3-9 times for added shot clarity.
The variable scope gives you more accuracy and more confidence in long-range shooting. 
Scope Base:
Hatsan has had a reputation for producing a wonderful scope base for many years.
The base on the Hatsan 135 accepts both 11 mm airgun scope rings and Weaver rings because of its two-tiered design.
Hatsan 135 Trigger
The trigger on the Hatsan 135 is the Quattro trigger, an advanced gold-plated two-stage match trigger exclusive to Hatsan products.
This amazing trigger allows you to adjust the pull weight of the first and second-stage travel.
It also allows you to adjust the weight of the first-stage pulls to fit your custom needs.
Safety: a drop safety interlock device has been added to prevent the possibility of your air rifle firing when dropped whether the safety is on or not. 
Trigger Safety: a trigger safety device has also been incorporated to prevent accidents that might occur because of accidental discharges.
This ensures that the rifle is only fired when intended.
The trigger safety engages immediately once the gun is cocked back into place.
Cocking and Loading
To cock the gun, place the bottom of the stock on your lap and slap the barrel, pulling it down until it reaches its limit.
To load while the breach is open, put a pellet into the chamber, swing it back into its original position and you're ready to shoot.  
Velocity, Accuracy and Power
The velocity of the Hatsan 135 is 1,250 FPS with 0.177 caliber pellets, 1,000 FPS with 0.22 caliber pellets, and 750 FPS with 0.25 caliber pellets.
Many competitors use lightweight alloy pellets to improve their velocity ratings.
Hatsan, however, tends to be conservative with their velocity figures.
They, therefore, use lead pellets to avoid misleading information.
So you can be sure your rifle will deliver the ratings as shown on paper.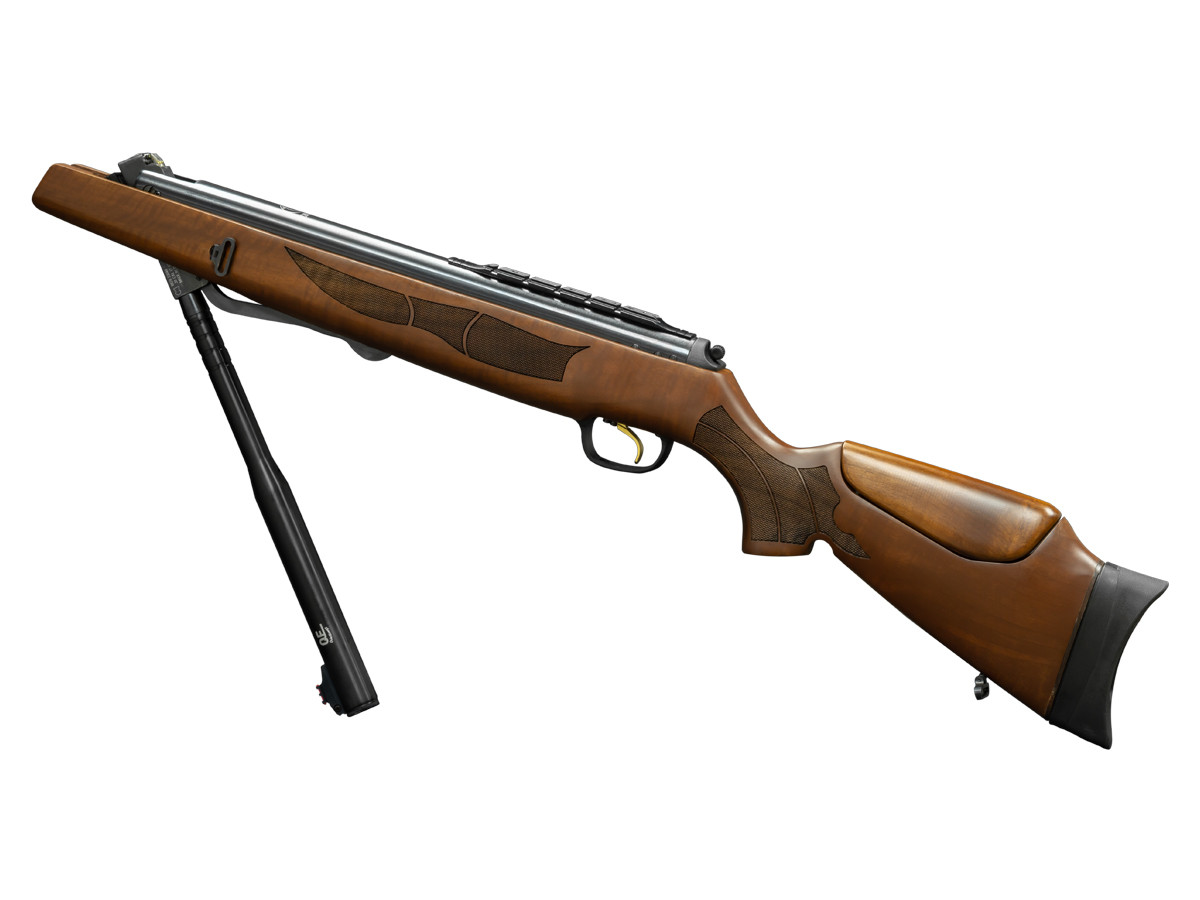 Chrony tests have given us the results as follows:
 With 0.25 Caliber Pellets
| | | | | | | | |
| --- | --- | --- | --- | --- | --- | --- | --- |
|     Pellet | Weight (in grains) |     Low     FPS |   High    FPS | Average    FPS | Extreme spread | Standard deviation | Muzzle           energy in foot-pounds |
| H&N Hornet | 23.16 | 749.2 | 751.4 | 750.8 | 2.28 | 1.00 | 29.00 |
| H&N Silver Point | 24.38 | 678.8 | 708.5 | 698.7 | 29.72 | 12.24 | 26.43 |
| H&N Crow Magnum | 26.23 | 683.6 | 698.7 | 690.7 | 15.04 | 5.38 | 26.43 |
| H&N Barracuda Hunter | 27.47 | 671.6 | 681.7 | 675.5 | 10.33 | 3.74 | 27.84 |
| Benjamin | 27.8 | 645.9 | 666.6 | 660.7 | 20.74 | 8.60 | 26.95 |
| H&N Hunter Extreme | 28.4 | 652.8 | 661.9 | 659.1 | 9.06 | 3.74 | 27.40 |
| H&N Barracuda | 31.02 | 628.2 | 642.1 | 636.9 | 13.93 | 5.56 | 27.95 |
| JSB Exact King MKII | 33.95 | 592.3 | 600.4 | 597.9 | 8.08 | 3.31 | 26.96 |
| JSB Exact King | 33.95 | 590.8 | 603.2 | 595.7 | 12.36 | 4.79 | 26.75 |
With 0.177 Caliber Pellets
| | | |
| --- | --- | --- |
| Pellet Name |       Weight In Grains | Distance In FPS |
| JSB Round | 10.34 | 975 |
| Hollow Point Crow Magnum | 9.57 | 1,004 |
| JSB Exact | 8.80 | 1,054 |
| RWS Hobby  | 7.00 | 1,344 |
| H&N Field Target Trophy | 5.56 | 1,515 |
In one of the tests, a Gamo 5.7-grain alloy pellet punched a hole right through a quarter. 
With .30 Caliber Pellets
| | | | | | |
| --- | --- | --- | --- | --- | --- |
| Pellet Name | Weight (in grains) | Low FPS | Average FPS | High FPS | Muzzle energy in foot-pounds |
| Predator Polymag | 31.2 | 628.2 | 636.9 | 642.1 | 27.95 |
| H&N Baracuda  | 44.75 | 553.6 | 554.2 | 556.1 | 30.5 |
| JSB Exact  | 50.15 | 533.1 | 534.1 | 537.1 | 31.75 |
With .22 Caliber Pellets
| | | |
| --- | --- | --- |
| Pellet Name | Weight (in grain) | Velocity in FPS |
| Barracuda Green Lead-Free Pellet | 6.60 | 928 |
| Super H-Point Pellet | 6.90 | 900 |
| Meisterkuglen Pistol Pellet | 7.00 | 850 |
| H&N Match Pellet | 7.10 | 830 |
Airgun Exploration did an intensive test on Hatsan 135 QE Vortex pellet gun here:
Noise
This rifle has a great reputation as a noise-reducing gun.
The silencer included has done a great job of minimizing the sound.
There are lots of customer reviews without a single complaint about the noise.
It's certainly suitable for backyard usage and urban areas as it won't be a nuisance to the neighbors.
Maintenance
The Hatsan 135 QE hardly requires lots of care.
You can take these precautions to make sure that your air gun remains as good as new:
Maintain your bluing:

The outer metalwork of your air gun has a finish known as bluing.
Make sure to always keep your rifle dry as this can rust not just by contact with water but even in a damp atmosphere.
Clean the dry surfaces with an oily rag; you can use WD40 or 3-in-1.

Get a rifle rest:

Buy or make a combined toolbox and rifle stand so that working on your gun is easier.
By having this type of support, both of your hands are free to work, which can prevent your rifle from falling due to fatigue. 

Preserve your gun:

Keep your guns away safely.
A gun cabinet is a great piece of furniture to safely store your gun in your home.
Having a gun cabinet will ensure the guns are dry so as to avoid rust and condensation.

Love your stock:

Your gunstock is probably the best bit of your air gun.
Oil-finished stocks should be oiled regularly to keep their appearance.
The wood needs to be dry and the stock oil should be applied by hand.
The heat from your hand warms the oil and helps it to penetrate the grain.
Lacquered stock can be protected using furniture wax or beeswax.
Shooting Range and Intended Use
The effective shooting range of the Hatsan 135 QE is up to 50 yards.
Many customer reviews have acknowledged the power it produces within the range.
This gun is suitable for small-game hunting, pest elimination, and target practice.
(For more on the best air rifle for rabbits, see this post)
Warranty
As of this date, the Hatsan 135 QE has a one-year limited warranty.
Hatsan 135 QE specifications
Caliber: 0.177/0.22/0.25/0.30
Max Velocity: 1,250 FPS
Loudness: three-medium
Barrel length: 10.6 inches
Overall length: 47.2 inches
Cocking effort: 50 pounds
Barrel: rifled
Front Sight: fiber optic
Rear Sight:  fully adjustable Fiber optic
Scopable: weaver & 11 mm dovetail
Trigger: quattro two-stage adjustable
Butt plate: rubber
Suitable for: small game hunting/target practice
Action: break barrel
Safety: Automatic
Power plant: gas piston
Function: single shot
Body type: rifle
Fixed/adjustable power: fixed
Weight: 9.9 pounds
Shrouded: yes
Customer Reviews
If you look at customer reviews for the Hatsan 135 QE on YouTube or Pyramydair, you'll see very interesting and positive reviews.
Consumers don't just give this rifle five stars; no they go completely insane about it.
Many customers have acknowledged that it's an absolute joy to own such a beast and that it is worth every single penny.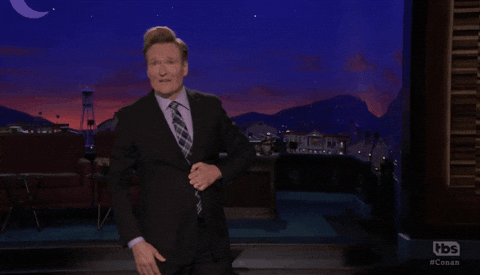 Lots of customers have talked about the splitting power this rifle produces, along with great accuracy and consistent shots.
However; some negative reviews complain about the weight and cocking effort of this rifle.
These are minor issues that you can easily get used to.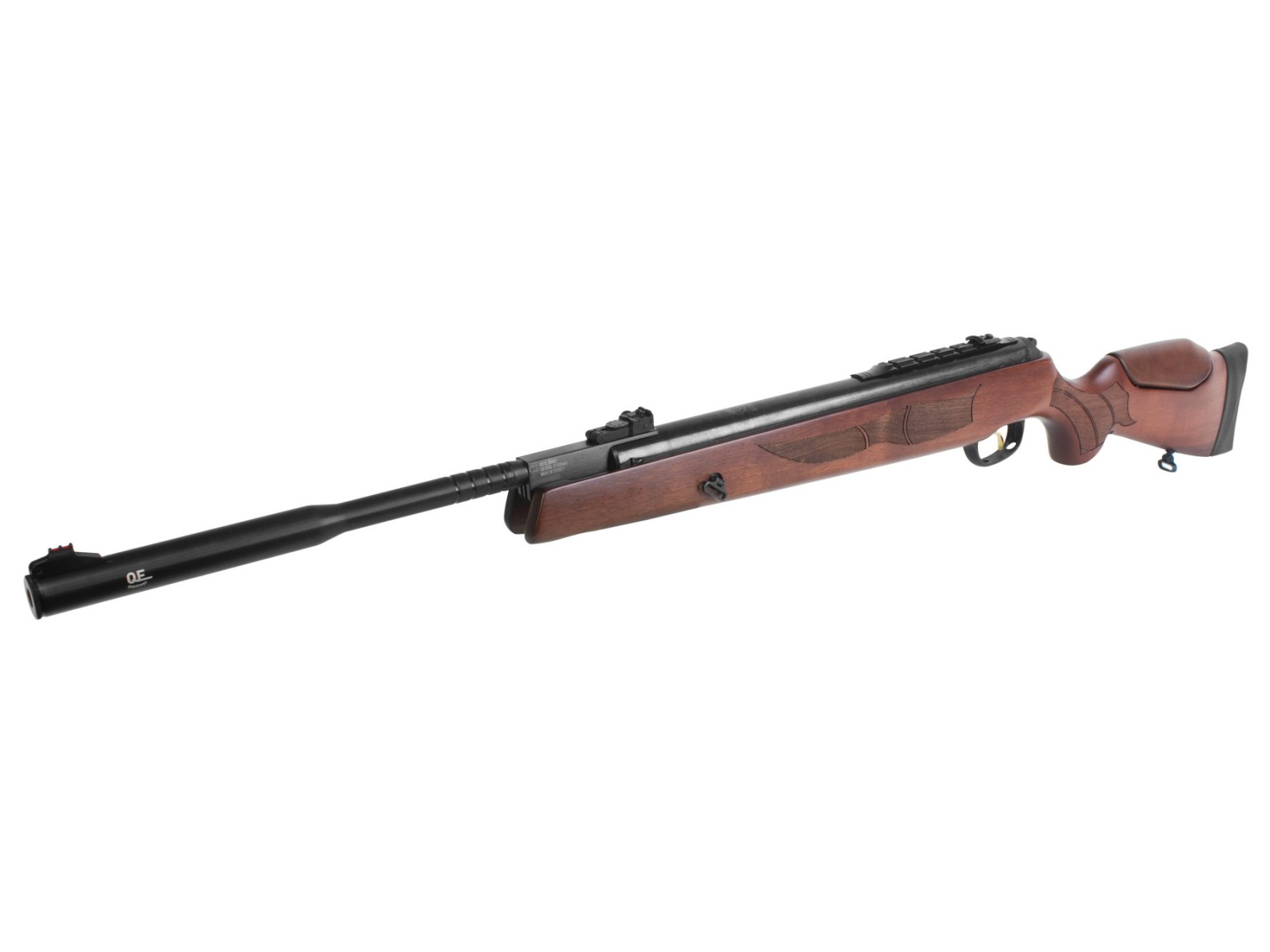 Pros
Gorgeous looking all round finish
Fabulous walnut stock
Mind-blowing power
Great accuracy
Wonderful shock absorber system
Excellent Monte Carlo stock
Fantastic trigger
Impressive fiber optic sight
Durable German steel barrel
It delivers on accuracy as advertised
Outstanding safety mechanism
Made in Turkey
Cons
Gun is a bit heavy
Cocking takes a bit of doing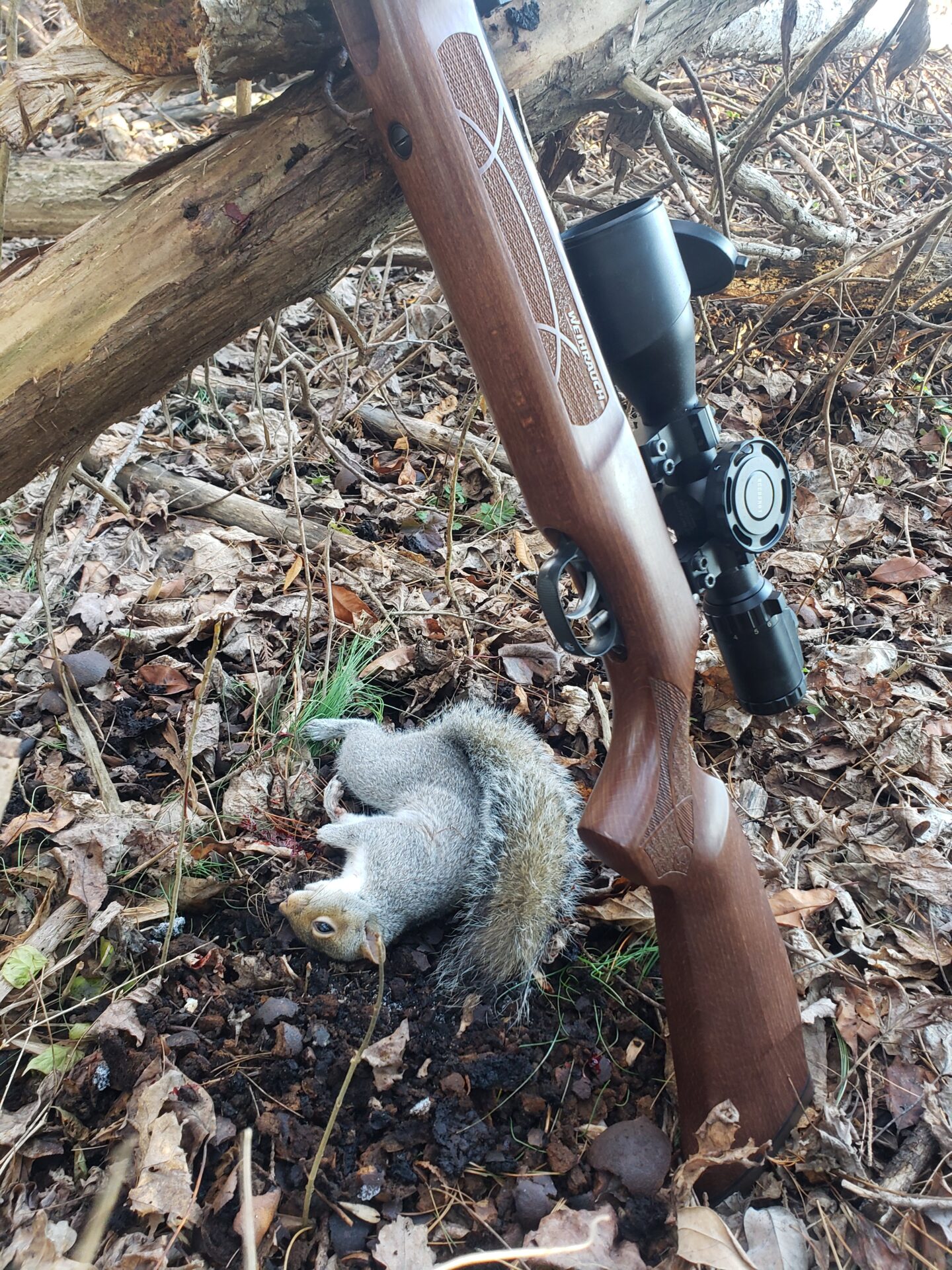 Hatsan 135 QE Price
The price for the Hatsan 135 QE Vortex is just about $300,
Which is really cheap for the quality and workmanship that went into making this product.
Conclusion
The Hatsan 135 QE is one of the best air guns in the $300 range on the market right now.
With the numbers it provides in velocity and power and the amazing technology it boasts of, it's probably one of the best break barrel air rifles on the market today.