Choosing the best air rifle is very hard if you do not know where to start. It should not be that hard to compare airguns. I have seen a number of fresh entrants into the shooting world studying hundreds of reviews – just to end up more confused after such deep reading. 
The secret lies in your ability to answer quite a few basic questions. Kevin and Craig of Straight Shooters outlined the 7 questions needed to guide you in choosing the right airgun.
For what purpose will you use the gun?
How far do you intend to shoot?
What fit and finish do you prefer?
What is your take on having to recharge the airgun every now and then?
What level of trigger sensitivity suits your level of experience?
What power is enough for your intended use?
What extra air rifle features do you desire?
Answering the above will successfully narrow down your search, from which point you can start looking at affordability and availability. Herein is a summarized Airgunmaniac buying guide to help you choose your preferred air rifle in a matter of minutes.
The best hunting air rifles 2020
Local authorities across the US have for long strived to ensure that hunting game remains as ethical as possible. Ethical here points to a clean kill rather than injuring the prey. 
You definitely understand how tragic it is to leave several animals in the woods injured. For this reason, it was not acceptable by some wildlife authorities to hunt big game using air rifles. 
Take for instance the Texas Parks and Wildlife Commision which recently approved the use of airguns to hunt small and medium sized game. The commission specified that alligators, furbearers, squirrels and non-migratory game birds can now be hunted using airbows and airguns. 
Further, bighorn sheep, javelina, mule deer, white tail deer, and turkey can now be hunted with airguns of a minimum caliber of 30, a minimum muzzle velocity of 800 fps and a minimum muzzle energy of 215 FPE. 
Smaller game like the pheasant, quail and chachalaca had requirements of .177 caliber and 600 fps muzzle velocity. This was announced in September, 2018.
Of course other states and countries have different regulations, but the bottomline is that your hunting air rifle must be powerful enough to deliver a clean kill. Taking your plinking air rifle to the hunting field may a nerd joke on your part. 
My top recommendations for hunting are Airforce Texan SS, Gamo magnum, Benjamin Marauder, Crosman CPNP225X Phantom, and Seneca Dragon Claw. The table below summarizes the most important specs of these airguns. 
| | | | | | |
| --- | --- | --- | --- | --- | --- |
| Specification | Seneca Dragon Claw | Airforce Texan SS | Gamo Magnum | Benjamin Marauder | Seneca Sumatra 2500 |
| Caliber | .50 | .30 | .177 | .25 | .22 |
| Muzzle velocity | 679 fps | 1130 fps | 1650 fps | 900 fps | 1100 fps |
| Muzzle Energy | 230 FPE | 140 FPE | 26.6 FPE | 42 FPE | 55 FPE |
| Loudness | 5-high | 4-Medium-High | 4-Medium-High | 2-Low-Medium | 5-High |
| Shot capacity | 1 | 1 | 1 | 8 | 6 |
| Trigger Pull | 7.5 lbs | 2.06 lbs | 3.2 lbs | 1.5 lbs | 3.7 lbs |
| Action | Bolt action | Side lever | Break barrel | Bolt action | Lever-action |
| Weight | 8.5 lbs | 8.45 lbs | 6.88 lbs | 9.98 lbs | 8.0 lbs |
| Suggested for | Big game hunting | Big game hunting | Small game hunting | Small game hunting | Medium game hunting |
The most powerful PCP air rifles
PCP stands for precharged pneumatic. And so PCP air rifles are guns into which pressurized air has been added by use of the hand pump or scuba tank. The reservoir is normally in the form of a cylindrical tube attached beneath the barrel or a small bottle fixed to the gun. Alternatively, PCP air rifles can be connected to some large external tank so as to increase the number of shots. 
When shooting, a portion of this stored air exhausts when the firing valve opens. Not all of the air is used up with a single shot. A full cylinder can give several shots with almost the same velocity. The cylinder fill pressure and capacity determines the power and number of the shots. 
PCP air rifles come in two models – the regulated PCPs and the unregulated PCPs. The regulated types have a regulator that reduces the pressure in the reservoir and makes it more constant. The result is consistency in the velocity of shots since the same value of pressure is used in firing each shot. 
On the other hand, unregulated PCPs do not have a pressure regulator. However, technology has made sure that the muzzle velocity does not vary greatly as the pressure decreases. The knock-open valve helps in this. 
Unregulated PCPs have the advantage of greater power since the pressure is not lowered by the regulator. 
The most powerful PCP air rifles in the market are Air Arms s510 XS Xtra, Gamo Coyote, Evanix Rainstorm, Hatsan AT44, and Sam Yang Recluse. The table below compares their main specs. 
| | | | | | |
| --- | --- | --- | --- | --- | --- |
| Specs | Air Arms s510 XS Xtra | Gamo Coyote SE | Evanix Rainstorm | Hatsan AT44 | Sam Yang Recluse |
| Caliber | .25 | .22 | .177 | .177 | .357 |
| Max Velocity | 815 fps | 1000 fps | 1300 fps | 1250 fps | 983 fps |
| Muzzle energy | 44 FPE | 26 FPE | 32 FPE | 29 FPE | 154 FPE |
| Shot capacity | 10 | 10 | 13 | 10 | 1 |
| Max shots per fill | 35 | 25 | 26 | 40 | 9 |
| Cylinder size | 288 cc | 153 cc | 250 cc | 230 cc | 244 cc |
| Weight | 7.2 lbs | 7.65 lbs | 7.2 lbs | 9.7 lbs | 7.5 lbs |
| Suggested for | Small game hunting | Small game hunting | Small game hunting | Small game hunting | Small game hunting |
The most accurate PCP air rifles
You definitely won't buy an airgun that is inaccurate. Whether your aim is hunting, plinking or target shooting, your desire is a gun that hits the target without failure. 
That is broadly what we refer to as accuracy. The first thing you need to note is that accuracy depends with the target distance. The same air rifle won't be equally accurate for targets placed at 50 yards and 100 yards respectively.
The further the target is from the shooter, the more likely the pellet is to deviate from the target point. Therefore, whenever we grade the accuracy of any airgun, we mention the distance to which this holds true. 
The chief determinant of accuracy in air rifles is the barrel and the pellet. The design of the barrel dictates the manner in which the pellet will fly out towards the target. Any form of imperfection, damage, or corrosion inside the barrel is likely to cause inaccuracies. What basically happens is that the pellet fails to move uniformly through the barrel, and therefore may fly out in different lines on different shots. 
The bedding quality is another factor that influences the accuracy of the airgun. The barrel must be firmly fixed to the stock otherwise you will never be sure what direction the pellet will take on shooting. Other factors are on the personal side, ideally how expert you are in aiming and firing.
This said, the 3 most accurate air rifles in the market are RWS Model 34, Avanti Champion, and Rapid Air Weapons HM 100 x LRT Chassis Rifle, and Crosman PCP Challenger
The Crosman PCP Challenger is the best competition air rifle. Towards the end of 2017, Crosman Corporation was selected by the U.S. Army JROTC program as the official supplier of sporting air rifles. The floating Lothar Walther barrel makes it dead accurate. B.B. Pelletier of Airgun Academy recently tested the accuracy of the air rifle. The image below shows the results of firing 5 pellets of 4 different brands from a distance of 10 metres using the Crosman PCP challenger.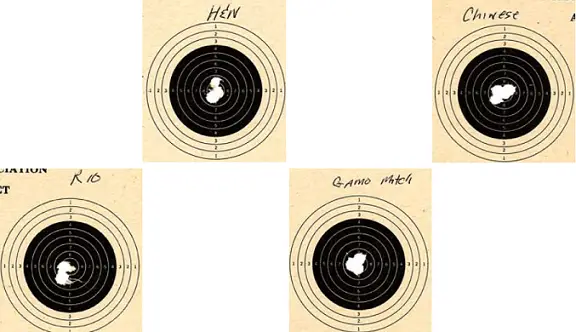 Similarly, with the RWS Model 34, many shooters obtain 1" clusters at 50 yards and beyond. The HM1000x LRT by RAW Airguns carries the day with 1-inch groups up to 100 yards.  
Air rifles for competition
So far you do understand that air rifles are not only used for hunting, pest control and plinking. One of their most popular uses is marksman competitions. This is where you get to show how skilled you are in shooting. The most popular game is the 10-meter competition. 
All shooters stand in a line and aim at some small target placed 10 meters away. Hitting the target requires an excellent combination of proper breathing, trigger squeeze, and sight control. I've been doing this for years on end and I'm yet to find a more exciting way to spend Saturdays.
What you need to fully enjoy such competitions is a good sporting air rifle. I will herein recommend the 4 most reliable ones – Airforce Edge, Air Arms T200 Sporter, Daisy Match Grade Avanti Champion, and the Hammerli AR20 Pro.
Starting with the Airforce Edge PCP Air Rifle, it is the only regulated 3P PCP Air Rifle approved as a Sporter Class manufactured in the US. Its 100 cc cylinder guarantees you a maximum of 50 shots per fill with fairly consistent velocity. Being a .177 caliber air rifle, expect a maximum velocity of 530 fps. 
The Air Arms T200 Sporter is another approved air rifle for the Sporter Class competition.  It is widely known for its pinpoint accuracy as long as you give it the touch of a master's hand. The .177 caliber gives you maximum muzzle velocity of 575 fps. 
The least priced in my list is the Daisy Match Grade Avanti Champion. It was specifically manufactured for shooting education. As such, any teen above 10 years of age can use it to master the basics of shooting. 
And finally the Hammerli AR20 Pro. Hot Red – thus reads product tag. Partly to describe its red-black ambidextrous synthetic stock, and also to give a sneak peek of its function. The air rifle is fierce, to say the least. With a fill pressure of 2900 psi to 4351 psi, you are guaranteed a whopping 350 shots per fill. You certainly cannot drain the gas tank in one setting. The .177 caliber gives you a maximum muzzle velocity of 557 fps – more than enough for the 10-meter shooting competitions.
.177 vs .22
The .177 and .22 caliber are the most popular small bore air rifles, though there are others like the .20, .12, .175, .180, and .21 calibers. Fast forward to the most striking difference – the .22 caliber is more powerful than the .177 caliber. 
Take it as simple as that. Think of a grown man's fist and a teen's fist. Which one gives more punch? You guessed right – the old man's fist.
This knockout punch in our case is the muzzle energy in FPE. So the .177 caliber air rifles always have lower muzzle energy compared to the best .22 air rifles. In terms of muzzle velocity, the .22 calibers always have lower velocities than the .177 airguns.  The simple reason is because the .22 pellets are heavier and therefore face more air resistance as they fly towards the target.
Coming to accuracy, there is no caliber that is more accurate than the other. Accuracy depends on the craftsmanship of the barrel.
A very broad suggestion would be to go for the .177 caliber if your aim is target shooting, and .22 caliber if you are looking to hunt with the air rifle. Experience has it that .177 pellets penetrate animals without really harming them to the extent they can stop. A .22 pellet is usually enough to down the target prey. 
Finally, let us wrap up this .177 vs .22 showdown. It goes without saying that .177 pellets are cheaper than the .22 pellets. You wouldn't want to spend a fortune simply plinking cans – and also you don't need too much force for a soda can. So opt for the .177 when you are shooting for fun. Invest in .22 air rifles when you mean business with pests and small game. 
Conclusion
To wrap it up, it is now clear what variations of air rifles are in the market. You have also known why you should choose this and leave the other. Now it is time to check the prices and make a purchase. Surf the Airgunmaniac air rifle reviews for more information.