Choosing a perfect gun for kids is never easy.
It must be lightweight so your kids could hold it without needing a bipod.
It must be easy to cock and effortless to sight in.
It must be cheap so you can buy one for your son and the other for your nephew living in Texas.
And it must be fun.
Let's see whether the Black Ops Junior Sniper air rifle could satisfy all the requirements in this comprehensive review.
Black Ops Junior Sniper – Gun Type
This is a multi-pump pneumatic air rifle.
A pump-action rifle is self-contained, compact, lightweight, and recoilless.
(For more on the 5 types of air rifles you need to know before buying, see this post.)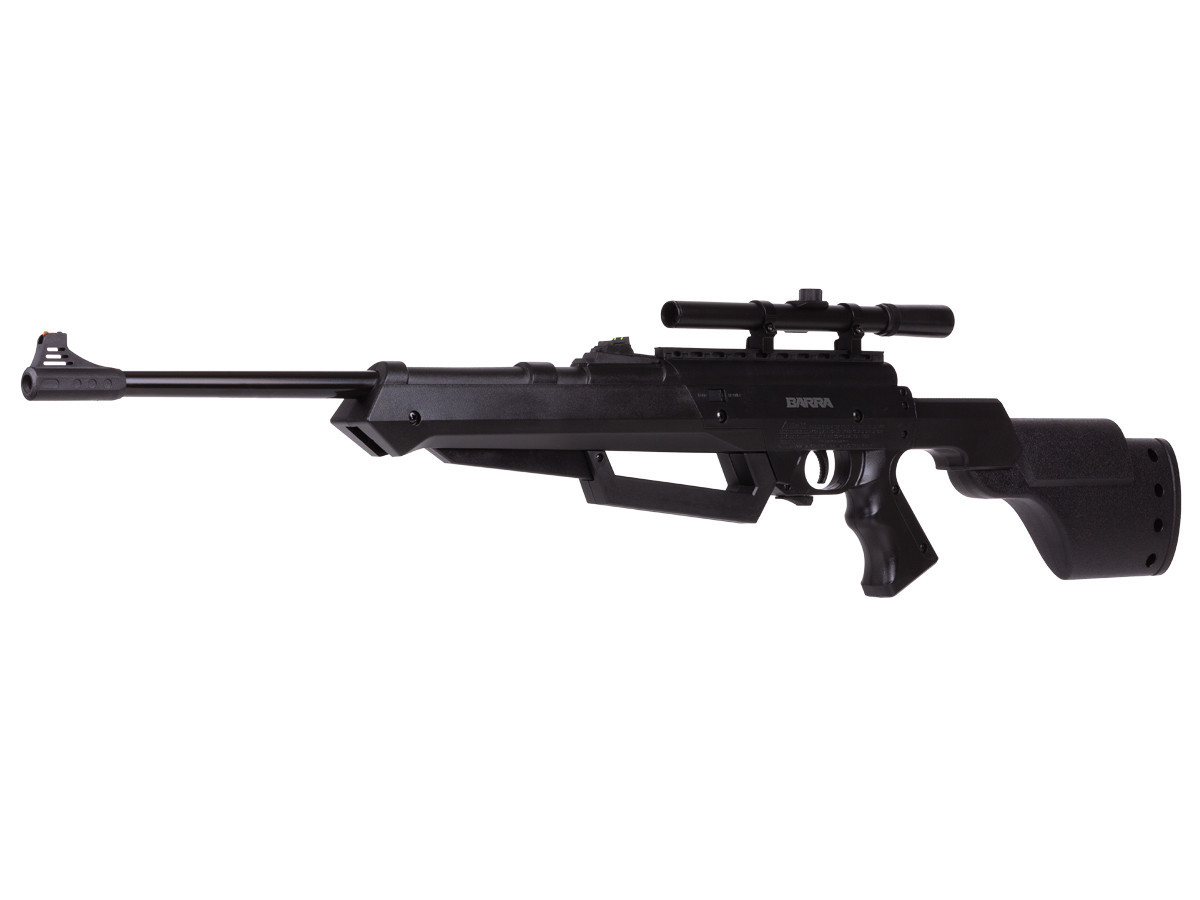 The barrel has a caliber (the internal diameter of the bore, measured in inches) is .177 (4.5 mm).
(For more on how to choose the right air gun caliber for your game, see this post).
It is a rifled barrel that has helical grooves inside.
(For more on things you should know about air rifle barrels before buying, see this post.)
The Black Ops Junior Sniper air rifle is a single-shot pellet gun and a BB repeater combined in one.
Now you can save a whole load of reloading time and have more time for BBs.
Or you can switch to pellets in case you are bored with shooting BBs.
Also, you have both the fun of a BB rifle and a pellet gun in one neat package.
This is the gun that your kid could grow up with, no doubt.
Stock
The stock of Black Ops Junior Sniper is made of synthetic material.
The synthetic stock is great for people living in hot or high-humidity places, for hunters going into the field
Or for shooters who don't want to bother with stock preservation.
For more on the in-depth comparison between synthetic and wood stock, see this post.
In addition, the stock of the Junior Sniper air gun is made of ABS plastic.
ABS stands for acrylonitrile butadiene styrene (the chemical formula is (C8H8)x(C4H6)y(C3H3N)z).
ABS is known for its lightweight, rigidity, strength, toughness, temperature resistance, and impact resistance.
Ammo
Black Ops Junior Sniper uses .177 pellets and .177 BB as the main sources of ammo.
(For more on the differences between .177 & .22 and which jobs they do best, see this post.)
Cocking and loading
Pumping the gun:
First, put the safety ON.
Then open the bolt handle by pulling it up and rearward.
With the gun pointing in a safe direction, hold the pump handle and firmly swing it all the way forward until you hear it take in air.
Bring the pump handle back to its original position and you just finish one pumping action.
Repeat the process. You should pump it from 1 -10 times. The more you pump, the harder it shoots.
Loading the gun
Loading BBs:
Locate the loading door on the left side of the gun.
Pull it forward to open the loading port.
Fill the internal magazine with 50 BBs (.177).
Close the loading door.
Put the safety On and pull the bolt back.
Hold the gun up and tilt the muzzle from  45 to 90 degrees.
Now you should see the BB rest on the magnetic pole.
Gently shake the gun if you don't see any BB lying on the pole.
After that, push the bolt handle forward and you are done.
Loading pellets:
First, pull the bolt handle up and backward.
Make sure the magazine is empty of BBs.
Lower the muzzle slightly and put the pellet into the loading port with the pellet's nose lying forward.
Close the handle and you are ready to shoot.
Sight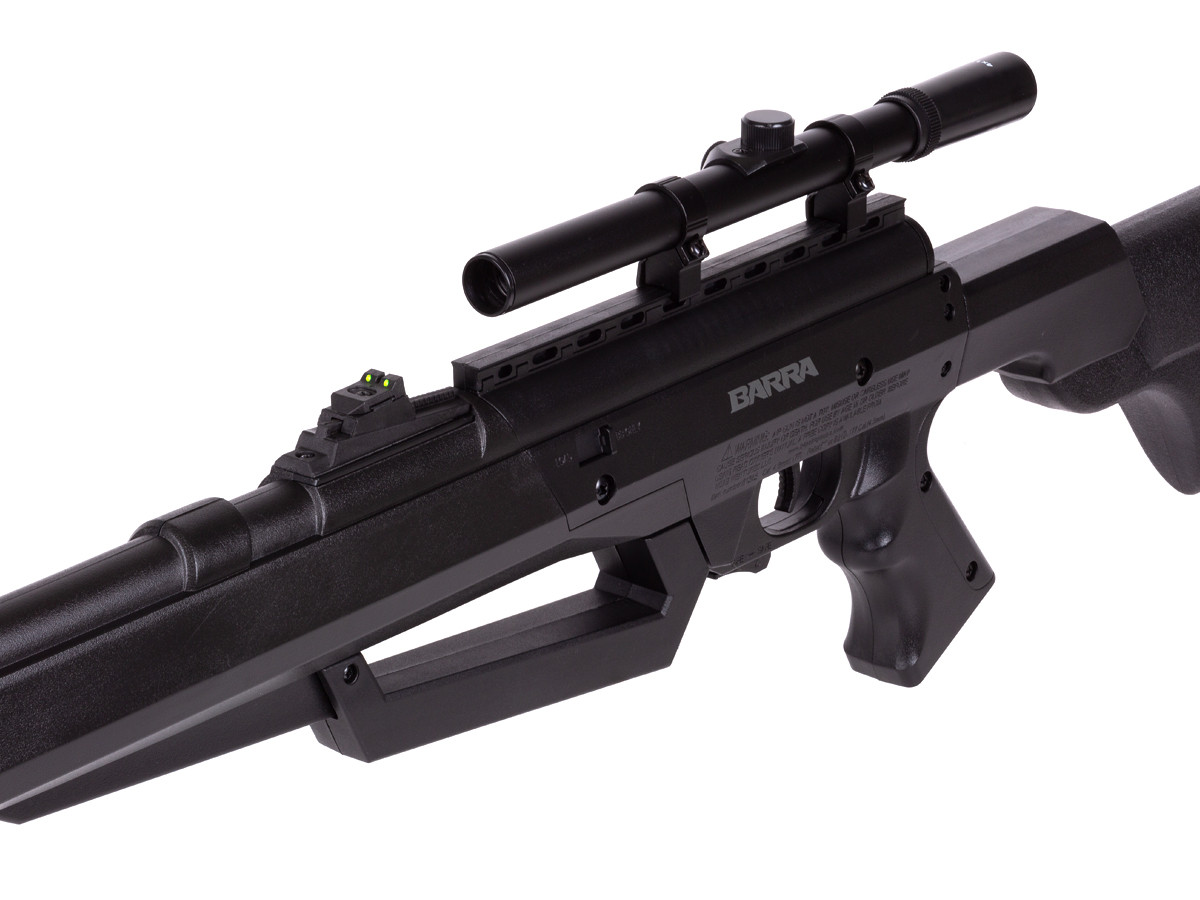 The front sight is a fiber-optic sight.
It uses optical fiber for the dot.
Moreover, the rear sight is fully adjustable for windage (allowing you to adjust left and right)
And for elevation (allow you to adjust up and down).
Oh, did I mention that the rear sight is a fiber optic sight too?
That's a rare feature you cannot find in lots of guns on the market.
As if the full fiber-optic sight is not enough for picky shooters, Black Ops also add the 4×15 scope for more precision.
For more on how many types of air gun sights are out there and which one is suitable for you, see this post.
This gun has a top dovetail optic rail and side tactical optic rails.
The side rails are manufactured in Picatinny style.
A Picatinny rail is almost identical to the weaver rail, except that it has a series of ridges located at precise intervals along the rail.
The Picatinny rail gives you plenty of benefits.
First, you have more mounting options.
Second, you can swap a scope from one gun to another and use different scopes on the same gun as well.
Last but not least, no more worrying about eye relief, tube length, etc because you can mount the scope any place you want.
In conclusion, a Picatinny rail is the handiest and most flexible of all optic rails.
Velocity, accuracy and power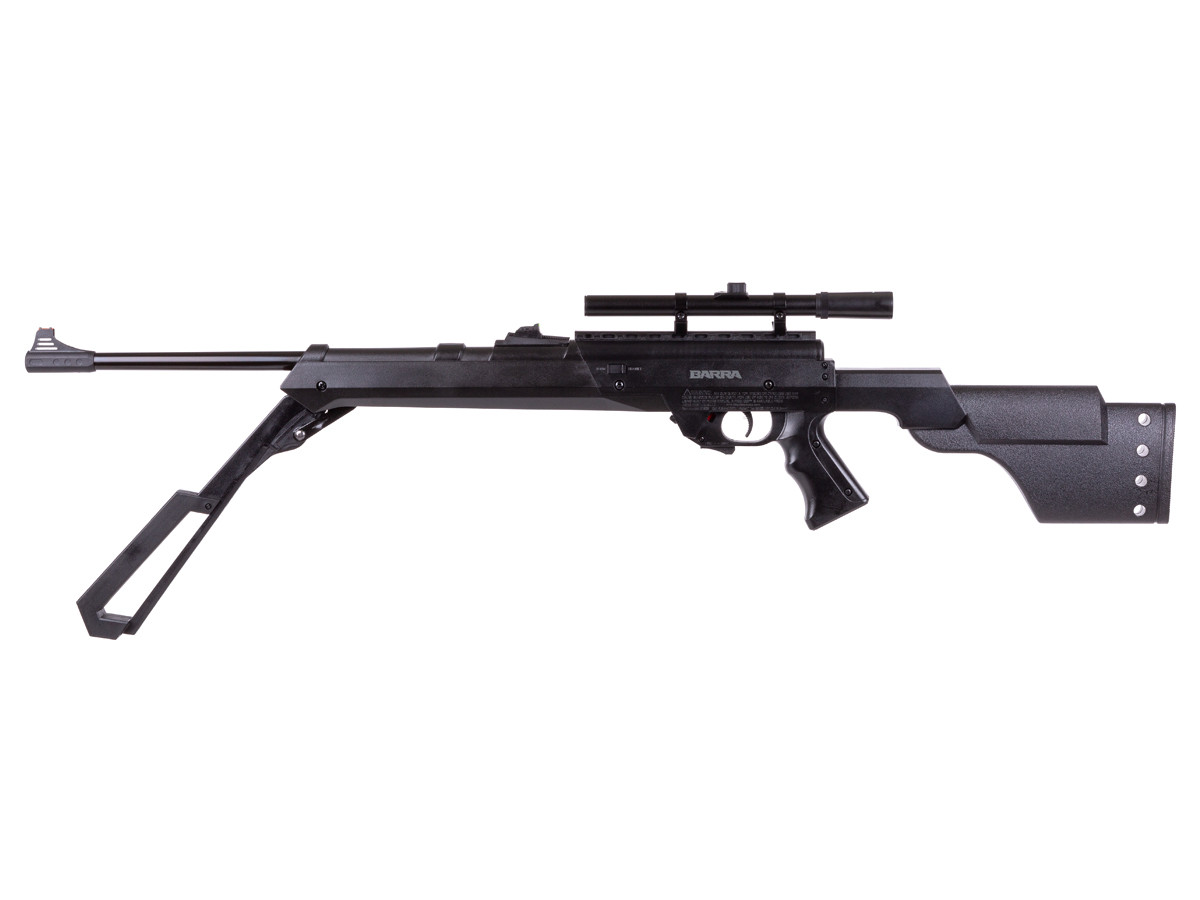 Does this gun produce enough velocity and power for target shooting and plinking?
Let's see in detail:
For a maximum of 10 pumps, Black Ops Junior Sniper delivers:
577 FPS (feet per second) and 5.84 FPE (foot-pounds of energy) with Crosman Premier lite pellet,
548 FPS and 7.1 FPE with H&N Baracuda Match pellet 10.65 gr, 5
89 FPS and 6.7 FPE with Gamo Round lead ball. 
As you can see, the average velocities are consistent with different types of pellets.
This gun also generates decent power for blowing up common plinking objects like soda cans, glass bottles, etc.
How about BBs?
Black Ops Junior Sniper brings you 500 FPS with steel BB even when you only pump 3 times.
Besides, for 10 pumps, it produces 665 FPS with Daisy Premium Grade BB.
In summary, you have decent velocity for short-range shooting with minimum pumping effort.
That's one of the main reasons why kids love this gun so much since they don't have to work out too much to have fun shooting for sport.
And how about accuracy?
At a range of 5 meters, this gun provides you:
a 1.787-inch shot group with Daisy Premium Grade BBs,
1.79" with Crosman Copperhead BBs,
1.625" with Avanti Precision Ground Shot,
0.991" with Hornady Black Diamond BBs. 
At 10 meters, this gun gives you:
0.517 inches shooting group with 7.9 gr Crosman Premier light pellet
and 0.267 inches with H&N Baracuda Match pellet. 
To sum up, this gun is fairly accurate with steel BBs and extremely accurate with .177 pellets.
You can use both BBs and pellets for plinking but I recommend using pellets rather than BBs for target shooting.
Loudness
This gun is very quiet. It has lots of customer reviews on Amazon without a single complaint about noise
Shooting Ability
The effective shooting range for this gun is up to 30 yards.
It is suggested for plinking, target shooting, and small pest control.
Accessories
Black Ops Junior Sniper has a 4×15 mm scope as its only accessory.
You can attach flashlights, laser lights, etc on the tactical rails for your own need.
Maintenance
This gun requires very little effort to maintain.
Just make sure you apply gun oil to the gun every couple of hundred shots and you are fine.
As of this date, Black Ops Junior Sniper has a one-year limited guarantee from the date of purchase.
Caliber: .177
Powerplant: Multi-pump
Velocity: 675 FPS
Barrel Length: 20.08"
Overall Length: 39.37 "
Function: Double BB/pellet gun
BB capacity: 50
Pellet capacity: single shot
Cocking effort: 2-10 pumps
Front sight: Fiber optic
Rearsight: Fully adjustable fiber optic
Scopeable: 11mm dovetail
Buttplate: Plastic
Safety: Manual
Stock: ABS synthetic
Weight: 4.41 lbs
Action: Bolt-action
Barrel: Rifled
Pros and Cons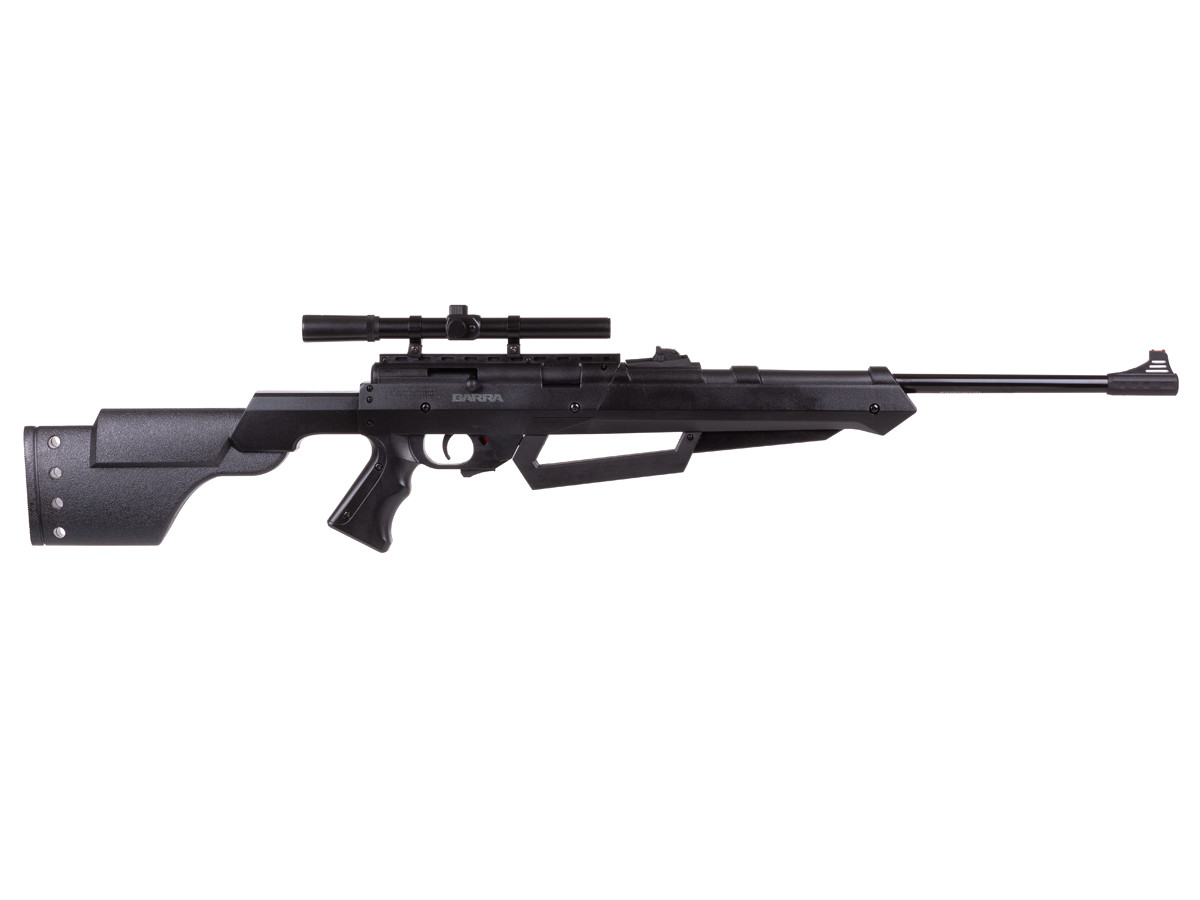 Pros
Cons

Awesome tactical looking
Unbelievable fiber optic sight
Durable synthetic stock
Good scope
Lightweight
Quiet
Impressive double function

Pumping action takes time to practice
Pumping can be tedious experience at some points
Price
The price for Black Ops Junior Sniper is damn cheap: just 50 bucks.
Really?
50 dollars for a double-function gun with a full fiber-optic sight, scope, decent power, great accuracy, and awesome stock?
You cannot find other guns on the market that are even close to Jr Sniper at this price level.
Customer review
There are only a few reviews on Black Ops Junior Sniper since this air rifle has just come to the market recently.
Positive reviews show that people love this gun for its durable stock, amazing sight, fantastic double function, and cheap price.
They also mention that their kids, 7 or 8 years old, love this gun so much.
Negative reviews show that they get products with defective errors in the manufacturing process,
And I think this is a tiny risk we always have to face when buying goods, both online and offline.
Conclusion
The Black Ops Junior Sniper is a great gun for the money.
Your kids will fall in love with this air rifle right away:
It's cool looking, lightweight, compact, recoilless, easy to handle, well-powered, highly accurate
And gives them the fun of a BB gun and a pellet gun combined in one place.