PCP, Springer, CO2, Variable Pump and Gas Piston. These are terms you are all familiar with whether new or a veteran in the airgun industry. They all refer to the powerplant of the air rifles – i.e. the mechanism by which the projectiles are fired. CO2 air rifles have really gained popularity. Stay with me as I disclose why.
What are CO2 airguns?
CO2 air rifles basically use the expansion of CO2 gas to create the pressure needed to propel the pellets. The CO2 gas is stored in cartridges, which can be 12 g or 88 g. As the gas moves from the compressed chamber to ambient air, the difference in pressure leads to a violent explosion in the chamber and thus a shot is fired.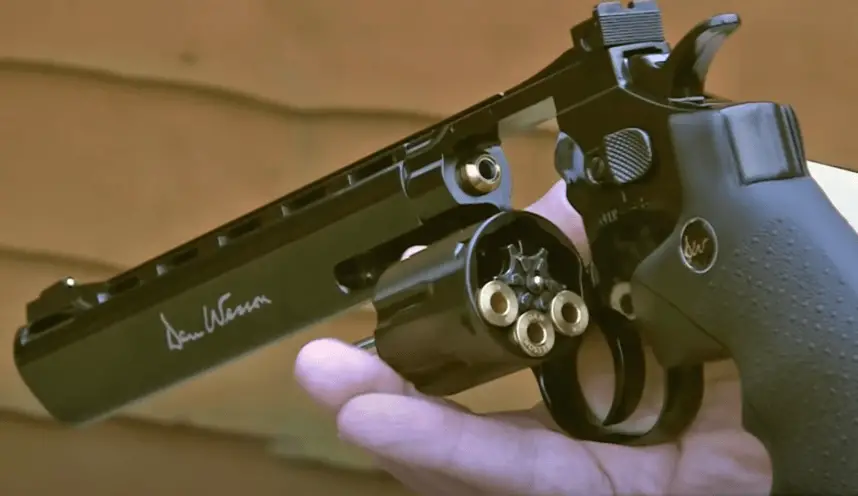 The use of carbon dioxide in air rifles is not a new technology as such. Its history dates back to the late 19th Century where Paul Giffard of France used the gas in his guns. Then, CO2 was such a rare commodity that only the elite few could have access to.
Moving on to the mid 20th Century, the popularity of CO2 air rifles increased as Crosman sold promoted the idea of shooting galleries at workplaces. As of now, CO2 pellet guns have flooded the market and both old and young own them for various purposes. 
Now, CO2 remains in its gaseous state at temperatures above -69.9 degrees F. With temperatures of about 70 degrees F, CO2 has an approximate  pressure of 852.8 psi. An increase in pressure beyond this point causes the excess CO2 to turn into liquid for.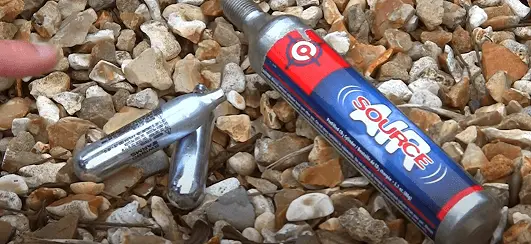 A typical CO2 cylinder therefore contains the gas in both liquid and gas form. When some of the gas is released, the pressure reduces, forcing some of the liquid to turn into gas. This happens until the temperature and pressure of the gas balance. 
One important concept you should bear in mind when dealing with Co2 air rifles is that the pressure of CO2 is directly related to the temperature. The higher the temperature of CO2, the higher pressure of the gas will be. Pressure of CO2 cannot be simply increased through compressing the gas. Compressing the gas beyond a certain pressure forces the gas to turn into liquid, and thus pressure cannot go beyond that point.
CO2 is likewise a refrigerant gas. This means that it cools on expansion. This fact is important when you come to think of multiple shots. When you fire several shots from a CO2 rifle in quick succession, the pressure of the gas considerably drops. The result is a great reduction in muzzle velocity. This tells you how to handle CO2 airguns. It is beneficial to allow some time lapse between successive shots, say 15 seconds.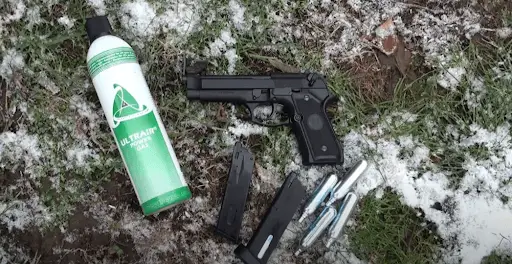 In the same regard, you can imagine what using the CO2 pellet gun in the cold of winter will be like. I assure you it is better to find another sport than torture your mind like this!.
Imagine what would happen on an extremely hot day. The pressure inside the CO2 has the likelihood of increasing to dangerous levels. Most manufacturers arrest this by including pressure-release devices in the CO2 cartridges. The cartridge is no longer able to hold any gas until it is repaired. And that's why you should never leave a CO2 air rifle in a hot interior such as a car parked in the sun.
Advantages of CO2 Airguns
One major advantage of CO2 air rifles is that a single cartridge can be used for several shots. At least this favors enthusiasts of action shooting. Further, apart from loading the CO2 cartridges in the gun and feeding the ammo, there is nothing else you are required to do to get the gun working. I'll call that as easy as ABC. 
CO2 air rifles have very little recoil. Unlike their spring powered counterparts. The release of the gas from the chamber through the valve causes no notable slap back.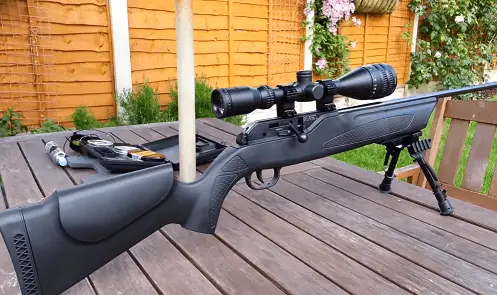 Unlike the PCP air rifle, no pressure regulator is needed for the CO2 air rifles. As long as the temperature is tolerable to you as a human being, the pressure is not likely to increase to dangerous levels. 
Most CO2 air rifles and the relevant accessories are fairly inexpensive. These guns are therefore suitable for training wannabe shooters. The guns are also safer than spring powered and PCP airguns. Your 10 year old kid can use the gun without much fear of self-harm. 
Regarding maintenance, there are no major requirements for CO2 air rifles. As  long as the model you buy is well built, durability is almost guaranteed. 
One downside of CO2 airguns is the fact that you will forever have to purchase CO2 for the gun to function. No matter the size of your CO2 reserve, it will definitely be used up and you will need to get more from the stores. 
The costs of CO2 may rise even further in the form of shipping costs in case your locality has no stores that sell the gas. As for the PCP air rifles, you only need a pump, and you can use the gun for years and years.
Having discussed how CO2 air rifles work and their pros and cons, let us now move on to selection of the best CO2 air rifle.      
How to choose the best CO2 air rifle
Perhaps the first consideration should be the length of the barrel. Understand that CO2 air rifles with short barrels yield less velocity than those with longer barrels. Tom Gaylord of Pyramid Air confirms that a 4" barrel gives a muzzle velocity of between 250 and 375 fps, while a 5" barrel can consistently yield 400 to 500 fps. This value is .177 caliber pistols.
For a .177 rifle with a 20" barrel, a muzzle velocity of between 675 and 750 fps is achievable. And it goes without saying that .22 rifles with the same barrel length will yield lower muzzle velocity – i.e. between 575 and 675 fps. Remember these values may considerably increase when temperatures go high.
Your intended use of the gun is another important consideration. If it is a present for your teenager kid for backyard plinking, you definitely do not need a model so powerful that will rip off your ears in the case of an accident – and these do happen at times! Instead, purchase a Co2 air rifle that is more of a toy than a weapon.
If your goal is to get rid of rodents that have infested your home, think of a .22 CO2 air rifle. These have more punching power than the .177 models.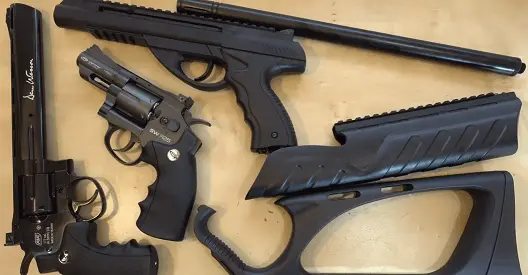 Whether you choose a pistol type or a rifle type is up to your taste. Personally I prefer rifles, simply for the pride I derive by handling them. Maybe your like for the pistol type is just ungovernable – go for it! The better the air rifle feels in your arms the more you are likely to enjoy your fun plinking or target shooting or small game hunting. Just note that the pistols have lower muzzle velocities than the rifles because of their shorter barrels.
This goes hand in hand with the look. Oh yes! My preference has always been the hardwood stock. I'm no person to walk around with synthetics, no matter how closely they are tailored to resemble wood. If you are a synthetics guy, still well and good. There are lots of CO2 rifles with synthetic stocks.
Finally, consider the accessories that come bundled with the air rifle you choose. Some CO2 airguns come with good quality scopes while others have no scope at all. Some have picatinny rails for mounting of extra accessories while others are plain.  
What kind of ammo (pellet or BB) should you use for a CO2 air gun?
Pellets and BBs come in several different types and shapes. The ones you choose will depend on what you are using them for. 
Air gun users can broadly be divided into target shooters, fun plinkers, and hunters. 
If you are a target shooter, the wadcutter pellets will do you good. These are able to cut an accurate hole on the card stock of the target. Referees can therefore analyse the scores without much uncertainty.
If you intend to plink soda cans all Saturday afternoon, I suggest you use the round nosed pellet – round because you do not need any penetrative power. You can also opt for the BBs in this case. For your information, BBs are round or spherical while pellets have a more aerodynamic shape. It pays to know this.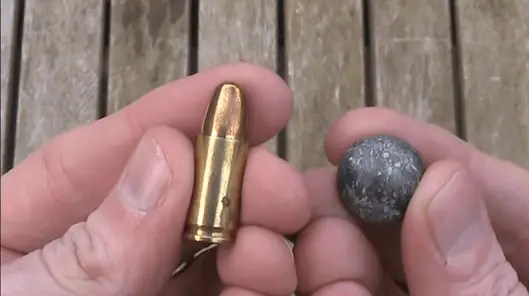 The last group is the hunters, and your best selection is definitely the diabolo pellets. 
All these varieties are manufactured by the top brands such as Crosman, Beeman, RWS, Daisy, and Gamo.   
I trust this Airgunmaniac review has been eye-opening. You can now comfortably compare the specs and prices of different CO2 guns.