Here we go, the classic air rifle of all time, Benjamin 392, is back.
Many air gunners still keep the good old Benjamin 392 they bought several decades ago
It's still good and shoots perfectly.
Therefore, many shooters expect great quality from this new generation of Benjamin 392.
At the first glance, the product images tell us that it has the same handsome, classic look.
But does it have the same great quality as the one sold many years ago?
Let's find out in this detailed Crosman Benjamin 392 .22 review.
Crosman Benjamin 392 – Guntype
This is a multi-pump pneumatic air gun.
(For more on the 5 types of air rifles you need to know before buying, see this post.)
The Benjamin 392 has a caliber of .22 (5.5 millimeters).
(For more on how to choose the right air gun caliber for your game, see this post.)
It is single-shot action so you can shoot only 1 shot at a time.
A single-shot action gun gives you control over the type of pellet you gonna shoot.

The barrel is rifled. A rifled barrel makes a bullet spin.
Spin stabilizes pellet, improves accuracy, and enhances shooting range.
Furthermore, the barrel is made of brass (an alloy made of copper and zinc).
The brass barrel is anti-corrosive compared to the steel one and doesn't rust easily.
Therefore, having a brass barrel is a huge advantage that can make your gun last for years.
Stock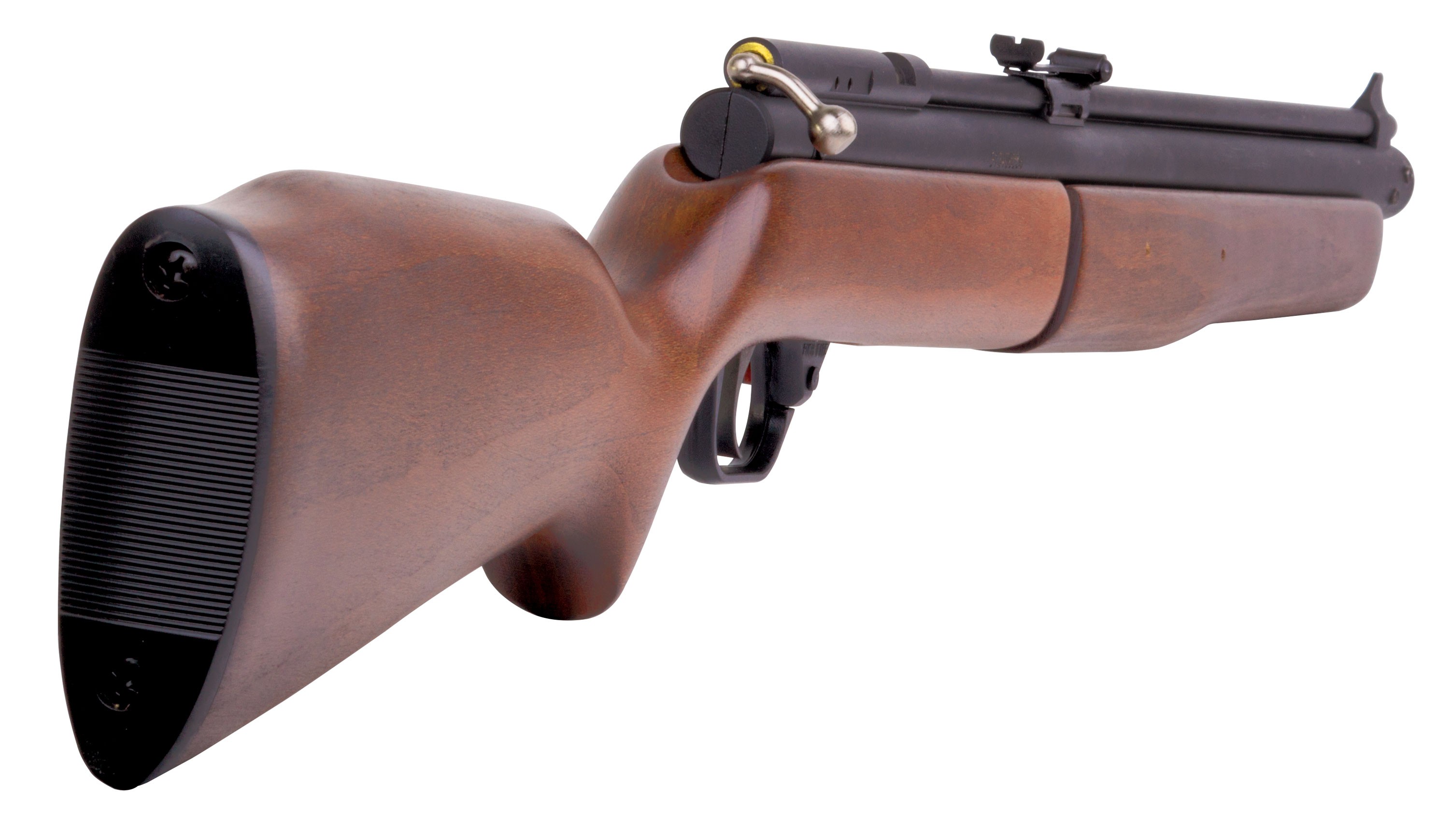 The stock of Benjamin 392 is made of American hardwood so it can withstand stresses, shocks, loads, impacts, and abrasion in daily life.
Moreover, hardwood can be refinished easily at any time so it has a very long lifespan.
For more on the in-depth comparison between synthetic and wood stock, see this post.
The stock has a swelling part in the foregrip to make pumping easier for shooters.
Besides, the Benjamin 392 stock is Monte Carlo stock with a raised comb and low heel.
Monte Carlo stock has lots of advantages including:
improve accuracy (because the shooter's eyes are lined up more naturally with the sight),
absorb a small amount of recoil
And allow faster follow-up shot.
Ammo
The Benjamin 392 uses a .22 pellet as its only ammo.
.22 pellet is heavier and has a larger diameter than the .177 pellet.
It doesn't have much velocity like the .177 pellet but it is more stable on the way toward the target.
Besides, it also has lots of knockdown power to finish an animal in one clean shot
So .22 pellet is the favorite choice for pest eliminators and small game hunters.
For more on the differences between .177 & .22 and which jobs they do best, see this post.
Pumping and Loading

Pumping the gun:
First, you put the gun on safe.
Use one hand to hold firmly on the stock and use another hand to open the forearm all the way up until it stops.
Then return the forearm to its original position to complete one pump.
You should pump at least 3 pumps but no more than 8 pumps.
Overpumping could make serious damage to your gun.
The pumping action may take some time to learn at first
But when you get used to it, it will become second nature and you can do it without a second thought.
Note that you should always keep a single pump in this rifle when you are done shooting to maintain the seal and keep it lasts for years.
Loading the pellet:
In order to load the pellet, first, you put the gun on the safe, push the bolt handle up and pull it back to open the bolt.
Insert the pellet into the loading port (with the pellet's nose lying forward).
Push the bolt handle forward into its position.
Pull the handle down to lock the gun and you are ready to shoot in a few seconds.
Velocity, accuracy and power
The average velocities of Benjamin 392 over Chrony test using 8 pumps are :
637 FPS  with Crosman Premier 14.3 grains pellet,
633.8 FPS and 12.76 FPE with Daisy 14.3 grains flat-nosed pellet,
612.1 FPS and 11.9 FPE with Crosman 14.3 grains pointed hunting pellet.
The maximum velocity for this gun is 685 FPS ( about 209 meters per second).
(For more on the in-depth comparison between .22 and .25 caliber, see this post.)
The velocity is in the medium range but the knockdown power is more than enough for pest control and small game hunting
(For more on the best air rifle for squirrels, see this post)
For Benjamin 392, various shooting tests have been conducted by different shooters with positive results.
The common shooting groups are:
1/4" at 10 yards,
0.5" at 10 yards,
1/4" at 15 yards,
2" at 33-40 feet,
1/4" at 40 feet,
1/2" at 10 yards,
1/4" at 12 yards,
1" at 25 yards,
1" at 50 feet,
2" at 25 yards.
Some shooters can even manage to get 1/4" at 30 yards and 1.25" at 50 yards.
This is really highly accurate gun for under 50 yards.
Sight

The sight of Benjamin 392 is an open sight with a fixed front sight.
The rear sight is fully adjustable for windage adjustment  (allowing you to adjust the sight left and right)
And elevation adjustment ( allow you to adjust the sight up and down).
The iron sight is decent if you have good vision and have no need for the scope
For more on how many types of air gun sights are out there and which one is suitable for you, see this post.
Benjamin 392 doesn't have a scope rail to mount the scope
So if you insist to use the scope on this gun, you will need either Crosman 3/8 Intermount or the Air Venturi Weaver/Picatinny Intermount.
One thing to remember here is you need the scope with long eye relief and the scope must be positioned at a far distance from your eyes.
If you mount the scope with short eye relief, the pellet loading action becomes the pain because the scope gets in the way while you do it.
Therefore, you should think twice about buying a scope or you can do yourself a favor and get a William peep sight as the best option.
Noise
The Benjamin 392 has a loudness level from medium to high.
I don't recommend you use this gun in the suburban/city area especially if you are close to other houses.
If you live in a sparse population area, this is not an issue at all.
Shooting Ability
The effective shooting range for Benjamin 392 is 40 yards.
You can use this gun for target shooting, plinking, pest control, and small-game hunting.
Accessories
This gun doesn't require any accessories at all.
But as I said earlier, you can get a scope/peep sight with a special inter-mount to use on this one.
Maintenance

The Benjamin 392 requires very little maintenance:
You only need to use a light coat of Crosman PellgunOil in the barrel to prevent rust,
Put some oil drops on the pump lever pivot and rivets every hundred shots to keep the gun functioning properly.
This gun is actually designed to last for years without much upkeep caring.
Specifications
Caliber: .22
Powerplant: Multi-pump pneumatic
Barrel: rifled brass
Pellet Velocity: up to 685 FPS
Alloy pellet velocity : up to 800 FPS
Capacity: single-shot
Weight: 5.5 lbs
Overall Length: 36.75 inches
Mechanism: bolt-action
Front sight: fixed
Rearsight: fully-adjustable
Scope rail: none.
Trigger: 2 stages, non-adjustable
Stock: American Hardwood
Buttpad: plastic
Customer review
While researching this product, I always look for the trends in the customer review.
There are lots of positive reviews on this product.
People love its beautiful fit and finish, reliability, durability, accuracy, and recoilless.
There are only 2 major issues with the gun that show up in the negative reviews:
Firstly, when you pump the gun, the forearm smacks down into the barrel so hard and makes loud noise.
To fix this, you should add some tapes into the contact point between the foregrip and the barrel to quiet it down.
It is also good for not startling your animal target when you are in the field.
Secondly, the pumping action is really hard and is not suitable for a person with weak arms.
Therefore, I suggest that if you buy this gun as a gift, you should consider the receiver's strength to see if he can do it without much effort.
Pros and Cons
Pros
Cons

Multi-pump gun
Reliable and durable hardwood stock
Amazing Monte Carlo design
Useful brass barrel
Easy to load pellet
Medium velocity
Decent sight
Great knockdown power
Highly accurate
Little upkeep maintenance
Reasonable price
Little recoil
Made in the USA

No scope rail
Pumping action is hard for shooters with weak arms
Fairly loud
Pumping action can be tedious experience at some points
Price
The price for the Benjamin 392 multi-pump air gun is about $150.
It's a reasonable price if you consider that all parts of this gun are made of genuine hardwood and metal.
If you are not a fan of plastic guns then this is definitely a great choice for you.
There are a couple of different listings on online retailed websites with different prices
But the listing I found with the lowest price is even cheaper than the price on the manufacturer's site or the prices on other e-commercial sites like PyramydAir, Walmart, AirgunDepot.
Conclusion
The Benjamin 392 is a fantastic choice at a reasonable price.
You cannot go wrong with this gun: it's sturdy, reliable, durable, recoilless, and is built to last for years with very little maintenance.
This gun has a lot of potential to become your favorite gun for hours of fun with target shooting
Or for a one-stop solution for dealing with the annoying pests in your backyard.