"All you need for happiness is a good gun, a good horse and a good wife" – Daniel Boone
While a good horse takes days to get,
A good wife takes years to find,
A good gun, on the contrary, only takes minutes to find
When you know exactly what you are looking for.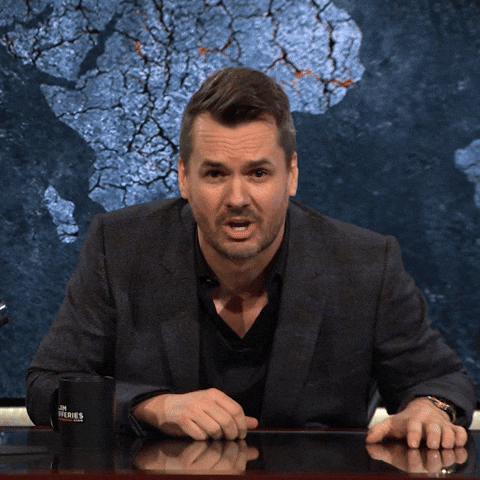 And if you love an air gun with a realistic tactical design,
the Black Ops tactical sniper has lots of promise to become your favorite gun for a lifetime.
Don't take my word as gospel, see its pros and cons for yourself in this deep review.
Black Ops Tactical Sniper – Gun Type
This gun gets power from a gas-piston power plant.
For more on the 5 types of air rifles you need to know before buying, see this post.
This baby has a caliber (the internal diameter of the bore) of .177 (4.5 millimeters).
(For more on how to choose the right air gun caliber for your game, see this post.)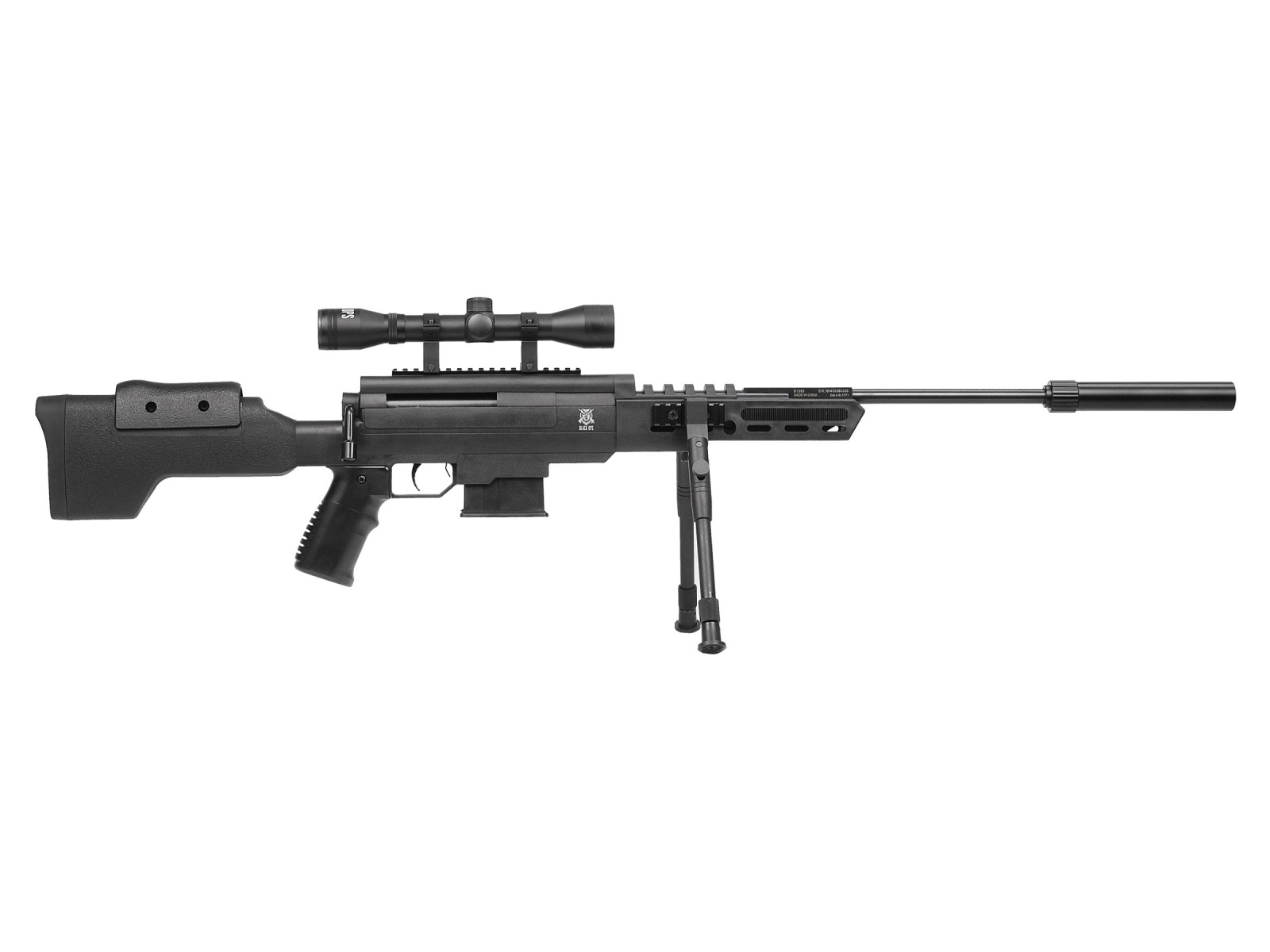 It is a single-shot break barrel gun which means that you can only shoot 1 shot at a time. 
Single-shot rifles make you a disciplined shooter: you have to think carefully about aiming and shooting because you only have 1 chance to shoot the target before reloading.
Moreover, a single-shot air gun gives you control over the type of pellet you want to shoot
And you can find out which pellet works best with the gun in the shortest amount of time.
The barrel is a rifled steel barrel. (For more on things you should know about air rifle barrels before buying, see this post.)
Furthermore, this gun has a muzzle brake at the tip of the barrel to reduce recoil.
A muzzle brake is made to take some of the gun's kickback when shooting.
As the projectile leaves the muzzle of the gun, the gas propels the pellet in one direction
And also moves the barrel in the opposite direction.
So if you don't want to get intense recoil, you have to change the direction of the released gas. 
The muzzle brake takes the form of a 2-inch tube screwed onto the muzzle and diverts gas around the barrel.
This is accomplished by the series of small parallel holes drilled in the tube.
The advantages? Muzzle brake cuts the recoil up to 50 percent which is a no-brainer for most shooters.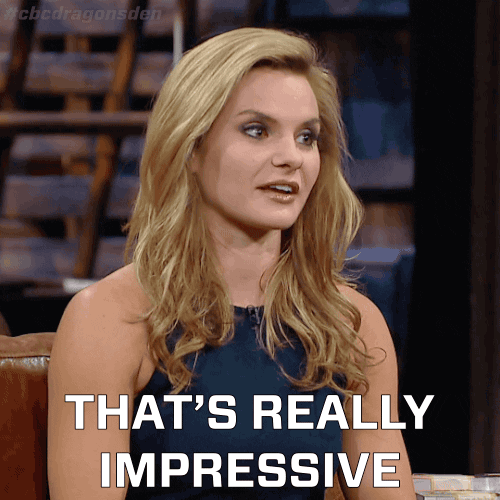 Stock
The Black Ops Tactical Sniper has a black synthetic stock.
Unlike wood stock, synthetic is lightweight and easy to carry around.
(For more on the in-depth comparison between synthetic and wood stock, see this post.)
The stock is ambidextrous: you can shoot the gun with ease regardless of whether you're a left-handed shooter or right-handed shooter.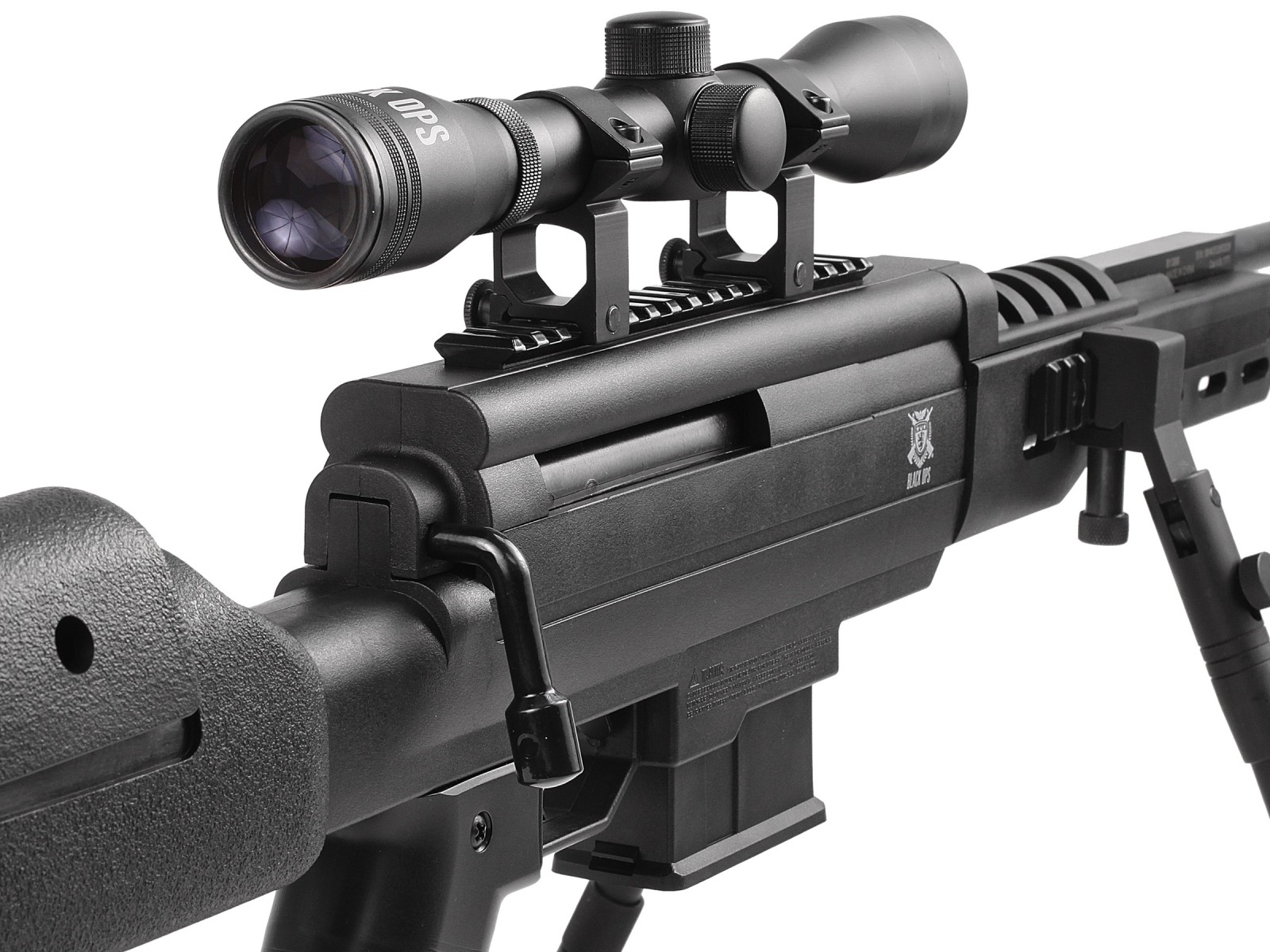 In addition, it has an adjustable comb that allows you to adjust the line of sight between your eyes and the barrel according to your own need.
This type of comb also gives you the ability to adjust the sight in the future when you grow or change the shooting styles.
An adjustable comb is best for picky shooters looking for a high degree of comfort and extreme efficiency while shooting.
This air rifle has a bipod that can be folded up out of the way when you don't need it.
Also, the bipod is attached to the forearm so there's nothing to clamp on the barrel
And you don't have to struggle with annoying adapters to make it function properly.
Additionally, the bipod legs can extend up and down, from 8" to 10", so you can design it in your own preference.
Ammo
Black Ops Tactical uses .177 pellets as its only source of ammunition.
.177 is a lightweight, popular, and undoubtedly cost-effective pellet when it comes to target shooting and plinking.
(For more on the differences between .177 & .22 and which jobs they do best, see this post.)
Cocking and Loading
Cocking the gun:
Grasp the airgun by the pistol grip or middle of the forearm, hold the gun close to your thigh or hip, 
With the unloaded airgun pointed upwards, firmly tap the muzzle end as as as possible,
Then pull the barrel down fully and you are just completed cocking action
Loading the gun:
With the breech opened after you cock the gun, put a pellet into the chamber (with the pellet's nose lying forward) until the skirt is even with the face of the breech. 
After that close the gun by moving the barrel up to its original position and you are ready to shoot.
Black Ops Tactical Sniper Gas Piston Sight
This Tactical Sniper rifle doesn't have an iron sight.
Instead of open sight, Black Ops puts a 4×32 scope on it for pinpoint accuracy.
If you observe snipers shooting on the range you would see those true snipers never use open sight since they demand surgical precision for all their shots.
And you won't be shooting the same as the military snipers do, so a 4×32 scope meets all your need for hunting and plinking.
In fact, hunters generally like to choose low-magnification scope because it gives them a wider field of view and fast target acquisition
(For more on how many types of air gun sights are out there and which one is suitable for you, see this post.)
Besides the main optic rail for mounting the scope on top of the stock, the Black Ops Tactical Sniper has two more accessory rails in Picatinny style on both sides of the gun
So you can mount a laser and flashlight or other creative combination on this gun.
Velocity, Accuracy, and Power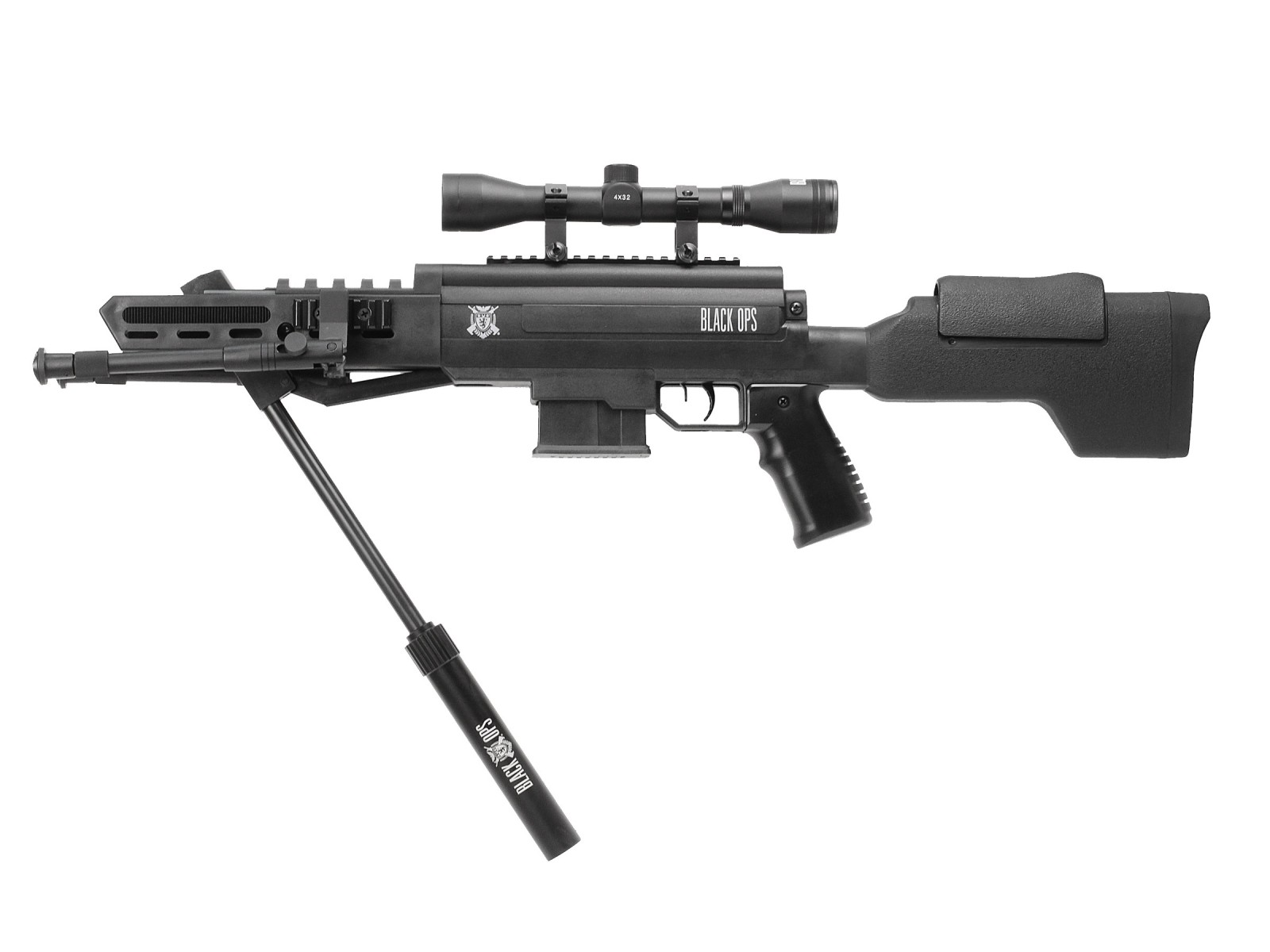 Accuracy
| Calibers | Pellets | Distances | Groups |
| --- | --- | --- | --- |
| .177 | Crosman Premier Hollow Point 7.9 gr | 20 yards | 0.5" |
| .22 | Crosman Premier Hollow Point Pellets 14.3 Gr | 10 yards | nickle size |
| .22 | Crosman Premier Hollow Point Pellets 14.3 Gr | 20 yards | dime size |
| .22 | H&N Crow Magnum 18.21 Gr | 35 yards | quarter size |
Chrony tests
| Calibers | Pellets | FPS | FPE |
| --- | --- | --- | --- |
| .177 | Crosman Premier Hollow Point 7.9 gr | 947 | 15.74 |
| .22 | RWS Hyper Velocity 11 gr | 833 | 16.95 |
| .177 | Crosman Destroyer 7.90 gr | 1081 | 20.5 |
| .177 | H&N Baracuda Match 10.65 gr | 925 | 20.24 |
| .177 | RWS HyperMAX 5.2 Gr | 1232 | 17.53 |
| .177 | RWS Hobby 7gr | 1057 | 17.37 |
| .177 | RWS Superdome 8.3 gr | 937 | 16.19 |
| .177 | JSB Match Diabolo Exact 8.44 Gr | 986 | 18.22 |
| .177 | H&N Field Target Trophy 8.64 Gr | 938 | 16.88 |
| .177 | H&N Crow Magnum 8.80 Gr | 918 | 16.47 |
| .177 | Gamo Rocket 9.6 Gr | 902 | 17.35 |
| .177 | Crosman Premier Heavy 10.5 Gr | 855 | 17.05 |
| .177 | Beeman Silver Arrow 11.57 gr | 808 | 16.78 |
Recommended uses
Pest control/small game hunting: rats, raccoons, quails, doves, rabbits.
Noise
This gun produces supersonic velocity if you use a lightweight pellet so you can hear a loud crack sound due to the pellet breaking the sound barrier.
If you live in a sparsely populated area, this is not a problem but if you live in the urban area
And have over-sensitive neighbors, you should go with heavier pellets to make the velocity go subsonic
Shooting range and intended use
The effective shooting range for this gun is up to 100 yards.
Besides, it will come in handy for dispatching small rodents and other garden pests.
If you are not into pest control, this rifle makes a great paper popper and tin can destroyer.
Accessories
You don't need to buy anything to use with this gun.
Maintenance
This Black Ops Gas Piston sniper rifle requires very little maintenance:
Just lubricate it properly every few hundred of shots and you are good to go.
Black Ops Tactical Sniper Specifications
Caliber: .177"
Velocity: 1250 FPS
Loudness: 3- Medium
Barrel Length: 18"
Overall Length: 44.0"
Shot Capacity: 1
Cocking Effort: 44lbs
Barrel: Rifled
Front Sight: None
Rear Sight: None
Scopeable: Weaver/Picatinny
Trigger: Single-stage
Buttplate: Adjustable
Suggested for: Target shooting/Plinking/Small game hunting/Pest control
Action: Break Barrel
Safety Automatic
Powerplant: Gas-piston
Function: Single-shot
Body Type: Rifle
Weight: 9.6 lbs
Pros and Cons
Pros
Cons

Impressive tactical design
The safety switch location in front of the trigger makes it easy to use "blind"
The durability of the bi-pod, and the spring-assisted leg extension design is up to par.
Adjustable cheek rest
Accurate and fun to shoot

You need to attach the scope and bipod yourself.
Black Ops Tactical Sniper Price
The price for a Black Ops Tactical Sniper rifle is only about 200 dollars.
It is a great price if you consider its innovative technology, high power, and dead-on accuracy.
Customer Reviews
The Black Ops Tactical Sniper receives lots of mixed reviews from customers. 
Positive reviews show that people love its magnum power, supersonic velocity, cool design, ergonomic bipod, and advanced technology.
Negative reviews provide a few issues with this gun:
The first problem is that shooters find it heavy to operate so this is not a gun for small-build guys,
The second issue is that some people complain about it being so loud.
As I said earlier, this is a supersonic air gun so if you don't want to hear the loud crack noise,
You should use heavy pellets to slow it down to a subsonic level like 1000 FPS which is still plenty for rats, rabbits, and doves.
(For more on the best air rifle for rabbits, see this post)
Conclusion
Black Ops Tactical Sniper Gas Piston is hard-hitting and extremely accurate with a shooting range of up to 100 yards. It's a fantastic, affordable air gun on the market today!