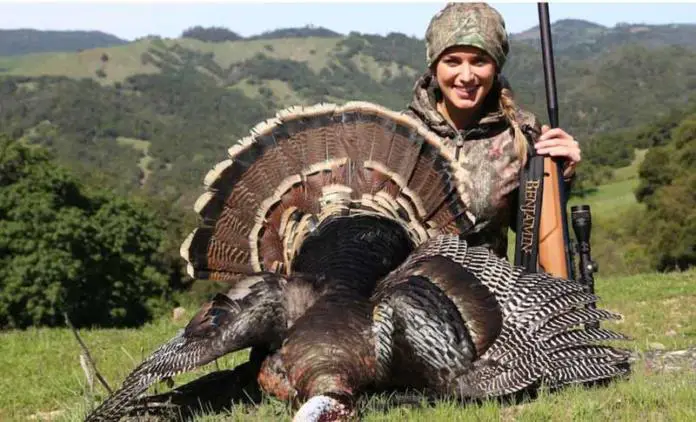 Last Updated on
All riflemen agree to this one fact:
PCP air rifles are the most popular in comparison with the other types such as CO2, spring, variable pump and gas piston air rifles.
(For more on 5 types of air rifles you need to know before buying, see this post.)
As you may know, the drawback of a "real gun" is that the recoil is hard to master, and of course they're loud as all hell!
Air guns are much easier to shoot and much quieter, and PCP air rifles are the best of the lot on this front.
It's suitable for all kinds of hunters, from newbie to master.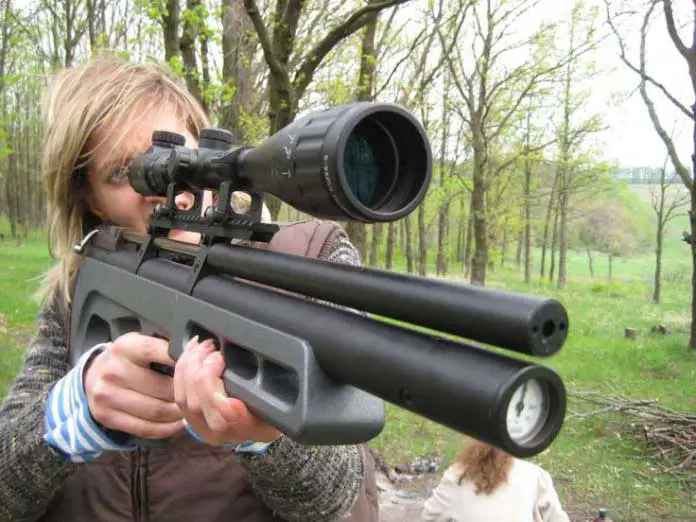 The key differences are that the PCP air rifle has just a little recoil and the projectiles come out as soon as the trigger is pulled
Whereas the spring air rifle recoils as much as a real gun and it takes time for the pellet to come out of the barrel.
When you shoot the PCP, you just need to pull the trigger and that's all. It's clear why so many people favour this rifle.
The PCP is also the most powerful air rifle type – compressed air is held at a much higher pressure than in the CO2 and the Springer.
Pressurized air is also not affected by temperature changes like CO2 is.
These rifles are powerful, consistent, and accurate.
The gas piston air rifles have attempted to reduce the recoil effect by eliminating the double hit and spring torque associated with steel spring air rifles.
However, the recoil effect is still a little bit greater than that of PCP air rifles.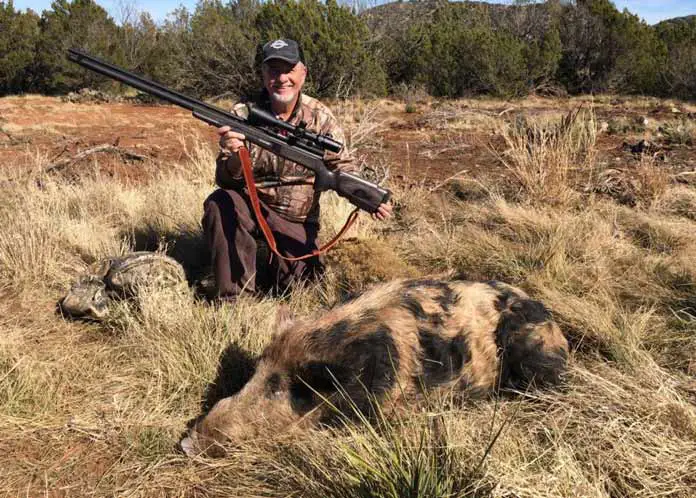 For the variable pump air rifles, you have to master the cocking action since the power of the shot depends on how strong you pump.
This is not the case with the PCPs – once filled with air to the maximum fill pressure, all you have to do is pull the trigger and the pellet fires.
However, a PCP air rifle tends to be more expensive than a CO2 or spring powered air rifle, and more expensive to refill too.
Below are the top 15 best PCP air rifles, categorized for specific purposes and criteria, enjoy the reading!
1. Benjamin Marauder Wood stock – The Best overall PCP Air Rifle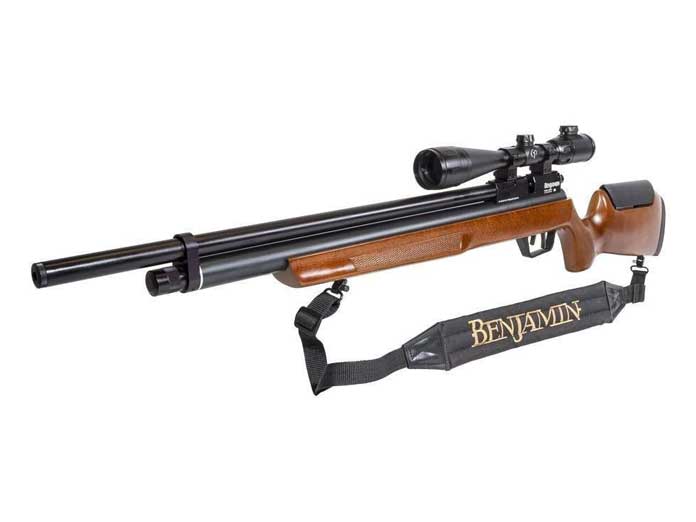 Benjamin Marauder Air Rifle
The Crosman Corporation is a shooting sports manufacturer from the U.S.
The company was founded in 1923 with the name "Crosman Rifle Company".
They are famous for their airgun designs.
The Benjamin was first released in 1882 by the St. Louis Air Rifle Company.
It is intended not as a toy, but as a high-powered compressed air gun.
Later, Crosman bought the patent rights of the rifle and has made it one of the best PCP air rifles for hunting.
The Benjamin Marauder Air Rifle (wood stock) discharges .25 caliber rounds at speeds of 900 FPS.
The velocity can also be adjusted.
The rifle is capable of shooting as far as 100 yards.
It has a 10-shot rotary magazine.
And there is no recoil while shooting.
It is really powerful and accurate, which is ideal for medium to big game – squirrels, rabbits, foxes, deer , and maybe even pigs! (not recommended…)
Despite the impressive capability, the rifle is really quiet thanks to its internal shroud.
This may well be the quietest PCP air rifle out there.
The Benjamin Marauder has a classic and ambidextrous design.
It has a sleek, hardwood stock, a total length is 42.8 inches, and weighs in at 8.2 pounds (scope included).
(For more on the in-depth comparison between synthetic and wood stock, see this post.)
This is one of the best rated PCP air rifles at $500.
Pros
Cons

Very quiet

Lightweight

Impressive muzzle energy

Ideal for medium to big game

Edges may feel very sharp

No scope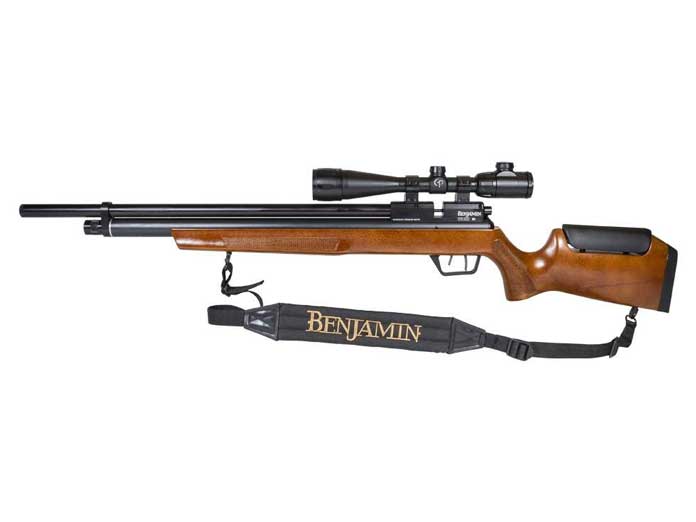 2. Hatsan Flash QE PCP – Best Entry level PCP air rifle for youth and beginners
This is yet another amazing rifle by Hatsan.
As a beginner, you may not be interested in lots of accessories and the most excellent qualities you can find in a PCP air rifle.
The Hatsan Flash best suits new entrants into the hobby of hunting and plinking.
Its weight of 5.9 lbs is simply the best as you try your hand on PCP air rifles.
Even teens can handle this rifle with great prowess.
In addition to the light weight, the Hatsan Flash features the popular Picatinny rail which allows you to mount the rifle on a bipod.
This will guarantee you much needed stability when shooting.
Hatsan did not take any chances regarding the safety of the air rifle.
With the 2-stage Quattro trigger fitted on the Hatsan Flash, there is very little or no chances of misfiring the rifle.
Also of importance to the beginner is the Dovetail mount for fitting a compatible scope.
With this, you can easily master the basics of sighting and be the pro you desire within a few days of practice.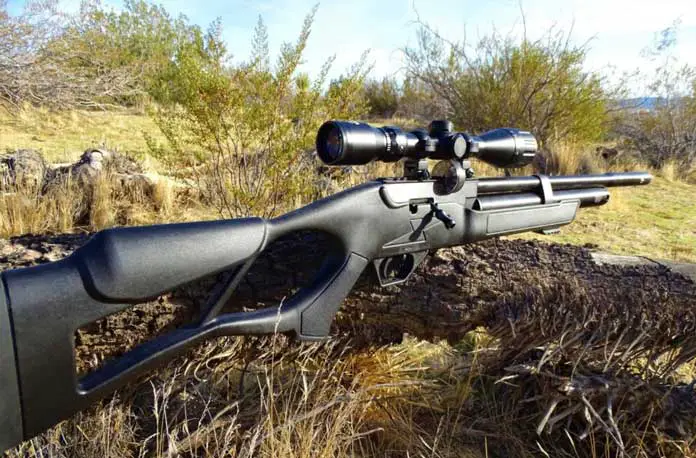 Coming to its power, the Hastan Flash will shoot pellets at a speed of 1250 fps for the .177 caliber, 1120 fps for the .22 caliber, and 900 fps for the .25 caliber.
In terms of muzzle energy, the air rifle manages up to 29, 38 and 40 FPE for the .177, .22, and .25 caliber respectively.
Such energy is enough to bring down fox-sized game and other smaller game, including the rabbit, squirrel, raccoon, birds, and possum.
What's more, this air rifle is relatively quiet, thanks to Hatsan's QE
Suppression technology, and so you won't scare away every other animal before taking them out.
Fill the 165 cc air cylinder to a maximum of 2900 psi and you are good to go with this best starter PCP air rifle.
Pros
Cons

Great accuracy up to 50 yards

Good for hunting

Feather light

Fitment of magazines not so perfec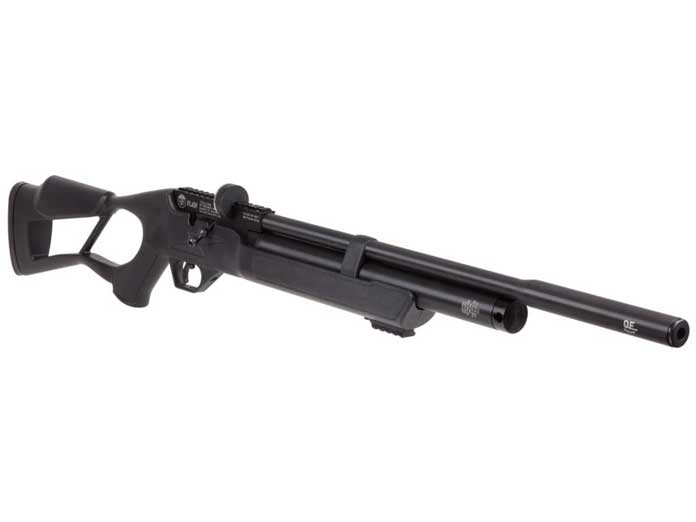 3. Beeman QB Chief – The best PCP air rifle for the money
PCP air rifles are usually a costly purchase, however the Beeman QB Chief PCP air rifle is an affordable one.
Beeman is a brand name of Weihrauch & Weihrauch GmbH & Co. KG, a German manufacturer of sporting air rifles, air pistols, cartridge rifles, and pistols.
The company has more than 100 years of experience.
In fact, they were the first mass-produced German .22 rimfire rifle.
Nowadays, they produce PCP air rifles which are intended to be innovative.
Their rifles are made of proven special materials.
Every component is carefully monitored by experienced specialists to be accurate in dimension and hardness.
The Beeman QB Chief PCP air rifle features ambidextrous design and a hardwood stock.
The gun has a compact size and light weight: less than 7 pounds and 39 inches, and the Barrel length is 21.5 inches.

This is a bolt-action PCP air rifle with a single shot capacity.
There is just a little recoil when shooting, and the rubber pad in the butt plate helps to absorb the recoil.
The sound is a little loud but isn't too bad.
It has a 136cc cylinder that can fill up to 2,000 psi of compressed air.
You can offload 50 shots per fill in .177, and 35 shots in .22 caliber.
The shots are accurate enough at 50 yards. The velocity is up to 1000 fps in .177 caliber.
Overall, at $180, this is a fantastic air rifle for the money.
Pros
Cons

Authentic wood stock

Relatively lightweight

Great value for money

Cheap construction

Single shot design requires more effort and time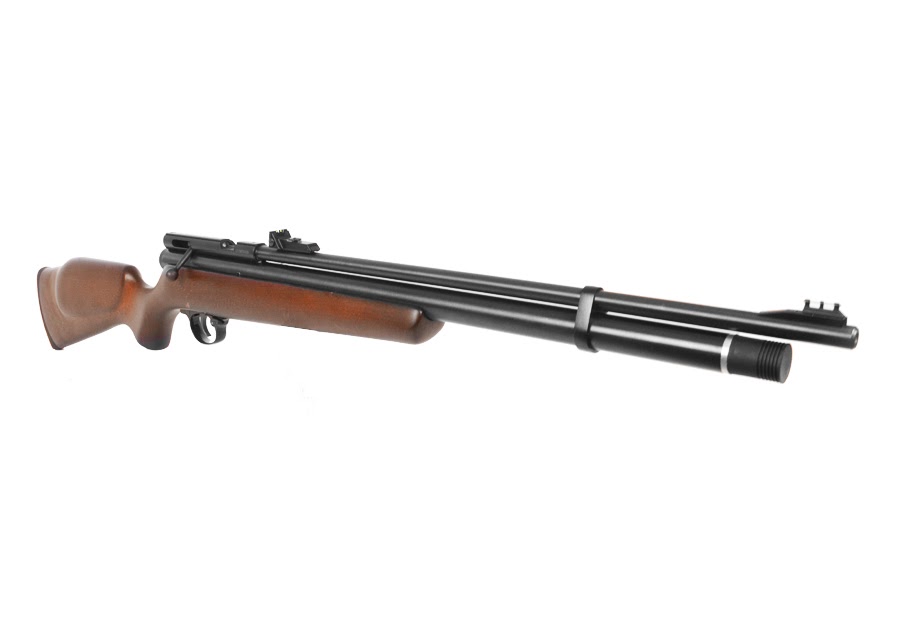 4. Airforce Condor PCP – Best .25 pcp air rifle
Just to make sure we're all on the same page, caliber points to the internal diameter of the barrel of the air rifle, which is equivalent to the size of the pellet used.
The most common calibers for PCP air rifles are .177, .22, .25, and .357.
The lower the caliber, the higher the velocity , and therefore the greater the accuracy of the shot.
The .177 caliber pellets are perfect for target shooting.
However, if your main use of the rifle is hunting, you better go for the .25 caliber air rifles.
(For more on how to choose the right air gun caliber for your game, see this post.)
This produces greater impact energy which is needed to get the job done in the field.
Of course the .25 caliber pellets move with a reduced velocity, but not with so much a degree as to greatly reduce the accuracy of the air rifle.
After all, being the good hunter that you are, or that you are striving to become
You know it is best to finally shoot down the prey when it is less than 50 yards from you.
As for the .357 caliber, this is dedicated to serious hunters who are particularly after large game.
I find the Airforce Condor to be the best .25 caliber air rifle.
If you use JSB 33.95 grain pellets, you are staring at the incredible energy of 70 FPE.
Of course it comes in other calibers, for which the muzzle energy and velocity differ.
For instance, the .177 caliber produces a muzzle velocity of up to 1450 fps – quite high.
It would be good to note that each caliber is designed to work optimally with a given tank.
In case you use the .25 caliber tank with other small bore calibers, the speed of the projectile may reduce up to 100 fps.
So make sure to buy the right tank for your preferred caliber.
Pros
Cons

No recoil

Limited lifetime warranty

Exceptionally functional

Remarkable killing ability

Single-shot design is not so good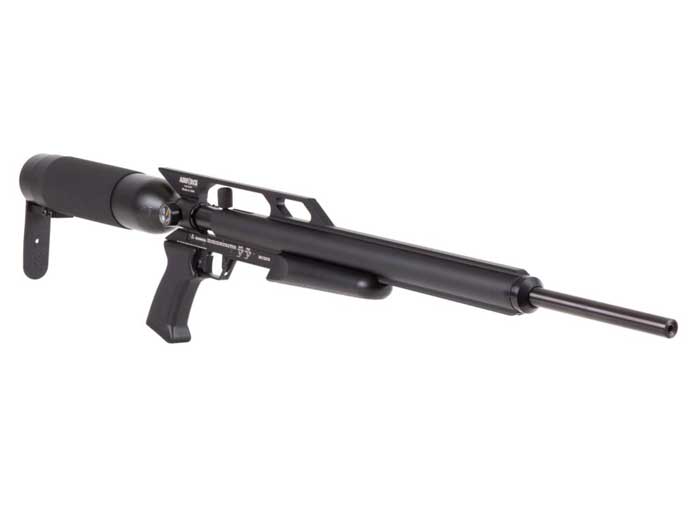 5. Benjamin Discovery – Best PCP air rifle under $300
Crossman has over the years been manufacturing wonderful PCP air rifles
And they did not disappoint when it came to the Benjamin Discovery PCP air rifle.
What strikes me most about this air rifle is its value for money.
At less than $300, you get a relatively powerful air rifle.
It delivers a muzzle velocity of up to 951 fps with the JSB Exact Diabalo 8.44 grain pellet for the .177 caliber.
This translates to an excellent energy of about 17 FPE.
Lighter pellets produce higher velocities but less energy.
I am however not that pleased with its 126 cc air reservoir capacity – the muzzle velocity goes down rapidly as you deliver more shots.
Thus you should limit yourself to about 20 shots after each refill so that you experience the power of the rifle.
A cylinder pressure of 2000 psi is quite a great deal for the money.
As it comes with no silencer, the Benjamin Discovery air rifle may prove a bit noisy, given its great muzzle velocity.
This can however be rectified by sticking to heavy lead pellets that do not fire at such supersonic speed as the lighter pellets.

Crossman thought of the shooter by designing the air rifle with a rail for scope attachment
Though you have to separately purchase a scope of your choice.
These are widely available in air rifle stores and therefore it should not be an issue.
The Benjamin Discovery Rifle comes with a plastic trigger which brings the pull weight to about 4 lbs.
This may feel a bit different for those used to metal triggers, but it will not take long to adjust.
Otherwise, the rifle is relatively easy to shoot, without any requirement for special handling.
The varnished hardwood stock gives you the feel of a real rifle, and stands out even more beautiful with the combination of black metal parts.
Pros
Cons

Classic look

Incredibly light

Fascinating firepower

Comes with a good sight

Only 10-15 shots per fill

No accessories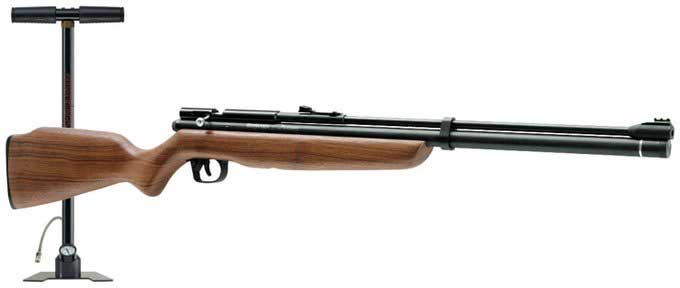 6. Diana Stormrider – Best budget PCP air rifle
The Diana Stormrider PCP air rifle is one of the best priced PCP air rifles.
This is a PCP air rifle of Diana Mayer & Grammelspacher.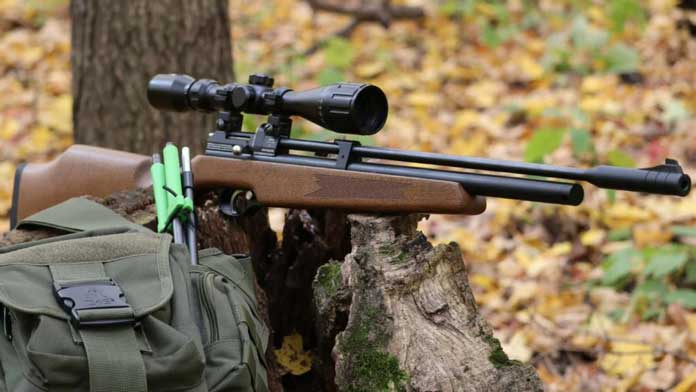 Diana Mayer & Grammelspacher is a German airgun manufacturer, headquartered in Rastatt, Germany.
The company was founded in 1890, and named after Diana, the goddess of the hunt.
They produce air rifles, air pistols, and other accessories like scopes, pellets, and silencers.
Among them, their air rifles are their most famous products.
Their philosophy is to develop the extraordinary down to the smallest detail.
Diana Stormrider PCP air gun has a straightforward sturdy stock.
Despite being a budget PCP air rifle, the stock is made of beech.
The gun is right-handed (still usable for left-handed shooters) and has a classic, refined look.
The rifle is compact with a weight of 5.0 pounds, and overall length of 40.5 inches, and the barrel length is 19.0 inches.

The Diana Stormrider PCP air rifle has a 9 shot magazine in .177 and 7 shot magazine in .22.
So, the gun can disperse up to 9 shots per load. In terms of the scope, there is an 11mm dovetail tray.
This rifle is bolt-action and not so powerful (20 ft/lbs).
Its velocity is up to 900 fps in .22 caliber and up to 1050 fps in .177 caliber (lead pellet).
There's some sound while shooting.
It has a 100 cc cylinder that can be filled up to 200 bar (2900 psi).
When fully filled, it can crack out up to 40 shots.
The gun's price is slightly over $200.
Pros
Cons

Budget friendly

Ambidextrous

Genuine wood stock appearance

Includes both rotary magazine and single-shot tray

Small magazine

One-stage trigger is not so popular nowadays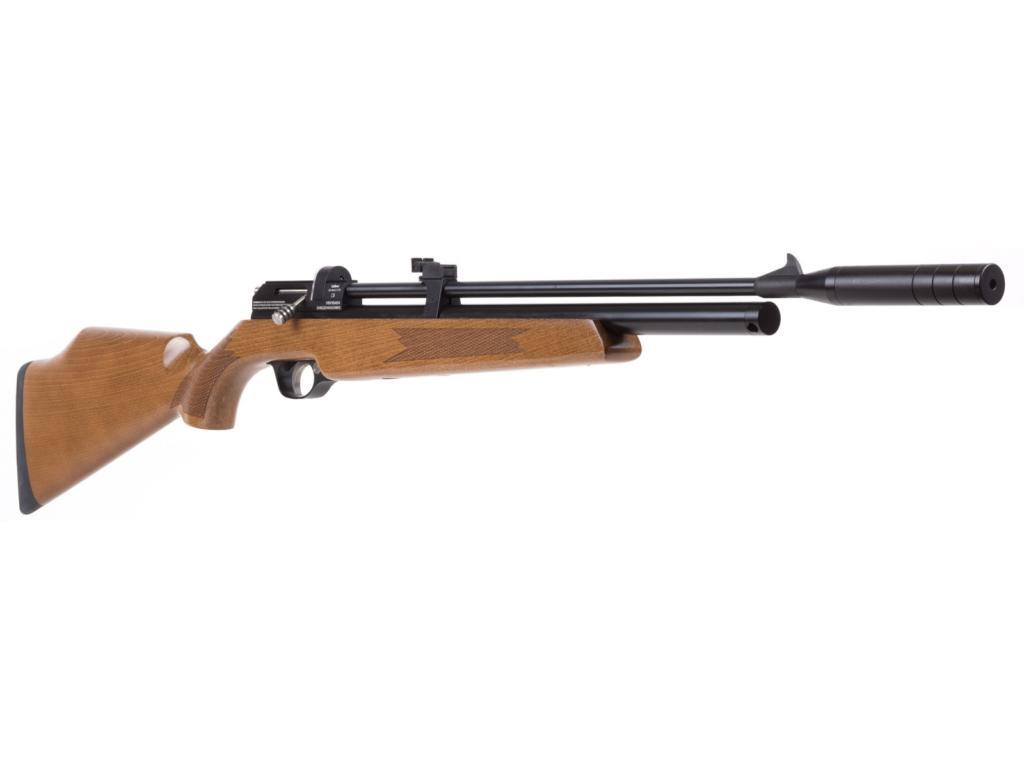 7. AirForce Condor SS PCP Rifle – The most accurate PCP air rifle
You will certainly marvel at the maximum velocity of up to 1300 fps when using the .177 caliber.
Even more pleasing is the 1" accuracy at 50 yards.
Accuracy of air rifles is somewhat subjective.
While one person would shoot a large tin 20 yards away and praise the air rifle for its accuracy
Another person may want to shoot a coin 50 yards away.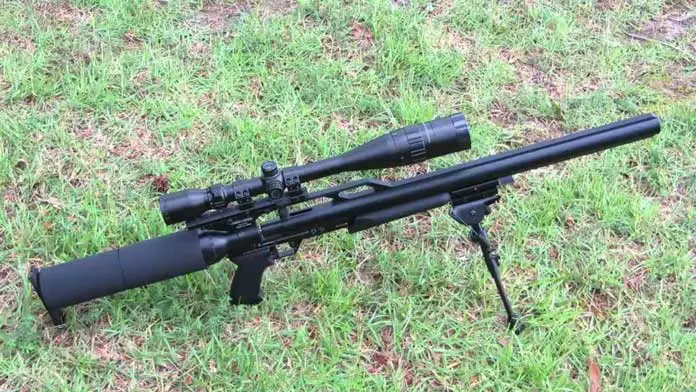 Even more complex are those experienced ones who may want to shoot the same coin at 100 yards away.
That aside, the accuracy of the air rifle is largely determined by the pellet used, the barrel and the powering mechanism.
(For more on things you should know about air rifle barrels before buying, see this post.)
Other determinants of accuracy include the operability of the trigger and the fit of the stock on the shooter's hands.
All factors kept optimum, the AirForce Condor SS can be accurate by up to 1" at 50 yards.
This is quite commendable of the air rifle compared to others at the same price range.
Precision shooters and ardent riflemen find it very handy.
On top of its accuracy, the AirForce Condor is equally powerful.
Think of a maximum muzzle velocity of 1300 fps for the .177 caliber.
This is made possible by the 3000 psi gas tank of compressed air or dry nitrogen.
Coupled with an air tank volume of 490 cc, you can fire quite a good number of shots before thinking of refilling the gas tank.
On the same note, I always encourage shooting enthusiasts to consider carrying extra filled tanks, rather than carrying a scuba for refill.
It's lightweight (only 6.1 lbs) and recoilless in action, further endearing it to sharp shooters.
Pros
Cons

Ample accuracy

Adequate punching power for hunters

50 - 70 shots per fill

Incredible power

More expensive than many similar rimfire rifles

Unpopular single shot design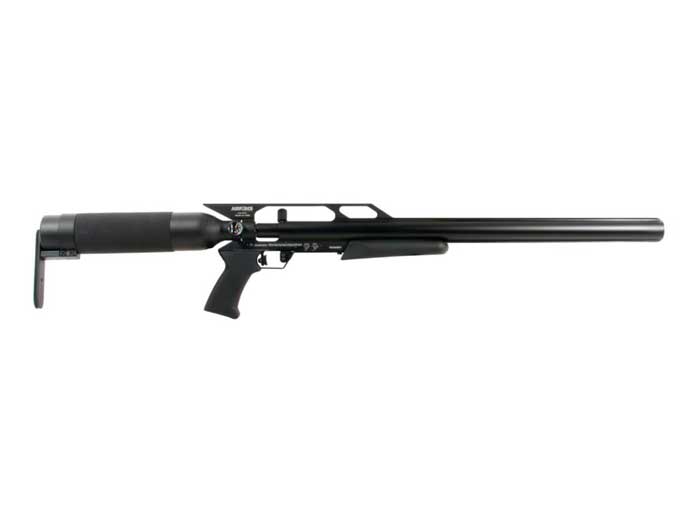 8. Umarex Gauntlet – Best regulated PCP air rifle
It is worth pointing out that most PCP air rifles do not operate at the peak value of pressure of the gas tanks.
If the capacity of the gas tank is 3000 psi, the rifle may work best at around 2000 psi.
This means that the rifle will fire the first set of shots at varying velocities until the optimum pressure is reached.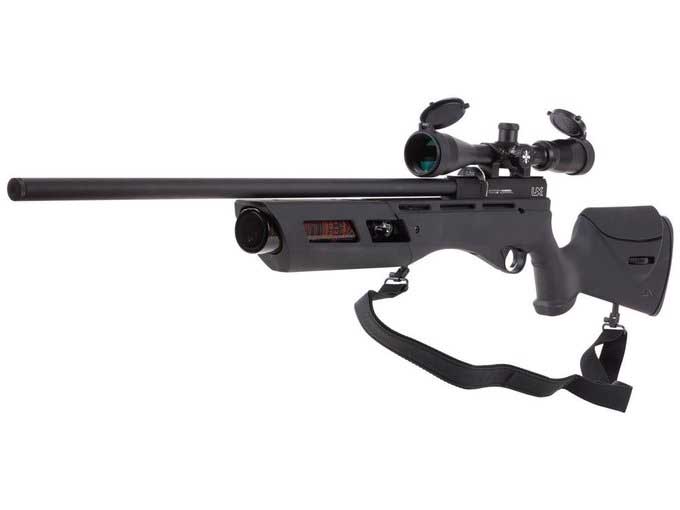 With a regulated air rifle, the pressure of the reservoir is lowered before it gets to the valve.
This way, the air rifle works at the ideal pressure right after refill.
You can therefore fire shots at a relatively constant velocity.
The regulator also increases the capacity of the gas tank to some level.
This increases the number of shots you can fire before having to refill the gas tank.
Regulators can be added to PCP air rifles, but again not all of them.
The Umarex Gauntlet Air Rifle comes specifically regulated from the manufacturer.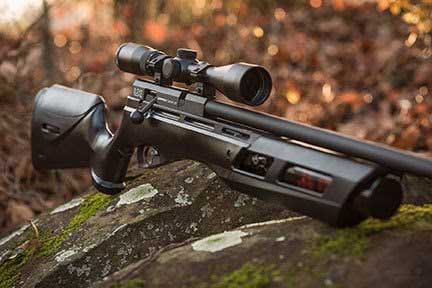 The manufacturer once claimed that their Gauntlet model has similar capabilities to other rifles over $1000.
At a retail price of less than $300, you may doubt their claim, but let the features speak for themselves.
The 3000 psi capacity gas tank shoots up to 70 pellets in .177 caliber, and 60 shots for the .22 caliber.
Using the JSB Jumbo Exact 14.35 grain pellets, the Gauntlet air rifle achieves muzzle velocities of up to 807 fps, with a energy outcome of about 21 FPE.
This is certainly enough power in your hands for simply target shooting.
Lighter pellets can achieve speeds of up to 1000 fps, but with reduced energy.
Tests with the Umarex Gauntlet reveal great accuracy up to 40 yards. Quite a great value for money.
Pros
Cons

Fully shrouded barrel

High shot count per fill

Great shot consistency

Regulated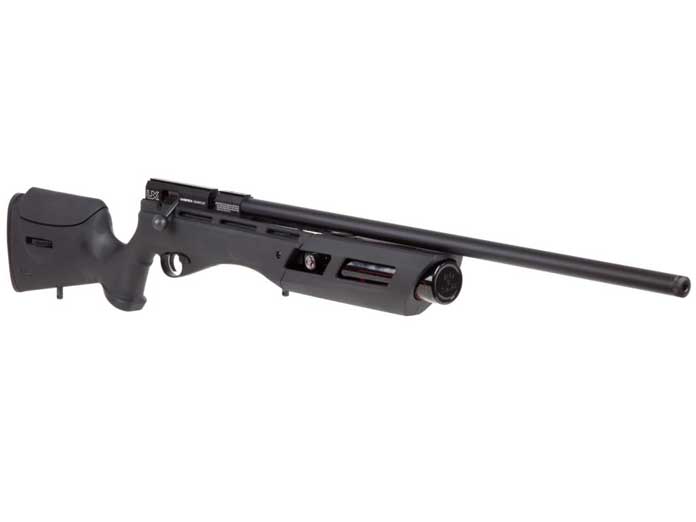 9. Hatsan BullBoss QE Rifle – Best PCP air rifle under 500 dollars
I'm really impressed with the power of the Hatsan BullBoss.
Consider powers of 27 FPE for the .177 caliber, 38 FPE for the .22 caliber and 42 FPE for the .25 caliber.
The corresponding muzzle velocities are 1070 fps, 1070 fps, and 970 fps respectively.
This is quite powerful for a rifle going for less than $500.
The gas tank with a pressure capacity of 2900 psi is partly responsible for this power.
The gas tank is rated 255 cc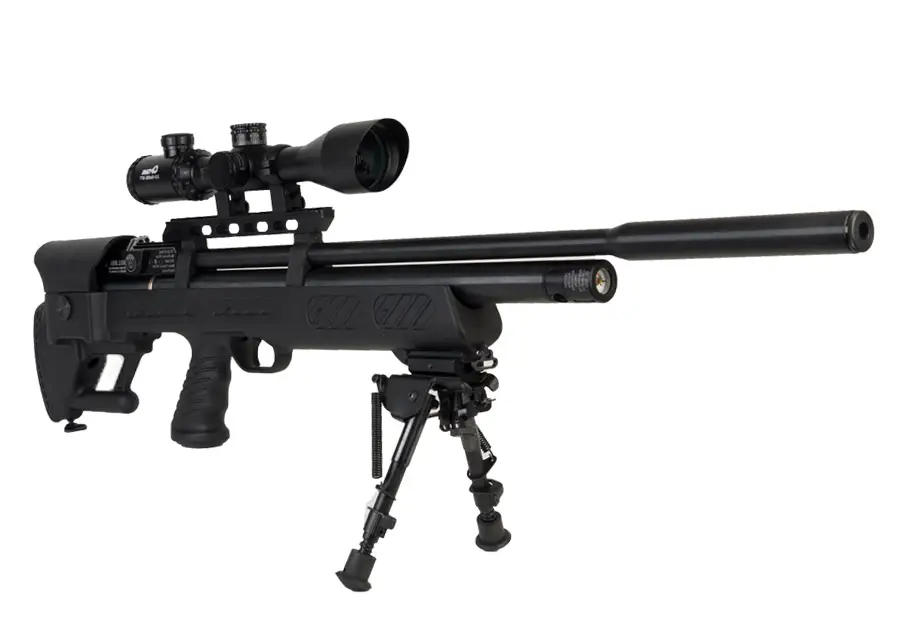 Another great feature of this rifle is the antiknock system patented by Hatsan.
The gas does not go to waste when the air rifle is accidentally bumped into or knocked against some hard surface.
Additionally, the rifle features an anti-double pellet feed system which ensures that only one pellet is loaded into the barrel at a time.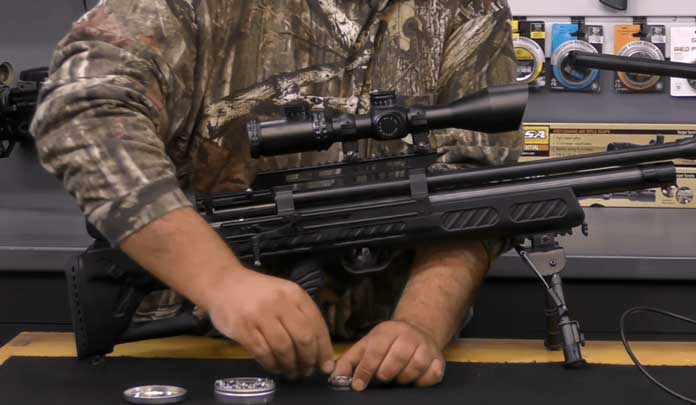 For safety reasons, the Hatsan Bullboss makes use of the 2 stage Quattro trigger system.
Your chances of accidentally firing the air rifle are reduced.
Successful shots are also made smoother by the smooth side-lever action.
Coming to noise, Hatsan mesmerizes me by the QuietEnergy Technology that reduces noise by up to 50 %.
=> Read Hatsan Bullboss Review here
You will also find useful its 6-slot Picatinny rail for mounting a variety of accessories to enhance your shooting experience.
The Hatsan BullBoss has a striking bullpup design that is both beautiful and convenient for young and aged shooters alike.
You can use its adjustable cheek comb to tune the air rifle to your stature.
Its detachable cylinder is also very handy for hunters on the move.
The rifle comes with spare cylinders for this same reason.
Overall, getting such amazing features for under $500 is more than a great deal.
Pros
Cons

Unusually quiet

Great accuracy

Great knockdown power

Flimsy bipod mount

Feels heavy to some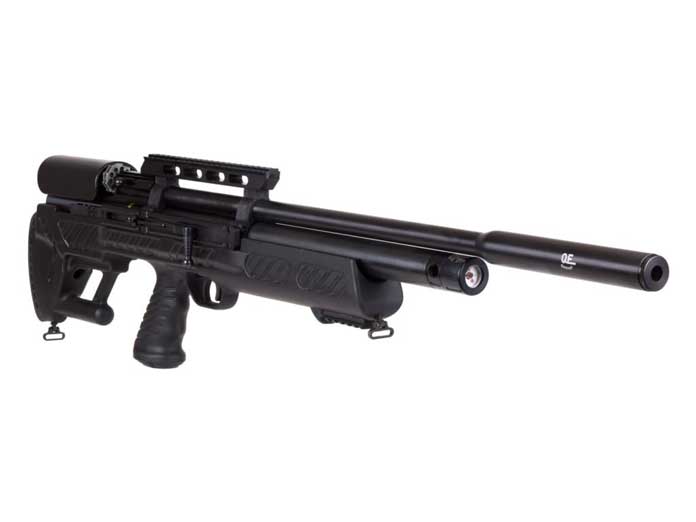 10. Seneca Sumatra 2500 – A powerful yet affordable air rifle
I can frankly attest that the Seneca Sumatra 2500 is one of the best Air Rifles produced by Air Venturi.
This company started in 2010, and has since penetrated the airgun market by acting as a manufacturer, importer and distributor of airguns.
Some of its most popular retail airgun brands include the Hellraiser, Western Justice, Annie oakley, and our Seneca.
It comes in 2 fashions, the .22 and .25 calibers.
With an overall length of 36 inches, persons of any size and ability can easily handle the gun.
The finish is also as trendy as the name.
The Seneca Sumatra is not your average single-shot air rifle.
Master its lever action and empty the 6 round rotary magazine like a pro.
The gun also features a power wheel with which adjusts the power as you go on shooting.
Depending on your power settings, you can either increase or decrease the number of shots before refills.
Tests have confirmed that the air rifle can shoot between 30 and 40 lightweight pellets.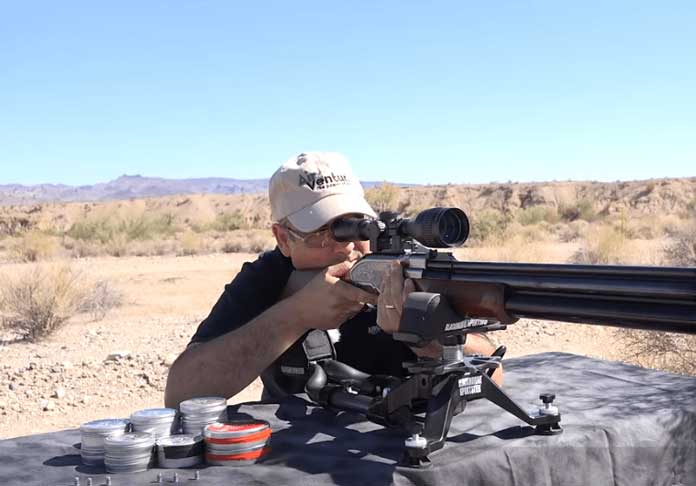 The open sights that come with the Seneca Sumatra are not a match for the potential accuracy of the air rifle.
To make use of its full capabilities, make sure to purchase a good quality scope.
The power of the rifle is incredible at its price range.
Tests with the H&N Baracuda Match 21.14 Grain pellets on the .22 caliber yield muzzle velocities of up to 1110.41 fps, with a resultant muzzle energy of about 58 FPE.
For sure, this is enough power to bring down even large game.
And note that the .25 caliber is still more powerful.
This makes the rifle ideal for hunting.
The manufacturer also rightfully claims an accuracy of ⅜ inches at 30 yards.
With around $700 or less, you can get yourself this wonderful air rifle.
Pros
Cons

Attractive Korean walnut finish

Adjustable power, hence adjustable number of shots per fill

Rifled barrel

Pleasing lever action

Quite loud 

Only 6 shots per filled magazine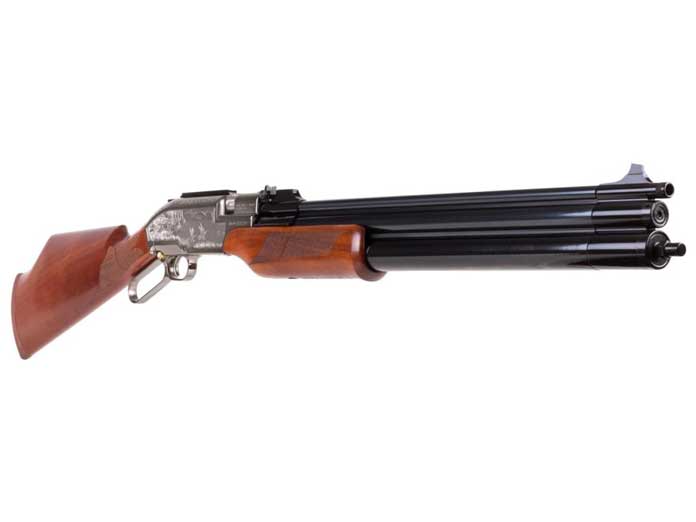 11. Air Arms S510 XS Xtra FAC – The best PCP air rifle for accuracy and looks
Of all the PCP air rifles in this list, the Air Arms S510 is the only one that attains the high fill pressure of 3626 psi.
Coupled with a fully regulated 288 cc cylinder, you can make the right guess of the sort of power we are looking at.
First of all, this air rifle gives riflemen up to 60 shots per fill for the .177 caliber, 55 shots for the .22 caliber, and 35 shots for the .25 caliber.
In addition to the many shots per fill, the air rifle features a power wheel
With which the shooter can adjust the power of shots, and subsequently the count of shots.
The accuracy of the air rifle is equally great, thanks to the coveted Lothar Walther barrel.
The shooting process has been made quite steady by the smooth side lever cocking mechanism.
Once the 2 stage adjustable trigger is pulled, the subsequent shots can be fired quite smoothly.
Given that it is a regulated PCP air rifle, it performs well in terms of consistency.
You can fire the pellets with equal velocity, unlike in non-regulated airguns which prove difficult to achieve a steady velocity with.
The .25 caliber yields muzzle energies of up to 44 FPE.
The .22 caliber yields up to 32 FPE.
The .177 caliber yields up to 20 FPE.
With such power and consistency of shots, you can claim most of the game you're probably after.
Get yours for $ 1,300 and enjoy the power and great looks of the the Air Arms S510 XS Xtra
Pros
Cons

Fully shrouded barrel makes it quiet enough for backyard use

Exceptional usability and quality

No play, no rattle, no loose screws

Super simple filling of magazine

Uniquely safe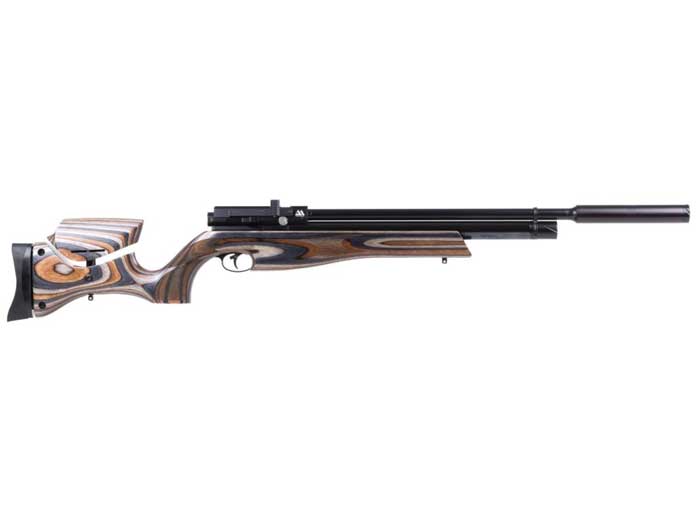 12. Hatsan AT44-10 Long QE – The best PCP air rifle under $ 600
Comparing prices around the web gives the Hatsan AT44 the tag of best PCP air rifle under $600.
The "Long" in the name of this air rifle tells you that there is a shorter version.
The difference between this rifle and the shorter version is the number of shots and velocity.
As it is long, it contains a bigger reservoir that supports more shots per fill, and higher velocities because of the bigger fill pressure.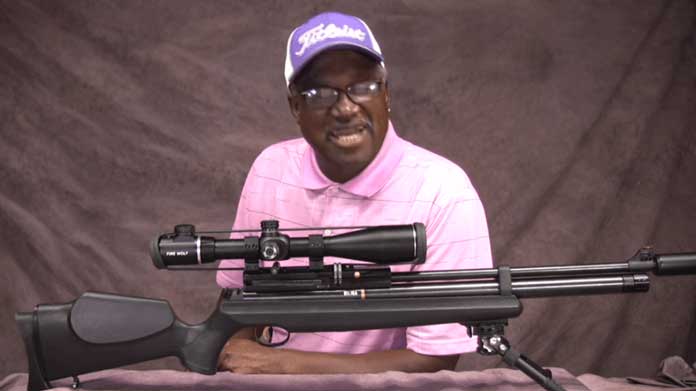 The air rifle is a relatively quiet one.
Its barrel is fully shrouded.
This, in combination with the integral silencer reduces noise by up to 50%.
You can therefore clear out those critters and rodents around your garden with a couple of shots.
Its 230 cc, with a fill pressure of up to 2900 psi, gas tank supports up to 45 shots per fill for the .177 caliber. The .22 caliber yields up to 35 shots.
The .25 caliber yields about 25 shots.
In terms of muzzle energies, the .177 caliber yields 27 FPE, the .22 caliber yields 38 FPE, and the .25 yields up to 42 FPE.
I bet you'll delight in its ambidextrous synthetic stock with a textured grip that reassures you of absolute control of the air rifle.
But in case you knock the rifle against something hard by mistake, the anti-knock system will ensure no gas leaks.
For under $600, this is certainly great value for money air rifle.
Other features you are sure to enjoy include:
Side lever bolt-action for smooth continuous shooting
Anti-double feed mechanism that ensures only one pellet at a time is loaded into the barrel for shooting
Integrated rail for mounting of accessories
And a picatinny rail for mounting of scopes and bipods.
Pros
Cons

Amazing accuracy

Great value for money

Likeable side lever cocking

Great magazine design

Difficult to read air pressure level

Not-so-pretty synthetic stock
13. AirForce Texan Big Bore – The most powerful PCP air rifle
When it comes to raw power, I recommend the AirForce Texan Big Bore Air Rifle.
AirForce Airguns was the first manufacturer of PCP air rifles in the U.S.
It was founded in 1994 in Texas, and the Texan and Texan SS are their main products.
AirForce has some serious airguns for the serious shooter.
Their rifles offer advanced in design, performance, and versatility for every shooter.
The Texan was released in 2015.
Since then, it has been a monster in the airgun world.
The gun is famous for its massively powerful shots.
It can be considered the most powerful PCP air rifle in the world.
The gun is designed to close the gap between a real firearm and an air rifle.
You should never underestimate the power of this gun!
The AirForce Texan Big Bore Air Rifle is designed for big game
And it can discharge .257, .308, .357 or .457 calibers at speeds up to 1,000 fps with over 500 ft/lbs of energy.
You can hunt anything with this air rifle.
Deer and boar are no problem at all to it.
With a long barrel of 34 inches, the AirForce Texan Big Bore Air Rifle can take down a target a 125 yards away.
Although the power is deadly, you don't need to worry about recoil – it's not much to handle since the power source is compressed air.
It is not equipped with AirFore's Sound-Loc Technology though, so it's not so quiet.
The stock is made from synthetic, all black, and really nicely finished.
The overall length is 48.5 inches, and it weighs 7.65 pounds (minus the scope and mount).
The 490cc air tank can be filled up to 3000 psi (200 bar) (only use compressed air or dry nitrogen).
The drawbacks are that the gun doesn't come with open sights or a scope, and it only has a 1 shot capacity.
The AirForce Texan Big Bore Air Rifle Price is just under $1000.
Pros
Cons

Undeniably powerful

Synthetic stock favors extreme weather usage

Maintenance free

Greatly durable

Accident risk reduced by automatic safety

Noticeably loud

Risky air tank position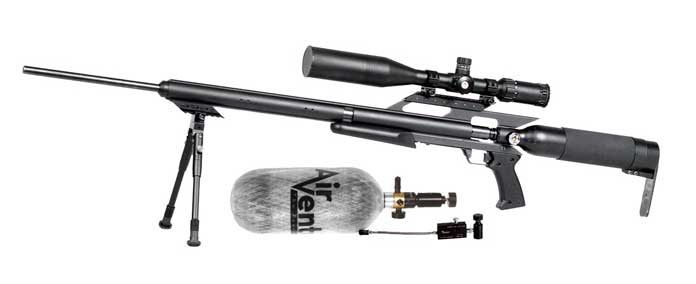 14. Hatsan BullMaster Semi-Auto PCP Rifle – The Best PCP air rifle under $1000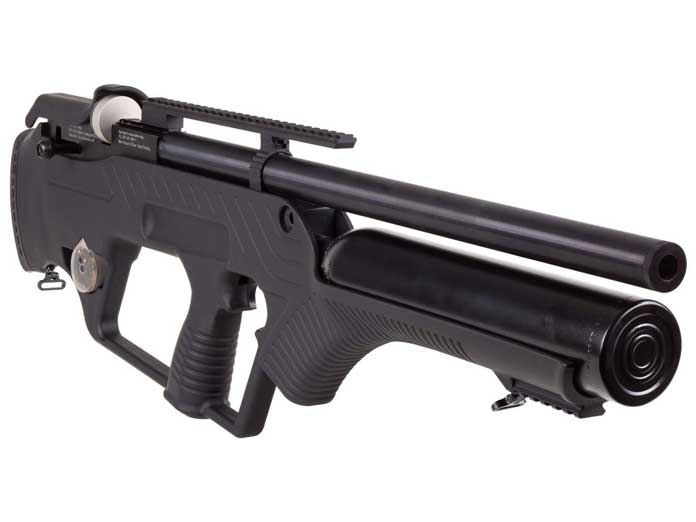 Hatsan is the most famous manufacturer of air guns in Turkey.
They were founded in 1967 and now are available over 90 countries worldwide.
They are ISO 9001 certified.
They have a high-standard production process, from initial processing of materials to final product testing.
The raw materials are very selective, such as Turkish walnut and very high-quality steel.
The end product is a high-quality and durable air rifle.
The Hatsan BullMaster Semi-Auto looks cool too.
It has a Bullpup design with synthetic ergonomic stock.
The gun has 11mm dual Dovetail and Weaver rail.
The cheek comb is adjustable, and the butt plate has a rubber pad for recoil absorption.
There are textures on the grip and forearm for better grip feel and control.
It's quite a short rifle, 30.9″ overall, with a 19.7″ barrel.
The advantage of this is that the short barrel forces the round faster, so you don't have to hold the gun overly consistently after firing.
The trade-off is the distance though, as the short barrel compromises how far you can shoot it.
The weight of the gun is 10.3 lbs.
The air rifle comes with 3 magazines: 14-shot .177, 12-shot .22, and 10-shot .25 calibers
So you can choose the best type of caliber for your shooting needs, from pigeon to deer.
The velocity for .177 pellets is 1,100 fps, for .22 pellets is 1,000 fps, for .25 pellets is 900 fps.
However, it is not consistent – the velocity is quite fluid.
The cylinder is 500cc and capable of being filled to 250 bar (3,625 psi).
This is a high-pressure capacity in comparison to other models of PCP air rifles.
Hatsan BullMaster Semi-Auto PCP Air Rifle is Semi-Automatic and has 2 magazine carrying slots
So you can shoot very quickly up to 28 shots per load. Really impressive.
The gun costs about $900. This is an awesome gun that promises to be the best companion with you on the field.
Pros
Cons

Outstanding accuracy

Reliable for hunting

Cool Bullpup design

Adorable 12-shot repeater

10.3 lbs weight feels heavy to many

Unsilenced

15. Seneca Dragon Claw 500cc Air Rifle – Best PCP air rifles for hunting
Hunting is usually engaging, simply because no prey will wait for its death without putting up a fight for dear life.
For this reason, you have to choose an air rifle best suited for the job.
I hope you do understand that others are best suited for fun plinking and target shooting.
Ideally, you should go for an air rifle with a great stopping power, that will not only bruise the animal, but penetrate deep and kill it.
To clearly sight the animals as they hide in the dark bushes, you may need a high quality scope
As opposed to the basic open sight that comes with many air rifles.
(For more on how many types of air gun sights out there and which one is suitable for you, see this post)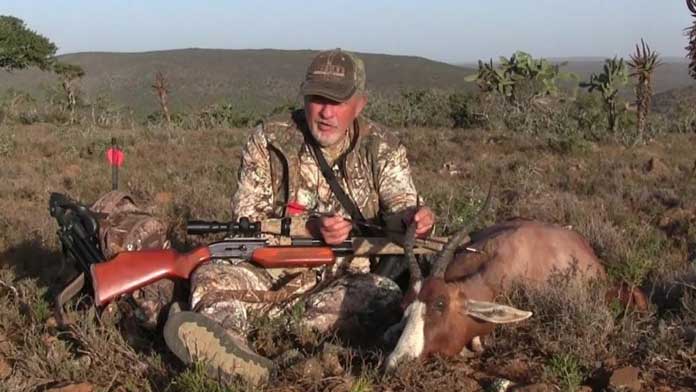 The caliber of the rifle will also determine the power and speed of the pellets.
Higher calibers are associated with greater power, lower velocity and lower range.
Lower calibers are associated with less power, higher velocity and higher range.
Considering the above, and of course costs, the Seneca Dragon Claw 500cc air rifle best fits this description.
The rifle features a power of up to 679 fps for the .50 caliber.
This translates to the incredible power of 230 FPE, enough to knock down nutria, hogs, foxes, woodchucks, raccoons, javelinas, and coyotes.
It comes with a dual air chamber with a total capacity of 500 cc.
Their maximum fill pressure is 3000 psi.
To have an idea of what kind of power this is, the average fill pressure for car tyres is about 35 psi!
The air rifle features a hardwood Monte Carlo stock with checkered forearm and grip for proper handling.
It has two levels of power – the low and the high power, determined by whether you cock to the first or second bolt stop.
And with a rifled barrel, you can be sure of the most accurate of shots.
Pros
Cons

Unmatched killing power

Beautifully built

Amazing craftsmanship

Threaded barrel

Great shot count per fill

Trigger not worth the money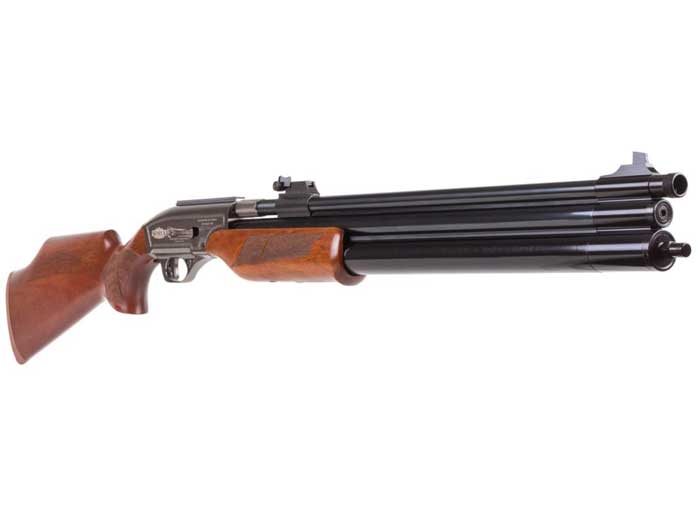 Final Verdict
As you have probably noticed while reading the above detailed review, the choice of an air rifle is interesting if you know exactly what you are after.
Are you a sports shooter?
Are you a hunter?
Are you a fun enthusiast?
Are you a careful mom, wary of rodents and critters in your household?
Once you answer this question, you can go ahead to select the best air rifle that suits your needs.
What you should remember is that there are quite a variety of brands, all with different features and price tags.
So take time to read reviews like this and get to know the experience of other users with similar air rifles.
This way, you will not regret your choice. Good luck whatever your choice!