Teddy Roosevelt and Ishi.
I greatly admire these two men.
And I haven't yet got tired of re-reading their hunting stories – time after time.
Of course, they didn't have the best break barrel air rifle on the market,
But they still made it to the list of greatest hunters of all time.
If you are not so well versed in American history, Ishi was the very last member of the Yahi tribe.
The rest of the tribesmen had perished in the California genocide between 1849 and 1870. 
For the next 44 years, Ishi survived in the wilderness with a few relatives of his, until he was "discovered".
Two other well-known hunters, Art Young and Saxton Pope took him in as a refugee.
That is when Ishi passed on his unrivaled hunting skills to the native American Tribe known as Yahi. 
Ishi had really mastered the art of stealth hunting.
Additionally, he would call quite a number of game animals with his own mouth!
And that's how he survived for decades in the wilderness.
Then came the beloved Teddy Roosevelt – the 26th US president from 1901 to 1909.
How he loved wildlife!
So much so that he traveled with 250 men to the jungles of Africa for a hunting trip.
By the close of the trip, they had hunted down 1,100 game animals – of which 500 were large species – think of buffaloes, rhinos, elephants, and the like.
While Ishi mainly used the bow and arrow, Teddy Roosevelt gloried in his .500/450 caliber Holland & Holland double rifle, as well as the .405 Winchester firearm. 
Now, firearms and crossbows aside, can an air rifle sneak you into the hunter's hall of fame?
That is actually the thought that ignited my interest in air rifles.
For now, let us focus on break-barrel air rifles.
The 19 Best Break Barrels Air Rifle
If you are in a hurry, here is an overview of all the candidates in our list of best break barrel air rifles 2022:
1. Beeman R9 – Best break barrel air rifle Overall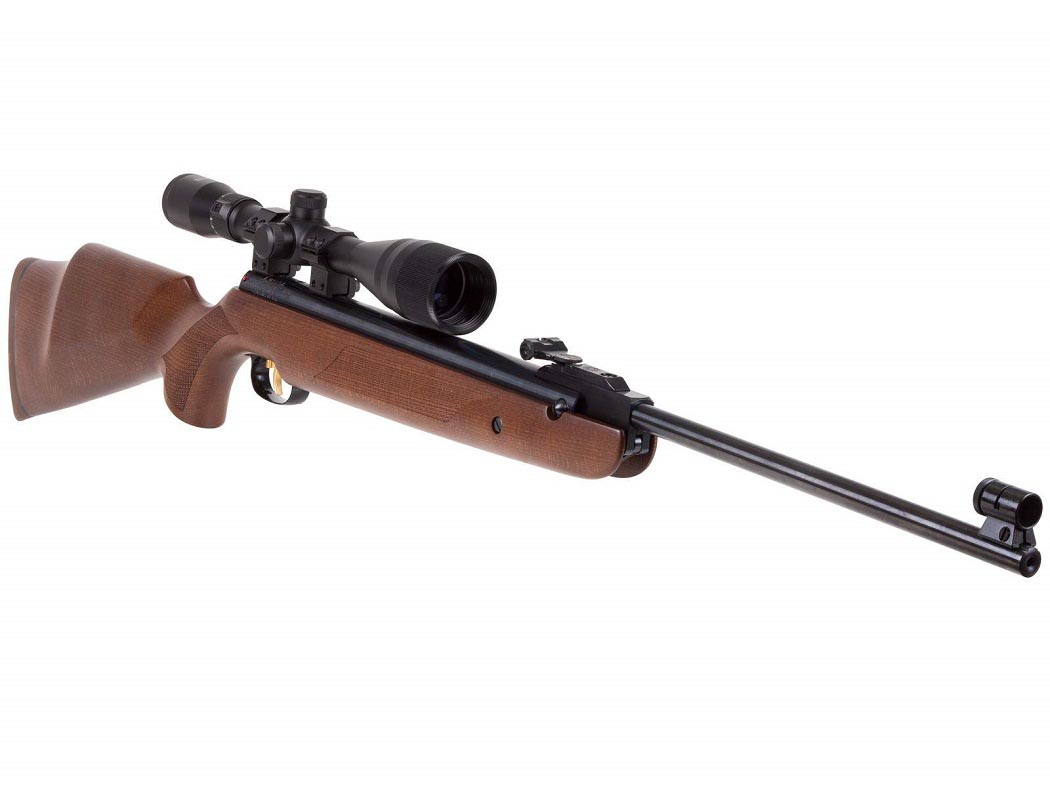 This had to top our list.
Germany has been known to produce some of the best goods around the world, and the German-based Beeman is no exception.
Statista's Made-In-Country Index reveals that: 
"Made in Germany" is the most highly regarded quality label for goods and services around the world, outshining other major exporting nations' trust marks such as "Made in USA" or "Made in UK".
Perhaps the first feature of Beeman R9 you'll fall in love with is the Rekord trigger. 
Certainly, it is of the two-stage adjustable design – with the first stage comfortably light and the second stage adequately crisp.
You only need a 2.1-pounds pull on the trigger to fire the airgun.
Additionally, you'll marvel at the exceptional attention to detail employed in manufacturing.
Talk of a splendidly stained hardwood ambidextrous stock onto which other fittings and moving parts are attached with the highest achievable level of precision. 
The Beeman R9 is equally good in performance, on top of the looks.
The .177 caliber gives you an average of 14 FPE, while the .22 model yields about 17 FPE.
That should be enough for all your plinking, targeting shooting, pest eradication, and small game hunting needs. 
Accuracy
| Calibers | Pellets | Distances | Groups |
| --- | --- | --- | --- |
| .22 | Crosman Premiere Hollow Point 14.3 gr | 20 yards | dime size |
| .22 | Air Arms Diabolo Field 16 Gr | 25 yards | dime size |
| .177 | H&N Baracuda Match 10.65 gr | 10 yards | 0.16" |
| .177 | H&N Baracuda Match 10.65 gr | 20 yards | 0.17" |
| .177 | H&N Baracuda Match 10.65 gr | 30 yards | 0.49" |
| .22 | Predator GTO 11.75 Gr | 25 yards | 0.5" |
| .22 | Predator GTO 11.75 Gr | 50 yards | 1" |
| .22 | H&N Barracuda Hunter Extreme | 20 yards | 1/4" |
| .22 | RWS Meisterkugeln 14 gr | 50 yards | dime size |
| .177 | Beeman Kodiak Match 10.65 gr | 60 yards | quarter size |
| .22 | H&N Field Target Trophy 14.66 gr | 25 yards | 0.5" |
| .177 | H&N Baracuda Match 10.65 gr | 25 yards | 0.4" |
| .22 | Beeman FTS Double Gold 14.66 Gr | 25 yards | one hole |
| .22 | JSB Exact pellet | 25 yards | dime size |
| .22 | RWS Hobby pellet | 30 meters | dime size |
| .22 | JSB Diabolo Exact Jumbo Express 14.3 gr | 50 yards | quarter size |
| .177 | H&N Field Target Trophy 8.64 Gr | 25 yards | dime size |
| .177 | H&N Baracuda Match 10.65 Gr | 25 yards | dime size |
| .177 | RWS Supermag 9.3 gr | 25 yards | 1/2" |
| .177 | Crosman Premier Heavy 10.5 gr | 20 yards | dime size |
| .177 | Predator Polymag 8.0 gr | 25 yards | 1/4" |
| .177 | Beeman FTS 8.64 gr | 50 yards | 7/16" |
| .22 | RWS Meisterkugeln 14gr | 20 yards | 0.22" |
| .22 | JSB Hades 15.89 gr | 25 yards | 0.44" |
| .22 | H&N Terminator 16.36gr | 25 yards | 0.35" |
| .22 | H&N Terminator 16.36gr | 50 yards | 0.65" |
Chrony tests
| Calibers | Pellets | FPS | FPE |
| --- | --- | --- | --- |
| .22 | H&N Field Target Trophy 14.66 gr | 750 | 18.32 |
| .20 | JSB Exact 13.9 gr | 708 | 15.48 |
| .20 | H&N Field Target 11.42 gr | 772 | 15.12 |
| .22 | Predator GTO 11.75 Gr | 757 | 14.95 |
| .20 | H&N Field Target 11.42 gr | 780 | 15.43 |
| .22 | RWS Meisterkugeln 14 gr | 741 | 17.07 |
| .22 | H&N Field Target Trophy 14.66 gr | 730 | 17.35 |
| .20 | Beeman H&N Match 10.03 Gr | 820 | 14.98 |
| .22 | Beeman FTS Double Gold 14.66 Gr | 680 | 15.06 |
| .177 | JSB Match Diabolo Exact 8.44 Gr | 860 | 13.86 |
| .22 | Crosman Premier Hollow Point 14.3 Gr | 725 | 16.69 |
| .22 | H&N Field Target Trophy 14.66 gr | 700 | 15.95 |
| .177 | JSB Match Diabolo Exact 8.4 Gr | 803 | 12.03 |
| .177 | Crosman Premier 7.9 Gr | 830 | 12.09 |
| .22 | RWS Meisterkugeln 14gr | 713 | 16 |
| .22 | JSB Hades 15.89 gr | 656 | 15.19 |
| .22 | H&N Terminator 16.36gr | 658 | 15.73 |
| .22 | H&N Baracuda 18.21 gr | 651 | 17.14 |
| .22 | Predator GTO 11.75 gr | 814 | 17.29 |
| .22 | JSB Exact Jumbo 13.43 gr | 674 | 13.55 |
| .177 | Beeman Kodiak 10.6 gr | 770 | 13.97 |
| .177 | RWS Hobby 7.0 gr | 931 | 13.45 |
Recommended uses
Target shooting/plinking
Pest control/ small game hunting: squirrels, raccoons, chipmunks, possums, starlings, pigeons.
Pros and Cons
2. Best High-End break barrel: Weihrauch HW90
The Weihrauch HW90 Breakbarrel Air Rifle combines quality construction with superior accuracy.
With over 50 years of manufacturing experience, Weihrauch sets the standard for air rifles. The natural proportions and beautiful deep bluing give the rifle a classic aesthetic that is sure to stand the test of time.

While many modern airguns provide accuracy, those familiar with Weihrauch's products know no other brand delivers the same level of precision and reliability as this model.
Whether shooting with or without a scope, you can be sure that you will hit the 10-ring time and time again.
The Weihrauch HW90 break barrel air rifle is a powerful, reliable hunting rifle that you can depend on for decades of use.
Perfect for small to medium-sized pests and games, the gas spring ensures easy cocking while you wait for the ideal shot.
Unlike traditional metal mainsprings that may weaken with time, the HW90 consistently performs at its best no matter how often it's used.
With hunting with air rifles becoming increasingly popular, this product is perfect for states that are specifying particular games which can be hunted with them.
If you're not a hunter but still have an interest in quality air guns then the Weihrach HW90 break barrel rifle won't ever let you down.
Extremely sturdy and long-lasting, this gun will give you optimal performance on a day out at target practice or plinking. With extraordinary craftsmanship embodying German engineering standards, this gun will be sure to bring many years of fun and service.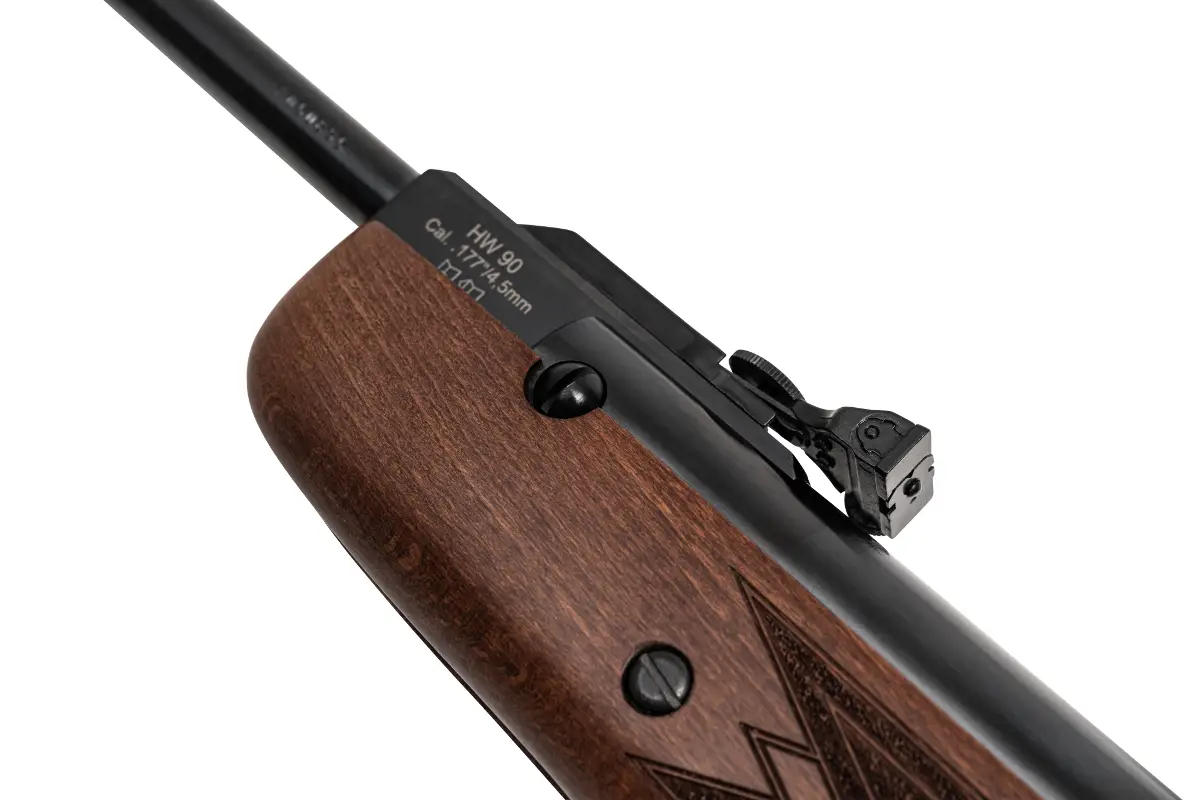 Accuracy
| Calibers | Pellets | Distances | Groups |
| --- | --- | --- | --- |
| .177 | Beeman Kodiak 10.65 Tapered dome | 25 yards | dime size |
| .25 | Diana magnums 20gr | 20 yards | 3/4" |
| .22 | H&N Field Target Trophy 14.66 Gr | 40 yards | 0.15" |
Chrony tests
| Calibers | Pellets | FPS | FPE |
| --- | --- | --- | --- |
| .25 | JSB Match Diabolo Exact King 25.39 Gr | 562 | 17.81 |
| .25 | JSB Diabolo Exact King Heavy 33.95 Gr | 426 | 13.68 |
| .25 | Eun Jin 35.8 Gr | 460 | 16.82 |
| .22 | Webley Mosquito 14.35gr | 726 | 16.8 |
| .25 | Beeman Kodiak Extra Heavy 31.02 gr | 590 | 23.98 |
| .22 | Crosman Premier Hollowpoint 14.3 gr | 787 | 19.67 |
| .22 | H&N Hollow Point 12.65 gr | 879 | 21.71 |
Recommended uses
Target shooting/plinking
Pest control/ small game hunting: squirrels, rabbits, rats, pigeons.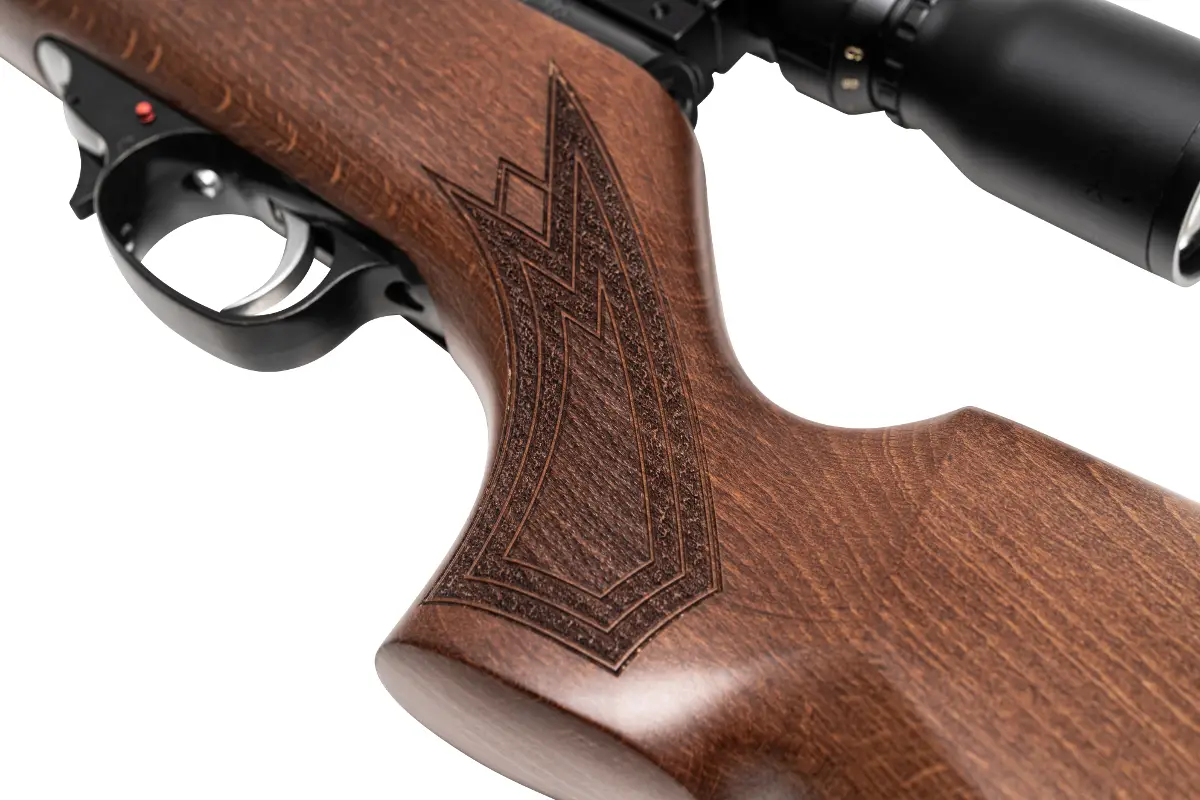 Pros and Cons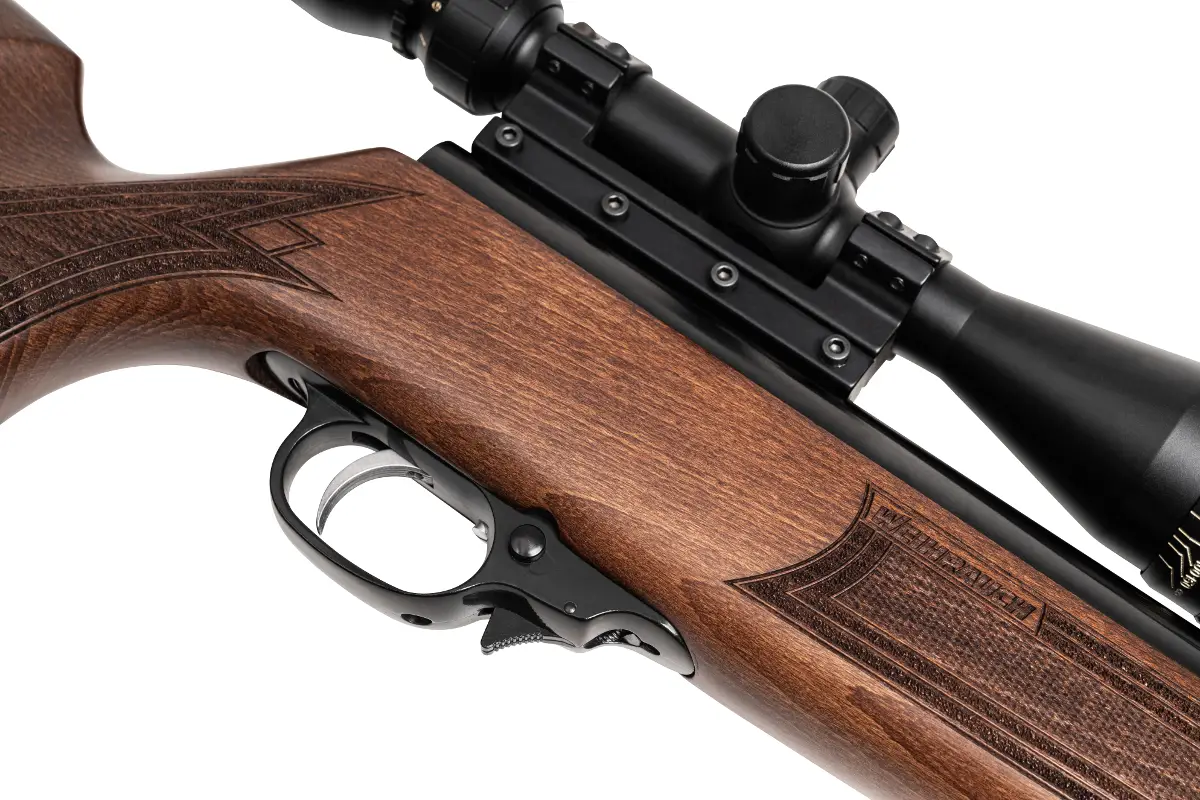 3. Best break barrel for small game hunting: Diana 350 Magnum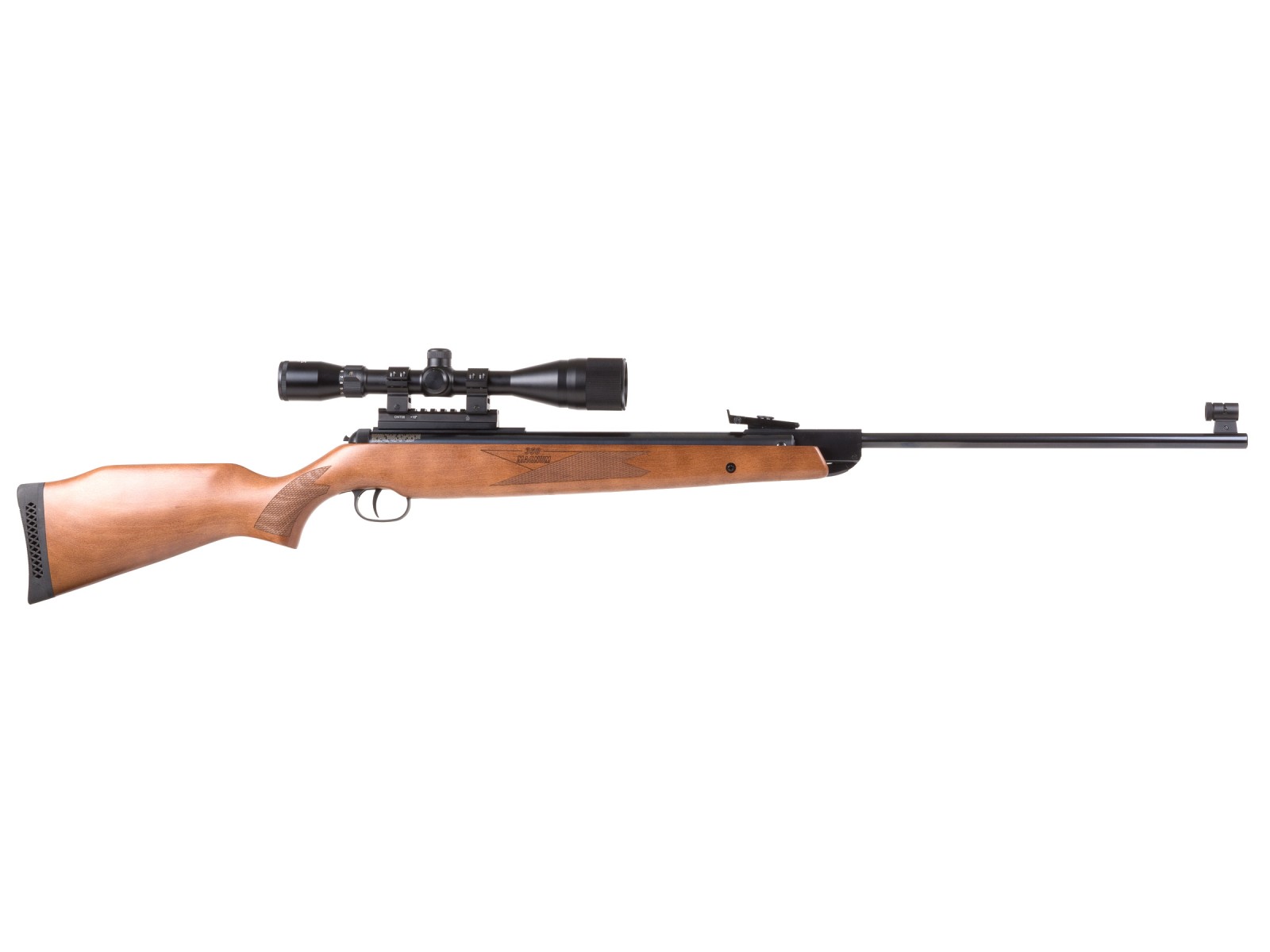 Jim Chapman of Airguns of Arizona laments how hunters are obsessed with pellet velocity and muzzle energy, as opposed to accuracy.
He claims that it only takes a few FPE to humanely kill a rabbit, provided the shot is well placed. 
Therefore, the following FPE chart by Airgun Depot should only serve as an average guide
As you can kill the listed animals with less FPE than the stated values if you are more accurate.
The above narration is meant to show what you are capable of doing with the Diana 350 Magnum – which shoots pellets at a maximum muzzle velocity of 1250 fps, delivering a killing power of about 23 FPE on average.
That is sure enough for many small-sized and medium-sized games.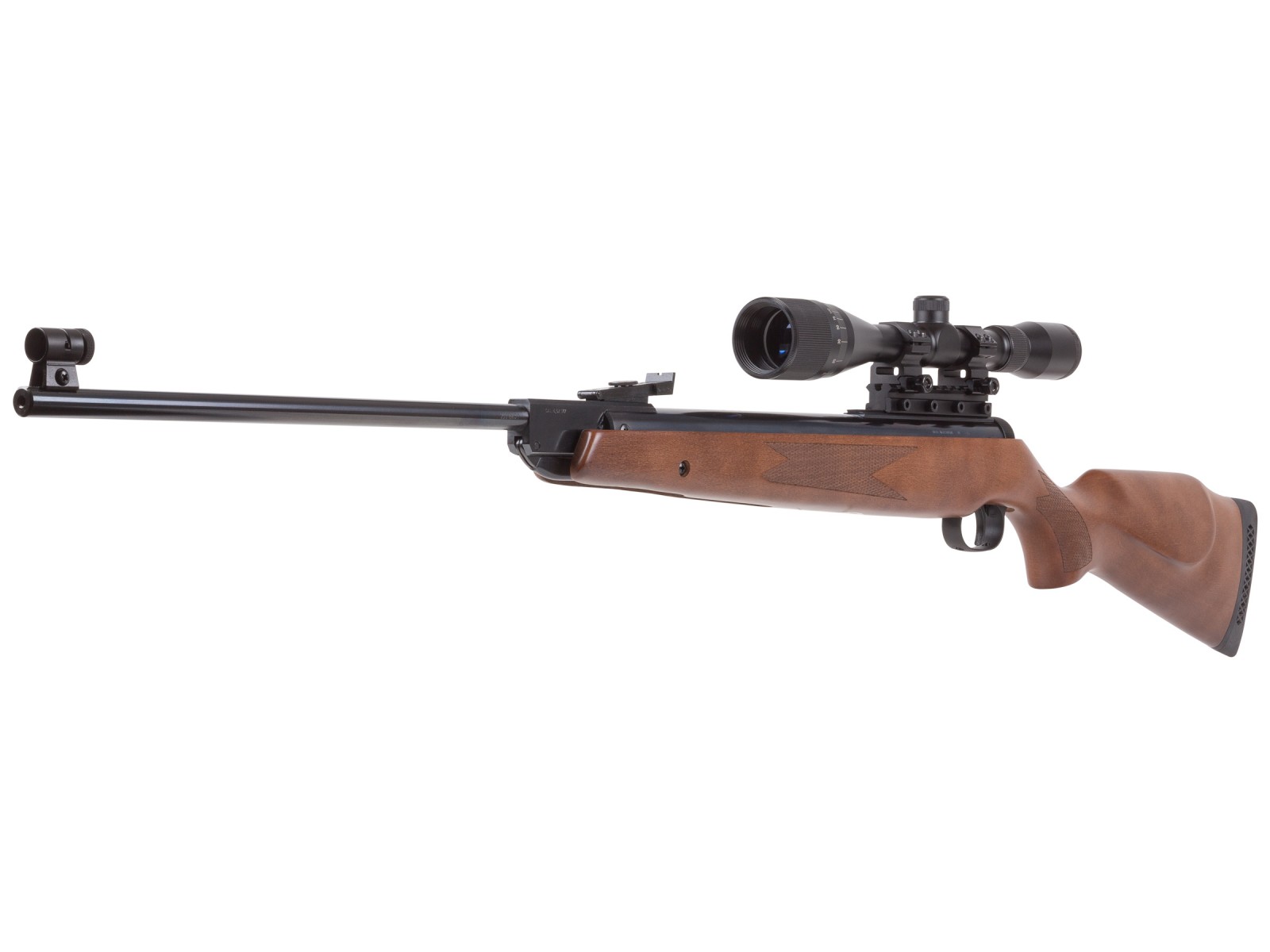 The Diana 350 Magnum is a high-powered spring piston air rifle that is perfect for plinking and small game hunting. With its streamlined Monte Carlo beechwood stock and adjustable 2-stage T06 trigger, the Diana 350 Magnum is a force to be reckoned with on the backyard range.
Available in .177 and .22 caliber, this springer can send rounds flying at speeds up to 1,250 fps, making it more than capable of taking down small games at long range.
Each Diana 350 Magnum comes with adjustable rear sights for quick and easy target acquisition, and an 11mm Dovetail scope mount for adding a scope for even more precision.
Add in the Diana T06 2-stage adjustable trigger, which allows you to customize the pull weight, sear engagement, and length of the first stage, and you have a recipe for success on your hands.
So whether you're looking to take down some tin cans on the range or put meat on the table, the Diana 350 Magnum is sure to get the job done.
Features
Deep blued
Rear is adjustable
Raised cheekpiece
Monte Carlo buttstock with ventilated buttpad
Beech stock
11mm scope rail
Ideal for hunting
T06 Trigger
Accuracy
| Calibers | Pellets | Distances | Groups |
| --- | --- | --- | --- |
| .22 | JSB Jumbo Heavy 18.13 gr | 30 yards | 0.5" |
| .22 | JSB Diabolo Jumbo 15.89 Gr | 30 yards | 3/4" |
| .22 | Crosman Premium Ultra Domed 14.3gr | 60 yards | 1" |
| .22 | Beeman Crow Magnum 18.21 gr | 30 yards | nickel size |
| .177 | Beeman Kodiak 10.65 gr | 25 yards | dime size |
| .22 | JSB Diabolo Exact Jumbo 18.13 gr | 100 ft | nickel size |
| .22 | H&N Crow Magnum 18.21 Gr | 20 yards | 1/2" |
| .22 | Beeman FTS Copper 14.72 gr | 25 yards | 1/2" |
| .177 | Crosman Premier 7.9 gr | 25 yards | dime size |
| .22 | Beeman Kodiak | 50 yards | one hole |
| .22 | JSB Predator | 30 yards | one hole |
| .22 | Predator pellet | 50 yards | one hole |
| .22 | Crossman premier hollow point | 30 yards | 0.5" |
| .22 | JSB Diabolo Exact Jumbo 18.13 gr | 25 yards | 0.58" |
Chrony tests
| Calibers | Pellets | FPS | FPE |
| --- | --- | --- | --- |
| .22 | JSB Diabolo 18.13 gr | 775 | 24.19 |
| .22 | JSB 15.89 gr | 769 | 20.87 |
| .22 | JSB Jumbo Heavy 18.13 gr | 738 | 21.93 |
| .22 | RWS Superdome 14.5 gr | 875 | 24.66 |
| .22 | Crosman Premier Pellets 14.3 Gr | 850 | 22.95 |
| .177 | H&N Baracuda Hunter 10.49 gr | 980 | 22.38 |
| .177 | Air Arms Field Heavy Pellet 10.34 gr | 986 | 22.33 |
| .177 | Beeman Kodiak 10.65 gr | 930 | 20.46 |
| .22 | JSB Diabolo Exact Jumbo 18.13 gr | 788 | 25 |
| .22 | RWS Meisterdugeln 14.0 Gr | 815 | 20.65 |
| .22 | H&N Baracuda Hunter Extreme Pellets 19.09 Gr | 752 | 23.98 |
| .177 | Crosman Domed Field 10.5gr | 930 | 20.17 |
| .177 | RWS pellet 8.2 gr | 1055 | 20.27 |
| .22 | RWS Superdome 14.5 Gr | 949.8 | 29.05 |
| .22 | Crosman premier 14.3 gr | 855.44 | 23.24 |
| .22 | JSB Exact 15.8 gr | 757.9 | 20.16 |
| .22 | RWS Superdome 14.5 Gr | 847 | 23.1 |
| .177 | Crosman Premier Light 7.9 gr | 850 | 12.68 |
| .177 | Crosman Premier 10.5 grain | 810 | 15.3 |
| .22 | RWS Hollow Point 14.2 Gr | 825 | 21.47 |
| .22 | JSB Diabolo Exact Jumbo 18.13 gr | 778.4 | 24.4 |
Recommended uses:
Target shooting/plinking
Pest control/small game hunting: woodchucks, possums, gophers, rabbits, eastern grays, crows, squirrels, raccoons, jackrabbits, feral cats, groundhogs, and small foxes.
Pros and Cons
5. Hatsan 125 QE – Best .25 break barrel air rifle for hunting
Still, in the hunting mode, the .25 model of the Hatsan 125 air rifle gives you about 850 fps and 34 FPE.
Refer to the FPE chart above and confirm that you can kill any fox-sized animal with the Hatsan 125.
It certainly feels great to have such power in your hands – for less than 250 bucks!
To add to that, the airgun uses a vortex gas spring that is way much smoother than the conventional metal spring.
You'll also be able to use it in the coldest of winters – FYI, metal springs don't function optimally in low-temperature environments. 
Pros
Excellent craftsmanship
Great power and accuracy
Includes a PCP-style fill port under the stock for greater power – and you can also reduce the power if you like
Cons
8.4 lbs weight feels heavy for smaller-bodied hunters
Included 3-9*32 Optima scope is not the best quality – but it suffices for that price range
6. Gamo Whisper Silent Cat – Best break barrel air rifle under $150
Though it looks beastly and bulky, the Gamo Whisper Silent Cat weighs only 5.28 lbs.
No matter your stature, you will certainly be able to carry it around without much strain.
Secondly, the all-weather black synthetic stock saves you from the destructive weather elements of outdoor shooting.
The thumbhole stock design also offers an ergonomically great grip, with your muscles quite relaxed.
That ideally sets you up for improved performance with every single shot.
You'll be able to shoot a .177 pellet at a whopping 1200 fps.
That's great for backyard plinking as well as pest eradication. 
Pros
Exceptional accuracy
52% less noise than its predecessor – the Gamo Big Cat 1250
Very popular – with over 800 customer testimonials on Amazon
Ergonomic stock
Cons
3.79 lbs trigger pull feels quite heavy
7. Gamo Swarm Fusion 10X Gen2 Multi-shot – Best break barrel air rifle for the money
According to FELP, value for money does not necessarily mean being the cheapest product in the market.
It is rather the most advantageous combination of quality, cost, and sustainability.
That's why my choice in this category is the Gamo Swarm Fusion.
It is not less than 100 USD – neither is it more than 500 USD.
Its retail price of about 300 USD is very sensible regarding the range of quality features the air rifle has. 
These include:
1300 fps muzzle velocity for .177 model and 975 fps for .22 model
10-shot rotary magazine on the side of the rifle – meaning you can mount a low profile scope
Whisper Fusion technology that significantly dampens noise
Polymer-coated steel barrel to reduce wear and tear
5.78 lbs weight for easy carrying
And many others
Pros
10-shot repeater action captivates many shooters
The Custom Action Trigger system enables you to alter the trigger travel for the two stages by use of adjustment screws – so make the trigger travel long or short as you please
Loading the magazine is easy
Great projectile velocity
Cons
Quite addictive – you are likely to use more pellets than you budget for – that's on a light note though:-)
Comes with only one magazine – 2 or 3 or 4 would have been better
8. Crosman Vantage Nitro Piston – Best break barrel air rifle under 100
Perhaps you are skeptical of spending big on your first airgun. Don't let that worry you though.
The Crosman Vantage NP air rifle is the best bet. Only 100 bucks and you are ready to start your shooting.
With a Nitro Piston as the main power plant, this airgun is already advantageous over other break barrel air rifles with metal springs in the following ways:
Nitro piston allows smoother cocking than metal springs
Nitro piston is more durable than metal springs
Nitro Piston does not experience spring fatigue as metal springs do when left cocked for extended periods of time
The performance of air rifles with Nitro Piston power plants is not compromised during cold weather – as is the case with metal springs
Additionally, the Crosman Vantage NP air rifle produces 70% less noise than similar metal spring airguns.
That makes it perfect for backyard plinking and pest elimination within and around the house.  
Pros
Very affordable for many
Beautiful hardwood ambidextrous stock
Simple and great for beginners
Extremely easy to cock and shoot
Cons
Iron sights is not so good
Plastic sights can easily be knocked off
That feeling that comes with "Made in China"
9. Ruger Air Magnum Combo – Best break barrel air rifle under $200
Imagine FPEs of up to 26 with the .177 model and 32 with the .22 caliber!
Calling the Ruger Air Magnum a beast wouldn't be exaggerating.
And remember you are getting this at less than 200 USD.
As such, buy this if your intent is to go shooting.
You really don't need that power for soda can plinking – unless you simply find joy in really disfiguring your targets.
Be sure the black synthetic stock will last you for years and years to come.
You'll also find its 2-stage adjustable trigger nice – not to mention the reliable fiber optic sights and the automatic safety.
Here's the Ruger Air Magnum in action:
Pros
Insane power
Impressive trigger
All-weather, ambidextrous monte Carlo stock
Consistent velocities with different pellets
Cons
The included 4X32 scope is not that reliable for a serious hunter – replace it with a better scope
Quite loud – use it away from homes
Difficult to cock
10. Hatsan MOD 130S Vortex QE – Best break barrel air rifle under $250
Yet another beast from Hatsan Arms Company. 
This is specifically built for the hunting game – the reason is it comes in .30 caliber only.
Shooting the .30 pellets will give you muzzle velocities of 590 fps and muzzle energy up to 34 FPE.
That is pretty enough to authoritatively knock down many small and medium-sized game animals. 
What's more, it features the patented QE (Quiet Energy) by Hatsan.
This significantly reduces the air rifle noise so as not to scare away animals before hitting them. 
To reduce the recoil and prevent scope damage, this powerful air rifle is fitted with a Shock Absorber System, in addition to the rubber buttplate. 
Pros
Adequate power for hunting
2-stage Quattro trigger that can be adjusted to your preference
Integrated mounts for swivel sling
Carries all advantages of vortex gas piston over metal springs
Cons
Only skirted ammo can be used
Some hunters can't bear the 9.6 lbs weight
11. Gamo Magnum – Best break barrel air rifle under $300
The .22 caliber model of Gamo Magnum delivers about 26 FPE at an amazing 1300 fps.
The .177 has even higher speeds – i.e. 1650 fps, but with somewhat similar muzzle energy to the .22 caliber because of the reduced weight of pellets.
You really have to be a speed enthusiast to go for this airgun.
The speed and penetrating power are a result of the IGT MACH 1 power plant.
That is essentially some inert gas enclosed under pressure in a monster 33-millimeter cylinder. 
Advantages of the IGT MACH 1 over the conventional spring power plant are quite evident – including but not limited to the following:
Greater velocity
Greater punching power
Less vibration
More precision
Greater durability
Other useful features of the Gamo Magnum air rifle include:
Custom Action Trigger that you can adjust for longer or shorter trigger travels for both the 1st and 2nd stages
Rifled steel barrel that improves accuracy when shooting
Thumbhole stock design that makes it ergonomic to hold
Shock Wave Absorber and soft rubber buttplate for reduced recoil 
Pros
Perfect for small game hunting
Includes reliable AO scope
Crazy accuracy
Solid build
Lighter than other air rifles of similar power – weighs only 6.88 lbs
Cons
High loudness rating
40 lbs cocking effort, not for the small build person
12. Hatsan 135 QE Vortex – The most powerful break barrel air rifle
Have a look at these specs:
What more could we ask from the manufacturer?
And remember you get such authoritative knockdown power at only 300 bucks! Hats off to Hatsan.
Whatever caliber you choose, you'll have what it takes to cleanly kill a wide range of small and medium-sized animals.
And with such power, Hatsan made sure you stay safe by including the drop safety interlock device
That ensures your rifle does not fire in case it is accidentally dropped.
The air rifle also has a trigger safety that prevents misfiring. 
Don't forget to adjust the 2-stage Quattro trigger to the travel distance of your choice.
Beauty is power in itself – so said one John Ray. Aside from the actual power in terms of muzzle energy, Hatsan MOD 135 possesses even more power, thanks to its beautiful design and finish. 
It boasts the coveted ambidextrous Monte Carlo stock made of Turkish Walnut.
You can also adjust the cheekpiece to your preferred height. 
See below the Airgun Detectives shooting the Hatsan 135 QE Vortex Air Rifle:
Pros
The Turkish Walnut stock of monte Carlo design makes the air rifle stand out
Impressive TruGlo fiber optic front and rear sights
Insane power
Remarkable safety features
Cons
50 lbs cocking effort is a lot – so far the highest in the air rifles we've covered
9.9 lbs is more on the heavy side for most hunters
13. Weihrauch HW80 – Best break barrel air rifle for squirrels
You now know that you need only 9 FPE to humanely kill a squirrel.
Needless to say, the air rifle you choose for squirrel hunting must achieve this power.
The .22 model of Weihrauch HW80 delivers over 16 FPE.
The .177 and .20 calibers range between 12 and 16 FPE.
There you are! No squirrel will stand your way, provided you aim right at the recommended kill zones. 
(For more on the best air rifle for squirrels, see this post)
Additionally, the Weihrauch HW80 features the Rekord trigger. People praise it for a reason. 
Alicep of Airgun Shooter UK poses the question: What is the most vital part of an air rifle aside from the shooter?
Some say the barrel, others argue it's the ammo, others talk of the gun fit, others suppose it's the consistency of power delivery, and so forth.
Whatever the answers people give, the trigger will never miss on the list.
Be pleased to know that I'm in that trigger group.
No matter how well an air rifle is built, your expertise on the trigger has quite a say on the accuracy of the air rifle.
For air rifles with flimsy triggers, there are high chances you will be less accurate in hitting your targets.
But with the full-specification two-stage Rekord trigger, your chances of accurate shooting are already high. 
Here is Vincent with more details on the Weihrauch HW80 break barrel air rifle:
Pros
Amazing accuracy
Shoots perfectly
No spring grinding when cocking
Heavy hardwood beech stock, free of blemishes
Made in Germany
Cons
Non-ambidextrous stock is a blow to our left-handed friends
14. Diana 350 Magnum Striker Combo – Best break barrel air rifle for small game hunting
The Archery Country website provides a comprehensive list of small games as follows:
Rabbits, hares, squirrels, prairie dogs, marmots, groundhogs, woodchucks, muskrats, beavers, weasels, ferrets,
Skunks, martens, fishers, mink, badgers, wolverines, coyotes, bobcats, lynx, foxes, grouse, doves, quails, partridges,
Geese, ducks, woodcocks, snipes, turkey, pheasants, swans, cranes, frogs, toads, and turtles.
How many of these have you eaten? Or let's be even more honest- do you even know all these animals?
Perhaps you will better know them once you have the Diana 350 Magnum break barrel air rifle.
You got really lots of animals you can shoot. 
Both the .177 and .22 calibers will serve the purpose. The .177 model shoots pellets at 1250 fps and 17 FPE – and you expect even more with the .22 model.
This is enough punching power for most of the above-listed animals – maybe not including foxes and coyotes – as these are more medium-sized game animals. 
Other features of the Diana 350 Magnum air rifle
Comes with a Mantis 4-12×40 scope
Quality spring-piston power plant
Adjustable two-stage T06 trigger 
Deeply blued metallic parts that boost its looks
Pros
Good quality stock makes it look like a high-end air rifle
Comes with a reliable scope
Outstanding trigger
Quality craftsmanship, fit, and finish
Cons
The scope comes unmounted, but this is easily sorted out through good use of the user manual
15. Benjamin Trail NP XL – Best nitro piston break barrel air rifle
The Nitro Piston is a type of technology that replaces the coiled metal spring with a nitrogen-filled cylinder.
In the uncocked state, the nitrogen is already under pressure.
You further increase the pressure when you cock the gun. 
On pulling the trigger, nitrogen in the cylinder expands violently and pushes the piston forward.
This compresses the air in front of the piston, and its only escape point is through the barrel.
Thus the pellet is forced down and out of the barrel.  
The Nitro Piston technology is advantageous over the coiled metal spring in the following ways:
It makes the airgun lighter – nitrogen is lighter than metal
No need to keep the gun uncocked while in the field in the name of saving the metal spring from setting and losing strength
Nitro piston air rifles experience far less recoil than metal spring airguns
The lack of recoil enables the smooth shooting, even for non-experienced shooters
NP airguns fire ammo faster than metal spring air rifles
Nitro Piston airguns work as well in cold weather as in warm weather – unlike metal spring air rifles whose power plant gets tough and very hard when temperatures go down
Nitrogen piston air rifles are 70% less noisy than metal spring air rifles
And considering all the above advantages, the NP airguns will definitely last longer than their metal spring counterparts
That is essentially what the Benjamin Trail NP XL air rifle offers you.
Additionally, you'll like the following features:
Maximum velocity of 1500 fps for .177 caliber, 1100 fps for .22 caliber, and 900 fps for .25 caliber
Muzzle energy of 17 fpe for .177 caliber, 22 fpe for .22 caliber, and 30 fpe for .25 caliber
Beautiful ambidextrous hardwood stock with raised twin cheek pieces
Comes with CenterPoint Optics 3-9x40AO scope
Pros
A real powerhouse
Highly accurate up to 75 yards
Classic looks
Awesome trigger pull
Cons
Quite heavy at 9.7 lbs
Heavy cocking effort of 47 lbs
No open sights
16. Hatsan 95 Vortex Gas Piston – Best Hatsan break barrel air rifle
Hatsan Arms Company is a Turkey-based producer of firearms and air rifles.
You've definitely heard of the Turkish walnut.
That is what they use for the stock of airguns, and people really like it. 
With exports to over 90 countries around the world, you can put your trust in them. 
We've so far looked at 3 air Rifles by Hatsan:
Hatsan 125 Air Rifle
Hatsan MOD 130S Vortex QE Breakbarrel Air Rifle
Hatsan 135 QE Vortex Air Rifle
And now we're on the Hatsan 95 Air Rifle Combo
We're first attracted by the very fair price of around 200 bucks. Next, the various models you can choose from, including
.177 regular
.177 QE version
.22 regular
.22 QE version
.25 regular
.25 QE version
The QE versions feature the Quiet Energy Sound Moderator – a Hatsan-patented technology that reduces gun noise by up to 50%.
That's what I would go for if I were to choose between the regular and QE version.
I hope you are too – unless you are simply fascinated with the noise of the regular.
You'll also fall in love with its 2-stage match trigger that you can adjust for trigger pull weight and trigger travel distance. 
Hatsan 95 also features the anti-beartrap mechanism – aimed at preventing the airgun from discharging while the cocking lever is in the open position.
On top of that, you have manual safety and automatic cocking safety. 
Don't forget that the Hatsan 95 uses a Vortex gas piston as the power plant – and we've already seen the advantages of this over the metal spring.  
Pros
Great iron sights
Well balanced
Beautiful matte finish on Turkish Walnut
Great accuracy – ½" groupings at 25 yards, ¾" groupings at 50 yards
Cons
Plastic trigger guard
Cheap scope
17 . Diana RWS 34 – Best break barrel air rifle for varmints and pest control
Varmint hunting involves the shooting of small to medium-sized wild mammals and birds as a way to control pests – and not for food or trophies.
We eliminate these animals because they pose great harm to our crops, livestock, and property.
Varmints include:
Feral cats, wild boar/hogs, crows, raves, sparrows, parakeets, passenger  pigeons,
Squirrels, rats, feral pigeons, rabbits, porcupines, prairie dogs, coypu, muskrats, groundhogs, gophers, beavers, wolves, wolverine, weasel, sparrowhawk, owls, turtles, snakes,
Raccoons, osprey, mink, lynx, eagle, and the like.
The Diana 34 break barrel air rifle is best suited for this job because of the following:
.22 caliber dumps about 15 fpe on the target varmint – enough to humanely kill them
Low loudness rating – boosts your stealth during hunting
33 lbs cocking effort that is easily manageable by hunters of all ages
Smooth trigger pull of 3.3 lbs
50 yards effective shooting range
Ambidextrous beech wood Monte Carlo stock for both right and left handed shooting  
Pros
Incredible fiber optic sight
Remarkable accuracy
Awesome T06 trigger
Long range shooting capabilities
Cons
Doesn't come with a scope
18. Weihrauch HW50S – Best break barrel for youth
You'll agree with me that some youthful hunters may not have the stamina of their adult counterparts.
That's the reason they need a Weihrauch HW50S break barrel air rifle that has:
Light cocking effort of only 24 lbs
Total weight of only 6.8 lbs.
Overall length of only 40.5".
As such, a 20-year-old will be able to carry the gun around the hunting trail without getting tired. 
The beautiful brown beech hardwood stock is also fanciful enough for the youth.
(For more on the best air rifle for beginners and youth, see this post)
What's more? The Rekord trigger shortens the learning curving curve by a lot. 
With 820 fps in .177 caliber and 650 fps in .22 caliber, you can enjoy endless plinking and target practice.
Set aside some 400 USD and get started right away.
Pros
Lightweight
Pretty easy to cock
Youthful looks
Exceptionally accurate
Phenomenally good trigger
Cons
Not suitable for hunting targets beyond 25 yards
19. Beeman R7 – Quietest break barrel air rifle
Los Altos Rod and Gun Club is one of a kind in terms of meeting all standards and policies regarding noise exposure.
But it is situated in a secluded location in the Santa Cruz Mountains in Los Gatos, California.
The Beeman R7 Air Rifle will be useful if your aim is backyard plinking.
You'll produce less than  70dB – with .177 pellets shooting at 700 fps and 7 FPE. 
This noise level is similar to the interior noise level of a passenger vehicle cruising at 120 km/hr.
That is quite healthy, bearing in mind the output of personal audio devices ranges from 75 dB to as high as 136 dB.
Pros
18 lbs cocking effort is a mere walk in the park
1.25 lbs trigger pull feels so easy
6.1 lbs overall weight and 38.5" overall length is a perfect combination
Rifled barrel for improved accuracy
Nice wood stock and blued metal parts
Cons
Shallow mounting slots
Low power
Frequently asked questions
1. What is a break barrel air rifle?
Air rifles come in different types.
One major way to categorize them is through the type of power plant they use. 
Some of the most popular power plants for air rifles include CO2, Pre Charged Pneumatics (PCPs), coiled metal springs, Gas pistons (including Nitro Piston), and multi-pump.
For air rifles with coiled metal springs and gas pistons, cocking involves breaking the barrel down, loading the pellet, and then breaking the barrel up.
That act of swinging the barrel on a hinge back and forth is what led them to be called break barrel air rifles. 
2. Are break barrel air rifles good?
Break barrel air rifles are some of the most popular air rifles in the shooting world.
They are advantageous over PCPs and CO2 air rifles in more ways than one:
They are fully self-contained – no need for additional cartridges and pumping devices
They are generally budget friendly and easy to operate
They have more recoil, which enhances your shooting skills
They are easy to tweak for improved performance
Break barrels are the easiest air rifles to load since you fully expose the breech when you break down the barrel
By the fact that springers don't need a separate cocking mechanism, they tend to be lighter than sidelever or underlever airguns
Springers are easier to repair than the other airgun types – their shooting mechanism is less complicated
The ability to break the barrel makes it easy to clean the break barrel airguns
In your effort to make more accurate shots, the break barrel air rifle will help you learn how to hold and use an air rifle properly, more than the PCPs and Co2 airguns can 
3. Are break barrel air rifles accurate?
The accuracy of airguns is subjective.
That's why the accuracy ratings are always accompanied by the range at which the tests were performed. 
An airgun may be fairly accurate at 10 yards but quite inaccurate at 100 yards.
That is because other forces like wind drafts and gravity come to play as the pellet moves farther away from the shooter.
So, generally speaking, there are break barrel air rifles with accuracy as high as 1" groupings at 50 yards.
Others surpass this accuracy level, while others come short of it.
(For more on everything you need to know about air rifle accuracy, see this post)
4. What does break barrel mean?
To break the barrel is essentially swinging the barrel on its hinge.
This is done for three main reasons:
To load the pellet – usually, you need to swing the barrel on its hinge from the aligned position so as to access the port for loading the pellets
To cock the gun – By swinging back the barrel to its aligned position, you actually compress the metal spring powerplant in readiness for the next shot.
To uncock the gun – You are advised not to leave the gun cocked for long periods of time when not in use.

The metal spring may lose its strength. So break down the barrel before hanging up your gun
5. How to clean a break barrel air rifle?
It is not that necessary to clean the air rifle barrel.
Experience shows that the bore of the barrel is self-cleaning. 
Oil from the metal spring can find its way into the barrel bore, and thus attract all forms of dirt.
Lead particles from fast-flying pellets can also be deposited within the bore of the barrel. 
However, every pellet shot carries with it some portion of the accumulated dirt.
In the long run, the bore remains fairly clean.
But if you really have to clean it, run a number of clean patches through the bore.
Remember not to use any solvents – lest you damage the bore.
Also, dry the bore when you are done cleaning.
If you intend to store the airgun for long, apply a light film of good gun oil.  
Towens of Airgun Shooter proposes the following additional cleaning methods for air rifles:
i) Using Cleaning pellets 
Load the specially made felt cleaning pellet and fire the airgun as normal.
You may wish to soak the pellet in your favorite gun cleaning solution.
About 6 pellets are enough to scrub most of the accumulated lead and dirt.
ii) Pull-through method
This entails cleaning the bore of the barrel by inserting a cleaning shaft on the muzzle end of the rifle and then pulling it out. 
The patch is usually attached to a long loop to help you pull it out with ease.
Choose the right cleaning patch to match your air rifle caliber.
iii) Using the BoreSnake
This works more or less like the pull-through shaft – only that the entire body of the snake does the cleaning job – as opposed to a shaft on one end of the loop.
As such, you expect the cleaning job to proceed faster due to the large surface area of contact
iv) Using a cleaning rod
Be careful with this method lest you damage the bore.
The rod comes with jags and brushes attached to one of its ends.
This is the end you insert into the rear end of the bore.
Drive the rod until the jag comes out through the muzzle end.
v) Using bore paste
Bore paste contains grinding particles that remove dirt as well as tiny imperfections within the barrel of the bore.
You can use the bore paste with the cleaning rod or pull-through method.
To prevent the rusting of metallic parts of your air rifle, use popular gun oils such as the Ballistol Lube.
The same can as well be used to maintain wooden air rifle stocks – especially if your airgun is frequently exposed to high levels of humidity.
6. Is it necessary to break in your barrel?
The short answer is no! 
Breaking in refers to the process of seasoning your brand new break barrel air rifle after purchase.
You see, the bore of the barrel may have tiny burrs and imperfections that are thought to slightly compromise the performance of new airguns.
By shooting good quality pellets on a regular basis, the seasoning happens almost naturally without you even realizing what you are doing.
I guess that works for me, and multitudes of others.
But if you feel philanthropic enough and have the time, inquire with the manufacturer about an appropriate break-in procedure specific to your air rifle model and brand. 
Share your findings in the comment section below. We would be glad to know how it went.
7. Best scope for break barrel air rifle?
With break barrel air rifles, you don't want to simply choose the cheapest scope on the market or any other decent option used with other airgun types like the PCPs. 
Two crucial factors make break barrel air rifles different when it comes to the choice of the scope:
The vibrations resulting from the recoil effect with every fired shot – this can damage the scope
The fact that you have to break the barrel down and up with virtually every pellet you fire – this tends to throw the scope out of sight, thus affecting accuracy
With that in mind, the following two are the most popular scopes for break barrel air rifles:
Trinity hunting optics sight scope 
Simmons rifle scope
Don't be tempted to use any firearm scope – justifying yourself that firearms also have huge recoil.
FYI, the recoil impulse in air rifles is quite different from that of firearms. 
Also, firearm scopes are designed for long-range shooting – and in the real sense, you'll never use your air rifle to shoot a target more than 100 yards away.
8. Best scope mount for break barrel air rifle?
Most people go for the two-piece scope rings because they are cheaper.
While they do their work most times, the stability may be compromised for the very powerful break barrel air rifles or those with much recoil.
In this case, opt for the single-piece scope mount.
9. Best oil for a break barrel air rifle?
We just mentioned the Ballistol Lube in Question No. 7 above.
It is very popular among air rifle enthusiasts because:
It is fully compatible with all metals
Its alkaline nature helps dissolve corrosive ammo residue
It beautifies air rifle stocks
It prevents air rifle stocks from drying
It never gums up or hardens, no matter how long you store it
It is smokeless
It protects against corrosion
It seals the pores in wooden stocks – thus preventing the absorption of moisture which causes thickening and warping of the stock.
Watch how the legendary Tom Gaylord lubricates his spring-piston airgun:
10. Best bipod for a break barrel air rifle?
For CO2 and PCP air rifles, using a bi-pod is not that complicated.
However, springers complicate the use of bi-pods because of the huge recoil they usually generate. 
The recoil pushes the airgun to and fro – thus randomly changing the balance point of the air rifle.
The random nature of the to and fro movements makes it quite hard to find the perfect balance point for optimum accuracy. 
I advise you to practice the "artillery hold" until you are comfortable shooting the gun without the use of a bipod.
But I do understand the learning curve is steep. 
If you wish to, you may consider purchasing the UTG Low-Profile Dragon Claw Clamp-on Barrel Bipod.
11. Benjamin Trail Nitro Piston 2 or Crosman Nitro Venom Break Barrel Air Rifle?
Here is a short comparison between the two break barrel air rifles:
These two look almost the same – the differences outlined above are quite minor.
I would personally opt for the Benjamin Trail NP air rifle because of its better online reputation and looks. What about you?
12. Best way to attach a sling to a break barrel air rifle?
If your break barrel air rifle does not have the sling swivel, go for the Gamo Gun Buddy Rifle Sling.
This fits virtually all air rifles without the need for swivels.
One end slips over the barrel, the other end over the buttpad.
13. Will mounting attachments on a break-barrel barrel affect accuracy?
It depends on where exactly you mount the attachments.
If you are using the Picatinny rails or Weaver mounts, there should be no problem at all. 
But for any attachment that mounts directly on the barrel, take care.
One guy attached a Bisley swivel nearly halfway up the barrel.
Every moment he carried the gun, the barrel twisted slightly.
In such a case, the accuracy of the air rifle is definitely affected. 
14. How long can you leave a break barrel air gun cocked? 
Numbers don't lie. Although I haven't tried it personally, the well known Tom Gaylord cocked these springs for one whole month – or if you like, 735 hours
R1 spring
Beeman laser spring
Venom spring
Maccari custom spring
The Beeman laser spring was the most affected, though it lost only 6.75 % of its power.
That means if the initial muzzle energy was 20 FPE, the new muzzle energy would be 18.65 FPE.
In my assessment, that is not as much loss as usually portrayed by many break barrel air gunners. 
So feel free to leave your gun cocked for an hour or two as you wait for that perfect shot.  
15. Does leaving an air rifle cocked weaken the spring?
It depends on the quality of the spring and the duration you leave it cocked.
In the aforementioned Tom Gaylord's spring cocking experiment, the springs lost just a little strength as follows:
R1 spring – Lost 6.11% of its strength – slightly bent
Beeman laser spring – Lost 6.75 % of its strength – perfectly straight
Venom spring – Lost 3.07% of its strength – was slightly bent – started vibrating
Maccari custom spring – Lost 5.35% of its strength – perfectly straight
I suggest you do a similar experiment with some Chinese springs and share the findings.
16. How long can you leave a nitro piston pellet gun cocked?
Oh, forever! Without the slightest thought of Spring fatigue either.
That is one big advantage of the nitro piston over the coiled metal springs.
17. Can you dry fire a break barrel air rifle?
Yes, you can.
Sometimes it happens accidentally – then you have no control.
But sometimes you can do it out of curiosity – as The Dollar Sportsman did back in 2019.
The guy performed accuracy tests with his GAMO Raptor Whisper and obtained fairly tight groupings.
After dry-firing the air rifle 50 times, he did the second accuracy test.
You'd be surprised that the accuracy was as great as it was at first.
As a matter of fact, the Gamo airguns manufacturer states on their website that their rifles are designed to dry fire 10,000 times with no issue at all. 
But for safety's sake, don't assume your airgun is a Gamo. Get the facts first.
18. Can you shoot BBs in a break barrel pellet gun?
Yes, that's possible – but the issue is, what happens after you shoot the BB?
If the BB is the same caliber as the pellets, the shot will proceed as normal, though the BB may jet out with a "squirreling" motion. 
If the BB caliber is smaller than the bore, there is some likelihood of it damaging the internal mechanisms of the air rifle.
It may even fail to come out through the muzzle, leaving you with the additional headache of dislodging it.
19. Do break barrel air rifles need CO2?
What for? 
Break barrel air rifles are mostly powered by coiled metal springs.
Those with gas pistons use some inert gas like nitrogen as the main power plant. Leave CO2 gas for CO2 air rifles. 
20. Best distance to sight in a break barrel air rifle?
Start about 5 yards away from the target.
Take some 3 good shots. Note where the pellets strike.
An inch or two above or below the target should be okay.
Anything more than that tells you to slightly adjust your point of aim either downwards or upwards
Or even to the left or to the right in case the pellet marks require this adjustment.
Take 3 more shots after the adjustment to see whether there are any changes.
The signal that your break barrel air rifle is properly sighted is when your 3 shots are nearly perfectly centered below the target point. 
Repeat the process at 10 yards, 15, yards, 20, yards, 25, yards, 30 yards, and so on.
Stop at the target distance you normally shoot your airgun.
This can be anything like 70 yards, 100 yards, or more.   
21. Who makes the best break barrel air rifle?
I'll forever praise the German-based Beeman for their consistent production of state-of-the-art break barrel air rifles. 
Other companies that show great effort in upholding high-quality standards for their break barrel air rifles include:
Hatsan Arms Company
Crosman Corporation
Weihrauch & Weihrauch Sport GmbH & Co. KG
Gamo Precision Airguns
Diana Airguns
(For more on the best air rifle brands, see this post)
22. How long do spring piston rifles last?
With good maintenance, spring-piston air rifles can last decades, maybe even a lifetime.
The durability, however, depends on many other factors such as frequency of use, conditions of storage, and build quality, among others. 
But it's good to note that the different components wear out at different paces.
At one time, you may have to replace the mainspring, perhaps followed by the trigger – or even the piston seals.
23. How to make a break barrel air rifle more powerful?
If you have the guts, you can embark on a DIY project to change the coiled metal spring.
Use one that is superior to the current one used in your airgun.
If done, properly, you will notice a difference in punching power and muzzle velocity. 
24. Break barrel vs PCP air rifles, which one is better?
Break barrel air rifles are basically better than PCPs because they are easy to operate.
As popularly stated, springers are self-contained – just the air rifle, the ammo, and you.
For PCPs, you have to recharge the air cylinders over and over again, even when in the field.
It may feel cumbersome to carry around hand pumps or scuba tanks.
However, note that break barrel air is mostly used for hunting small to medium-sized games.
Their killing power may not handle the tougher and bigger animals. 
Some PCPs are known to deliver really insane killing power – in the realm of hundreds of FPE – that can kill big animals like the Cape Buffalo.
(For more on the best PCP air rifles on the market, see this post)
A good example is the .50 AirForce Texan Big Bore PCP Air Rifle that dumps an unimaginable 700 FPE on the target animal.
Taking all into account
It's time to put a full stop to this comprehensive break barrel air rifle review.
It is my sincere hope that your knowledge of break barrel air rifles has increased. Knowledge is power, FYI.
With all the tips on how to choose a break barrel air rifle and the various logistics of the operation, the ball is now in your court. 
Save up some money if you haven't started yet.
Define your reason for owning the desired air rifle.
And it is best if the intended purpose is specific.
Perhaps you need an air rifle only to hunt the squirrels that destroy your crops and property at home. 
Narrowing down helps you a lot in the choice of the air rifle.
Next, ensure you research well on your shortlisted air rifles.
Read honest air rifle reviews from airgun experts, as well as from verified buyers of the air rifles in question. 
Weigh the pros and cons of each and settle on the best.
Just remember no air rifle will be 100% perfect.
Accept the little imperfections that won't significantly impact your hunting or target shooting.