An American classic.
You shoot one.
Your dad shoots one.
Your grandfather shoots one.
For 75 years, generations after generations have enjoyed the fun the Daisy Red Ryder brings.
For most of them, this BB gun has become part of their childhood that goes with unforgettable memories.
A part of American history has integrated into the good, old Red Ryder rifle.
Here are the interesting facts that you don't know about the history of the most popular air gun in the world:
1. Its original name is the Red Ryder Carbine model 40 (from 1940 to 1942).
The manufacture of Red Ryder was postponed in the time of World War II (1945 to 1954)
2. The model 94 Red Ryder was made from 1954 to 1957
3. The 1938 Red Ryder re-entered the line in 1972 and became the 1938 A and 1938 B in 1979 when they add mechanical safety into the gun.
From that time, it got the name model 1938 till today.
4. Model 1938 was chosen because that's the year when Stephen Slesinger and western artist Fred Harman,
(who illustrated the Red Ryder comic book character) approached Daisy with the idea of making a Red Ryder pistol (which later become a famous rifle instead)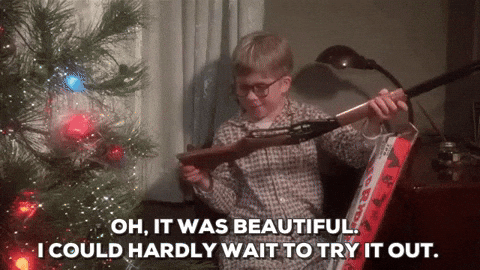 5. That 1938 conversation led to what is probably the longest-lasting still-existent licensing agreement in American business history.
The licensing agreement was initiated in 1938, signed in 1939, and the first gun produced in 1940
6. Some of the earlier special editions were based on the 1938 date.
For example, a 50th Anniversary came out in 1988, and the 60th Anniversary gun was sold in 1998.
7. In 2005, Daisy began celebrating anniversaries based on the first date of production (1940), with a 65th-anniversary gun.
The 70th-anniversary model came out in 2010.
This Daisy Red Ryder 75th anniversary edition BB gun is dated 2015, but it debuted just before Christmas in 2014.
Alright, that's enough for nostalgia, let's check out this newest version of the Red Ryder!
Daisy Red Ryder 1938 75th Anniversary – Guntype
This is a spring-piston, level-action air rifle.
For more on the 5 types of air rifles, you need to know before buying, see this post.
This air gun uses an under-level cocking system meaning that the level for cocking is located under the forearm.
Unlike break barrel gun in which you have to open the chamber to load the ammo,
with this cocking mechanism, you can quickly get the Daisy Red Ryder back in action with only one, simple level pulling step.
And it requires so little force to do so even a 10 years old child can do these steps quickly and easily .
The caliber (the internal diameter of the bore, measured in inches) is .177 (4.5 millimeters).
.177 is the most common caliber with a flat trajectory (the path the bullet travel before it hits the target)
And flat trajectory makes accuracy simple for everyone, even a newbie shooter (more on that in this post)
While the cocking level is made of aluminum (an upgrade compared to the plastic level on the non-special edition of Daisy Red Ryder), the barrel is smoothbore, steel barrel so it makes the BB fly smoothly.
(For more on things you should know about air rifle barrels before buying, see this post.)
You don't have to worry about wearing out your barrel over time with BBs since there is no groove inside it.
This gun is a repeater which means that you can shoot multiple shots at a time.
No manual reloading after each shot is required, just pour the BBs in and enjoy a long hour of fun plinking.
Stock
The stock is made of stained solid maple wood stock with a golden band on the forearm.
It gives the gun a handsome look, adds rigidity to the holding feels, and provides you true connection with your air rifle.
(For more on the in-depth comparison between synthetic and wood stock, see this post.)
What makes the 75th Anniversary edition stand out is the 75th Anniversary laser-engraved graphics embedded in the stock.
It catches anyone's attention and reminds them of the proud history of this starter BB gun since 1940!
However, a hardwood stock can expand or contract due to changes in temperature so sometimes you have to perform glass bedding (filling gap in stock with epoxy-based material ) to keep it in shape.
MidwayUSA shows you how to do just that in the video below:
Ammo
The Daisy Red Ryder 75 Anniversary uses .177 BB as its only source of ammunition.
BB is dirt cheap: you can buy a thousand rounds of premium BBs for just a few bucks so it's very cost-effective when you do target shooting and plinking a lot.
Sight
This gun comes with traditional open sight: The front sight is a fixed blade and ramp while the rear sight is adjustable for elevation (allow you to adjust the sight up and down).
(For more on how many types of air gun sights are out there and which one is suitable for you, see this post.)
This feature disappointed me a little bit, I thought that at this memorable anniversary of the 3 quarters of the century, Daisy would make the fully adjustable rear sight
But it seems that they don't think it's extremely important for shooters.
Cocking and loading
Step 1: Put the SAFETY ON and load BBs
Push trigger safety from left to right so no red is showing.
Tilt the gun to its right side, place your thumb on the arrow, and push the load-door in and up.
Cup hand under the barrel and slowly pour in new Daisy BBs and then close the loading door.
Step 2: Cock the gun
When cocking, raise muzzle with sight up.
Firmly grasp the cocking lever and pull outward until it is fully cocked.
At this point, a BB could be loaded into the ready-to-fire position and your gun must be handled with care.
Close cocking lever and your gun is ready to fire
Step 3: Feed BBs
Your Daisy has a gravity feed system.
To ensure proper operation, you should always raise the muzzle up while cocking to ensure that a BB rolls into a firing position.
When raising the muzzle, be sure the front sight is pointed upward since the gun will not feed properly if it is on its side
Step 4: Ready and fire
Aim at the safe target, put the SAFETY OFF, and gently squeeze the trigger to shoot.
Velocity
The velocity of the Daisy Red Ryder 75 Anniversary rifle is 350 FPS.
This is not high velocity compared to other BB guns on the market and it doesn't even have enough power to drop birds so this gun is suggested for fun plinking and target shooting only.
Shooting Ability
The effective shooting range of The Red Ryder is 5 meters away – about 16.5 feet.
This BB gun can be used for plinking, shooting paper targets, and for training new shooters on how to properly and safely handle an air rifle.
Specifications
Caliber: 0.177" (4.5mm)
Velocity: 350 FPS
Loudness: 1- Low
Barrel Length: 10.85"
Overall Length: 35.4"
Shot Capacity: 650
Cocking Effort: 13 lbs.
Barrel: Smoothbore
Front Sight: Blade and Ramp
Rear Sight: Adjustable for elevation
Scopeable: No
Trigger: Single-stage
Buttplate: None
Suggested for: Plinking/Target shooting
Action: Lever-Action
Safety: Manual
Powerplant: Spring-piston
Function: Repeater
Body Type: Rifle
Weight: 2.2 lbs
Customer review
The Daisy Red Ryder has lots of customer reviews with positive ratings.
Almost all the reviews show how people love this BB gun, how it brings back their childhood memory, and plenty of them buying for their children.
There are very few negative reviews of this rifle and no major issue is found.
Pros and Cons
Pros
Cons

Quiet
Magnificent Nitro piston technology
Excellent craftsmanship
Outstanding accurate
Awesome power
Adequate scope

Imported from another country
Price
The price for Daisy Red Ryder 75th Anniversary Rifle is only 50 bucks.
It's so cheap if you think about how much American history is imbued in it.
Conclusion
The true legend lives forever.
From the page of a comic book to the big screen, the Daisy Red Ryder 75th Anniversary Special Edition remains faithful to its original design.
This level-cocking rifle is lightweight, easy to cock, and durable.
It's a great gun for introducing your kids to shooting sports and for displaying in your family room as part of the air gun collection.