Gamo is a Spanish company that has been manufacturing air rifles since 1961. The company is best known for its high-powered, high-velocity rifles. In recent years, Gamo has been advertising the Magnum as being the fastest pellet gun on the market. So, is it?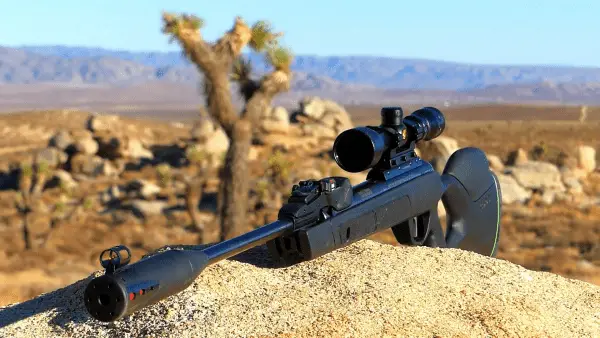 Gamo Magnum FPS
The Gamo Magnum boasts an impressive FPS of 1,650 in .177 caliber and 1,300 in .22 caliber. To put that into perspective, most pellet guns have an FPS of around 700-900. So, there's no doubt that the Gamo Magnum is a powerful air rifle. But is it the fastest?
The Gamo Magnum is capable of reaching speeds up to 1650 fps and 1300 fps with PBA Platinum ammo, making it ideal for taking down rabbits, squirrels, raccoons, and crows. The fixed fiber optic front sight and fully adjustable fiber optic rear sight help you keep your target in sight, while the 11mm scope rail with scope stop provides a stable platform for mounting your favorite optics. The rifled steel barrel and SWA (Shock Wave Absorber) recoil pad work together to deliver precise shots with reduced felt recoil, while the all-weather ambidextrous thumbhole stock ensures a comfortable grip in any conditions
Other features of Gamo Magnum
In addition to its high velocity, the Gamo Magnum also features a precision rifled barrel, fiber optic sights, and a shockwave absorber recoil pad. These features make the Gamo Magnum a great choice for both beginners and experienced shooters alike.
Other Product features:
11mm scope rail with scope stop
Rifled steel barrel
SWA (Shock Wave Absorber) recoil pad reduces felt recoil by up to 74%
All-weather ambidextrous thumbhole stock with black rubber inserts on grip, forearm and cheekpiece
Custom Action Trigger (CAT) independently adjustable 1st and 2nd stage, allows you to tailor you trigger
Automatic cocking safety system
Manual safety
Recoil Reducing Rail maximizes scope lifespan with 99.9% recoil compensation
Includes 3-9×40 adjustable objective scope and mount
Optics Features
3-9x magnification
40mm adjustable objective lens
1″ tube
30/30 reticle with fine crosshairs, perfect for target acquisition
40 ft to 12 ft field of view
3.5″ eye relief
21.6 oz
13.5″ long
Fogproof
Shockproof
Wateproof
Includes lens caps
Conclusion

So, is the Gamo Magnum the fastest air rifle on the market? Based on its advertised FPS, it certainly appears to be. However, there are other factors to consider when choosing an air rifle, such as power, accuracy, and user-friendliness. If you're in the market for a new air rifle, be sure to do your research and choose the one that's right for you.
For more on the best air rifles on the market, see this post