The Umarex 850 M2 is an excellent rifle available in both .177 cal and 0.22 cal. It is not only a masterpiece of great gun performance but also practically made to weigh only 5 pounds and be extremely convenient to use. 
The model is commended for its high accuracy and sharp performance and is one of the few good CO2 air rifles worth buying. 
Umarex is a well-known gun brand that has been in business since the year 1972. The 850 M2 is made to showcase the finest features that Umarex provides you with in their guns. 
Needless to say, this is why the gun is such an amazing model. Without further ado, let's look at all the details that the CO2 air rifle provides you with. 
Umarex 850 M2 Silencer
The Umarex 850 M2 is a good upgrade from its predecessor, the 850 AirMagnum, which is a CO2 PCP air rifle and buyers can expect a lot from this model. The sleek silencer has a black finish and is made of plastic. It comes with the option of choosing between a .177 caliber or a .22 caliber model.
The gun is highly recommended for target practice, plinking, and backyard shooting as it has a level 3-Medium loudness. 
The stock is synthetic and the gun allows you to shoot at least 200 shots per fill. The 850 M2 also functions on CO2 like the AirMagnum, hence it is very easy to aim accurately. 
With 7-grain pellets, the .177 model of the Umarex 850 M2 can fire with a velocity of up to 650 FPS. It is easy to shoot with and can cover a distance of up to 50-100 yards with accuracy and the right pellet. 
Umarex 850 m2 Rifle Details
Without further ado, the following is a detailed review of the Umarex 850 M2 rifle to let you know about its specifications and features. 
1. Gun Type
The Umarex 850 M2 is a CO2-powered compressed gas rifle and is powered by an 88-gram cartridge. Similar to PCP guns, rifles that operate on compressed CO2 are highly efficient for shooting and need not be reloaded each time you fire. 
Since it offers great accuracy, consistency, and a beautiful finish, the Umarex 850 M2 will be suitable for both traditional gun enthusiasts and beginners. 
2. Stock
The gun is overall made with plastic and finished off with metal parts, but the stock which has a removable forearm for the cylinder is synthetic and molded with plastic . 
It is made ambidextrous and rugged and there are three Picatinny accessory rails located on its fore-end.
This is a great feature for those who want to put a bipod, lights, or lasers on your rifle. The good placement also keeps the accessories away from the cheekpiece to grant you continuous, flawless shooting.
3. Sight
Umarex 850 M2 uses a simple and traditional 8-shot rotary magazine, an adjustable fiber optic rear sight, and a hooded fiber optic front sight. The weapon is delivered with open sights, which means that you can directly start your shooting experience right away. 
The sights however are not very adjustable. There is no windage adjustment on the rear sight and you would need to loosen screws to elevate it.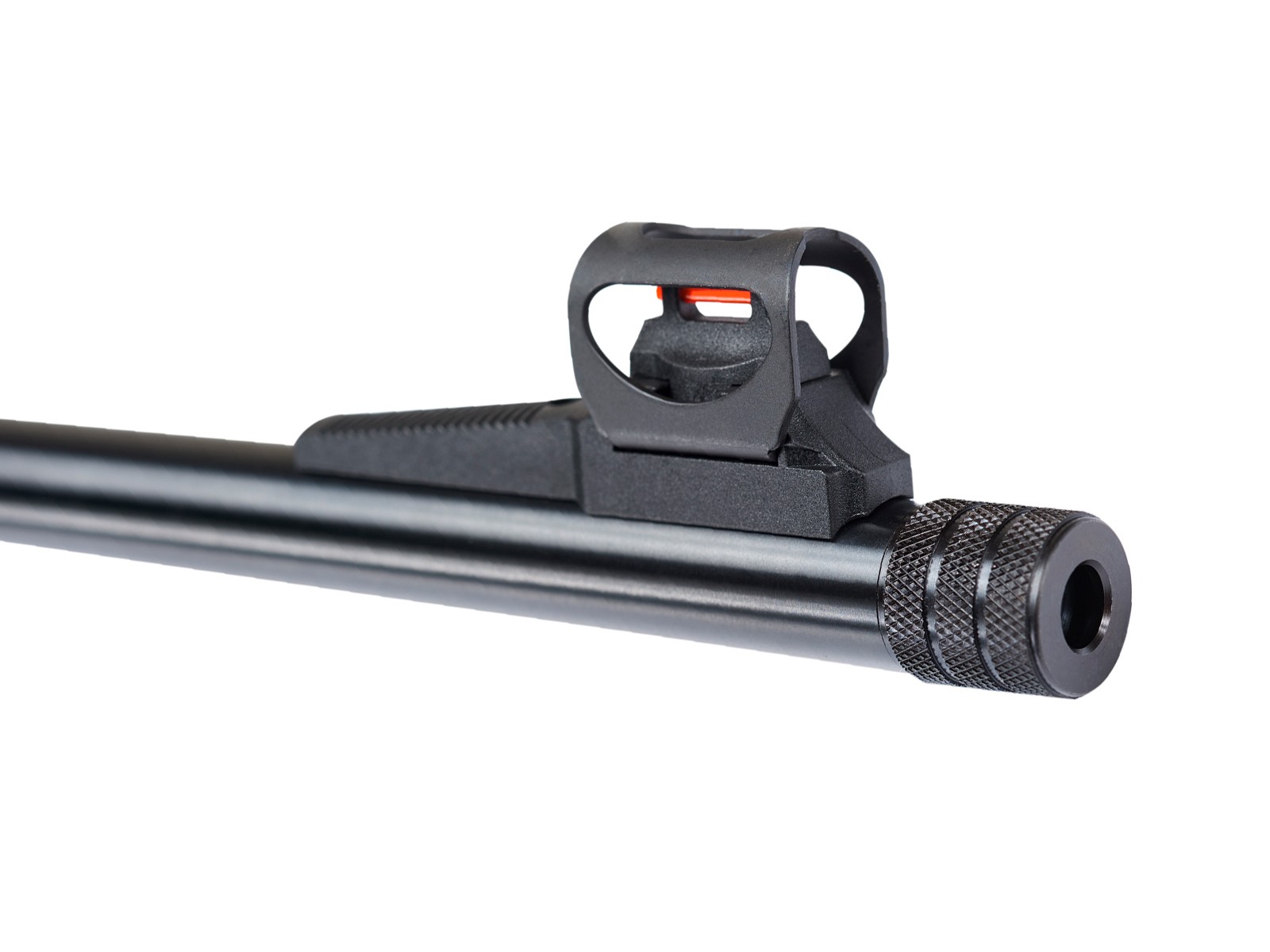 4. Performance
Shooting is an enjoyable experience when using the Umarex 850 M2. With a maximum velocity of upto 750 FPS on a .177 caliber, the rifle can be accurate up to almost 50-100 yards with the right pellet. 
The following table has combined the various velocity, accuracy, and power that the 850 M2 can offer. 
| | | | |
| --- | --- | --- | --- |
| Pellet | Velocity (FPS) | FPE | Accuracy |
| H&N Baracuda Match (10.65 Grain) | 651 FPS | 10.02 FPE | Excellent |
| JSB Exact Diabolo(8.44 Grain) | 703  | 9.26 FPE | Best |
| Crosman Premier HP (7.9 Grain) | 695 FPS | 8.48 FPE | Excellent |
| RWS Hobby (7.0 Grain) | 717 FPS | 7.99 FPE | Great |
| H&N Field Target Trophy Green (5.56 Grain) | 759 FPS | 7.11 FPE | Great |
| Gamo Raptor Platinum (4.7 Grain) | 790 FPS | 6.51 FPE | Great |
Out of all the pellets tested, the H&N Baracuda Match pellets seem to be the one with the best accuracy when it comes to the Umarex 850 M2. 
However, as you can tell from the tests, the 850 M2 works well with almost all pellets. 
5. Trigger 
The trigger of the Umarex 850 M2 is one of its better features. It is smooth and very consistent for firing 8 shots. 
Although it has a good feel, the trigger is a 2 stage adjustable trigger and would need unscrewing if you want to make any changes. Users said that the retracting of the trigger at the end is slightly stiff. 
The rifle is a bolt action type, which means that it works like a firearm. IT also comes with a plastic, cheek riser for friction and comfort. At its price, it does have an impressive trigger. 
6. Cocking and Loading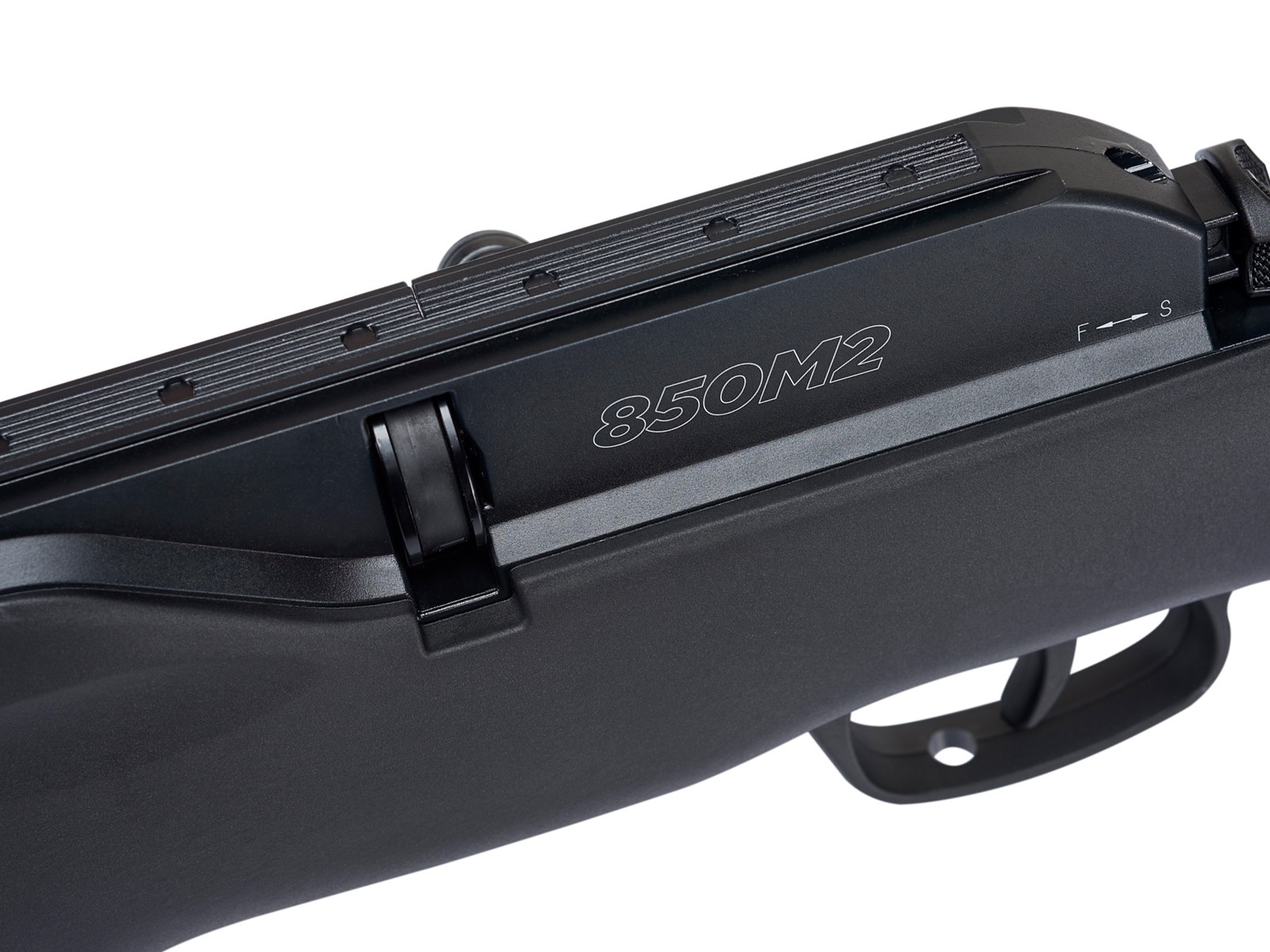 The process of loading and cocking on the Umarex 850 M2 is very easy as even with large dimensions, the loaded gun came to weigh no more than just 8 lbs. 
There is also no recoil and no heavy cocking on the 850 M2. It is made for easy shooting and all you have to do is point and fire. 
You can fire up to 250 shots per cartridge and the 8-round rotary system is very smooth for firing continuously and efficiently. 
7. Loudness
The loudness of this rifle has been set as a 3-Medium, and it is quite silent as compared to a regular gun. 
There is no sound suppression system, but pellets fired at 850 FPS in .177 caliber do not exceed the speed of sound. Hence, the noise that comes out is more grounded than the high pitch whistling that comes out of a PCP. 
It is backyard-friendly and will not make a disturbing firing noise when you use it for practice. However, those who prioritize noise levels may find the rifle to be a bit too loud. 
8. Shooting Ability
Umarex 850 M2 is very shootable. Right from the beginning, it comes loaded and the gun itself has no heavy cocking or recoil. It is adjustable, comfortable to hold, and easy to point at a target with. The automatic safety ensures that the user has a secure shooting experience. 
With all the equipment, 8lbs might not be the best weight for some, but the feel of the rifle is solid and functional. 
The 850 M2 also comes with a clip-on cheek piece, which is very thoughtful and smart of the manufacturers. The piece is very handy especially when one needs to use a scope. 
9. Maintenance
You will have to put the average amount of care that you do for any CO2 gun, but dealing with rifles that work on CO2 all have one problem. Carbon Dioxide can be hard to remove and in the 850 M2, it is even more difficult with the bipod attached. . 
A downside of the gun is also its expensive 8-round magazines. 
Most of them are priced starting at $30, which can be heavy on the pockets. If you want a gun for regular practice and shooting, getting this rifle may be a loss since it's hard to maintain. 
10. Accessories
The recommended accessories for the Umarex 850 M2 are the Umarex 88 g CO2 Cylinder and the Champion Heavy Duty Metal Trap. Although the latter is not necessarily needed, many reviews have explained how the CO2 cylinder is a game-changer. 
With 88 g canisters, it can get around 45-65 shots, with 12 g canisters, it can get to about 25-35 shots. This makes the experience more fun as it allows you to shoot for a very long time. 
Apart from these, the Umarex 850 M2 already has three Picatinny accessory rails which are located on the stock's fore-end. 
11. Specifications
Following is the compiled list of all the specifications and details of the Umarex 850 M2. 
| | |
| --- | --- |
| Category | Detail |
| Manufacturer | Umarex |
| Max Caliber | .177, 0.22 |
| Velocity | 750 FPS, 650 FPS |
| Ammo Type | Pellets |
| Action | Bolt action |
| Barrel Style | Rifle |
| Fire Mode | Repeated |
| Gun Weight | 5.73 kg |
| Overall Length | 40.95 inches |
| Barrel Length | 23.62 inches |
| Loudness | 3-Medium |
| Magazine Capacity | 8 rounds |
| Mechanism | CO2 |
| Rail | 11mm dovetail |
| Safety | Automatic |
| Front Sights | Fiber Optic |
| Rear Sights | Fiber Optic |
| Shots Per Fill  | 200 |
| Trigger Adjustability | Two-stage adjustable  |
| Trigger Action | 0 |
| Use | Plinking, target practice, hunting |
| Recoil | None |
12. Price
The Umarex 850 M2 is priced at around $300 (may vary according to sellers which is a decent amount for a CO2 rifle. 
For its fun shooting experience and the additional features it offers, it can be a value for money for some shooters – especially those who prefer traditional guns.
However, as a PCP enthusiast, the 850 M2 seems a bit overpriced as you can get much better numbers and features on an entry-level PCP air rifle. 
If you are someone who wants to practice excessively with your gun and like to enjoy plinking as a game, this might not be the best rifle for you.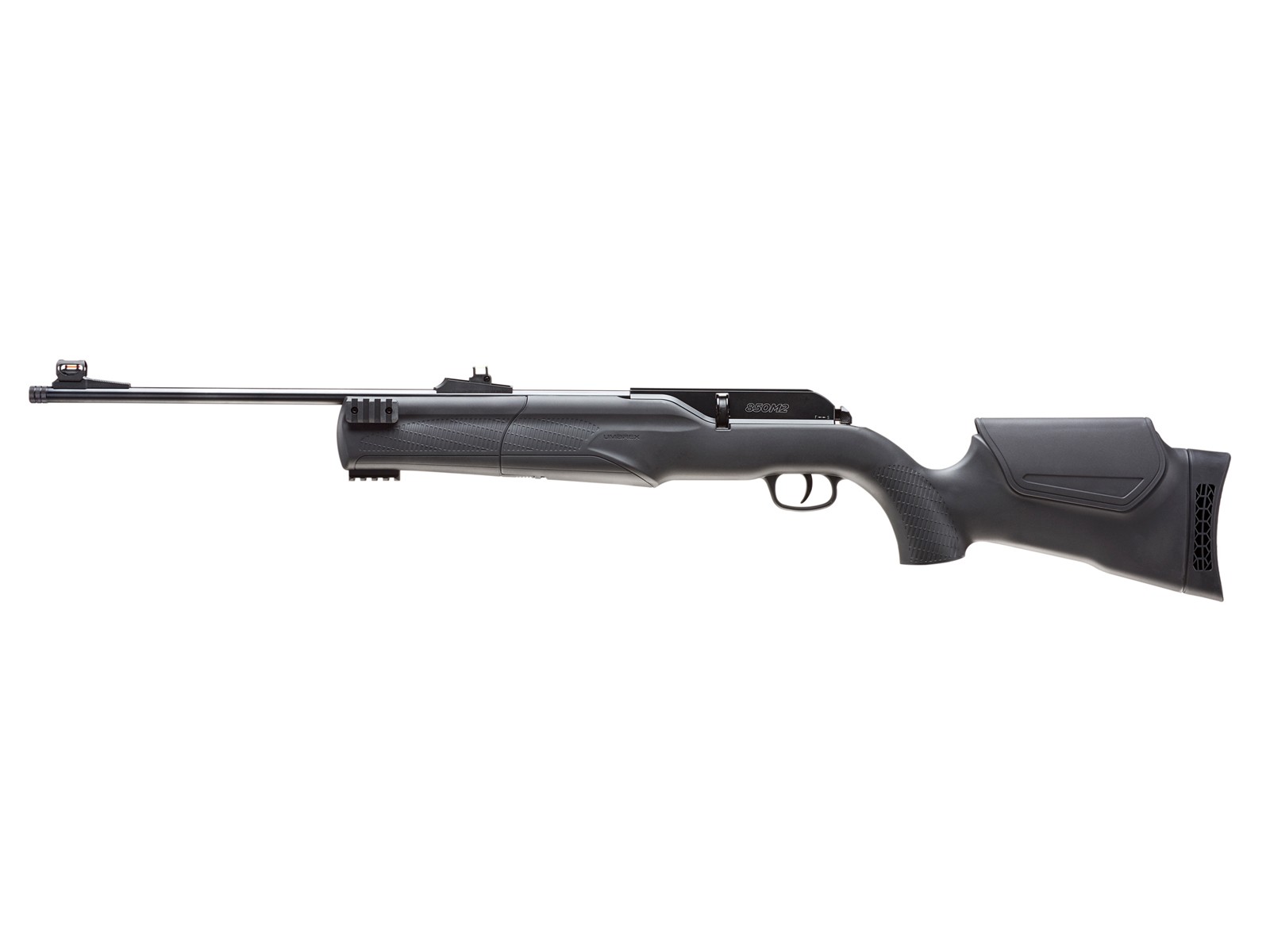 Customer Review
Overall, most reviews about the Umarex 850 M2 have been positive. It is a hard-hitting air rifle with a great build and quality that is backed up by a trusted gun manufacturer. It can fire a lot of rounds with more accessories and works well for all kinds of users. 
Most of the cons have been about its additional features like the cartridge, grip, and magazine, but the rifle individually is commended for its great performance. 
Following is a quick summary of the pros and cons of the 850 M2. 
Pros
Cons

Great accuracy
Solid and lightweight feel
Trigger is smooth, consistent, and adjustable
Great for target shooting
Comes with a synthetic cheek rest
Is compatible and has high FPS with most pellets
Good grip

Replacement magazines are hard to find
How Does The Umarex 850 m2 Compare To Other Air Rifles?
Umarex 850 m2 vs Hammerli 850
The Hammerli 850 AirMagnum was a hit at its release as it was a fun-to-use CO2-powered rifle with great specs and a durable polymer finish. The rifle was a great weapon for shooting and getting frequent practice – which should be your priority when looking for an airgun. 
It also featured a 2 stage trigger, rotary magazines, a good quality barrel, and fiber optic fixed sights. Overall, it made for a fun shooting experience which could also make it the best backyard plinker. 
However, compared to the specifications of the Umarex 850 M2, the Hammerli 850 with a .177 caliber can only fire at a velocity of about 650 FPS and lets you fire up to 8 shots. This may make it the best plinking gun, but it is not much of a weapon for a hunt.
In this case, the Umarex 850 M2 is much more flexible as even with the same amount of rounds it offers, the velocity is that of 750 FPS on a .177 caliber, making it faster and more accurate. You can use it for target practice, small hunts, or plinking. 
The following is a quick table comparing and analyzing the features of both these guns. 
| | | |
| --- | --- | --- |
| Category | Umarex 850 M2 | Hammerli 850 AirMagnum |
| Action | Bolt Action | Bolt Action |
| Barrel Style | Rifle | Rifle |
| Fire Mode | Repeating shots | Repeating shots |
| Dimensions | 48 x 6.25 x 2.5 | 12 x 45.1 x 4.2 |
| Loudness | 3-Medium | 3-Medium |
| Magazine Capacity | 8  | 8 |
| Shots Per Fill | 200 | 250 |
| Mechanism | CO2 | CO2 |
| Velocity | 750 FPS (.177 cal) | 650 FPS (.177 cal) |
As you can tell, both the guns do not have much of a difference, except that the Umarex 850 M2 slightly outdoes the AirMagnum in terms of velocity. 
While it looks like the Hammerli 850 Air Magnum would definitely be convenient to carry around with its dimensions and shots per fill, accuracy should be the priority for guns and the Umarex 850 M2 serves just that purpose.  
Conclusion
If you are looking for a gun that value for money product that also has multiple purposes, the Umarex 850 M2 is for you. It shall keep you entertained at home with the number of plinking rounds it can pull off, and it can be a great companion on a hunting spree. 
Recommended Use:
Target shooting and plinking
Pest control: rats, pigeons, iguanas.