Remember the movie "The Bone Collector"?
When I heard that there is a gun named Bone Collector,
I thought that Angelina Jolie had switched her hobby from child-raising and charity to shooting sport.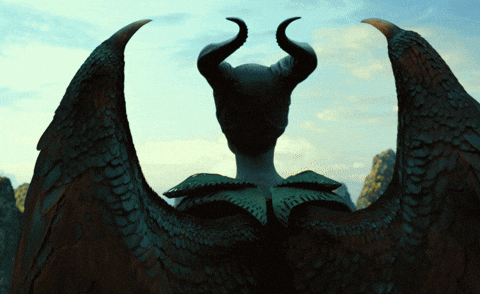 In fact, the Bone Collector is designed in collaboration with Micheal Waddel and Travis "T Bone" Turner of the Bone Collector TV series.
The series portrays the culture of hunters and the brotherhood of sportsmen.
Therefore, it is no surprise that the gun is built on a forest theme:
A special hunter green, composite stock with dark grey rubber grip insert.
And the cool Bone Collector logo is prominently shown on the synthetic, high-grade stock.
Gamo really knows how to catch our attention!
(For more on the best air rifle brands, see this post)
Gamo Bone Collector – Gun Type
This is a gas-piston air rifle.
It gets power from Inert Gas Technology (IGT) which sets it apart from an ordinary spring gun.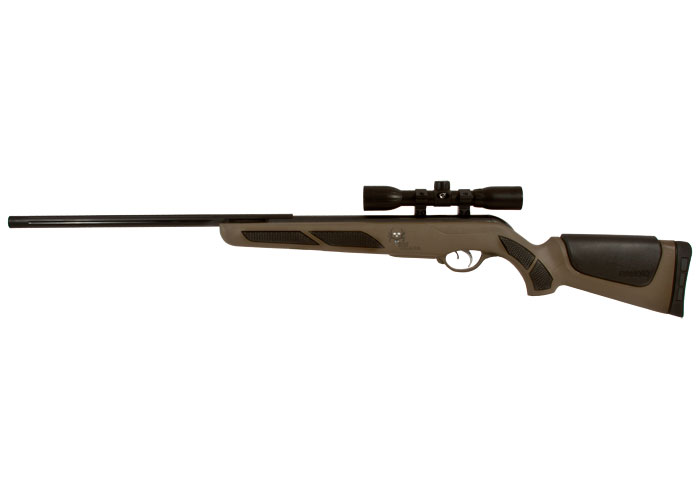 IGT guns have no spring torque and no spring fatigue even if you leave them cocked for hours.
Besides, you can cock the gun and wait to take your next shot without worrying about metal springs taking a set or weakening.
Gas piston rifle is robust and does not lose anything in either area,
Plus the gas piston is known to shoot much smoother and delivers less twang and vibration compared to springers.
(For more on the 5 types of air rifles you need to know before buying, see this post.)
This gun is a break-barrel, single-shot gun with a rifled barrel.
(For more on things you should know about air rifle barrels before buying, see this post.)
Besides, the barrel is designed in a fluted polymer jacket style.
Fluting means cutting out material from the cylindrical surface, hence it is lighter and dissipates heat quicker
And you can enjoy long hours shooting without worrying about the overheated barrels.
Moreover, Gamo has installed a Bull Whisper noise dampener in this gun to cut the audible sound to the great extent.
It gives you lots of benefits at hand:
First, your hunting dog is less likely affected by noise.
Second, it reduces recoil and muzzle blast.
Third, it protects the shooter's hearing ability.
And finally, it keeps your sensitive neighbor happy while plinking in the backyard and will not disturb your shooting fellows in the range.
Gamo Bone Collector comes in 2 calibers:
.177 and .22 so you can choose between one of these 2 calibers that you like most.
(For more on how to choose the right air gun caliber for your game, see this post.)
Stock
The stock is all-weather synthetic green stock.
The synthetic stock is extremely suitable for shooters who live in high-humidity places and hunters who go on long hunting trips.
(For more on the in-depth comparison between synthetic and wood stock, see this post.)
This stock has dual raised cheekpieces on the left and right sides so it's extremely useful for left-handed shooters.
Besides, it has checkering on the grip and forearm to add friction to your hand when shooting, prevent slippage from the shooter's sweat, and enhance accuracy.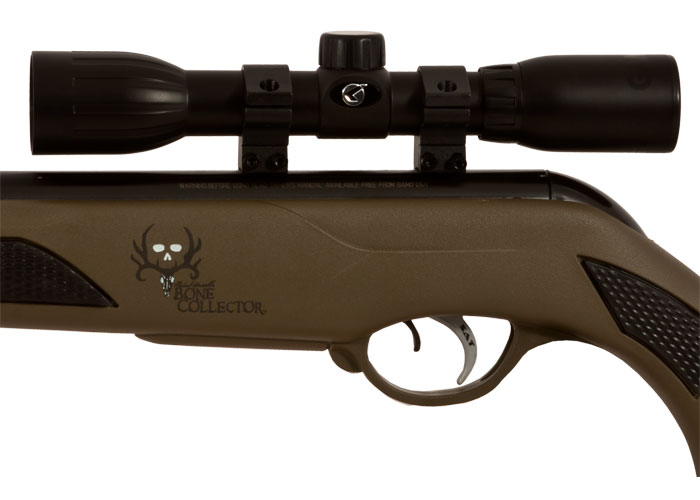 Furthermore, the stock has a pistol grip:
It orients the hand in a forward, vertical way similar to the position one would take with a conventional pistol
So it gives you a natural and comfortable hold of the gun.
The Bone Collector's stock features SWA – Shock Wave Absorber.
Let's talk about it for a moment.
There is an entire industry centered around making after-market recoil pads.
Their intents are to reduce felt recoil because constant recoil pounding to your shoulders is painful and will stop you from shooting as much as you want.
While the gas piston is going to seriously reduce the vibration, the SWA buttplate will stop you from feeling most of the recoil and from the remaining movement of the gun.
In fact, it provides up to 74% more recoil absorption than a standard buttpad.
Moreover, it's an adjustable buttpad with three removable absorption cells so you can customize it according to your own need.
Now you can shoot comfortably and enjoy long-hour shooting without pain on your shoulders.
More on the Gamo Bone Collector IGT here:
Ammo
With 2 types of calibers available, Gamo Bone Collector Bull Whisper has 2 corresponding types of pellets:
.177 caliber uses .177 pellet and .22 caliber use .22 pellet .
As you may know, a .177 pellet is cheap: you can buy a bunch of .177 pellets for half the money for the same amount of .22 pellets.
Besides, .177 is lighter and gives you higher velocity so it's great for plinking and target shooting.
On the other hand, .22 pellets are heavier, more stable on their trajectory, and have more than enough muzzle energy to get the job done.
(For more on the differences between .177 & .22 and which jobs they do best, see this post.)
Sight
The Gamo Bone Collector Bull Whisper doesn't come with traditional open sight.
No front sight, no rear sight.
Instead of an iron sight, Gamo put the 4×32 scope in it for more precision in the shooting.
Having this handy scope gives you dead-on accuracy in both short-range and long-range shooting.
(For more on how many types of air gun sights are out there and which one is suitable for you, see this post.)
Trigger
In the past, Gamo customers have swapped out their triggers for aftermarket ones.
There's no need to do that anymore.
The Smooth Action Trigger (SAT), is light years better than the previous version.
It's smooth and predictable.
What will that do for you?
It'll improve your grouping because a heavy, unpredictable trigger is responsible for delivering large groups.
You'll be amazed at how good a shot you are when you shoot the Bone Collector with the brand-new SAT trigger.
Velocity, accuracy and power
Gamo Bone Collector produces velocity up to 1300 FPS with .177 pellets and 975 FPS with .22 pellets.
These are exceptionally high velocities compared to other air guns on the market
And it puts this rifle belonging to the magnum class in the air gun world.
In addition, since the speed of sound is 1100 FPS (varying with altitude and temperature),
You may hear the loud crack if you buy a .177 caliber because the lightweight pellet breaks the sound barriers.
If you buy a .22 one then this is not an issue at all.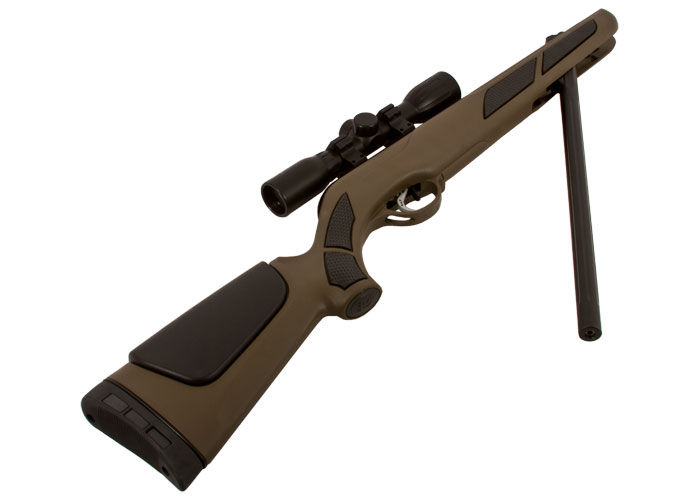 Chrony tests with both types of pellets give us the following results:
In .22:
| Pellet (.22) | FPS | FPE |
| --- | --- | --- |
| Crosman Premiere 14.3 gr | 745 | 17.63  |
| 18.2 gr pellet | 640 | 16.56  |
| PBA 9.7 gr | 975 | 20.48  |
In .177:
| Pellet (.177) | FPS | FPE |
| --- | --- | --- |
| Beeman laser 7.1 grains | 926 | 13.52  |
| PBA Gamo Raptor 5.4 gr | 1300 | 20.27  |
| Red Flame 7.9 gr | 1000 | 17.55  |
As you can see, the velocities match the advertised numbers and even surpass them!
This is a phenomenon you don't usually see because the advertising velocity is often the highest speed an air gun can achieve with its already-made capacity.
For this IGT pellet rifle, various shooting tests have been conducted by different shooters with positive results.
The common shooting groups are:
1/4″ at 20 yards,
1 1/2″ at 30 yards,
dime size at 20 yards,
dime size at 30 feet,
1/4″ at 20 yards,
1" at 30 yards,
1/2″ at 10 yards,
cloverleaf group at 15 yards,
1/2″ at 60-70 feet using RWS 7.4 gr,
nickel size at 30 yards,
1/4″ at 75 feet,
3/4″ at 30 yards,
nickel size at 50 feet with H&N Field Trophy and Baracuda Match pellet,
1.5" at 50 feet with Crow Magnum,
1/4″ at 10 yards,
1/2″ at 50 yards using Crosman Ultra Magnum 10.5 gr,
0.17" at 30 yards with Crosman Premiere 10.5 gr,
1" at 60 yards,
1" at 20 yards using domed lead ammo,
¼" at 20 yards,
1" at 10 yards,
1" at 20 yards,
dime size at 20 yards with Crosman 14.3 gr,
1.75" at 25 yards,
1/2″ at 25 yards,
1/4″ at 15 yards,
1" at 30 yards,
3/4″ to 1" at 15 to 20 yards with JSB 14.35 gr,
dime size at 50 feet,
and bull eyes at 25 yards.
(For more on everything you need to know about air rifle accuracy, see this post)
Furthermore, this Bull Whisper can:
goes through 1/4″ plywood at 50 yards,
pierce two layers of wood siding at 75 feet with 11 to 14 gr pellets,
destroy soda can at 50 yards,
penetrate 3/8" wafer board with Gamo PBA Platinum 5.2 gr,
drop jays at 50 yards and kill squirrels, raccoons woodchucks, and turkeys in 1 shot at 60 yards.
As you can see from those impressive numbers above, this rifle is extremely accurate
And generates more than enough knock-down power for small games at a shooting range of up to 50 yards.
(For more on the best air rifle for squirrels, see this post)
Accessories
The package includes a 4×32 scope, mounts, elasticized lens covers, hex wrench, cleaning cloth, and dozens of PBA ammo.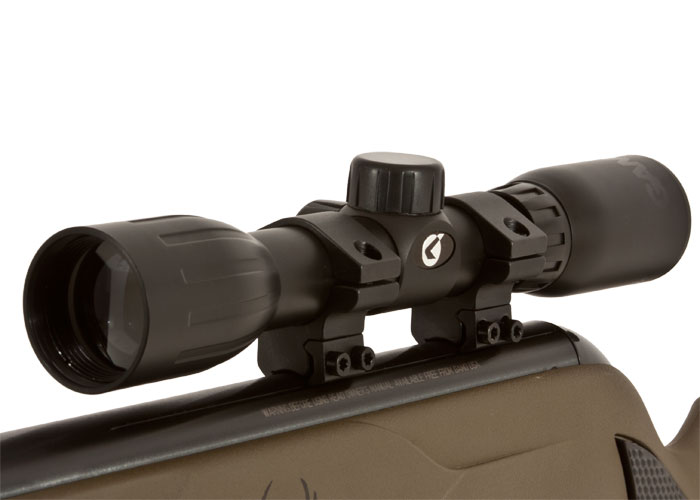 Specifications
Caliber: Available in both .177 and .22
Velocity: 1300 FPS with .177cal. 975 FPS with .22 cal.
Loudness: 3- Medium
Barrel Length: 19.13"
Overall Length: 43.75"
Shot Capacity: 1
Barrel: Rifled
Front Sight: None
Rear Sight: None
Scopeable : 11mm dovetail
Trigger: Two-stage adjustable
Buttplate: Rubber
Suggested for: Target shooting/Plinking/Small game hunting/Pest control
Trigger Pull: 3.74 lbs
Action: Break Barrel
Safety: Manual
Powerplant: Gas-piston
Function: Single-shot
Body Type: Rifle
Weight: 5.95 lbs
Cocking Effort: 32 lbs.
Customer review
There are lots of mixed customer reviews about this gun.
In positive reviews, we see that people love its outstanding features, awesome technology, great fit and finish, quality stock, incredible accuracy, and power.
In negative reviews, people mostly complain about 2 things.
The first is the low-quality scope: you can solve this issue simply by attaching another scope of your choice to it.
The second is the loud noise, and much louder than what they expect from a "whisper" gun.
There are effective solutions for those problems:
Make sure you clean the barrel several times to get rid of diesel in the bore,
And use heavier pellets instead of lightweight ones to make the gun go subsonic and doesn't break the sound barrier.
Pros and Cons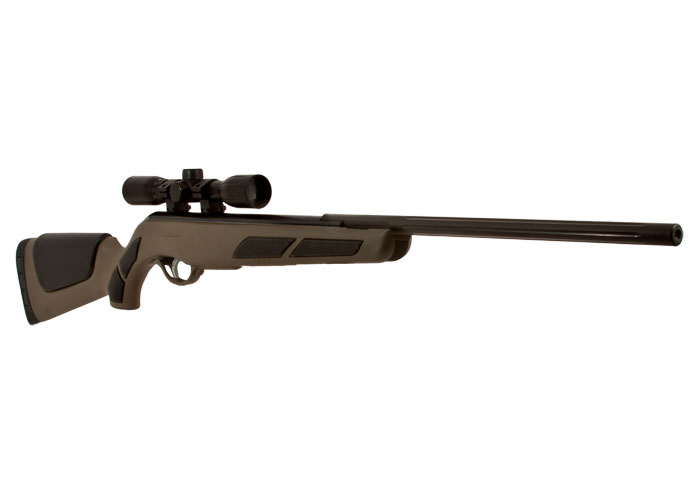 Pros
Cons

Astonishing IGT and ND52 technology
Sensational forest-theme design
Incredible composite stock with rubber grip insert
Excellent trigger
Fantastic velocity
Jaw-dropping power
Decent scope

Not quiet as "whisper" with lightweight pellet
Dirty barrel out of the box
Price
The price for Gamo Bone Collector is about 200$.
It's a bargain for a unique rifle that integrates a bunch of proven technology and produces superb power and dead-on accuracy.
Besides, there is little difference between the prices of the 2 calibers so you can choose the one that you like most.
Also, when you buy from PyramydAir, you save a whopping 90$ more than buying from Gamo's site.
Conclusion
The Bone Collector has made quite a buzz in the air gun world.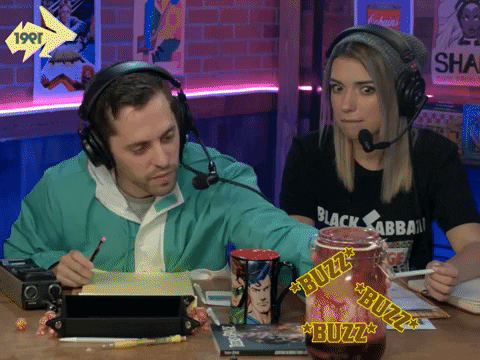 Endorsed by iconic TV personalities, this gun paved its own way into the best-selling air rifle list on many retailer sites such as Amazon, Walmart, Pyramyd Air, etc.
Even if you are not a "Bone Collector" like Travis Turner, you will love this gun for its aesthetically pleasing look and extraordinary quality.