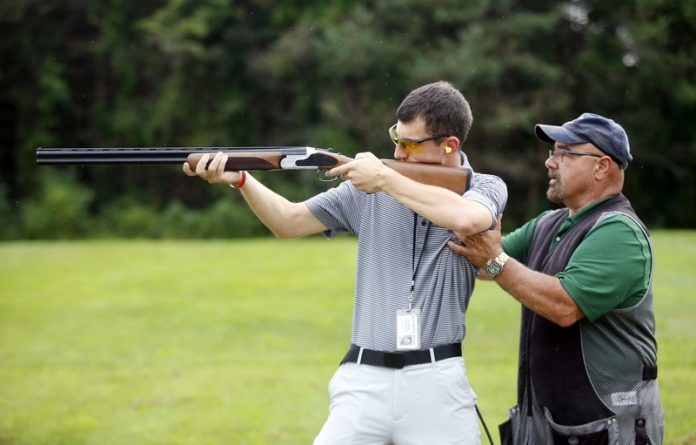 Last Updated on
Choosing the best air rifle under $100 for an adult is no easy task.
You are on a budget, the buying options are limitless and you don't want to waste your hard-earned money on cheap, poorly made toy guns.
But don't you worry; this top 5 list brings you the best cheap rifles on the market.
These are quality guns that can last for years, offer solid basic features and are excellent for beginner adults.
They are awesome for target shooting and plinking.
Most of them can help you get rid of nasty pests in your property.
The Daisy Red Ryder 1938 75th Anniversary Special Edition – Best Beginner BB gun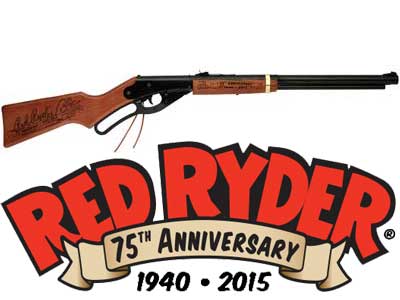 Pop quiz:
What's a classic gun that American kids and adults love altogether?
A Daisy Red Ryder .
Correct. And what's even better than a Daisy Red Ryder?
A Daisy Red Ryder 75th Anniversary Edition. Oh yeah.
This special edition got a huge update with an aluminum cocking lever, solid maple wood stock with golden band on the forearm, laser-engraved graphics in the stock.
It's eye-catching, lightweight and well-constructed. This classic rifle makes you fall in love at first sight
Additional features include:
Caliber: .177
Velocity: 350 FPS
Loudness: 1-low
Shot capacity: 650
Cocking Effort: 13 lbs.
Barrel: smoothbore
Powerplant: Spring- piston
Function: repeater
Weight: 2.2 lbs
Crosman Vantage – Best Air rifle Under 100

It's the only gun in this list powered by nitro piston technology so the Vantage inherits smoother cocking, discrete noise and ease-of-use.
This one is probably the cheapest gun on the market with NP power plant.
Build on solid hardwood stock, this rifle comes with shiny fiber optic sights, high velocity and lethal knockdown power.
Additional features include:
Caliber .177
Maximum velocity: 1200 FPS
Loudness: 3 –medium
Capacity: single shot
Barrel: Rifled
Front sight: fiber optic
Rear sight: fiber optic, fully adjustable for windage and elevation
Buttplate: rubber
Action: break barrel
Safety: manual
Powerplant: gas-piston
Weight: 7.1 lbs
Gamo Hornet – Budget Air Rifle for Beginners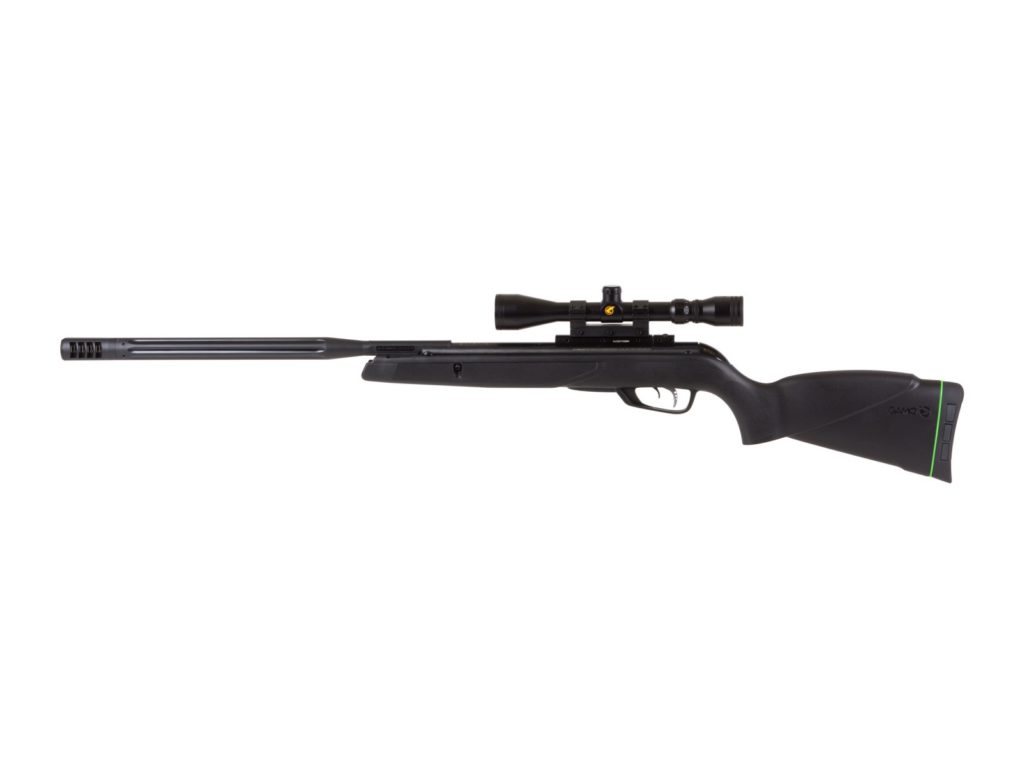 Due to the plastic construction, the Hornet is much lighter than other hardwood stock guns.
Despite its low weight, it hits very hard with serious takedown power.
Whether you have problems with rabbits, chipmunks, squirrels, or snowshoe hares, the hornet solves it all.
It knows how to sting!
Additional feature includes:
Caliber: .177
Max velocity: 1200 FPS
Stock: synthetic
Loudness: 3- medium
Capacity: single shot
Cocking effort: 30 lbs
Barrel: rifled
Optics: 4×32 scope
Trigger: two-stage adjustable
Fluted polymer barrel jacket
Ventilated rubber buttpad
Non-slip textured grip and fore arm
Power plant: spring-piston
Ruger Black Hawk – Cheap Air Rifle for Youth
This rifle is what you need if you want a clean, humane kill of rodents.
Well-built, accurate and hard-hitting, the Black Hawk is a solid small-game gun that you can get for only under 100 bucks.
Additional features include:
Spring piston
Single shot
Break barrel
Composite stock
Fiber optic sights (fully adjustable rear)
4×32 scope with ¼ MOA, duplex reticle
Caliber: .177
Max velocity: 1000 FPS
Cocking effort: 30 lbs
Safety: automatic
Suggested for: small game hunting/plinking
Ruger Air hawk – Best Affordable Air rifle

Enter the squirrel's worst nightmare with the Ruger Air Hawk.
Available in .177 only, this rifle is made of solid hardwood stock.
(For more on the in-depth comparison between synthetic and wood stock, see this post.)
Shooting consistently out of the box with extremely high velocity (supersonic included) and superb knock-down power, the Air hawk shoots and feels like the legendary RWS 34 but at ⅕ of the price.
It's hard to beat this rifle in its price range and that's why the Ruger Air Hawk deserves a place in the top 5 rifle list.
Additional features include:
Caliber: .177
Max velocity: 1100 FPS
Loudness: 3 –medium
Cocking effort: 30 lbs
Barrel rifled
Fiber optic front sight and rear sight
4×32 scope
Trigger pull: 1 lbs 15.5 oz
Action break barrel
Powerplant: spring piston
Safety: automatic
Function: single-shot
Building the top 5 air rifle list
To build this list of top 5 air rifle under 100$ for adults, a set of criteria were selected, the air rifles in this list had to:
Have at least 100 reviews online
Be readily available online
Have an average consumer rating of 4.0 or more.
This list works mostly for adults, with the exception of the Daisy Red Ryder 1938 (which the kids can use and enjoy).
All the other guns are meant to be used by adults.
How this list was compiled?
Search for every air rifle on the largest air gun retailer sites such as: Amazon, Walmart, Airgundepot, PyramydAir, Cabelas etc which have prices under $100 and add it to a spreadsheet.
Note the price and the number of reviews on multiple listings of each individual product.

Why would I do that, you ask?
Because there are different listings online for a specific model:
For example, one listing comes with the scope while the other comes with safety glasses ,ammo, and paper target.
The gun remains the same and that's what we pay the money for.
Count ALL 5 stars, ALL 4 stars, ALL 3 stars, ALL 2 stars, and ALL 1 star of each model on each e-commercial site
From those stars, calculate the average rating.
Sort the air rifles by the consumer ratings (high to low) to find the top 5.
Review each model in details
Make the final adjustment to the final top 5 based on the unique features the guns have.
The purpose of this list, obviously, is to save you time and effort by not going through the hassle of digging into each model among the hundred choices of air rifle in this price range.
All of these rifles are affordable, convenient, and have impressive features worth more than the price you pay for it.
Also, an air rifle under 100$ is not just an air rifle.
The skills you practice with them will directly transfer to the firearm.
So, sit back, relax, take a look and choose wisely!