You shoot 500 rounds of pellets in a row in the afternoon.
The tin cans blow everywhere, about a dozen of them shattered in your backyard
Then, a friend calls you over for an all-night late party.
Awesome, you go to the party and drink a few beers.
On the walk home, you feel the rain on your face when walking to your front door, and the cold feeling of the rain reminds you of one thing —
You forgot to leave your gun outside and it IS RAINING!
You pray that your gun is still safe and sound while rushing towards its place.
And it's not damaged. Thank God.
Now, you can breathe again. 
The above story illustrates why we fall in love with synthetic guns that stand vigorously in any kind of weather.
And Crosman MK-177 is one of those guns.
Crosman MK177 – Gun Type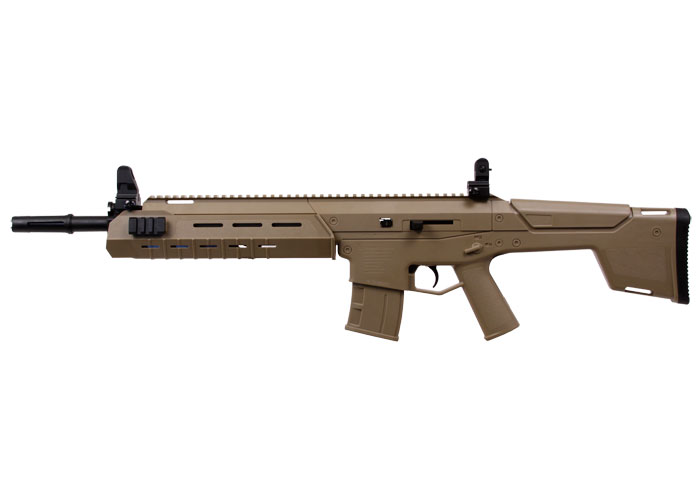 This is a multi-pump pneumatic air rifle.
It gets its power from a piston and a pressure cylinder inside the chamber.
For more on the 5 types of air rifles you need to know before buying, see this post.
Pump pneumatic air guns are compact, lightweight, recoilless, and give you control over the power of the gun.
They are perfect for every shooter.
Whether you are 10, 30, 50, whether you are male or female, everyone can shoot a multi-pump.
If you are young or small and don't have any muscle power, but just 2 or 3 pumps in the gun and shoot away.
If you like high power and have all the muscle required, you can put in 10 pumps to get maximum power.
You can read more about the pros and cons of a pump rifle in this post.
The caliber (the internal diameter of the bore, measured in inches) is .177- the most common caliber for target shooting and plinking.
For more on how to choose the right air gun caliber for your game, see this post.
This gun is a double-function air rifle with a rifled barrel.
(For more on things you should know about air rifle barrels before buying, see this post).
It shoots either BB or pellet and you can use whatever ammo you got in your hands.
It just doesn't get any better than a versatile ammo gun.
Combine this with the variable number of pumps and you've got every man's air gun.
This all-new, tactical air rifle features new valve technology combining lower pumping force with higher velocity.
The newly designed bolt handle is larger and located on the left side for ease of use.
Stock
The stock is a rugged all-weather synthetic.
For more on the in-depth comparison between synthetic and wood stock, see this post.
The stock has a slightly raised cheekpiece and slightly textured plastic in the grip so you can grasp this gun more tightly and line up the sight faster.
Moreover, this gun has a tactical pistol grip:
It orients the hand in a vertical way similar to the position one would take with a conventional pistol.
This pistol grip provides a comfortable feel and allows you to maneuver the gun easily.
The stock has a removable rubber buttplate so you can store ammo in the handy space beneath the recoil pad.
Ammo
The Crosman MK-177 uses both .177 BBs and .177 pellets as its sources of ammunition.
BBs are surprisingly cheap and .177 pellets are inexpensive, too.
If you look at the price of .177 versus .22 pellets, you'll see that you get twice the amount of ammo with .177 pellets for the same price.
Having the 2 cheapest ammo at your disposal prevents you from worrying about breaking the bank if you practice shooting a lot.
For more on the differences between .177 & .22 and which jobs they do best, see this post.
Cocking and loading
The funny thing about this gun is the placement of the cocking bolt on the left side
While the magazine must be inserted and indexed from the right side,
(as opposed to Crosman M4-177 which places both of them conveniently on the right),
But it's not that big of a deal when you get used to it.
Sight
The Crosman MK-177 comes with an outstanding open sight.
The sight consists of a post-front sight and dual aperture rear sight.
The aperture sight (a.k.a peep sight) is similar to the iron sight except it has a small hole cutting through the middle of the rear sight.
When aiming, shooters look through the aperture and focus their eyes only on the front sight and the target.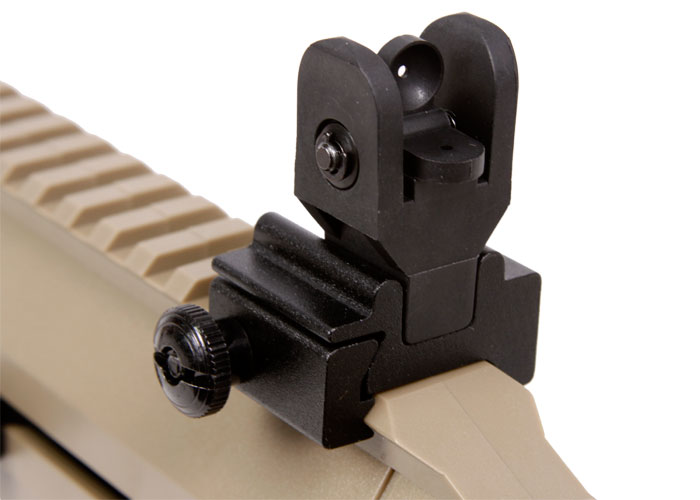 The eyes will automatically center the front sight and ensure accuracy.
The picture of the front sight and the target is sharp and clear while the surrounding of the aperture now is only out of focus blur zone.
So sometimes aperture sight is also called ghost ring sight.
The aperture sight has a significant advantage compared to a factory open sight.
With a traditional sight, there are 3 points you have to focus on: the target, the front sight, and the rear sight.
It's really hard to focus on 3 points at the same time since they are located at different distances from the eyes.
But with the aperture rear sight, there are only 2 points to focus on: the front sight and the target because the eyes automatically focus on these points at the center of the ring.
In conclusion, the aperture sight is fast to pick up, easy to acquire the target, and optically superior to a traditional open sight.
For more on how many types of air gun sights are out there and which one is suitable for you, see this post.
Velocity, accuracy and power
This multi-pump rifle has a velocity of up to 800 FPS with steel BB and 750 FPS with alloy pellet.
This is medium velocity compared to other pellet guns and super-high velocity compared to other BB guns.
This type of awe-inspiring speed sets this BB/pellet rifle apart from other air guns that also shoot BB on the market.
Chrony test has given us results as follows:
For 10 pumps:
| Pellets | FPS | FPE |
| --- | --- | --- |
| Crosman Premier 7.9 grains pellet | 628.7 | 6.94  |
| 7 gr RWS pellet | 631.4 | 6.2  |
| RWS Hobby 7.0 gr | 594.5 | 5.49  |
| 6.9 gr RWS | 631 | 6.1  |
| Crosman SSP pointed pellet 4 gr | 751 | 5.01  |
| Steel BBs 5.1 gr | 669 | 5.07  |
Although these velocities a lower than the advertised numbers, this gun still delivers enough knockdown power, about 5-7 FPE,
So it still can drop birds, crows, doves, etc and common plinking objects such as tin can, water bottle, and so on doesn't stand a chance
For Crosman MK-177, various shooting tests have been conducted by different shooters with positive results.
The common shooting groups are:
1" at 30 feet,
1/2″ to 3/4″ at 20 yards,
1/2″ at 22 feet,
1" at 50 yards,
1.173" at 10 meters with Crosman Premiere lite,
0.839" at 10 meters with Air Arms Falcons 7.33 gr,
0.858" at 10 meters with RWS Hobby,
0.399" at 10 meters with H&N Finale Match Pistol.
As you can see this is an undoubtedly accurate air rifle with a shooting range of up to 20 yards.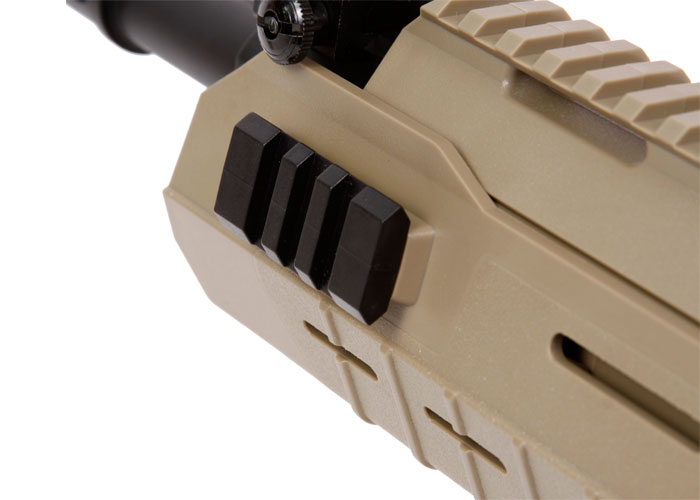 Specifications
Caliber: 0.177"
Velocity: 800 FPS with steel BB, 750 FPS with alloy pellet.
Loudness: 3- Medium
Barrel Length: 16.75"
Overall Length: 33"
Shot Capacity: 300.
Cocking Effort: 3-10 pumps
Barrel: Rifled
Front Sight: Elevation adjustable Pin
Rear Sight: Windage Adjustable/ Dual Aperture Peep
Scopeable: Picatinny
Buttplate: Rubber
Suggested for: Plinking/Target shooting
Action: Bolt- Action
Safety: Manual
Powerplant: Multi-pump pneumatic
Function: Repeater
Body Type: Rifle
Fixed/adjustable power: Multiple settings
Weight: 3.5 lbs
Customer review
There are lots of customer reviews of this multi-pump rifle.
In positive reviews, buyers love its solid polymer stock, realistic firearm look, fantastic accuracy, and over-expected power.
However, there are some negative reviews about this gun: They don't like the location of the bolt handle and its pellet storage in the buttplate but those are minor issues, though.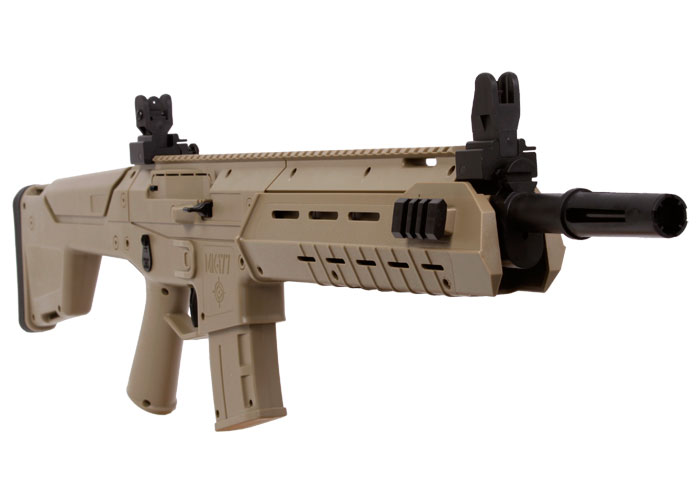 Pros and Cons
Pros
Cons

Amazing velocity
Awesome dual function
Cool tactical looking
Excellent open sight
Great stock
Incredible accuracy

Bolt handle locates on the left side makes it awkward to right handed shooters
Pumping action takes some time to master
Pumping action can be tedious at some point
Price
The price for the Crosman Mk-177 is only about $60.
For $59, or even the normal $79 price, it's a great gun for the money that will bring you tons of fun.
There are a couple of different listings online but the listing I've found with the lowest price is the best deal you can find on the internet.
Also, there is a listing on PyramydAir of the MK-177 with the red dot sight, a couple of hundred pellets, a carry-case, safety glasses, and some spare pellet clips.
This listing is only about $100 and I think you should take a look at it if you want an all-in-one-package gun for your kids.
Conclusion
The Crosman MK-177 is a good air gun for a father and son day at the range.
If you're looking for something fun to shoot and want that tactical look and feel, definitely take this gun, I'm sure you'll be very pleased with it.