Back in late 60s or early 70s
When the production of Crossman 160 and 165 stopped
To fill the void in the market
An updated version of it came all the way from China
And went viral under many brand names.
We get our present-day Beeman QB Chief air gun this way.
There is an interesting history behind that I am going to share but as a shooter, you are here while looking for something powerful
And Beeman QB has been on the top of the list for quite some time now for its accuracy and power.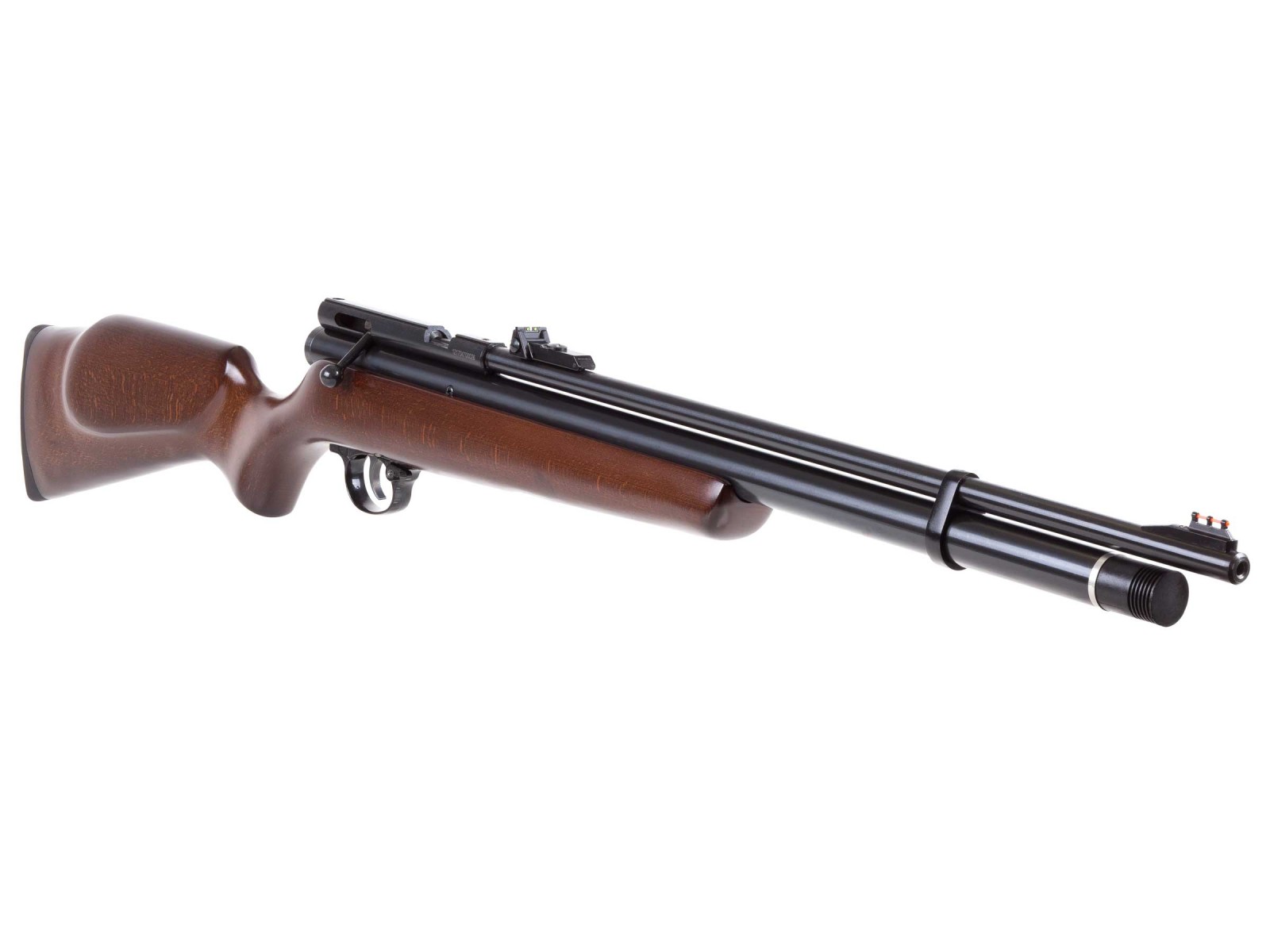 Looking back to its invention, someone upgraded a Crossman 160 gun and sent it to China for mass production
And provided the product with a comeback in the air gun industry.
However, due to the high price, the product was not so popular.
Hereafter, China made its own and started selling it in the market for lower price points, and the popularity kicked off.
After that, it started being sold after many names like Tech-Force or Industry Brand,
And finally, it came under the umbrella of Beeman.
However, it is not the Germany-based air gun giant Beeman.
Beeman QB is available in two models that are QB78 and QB79 which have some differences in their specifications.
Let's see why Beeman QB Chief is one of the best PCP air rifles you can buy right now!
China made Crosman 160 their own and started selling it in the market for lower price points, and the popularity kicked off.
Beeman QB Chief – Guntype
Any air gun or for that matter, any weapon is categorized by its working principle.
Beeman QB Chief pellet gun works on a pre-charged pneumatic mechanism using high pressure of compressed air to drive projectiles outwards.
(For more on the 5 types of air rifles you need to know before buying, see this post.)
Beeman QB Chief uses 2000 psi pressure as its driving power.
The above-mentioned value is the highest permissible limit for Beeman QB Chief and filling beyond could jam the gun
Or simply over-pressurize the air reservoir leading to the malfunctioning of the instrument.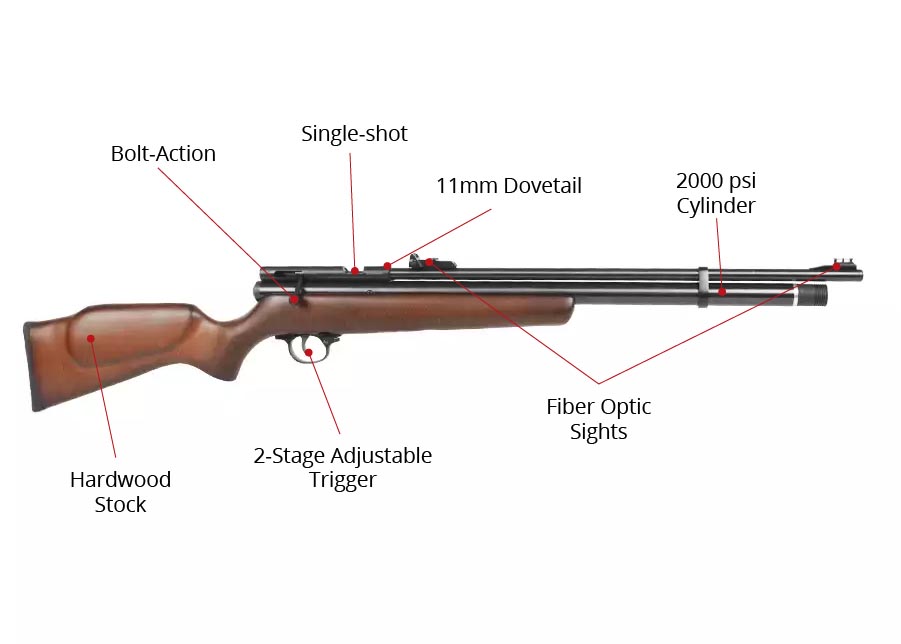 This is a single-shot rifle like most conventional air rifles.
Many hunters still prefer it the old way, and Beeman QB Chief seems to respect the choice.
You have to reload the gun every time after every shot and compared to multi-shots repeater guns of these days,
It is a lot more work and tiresome too, but it has its own essence.
With a single-shot gun, you learn how to make each shot count
Because if you miss one, it will take time and effort to reload and the moment of your success may slip away by that time.
It makes you a better and more skilled shooter.
Beeman QB Chief offers you a two-stage trigger immediately improving the accuracy, and the manual safety makes the gun simpler.
The air tank is engineered smartly and rightly.
While updating many CO2 guns, they got this simple reservoir calculation wrong,
Making the whole gun a lot risky and accident-prone but Beeman QB Chief is an exception.
The tank wall is made of thicker tube material for sustaining 2000 psi.
They figured out the formula for keeping the budget on point and avoiding the fill pressure of 3000psi,
Which would have required an even thicker tube wall resulting in an increase in the price of the product.
Besides, the 136cc reservoir can be filled with 2000 psi air pressure by a hand pump easily
The hardwood stock gives it a classic authentic look which is much more preferred among the hunters than the black sleek look of common synthetic stocks.
(For more on the in-depth comparison between synthetic and wood stock, see this post.)
The rifled barrel is not shrouded, neither fully nor partly, making it a very loud gun.
We will talk about the loudness later in detail.
(For more on things you should know about air rifle barrels before buying, see this post.)
Besides, Beeman QB Chief offers an open sight that has an optical fiber element,
But this comes in the updated QB78 model popularly known as the deluxe model.
Here we can see certain added features in stock as well.
The sleek Monte Carlo look is always celebrated among shooters, and the cheek rest offered by this model ensures better alignment of scope.
The regular Beeman QB Chief comes with one 11 mm dovetail ring for the mounting scope of your choice.
The QB79 is more flexible than QB78 as it allows greater accuracy and a higher degree of consistency.
Another striking feature of this updated model is that you can detach the gas bottle after using the gun.
It will eliminate the work you had to do for degassing the gun as co2 air rifles should be degassed always after use for the durability of the product.
Apart from that, what is worth mentioning here is the claim by the manufacturers of shots per fill.
They claim it to be 50 shots per fill for .177 caliber and 35 in the case of .22 calibers.
(For more on how to choose the right air gun caliber for your game, see this post)
Stock
Beeman QB Chief comes with a wood stock that gives it an authentic look.
The wood looks and feels really high-end given its price point.
It has great surface finishing giving the product the ultimate look.
(For more on the in-depth comparison between synthetic and wood stock, see this post.)
The metal part also has a great surface finish, and the bluing is not only remarkable but also very effective.
A lot of rough handling will leave no impact on it.
Though this Beeman QB Chief is a pre-production gun, there is no visible machine mark on it about which you should be worried particularly.
With a little higher position of the stock comb, Beeman QB Chief will be one sleek stylish gun and way more attractive than the modern black synthetic stocks.
Sight
Beeman QB Chief does everything right with the sight.
It comes with an open sight that is fiber optic in nature, which is somewhat one of the best types of sight available in the market.
The rear-view sight can be adjusted like all other sights available in popular air guns.
The adjustment can be done for elevation and windage usually.
However, most of the shooters desire clearer vision and go with mounting a scope.
This results in higher accuracy and the manufacturers kept it in mind while making Beeman QR Chief.
There is a standard 11mm dovetail rail grooved on the breech.
Beeman QB Chief has a typical 3-9*40 AO scope.
You can use equipment like Leapers high ring for adjusting any scope if you are not willing to remove the rear sight.
(For more on how many types of air gun sights are out there and which one is suitable for you, see this post.)
There is not much space, and you have to make the necessary arrangements for mounting the scope.
However, if you decide to take the rear sight off, you must know that it is a one-time thing.
You can take it off but do not think of reattaching again.
The detaching process of rear sight could be easy but reversing is tricky and messy so you know any step after making everything sure.
Velocity, accuracy and power
The accuracy and performance are the reason Beeman QR Chief is still popular among the shooters in spite of lacking some of the cool features that modern rifles today offer.
The air gun was tested with different pellets of different weights to know, which would be the best to use with this air gun.
THE MOST ACCURATE PELLET FOR A BEEMAN QB CHIEF AIR GUN IS H&N FIELD TARGET TROPHY GREEN 5.56 GRAIN.
The pellet weight varied from 4.7 to 10.65 whereas the average energy of the muzzle ranged from 13.03 ft/lbs to 19.86 ft/lbs
And the average velocity range was between 1117.27 FPS and 982.85 ft/lbs.
| | | | | | | | |
| --- | --- | --- | --- | --- | --- | --- | --- |
| Pellet name | Weight | First muzzle velocity | Fifth muzzle velocity | Tenth muzzle velocity | Average muzzle velocity | Average muzzle energy | Accuracy |
| Gamo Raptor platinum | 4.7Grain | 1137.68FPS | 1122.39FPS | 1100.65FPS | 1117.27FPS | 13.03  ft/lbs | Poor |
| H&N field target trophy green | 5.56Grain | 1097.55FPS | 1061.65FPS | 1061.56FPS | 1077.42FPS | 14.34ft/lbs | Excellent. Best among tested. |
| RWS Hobby | 7.0Grain | 1044.43FPS | 1033.20FPS | 1016.20FPS | 1032.21FPS | 16.56ft/lbs | Very good |
| Crosman premier | 7.9Grain | 1006.48FPS | 1004.14FPS | 982.06FPS | 996.62FPS | 17.43ft/lbs | Very good |
| JSB Exact Diabolo | 8.44Grain | 999.00FPS | 988.32FPS | 962.77FPS | 982.85FPS | 18.11ft/lbs | Very good |
| H&N field target trophy | 8.64Grain | 974.55FPS | 962.01FPS | 942.53FPS | 960.29FPS | 17.7ft/lbs | Very good |
| H&N Baracuda match | 10.65 Grain | 937.49FPS | 918.92FPS | 896.33FPS | 916.40  FPS | 19.86ft/lbs | Very good |
From the above table, we can see that the most accurate pellet for this Beeman QB Chief air gun is the H&N Field Target Trophy Green 5.56 grain.
Trigger
Except in the deluxe model, Beeman QB Chief offers a single-stage trigger that is, which breaks around 3lb and 11oz.
The setting is conservative, but I suggest you don't tamper with it before understanding the settings properly.
The test result that I have shown above is also done with the factory-made setting.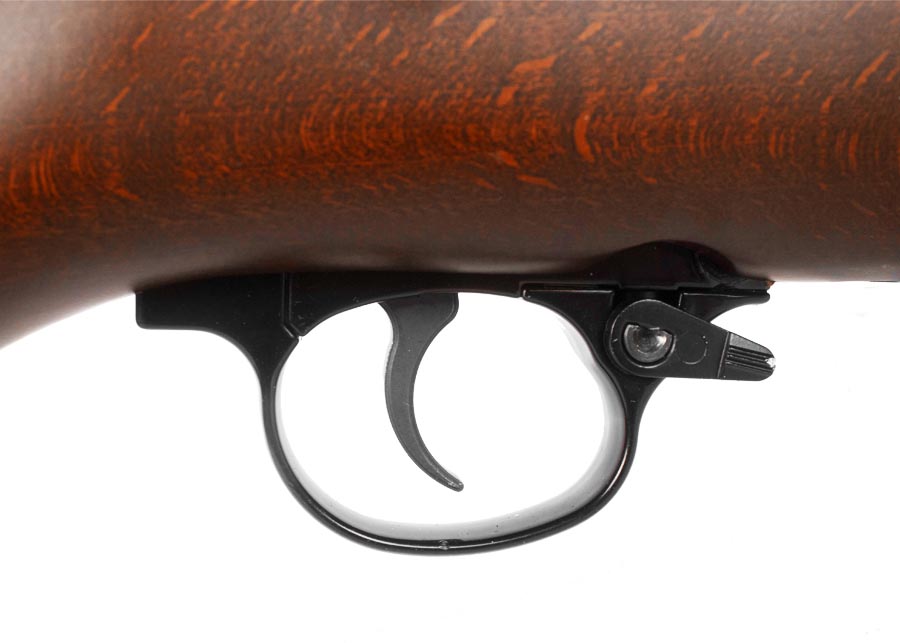 The trigger is quite unpredictable as it is with most single-stage triggers
But considering the price, I can say it is better than most air guns available in the market.
You can adjust the trigger according to overtravel, sear engagement, and pull weight easily.
All you need for this adjustment is set to screw controlling and profound knowledge; you can even remove it from the stock.
However, I repeat, do not tamper with the trigger setting without proper knowledge.
The safety present in Beeman QB Chief is manual.
In the QB78 deluxe version, we see a two-stage trigger with adjustable settings leading to instant higher accuracy and safety with the higher trigger pull.
Cocking and loading
The Beeman QB Chief has a cock on opening action, which is really easy to pull back.
While chambering a pellet it is very easy and smooth to push forward and load.
The loading could be quite tricky though as it has a smaller place for long pellets, and a little modification is needed in the adjustment.
Loudness
It would be useless to waste many words on this.
To be honest, in every sense, a Beeman QB chief is a loud rifle.
This does not come with a shrouded barrel which eliminates all hopes of a silent shooting with Beeman QB Chief.
The absence of any suppressor is quite vivid in this system, and we have to consider the power as well which contributes a great deal to the loudness.
While testing the shooters are mostly using high-quality earplugs in the shooting environment.
Shooting Ability
Shooting with QB78 deluxe is pleasant but basic QB78 could be difficult because of its low comb.
Testers are claiming that the cheek weld actually works as the chin weld in the basic models
Though the manufacturers assured that it will change before mass production.
They will offer a higher comb.
The higher comb the more accuracy will increase positively.
The weight is also not too much, which makes it easier to carry and better hand position while shooting.
With a typical 3 9*40 AO scope Beeman QR Chief weighs around 8lb 6oz.
It is easier to reach the air pressure than that of 3000psi of usual PCP guns.
With a little modification, we can do a lot with a Beeman QB Chief.
Accessories
Being a PCP gun, the first thing you will need for your Beeman QB Chief is a hand pump or compressor to fill the tank in order to generate the operative pressure.
Here I am going to chip in some real advice.
If you are buying Beeman QB Chief because it's pocket-friendly, and you want something simple and cheap I don't see why you should spend much on a scuba tank.
The fill pressure of Beeman QB Chief is 2000psi, and the reservoir is 136cc.
You can easily fill it with a nice hand pump.
There are several decent hand pumps available in the market such as UZWELL top quality high-pressure hand pumps, mini air compressor high pressure, etc.
However, if you already own some other guns or plan to buy the next one soon, you can buy an air compressor or scuba tank.
Air venturi is one name you can trust but there are other good air compressors that are also available in the market like Crossman.
You already have a fiber-optic open sight with an air gun, but you can always get your favorite scope, which fits your requirements.
The sight is sometimes claimed as not so bright, and you may want to replace it as well.
This is a really lightweight air gun so a sling hoop or sling would not be necessary and will completely depend on your choice.
Maintenance
Beeman QB Chief is not an air gun that takes too much to stay functional for years.
You do not have to worry about much when you have Beeman QB Chief in your hand.
You can just wipe any grease or lead building off the gun with simple wipes available in the market.
One such useful and handy single-use wipes come from LS1, which is a familiar name in the industrial lubricant market.
You can also get them in spray cans.
To keep seals and O rings lubricated you may opt for popular lubricants like Ultrair CO2 lubrication or Pellgun oil.
One important thing that I have to mention here is that you have your O ring and seals replacements ready.
In case you are going for a tuning set, it would be wise to order two sets of them.
These are all your Beeman QB Chief needs to serve you for a really long time.
Specifications
Beeman QB Chief is a pre-charged pneumatic air gun.
This is a cock open on bolt action gun.
Beeman QB chief is a single-shot gun.
The safety is manual.
Two-stage adjustable trigger makes the gun safer and more accurate.
Monte Carlo hardwood stock.
Fiber optic front and rear sight provided with the gun.
11mm dovetail ring for mounting scopes.
The barrel is rifled and without any shroud making it impossibly loud.
The fill pressure prescribed by the company is 2000 psi.
The air tank reservoir is 136 cc.
Manufacturers claim 50 shots per fill in case of 0177 and for 0.22 that would be 35 shots.
The male quick disconnect makes it easier to fill the tank with a quick female disconnect.
Pros and Cons
Pros
Cons

Perfect budget price.
Somewhat light weight in nature.
Wooden stock for authentic touch.
Great performance and accuracy.
Male quick disconnect could make the filling easy with a female quick disconnect.

Made in China.
According to customers, the product is cheaply made.
Single shot gun requiring more effort and time.
Very low comb position.
Price
The Beeman QB Chief comes with an extraordinary price tag in the world of air guns.
A PCP air gun that costs only around $180 was a myth at some point, but Beeman has made a miracle come true.
It is actually cheaper than many break barrel guns available in the market. To say it's a steal is an understatement!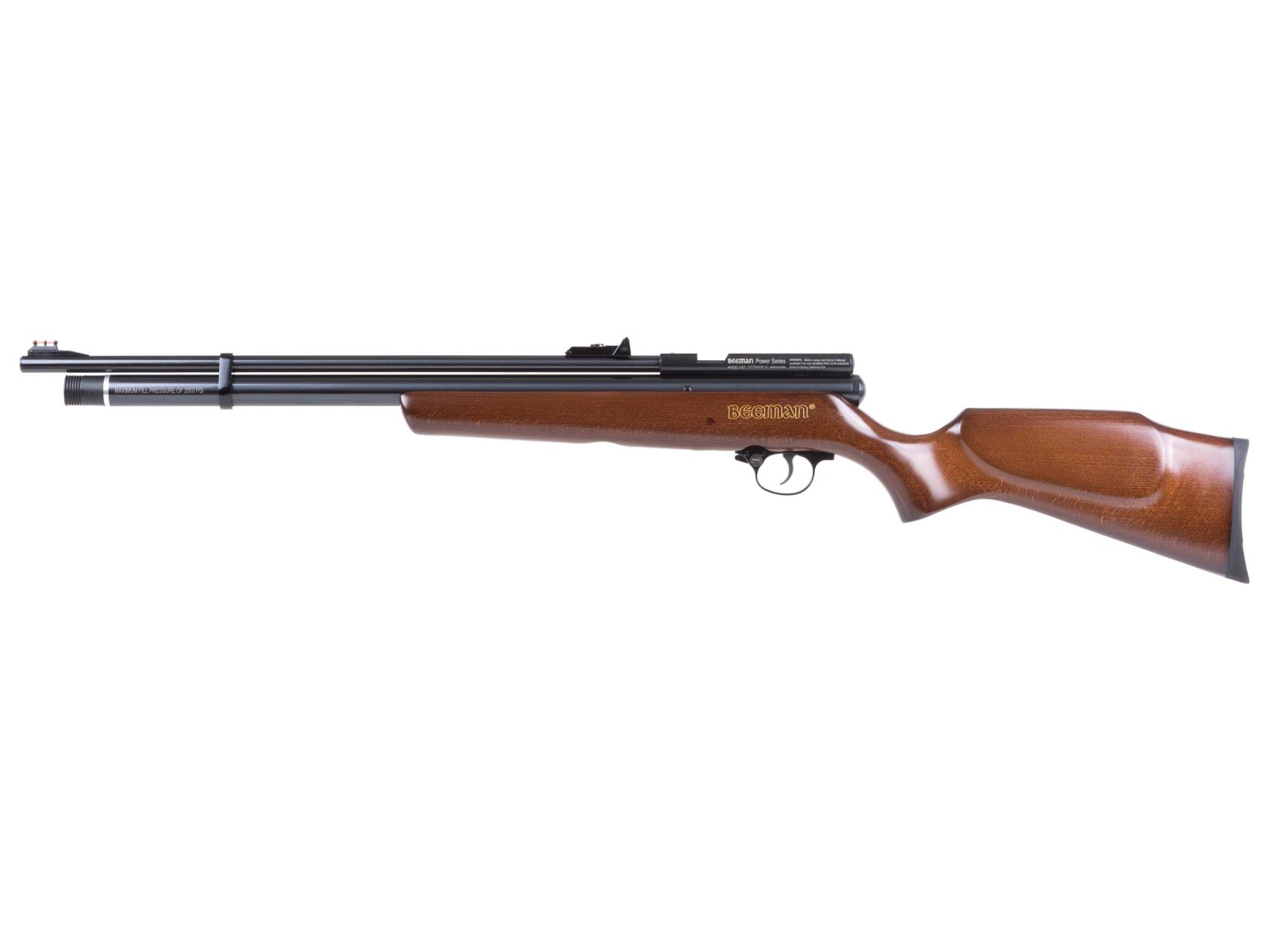 Customer review
Beeman QB Chief has received mixed reactions from the customers.
Some of them are extremely happy with the product while some are complaining about the product being cheaply made.
Here I want to say something to them that the product IS cheap.
In the world of pellet guns, it is magic to have a Beeman QB Chief at this price.
The accuracy and performance at this price are unbeatable. The stock and trigger are also praised by experienced shooters.
Overall, it has been rated above 75% in most verified and popular air gun sites, which is definitely something worthy.
Conclusion
To conclude all I can say is, the Beeman QB Chief was brought on the market so you can have a fantastic PCP air rifle that doesn't break the bank.
This pellet gun is durable, accurate, and shows standard performance.
It includes some great features like fiber-optic sight and PCP tank.
It is going to give you a pleasant shooting while keeping your credit card light!