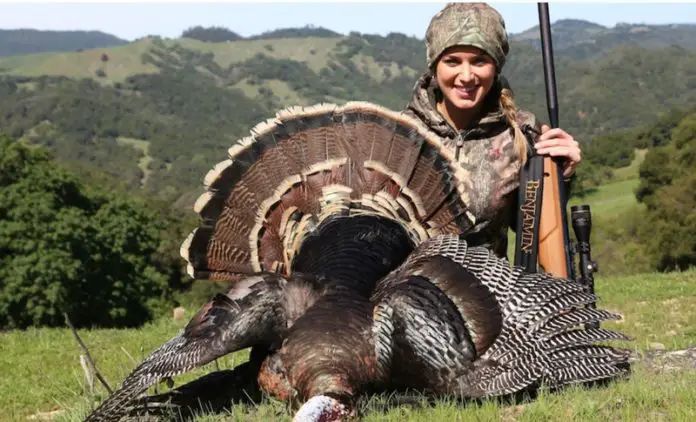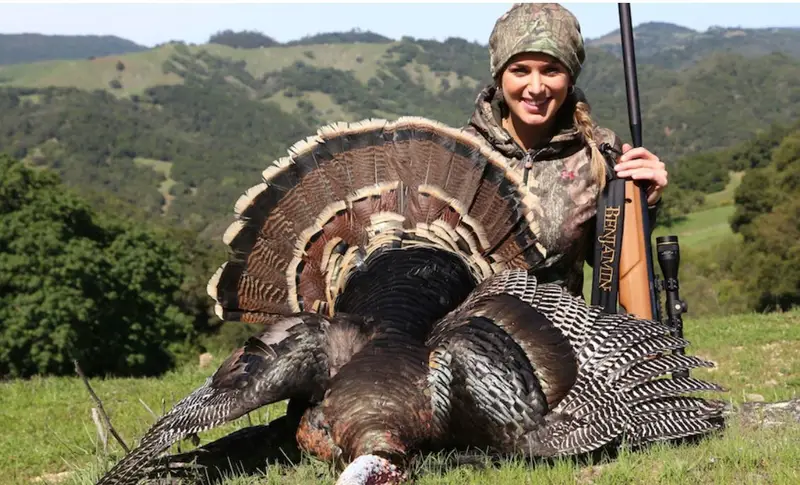 Last Updated on
When it comes to air rifles, PCP air rifles are the most popular of five types: PCP, CO2, Spring, Variable Pump and Gas Piston.
The drawback of a "real gun" is that the recoil is hard to master, and of course they're loud as all hell! Air guns are much easier to shoot and much quieter, and PCP air rifles are the best of the lot on this front. It's suitable for all kinds of hunters, from newbie to master.

The key things are the PCP air rifle has just a little recoil and the projectiles come out as soon as the trigger is pulled , whereas the spring air rifle recoils as much as a real gun and it takes time for the pellet to come out of the barrel. When you shoot the PCP, you just need to pull the trigger and that's all. It's clear why so many people favour this rifle..
The PCP is also the most powerful air rifle type — compressed air is held at a much higher pressure than the CO2 and the Springer. Pressurized air is also not affected by temperature changes like CO2 is. These rifles are powerful, consistent, and accurate.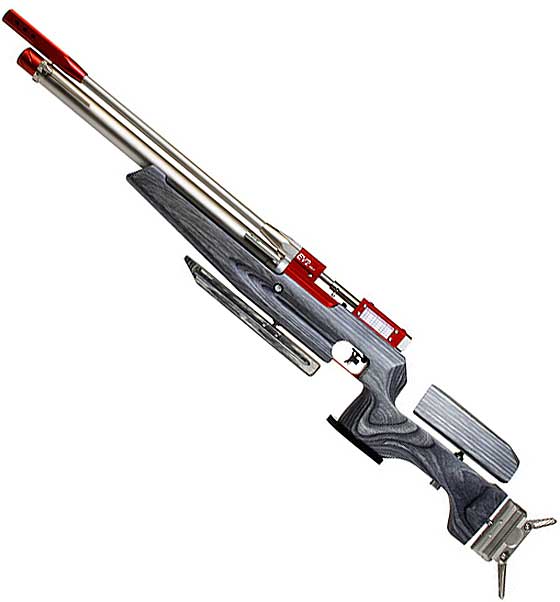 Air Arms EV2 – The best PCP air rifle (above $2000)
However, a PCP air rifle tends to be more expensive than a CO2 or spring powered air rifle, and more expensive to refill too.
Below are the top 5 best PCP air rifles. I hope you find my reviews useful!
1. Benjamin Marauder – The Best .25 Cal PCP Air Rifles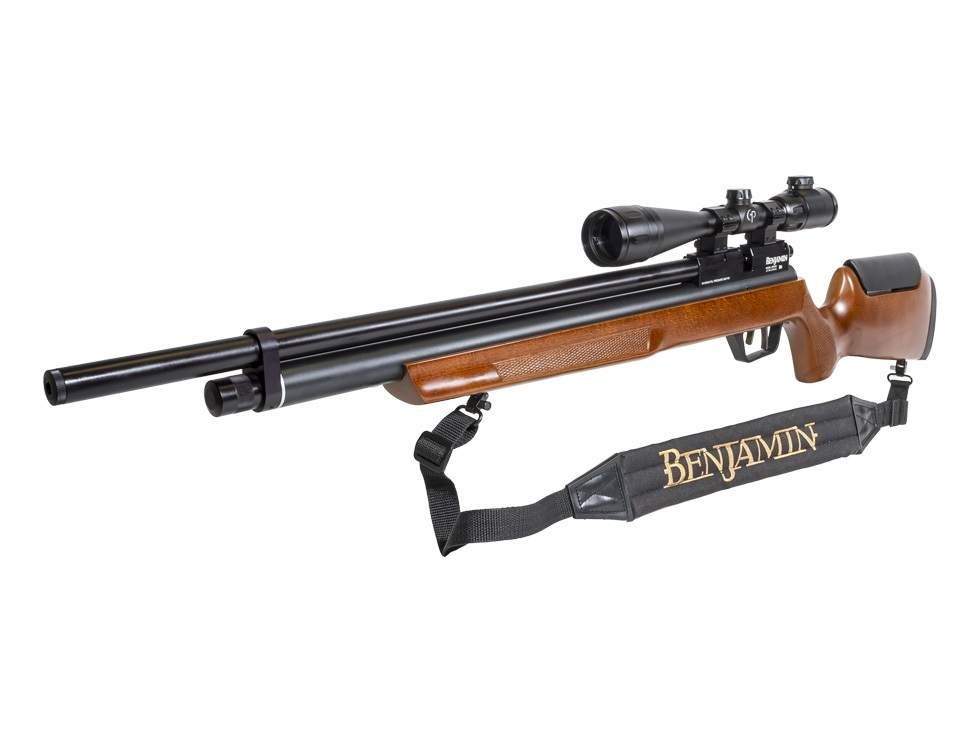 Benjamin Marauder Air Rifle
Crosman Corporation is a shooting sports manufacturer from the U.S. The company was founded in 1924 with the name "Crosman Rifle Company". They are famous for their airgun designs.
The Benjamin was first released in 1882 by St. Louis Air Rifle Company. It is intended not as a toy, but as a high-power compressed air gun. Later, Crosman bought the patent rights of the rifle and has made it one of the best PCP air rifles for hunting.
The Benjamin Marauder Air Rifle discharges .25 caliber rounds at speeds of 900 FPS. The velocity can also be adjusted. The rifle is capable of shooting as far as 100 yards. It has a 10-shot rotary magazine. And there is no recoil while shooting. It is really powerful and accurate, which is ideal for medium to big game – squirrels, rabbits, foxes, deer , and maybe even pigs! (not recommended…)
Despite the impressive capability, the rifle is really quiet thanks to its internal shroud. This may well be the quietest PCP air rifle out there.
The Benjamin Marauder has a classic and ambidextrous design. It has a sleek, hardwood stock, a total length is 42.8 inches, and weighs in at 8.2 pounds (scope included).
This is one of the best PCP air rifles at $500.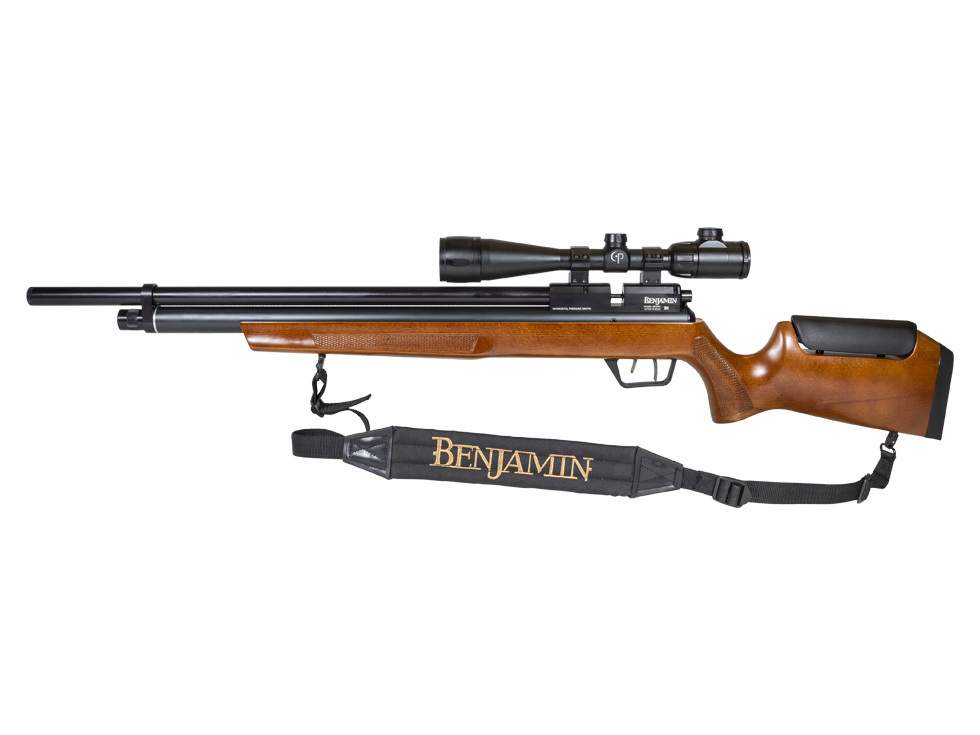 2. AirForce Texan Big Bore – The most powerful PCP air rifle
When it comes to raw power, I recommend the AirForce Texan Big Bore Air Rifle.

AirForce Texan Big Bore Air Rifle
AirForce Airguns was the first manufacturer of PCP air rifles in the U.S. It was founded in 1994 in Texas, and the Texan and Texan SS are their main products. Airforce has some serious airguns for the serious shooter. Their rifles offer advanced design, performance, and versatility for every shooter.
The Texan was released in 2015. Since then, it has been a monster in the airgun world. The gun is famous for its massively powerful shots. It can be considered the most powerful PCP air rifle in the world. The gun is designed to close the gap between a real firearm and an air rifle. You should never underestimate the power of this gun!
The AirForce Texan Big Bore Air Rifle is designed for big game, and can discharge 257, .308, .357 or .457 calibers at speeds up to 1,000 fps with over 500 ft/lbs of energy. You can hunt anything with this air rifle. Deer and boar are no problem at all to it.
With a long barrel of 43 inches, the AirForce Texan Big Bore Air Rifle can take down a target a 125 yards away.

Although the power is deadly, you don't need to worry about recoil – it's not much to handle since the power source is compressed air. It's notquipped with AirFore's Sound-Loc Technology though, so it's not so quiet.
The stock is made from synthetic, all black, and really nicely finished. The overall length is 48.5 inches, and it weighs 8 pounds. The 490cc air tank can be filled up to 3000 psi (200 bar) (only use compressed air or dry nitrogen).
The drawbacks are the gun doesn't come with open sights or a scope, and it only has a 1 shot capacity.
The AirForce Texan Big Bore Air Rifle Price is about $1000 – this is the best pcp air rifle under $1000.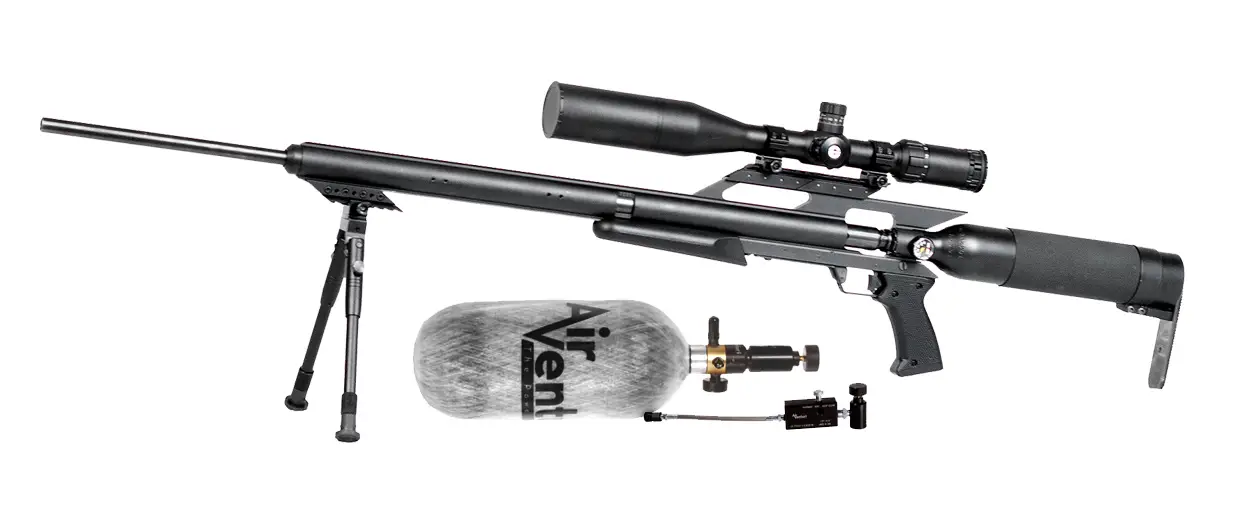 3. Beeman QB Chief – The best PCP air rifle for the money 
PCP air rifles are usually a costly purchase, however the Beeman QB Chief PCP air rifle is an affordable one.

Beeman QB Chief PCP air rifle
Beeman is a brand name of Weihrauch & Weihrauch GmbH & Co. KG, a German manufacturer of sporting air rifles, air pistols, cartridge rifles, and pistols. The company has more than 100 years of experience. In fact, they were the first mass-produced German .22 rimfire rifle. Nowadays, they produce PCP air rifles which are intended to be innovative. Their rifles are made of proven special materials. Every component is carefully monitored by experienced specialists to be accurate in dimension and hardness.

The Beeman QB Chief PCP air rifle features ambidextrous design and a hardwood stock. The gun has a compact size and lightweight: less than 7 pounds and 39 inches. The Barrel length is 21.5 inches.
This is a bolt-action PCP air rifle with a single shot capacity. There is just a little recoil when shooting, and the rubber pad in the butt plate helps to absorb the recoil. The sound is a little loud but isn't too bad.
It has a 136cc cylinder that can fill up to 2,000 psi of compressed air. You can offload 50 shots per fill in .177, and 35 shots in .22 caliber. The shots are accurate enough at 50 yards. The velocity is up to 1000 fps in .177 caliber.
Overall, at $180, this is a fantastic air rifle for the money.
4. Diana Stormrider – The OTHER best PCP air rifle for the money 
The Diana Stormrider PCP air rifle is another good budget choice. This is a PCP air rifle of Diana Mayer & Grammelspacher.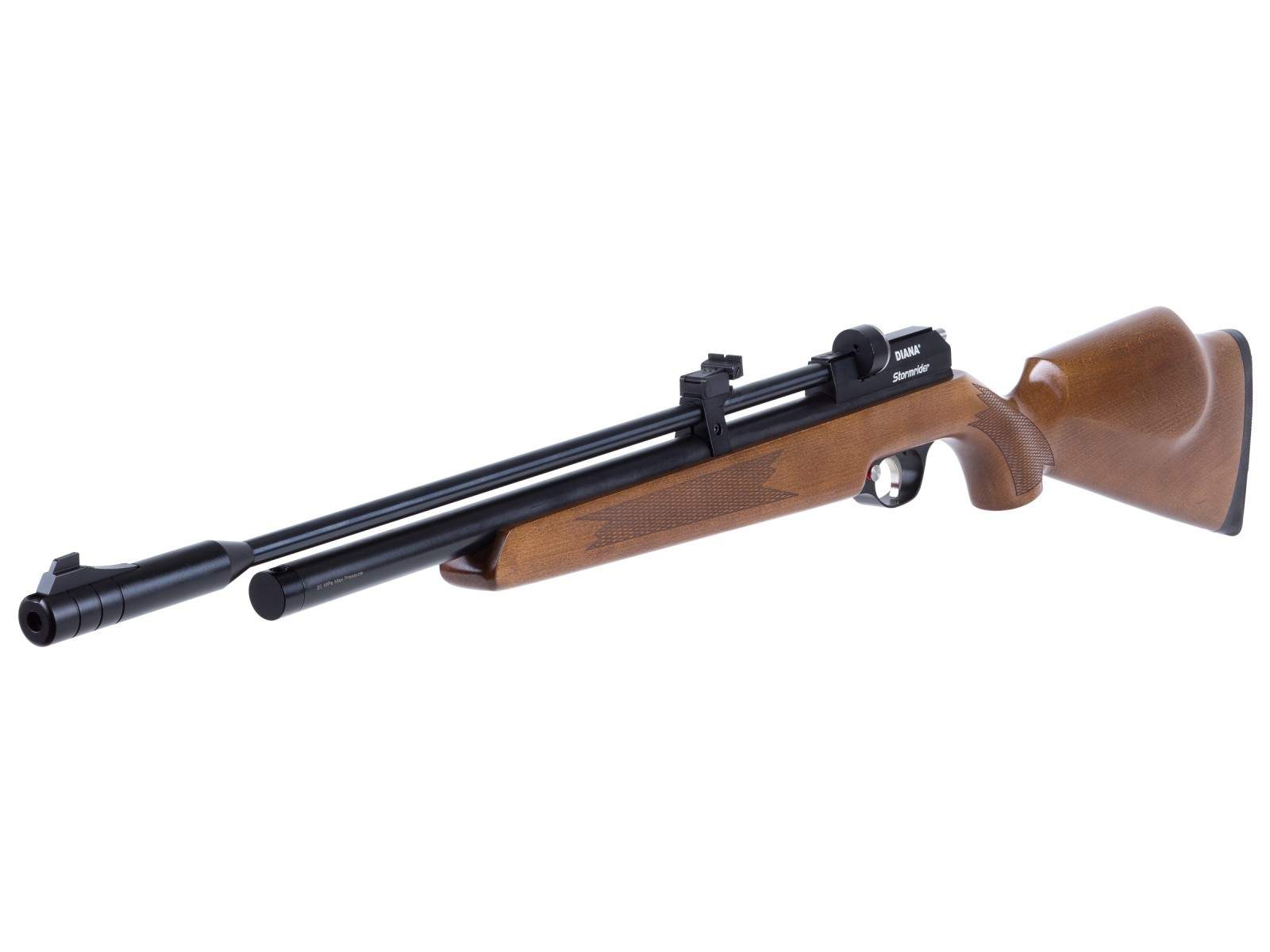 Diana Stormrider PCP air rifle
Diana Mayer & Grammelspacher is a German airgun manufacturer, headquartered in Rastatt, Germany. The company was founded in 1890, and named after Diana, the goddess of the hunt. They produce air rifles, air pistols, and other accessories like scopes, pellets, and silencers. Among them, their air rifles are their most famous products. Their philosophy is to develop the extraordinary down to the smallest detail.
Diana Stormrider PCP air gun has a straightforward sturdy stock. Despite being a budget PCP air rifle, the stock is made of beech. The gun is right-handed (still usable for left-handed shooters) and has a classic,refined look.

The rifle is compact with the weight of 5.0 pounds, and the overall length of 40.5 inches. The barrel length is 19.0 inches.
The Diana Stormrider PCP air rifle has a 9 shot magazine in .177 and 7 shot magazine in .22. So, the gun can disperse up to 9 shots per load. In terms of the scope, there is an 11mm dovetail tray.
This rifle is bolt-action and not so powerful (20 ft/lbs). Its velocity is up to 900 fps in .22 caliber and up to 1050 fps in .177 caliber (lead pellet). There's some sound while shooting.
It has a 100 cc cylinder that can be filled up to 200 bar (2900 psi). When fully filled, it can crack out up to 40 shots/
The gun's price is about $150.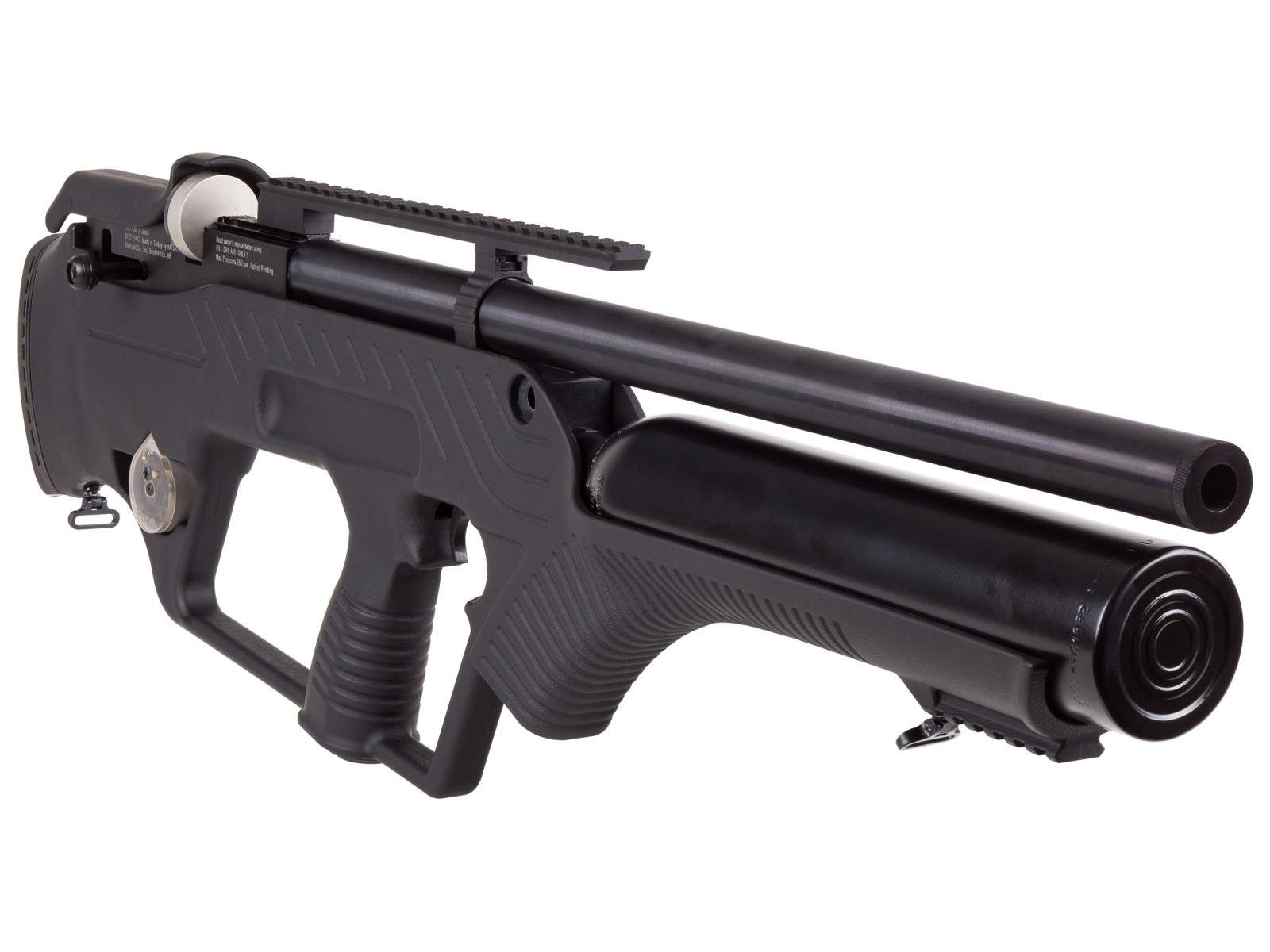 Hatsan BullMaster Semi-Auto PCP Air Rifle
Hatsan is the most famous manufacturer of air guns in Turkey. They were founded in 1967 and now are available over 90 countries worldwide. They are ISO 9001 certified. They have a high-standard production process, from initial processing of materials to final product testing. The raw materials are very selective, such as Turkish walnut and very high-quality steel. The end product is a high-quality and durable air rifle.
The Hatsan BullMaster Semi-Auto looks cool too. It has a Bullpup design with synthetic ergonomic stock. The gun has 11mm dual Dovetail and Weaver rail. The cheek comb is adjustable, and the butt plate has a rubber pad for recoil absorption. There are textures on the  grip and forearm for better grip feel and control.
It's quite a short rifle, 30.9″ overall, with a 19.7″ barrel. The advantage of this is that the short barrel forces the round faster, so you don't have to hold the gun overly consistently after firing. The trade-off is the distance though, as the short barrel compromised how far you can shoot it. The weight of the gun is 10.3 lbs.
The air rifle comes with 3 magazines: 14-shot .177, 12-shot .22, and 10-shot .25 calibers, yo you can choose the best type of caliber for your shooting needs, from pigeon to deer. The velocity for .177 pellets is 1,100 fps, for .22 pellets is 1,000 fps, for .25 pellets is 900 fps. However, it is not consistent – the velocity is quite fluid.
The cylinder is 500cc and capable of being filled to 250 bar (3,625 psi). This is a high-pressure capacity in comparison to other models of PCP air rifles.
Hatsan BullMaster Semi-Auto PCP Air Rifle is Semi-Automatic and has 2 magazine carrying slots, so you can shoot very quickly up to 28 shots per load. Really impressive.
The gun costs about $900, this is an awesome gun that promises to be the best companion with you on the field.