Daisy Outdoor Product is a well-known manufacturer for many decades in American. The Daisy Red Ryder 1938 is one of the most famous and popular models the company ever produced. In my opinion, there are five great reasons people choose to buy this particular air rifle:
Budget price
Respected name
Had one as the kid
Are a fan of the Christmas Story movie
Looking for a beginner air rifle for someone aged 10 and up ( and I do mean ALL the way up because there are plenty of adults who like this rifle )
The gun has undergone a few changes over the years and the materials used in production aren't the same as when you might had one as a child – even WHERE it's manufactured has changed – but it's still got the same look and a nice, accurate shot.
Daisy Red Ryder 1938 's Gun Type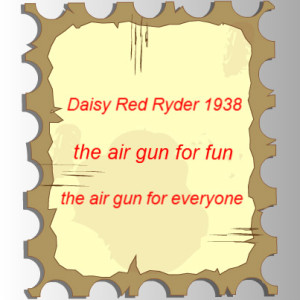 The Daisy Red Ryder air rifle is made with a spring-powered cocking lever. Inside the gun, there are a coiled spring and a piston behind the chamber. When you cock the gun, you pull the piston backward and make the spring compress until the small hook of the rear of the piston is locked in the sear. When you pull the trigger, you release the hook, causing the piston to move forward inside the barrel. As the result, the compressed air propels the projectile to overcome any friction and barrel restriction toward the end of the barrel. All of this happens in the blink of an eye. This means the user doesn't have to repeatedly pump the gun to build up air. You only need to cock the lever to prepare for a shot.
This Daisy Red Ryder air gun uses under-lever cocking system meaning the level for cocking is under the gun. Unlike the pellet gun in which you have to open the chamber to load the ammo, with this cocking mechanism, you can quickly get the Daisy Red Ryder back in action with only one, simple lever pulling step. And it requires so little force to do so even a 10 year old child can do this step quickly and easily.
Once you've cocked and loaded a number of BBs, the spring powered mechanism does all the work for putting for putting a single BB into position for each shot. You do have to cock the lever between each shot but it's not very tiring on your arm so you can get in hours of target practice with little effort.
Besides, the overall weight of the gun is only 2.2 lbs. If you compare this to the average weight of 7-8 lbs of other spring air guns, you can see that this air gun is very lightweight and easy to use for even a 10 year old child.
What makes the Daisy Red Ryder's design a classic is its stained, solid wood forearm. Together with the wood stock, it helps you hold steadier when you aim, increases the stability of the gun before pulling the trigger and improves accuracy.
The Daisy Red Ryder 1938 is a .177 caliber air rifle (.177 is a internal diameter of the barrel, measured in inch), which is about 4.5 mm – the most common caliber with flat trajectory (the path the bullet goes when it comes out of the barrel). And flat trajectory makes accuracy simpler for everyone, even newbie shooters.
 Ammo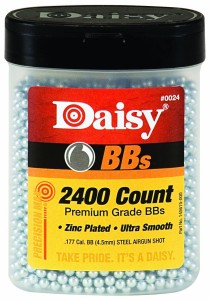 The ammo of the Daisy Red Ryder is BB- the small ball bullet made from diversified materials. Since the caliber of the gun is .177 (4.5mm) , it uses BBs with 4.5 mm diameter to shoot. Using BB as the main source of ammo, this air rifle is inexpensive to use as you can buy a jar of thousands of BBs for only few bucks. It's a huge advantage compared to the on-going expense of CO2 air rifles or PCP rifles that require you buy CO2 cartridges or pumping equipment.
To load the BBs into the gun, Daisy Red Ryder rifle has a loading door that opens easily with your thumb only. It's efficient and fast to load BBs, too. With a 650 BBs capacity, this gun permits you to put a lot of BBs in at once. Just hold the BB jar, and pour BBs through the loading door until it's full (but not overloaded)
Another thing to consider is that the Daisy Red Ryder air rifle cannot shoot with plastic BB. Why? Because the caliber is only 4.5 mm and plastic BBs have at least a 6 mm diameter so it cannot fit the barrel. It's recommended that you use metal BBs for this air gun. Steel BB is the better option than lead BB since lead BB has a low muzzle velocity than the steel one with the same amount of muzzle velocity.
Velocity and accuracy
Velocity is the meter measuring the amount of distance the projectile travels in a unit of time. For air rifles, it is gauged by feet per second (fps). The Daisy Red Ryder has an average velocity of 200-300 fps (feet per second) and a maximum velocity of 350 fps. It's low velocity in comparison with other CO2 or PCP guns. If you only have a small or average sized yard, or if you want to practice shooting indoors, it's very easy to set up a backstop. You only need about 5 yards from the shooting point to the target, then stick a target paper in a cardboard box, put a stack of news magazines inside it. The magazines will act like a backstop and hold the BBs there after they've pierced through the target paper. And voila, you are ready to rock and roll, knowing that your BBs will not scatter around or hit the unknown targets.
With the Daisy Red Ryder 1938, various accuracy tests have been conducted from different shooters with positive results. Generally speaking, you can easily hit a tin can or empty bottle from a distance of 10 yards. If you want to hit a coin from 20 yards, you have to take time to sharpen your shooting skills, though.
This video below helps you understand the accuracy level of this air rifle:

Loading and Cocking
The loading mechanism of the Daisy Red Ryder is a gravity feed system. You can feed BB easily into the barrel while keeping the muzzle upward. After loading it, you can cock the gun by pulling the cocking lever upward. It's recommended that you load more BBs in the beginning. It will put more weight to your air gun, make aiming more stable and assist with more accurate shooting.
In my research, I found many reviews complaining about the leather strap when cocking the gun. It's problematic for left handed shooters. It's not a big deal when you know the solution. You can either remove it completely from your gun or you can use your right hand to cock the lever while holding the gun upward with your left hand.
Also when researching this air rifle, I found plenty of opposite reviews about the cocking lever. Some reviews say it's made of metal and others say it's plastic. I've contacted the manufacturer and Daisy confirmed that the cocking lever is plastic but you can purchase a metal one to exchange it with. They are $3 plus $3.50 for shipping and handling.
Sight
This air gun has blade and ramp front sight and an adjustable rear sight that allow you to use the traditional open sight. With the flexible rear sight, you can raise rear sight to shoot higher or lower it to shoot lower. It doesn't have windage adjustment but it's not a big deal since the effective shooting range is short (about 10 yards or less).
Recoil
The recoil of Daisy Red Ryder is quite realistic : when you pull the trigger, the barrel moves forward first (due to the decompression of the coiled spring and the forward movement of the piston) and then moves backward. This unique trait of the gun gives you vital understanding of how air gun works and teaches you basic marksmanship with the feel of a real rifle.
Accessories
Unlike other air rifle, the Daisy Red Ryder gun doesn't require any accessories at all. No mount, no rifle scope. However, Daisy does make some accessories that can be purchased separately such as target breaks and breakable target disks.
 Maintenance
Daisy Red Ryder's uncomplicated and classic design makes its maintenance a breeze. To clean the outside parts of the gun, you only need a soft cleaning cloth. And you only have to put 1 or 2 oil drops to oil the hole every time you reach 500-1000 shots.
Daisy Red Ryder 1938 Specifications
ACTION : Lever cocking, spring air
SIGHTS: Blade and ramp front, adjustable open rear.
RECEIVER: Saddle ring with leather thong
SAFETY: Cross bolt trigger block
MAXIMUM MUZZLE VELOCITY: 350 fps
OVERALL LENGTH: 35.4 in.
CALIBER: .177( 4.5mm) BB
STOCK/FOREARM: Stained solid wood.
CAPACITY : 650 shots.
BARREL: smoothbore barrel.
MAX SHOOTING DISTANCE: 195 yards.
WEIGHT : 2.2 lbs
Noise
This air rifle is actually very quiet. It has hundreds of reviews without a single complaint  about noise level . With the Daisy Red Ryder, you can shoot comfortably without having to spend money to buy hearing protection like other guns.
Shooting range and intended use
The Daisy Red Ryder 1938 has an effective outdoor shooting range of 10 yards and an effective indoor range of 6 yards. It's great for target shooting or plinking and for people living with limited shooting space. The low velocity and low penetration power of BB don't permit you to hunt with this rifle, but you can use it to scare off the pigeons from pooping on your car or drive away squirrels from your bird feeder. It definitely helps, though.
Although the Daisy Red Ryder cannot be used for hunting or pest control, it's best suited for beginner shooters, for veteran shooters who want to have fun , and for anyone who wants to enjoy endless hours of recreational shooting and target practice.
Pros
Classic look and design
Cheap price
Best value for money
Suitable for everyone
Easy maintenance
Inexpensive to shoot
Lightweight
Easy to cock and shoot
High accuracy
Easy to set up shooting range
Cons
Low velocity
Low shooting range
No windage adjustment
Annoying leather thong (solutions in the review)
Made in China (you may mind this little issue)
Warranty
As of this date, Daisy Red Ryder 1938 has a 1 year warranty from the date of purchase.
Daisy Red Ryder 1938 Price
Daisy Red Ryder is one of the very cheapest air rifles on the market – only slightly more than 40 bucks. No accessories, cheap BB price . It's affordable for everyone and is perfect to use as a gift.
There are a couple of different listings on online websites with different prices but the listing I found with the lowest price is even cheaper than the price on manufacturer's site or the prices on other e-commercial sites like PyramydAir, Walmart, AirgunDepot.
=> Click here for the lowest price
Daisy Red Ryder 1938 Customer Rating
There are lots of customer reviews about the Daisy Red Ryder since it's so popular and has been for a long time. I've covered all the important factors in this review.
Conclusion
Daisy Red Ryder is more than what you expect in an air rifle for only 30 dollars. It's cheap, reliable, lightweight, classic, popular and easy to use. I highly recommend it for every one who wants to buy a fun shooting air rifle for their own use, for friends or for their families.