When you're done thinking about mule deer hunting and are ready to get serious, here's where you need to go.
Some say that mule deer populations across America are struggling and that the glory days of chasing muleys has long since passed. There's truth in the idea that mule deer numbers are down a bit from their historic averages, due in large part to habitat loss on winter range in some parts of the West.
In spite of this, there are plenty of places where they are doing just fine and where there are still good hunting grounds available in their native home range. Management by wildlife departments has taken on new importance, but the options certainly still exist.
Mule deer populations are widely distributed in many different areas of western North America. They can be found from the Great Plains to the Western states, and from the Yukon Territory to Sonora and Baja Mexico. Knowing that, it's still not too surprising to learn they can only be hunted in 15 states.
You may notice that tag distribution is extremely limited in some states. Many of the places that are known as good places to bag a trophy mule deer are areas in which hunters can apply for many years without ever drawing a tag. This is why tag draws can end up being a requirement of your wish list of mule deer hunts. Do the research, budget out your yearly tag contributions, and hope for a little lottery luck. Simple enough, right?
The other option is to pay, and probably handsomely, for a guided hunt with an outfitter. However, if you've ever been lucky enough to see mule deer in the Rockies, hanging out above the treeline in all its magnificence, you already know hunting them would be a real accomplishment.
As with hunting any of our favorite species, the question is inevitably going to come up. Which states have the best mule deer hunting?
We'll try to cover that with the intent of finding big mule deer, or at least decent success rates. Some of them could stand alongside the toughest tags to draw, but of all the North American big game animals there are to hunt, a mule deer seems to have stuck a chord with a lot of us.
If everything lined up, here are the states we'd plan a trip to if we could.
Nebraska
This isn't my home state, but it may as well be since half of my large family are Cornhuskers who hail from the ponderosa pine-covered ridges to the broken Sandhills country. They're outstanding places for mule deer, which have a lot of food and a lot of cover in the area.
Mule deer tags are available over the counter in Nebraska, although archery and rifle tags need to be purchased for specific regions which encompass larger areas. In December, the muzzleloader season is open statewide.
Nebraska has a lot of the flat terrain and agricultural areas that mule deer thrive in, and even though the state is on the eastern edge of muley territory, it is a great spot to get a chance at a really big mule deer buck.
Montana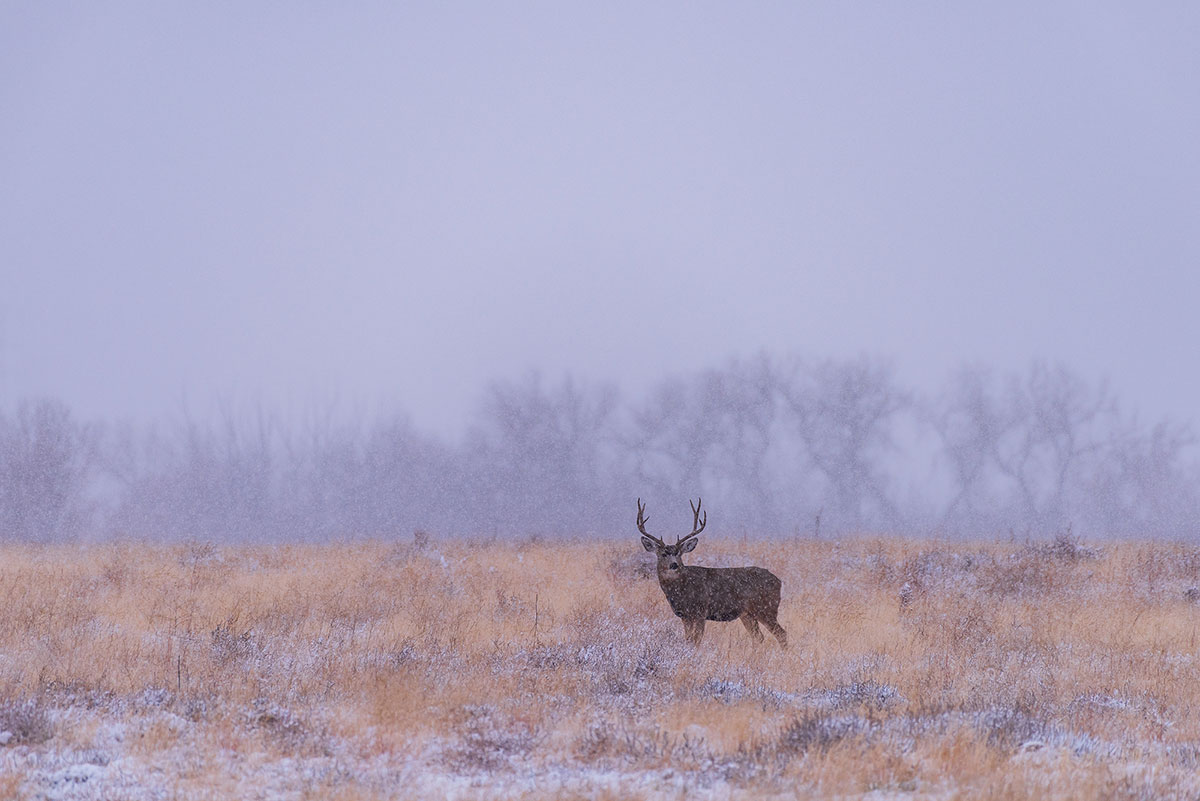 You may have assumed that Montana would be one of the top states for hunting mule deer, and it is, but it's a bit expensive at $700 for a non-resident license (as of 2020).
One good thing about hunting Montana for mule deer is that it has quite a long season. Despite the steep price, it is a tag draw with much better odds than others.
The eastern part of Montana, with its breaks and badlands, is a classic mule deer zone. Public lands and access to private ground through Montana's Block Management Access Program give hunters plenty of places to find and harvest mule deer, which live here in abundance.
Wyoming
Now we're starting to get to the heart of muley country. Mule deer are mostly found from the high western mountains to the low elevation creek bottoms of eastern Wyoming. Whitetail deer are also abundant in the Black Hills of northeast Wyoming and are also found on farmland throughout the state, but the muley reigns supreme.
Unfortunately, public land is very limited in the eastern part of the state, but it is abundant out west. Hunters in Wyoming must know that federally designated wilderness areas are off limits to non-resident big game hunters unless they hire a licensed outfitter.
Idaho
Idaho may be the second most popular choice to fill a mule deer tag in the U.S., and it's not all that uncommon to hear about big bucks that have been taken in the state. Herds here are healthy and deer numbers are good, but hunting here is not exactly a walk in the park. The terrain where you'll find mule deer ranges from dry, high-desert foothills to the rugged, mountainous alpine zones that take some serious efforts to reach.
Hunters can buy a mule deer buck tag over the counter in Idaho, and in fact it's one of the few states in the country where it is possible to do so. Maybe the best part is the fact that over two thirds of Idaho is public land, so finding a place to hunt shouldn't be a problem.
Colorado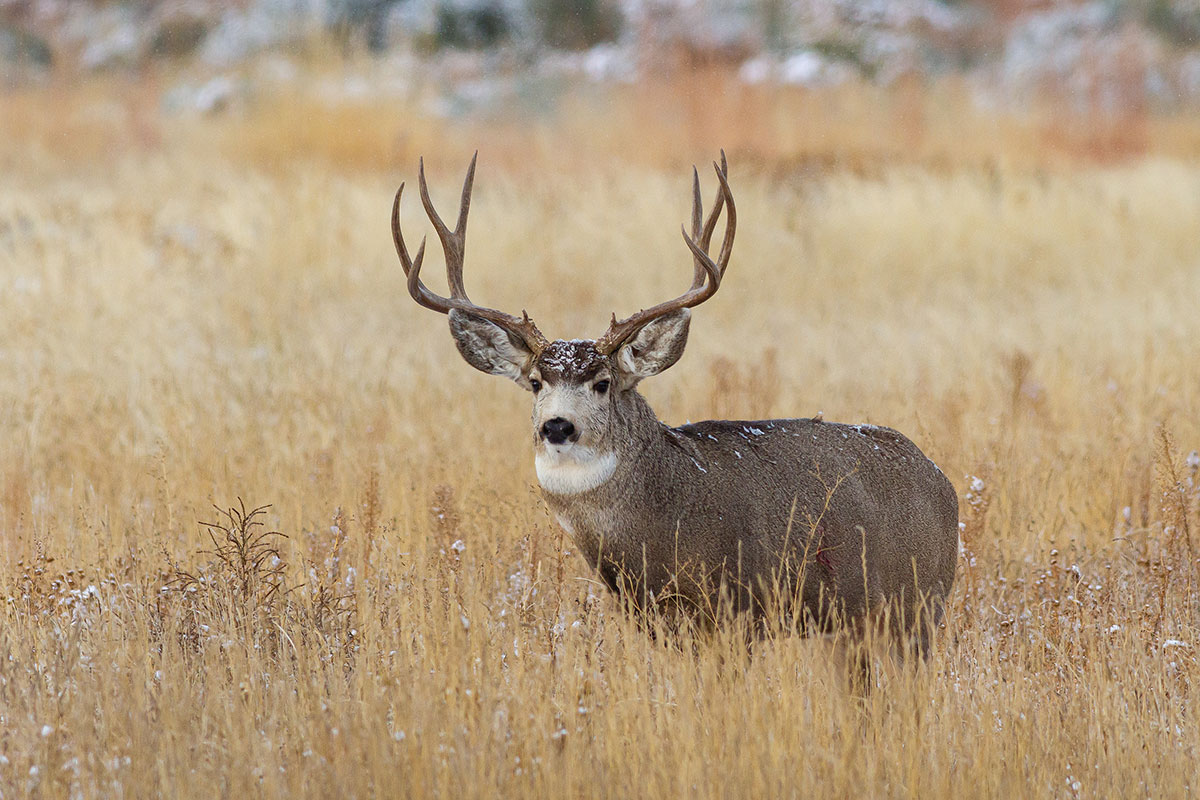 Colorado is the go-to state for most of those that seek to tag out on a mule deer. Widely regarded as the best muley destination in the lower 48, Colorado has the largest mule deer population in the country.
The bad news is that mule deer tags are only available through a limited draw in Colorado. Hunters applying for a unit-specific tag for either archery or rifle seasons must search through the abundance of units where tags are drawn.
Colorado is known as a world-class mule deer state, having entered more than 120 muleys into the Boone & Crockett record books. Just for the record: the nonresident license fees aren't ridiculous, and the draw odds are not impenetrable.
Sadly, at this time two of the biggest wildfires in the state's history are burning unchecked and it is not known the extent to which it will effect the mule deer herd, or any of the other abundant wildlife in the Centennial State.
Honorable mention to Arizona and Utah, among the best states for hunting mule deer. Both places have great deer herds full of big bucks, and a lot of them are found on public land.
From the high country to the backcountry, deer hunters will find hunting opportunities for pack-in trips for trophy mule deer hunts. Or, if the DIY thing is not your favorite choice, then finding a guide service will not only lighten the load, but increase your chances significantly.
Now would be a good time to begin the quest of filling your own mule deer tag in one of these coveted states. With these places in mind, it shouldn't be all that hard to choose one from the list and begin the process.
Once you take that step, it's hopefully just a matter of time before you're taking a shot at that dream mule deer buck.
Looking for a little more or even hot lunch for your hunting blind? Follow my webpage, or on Facebook and Twitter.
NEXT: MORNING COMMUTER GETS FOOTAGE OF COUGAR TAKING DOWN MULE DEER