Crosman 760 Pumpmaster Pink Stock Review
Think shooting is only for boys and men?
Think again.
This Crosman 760 Pink will change your whole perception of the air gun world.
Because girls love to shoot, too.
And apparently, girls want pink guns?
Well, who are we here to make assumptions?
Anyway, it's pink.
And it looks great. 
This pink, variable pump rifle could make a great gift for your girlfriend.
And what makes you happier than when your little sweetheart begins to share your favorite sport from childhood?

Crosman 760 Pink – Gun Type
This is a multi-pump pneumatic air rifle.
For more on the 5 types of air rifles you need to know before buying, see this post.
The barrel is a smooth bore with a caliber of .177 (4.5 millimeters).
For more on how to choose the right air gun caliber for your game, see this post.
This Crosman 760 Pumpmaster pink is a BB repeater.
With a BB repeater gun, you don't have to open the loading port and reload or cock every time you want to shoot BB.
Each time you shoot, a BB is reloaded automatically.
This air rifle is not only a BB gun but also a single-shot pellet gun.
A single-shot gun teaches you how to make your first shot count because you have to reload before you shoot the second shot.
Being the double function BB/pellet air rifle.
This Crosman 760 Pumpmaster pink gives you an awesome option to shoot with whatever ammo you got in your hands.
Besides, you can teach your kids how to operate a BB gun and a pellet gun at the same time without having to buy 2 types of guns separately.
Stock
The stock is made of synthetic with a dominant pink color.
(For more on the in-depth comparison between synthetic and wood stock, see this post).
While synthetic stocks function perfectly in any kind of weather and aren't affected by moisture or temperate,
The pink color might make it a great choice for girls.
The checkering on the grip and the indentation on the pump handle makes it much easier to get on grip and stay on target.
The stock has a plastic butt-pad to help reduce recoil.
Besides, the stock is ambidextrous so left-handed shooters can use it with ease like right-handed shooters.
Ammo
The 760 Pumpmaster pink uses both .177 pellets and .177 BBs as its ammunition.
(For more on the differences between .177 & .22 and which jobs they do best, see this post.)
Velocity, Accuracy and Power
The 760 Pumpmaster Pink produces up to 615 FPS with lead pellet, 700 FPS with alloy pellet, and up to 645 FPS with steel BB.
This is medium velocity compared to other pellet guns and high velocity compared to other BB guns.
For the Crosman 760 Pumpmaster pink, the common shooting group is 1" at 20 yards so this is a very accurate gun up to 20 yards.
You can use it for plinking indoors, practice target shooting in your backyard
And teach your little daughter how to handle an air rifle safely and properly.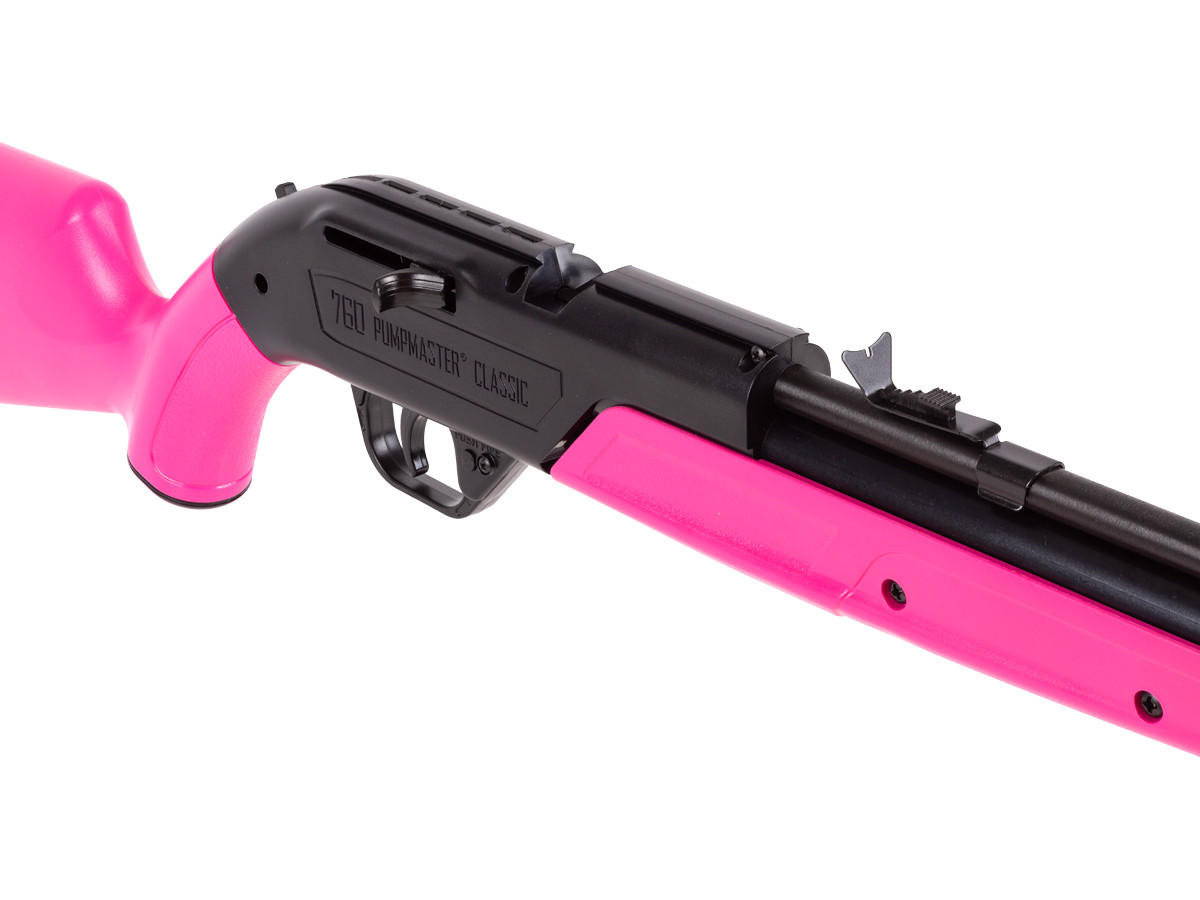 Sight
The iron sight is a standard open sight:
The front sight is a fixed blade and ramp, and the rear sight is adjustable for elevation (allowing you to adjust the sight up and down).
But you can get even more accuracy with the 4×15 scope.
For more on how many types of air gun sights are out there and which one is suitable for you, see this post.
Specifications
Caliber: 0.177"
Velocity: 615 FPS with lead, 700 FPS with alloy, 645 FPS with BB.
Loudness: 3- Medium
Barrel Length: 16.75"
Overall Length: 33.5"
Shot Capacity: 18
Cocking Effort: 3-10 pumps
Barrel: smoothbore
Front Sight: Blade and Ramp
Rear Sight: Adjustable for elevation
Scopeable: 11mm dovetail
Buttplate: Plastic
Suggested for / Target shooting/plinking
Trigger pull: 4.0 lbs
Action: bolt-action
Safety: Manual
Powerplant: Multi Pump-pneumatic
Function: Repeater
Fixed/ adjustable power: Multiple setting
Weight: 2.75 lbs.
Customer Reviews
This pink BB gun receives lots of positive reviews:
People love its prominent color, its lightweight, and its small size because their sweethearts can handle it with ease.
And there are little to no negative reviews of this gun with very minor issues.
That proves the Crosman 760 pink rifle's quality makes its buyers happy.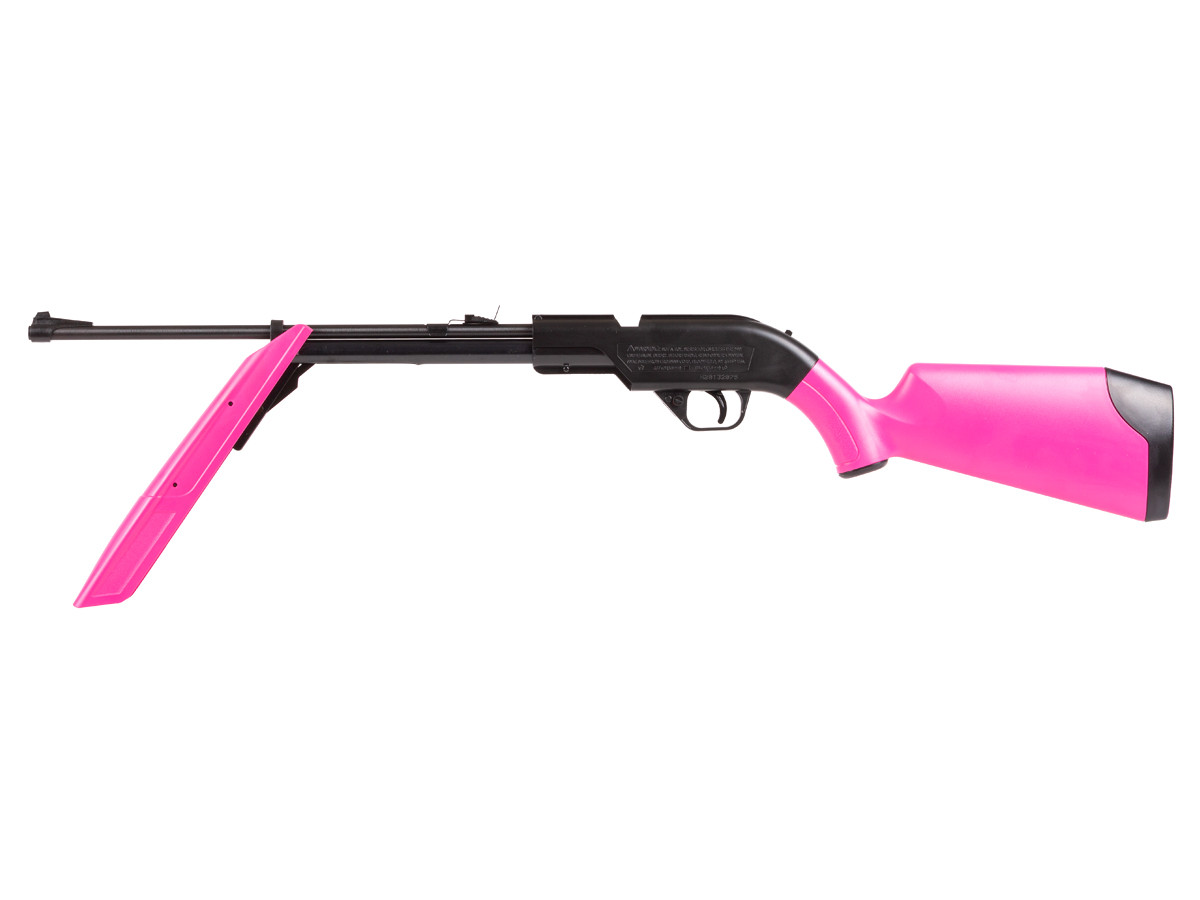 Pros and Cons
Pros
Cons

Fantastic pink color
Small size and lightweight
Decent Scope
Great synthetic stock
Awesome double function
Made in the USA

Pumping action takes some time to master
Pumping action can be tedious at some points.
Price
The price for this variable pump gun is only about 50 dollars.
It's a cheap price for a gun that has an impressive girly design with solid quality.
You will be very happy with this gun, for sure.
There are a couple of different listings online with different prices but the listing I found with the lowest price is the cheapest price among online e-commercial sites like Amazon, PyramydAir, Walmart, etc.
Conclusion
Crosman Pumpmaster 760 Pink is the great gun for the money.
It's cheap, beautiful, lightweight, fun to shoot, easy to handle, and has decent velocity and power.
It's the go-to gun to introduce girls to shooting sports.
In addition, it is a great gift for your wife and for your daughter if she's ready to start learning.
Now you, your spouse, and your little sweetheart can share the precious family moment that lasts forever.