The Crosman Nitro Venom 0.22 caliber air rifle has been loved by many shooters for having some amazing features
That sets it apart from other spring air guns.
With its high-quality technology, quietness, high power, and high velocity,
This one is a hidden gem on the vast sea of air guns that can take your shooting to the next level.
Crosman Nitro Venom .22 – Guntype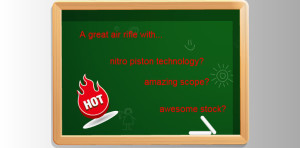 This airgun has nitro piston technology,
which works on the principles of gas ram technology.
Gas ram technology was first invented in 1976 by Ben Taylor and his colleagues who were frustrated with the performance of springers.
Today, Crosman has taken the gas ram technology one step first with its licensed nitro piston technology.
A nitro piston air gun offers lots of advantages in comparison with traditional spring air guns.
I wrote the whole post discussing what nitro piston technology is, its merits, and its demerits here.
However, here is a quick breakdown for you now.
If you're unfamiliar with this type of technology, then don't worry.
Nitro piston technology is a newer technology that uses a nitrogen-filled gas ram propulsion system instead of a coiled spring.
There is a nitrogen cylinder and piston inside the chamber which is already held under pressure.
You apply more pressure to it when cocking the gun, and when that pressure is released when you pull the trigger.
Once the trigger is pulled, the gas expands and the piston is propelled forward.
It comes back rapidly after the air transferred ports; since the chamber is sealed, the air can only go behind the pellet.
As a result, the pellet is discharged from the barrel due to the propellant force of compressed air.
A nitro piston air gun offers lots of advantages in comparison with traditional spring air guns.
We have the whole post discussing what nitro piston technology is, its merits, and its demerits here.
The internal diameter of the Crosman Nitro Venom is 0.22 caliber, which is known as the king of hunting caliber.
The 0.22 has more knockdown power than the 0.177 ;
Many times the 0.177 won't hit bone or organ and ends up shooting through the bullet so the animal runs off.
In contrast, the 0.22 caliber is heavier than the 0.177 caliber and is more likely to stop the animal in its tracks. 
For more on how to choose the right air gun caliber for your game, see this post.
The Crosman Nitro Venom 0.22 is a break barrel air rifle.
In order to cock it, you have to slap the muzzle firmly while holding your air gun upward.
You can then insert the pellet (with the pellet's nose lying forward and the pellet's skirt facing you).
Once the pellet is inserted, swing the muzzle back to its original position . 
While this may sound complicated, this type of cocking easily becomes second nature.
Additionally, with the break barrel, you can shoot as much as you want.
You never have to worry about shooting capacity or when your air gun is running out of power like other CO2 or PCP air rifles.
Additionally, the Crosman Nitro Venom 0.22 is a single-shot action air gun.
It helps you to not waste bullets as well as provide a better hunting experience since you know that your shot must count. 
The barrel of the Crosman Nitro Venom 0.22 is a rifled steel barrel, which makes the bullets spin.
Furthermore, this barrel is fluted.
Fluting removes material from the cylindrical surface and creates grooves.
This type of barrel is more lightweight compared to non-fluted and it dissipates heat quicker as the air inside the barrel reaches the surface.
(For more on things you should know about air rifle barrels before buying, see this post.)
Stock
The Crosman Nitro Venom 0.22 air rifle has a handsome, brown hardwood stock.
A wood stock adds rigidity but mainly provides the shooter with a feeling of connectedness with the rifle.
Unfortunately, a hardwood stock can expand or contract due to atmospheric changes
So it is recommended that you perform glass bedding (filling gap in stock with epoxy-based material) to keep it in shape.
For more on the in-depth comparison between synthetic and wood stock, see this post.
Other advantages of the Crosman Nitro Venom 0.22 stock is that it is ambidextrous,
Which provides more versatility in the shot, either for practice or location, and can be shared between opposite-arm shooters.
It also has nice checkering in the grip and forearm to prevent slippage from the shooter's sweat, which enhances the shot and accuracy.
Furthermore, the stock comes with a sculpted rubber recoil pad for a more comfortable recoil position.
Even though the nitro piston produces much less recoil than a traditional spring-piston gun,
Having a rubber recoil pad is very helpful in reducing the amount of recoil and shoulder fatigue from extended shooting sessions.
The stock of the Crosman Nitro Venom 0.22 has a lot of interesting features that will help you achieve more accurate shots from the artillery hold position.
The artillery hold, if you're unfamiliar with it, is an improvement in artillery style shooting that was refashioned by Tom Gaylord, an air gun legend, in 1990.
The artillery hold differed from traditional holds of that time which required a very stiff hold with very little room for recoil.
Tom's adjustments were not new – in fact, holding the gun with less grip was actually an ancient shooting technique.
However, since his refashioning, it has become more widely accepted. 
The term artillery comes from the fact that even though the artillery machines recoil a lot (sometimes they can kick back up to a few feet ), the carriage remains stable.
Using the same principle, the key to the artillery hold is to let the gun float in your arms when you aim.
This style is much more efficient than a stiff hold since the pellet moves the gun around and, well, you can't keep the barrel stiff no matter how hard you try. 
When looking at the Nitro Venom you'll notice that this gun was designed for an improvement in the artillery hold shot.
The stock has a raised cheekpiece which limits the contact area between your cheek and your air rifle.
The forearm is designed in a beavertail style so there is a wider surface area to hold and balance the gun.
Ammo
Naturally, the Crosman Nitro Venom 0.22 air gun uses 0.22 pellets to fire.
These pellets are heavier than 0.177 pellets (with an average weight of 14-21 grains), the shot is more stable and won't be greatly affected by wind.
It also has more knockdown power and retains more energy after it hits the target.
Therefore, it is a great choice for hunters and pest eliminators who want to get the job done in one clean shot.
For more on the differences between .177 & .22 and which jobs they do best, see this post.
The recommended pellets for the Crosman Nitro Venom 0.22 are the Crosman Hollowpoint, Crosman Pointed pellet, Crosman Destroyer, and RWS 0.22.
Velocity, Accuracy and Power
The Crosman Nitro Venom 0.22 has a very high power output very high velocity compared to other air rifles
And is a great choice for people who want to get rid of nuisance varmints in their property.
This gun produces a velocity of 950 feet per second (FPS) with alloy pellets and 800 FPS with lead pellets.
This rifle has a maximum power of 21 foot-pounds of muzzle energy (FPE; i.e., the kinetic energy of the pellet when it leaves the muzzle).
The average power is 15-18 FPE, which is more than enough to take out tree rats, rabbits, possums, and armadillos in one clean shot. 
| | |
| --- | --- |
| Pellets | Velocity (FPS) |
| Lead pellets | 800 |
| Alloy pellets | 950 |
| Minimum FPE | Average FPE |
| 21 | 15-18 |
It is very doable to get one-inch consistent shooting groups at less than 30 yards .
From 40 to 75 yards, you can hit a tin can with this gun.
Some customers have impressive accuracy results, such as:
two pellets at the same place at 20 meters out of the box,

a half inch grouping at 40 yards,

and a quarter-sized grouping at 50 yards.
Additionally, customers can confirm that at 40-50 yards, this air gun can take down squirrels. At 40 yards, it kills turkey. And at 30-40 yards, it takes down a woodchuck.
| | | | | | | |
| --- | --- | --- | --- | --- | --- | --- |
| Distance in yards: | 20 | 30 | 40 | 50 | 60 | 75 |
| Tin can |   |   | ? | ? | ? | ? |
| Repeat shot | ? |   |   |   |   |   |
| ¼  |   |   |   | ? |   |   |
| ½  |   |   | ? |   |   |   |
| 1 |   | ? |   |   |   |   |
| Squirrels |   |   | ? | ? |   |   |
| Turkeys |   |   | ? |   |   |   |
| Woodchuck |   | ? | ? |   |   |   |
The video below will give you general ideas about the power and accuracy of this air rifle based on the ballistic gel test and accuracy test:
Crosman Nitro Venom .22 Optic
The accessory rail is a Picatinny style rail, which is almost identical to the weaver rail, except it has a series of ridges located at precise intervals along the rail.
The Picatinny rail is the most versatile, flexible, and universal of all optic bases.
This gun does not come with open sight, but instead has a 3 – 9 x 32 mm CenterPoint scope as the sighting device.
This is a very flexible scope and is suitable for all-range shooting.
While researching this air rifle, I found some customer reviews complaining about this scope.
They said it lacks a parallax adjustment.
A parallax adjustment would account for the parallax illusion,
Which is an optical illusion that occurs when a target's image is not focused correctly at the reticle plane.
In a hunting situation, the  parallax effect inaccuracy is minor:
A 4x scope focused at 150 yards will only have 8/10 inch of error in the distance of 500 yards.
Therefore, parallax has no considerable effect inaccuracy as long as your eyes stay in the optical axis of the scope. 
(For more on how many types of air gun sights are out there and which one is suitable for you, see this post.)
Trigger
The trigger safety of this Crosman Nitro Venom 0.22 is manual.
When you want to shoot, you just have to pull the safety forward before you are ready to fire.
When you don't want to shoot, pull the safety backward to lock the gun.
Noise
As I said earlier in this review, the Crosman Nitro Venom 0.22 is a very quiet gun.
You can shoot it in your backyard without bothering your neighbors or you can take it to the field to enjoy the stealth and silence it brings for hunters.
Shooting range and intended use
The effective shooting range for the Crosman Nitro Venom 0.22 air rifle is less than 100 yards.
It can be used for target shooting, plinking, small game hunting, and small and large pest control.
Accessories
This air gun only has a 3 – 9 x 32 scope as an accessory.
If you find it a little bit heavy, you can buy the sling mount for easier carrying.
Maintenance
The Crosman Nitro Venom 0.22 requires very little maintenance. It only needs Crosman's  RMCOIL Chamber Oil every few hundred shots.
Crosman Nitro Venom .22 Specification
Velocity: 950 FPS with alloy, 800 FPS with lead
Barrel Length: 18.63 inches
Overall Length: 44.25 inches
Barrel: rifled steel, fluted
Optic Rail: Picatinny style
Optic: 3-9 x 32 Centerpoint scope
Recoil pad: sculpted rubber
Warranty
As of this date, the Crosman Nitro Venom 0.22 has a one-year limited warranty from the date of purchase.
Crosman Nitro Venom .22 Customer Reviews
In general, people love this gun for its high-tech feature, high velocity, awesome power, and extreme accuracy.
Pros and Cons
Pros
Cons

Handsome look

High velocity

High power

New technology with lots of advantages

Great scope

Quiet noise

Impressive stock

No parallax adjustment on scope (not a big deal as explained in this review)

Made in China

Not easy to modify the gun
Price
The Crosman Nitro Venom is only $150, which is very affordable considering all the amazing benefits that you get with this gun. 
There are a couple of different listings online but the listing I found with the lowest price comes even cheaper than the price on the manufacturer's site or other e-commerce sites like PyramydAir, Walmart, or AirgunDepot.
Conclusion
The Crosman Nitro Venom 0.22 is an amazing air rifle that comes at a very affordable price range.
I highly recommend this gun for those who want to own a high-tech, dependable air gun without breaking the bank.