This rifle may be branded as either Crosman #C8M22NP or Benjamin #BW8M22NP.
This is the same air rifle made by the same manufacturer.
Crosman has changed this model name to Benjamin but no changes have been made in terms of the quality or construction of the gun.
Gun type
The Benjamin Titan GP is a gas ram gun, powered by nitro piston technology.
A nitro piston gun (or gas piston gun) works the same as the spring gun but it has a gas-filled cylinder instead of a coiled spring.

The air in the cylinder is already compressed and you apply more pressure to it when you cock the gun.
The pressurized air is kept under tension until you pull the trigger.
When you fire, the pellet is propelled down the barrel with the force from compressed air.
Nitro-piston rifles are lighter and last longer than spring guns.
Besides, it has less recoil and is easier to cock.
Furthermore, it can be left cocked for days without spring fatigue.
Read more about nitro piston technology in this post to see how it can make your gun sport more exciting.
This rifle is available in both .177 and .22 caliber.
While .177 is popular and a perfect choice for target shooting, .22 is the king of hunting and is the go-to caliber for hunters and pest eliminators.
Also remember that accuracy holds true for both calibers: .177 is no more accurate than .22 and vice versa.
Besides, this gun is a single-shot break barrel gun so you can only shoot one shot at a time.
After the first shot, you have to break the barrel to manually reload the pellet.
Single-shot guns make you a disciplined shooter: you have to make your first shot count
Since you have only one chance to hit the animal or it will run away while you are still busy reloading.
The barrel is a rifled steel barrel.
A rifled barrel has helical grooves inside that make the bullet spin.
Spin stabilizes pellets, improves accuracy, and enhances shooting range.
Furthermore, the gun has a muzzle brake at the tip of the barrel. Muzzle brake gives you lots of advantages:
First, it protects the barrel tube itself from scratches and guards the critical crown areas against damage
In case the rifle is dropped or banged against hard objects.
Second, it serves as a convenient cocking handle because you have more added leverage when used on a break-barrel gun.
Third, it adds muzzle steadiness in shooting, partially eliminating muzzle wobble when firing, hence improving accuracy.
Fourth, it ensures all sounds coming from the barrel go forward.
And finally, it makes your gun more aesthetically pleasing by adding tactical construction other than a plain barrel tube.
Stock
Benjamin Titan GP has an eye-catching wooden stock so it can endure impact, stress, and collisions in daily life.
Moreover, hardwood can be easily refinished at any time so it has a very long lifespan.
Plus, the stock is ambidextrous so you can use this gun with ease whether you are a lefty or righty.
This rifle has a ventilated rubber butt-pad which is thicker and softer than normal so it absorbs more recoil in the shooting.
Besides, the stock is a dual-comb stock: it has dual raised cheekpieces on both the left and the right sides of the stock.
A dual-comb is extremely useful if you are a left-handed shooter.
Moreover, it has a thumbhole that provides a more relaxed grip on your wrist by resting the stock on your wrist as opposed to holding the stock up with your hands.
As you know, air rifles, and especially spring pistons, are considered hold sensitive,
So the ability to really grasp and pin the rear of the stock into your shoulder,
While having a nice, wide, flat, beaver tail style stock to rest your hands on for the artillery hold adds a much better accuracy.
Ammo
A Benjamin Titan GP uses .177 and .22 corresponding to 2 types of calibers.
As you can see from different e-commercial sites, .177 pellets are cheap, easy to find, and very popular among target shooters.
On the other hand, .22 pellets have more stability in their trajectory than .177 pellets so you can shoot it under windy conditions.
Besides, .22 hits the target with serious authority and often gets the job done in one clean shot,
So you can take it to the field or deal with annoying critters in your backyard.
Cocking and Loading
Cocking the gun:
First, put the gun ON SAFE, hold the gun by your side, then firmly tap the muzzle end to open the breech.
Let the gun rest on your upper thigh and grasp the muzzle end.
Continue to pull the barrel down to its limitation to perform cocking action
Loading the pellet:
With the breech open after cocking, put the pellet (with the pellet's nose lying forward) into the breech.
Then pull the barrel up to its original position until it locks and you are ready to fire.
Benjamin Titan GP Sight
The Titan GP doesn't have a traditional open sight.
No front sight, no rear sight.
Instead of an iron sight, you have a 4×32 Center point scope for more precision in the shooting.
32 is the diameter of the front lens, measured in millimeters.
4 is the magnification power of the scope.
It means that the scope magnifies the picture 4 times bigger than reality.
This scope is pretty decent for target shooting and plinking but you can upgrade to a more able scope for hunting or pest control.
Velocity, Accuracy and Power
In .177 caliber, the Titan GP delivers up to 1200 FPS with alloy pellets.
In .22, this break barrel rifle gives you 950 FPS with alloy and 800FPS with lead.
This is a high-end velocity compared to other air guns on the market so it's a rifle you can use for both short and long-range shooting.
Chrony tests give us the results as follows: 
In .177:
| .177 Pellet | FPS | FPE |
| --- | --- | --- |
| Kodiak Match 10.65 grains | 600 | 8.52  |
| RWS Meisterkugeln 8.2 gr | 790 | 11.37  |
| Crosman Premiere Hollow Point | 1014 | 18.04  |
| Crosman Premiere 10.5 gr | 893 | 18.6  |
In .22:
| .22 Pellet | FPS | FPE |
| --- | --- | --- |
| RWS Hobby 11.9 gr | 711.59  | 13.38  |
| Crosman Premiere 14.3 gr | 663.47 | 13.98 |
| Gamo PBA Raptor 9.9 gr | 832.5 | 15.24  |
| Crosman Premiere Ultra Magnum 14.3 gr | 732.3 | 17.03  |
| Crosman Premiere Hollow Point 14.3 gr | 729.9 | 16.92  |
| RWS Meisterkugeln 14.3 gr | 750 | 17.87  |
| Crosman Premiere Hollow Point 14.3 gr | 720  | 16.46  |
| Accupell 14.3 gr | 780 | 19.32  |
| RWS Superdome 14.5 gr | 753 | 18.26  |
| Crosman Premiere Hollow Point 14.3 gr | 679 | 14.64  |
| Gamo Raptor 9.8 gr | 970  | 20.48  |
| Benjamin round nose 14.3 gr | 957 | 29.09  |
As you can see, the numbers in .177 fluctuate sharply
But we can expect a more stable velocity in .22, with most non-lead pellets traveling at 700-800 FPS.
Now we're done with velocity, let's take a look at the accuracy of this gun.
The common shooting groups are:
½" at 25 yards, 1/2″ at 20 yards,
1/4″ at 60 feet,
1.25" at 30 yards,
1/4″ at 20 yards,
1" at 20 yards,
1/4″ at 25 yards,
1/4″ at 35 yards,
1.5" at 35 yards,
1/2″ to 3/4″ at 20 yards,
dime size at 25 yards,
1/4″ at 15 yards,
0.75" at 25 yards with JSB exact diabolo heavy, 
3/4″ at 30 yards,
0.5" at 20 yards,
dime size at 22 yards,
3/4″ at 25 yards with Diabolo Dome 18.13 gr, 
1/4″ at 50 yards,
3/8" at 25 yards,
1/4″ at 25 yards,
3/4″ at 20 yards,
nickel size at 20 yards with Diabolo Exact 8.44 gr,
Quarter size at 20 yards with Premiere Ultra Magnum 10.5 gr, 
1.25" at 30 yards with Copper head wad cutter, 
1/4″ at 30 yards with Crosman Pointed, 
Dime size at 45 yards,
1/4″ at 45 yards,
3/4″ at 30 yards,
1-2" at 30 yards,
1/4″ at 30 yards,
3/8" at 50 yards,
dime size at 40 yards,
1" at 25-30 yards,
3/4″ at 50 yards,
1/4″ at 25 yards,
2.5" at 66 yards,
penny size at 20 yards with RWS Meisterkugeln, 
1" at 30 yards ,
2" at 60 yards,
3/8"-1/2" at 50 yards,
7/8" at 67 feet,
1/2″ at 25 yards with Crosman , 
1" at 25 yards,
nickel size at 15 yards with 16 gr predator polymag,
penny size at 30 yards,
dime size at 20 yards with 14.3 gr Crosman Premiere, 
penny size at 20 yards,
3/4″ at 30 yards. 
Furthermore, this gun can:
hit a paint can at 75 feet,
kill a starling at 55 yards,
shot down a rabbit at 65 yards with CPHP, 
hit 2"x3" cardboard at 240 feet,
hit tin can at 100 feet,
hit a tack at 20 yards (what!),
shoot crow at 40-50 yards on top of a tree,
take down squirrels at 20 yards in 1 clean shot using 14.3 gr CPHP, 
kill sparrows at 24 yards,
kill squirrels at 20 yards,
hit rats at 20 yards,
penetrate through a 1" plywood board at 20 yards,
kill a Texas 6-point buck (California 3-point) in a single shot,
kill crows at 40-50 yards,
kill Arizona squirrels at 60 yards,
take down a jackrabbit at 37 yards,
fully penetrate a gallon jug of water at 10 meters with 14.3 gr CPHP, 
blast a pellet through a 3/4″ piece of plywood at 25 yards,
out the pellet all the way through 5/8" plywood,
go through 3/4″ target backing at 35 yards,
pass through 3/4″ soft pine at 20 yards,
go through both sides of a water-filled anti-freeze jug at 50-55 yards with 14.3 gr CPHP, 
kill squirrels at 35 yards,
go through 3/4″ pine at 15 yards,
kill crows at 50 yards,
kill tree rat at 20 yards,
kill prairie dog at 67 yards,
kill Arizona squirrel at 60 yards,
kill bird at 30-40 yards,
shoot through 1" plywood at 40 yards with Hollowpoint, and blow through off a back of 3/4″ pine board. 
In summary, this gun is damn accurate and hits like a tank with a shooting range up to 50 yards.
Shooting range and intended use
The effective shooting range of Titan GP is up to 60 yards.
You can use this gun for target shooting, plinking, small game hunting, and pest control
Maintenance
No special attention is required for this gun.
Just put a few drops of Crosman RMCOIL every 500 shots to keep this gun shooting like new.
Noise
The audible test gives us a surprising result: this gun is really a quiet gun with only 86 DB of noise.
While the other break barrel rifles tend to have a sound of 100 DB or over, this gun is much quieter
And you can use it on your property without bothering your neighbors.
Benjamin Titan GP Specifications
Caliber: .177/.22
Velocity: 1200 FPS with .177/ 950 FPS with .22
Loudness: 3- medium
Barrel Length: 15"
Overall Length: 43.5 "
Shot Capacity: 1
Cocking Effort: 31 lbs
Barrel: Rifled
Front Sight: None
Rear Sight: None
Scopeable: 11mm dovetail
Trigger: 2-stage adjustable
Buttplate: ventilated rubber
Suggested for: Small game hunting/plinking
Trigger pull: 4.5 lbs
Action: Break barrel
Safety: manual
Powerplant: gas-piston
Function: single-shot
Body Type: Rifle
Weight: 6.75 lbs (without the scope and mounts)
Customer Reviews
If you sift through Amazon or Pyramyd Air, you will find lots of positive reviews on this gun.
People love its huge power, deadly accuracy, and quietness.
The only problem that I found in the negative reviews is the trigger.
Many buyers complain about the horrible trigger with its long, heavy second stage.
There are a few possible solutions for this issue:
First, you can manage it for yourself with some adjusting of the second stage, or you can order a special trigger like GRT-III.
Or you can fix the trigger like in this Youtube video – put a couple of washers onto the trigger sear pin and your trigger will be light and crisp.
This modification only costs you 10 minutes and a few cents.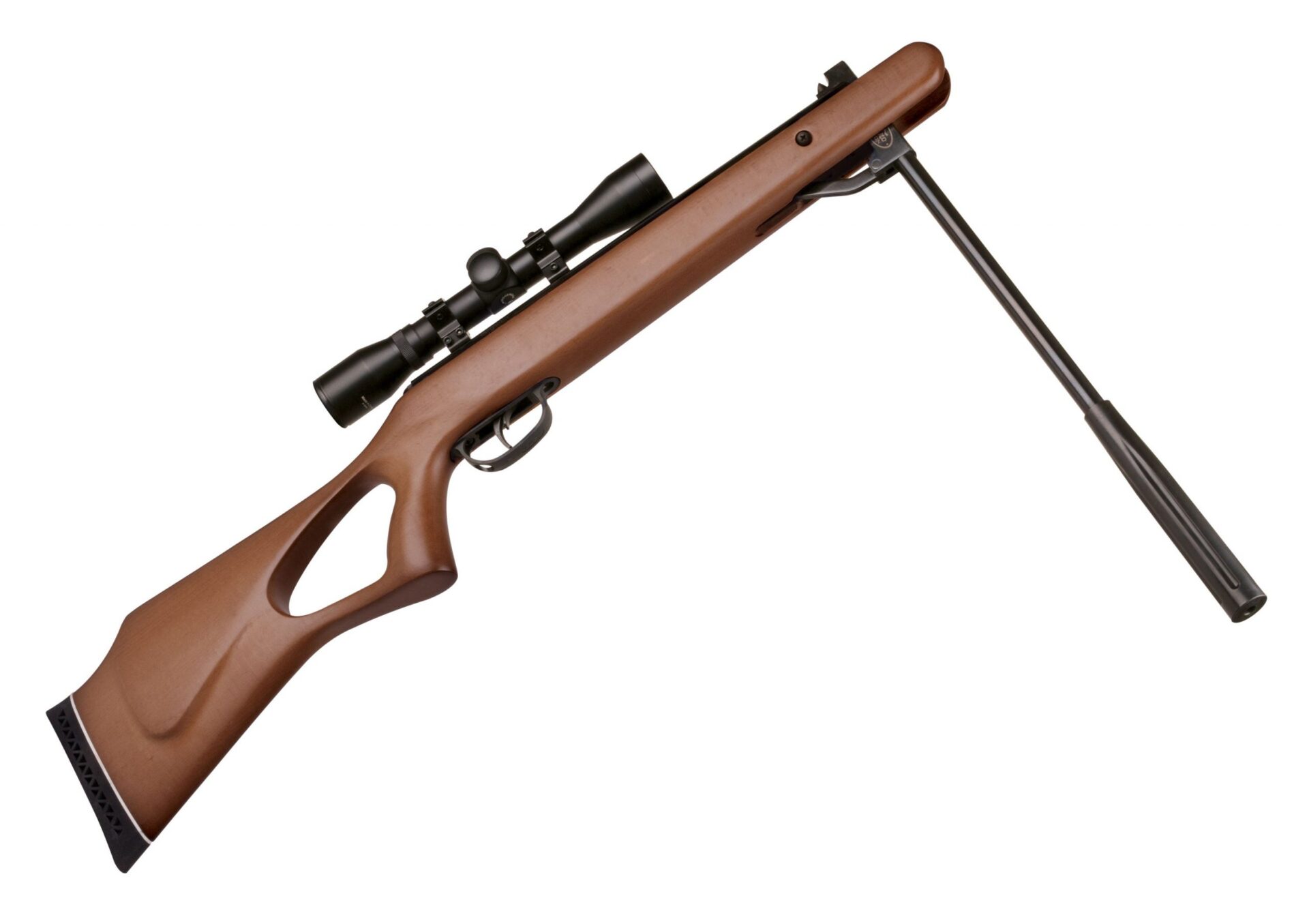 Pros
Proven Nitro piston technology
Handy-dandy muzzle brake
Good-looking wood stock
Convenient thumbhole design
Decent scope
Extremely quiet
High-end velocity
Remarkable power
Amazing accuracy
Cons
Long, heavy trigger but it can be fixed in several ways as I said in this review.
Benjamin Titan GP Price
The price for Titan GP is about 120 dollars.
It's a great price for the gun that gives you hard-hitting power, smooth cocking, low noise level, and fantastic accuracy.
Conclusion
For me, the GP in the name of this gun means  "Great Punch".
It has nice features that satisfy the pickiest shooters.
Add this rifle to your inventory and you'll be glad that you did.