The Benjamin Trail NP XL 1500 belongs to the beautiful NP XL airgun series .
It has the smallest caliber of all (.177, the others are .22 and .25) but also delivers the fastest velocity.
Although being made in .177, you will be surprised to learn that this rifle delivers more than enough knockdown power to deal with pesky pests in your garden.
(For more on the best air rifle for rabbits, see this post)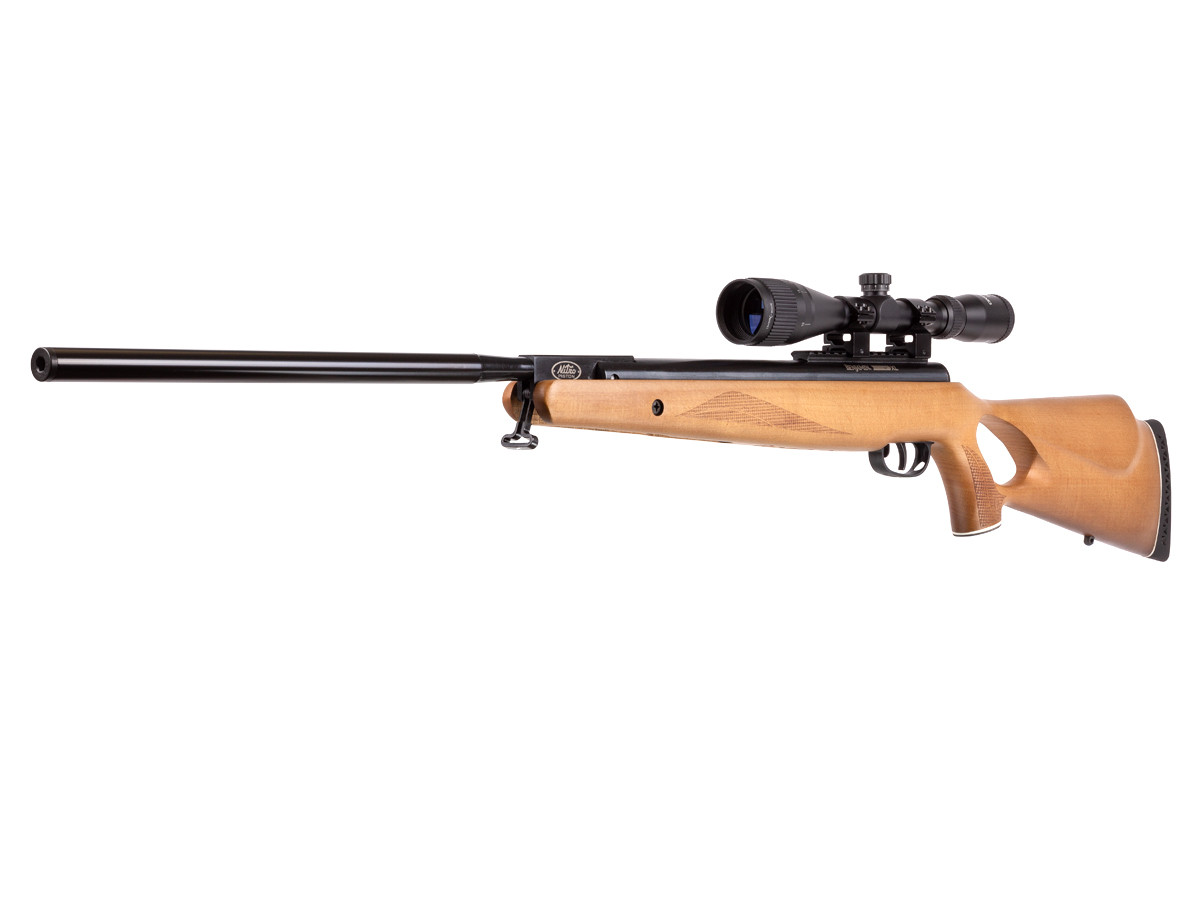 Gun Type
The Benjamin Trail XL 1500 features Nitro piston technology.
A nitro-piston gun (or gas-piston) works the same way as the spring gun does,
But it has a nitrogen-filled gas ram instead of a coiled spring as the power source. 
There is a nitrogen cylinder and a piston inside the chamber.
The nitrogen in the cylinder is already held under pressure and you apply more pressure to it when you cock the gun.
The pressurized air is kept under tension until you pull the trigger.
When you fire, the gas expands and propels the piston forward.
The piston comes swiftly after the air transfer port.
The compressed air has nowhere to go but behind the pellet, since the chamber is sealed completely.
As a result, the pellet is discharged from the barrel due to propellant force from compressed air.
(For more on How nitro piston technology can make your gun sport more exciting, see this post)
The caliber (the internal diameter of the bore, measured in inches) is .177 (4.5 millimeters).
(For more on the differences between .177 & .22 and which jobs they do best, see this post.)
It's a single-shot, break-barrel which means that you can only shoot one shot at a time.
After the first shot, you have to break the barrel down to reload for the second shot.
Single-shot guns make you a disciplined shooter as you have to make your shot count.
The barrel is rifled steel with spiral grooves inside the bore to make bullet spin,
Which stabilizes pellets, improves accuracy, and enhances shooting range.
(For more on things you should know about air rifle barrels before buying, see this post.)
Stock
The stock is of handsome, hardwood stock so it can withstand shocks, impact, and abrasion in daily life.
Besides, hardwood can be refinished at any time so it has a very long lifespan.
(For more on the in-depth comparison between synthetic and wood stock, see this post.)
This stock is also ambidextrous: you can shoot it comfortably whether you are a left-handed or right handed-shooter.
There are dual raised cheekpieces located on both the left and right sides of the stock.
Raised cheek pieces ensure a solid foundation and stable position for your eyes, and allow consistent sight alignment and shot adjustment.
The stock has a textured grip and forearm to add friction when shooting, prevent sweat slippage, and increase stability in aiming.
Furthermore, it has a sling swivel stud already mounted so you can add a sling to carry the gun around any time you like.
This stock has a thumbhole stock that provides a more relaxed grip on your wrist.
By resting the stock on your wrist as opposed to holding it up with your hands.
Stocks with thumbholes are best for varmint shooters
And for target shooters who spend plenty of time in a shooting position, such as bench rest shooting.
Ammo
Benjamin Trail NP XL 1500 uses .177 pellets as its only source of ammo.
.177 pellets are cheap compared to .22 and .25 pellets and you can buy hundreds of them for just a few bucks .
So .177 is your best choice when it comes to long hours of target shooting and fun plinking.
(For more on how to choose the right air gun caliber for your game, see this post.)
Cocking and Loading
Cocking the gun:
First, put the gun ON SAFE, hold the gun by your side, the firmly tap the muzzle end to expose the breech.
Let the gun rest on your upper thigh and grasp the muzzle end.
Continue to pull the barrel down to its limitation to perform cocking action.
Loading the pellet:
With the breech opened after cocking, put the pellet (with the pellet's nose lying forward) into the breech.
Then pull the barrel up to its original position until it locks and you are ready to fire.
Velocity, Accuracy and Power
The Benjamin Trail NP XL has a velocity of up to 1500 FPS with alloy pellet and 1250 FPS with lead pellet.
This is an extremely high velocity compared to other air guns on the market
And these speeds help the Benjamin Trail NP XL belong to the magnum class of air rifle.
Chrony tests on this nitro piston gun give the results as follows:
| Pellet | FPS | FPE |
| --- | --- | --- |
| Crosman Premiere 10.5 grains | 1022 | 24.36  |
| Crosman Premiere 7.9 gr | 1224  | 26.29  |
| Baracuda H&N Exact match 10.65 gr | 1020 | 24.61  |
| RWS Meisterkugeln rifle 8.2 gr | 1069  | 20.81  |
| RWS Meisterkuglen pistol 7.0 gr | 1129.5 | 19.83 |
| RWS Superdome 8.3 gr | 1110 | 22.71  |
| RWS Super Mag 8.3 gr | 1036  | 19.79  |
| RWS super point 8.2 gr | 1086 | 21.48  |
| Air Arms Diabolo Field 8.44 gr | 1013 | 19.24 |
| JSB Match Diabolo Exact 8.4 gr | 1041  | 20.22  |
| Daisy Precision Match 7.8 gr | 980.7 | 16.66  |
| Crosman Premier Hollow Point 7.9 g | 1130  | 22.4  |
| Crosman Premier Ultra Mag 10.5 gr | 952  | 21.14  |
| Crosman Premier Super Match 7.9 gr | 1102 | 21.31  |
| Beeman Kodiak 10.2 gr | 969 | 21.27  |
| Benjamin Discovery HP 10.5 gr | 943  | 20.74  |
| JSB Match Diabolo Exact 10.2 gr | 963 | 21.01  |
Those numbers are pretty close to the advertised velocity, and look at the muzzle energy of this gun:
With an average of 20 FPE, this gun produces more than enough power to deal with annoying pests in your backyard or take out a small animal in one quick shot.
Therefore, you can be confident taking this gun to the hunting field or using it to solve your backyard problem.
The power and velocity of this break barrel rifle are impressive, but how about the accuracy, you ask? 
Let's take a look at the shooting groups of different shooters to see how the gun performs:
The common shooting groups are:
2" at 50 yards,
1.5" at 20 yards,
1" at 10 yards,
same hole at 20 yards,
1/4″ at 20 yards,
dime sized at 20 yards,
1/2" at 20 yards,
0.237" at 25 yards,
0.578" at 50 yards,
dime size at 50 yards,
3/4″ at 30 yards,
same hole at 10 yards,
3/4″ at 42 feet,
1/2″ at 15 yards,
1.5" at 25 yards,
nickel size at 25 yards,
nickel group at 50 feet,
3/4″ at 70 yards,
1" at 30 yards,
1 1/2″ at 25 yards,
1" at 30 yards,1/2" at 30 yards and 2" at 50 yards.
As you can see, this gun is a tack driver with a shooting range of up to 50 yards.
Here is the quick highlight of this air rifle:
Sight
This gun doesn't come with common iron sight: No front sight and no rear sight.
But it does come with a Center point 3-9×40 AO scope.
40 is the diameter of the front lens (the objective lens).
3-9 is the magnification ability of the scope: It magnifies the picture 3 to 9 times bigger than the image you see with your own eyes.
Moreover, this scope has an adjustable objective (AO) that will give you a clearer and sharper image of the target.
(For more on how many types of air gun sights are out there and which one is suitable for you, see this post.)
Noise
This is a very quiet gun: it has hundreds of customer reviews and not a single one of them complains about the noise.
But remember that sometimes the lightweight pellets break the sound barrier and produce a cracking sound that might upset your neighbors.
Shooting range and intended use
The effective shooting range is up to 50 yards.
You can use this gun for target shooting, plinking, pest control, and small-game hunting.
Accessories
This gun includes uncounted Centerpoint Optic 3-9×40 AO scope as its only accessory.
Maintenance
With its great craftsmanship, the Benjamin Trail NP XL 1500 requires very little maintenance:
Just make sure you tighten all stock fasteners, check the scope mount
And apply a drop of Crosman RMCOIL every few hundred shots to keep it functioning properly.
Warranty
As of this date, the Benjamin Trail NP XL has a one-year limited warranty from the date of purchase
Customer Reviews
There are lots of online reviews for this nitro piston rifle.
Positive reviews show that people love its magnum power, impressive velocity, high accuracy, beautiful stock, and advanced technology.
There are some negative reviews, most of the complaints about the terrible trigger and the dirty barrel.
For the trigger issue, if you are a picky shooter, you can replace it with an aftermarket trigger for about 30 bucks.
For the dirty barrel issue, as soon as you unbox this gun, make sure you clean it thoroughly
And run the bore brush through it to clean it again and you are ready to enjoy your new gun.
Specifications
Caliber: 0.177"
Velocity: 1500 FPS with alloy, 1250 FPS with lead.
Loudness 3- Medium
Barrel Length: 19.5 "
Overall Length: 48.25"
Shot Capacity: 1
Cocking Effort: 47 lbs
Barrel: rifled
Front Sight: None
Rear Sight: None
Scope Rail: Picatinny
Scope: 3×9-40 AO scope
Buttplate: Ventilated rubber
Suggested for : Target shooting/pest control/ small game hunting
Trigger Pull: 2.5 lbs
Action: Break barrel
Safety: Manual
Powerplant: Nitro-piston
Function: Single-shot
Body Type: rifle
Weight: 9.7 lbs
Pros
Advanced nitro piston technology
Handsome hardwood stock
Beautiful craftsmanship
Magnum power
Supersonic velocity
Quiet
Recoilless
Easy to cock
Hefty and durable
Cons
Dirty barrel out of the box
The trigger can be a turn-off for some shooters.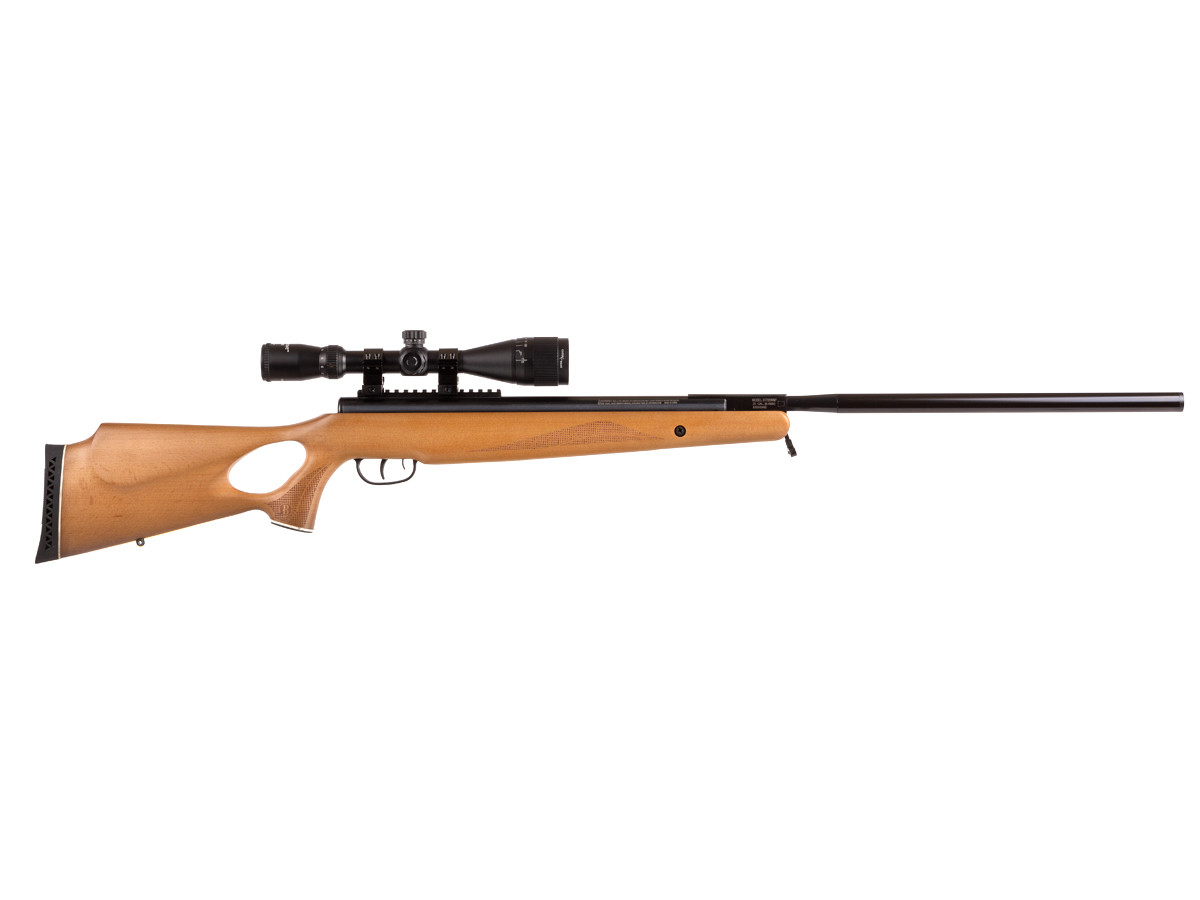 Price
The price for Benjamin Trail NP XL 1500 is about 250 dollars.
It's a reasonable price if you consider the advanced technology, handsome stock, supersonic velocity, magnum power, and other features this gun brings.
Conclusion
This gun is a rare behemoth.
If you want to own a gun that you can brag about proudly with your friends, the Benjamin Trail NP XL 1500 is a good addition to your arsenal.