Crosman Benjamin Titan XS.
That's quite a name.
"Titan" infers that this gun is powerful and robust.
Fortunately, it is not misnamed.
While putting my final touches on this review, one thought kept running into my head:
This air rifle is a nasty beast that you will love for years to come.
Crosman Benjamin Titan XS – Gun Type
This airgun is powered by nitro piston technology.
Read more about nitro piston technology in this post to see how it can make your gun sport more breathtaking.
Crosman Benjamin Titan XS has a caliber (the internal diameter of the barrel) of .177 (4.5 millimeters).
For more on how to choose the right air gun caliber for your game, see this post.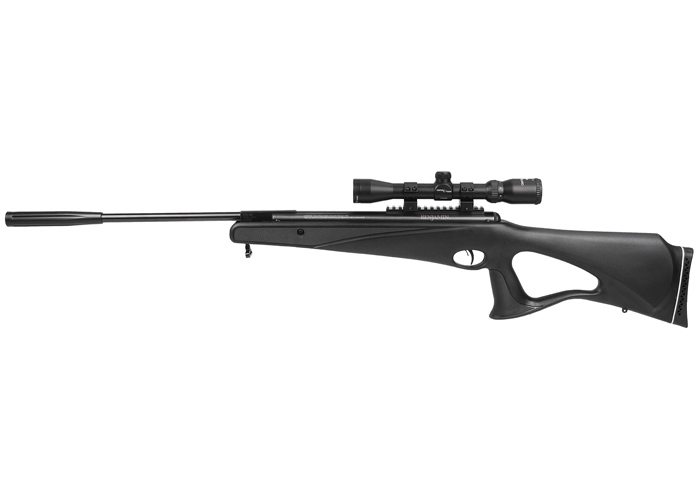 It is a single-shot break barrel gun with a rifled barrel so it means that you can only shoot 1 shot at a time.
Furthermore, the gun has a muzzle brake in the tip of the barrel that redirects propellant gas to counter recoil.
A quick note about recoil:
Your rifle kicks back because the gas propels the pellet in one direction and also moves the barrel in the opposite direction.
So if you don't want to get intense recoil, you have to change the direction of the released gas.
The muzzle brake takes the form of 2 inches tube screwed onto the muzzle and diverts gas 90 degrees around the barrel.
This is accomplished by the series of small parallel holes drilled in the tube.
The advantages? Muzzle brake cuts the recoil up to 50 percent which is a no-brainer for most shooters.
Stock
Crosman Benjamin Titan XS has a black synthetic stock.
For more on the in-depth comparison between synthetic and wood stock, see this post.
The stock has a ventilated rubber buttpad that helps absorb more recoil when you shoot.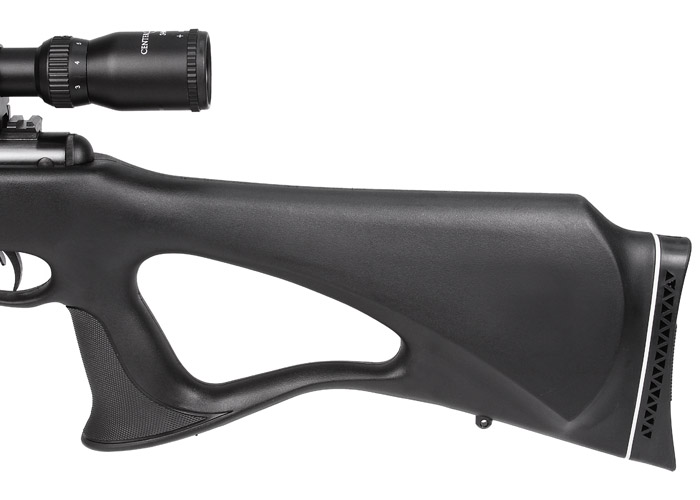 It has non-slip checkering in the grip and forearm that:
Provides friction to your hands,
Prevents slippage from shooter's sweat,
Adds stability to your arms and improves accuracy in shooting.
The stock is also ambidextrous: Left-handed shooters can handle this gun with ease as right-handed shooters.
The stock is a dual-comb stock: it has dual raised cheekpieces on both the left side and the right side of the stock.
A dual-comb is extremely useful if you are a left-handed shooter.
In addition, lefty and righty can share the same fun this gun brings.
Besides, it has a thumbhole that provides a more relaxed grip on your wrist by resting the stock on your wrist as opposed to holding the stock up with your hands.
Stock with thumbhole is best for varmint shooters and for anyone who spends lots of time on shooting positions such as bench rest shooting.
Ammo
The Benjamin Titan XS uses .177 pellets as the main source of ammunition.
.177 pellets are cheaper than other types of pellets.
If you look at the pellet count box, you will see that you'll get exactly twice as many .177 as .22 for the same price.
Thus, .177 is your best bet if you plan on doing lots of target shooting and plinking.
For more on the differences between .177 & .22 and which jobs they do best, see this post.
Cocking and loading
Cocking the gun:
First, put the gun ON SAFE, hold the gun by your side, then firmly tap the muzzle end to expose the breech.
Let the gun rest on your upper thigh and grasp the muzzle end.
Continue to pull the barrel down to its limitation to perform cocking action.
Loading the pellet:
With the breech opened after cocking, put the pellet (with the pellet's nose lying forward) into the breech.
Then pull the barrel up to its original position until it locks and you are ready to fire.
Velocity, accuracy and power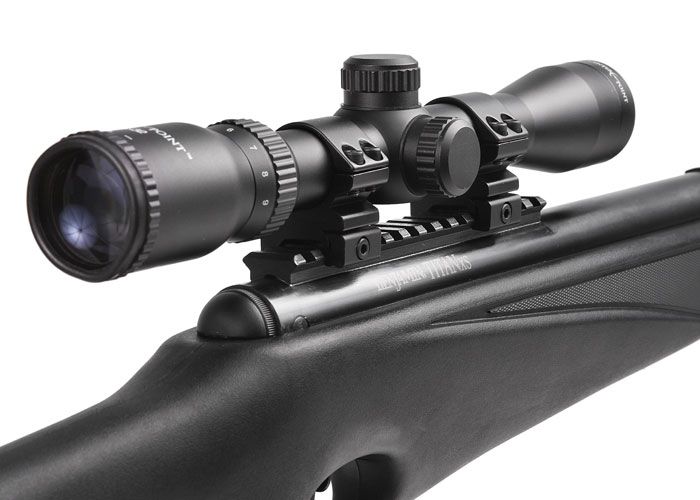 The Benjamin Titan XS has a velocity of up to 1000 FPS with lead pellets and up to 1200 FPS with alloy pellets.
This is high velocity compared to other .177 air rifles on the market.
Also, 1200 FPS is supersonic speed, which means that the rate of travel of the pellet exceeds the speed of sound
So you may hear a loud sound because the pellet breaks the sound barrier.
Ballistic gel tests at a distance of 25 yards have given awesome results:
2" penetration with Gamo Blue Flames,
3 3/4″ with Crosman Destroyer,
7 1/8″ with Crosman hollow Point,
and 8 3/4″ with Crosman Pointed.
As you can see, the knockdown power that comes within 25 yards is more than enough to take care of pests and small critters like rabbits, pheasants, ducks, turkeys, etc.
For Benjamin Titan XS, various types of shooting tests have been conducted by different shooters with positive results.
The common shooting group is:
2" group at 25 yards,
1/2" at 20 yards,
3/4" at 30 yards,
1" at 50 yards,
2" at 40 yards,
1" at 25 yards, etc.
Some shooters even manage to get the zero in at 25 yards and have no problem cutting pellet holes at 40-50 yards.
Obviously, this is a highly accurate gun for less than 50 yards.
Bonus tips: this gun works best with Crosman pellets or JSB heavy pellets.
Choose one of these two types and see how Benjamin Titan blows your mind with tiny shooting groups.
Sight
The Crosman Benjamin Titan XS doesn't have traditional iron sight.
Yep, no front sight, no rear sight.
But it does have a 4×32 scope.
Having this scope gives you the confidence you need in long-range shooting.
Crosman made the optic rail in the Picatinny style, no more worrying about tube length, eye relief, etc since you can place scope rings at any place you want.
For more on how many types of air gun sights are out there and which one is suitable for you, see this post.
Loudness
The Benjamin Titan XS produces supersonic velocity with alloy pellets so you can hear quite a loud sound if you use alloy pellets.
You don't have to worry about being so noisy if you have 1 acre or more with a solid fence.
If you live in a populated area, this could get unwanted attention from your neighbors.
To get rid of this problem, simply use lead pellets and you will be fine.
Shooting Ability
The effective shooting range for Crosman Benjamin Titan is 50 yards.
You can use this gun for target shooting, plinking, pest control, and small-game hunting
Accessories
Benjamin Titan doesn't need any accessories at all.
Maintenance
Benjamin Titan XS requires minimum maintenance:
Just make sure you tighten all stock fasteners, check the scope mount,
And apply a drop of Crosman RMCOIL every 250 shots to keep it functioning properly.
Specifications
Caliber: 0.177" (4.5mm)
Velocity: 1200 FPS
Powerplant: Gas piston
Action: Break barrel
Overall Length: 44.5"
Shot capacity: single shot
Barrel: Rifled
Front Sight: None
Rear Sight: None
Scopeable: Picatinny
Buttplate: Ventilated rubber
Suggested for: Small game hunting/plinking
Safety: Manual
Weight: 8.3 lbs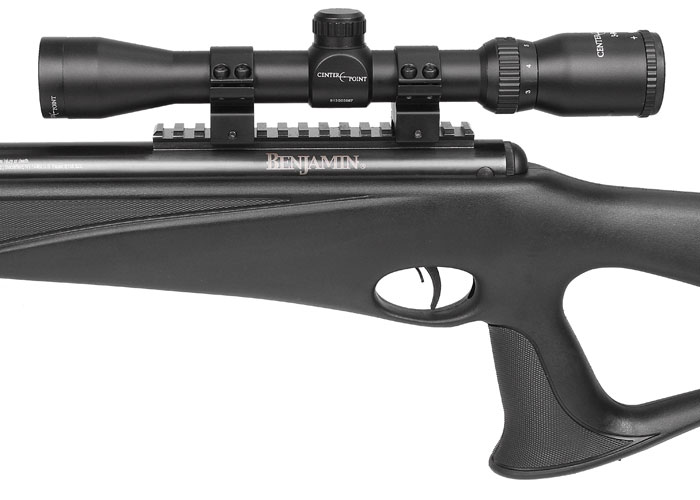 Pros and Cons
Pros
Cons

Outstanding supersonic velocity
Awesome knockdown power
Highly accurate
Amazing nitro piston technology
Great barrel with muzzle brake
Comfortable thumbhole
Quick-lock optic mounting system
Robust stock
Good checkering and fantastic dual raised cheekpiece
Wonderful scope

Imported from other countries
Quite loud if you use alloy pellet, quiet if you use lead pellet
Price
The price for Benjamin Titan is only about $130.
It is a bargain in every sense of the word.
Customer review
There are lots of customer reviews of Benjamin Titan.
Positive reviews show that people love its velocity, power, accuracy, and stock.
There are some negative reviews that talk about the scope problem.
They said that the scope is useless and cannot be used.
However, defective products are a fact we must accept when buying online and airguns are no exception.
Some people leave other negative reviews because the gun is too loud for them.
This could not be a problem after the initial break-in period or you use a lead pellet instead of an alloy pellet to produce subsonic velocity.
Warranty
As of this date, the Benjamin Titan XS pellet gun has a 1-year limited warranty from the date of purchase
Conclusion
Benjamin Titan XS is a remarkable gun for the money.
It's powerful, supersonic, robust, and integrated with incredible technology.
I strongly recommend it for varmint shooters who want to get rid of those annoying pests in their properties
And for target shooters who want to own a gun that makes gun sport a thrill.