If you are on the mission
To rescue your wife's garden from pesky varmints
Add the Crosman TR77 NPS to your shortlist.
This is an accurate and powerful gun
That gives you a familiar feel of an AR15 tactical rifle.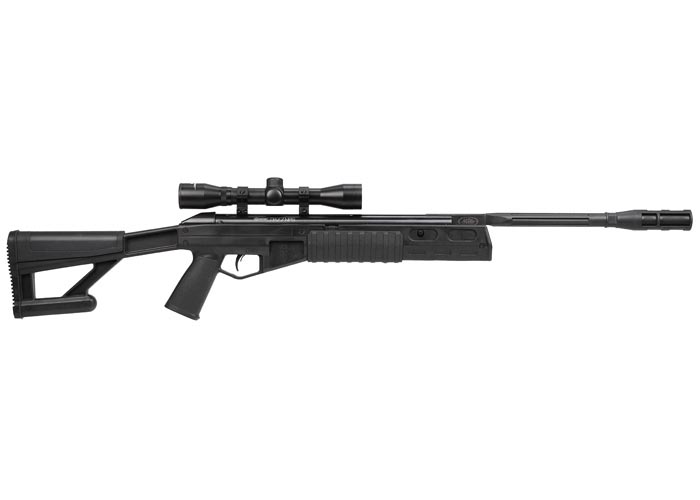 Crosman 30131 TR77 NPS – Guntype
This airgun is powered by nitro piston technology.
Nitro piston technology is one of the few innovations in the air gun world that makes your gun sport more breath-taking.
The caliber (the internal diameter of the bore, measured in diameters) is .177 (4.5 millimeters).
.177 caliber is the most common caliber for target shooting, plinking, and small game hunting.
For more on how to choose the right air gun caliber for your game, see this post.
This gun is a single-shot, break-barrel gun with a rifled barrel.
Besides, the barrel is cut shorter than a typical barrel (that's why the name of this gun is NPS with the letter "S" standing for "Short" and NP representing "Nitro Piston") for 2 reasons:
First, it gives the gun an authentic tactical look.
Second, with a short-barrel rifle, you are good to go in the tight quarter or when maneuverability is of greatest importance.
Moreover, there is a muzzle brake at the end of the bore that redirects the gas to counter recoil.
A quick note about recoil:
Your rifle kicks back because the gas propels the pellet in one direction and also moves the barrel in the opposite direction,
So if you want to reduce recoil, you have to change the way the released gas goes.
The muzzle brake takes the form of 2 inches of tubes screwed onto the muzzle and diverts gas 90 degrees around the barrel.
This is accomplished by the series of small parallel holes drilled in the tube.
The advantages?
Muzzle brake cuts recoil up to 50 percent which is a no-brainer for most shooters.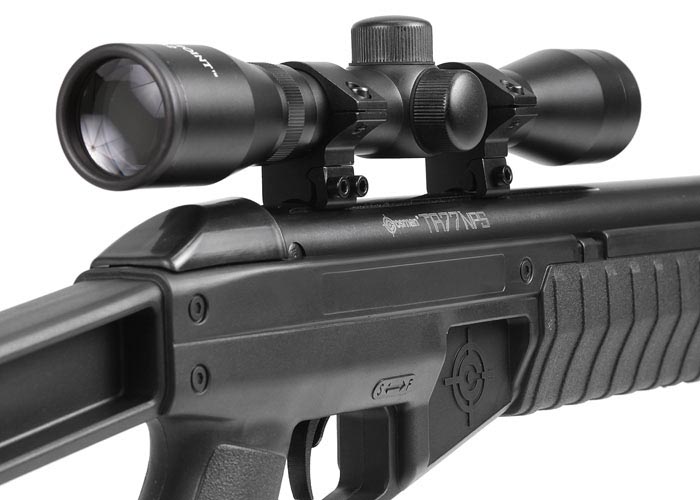 Stock
The stock is all-weather synthetic stock.
Unlike wood stock which is heavy and easily affected by moisture and temperature,
The synthetic stock is lighter and functions perfectly in any type of weather,
So it's a great choice for young shooters with a medium build and for air gunners who want to own a maintenance-free air gun.
For a more in-depth comparison between synthetic and wood stock, see this post.
The stock has a rubber buttplate to reduce recoil.
Besides, the recoil pad is removable to reveal convenient storage space.
You can store plenty of things in there like pellets, paper targets, lens cleaning cloths, etc.
Thus, it comes in handy when you take the gun out to the wood.
What's special about this stock is its pistol grip: it orients the hand in a forward, vertical orientation, similar to the position one would take with a conventional pistol.
Pistol grips give you plenty of advantages:
First, you don't need to raise your elbow as in a traditional shooting stance which is used with stock.
Therefore, it's easy for you to maneuver in a house, stairs, around corners, etc with an air rifle with a pistol grip installed (especially in close quarters),
And it's effortless to move, crouch, run, and hold it with one hand as well.
Second, it is much more intuitive to find the safety button.
Third, it is more convenient to hold your air rifle with your hand on a grip for a long time if you have a pistol grip.
Your hands will not get tired as fast as with a traditional grip.
Also, it reduces strain on your wrist.
Finally, a pistol grip allows you to have your hand close to the body and reduces your silhouette which is crucial in a hunting scenario.
In summary, a gun with a pistol grip gives you an unfair advantage in the hunting field.
Ammo
The Crosman TR 77 NPS uses .177 pellets as its only source of ammunition.
.177 pellets are cheaper than other types of pellets.
If you look at the pellet count box, you will see that you'll get exactly twice as many .177 as .22 for the same price.
Thus, .177 is your best choice for long hours of fun plinking and exciting target shooting.
For more on the differences between .177 & .22 and which jobs they do best, see this post.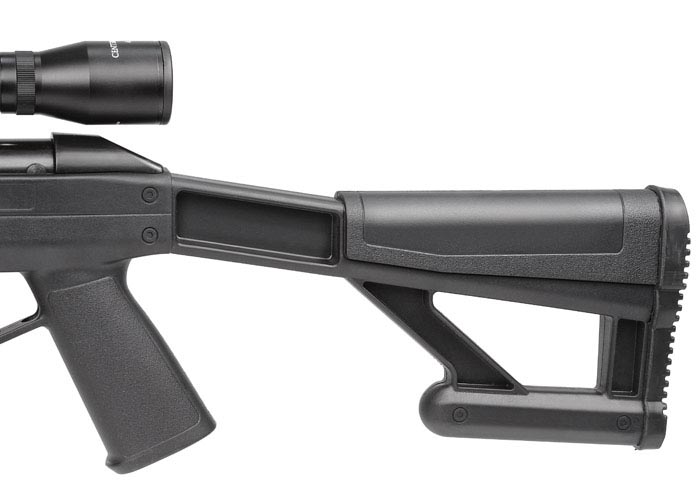 Cocking and loading
Cocking the gun:
First, put the gun ON SAFE, hold the gun by your side, then firmly tap the muzzle end to expose the breech.
Let the gun rest on your upper thigh and grasp the muzzle end.
Continue to pull the barrel down to its limitation to perform cocking action.
Loading the pellet:
With the breech opened after cocking, put the pellet (with the pellet's nose lying forward) into the breech.
Then pull the barrel up to its original position until it locks and you are ready to fire.
Velocity, accuracy and power
Chrony tests give us the result as follows:
This gun delivers 1025 FPS with Crosman Premier Hollowpoint pellet and 1120 FPS with RWS basic lead pellet.
That's pretty close to the advertised number and the supersonic seeker will be very pleased with this remarkable velocity
For this nitro piston gun, different shooting tests have been conducted by various shooters with positive results.
The common shooting groups are 1/2″ at 10 yards to 30 yards and dime size at 30-40 yards.
As you can see, this gun is extremely accurate with effective shooting ranging up to 40 yards.
Moreover, with supersonic velocity, this rifle hits the target with serious authority
So it can kill crows, turkeys, possums, foxes, groundhogs, and rabbits with ease.
The incredible velocity power and magnum power combined to make this gun a perfect choice for small game hunters and pest exterminators.
Sight
This gun doesn't come with traditional open sight: no front sight and no rear sight.
Instead of iron sight, Crosman installs a 4×32 Centerpoint scope to help you get more precision in the shooting.
For more on how many types of air gun sights are out there and which one is suitable for you, see this post.
Loudness
The Crosman TR 77 NPS produces a velocity of up to 1200 FPS (feet per second).
This is the supersonic velocity that has surpassed the speed of sound (about 1100 FPS, varying with altitude and temperature),
So you might hear a loud crack if you use a lightweight pellet due to the pellet breaking the sound barrier.
Specifications
Caliber: 0.177"
Velocity: 1200 FPS with alloy/1000 FPS with lead
Loudness: 3- Medium
Barrel Length: 12.0"
Overall Length: 40.0"
Shot Capacity: 1
Barrel: rifled
Front Sight: None
Rear Sight: None
Scopeable: 11mm dovetail
Buttplate: Rubber
Suggested for: Plinking/Target shooting/Pest control/ Small game hunting
Action: Break barrel
Safety: Manual
Powerplant: Nitro-piston
Function: Single-shot
Body Type: Rifle
Weight: 5.8 lbs
This video below highlights the main features of TR77 NPS:
Customer review
There are some reviews here and there about his gun.
Positive reviews show that people love this rifle due to its hair-splitting accuracy, remarkable power, and professional design.
They are also satisfied with it because it helps them clear out unwanted critters in their garden.
On the other hand, the negative reviews say it's too loud.
This issue can be remedied in 2 ways:
First is the gun will quiet down after breaking in, or you could use a heavy pellet that doesn't break the sound barrier
Pros and Cons
Pros
Cons

Supersonic velocity
Decent stock
Magnum power
Fantastic accuracy
Good scope
Ergonomic pistol grip
Uniqe short barrel

Loud if you use alloy pellet
Price
The price for Crosman 30131 is only about $120.
This is a good price for a supersonic gun that has a special tactical design and delivers jaw-dropping power.
There are a couple of different listings online with different prices but the listing I found with the lowest price is the cheapest price among online e-commercial sites like Amazon, PyramydAir, Walmart, etc.
Conclusion
Crosman TR77 NPS is a valuable gun that will get the job done for pest haters and frequent shooters.
If you want a nitro piston rifle with dead-on accuracy and superb power to take down pesky critters on your property,
Get this gun and a freezer at the same time because you will need big storage for upcoming animal dishes.