The Crosman Nitro Venom Dusk .22 is the twin brother of the Nitro Venom rifle.
As the twins, they share lots of common features such as powerplant, caliber, design style, and so on.
But the things that differentiate this one from its brother also are the plus points that make it stand out in the market.
Crosman Nitro Venom Dusk – Guntype
This airgun is powered by Nitro Piston technology.
You can read more about its pros and cons in this post for more detail.
Crosman Nitro Venom Dusk has a caliber(the internal diameter of the bore) of .22 (5.5 millimeters).
While .177 only has enough power to shoot rats, mice, chipmunks, and rabbits, .22 is more than enough to handle raccoons, possums, and groundhogs.
For more on how to choose the right air gun caliber for your game, see this post.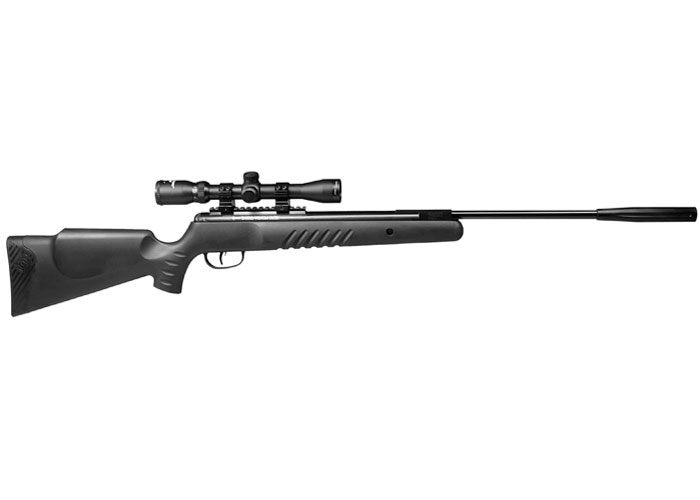 The barrel is rifled with helical grooves inside the bore to make the bullet spin.
Besides, the barrel is fluted (cutting out material from the cylindrical surface), so it is lighter and dissipates heat quicker.
Moreover, there is the muzzle brake at the tip of the bore that redirects propellant gas to counter recoil.
Remember why your rifle kicks back:
It's because the gas pushes the pellet in one way and also moves the barrel in the opposite direction.
So if you want to reduce recoil, you have to change the direction of the released gas .
The muzzle brake takes the form of a 2 inches tube located on the muzzle and diverts gas 90 degrees around the barrel.
The result?
Muzzle brake cuts the recoil up to 50 percent which is a no-brainer for most shooters.
Stock
The stock is black synthetic stock.
The modern synthetic stock is robust, durable, and easy to stand up against the rigor of the field use
So it's best for hunters who go hunting a lot and for shooters who want to own a maintenance-free air rifle.
For more on the in-depth comparison between synthetic and wood stock, see this post.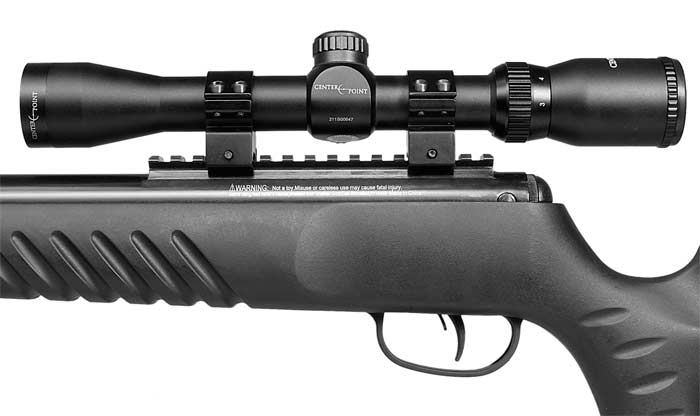 The stock has dual raised cheekpieces (dual-comb), which are located on both the left side and right side of the stock.
A dual-comb is helpful if you are a left-handed shooter.
Also, this gun has deep grooves on the grip and forearm that add friction to your hands when shooting, prevent slippage from the shooter's sweat and improve stability in aiming.
What makes the stock stand out in the market is its special forearm.
The foregrip is designed in a beaver-tail style to promote the artillery hold shooting position.
The wider surface area of the forearm is designed to rest on the palm of your hand .
And let it "float" naturally so you can let the gun recoil in any way it wants and achieve improved accuracy.
Ammo
Crosman Nitro Venom Dusk uses a .22 pellet as its only source of ammunition.
While the .177 pellet is lighter and often doesn't have enough knockdown power to take out an animal in 1 shot,
.22 is heavier, more stable on its trajectory, and hits the target with serious authority so it's a go-to pellet of field hunters and pest eliminators.
For more on the differences between .177 & .22 and which jobs they do best, see this post.
Cocking and loading
Cocking the gun:
First, put the gun ON SAFE, hold the gun by your side, then firmly tap the muzzle end to expose the breech.
Let the gun rest on your upper thigh and grasp the muzzle end.
Continue to pull the barrel down to its limitation to perform cocking action.
Loading the pellet:
With the breech opened after cocking, put the pellet (with the pellet's nose lying forward) into the breech.
Then pull the barrel up to its original position until it locks and you are ready to fire.
Sight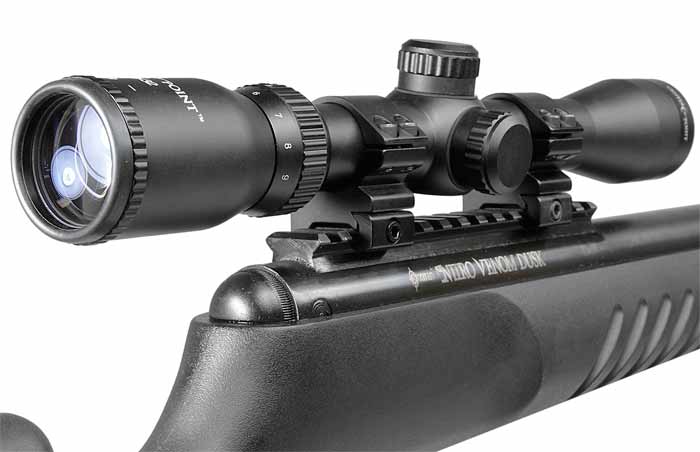 This gun doesn't come with traditional iron sight: no front sight, no rear sight.
But it does have a 4×32 scope to help you get accurate shots.
In case you want to upgrade the scope, Crosman has installed the accessory rail to help you do just that.
The rail is manufactured in the Picatinny style.
The Picatinny rail gives you more mounting options and you can swap scope from one gun to another.
Velocity, accuracy and power
This nitro piston rifle has a velocity of up to 950 FPS with alloy pellet and 800 FPS with lead.
This is high velocity compared to other .22 air guns on the market.
These kinds of velocity combined with .22 caliber give you a whopping 20 FPE in muzzle energy
Which is more than enough to deal with raccoons, rabbits, squirrels, chipmunk, possum, etc in 1 quick, clean shot.
Chrony test gives us the following results:
This break barrel rifle delivers:
644 FPS and 16.7 FPE with 18.1 grains JSB pellet,
800 FPS with JSB Match diabolo Exact Jumbo,
and 705 FPS and 15.79 FPE with 14.3 gr Crosman Premier hollow point.
That's pretty close to the manufacturer's numbers and the muzzle energy's still lethal to deal with pests and small varmints in 1 neat shot.
For Crosman Nitro Venom Dusk, various shooting tests have been conducted by different shooters with positive results.
The common shooting groups are:
5/8 at 10 meters,
1/4″ at 10 yards,
1/4″ at 23 yards with Crosman Premier hollow point,
dime size at 60 feet,
0.25" at 25 feet,
1/2″ at 20 yards,
3/8" at 10 meters with RWS field line superdome,
1/4″ at 50 yards,
less than 1" at 25 yards,
dime size at 10 yards,
1/2" at 30 yards,
1-1.5" at 40 yards,
1" at 20 yards,
1" at 40 yards with Crosman Hollow point,
dime size at 25 feet,
1/4″ at 50 feet,
silver dollar size at 75 feet,
1.25" at 35yards,
1/4″ at 35 yards,
1" at 25 yards,
0.5" at 10 yards,
3/4″ at 25 yards.
Some shooters can even manage to get:
a dime size group at 40 yards,
0.5" at 50 yards
and hit target at 150 yards.
Obviously, this is an extremely accurate air rifle with a shooting range of up to 50 yards.
Shooting Ability
The effective shooting range for this break-barrel gun is up to 50 yards.
You can use it to shoot spinners, pop the heads of the dandelions, blow up tin cans and dispatch small garden pests
Loudness
The Crosman Nitro Venom Dusk .22 produces very little noise thanks to nitro piston technology and the muzzle brake.
You can shoot this gun in your backyard without bothering your neighbors or take it to the hunt with all the stealth you need.
Specifications
Caliber: 0.22"
Velocity: 950 FPS with alloy, 800 FPS with lead.
Loudness: 3- Medium
Barrel Length: 18.63"
Overall Length: 44.75"
Shot Capacity: 1
Barrel: Rifled
Front Sight: None
Rear Sight: None
Scopeable: Picatinny
Trigger: Two-stage adjustable
Buttplate: Ventilated rubber
Suggested for: Target shooting/Plinking/Small game hunting/Pest control
Action: Break barrel
Safety: Manual
Powerplant: Gas-piston
Function: Single-shot
Body Type: Rifle
Weight: 7.4 lbs
Customer review
There are plenty of customer reviews for Crosman Nitro Venom Dusk.
Positive reviews show that people love its power, accuracy, great stock, and advanced technology.
On the other hand, there are some issues shown in negative reviews with this gun.
The first problem is many buyers complain that the gun is inaccurate out of the box.
However, if you clean the barrel and apply Blue Loctite to the stock screw to maintain consistent accuracy then this is a not serious problem.
The second issue is the trigger: unhappy buyers say that the trigger takes too long to pull and is unstable to shoot.
You can fix this by inserting a small washer into the trigger mechanism as shown in this video and it really smooths everything out in this air rifle.
Pros and Cons
Pros
Cons

Sturdy, durable stock
Remarkable slipping-proof grooves
Amazing muzzle brake
Remarkable beaver tail style
Stunning accuracy after break-in period
Mind-blowing power
Incredible, proven technology

Unstable accuracy out of the box
Trigger takes too long to pull
Price
The price for Nitro Venom Dusk .22 is about 150 dollars.
It's a reasonable price for the break barrel gun that integrates proven technology, delivers awesome power and accuracy.
Conclusion
The Nitro Venom Dusk .22 is a fabulous gun for the money.
It's the turnkey pest extermination kit for your backyard or you can use it simply for target shooting or plinking.
If you want a powerful and quiet rifle at the same time, this is the lethal powerhouse that you will love for the rest of your life.