Don't let the mediocre look of the product images fool you about this rifle.
This gun could be the one of the best value guns you can find on the market.
Read more to find out why.
Crosman Vantage – Guntype
This airgun is powered by Nitro Piston Technology. Read more about nitro piston technology here to see how it can make your gun sport more exciting.
Crosman Vantage NP has a caliber (the internal diameter of the bore) of .177 ( 4.5 millimeters). It is a single-shot, break-barrel gun with a rifled barrel. For more on how to choose the right air gun caliber for your game, see this post.
Stock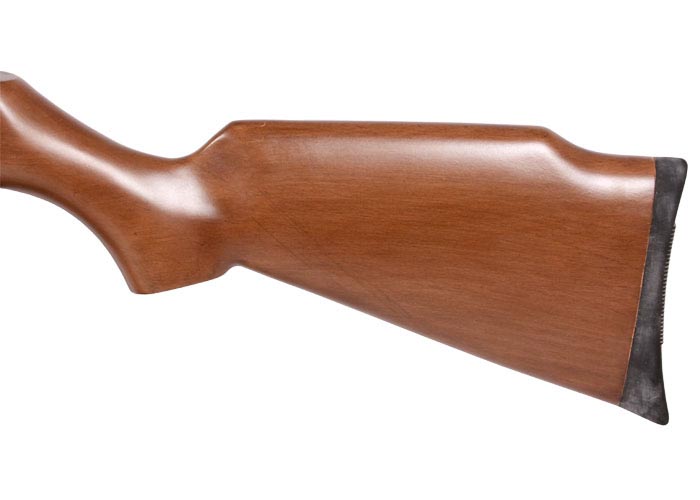 The stock is made of handsome, brown hardwood so it can endure impact, stress, and collision in daily life.
Moreover, hardwood can be refinished easily at any time so it has a very long lifespan.
Plus, the stock is ambidextrous so you can use this gun with ease whether you are a lefty or a righty.
Ammo
Crosman Vantage NP uses .177 pellets as its only source of ammunition.
Since the .177 is the standard caliber accepted by all global 10 meters shooting organizations,
.177 air guns are generally more accurate than other types of air rifles due to the given extra attention for it.
Besides, .177 is the easiest-to-find pellet in the store today and often costs less money than .22 or .25 pellets so it's very cost-effective if you shoot a lot.
For more on the differences between .177 & .22 and which jobs they do best, see this post.
Cocking and Loading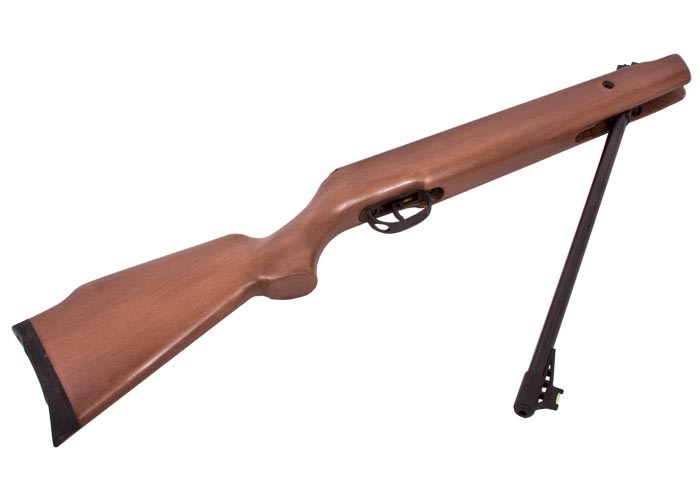 Cocking the gun:
First, put the gun ON SAFE, hold the gun by your side, then firmly tap the muzzle end to expose the breech.
Let the gun rest on your upper thigh and grasp the muzzle end.
Continue to pull the barrel down to its limitation to perform cocking action
Loading the pellet:
With the breech open after cocking, put the pellet (with the pellet's nose lying forward) into the breech.
Then pull the barrel up to its original position until it locks and you are ready to fire
Sight
Crosman Vantage NP comes with a traditional open sight which is elevated to satisfy the pickiest shooters:
The front sight is a fiber-optic sight that uses optical fiber for the dot so that it's brighter than the dark surrounding.
The rear sight is fiber optic sight, too, and it is fully adjustable for windage and for elevation.
Fiber optic sight gives you a huge advantage in low-light conditions and it provides faster target acquisition in normal circumstances.
Velocity, Power and Accuracy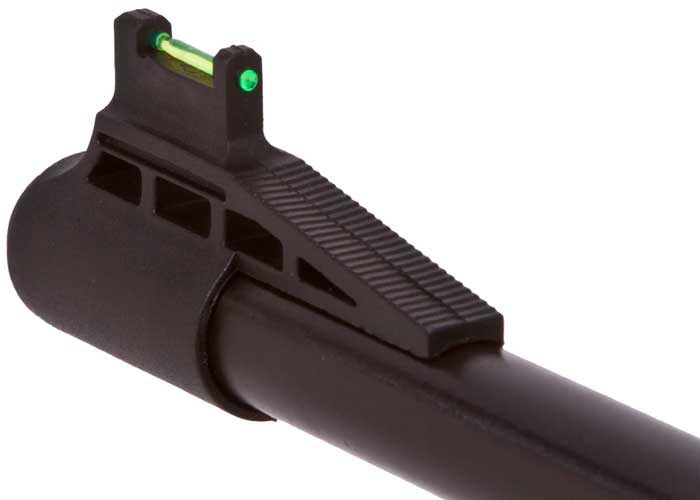 This air rifle boasts a velocity of up to 1200 FPS, which makes this rifle belong to the magnum class of air guns.
Since the speed of sound is about 1100 FPS (vary with altitude and temperature),
You can hear the loud crack if you use a lightweight projectile when shooting due to the super-fast pellet breaking the sound barrier.
Chrony tests give us the following results:
This nitro piston rifle delivers 930 FPS and 15.18 FPE with Crosman Premier Hollow Point pellet 7.9 grains.
Although it's not near the stated number of manufacturers, it still gives you more than enough knockdown power to take care of birds, starlings, squirrels, etc.
For Crosman Vantage NP, various shooting tests have been conducted by different shooters with positive results.
The common shooting groups are:
1-2" at 30 yards,
dime size at 40 feet,
1" at 30 yards,
less than 1" at 25 yards,
3/4″ at 20 yards,
1/2″ to 1 1/2″ at 35 feet
and 1.5" at 50 feet.
As you can see, this gun is a tack driver up to 30 yards .
Shooting range and intended use
The effective shooting range of this gas piston rifle is up to 30 yards. You can use this gun for target shooting, plinking, small game hunting, and pest control.
Maintenance
Crosman Vantage NP requires little maintenance:
Just remember to oil your gun with Crosman RMCOIL Chamber Oil to keep it as good as new .
Noise
Remember the claims of Crosman that Nitro Piston reduces 70% less noise?
Well, it's true in this case.
The Crosman Vantage received lots of praise for its quietness, some shooters said that this gun's even quiet like Benjamin Titan or Crosman Nitro Venom.
Specification
Caliber: 0.177"
Velocity: 1200 FPS
Loudness: 3 – Medium
Overall Length: 45"
Shot Capacity: 1
Barrel: Rifled
Front Sight: Fiber Optic
Rear Sight: Fiber Optic, fully adjustable for windage and elevation
Scopeable: 11mm dovetail
Trigger: Two-stage adjustable
Buttplate: Rubber
Suggested for: Plinking/Target shooting/Pest control/Small game hunting
Action: Break barrel
Safety: Manual
Powerplant: Gas-piston
Function: Single-shot
Body Type: Rifle
Weight: 7.1 lbs
Customer Reviews
There are lots of customer reviews about this gun.
In positive reviews, people love this gun because it's quiet, accurate, has great fit and finish, is easy to cock, and has enough power to get the job done.
They also think that although the scope is not top-of-the-line, it appears to be adequate.
There are few negative reviews about this nitro piston rifle, mostly concerned with defective products that they get but that's a predictable risk when you are buying online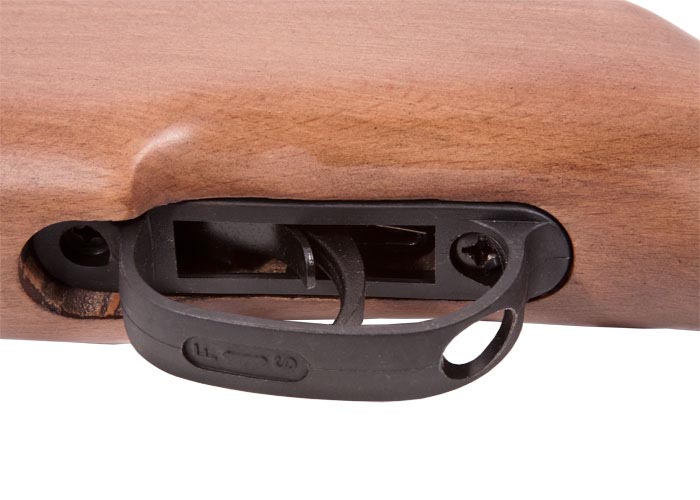 Pros and Cons
Pros
Cons

Quiet
Magnificent Nitro piston technology
Excellent craftsmanship
Outstanding accurate
Awesome power
Adequate scope

Imported from another country
Price
The price for Crosman Vantage is only about 90 dollars.
It's the best choice for the money and is a steal at this price.
In fact, this is the cheapest Nitro Piston gun available in the market.
Conclusion
The Crosman Vantage is an unsurpassed air rifle for the money.
It's like you buy a tuned gun, not only much smoother and much quieter, but it's also more powerful.
If you are looking for a decent, break barrel gun, with the added scope and proven nitro piston technology, this is a good deal to go for.