If you hate the idea of being caught in the rain with a wood stock air gun, you're going to love the Benjamin Trail NP .22.
This rifle is a nice combination of remarkable technology with a durable stock that's impervious to all kinds of bad weather.
It also has the potential to become your favorite pellet gun for the next few years.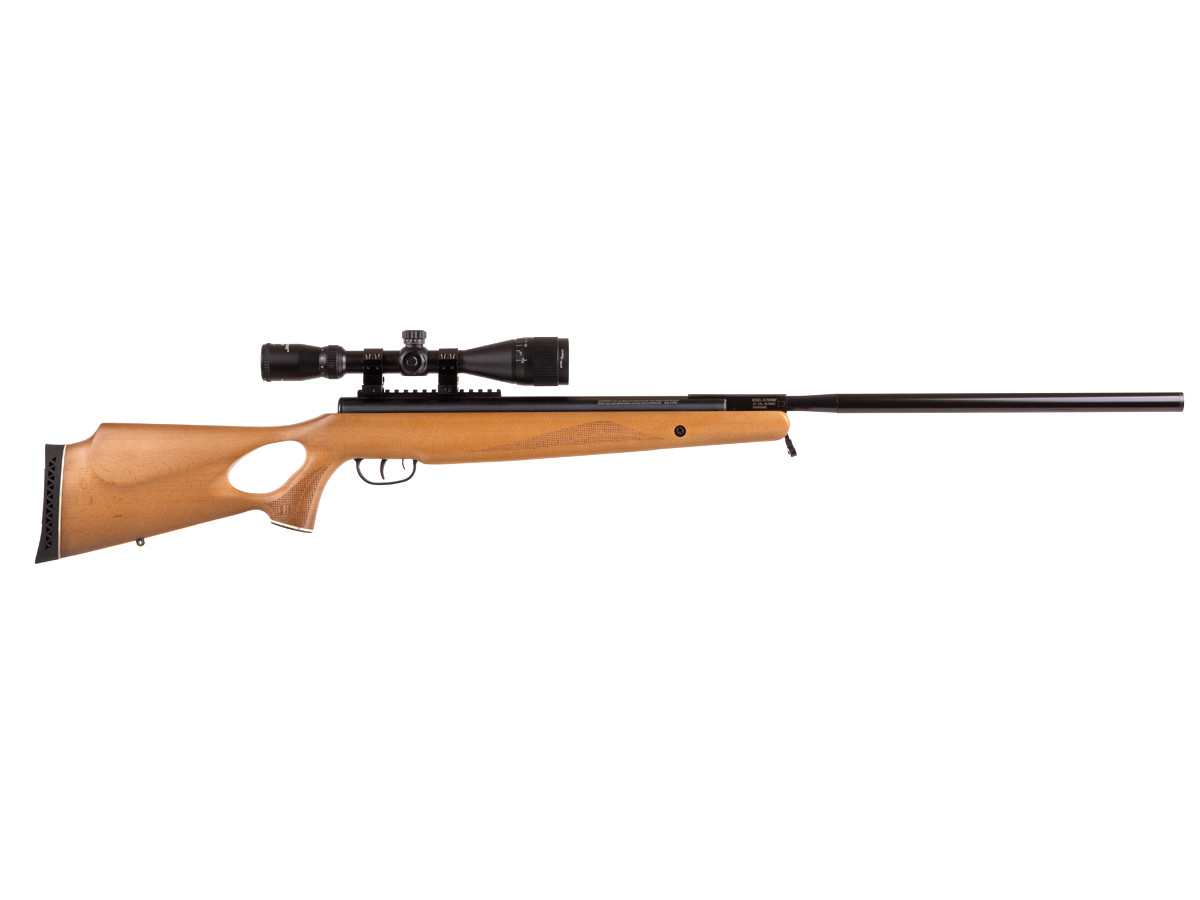 Gun Type
The Benjamin Trail NP is powered by Nitro Piston technology.
A nitro piston gun (or gas piston) works the same as the spring gun but it has a nitrogen-filled cylinder instead of a metal spring.
The air in the cylinder is already compressed and you apply more pressure to it when you cock the gun.
The pressurized air is kept under tension until you pull the trigger.
When you fire, the pellet is pushed downrange the barrel due to propellant force from compressed air.
A nitro piston rifle is lighter and lasts longer than a spring gun. Besides, it produces less recoil and is easier to cock.
Furthermore, it can be left cocked for days because there is no spring fatigue.
(For more on How nitro piston technology can make your gun sport more exciting, see this post)
The caliber (the internal diameter of the bore, measured in inches) is .22 (5.5 millimeters.).
.22 is the king of hunting and is the go-to caliber for hunters and pest eliminators.
(For more on how to choose the right air gun caliber for your game, see this post.)
Aside from this, this gun is a single-shot, break-barrel gun so you can only shoot once at a time.
After the first shot, you have to break the barrel to manually reload the pellet.
Single-shot guns make you a disciplined shooter:
you have to make your first shot count since you have only 1 chance to hit the animal target
Or it will run away laughing at your face when you are still busy with the reloading action.
The barrel is rifled with helical grooves inside the bore to make the pellet spin.
Spin stabilizes the bullet, improves accuracy, and enhances the shooting range.
Furthermore, the barrel is shrouded i.e. it has a jacket enclosing the barrel
And containing the violent release of compressed air from the muzzle.
It lets the pellet escape but forces the air to use up as much of its energy before it leaves the shroud, thus reducing the noise.
(For more on things you should know about air rifle barrels before buying, see this post.)
Stock
The stock is made of hardwood so it brings an intimate, authentic feel to your hand and withstands impact, shock, and abrasion.
It can be refinished easily at any time so it has a very long life span.
For more on the in-depth comparison between synthetic and wood stock, see this post.
This gun has a thumbhole in the stock
So it provides a more relaxed grip on your wrist by resting the stock on your wrist, as opposed to holding up the stock with your hand.
The thumbhole stock is best for hunters and shooters who spend lots of time in shooting positions, such as bench rest shooting.
This stock has twin raised cheekpieces on both the left and right sides of the gun.
Raised cheekpieces give you firm control in the shooting.
Furthermore, it has a textured grip and forearm to add friction to your hands when shooting, prevent slippage from the shooter's sweat, and increase stability when aiming.
The sling swivel stud is already mounted so you can put the sling on it anytime you need to carry the gun to the hunting field
Ammo
This gun uses .22 pellets as its only source of ammunition.
While .177 is lighter and sometimes doesn't deliver enough knockdown power to kill humanely,
the .22 pellet is heavier, more stable in its trajectory, and delivers enough energy to finish the job in one clean shot.
Thus, the .22 caliber is your best bet for small games or for eliminating pests in the garden.
(For more on the differences between .177 & .22 and which jobs they do best, see this post.)
Cocking and Loading
Cocking the gun:
First, put the gun ON SAFE, point the gun in a safe direction, hold the gun near your body and firmly tap the muzzle end to open the breach.
Next, let the gun rest on your upper thigh and grasp the muzzle tip.
Continue to pull the barrel down to its limitation to perform cocking action .
Loading the pellet:
With the breech opened after cocking, put the pellet (with the pellet's nose lying forward) into the breech.
The pull the barrel up to its original position until it locks and you are ready to fire.
Velocity, Accuracy and Power
The Benjamin Trail NP shoots up to 950 FPS (feet per second) with alloy pellets and up to 800 FPS with lead pellets.
This is a high-end velocity compared to other .22 air guns on the market and it allows you to hunt or drop pests at long range.
For this air rifle, various shooting tests have been conducted by different shooters with positive results. 
At 10 yards, Benjamin Trail NP delivers:
1" group with Crosman domed pellet 14.3 grains ultra magnum
And 3/4" with Crosman Destroyer 14.3 grains.
At 20 yards, it provides:
3/4" with H&N hollow point 12.65 grains,
less than 1" with Crosman pointed hunting pellet,
less than 1 " with Beeman FTS 14.72 grains,
less than 1" with H&N field target trophy 14.66 grains,
less than 1" with Beeman Crow Magnum 18.21 grains.
Also, the common shooting groups are:
1/2" at 30 yards,
1" at 25 yards,
1/2" at 30 yards,
1/4" at 50 yards,
less than 2" at 35 yards,
1/4" at 30 yards,
1" at 10 yards,
1" at 30 yards,
3/4" at 20 yards,
1" at 50 feet,
1/4" at 30 yards,
1/4" at 20 yard,
1" at 20 yards,
1/2″ at 50 yards,
1/4" at 25 yards, 
1/4" at 30 yards,
dime size at 30 feet,
3/8″ at 25 yard and
1/2" at 40 yards.
Some people can even manage to:
get zero at 50 yards,
hit ceramic doll and soda can at 100 yards,
zero at 30 yards,
dime size at 40 yards
and less than 1 " at 75 yards. 
As you can see, this gun is an awesome tack driver with a shooting range of up to 100 yards.
But does the Benjamin Trail NP have enough knockdown power for pest control and small game hunting?
Well, shooters report that they've dropped starlings at 90 yards, hit a squirrel at 75 yards, taken out a raccoon at 32 yards.
This rifle is the powerhouse you can trust to go hunting with or do pest control in the backyard.
(For more on the best air rifle for rabbits, see this post)
Sight
This gun doesn't have an open sight: No front sight, no rear sight.
But you don't need an iron sight since Crosman has installed an awesome 3-9×40 AO scope on it with a mil-dot reticle
So you can take comfort in knowing that your accuracy is greatly enhanced
(For more on how many types of air gun sights are out there and which one is suitable for you, see this post.)
Noise
With the Nitro piston Technology, Benjamin Trail NP produces minimum audible output.
It has hundreds of customer reviews without a single complaint about noise so you can shoot without disturbing your neighbors.
Shooting range and intended use
The effective shooting range for Benjamin Trail NP is up to 50 yards.
You can use this gun for target shooting, plinking, pest control, and small game hunting.
For more on the best air rifle for squirrels, see this post
Accessories
The accessories include the Weaver-style rings and unmounted 3-9×40 AO Centerpoint Scope.
Maintenance
The Benjamin Trail NP requires very little maintenance:
Just apply a few drops of Crosman RMCOIL every few hundred shots into the compression chamber,
Use a cloth to clean the external metal parts and you are fine.
Warranty
As of this date, the Benjamin Trail NP has a one-year limited warranty from the date of purchase
Specifications
Caliber: .22
Velocity: 950 FPS with alloy, 800 with lead.
Loudness: 3- Medium
Overall Length: 43"
Shot Capacity: 1
Cocking Effort: 33 lbs.
Barrel : Rifled
Front Sight: None
Rear Sight: none
Scopeable: Picatinny
Bookplate: Ventilated rubber
Suggested for : Small game hunting/plinking
Trigger Pull: 3.5 lbs
Action: Break barrel
Safety: Manual
Powerplant: Gas piston.
Function: Single-shot
Body type: Rifle
Weight: 8.0 lbs.
Customer Reviews
There are plenty of reviews on this nitro piston pellet gun.
Positive reviews show that people love it for its high-tech features, high velocity, awesome power, extreme accuracy, and sophisticated design .
On the other hand, there are some negative reviews — people complain about the trigger.
They say it takes too long to pull and makes them feel uncomfortable.
This problem can be solved in 2 ways: The first is to take some time to get used to it and practice proper shooting techniques.
The second is to buy an aftermarket trigger to replace with this one.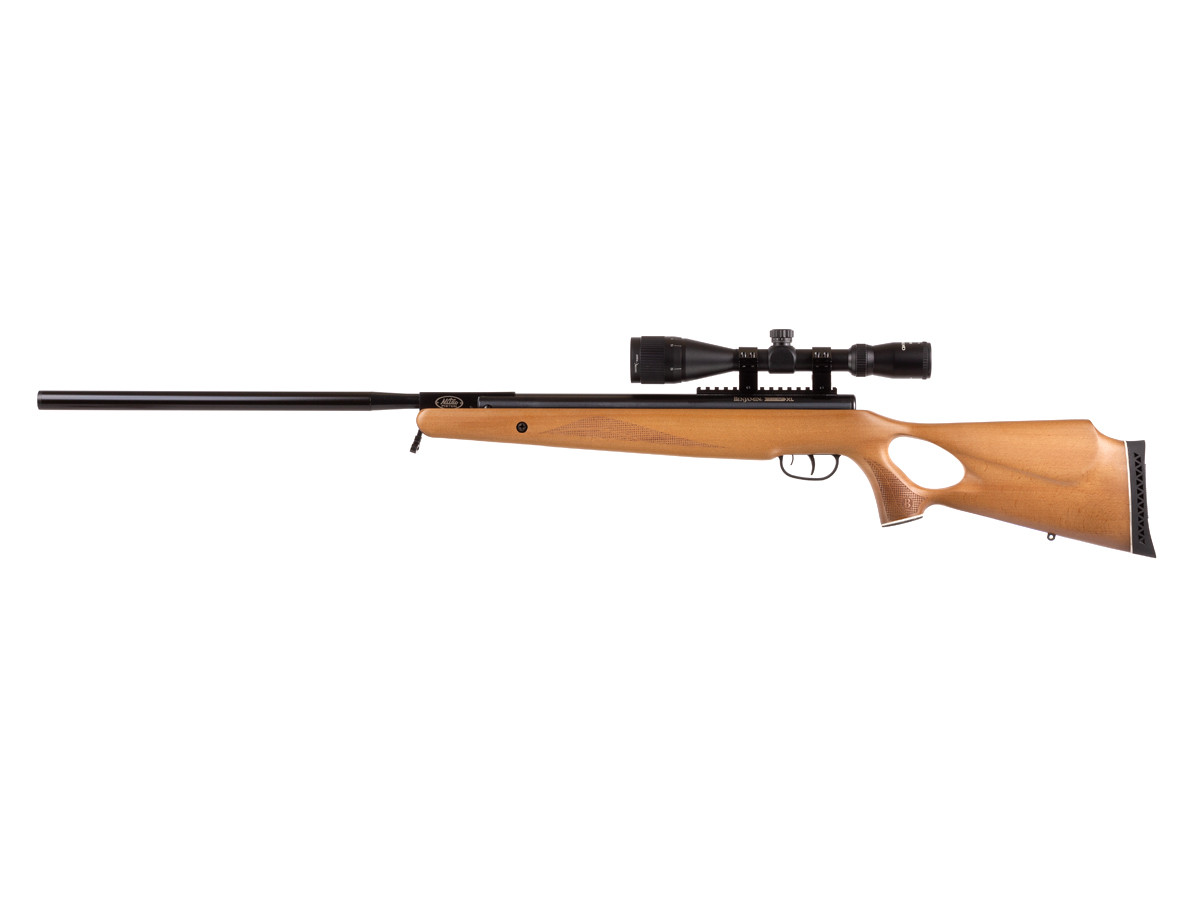 Pros
Awesome accuracy
Superb knockdown power
Durable stock with lots of amazing features
Great scope
Fantastic design
Advanced technology
Quiet and recoilless
Easy to cock and simple to use
Cons
Made in China
Trigger takes too long to pull (takes some time to get used to or can be replaced with an aftermarket trigger)
Price
The Benjamin Trail NP is only about $200.
It's very cheap if you consider lots of great features and technology this gun offers.
I'm sure you can get a high-end rifle to do a better job but it will cost anywhere from $500 to $2000.
Conclusion
The Benjamin Trail NP .22 has all you need for a successful hunting day.
It's quiet, powerful, accurate, recoil-less, and functions perfectly under any kind of weather.