Wednesday, July 2nd, 2014 at 9:08 pm

In the air gun market today, there are many air rifles made with nitro piston technology, even the best selling list on amazon.com has a bunch of nitro piston air guns at the top such as the Crosman Nitro Venom, Benjamin Trail XL 1500, Nitro Venom Dusk, Crosman Vantage and so on. In this post, we will take an in-depth look at the nitro piston air gun so you will know whether you need one, whether one is right for you, and whether you should buy one at all.
When nitro piston gun come to the market?
The very first air gun made with nitro piston technology was the Nitro Piston Short Stroke (NPSS). It was introduced publicly for the first time in the summer of 2009 by Crosman Corporation. Crosman had this technology licensed under the name Crosman Nitro Piston TM and used it for gun manufacturing in the wide range of air rifles.
How it works?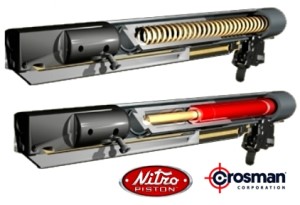 A nitro piston air gun is a spring gun without the spring. Instead of using a coiled spring as the power plant, it uses a nitrogen-filled cylinder. The nitrogen in this cylinder is already kept under pressure and you put more pressure to it when you cock the gun. The air is held under tension until you pull the trigger. When that happens, the pressurized air expands and propels the piston forward. The piston, in turn, comes abruptly at the air transferred port. The compressed air has nowhere to go but behind the pellet as the chamber is sealed completely. As a result, the pellet is pushed out of the barrel due to the driving force of the compressed air.
Advantages of nitro piston air gun
Nitro piston guns do have plenty of advantages in comparison with spring air guns. Here they are: