For someone who, to hear him tell it, had been "painting like a madman," 2023 DU Artist of the Year Richard Clifton seemed remarkably relaxed. The 60-year-old Clifton, who lives on a 115-acre farm adjoining the Prime Hook National Wildlife Refuge in southeastern Delaware, was preparing for his turn as the featured artist at the Waterfowl Festival in Easton, Maryland, and a production crew was arriving soon to get footage of him for a festival video.
Plus, as if he didn't already have enough on his plate, Clifton's furnace had stopped working, and his repair guy, like repair guys everywhere these days, was having trouble finding the parts he needed.
But if Clifton was feeling stressed, you couldn't detect it in his voice. A native son of Delaware who grew up on a farm just a few miles from the one he owns today, he talks the way farmers do-softly, evenly, and without an excess of emotion, as if he were describing the weather. You can hear it in the way he drops the g in words like "thinking" and "working," and you can hear his Tidewater accent in the way a word like oil comes out sounding like ohl.
His roots in the region run deep. "On my mom's side they were carpenters," he related, "and on my dad's side they were farmers. So I've got both those things in my blood. I can actually do a little bit of carpentry. I've built a deck around our swimming pool twice now-it got more extravagant the second time. And I know how to drive a tractor, work ground, and do those kinds of things."
At the moment Clifton farms some of his ground himself and rents the rest, but he's leaning toward taking over the entire operation. As he put it, "I want to see if I can get my farmin' legs back and make a little money off the place." He's thinking, too, of a crop rotation that will allow him to harvest a short-season corn variety in early August, then plant Japanese millet. "Lord willin' and the creek don't rise," Clifton explained, "the millet would make heads by mid-October."
In other words, just in time for the waterfowl season.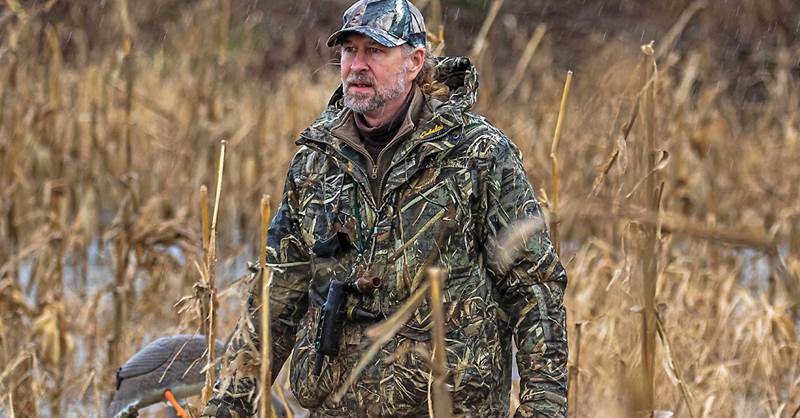 The tradition of waterfowl hunting also runs deep in Clifton's family. A good portion of the property now encompassed by the Prime Hook refuge was originally "Clifton land," and while he missed out on some of the marsh gunning his father and uncles enjoyed when he was growing up, he took full advantage of the field hunting opportunities available to him. To the best of Clifton's knowledge, in fact, he was the first person in those parts to hunt snow geese with a rag-style decoy spread.
"I had this idea," he recalled with a little laugh, "that I could drape white kitchen trash bags over corn stubble. The first time I tried it I went by myself, so if it turned out to be really dumb no one else would know. But it turned out that the geese fell for it. I killed a limit of snows and a couple of Canadas that first day, and after that it was game on for several years until the birds got wise to it."
At the same time that the teenaged Clifton was getting his legs under him as a waterfowler, the art he saw in the pages of magazines like Ducks Unlimited, Sports Afield, and Field & Stream planted the seed of another idea. He began thinking that it might be possible to emulate the likes of David Maass and Jim Killen, to name a couple of the artists whose work inspired him, and carve out a career painting ducks and geese.
"I was starting to have that dream," he told me. "And I wondered if I was capable of doing something like that. It turned out that I was, but way back then it was just a dream. You're thinking, lsquo;Man, it would really be something if I could be like one of those guys.'
"And now I'm a four-time DU Artist of the Year, which is pretty exciting. I also just learned that I won the Delaware duck stamp contest for the 10th time. If you're counting, and some people are, that gives me 54 duck stamps altogether, including two federal duck stamps."
Not bad for an artist who's entirely self-taught and, in his own words, "figured things out mostly by trial and error."
For his 2023 DU Artist of the Year image, Green-Wings Across the Bow, Clifton chose to fill the frame with a small flock of vividly realized American green-winged teal buzzing the bow of an ancient wooden boat-a boat that, over the years, has become as much a part of the marsh as the cattails themselves. It's the second time he's depicted greenwings for his Artist of the Year painting. When I asked him about that he replied, "To me they're an iconic duck-hunting species. I have old photos of my dad and uncles after a day of hunting on land that's now part of the refuge. They're holding their double-barreled shotguns, and most of the ducks in their bags are green-winged teal.
"I've always felt a special pull from greenwings. They're emblematic of the tradition of waterfowl hunting in my family. That's why I wanted to incorporate the boat into the image, to include a piece of that tradition."
To see more of Richard Clifton's work, visit richardclifton.com.
Ducks Unlimited's 2023 National Art Package Contributing Artists
Manitoba Morning by Bruce Miller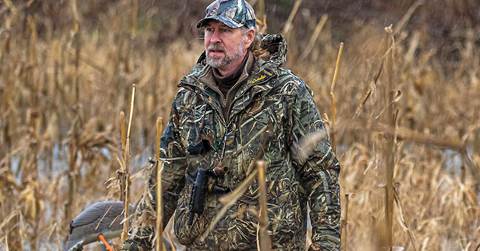 Bruce Miller is a native Minnesotan and a passionate sportsman, and his art is inspired by his experiences in the outdoors. Miller has won over 50 awards for his work, and his paintings have been featured in many art shows in both the United States and Canada. His work has been featured in the DU National Art Package more than 10 times. This year's print features a regal black Lab focused on ducks circling below an overcast sky.
Droppin' In by Scot Storm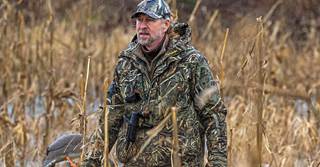 Scot Storm's artwork reflects his efforts to re-create the excitement and drama of encounters with wildlife in the great outdoors. Storm has won the federal duck stamp competition twice and has been named DU's Artist of the Year three times. His love of hunting and the outdoors inspired him to step away from a successful architecture career and pursue his love of wildlife art. Storm's painting Droppin' In depicts two groups of pintails descending into a marsh in front of a rainbow-lit sky. In the background, a flock of American green-winged teal buzz the surface of the wetland.
2022/2023 Federal Duck Stamp Print by Jim Hautman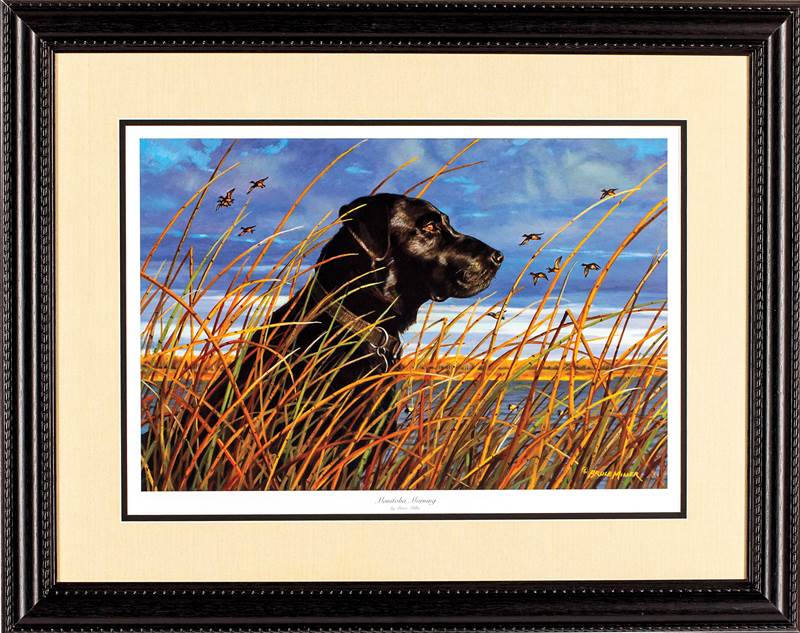 Jim Hautman has won the federal duck stamp contest a record-setting six times. He and his brothers, Joe and Bob, are probably the most famous family in the world of wildlife art. Each brother is an accomplished painter, and they owe their inspiration to their mother, who is also a talented artist, and their father, who instilled in his sons a love for the outdoors. Jim's latest duck stamp painting features a pair of redheads in rough water under a menacing sky. DU is offering a gorgeous print of this historic painting framed, double matted, and inlaid with a DU crest medallion and a carved feather.
2023 DU Stamp Print by Adam Grimm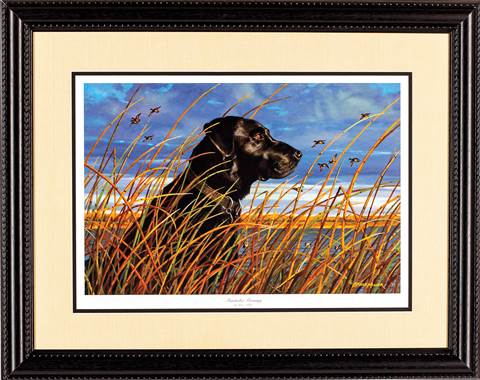 In 1999, at the age of 21, Adam Grimm became the youngest person to ever win the federal duck stamp competition. Since then, he has attained widespread recognition as one of the country's most talented wildlife artists. His painting of a pair of green-winged teal graces the 40th Ducks Unlimited stamp. The stunning package, which is available at DU events, includes a mint stamp, an artist-signed stamp, a matching print, and a stamp medallion.
Ducks Unlimited's Guns of the Year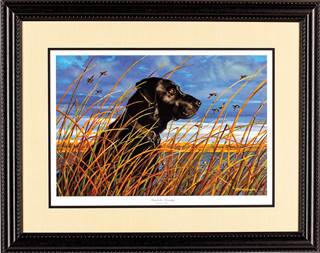 DU's 2023 Rifle of the Year is a Christensen Arms Mesa bolt-action rifle chambered in .308. It has a custom-colored bronze stock with a black Cerakoted barrel and action and comes with a mounted Leupold VX Freedom 3-9×50 scope with Leupold's proprietary Firedot illumination technology. This handsome rifle also includes the Ducks Unlimited logo on the floor plate and bolt knob and comes with a hard plastic gun case and gun lock.
DU's Shotgun of the Year for 2023 is a Benelli Super Black Eagle 3 (SBE3) in 28-gauge. This semiautomatic shotgun has a 3-inch chamber, 28-inch highly polished blued barrel, coin-finished receiver, DU exclusive oil-finished walnut stock, and engraving featuring a gold-inlaid waterfowl scene and the DU logo. The engraving complements that of DU's Guns of the Year from 2019 and 2022-a 12-gauge SBE3 and a 20-gauge SBE3, respectively. This beautiful firearm comes with five extended choke tubes, a special DU serial number, and a gun lock.
The 2023 Handgun of the Year is a Springfield Garrison 1911 semiautomatic pistol chambered in .45 ACP. This eye-catching pistol features a carbon steel frame and slide, custom 24-karat gold engraving, a five-inch barrel, and additional custom DU engraving on wooden grips. Made in the United States, this firearm comes with a hard case and gun lock.
Continue Reading