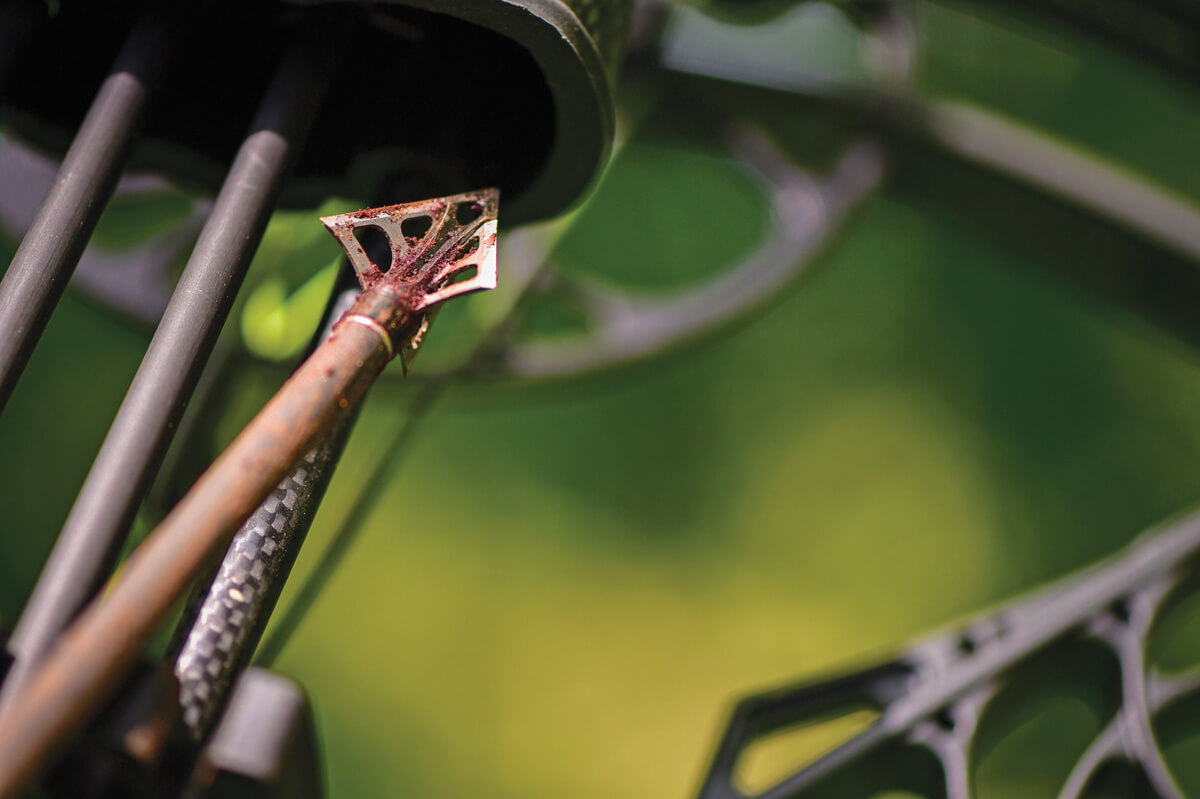 This year marks a major milestone here at Petersen's BOWHUNTING — our 10th Anniversary Broadhead Test. Oh, what a journey it has been. When I consider the time (weeks) and energy it takes to do our annual broadhead test, it amazes me we ever made it to year two!
Back when we first began in 2013, we unknowingly set ourselves up for a testing marathon by tackling 25 broadheads — 13 fixed-blade models and 12 mechanicals — at once. None of our tests were proven, forcing to us to run back and forth to the hardware store for additional supplies as we adjusted on the fly. We were also forced to acquire additional test heads from the stock inventory at Lancaster Archery Supply, because we were running out as we forged ahead like madmen through an extended period of trial and error.
They say experience is a great teacher, and that's certainly true in our case. I'm pleased to report we've become not just older but wiser over the past decade, alternating our annual test between fixed-blade heads and mechanicals to keep our workload manageable and give manufacturers additional time to release new models in each category.
But while we've changed some things and have continually refined our testing procedures, one big thing that has not changed — and never will — is our commitment to doing whatever it takes to make this the most consistent, credible and unbiased broadhead test available to bowhunters anywhere. The cornerstone of our testing is a desire to create a level playing field for all, and over the years we've eliminated some tests that did not meet this high standard and modified others to ensure they do.
Perhaps the biggest single testing improvement we've made over the years came in 2014, when we upgraded the shooting platform to our custom-built, one-of-a-kind X-Ring Machine that is far superior to any commercially available shooting machine. Weighing more than 200 pounds, the X-Ring Machine offers rock-solid stability along with micro-adjustable windage and elevation and a laser sighting system! Driven by a servo motor, the draw sled that pulls the bowstring back rides on linear slides and is controlled by draw-position sensors. The X-Ring Machine is also controlled via proprietary software that takes precise measurements during the draw cycle and automatically calculates data for things such as kinetic energy and dynamic efficiency. Another milestone that came in 2014 was the decision to outsource broadhead sharpness testing to CATRA (Cutlery & Allied Trades Research Association) in the United Kingdom. That's right; we ship broadhead blades all the way across the Atlantic Ocean to give you the most accurate and reliable sharpness comparison available!
During our 10-year broadhead testing journey, we have been invited to use some great facilities near our Pennsylvania headquarters, including ranges at Black Eagle Bowmen, Lancaster Archery Supply, Weaver's Archery and Drop Tine Archery. As for the testing itself, we're pleased to report that more than 40 manufacturers have submitted broadheads for evaluation, not to mention additional manufacturers such as Mathews, PSE, Bowtech, Last Chance Archery and Rinehart Targets have donated bows, targets and other equipment to assist in our testing.
In summary, the past decade has allowed us to build a significant depth of experience and expertise in broadhead testing and demonstrated that we'll go to great lengths to bring you only the most technically sound and relevant data possible — no bias and no BS! This year, we dive deep into 14 of the hottest fixed-blade broadhead options with tests that measure penetration, durability, blade sharpness, flight precision and more. It's our hope that you enjoy reading the results as much as we enjoy bringing them to you.
Annihilator 100 XL
Annihilator is a relative newcomer to the archery world; however, they have turned plenty of heads and built a solid following in a short time. The nearly indestructible 100 XL is made from a single piece of 4140 alloy steel and hardened to Rockwell RC 52. Edges are beveled at 30 degrees to enhance edge retention and durability and are easily re-sharpened on a flat stone. The unique, scooped-out shape is without cutouts or vents and designed to quietly fly like a fieldpoint at long range and cause maximum damage through wound channels that won't close up and induce pressure changes inside the animal's body. The 100 XL has proven effective with all bow styles and a wide range of arrow/bolt speeds. Sporting a 1.0625-inch cutting diameter, these heads are made in the USA and guaranteed to weigh within ±.2-grain of one another.
$62.99 per 3 | annihilatorbroadheads.com
Top Test Finishes: 1st in Double Combo Penetration and Hemorrhage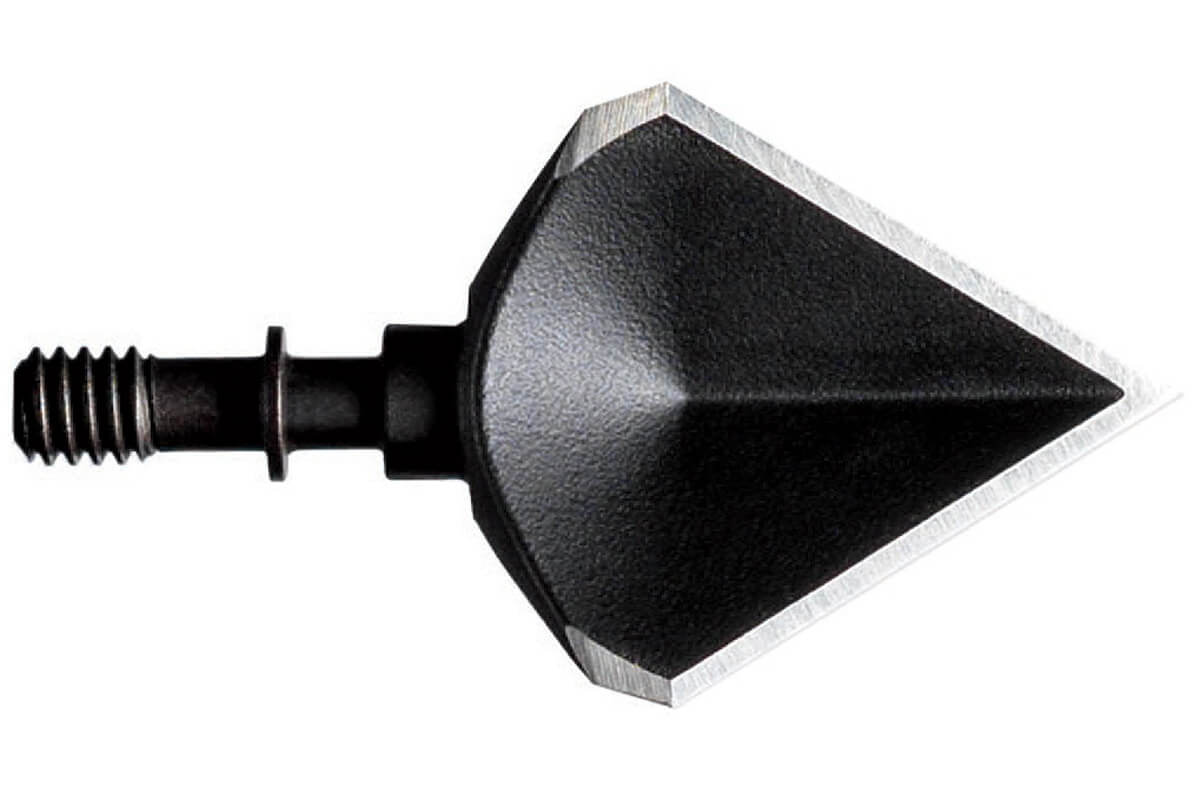 Cobra Barbarian
Cobra jumps into the broadhead market with the Barbarian line that includes both fixed and mechanical heads. Cobra's FXT (Fixed Crossbow Titanium) heads were originally intended exclusively for the crossbow market, but the company wanted compound users to have the opportunity to shoot them as well. So, Cobra came up with a two-collar system. The straight collars match up with bolt diameters, and the tapered collars are more in line with standard arrow diameters. Cobra's solid, one-piece ferrule is made of titanium to take advantage of its high strength-to-weight ratio and overall durability. Blades are replaceable and made of 420 stainless steel that is .033-inch thick. The Barbarian's cutting diameter is a generous 1.25 inches and its trocar tip is designed to take on the harshest of shots. Heads are spin-tested at the factory.
$54.99 per 3 | cobraarchery.com
Top Test Finish: 4th in Total Cutting Potential
Firenock Dagger
Firenock is known for engineering products and components that work well together. In fact, their Traumahawk broadhead was designed specifically to work with the company's airfoil-based Aerovane; however, it required too much speed and power for some applications. Enter the Dagger, which has fewer use restrictions for a wider range of applications. This head is made from 420 stainless steel and uses compound single bevels providing rotation to, and through, the animal. The rotation inside the animal is advertised to cause cavitation resulting in faster death. Metal Injection Molding (MIM) during the manufacturing process makes the Dagger even more effective. The two-blade head has a 1.01-inch cutting diameter and a cut-on-contact design for maximum penetration.
$69.95 per 3 | firenock.com
Top Test Finish: 10th in Hemorrhage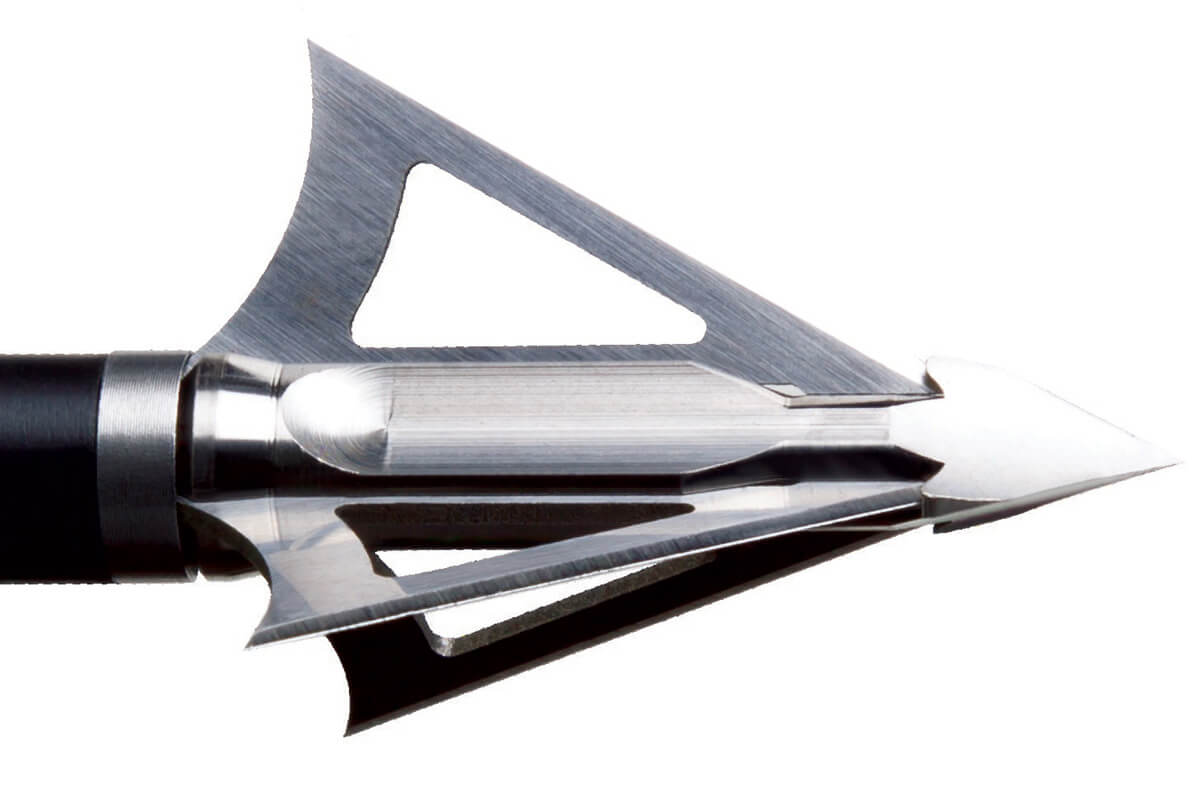 G5 Striker X
G5 continues to bring top-notch heads to market with the new Striker X fixed-blade broadhead. The Striker X features four replaceable Lutz blades that have a reputation for being super sharp and a track record to back it up. The four blades, each measuring approximately 1 inch long, create a 1.25-inch cutting diameter. G5 broadheads are spin-tested at the factory and advertised to have improved flight characteristics versus the competition. The all-steel Striker X is also available in a crossbow model and comes in your choice of 100 or 125 grains. A BMP practice head and blade-replacement kits are also available.
$46.95 per 3 | g5outdoors.com
Top Test Finishes: 1st in Total Cutting Potential, 4th in Hemorrhage and 5th in Sharpness
Grim Reaper Micro Hades
Grim Reaper, known for creating devastating broadheads, designed the new, 3-blade Micro Hades to maintain excellent flight performance at any speed produced by today's compounds and crossbows. The Pro Tip is hand sharpened and built to bust through bone. With its 100-percent stainless steel construction, the Micro Hades is made to withstand anything you can throw at it. The .035-inch thick, 440 stainless blades, which reach to a 1.0625-inch cutting diameter, are anchored to the ferrule with Grim Reaper's four-point blade locking system. Made in Provo, Utah, the Micro Hades is all about inspiring confidence through durability, lethality and overall performance.
$39.99 per 3 | grimreaperbroadheads.com
Top Test Finishes: 2nd in Sharpness and 3rd in Double Combo Penetration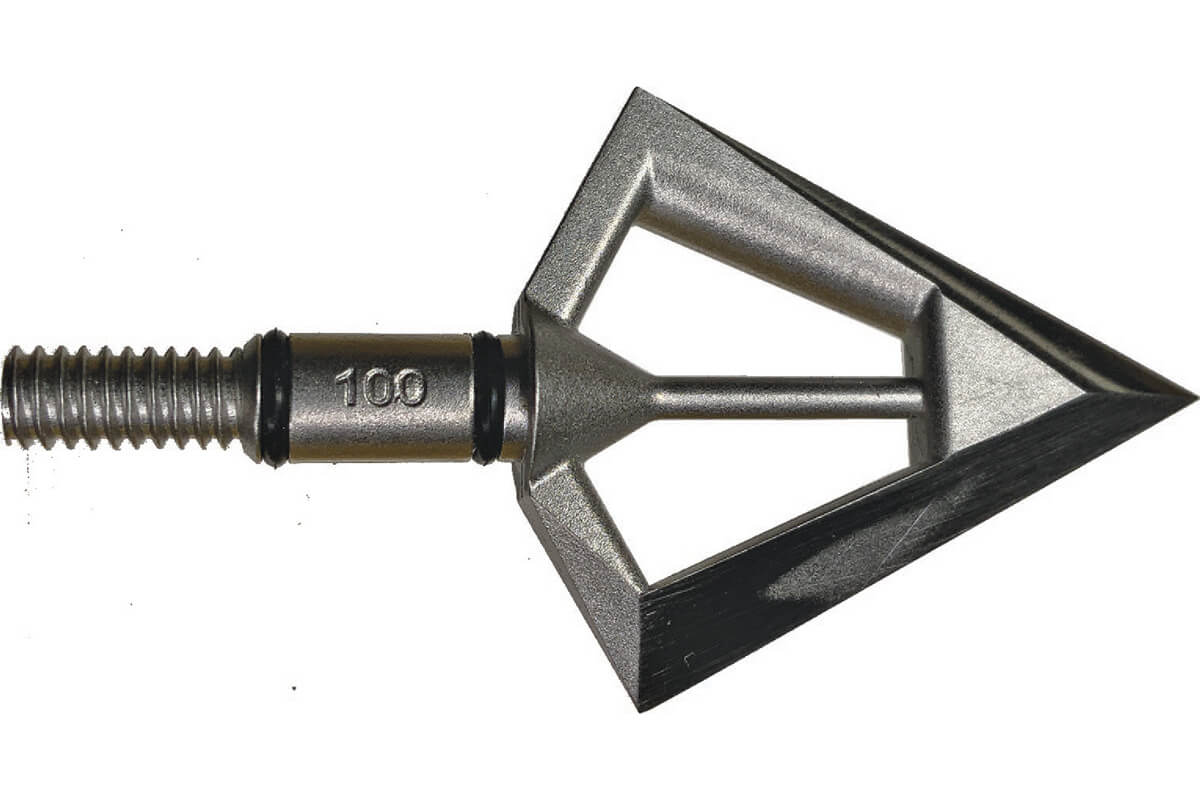 Innerloc American Eagle
Innerloc's Patriot Package — including three American Eagle broadheads, six eagle-inspired, patriotic arrow wraps and a Deadly by Design Innerloc Country can cooler — was put together as a tribute to all American patriots. The American Eagle broadhead features a red, white and blue anodized aluminum ferrule that sports an eagle stamp at its base along with eagle-shaped blade cutouts. The 3-blade head weighs 100 grains and produces a 1-inch cutting diameter. Innerloc's proven Center Locking System uses matching bevels on the ferrule and stud to create a self-aligning, clamping action for the .027-inch thick, L-shape blades with bases that match the inner-diameter of the ferrule. The company's Endur-Edge is built through specialized manufacturing and tempering processes to create a durable edge that will hold its form and sharpness.
$35.99 per 3 | innerloc.com
Top Test Finishes: 3rd in Triple Combo Penetration and 4th in Sharpness
Muzzy Merc
Muzzy, one of the most trusted broadhead manufacturers, builds its new, 3-blade Merc with a one-piece, solid stainless steel ferrule to ensure toughness. The ferrule shape and venting, along with the Hybrid Cut-on-Contact Tip, promote quiet flight and increased penetration. The .030-inch thick blades transition smoothly into the correlating edges of the ferrule for a continuous cut from tip to the blades' base. Blades are generously vented, have a 1.0625-inch cutting diameter and are locked in place by an aluminum blade-retention collar. Muzzy says the Merc's unique geometry and venting deliver stable flight and extreme bloodletting.
$44.95 per 3 | feradyne.com/muzzy-broadheads
Top Test Finishes: 1st in Sharpness and 2nd in Triple Combo Penetration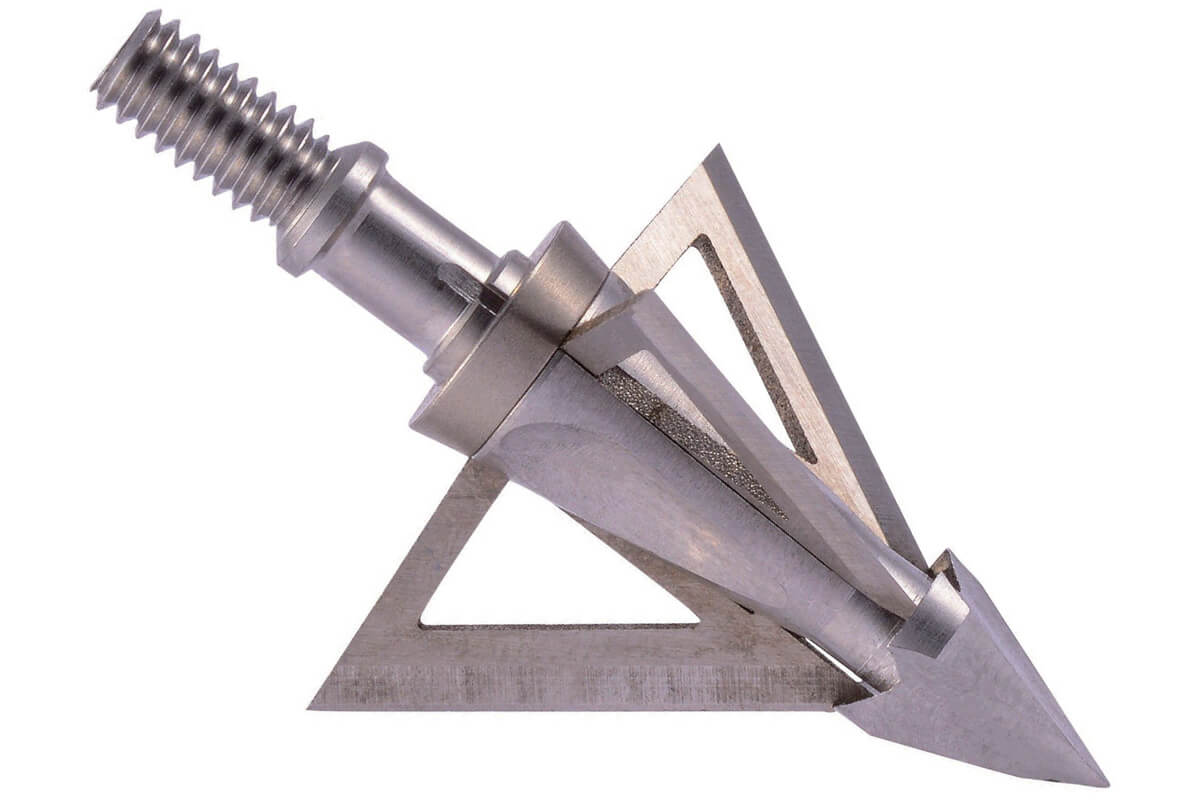 NAP Endgame
NAP machines its 2-blade Endgame from a single piece of Grade 5 titanium to achieve precision while taking advantage of the material's impressive strength-to-weight ratio, tensile strength, ruggedness and corrosion resistance. The oversized Bone Breaker Tip, machined directly into the titanium structure, is designed to cut on contact for greater penetration. An X-Lock blade-retention system secures the .031-inch, replaceable, stainless steel blades to the ferrule. Cutting diameter is 1.1875 inches. All heads are spin tested at the factory to ensure optimum performance, and a set of replacement blades and practice blades are included.
$54.99 per 3 | newarchery.com
Top Test Finish: 3rd in Hemorrhage, 4th in Double Combo Penetration and 5th in Triple Combo Penetration
QAD Exodus
QAD broadheads are unique in their design, as they employ Blade Over Shaft technology that anchors the blades to a very short ferrule while allowing the length of the blades to reach back over the shaft. The ferrule length and hardened stainless steel tip equal that of a fieldpoint, which reportedly improves flight characteristics and accuracy. This compactness also increases penetration and pass-throughs. The three, .040-inch thick stainless steel blades are set at a steep angle to reach a 1.25-inch cutting diameter in a short distance. Blades are replaceable; the head comes in 85, 100 and 125 grains in swept-back and full-blade models.
$42.99 per 3 | qadinc.com
Top Test Finish: 1st in Triple Combo Penetration, 2nd in Double Combo Penetration, 5th in Total Cutting Potential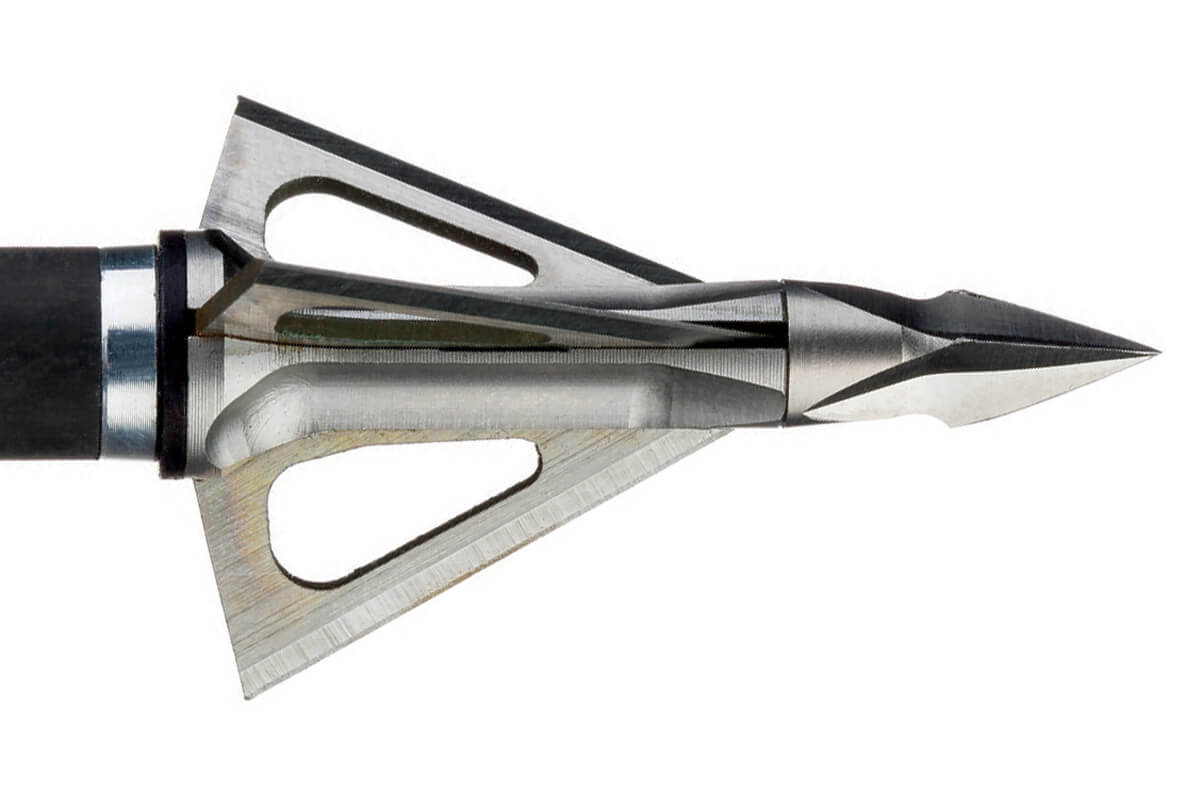 Slick Trick SS3
Slick Trick's new-for-2022 SS3 is a single-piece head machined from a solid block of 416 stainless steel and finished with a black-oxide coating. There are no blade vents or separate pieces — this is a solid unit from top to bottom, which is advertised to reduce flight noise, increase strength and maximize durability. The three, built-in blades produce a cutting diameter of 1.125 inches. A proven mix of overall geometry and weight distribution are said to create laser-like flight from any bow. Slick Trick designed the blades to stabilize the head quickly and leave a slug-like hole in whatever you put it through. The chisel tip is built to be aerodynamic and begin cutting on impact for increased penetration.
$47.99 per 3 | slicktrickbroadheads.com
Top Test Finish: 5th in Double Combo Penetration
Swhacker Levi Morgan #262
Known for its popular mechanical heads, Swhacker also has a substantial fixed-blade offering. Swhacker founder Rick Forrest teamed up with one of the planet's best archers in multi-time world champion Levi Morgan to design the new #262 fixed-blade broadhead. The 3-blade, 100-grain head features a black-anodized, aircraft-grade aluminum ferrule and a hardened, high-carbon steel chisel tip that is advertised as cut-on-contact. Blades are made of stainless steel, have a .032-inch thickness and produce a 1.25-inch cutting diameter. The swept back, independent blades rotate when pulled back so they are not considered barbed.
$54.95 per 3 | swhacker.com
Top Test Finish: 3rd in Total Cutting Potential and 5th in Hemorrhage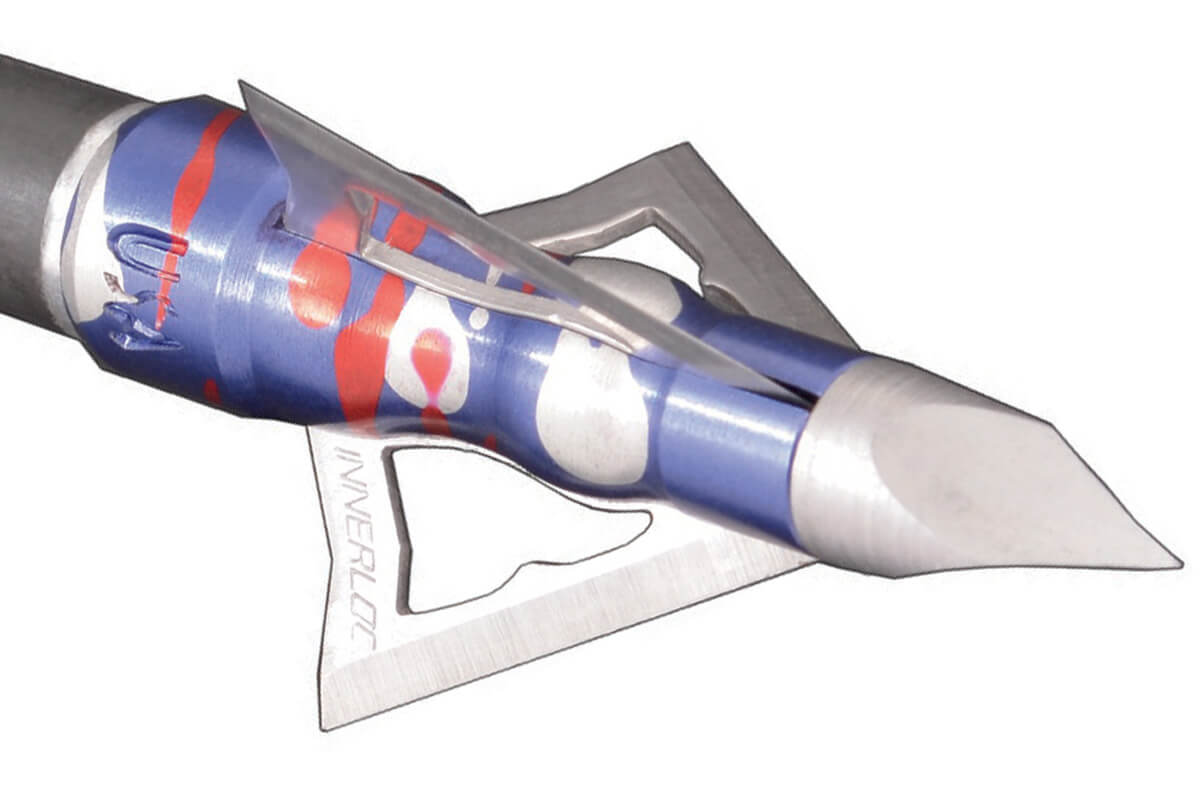 SYKD Hunt Endurance
SYKD Hunt enters the fixed-blade broadhead arena with the 3-blade Endurance, featuring a 1-inch cutting diameter. SYKD says the optimized design allows the Endurance to be used with both compounds and crossbows. Blades are made of stainless steel, measure approximately .028-inch thick and are individually hand-sharpened. A front-end, blade-locking system is designed to secure the blades during flight and penetration. The aggressive chisel tip is built to bust through bone, causing maximum damage and increasing penetration.
$32.99 per 3 | sykdhunt.com
Top Test Finish: 6th in Triple Combo Penetration
Tooth of the Arrow S-Series XL
The 4-blade S-Series XL has a 1.1875-inch cutting diameter, and it's machined from one piece of high-carbon steel, heat-treated for strength and durability.
Blade edges are sharpened at 45-degree angles and designed to create large entry and exit wounds. The compact ferrule puts 70 percent of the head's weight in line with the arrow shaft and, when coupled with the low-profile design, enhances aerodynamics and optimizes flight characteristics. A chisel point offers maximum impact on bone, and black-oxide plating protects the head, which comes in 100, 125 and 175 grains.
$49.99 per 3 | toothofthearrowbroadheads.com
Top Test Finish: 2nd in Total Cutting Potential and Hemorrhage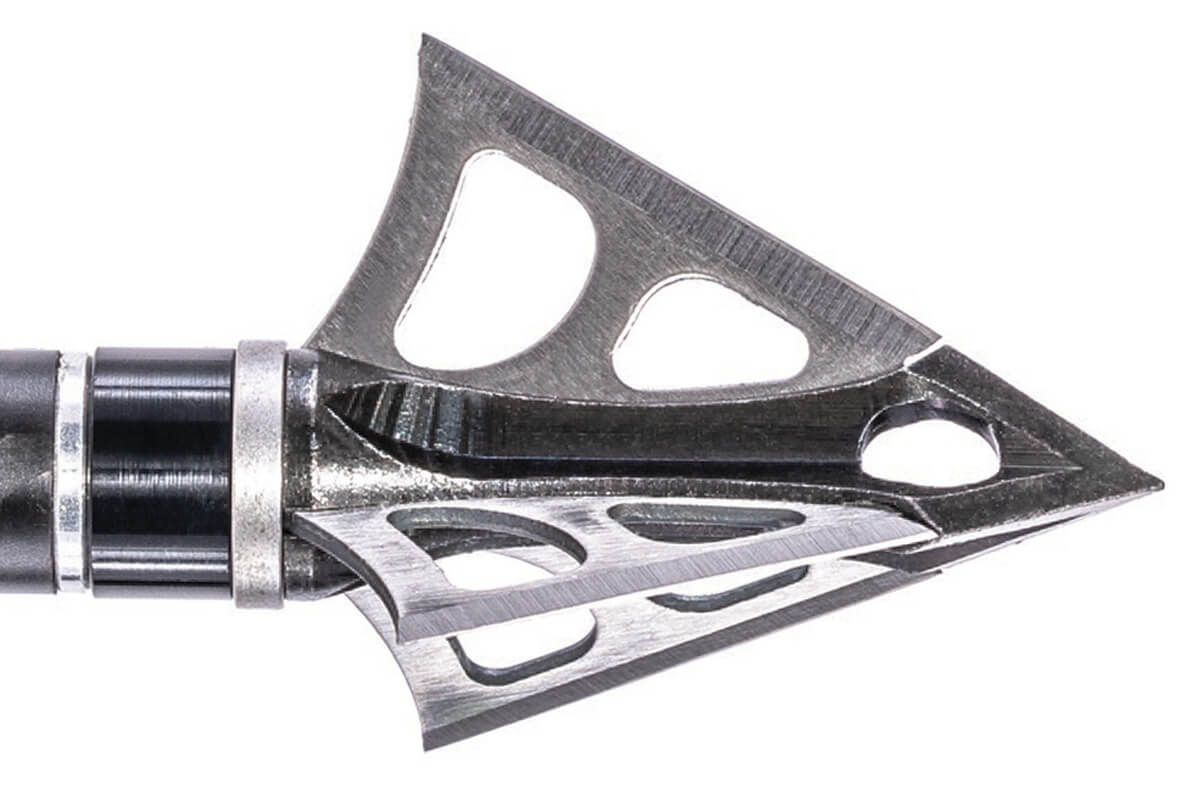 Wasp Mortem
Wasp demonstrates its dedication to producing some of the most durable heads available by outfitting the new Mortem with a one-piece, stainless steel ferrule. Sitting atop the ferrule is a solid, one-piece stainless steel trocar tip that is hardened for strength and durability, precision-machined and perfectly aligned with the blades to increase penetration from any shot angle. Three stainless steel blades, sharpened to a surgical edge, reach out to produce a 1.125-inch cutting diameter. Blades are easily replaced.
$33.99 per 3 | wasparchery.com
Top Test Finish: 3rd in Sharpness and 4th in Triple Combo Penetration
Test Philosophy
Our goal is to objectively test a series of characteristics critical to the successful completion of a broadhead's mission — killing game quickly. Tests are conducted with materials and processes that result in accurate, unbiased results. Since conducting our first broadhead test in 2013, we have built on our experiences year after year and continuously made enhancements and modifications where they will benefit the test and, in turn, the reader. We use technology such as the Petersen's BOWHUNTING X-Ring Machine that is advanced far beyond any commercially available shooting machine and an IDT Motion Xtra N4 high-speed video camera. Where we do not have the resources to conduct our own testing, we source it from outside. For example, we ship broadhead blades all the way across the Atlantic to have sharpness measured by the Cutlery & Allied Trades Research Association in Sheffield, England.
Test Setup
A Mathews V3X was set up with a 29-inch draw length and 65-pound draw weight. It was equipped with a NAP QuikTune 3000 arrow rest and D-loop. Three dozen factory fletched Easton FMJ 340 arrows were cut to 29.375 inches long and weighed at 376 grains (not including point weight). Completed arrows weighed 476 grains (with 100-grain broadhead or fieldpoint) and flew at 272 fps as measured by our chronograph. The Mathews V3X bow was mounted to the X-Ring Machine and tuned with the Easton arrows to achieve a perfect bullet hole at various distances. This setup was used for all test shots except the Hemorrhage Test, which was conducted as noted below.
Physical Dimensions: A Mitutoyo 8-inch dial caliper was used to determine the size of each broadhead's cutting diameter, blade length, blade thickness and the length of the head beyond the end of the arrow. Cutting diameter on 3-blade heads was calculated by laying two of the blade tips along one jaw of the caliper and the third on the opposite jaw. That number was divided by 1.5 and then multiplied by 2. Example: Greatest distance is .75/1.5 = .5 x 2 = 1-inch cutting diameter.
An Easton Digital Grain Scale, calibrated according to manufacturer instructions, was used to determine the mass weight of each individual broadhead. Three separate heads were measured and averaged for a final result.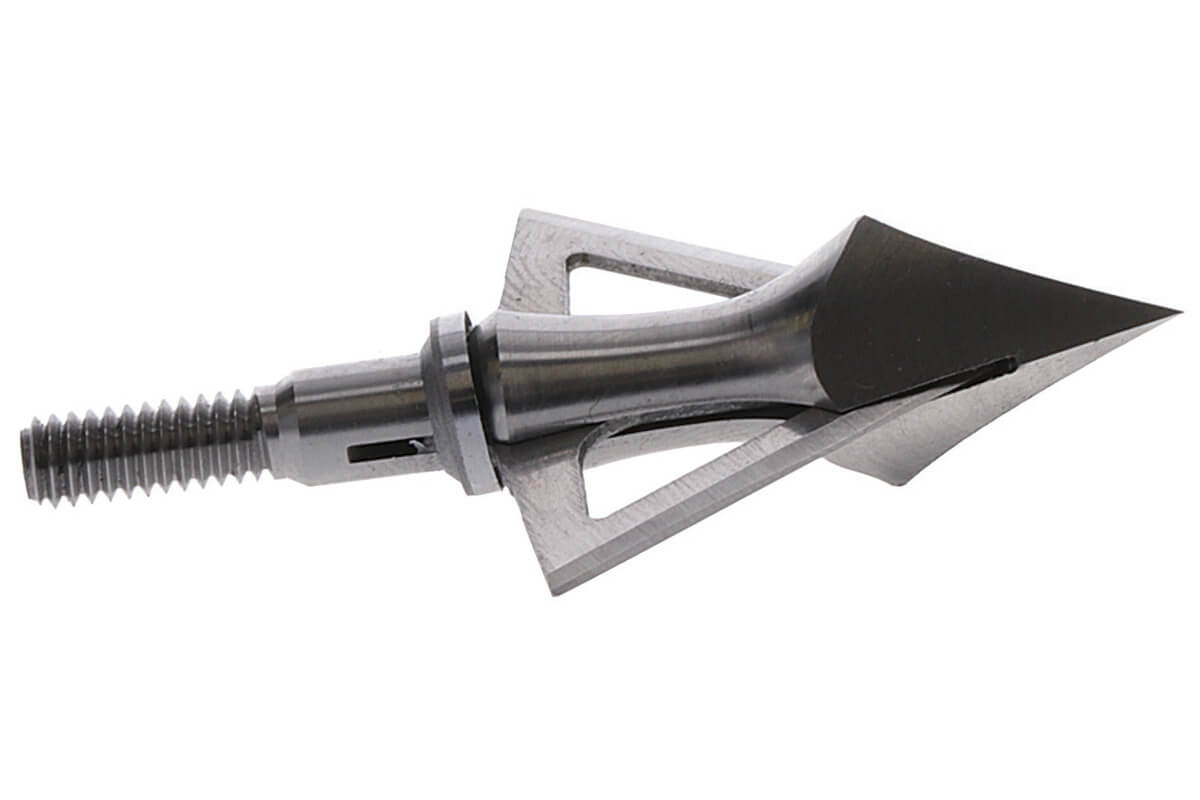 Total Cutting Potential: The ability of a head to cut, and the amount of cutting that takes place, is a factor of sharpness, cutting diameter and the number of blades. With this in mind, we calculate the Total Cutting Potential (TCP) of a head by multiplying the radius by the number of blades. We consider it "potential," because a lost blade in bone or otherwise means you have that much less to do the cutting once the head breaks through into the body cavity. Blade angle is not considered in determining TCP, since angle does not change the amount of flesh that is cut as long as penetration is equal.
Here are two examples of TCP calculations: A 2-blade, 2-inch cutting diameter head has a radius of 1 inch. To get the TCP, you multiply the radius by the number of blades, which gives you a TCP of 2 inches. Now, consider a 3-blade head with a cutting diameter of 1.375 inches. The radius is .6875-inch, so you would multiply .6875 by the number of blades, 3. Your TCP would be 2.0625 inches, which means you will cut slightly more than the 2-blade head with a 2-inch cutting diameter.
Hemorrhage Test: Behind the scenes, this is known as the "blood bag" test! It was designed to take a relative measure of how much bleeding each broadhead will cause. For each head, a thick plastic bag containing exactly two gallons of red (for effect) colored water was sealed, suspended from a fixture and marked with a reference line. Using a Wicked Ridge Raider 400 crossbow, each head was fired low through the bag. We used frame-by-frame time stamps from a Nikon D5600 camera to measure elapsed time from impact until the water level matched the reference line.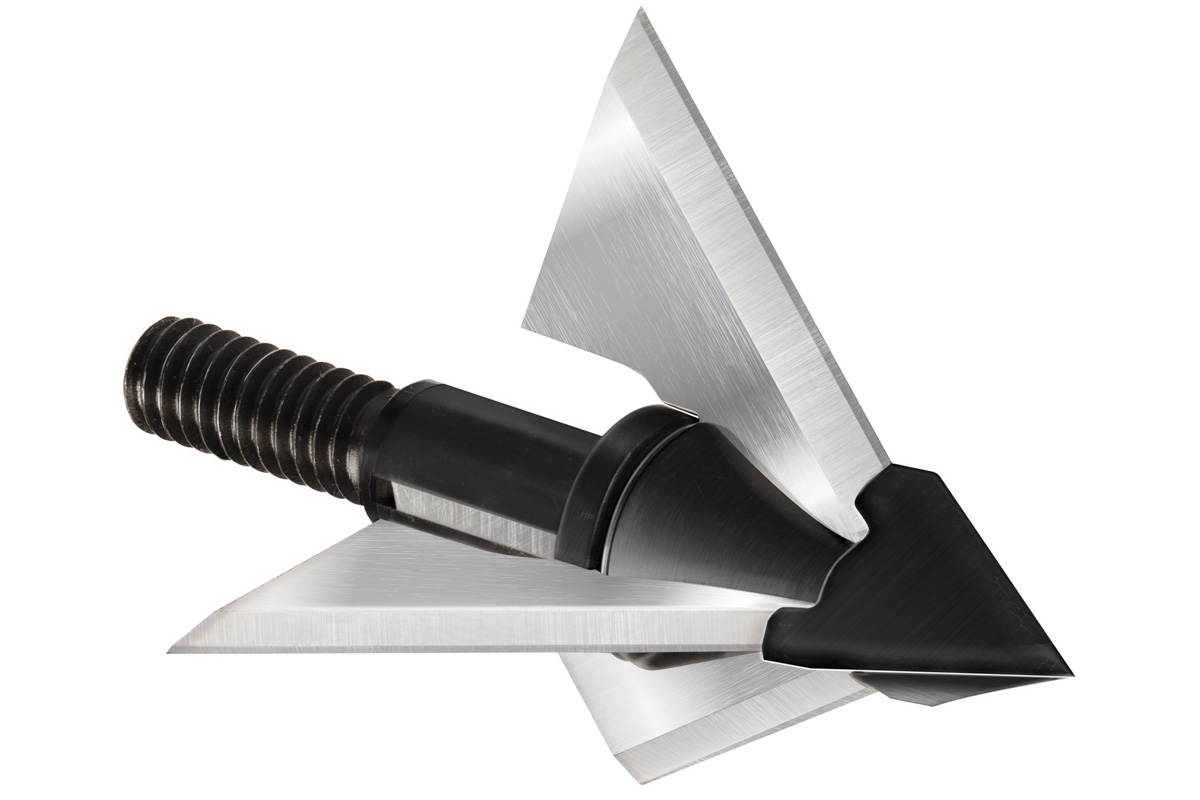 Sharpness: Three blades (one blade from three different heads) from each broadhead model were sent to CATRA in the United Kingdom to measure blade sharpness with the association's Razor Edge Sharpness Test (REST) machine. The machine measures the force required, in Newtons, to cut through a rubber test medium. The less force required to cut the rubber, the sharper the blade. As a reference point, a shaving razor blade will typically result in a reading near .3 Newtons. Additional information about the REST machine can be found online at catra.org.
Hard-Impact Test: The hard-impact test is designed to simulate the performance of a head after it encounters and passes through a hard material such as bone. We all want to know our broadhead will still do its job and keep cutting even after hitting a rib or shoulder. This test was performed at 20 yards, using .03-inch thick sheet metal as the impact material. General results can be found in the accompanying chart, with high-speed video footage on our YouTube channel showing each head's performance in great detail.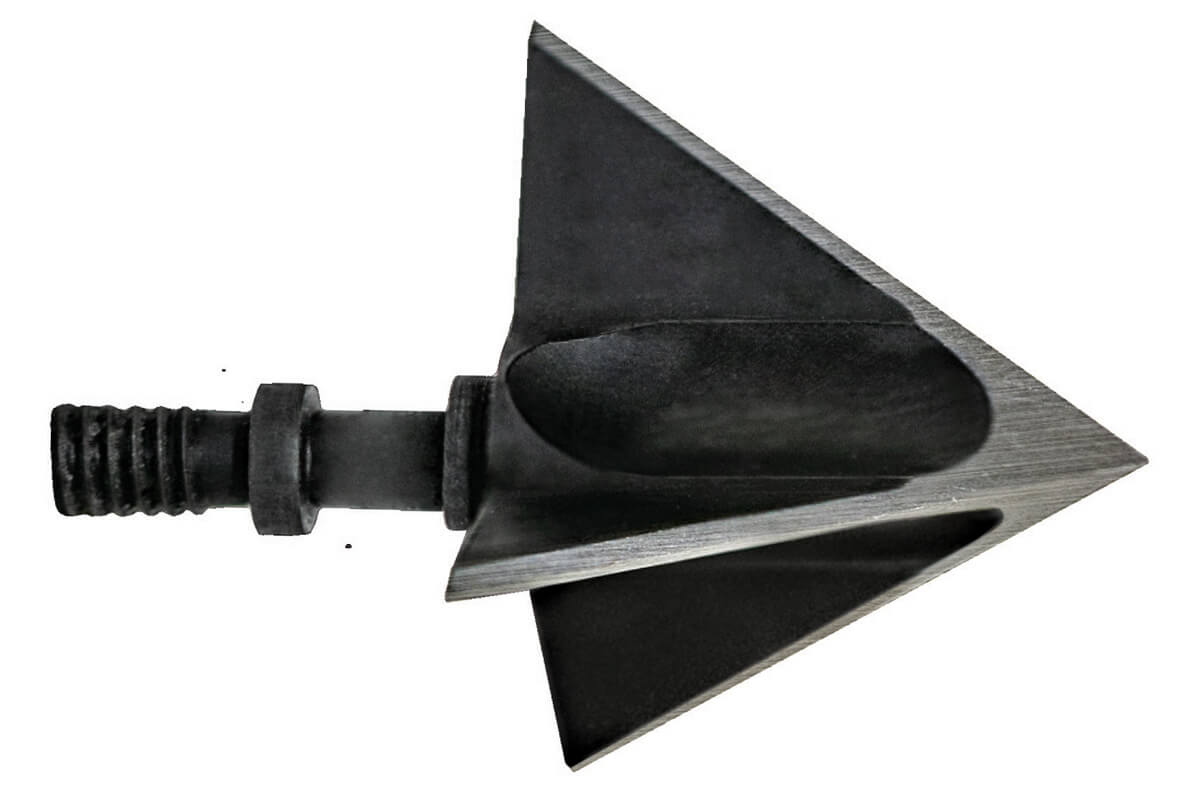 Penetration Tests: This year, we eliminated one of the penetration tests we've been doing for years and replaced it with a new test we started last year. The pure foam test was scrapped, as it did not correlate to any situation one would encounter in the field; we hunt animals with a hide or other tough outer layer, such as thick feathers on a turkey. So, as we started last year, we added rubber-backed carpet on the outside of the foam. This "Double Combo" penetration test is designed to simulate a hide/body hit during which no bone is encountered. Our second penetration test, or "Triple Combo" test, consisted of rubber-backed carpet, .03-inch thick sheet metal and foam, to simulate a hide/body hit during which bone is encountered. Targets for our penetration tests are made by stacking the carpet, metal and foam plates and wrapping them with stretch-wrap film.
Over the years, many people have asked why we don't use actual animal carcasses, or even a side of beef, to conduct our penetration tests. Our answer is simply that using such methods would not provide consistent, repeatable results from shot to shot. Instead, we use manmade materials to simulate basic properties (soft, hard, firm) while maintaining the consistency required for valid test results.
To conduct our penetration tests, three brand new heads from each broadhead model were fired into both types of block. The section of arrow protruding from the target was then measured for each shot, with a final average being calculated. That number was then reconciled with the arrow length for each test broadhead (different models have different overall lengths) to determine the actual depth of penetration.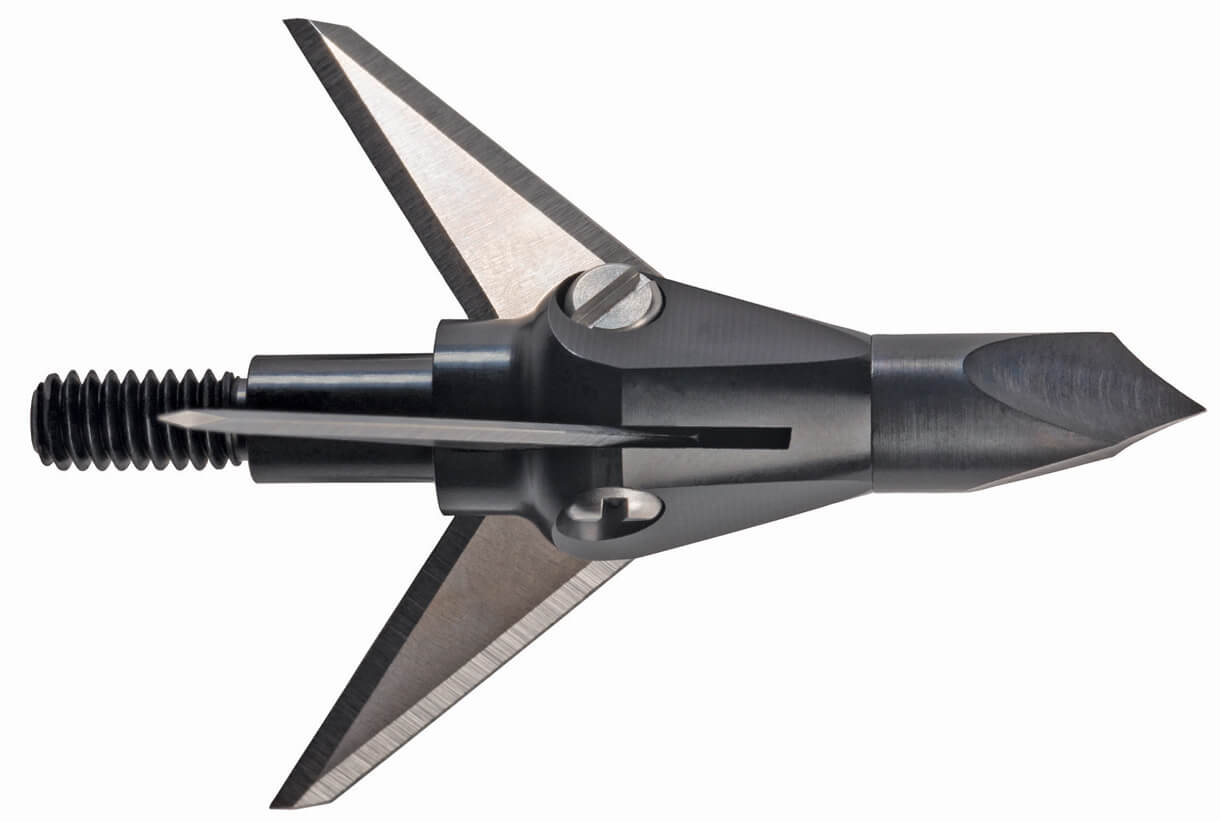 Crash Test: The Crash Test is a violent test of a broadhead's overall integrity. It was conducted by shooting each model into a fieldstone at 20 yards and evaluating the overall condition of the head after impact. Not surprisingly, most heads in the test sustained considerable damage as a result of impact. General results can be seen in the accompanying chart, with high-speed video footage on our YouTube channel showing each head's performance in great detail.
Fieldpoint Comparison Test: A fieldpoint was shot from the X-Ring Machine at 25 yards to give us a reference point for measuring the broadhead impact locations on the target. We performed the test and found our groups relative to the fieldpoint were not in line with previous years. So, we tweaked the arrow rest and assured all test arrows were straight, properly aligned and spun true on a Last Chance Archery Revolution Arrow Tuner (engineered by Travis "T-Bone" Turner). We then repeated the test with much better results!
Three shots were fired with each test model, and the impact points were averaged to plot the data in the accompanying chart. As has been common in recent years, all the test heads flew well, with none varying more .7-inch in windage or elevation from the fieldpoint, and we had to enlarge the scale of the results chart just so you can identify each head's point of impact. This is a testament to how much broadhead manufacturing has improved over the past 20 years and offers proof that — with a properly tuned bow and arrows — you can get your hunting broadheads to fly quite similarly to your practice points.