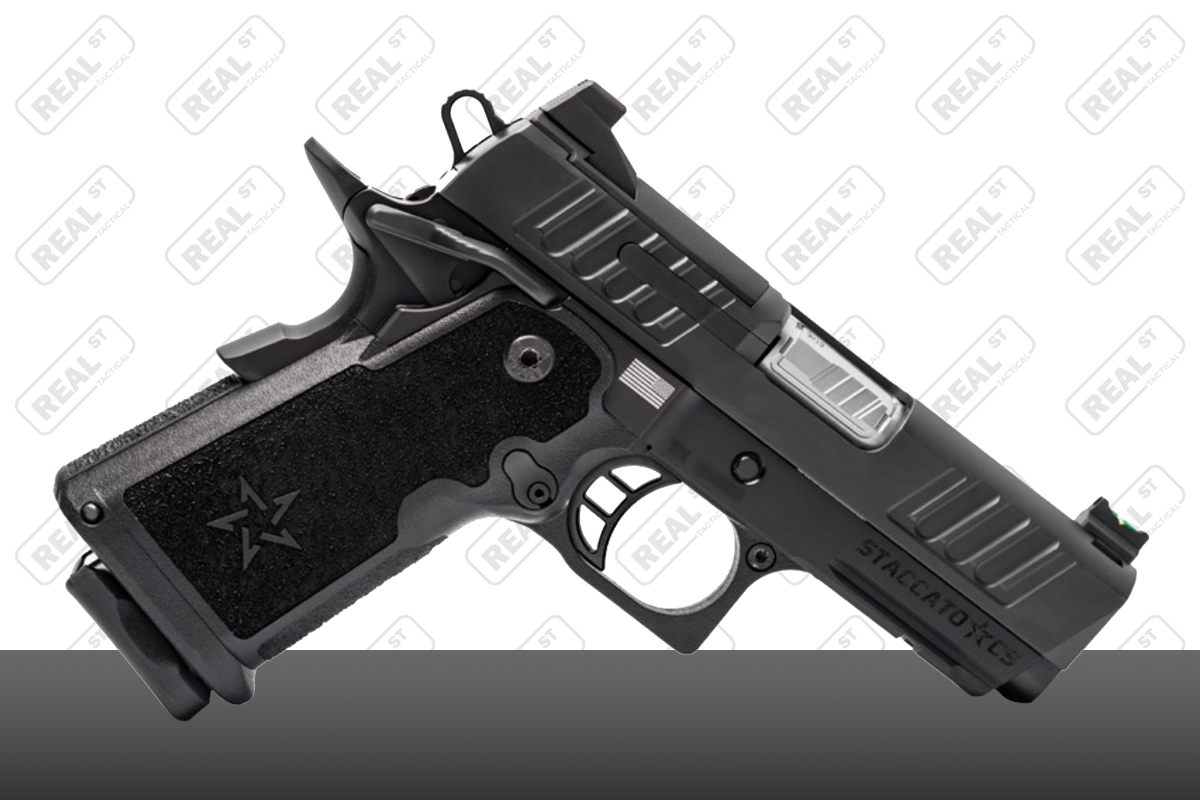 Staccato's newest model for 2022 is called the "CS" and it is now the smallest and lightest model in their lineup, designed for every day carry and personal defense.
We have all eagerly been waiting to hear about the new model Staccato has been teasing for the last few months and the details are finally here.
Specs
Caliber 9mm Trigger 4-4.5lb Aluminum Barrel 3.5″ Bull Barrel Grip Width 1.2″ Length 7.1″ Height 5.6″ Width at Safeties 1.45″ Weight 22.7oz Empty – No Mag Frame 7075 – Billet Precision Machined Aluminum Slide Finish DLC, Black Optic Ready Dawson Precision Optic Carry or Tactical Grip New Stippled Grip
First Glance
At the time of writing this article (October 27th 2022) these have not shipped to Premium Dealers yet so we will be comparing published specifications until our allocation arrives, at which point we will update with pictures and video reviews.
Size
At 7.1″ long, the CS is now the shortest staccato available. For comparison sake, a C2 is listed at 7.5″ long. But the bigger change the reduction in width, meaning there is a new grip shape. The grip width shrinks by approximately a hundred thousandths of an inch from the C2 width, and about fifty thousandths less than a C2 at the safeties. The thinner width should provide a more comfortable concealed carry experience with IWB holsters.
Frame
The CS frame is aluminum. Previously, the only way to get an aluminum frame "small Staccato" was to get a C2-Limited. Which comes with a threaded barrel and Dawson Compensator. (Which is still a good option if you are looking to shoot suppressed) but the CS comes default with the lighter weight aluminum frame instead of steel.
Weight
Because of the reduced size, and aluminum frame, the weight has been reduced to 22.7oz without reducing magazine capacity from the C2
Grip
One of the first things you notice is the new grip. While the new grip STYLING reminds us of the redesigned G2 Tac grip that now comes on the P and XC models in appearance, this is a totally new grip module that (from the specs) appears to be narrower than the C2 grip module.
Magazines
Because the grip has changed, the magazines have changed as well, but they do still hold 16 rounds each (like a C2). However, it is a CS-specific magazine, and cannot share magazines with other Staccato models.
Trigger
Staccato has announced that the CS will come with an aluminum trigger, instead of the typical composite trigger. And the trigger weight will be delivered at 4-4.5lb which is typical for a gun meant for every day carry personal defense.
Barrel
The CS comes with a 3.5″ bull barrel that we haven't seen in the Staccato lineup yet. It has some noticeably different design features in the portion of the barrel that is visible externally. So far we have not heard anything about a threaded barrel option yet, so for now you will still have to go to a C2 for a "small Staccato" suppressed shooting experience.
Optic Ready
Much like the C2, the CS can come configured with full size tactical sights designed to mate with a full size optic like a Trijicon RMR/SRO, Holosun 507C/508T/509T or it can also be ordered with lower profile compact sights for use with smaller carry optics like the Trijicon RMR CC or Holosun 507K
We are on the Staccato Premium Dealer program and we have reserved an allocation of these from the first production release. If you are interested in learning more, please feel free to reach out to us.
Interested in receiving more info like this directly to your email inbox? Sign up for our mailing list below to gain early access to new inventory, exclusive deals, and more.
Loading…