What if you really needed a rifle to survive outdoors?
What I mean by that is if you are a camper, a hiker, a kayaker, or anything involving the great outdoors and endless adventure, then you may carry a gun for survival purposes.
There is no logic or mercy in the great outdoors, and once you step out of civilization and into nature, you are just another part of the food chain.
As my Gunnery Sergeant would say, "it would behoove you to be ready for it."
Some carry a handgun, some a packable shotgun, but others may prefer to take a rifle. A rifle offers more range than either a shotgun or pistol, and they are relatively more comfortable to shoot accurately.
They have less recoil than most shotguns, and their design often makes them quite compact.
Let's go through what I deem a true "survival rifle" and my top picks to get you out of trouble. So keep reading!
THE QUICK LIST
Why You Should Trust Us
Input into this article came from the PPT editorial team, who has a combined shooting experience of 30+ years and includes instructors and competitors in multiple disciplines.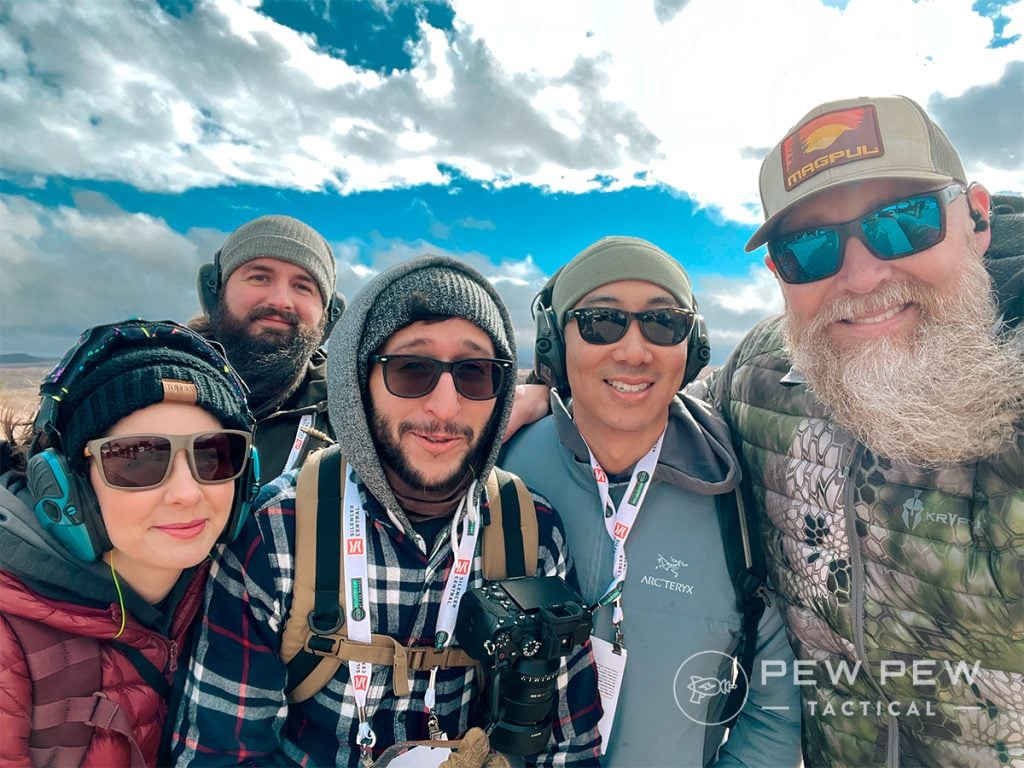 We've spent countless hours researching and analyzing guns and gear to determine which is the best when it comes to features, reliability, ergonomics, and bang for your buck.
We had to make some tough calls. If you don't see your favorite rifle, it doesn't mean we hate it, just that we couldn't include it this time.
Defining Survival
People tend to define survival differently.
When people hear the word survival, they may think long term disaster scenario or massive emergency (see our Essential SHTF Gear). That's fair enough, but today we are talking about more localized and personal situations.
I'm thinking hikers, campers, pilots, and anyone who spends time outdoors in the brush, over the water, and more.
This guide is also written for folks like me who live in the middle of nowhere and may desire a vehicle gun they could hike with, in the event of a severe breakdown.
These situations mean shooters are less likely to encounter a defensive situation involving another person but more than likely might encounter pests, predators like coyotes, and of course, snakes. You may also need to eat if the survival situations go on for days, so you need a game-getting gun too.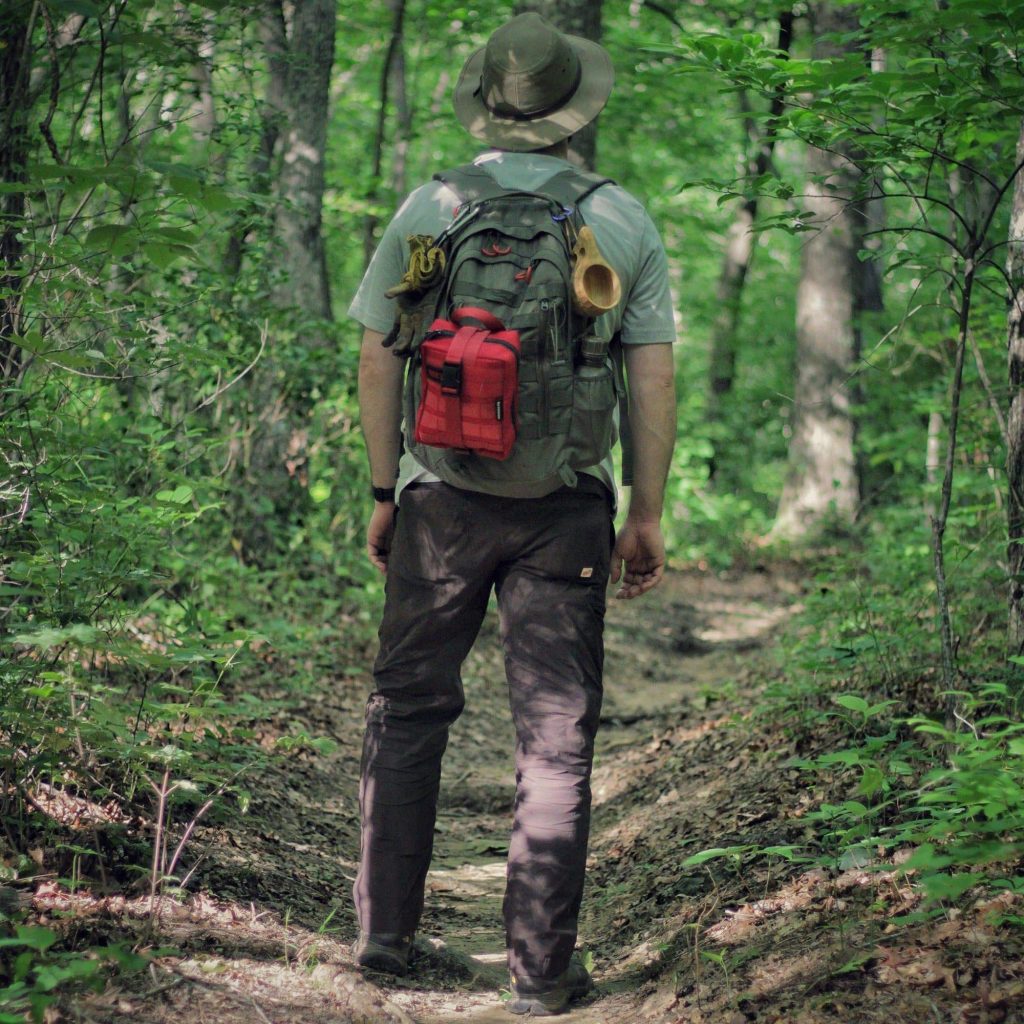 This is how I define a survival rifle.
My Standards
The likelihood of having to use one of these rifles is quite low.
I've been camping, hunting, hiking, and adventuring hundreds of times and never had to use mine. I have taken a few squirrels for fun and to cook over a campfire, but never needed to for survival.
With this in mind, I want the rifle to be extremely small and unobtrusive. Something you can pack without it taking up too much room or weighing too much.
For these reasons, I came up with a few standards:
First, it needs to weigh less than 5 pounds.
Second, it needs to be capable of fitting in a standard-size backpack. This means the gun is required to break down or fold in some way.
Third, the design needs to have lightweight ammo that is easy to find and easy to store.
This leads me to eight distinct rifles…
Best Takedown Survival Rifles
1. Ruger 10/22 Takedown
The Ruger 10/22 is, without a doubt, the most popular rimfire rifle ever. It's been made in the millions since the 1960s and is the standard for semi-auto .22 LRs.
The Takedown model allows the gun to be split in half and easily toted.
This is a proper rifle with a real stock, a comb for a cheek rest, and handguards. It's everything the Chiappa is not.
It only weighs 4.6 pounds in its factory configuration and skates right under my 5-pound limit. I own a standard 10/22, and it's one of the most fun guns I've ever handled.
As a semi-auto. 22 LR rifle, the gun is very easy to handle, and you can quickly dump rounds into a target. This makes it a bit more capable of taking on larger dangerous animals.
Admittedly, I'd want something bigger, but 10 rounds of .22 LR should cause enough pain compliance for a lot of animals to change their mind.
10/22 Takedown also comes with a carrying case which is nice, but it's also easy to pack into a bag on its own. You can find magazines for the Ruger 10/22 that can hold 10, 15, 25, and even up to 110 rounds in a drum.
The takedown and assembly procedure is straightforward and quick. Its stainless steel parts are rust-resistant and very easy to clean, which is convenient for a survival rifle.
The Ruger 10/22 is an extremely reliable gun and one of the most customizable rifles you can buy.
It's easy to tailor to your needs and is ultimately a gun you won't regret buying. If you choose the Ruger 10/22 Takedown as your survival rifle, it can double as a great plinking gun.
Of course, you can choose any of the Ruger 10/22 models and still be decently equipped.
Oh…and there's tons of great ammo out there. Check out our Best .22 LR Ammo Guide.
2. Henry AR-7
The Henry AR-7 was initially built as a survival rifle for U.S. Air Force pilots. It's a .22 LR semi-automatic rifle that feeds from box magazines containing eight rounds.
Whether or not you know it, you've likely seen the gun in some form or another.
It has a very odd design, and this is due to the fact it's a very early takedown rifle design. The barrel and receiver detach from the stock, and the stock is then used as a storage compartment for the receiver and barrel.
The entire design is toolless, compact, and lightweight. This gun weighs a mere 3.5 pounds and is very simple in design. It lacks any handguard, so the barrel will heat up after extended firing.
This rifle isn't designed to be a high-volume plinker, but that doesn't mean it won't keep going and going.
With a 14-inch length of pull, it is excellent for adult-sized shooters. The gun is a blast to shoot and comes with two magazines. Eight rounds are more than enough for most situations, but extended magazines are available and are reasonably affordable.
The top of the receiver sports a short rail, but a mounted optic won't allow the gun to be stored in the stock.
The gun is very lightweight and comfortable to shoot. It may be a 1950s design, but the overall design screams space age.
Plus, the use of a plastic stock means the internals of the rifle and the gun will be well protected from bounces and bumps while hiking and camping. The stock is sturdy and provides a very comfortable and easy grip when firing the weapon.
You can't hold the rifle too far forward and must use the magazine well for a grip, but it isn't bad. The light recoil and lightweight of the weapon make it comfortable to fire, even for an extended period of time.
The gun is called the Henry Survival rifle, and it has proven to be quite adept at its role.
Want more details on the Henry AR-7? Check out our full review here!
What's your take on the AR-7? Rate it below!
3. Savage Model 42 Takedown
I'm a shotgunner at heart; I love shotguns and their versatility. They are great survival weapons, but this is a list about rifles, right? Well, what if I suggested a weapon that was both?
The Savage 42 weighs 6.1 pounds, but the compact version comes in at 4.65 pounds and both are takedowns that break into two pieces. It comes with its own Go Bag, which is a nice touch.
Best of all, the gun comes with one .410 barrel and a rifle barrel in either .22 LR or .22 Magnum.
This two-shot weapon is the ultimate game-getter. The bottom .410 barrel is a bit more potent than the top rimfire barrel, but the top barrel makes it easy to touch a target at a distance and gives you a precise option for medium-range shooting.
The bottom .410 barrel allows you to dispatch a variety of different game with buckshot, slugs, or birdshot. The combination of the two calibers gives you the perfect gun for collecting small game as well.
Best of all, it breaks down with the push of a single button and goes back together in an instant. The stock and furniture are mostly polymer, reducing the weight and making it easier to carry. This little gun utilizes a hammer-fired, single-action design and has a very crisp trigger.
The Savage Model 42 Compact is an excellent choice if you put a premium on versatility. It's an affordable gun that will simply work every time while giving you options while using it.
4. TPS Arms M6 Takedown
The M6 Takedown is a classic survival firearm originally developed for the United States Airforce for pilot survival. While it might have come out of the 1950s, it's still a viable option mainly because of its versatility.
I'm cheating a bit again with the M6. This is an article on survival rifles, and this isn't just a survival rifle…it's a rifle and shotgun.
TPS Arms recreates this classic survival rifle for a great price point with a few improvements.
For example, the takedown pin is an AR-style captured takedown pin that makes it easy to break the gun down for storage. Also, instead of just being stuck with .22 Hornet and .410, we get multiple options.
While the bottom barrel stays .410, the top barrel can accommodate .357 Magnum, .22 WMR, .17 HMR, .22 LR, .22 Hornet, or even two .410 barrels. There are tons of options, all of which are viable survival cartridges.
The .357 Magnum can take any medium game animal in North America, and the .410 can take down birds, squirrels, snakes, and other pests. However, a .22 LR allows you to carry 500 rounds in your cargo pocket.
Pick the right option for you and your environment, and the modern M6 rifle will serve you well.
Like the classic M6, the M6 Takedown Series from TPS Arms is super lightweight, fairly short, and separates in half for tossing in a backpack. The stock features a customizable storage compartment to fit a number of different rounds.
Additionally, the .410 barrel has interchangeable chokes, and you can outfit the modern variant with a scope rail for optical enhancement.
Not only are these guns faithful representatives of the classic M6 guns, but they improve upon the original design.
Best Folding Survival Rifles
5. Chiappa Little Badger
The Chiappa Little Badger is the first gun on the list due to how well it fits all of my standards.
It's the lightest rifle on the list, likely the most affordable, and it is adorable. The Chiappa Little Badger is a folding rifle chambered in either .22 LR, .22 Magnum, or 17 HMR.
I own a .22 LR model, and it's an enjoyable gun.
Chiappa's Little Badger is a single-shot rifle with a wire stock and hardly anything but a small barrel, receiver, and wire stock. It weighs 2.9 pounds and comes with four short rails to attach accessories to. The small peep sights are quite adjustable and very easy to use.
The gun folds in half to be only roughly 17 inches long. It's super thin and fits in a backpack with hardly any room taken up.
This gun even has a little plastic attachment to hold extra rounds. Admittedly, I found them a little too loose to hold ammo securely.
My .22 LR version is excellent, but the .22 Magnum variant will pack more of a punch. This would likely be the better choice for a survival rifle for its game-getting abilities.
The gun is very easy to operate — all you have to do is load the gun, close it up, cock the hammer, and pull the trigger.
Simplicity also means it's not going to fail because you forgot to clean it. It's not a rapid-fire weapon, but with well-aimed shots, you can quickly get dinner and kill off snakes, coyotes, and other pests.
The trigger isn't great but is light and consistent. Its hammer is easy to cock, and the entire operation of the gun is simple. Don't expect much of a cheek weld, and be aware the length of pull is very short. The rifle is easy to use for anyone, including kids.
The gun is just begging to be modded, and you can add a means to carry ammo, a knife, paracord, or whatever you want.
It's less than $200, and even outside of a survival rifle, it's a cool toy to play with. Also, the threaded barrel makes it very easy to suppress.
Want more single shots? Take a look at our round-up of the Best Single Shots on the market.
6. Kel-Tec Sub 2000
The Kel-Tec Sub 2000 is one of the few common, affordable, and reliable semi-auto centerfire guns I could find for this list.
This gun is a unique folding rifle that comes in pistol calibers, specifically .40 S&W and 9mm. The gun feeds from a wide variety of different pistol magazines from different manufacturers.
When folded in half, the Sub 2000 sports an overall length of only 16.25 inches. Unfolded, the rifle is still a short 30.5 inches. It weighs in at only 4.25 pounds and fits well into a standard backpack or even a messenger bag.
The Sub 2000 comes in both Gen 1 and Gen 2 models, and the various models can take Glock, S&W, Canik, Beretta 92/96 series, and Sig magazines.
It's quite a bit more potent than the previously mentioned rimfires, making it a better dangerous animal gun and an excellent close-range gun for medium game.
A very simple blowback system means it is quite reliable. It does have more recoil than a standard carbine due to this system, but it is still easy to control.
The sights are ok — nothing special, but plenty usable out to 100 yards. Adding optics to the gun is tricky but doable.
If you need something to fend off animals like cougars, then the Sub 2000 will do it a lot better than any of the rimfire rifles on this list. While 9mm and .40 S&W wouldn't be my first choice for cougars in a handgun, in a rifle, it is easy to shoot and easy to fire rapidly.
With the right defensive rounds, the gun will cause some serious damage to anything. I suggest a solid round, something like 147-grain 9mm JHP, or even a fancy hard cast load. A 180-grain .40 S&W load will deal with some hurt too.
See our articles on the Best 9mm Ammo and Best .40 Ammo for our favorite plinking and self-defense rounds.
Be sure to check out our complete hands-on review of the Kel-Tec Sub 2000!
Best AR-Style Survival Rifles
7. Aero Survival Rifle LTE – 9mm
A semi-automatic, AR-type PCC that breaks down with ease and weighs less than 4 pounds? Well, yeah, it exists and comes from a little company called TNW Firearms.
They've been producing takedown carbines in various calibers for years, but the Aero Survival LTE series reduces the weight to a light 3.95 pounds.
With it, you get a Glock magazine-fed, lightweight, takedown, semi-automatic carbine with a 16-inch barrel. It's plain and stripped of everything but the basics.
However, it will launch 9mm pills fast and hard. When used with 147-grain JHPs, you have a weapon that can take medium-sized game at close range.
The semi-auto design allows for fast follow-up shots, which can be invaluable, and very few lightweight survival rifles offer that capability.
Shooters get a nice-sized optic rail and an M-LOK handguard, but that handguard is extremely short with just a few M-LOK slots. After adding an optic or light, you can still walk away with a weapon weighing less than six pounds.
It breaks down into two 17.25-inch-sized components for easy storage and carrying. Grab a few extended Glock mags, and you'll be set for most threats inside 100 yards.
8. CMMG Banshee Mk57
I might be breaking the rules here, kind of. While the Mk57 is most commonly sold as a braced AR pistol, a short-barreled rifle variant is available. To fit under the 5-pound limit, you'll need to grab the 5-inch barreled variant.
Like any standard AR-15, you can easily break the thing into two pieces and store them in a backpack.
The 5.7x28mm round fits neatly between a rifle and pistol cartridge, boasting flat-shooting performance out to 150 yards or so and excellent penetration.
This round is fairly smaller and lighter than most rifle and pistol rounds, but it's an oddball that works well and works inside most shooters' capabilities. The 5.7x28mm round is unusual but effective and well-suited for survival applications.
CMMG makes fantastic guns, and the Banshee is their short and light series.
This little fella offers you the modularity of the AR platform in a high-performance, lightweight caliber. It's a premium-grade weapon with a superb trigger and M-LOK handguard and uses the FN Five-Seven magazines.
The CMMG Mk57 isn't a cheap firearm by any means, but it offers you AR-15 controls in a very small and lightweight package.
Oh, and ammo isn't cheap either, but it fills its own niche and might be one of the better choices for practical survival.
Final Thoughts
Keep in mind that most responsible hunters, hikers, and campers will never need it, but a good survival rifle is worth its weight in gold should you ever need it.
These choices are perfect for most budgets, are lightweight, and quite discrete. Although these may seem like basic survival rifles, be sure to check your local laws and the laws of anywhere you may consider camping to ensure they are legal.
What do you prefer as your go-to survival gun? Let us know in the comments below! Don't forget the rest of your SHTF Gear or even Best Trunk Guns or just the plain ole Best Rifles, period.