Compact is a term that's seen as rather relative in most things. In the gun world, the term compact pistol seems firmly rooted as a firearm's descriptor.
What size is compact?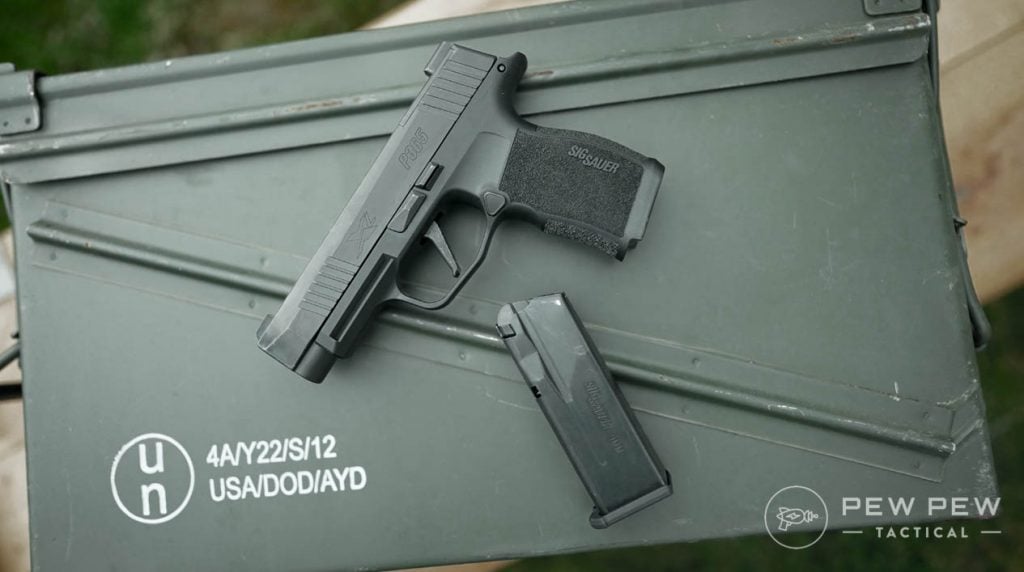 Typically, a compact pistol has a barrel length between 3.7 to 4 inches. It also sports a double-stack type magazine with a capacity of at least 15 rounds (if 9mm) and features similar to a full-sized gun – like a rail for lights and optics compatibility.
The Glock 19 defined an entire generation of pistols as the standard-bearer for what a compact pistol should be. It's small enough to be carried concealed but big enough to be a duty or home defense pistol.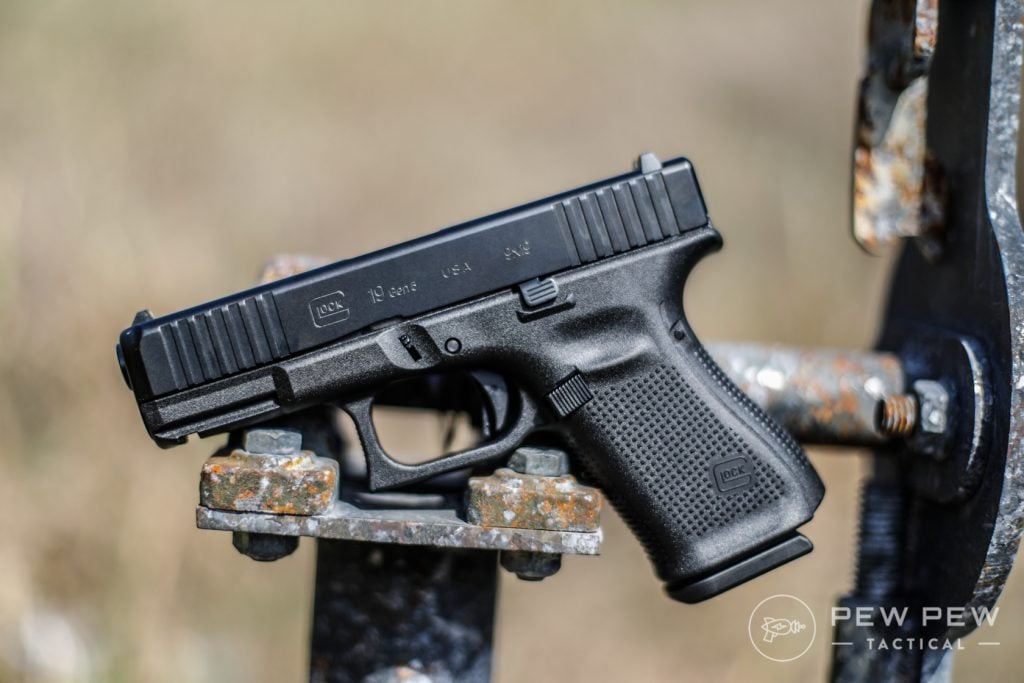 New generations have seen a rail for lights and a cut for optics.
Being a standard-bearer meant you were innovative enough to be successful. However, does that mean the Glock 19 is the best compact pistol on the market?
I don't think so.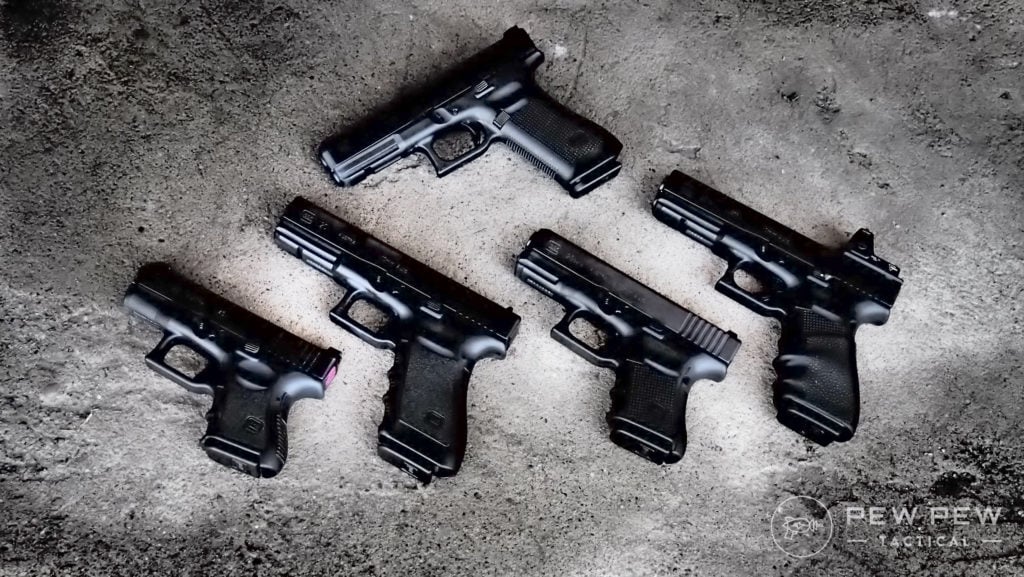 I appreciate Glocks, and I own them, but I think Glock has gotten complacent. They still equip those not-so-great sights to their guns, and they won't release the MOS 3 to us average joes. Not to mention, they ignore most ergonomic complaints until a big contract calls for changes.
With that in mind, if the Glock 19 is no longer the best, what is?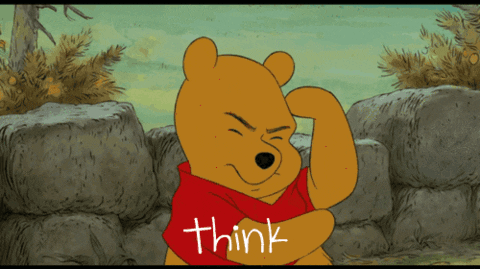 That's tough. The compact handgun genre has become incredibly popular and is filled with outstanding options.
I can't tell you which is the very best, but I can tell which guns are gunning for Glock's top spot.
So, keep reading to see some Glock 19 alternatives in the compact realm.
THE QUICK LIST
Best Glock 19 Alternatives
1. CZ P-10C
CZ produced a striker-fired pistol before, but we don't talk about the CZ 100. What the CZ 100 got wrong doesn't matter because the CZ P-10C got it right. The latest and arguably greatest strike-fired from CZ hit all the right marks.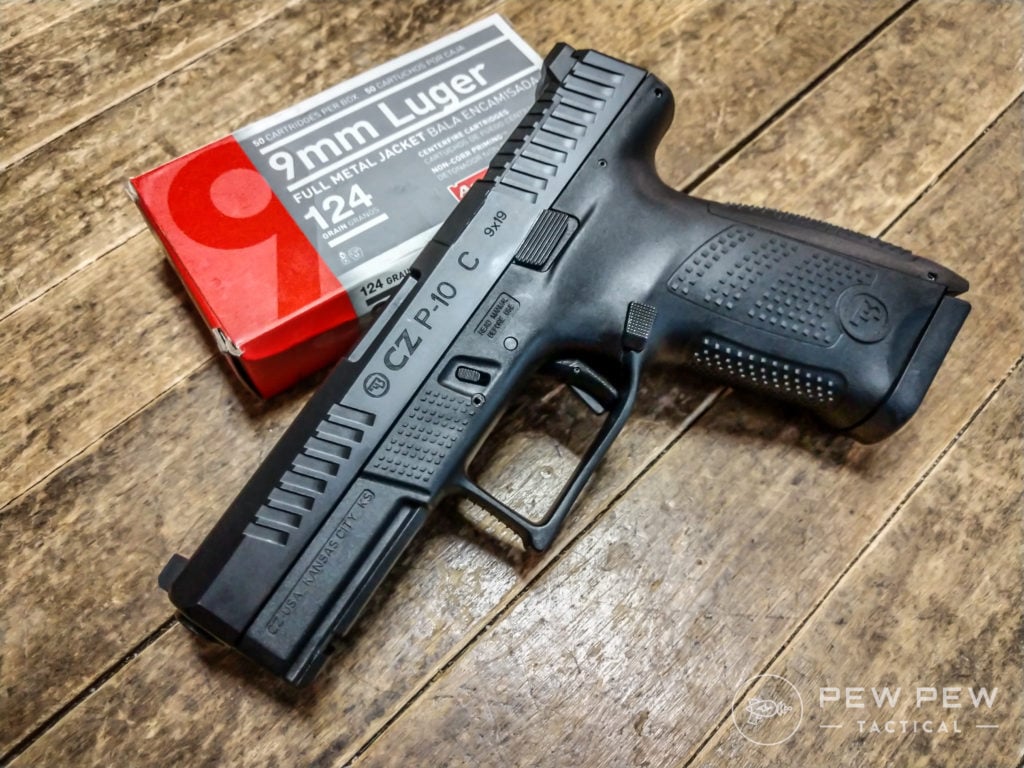 The C stands for compact, and the barrel measures 4.02 inches long, the capacity of flush-fitting magazines is 15 rounds, and the pistol is 1.26 inches wide.
Optics-ready options are available, and the gun comes with a Picatinny rail and backstraps to adjust for different hand sizes.
On top of that, CZ makes numerous models with different features, including suppressor height sights, threaded barrels, and different frame colors.
The P-10C does a few things notably better than the Glock…
First, the trigger is superior. It's a cleaner break with a flat-faced trigger that performs better and feels better in hand.
Second, I find the ergonomics to be phenomenal. This includes the slide lock placement, the magazine release size, and the ultra-aggressive grip texture.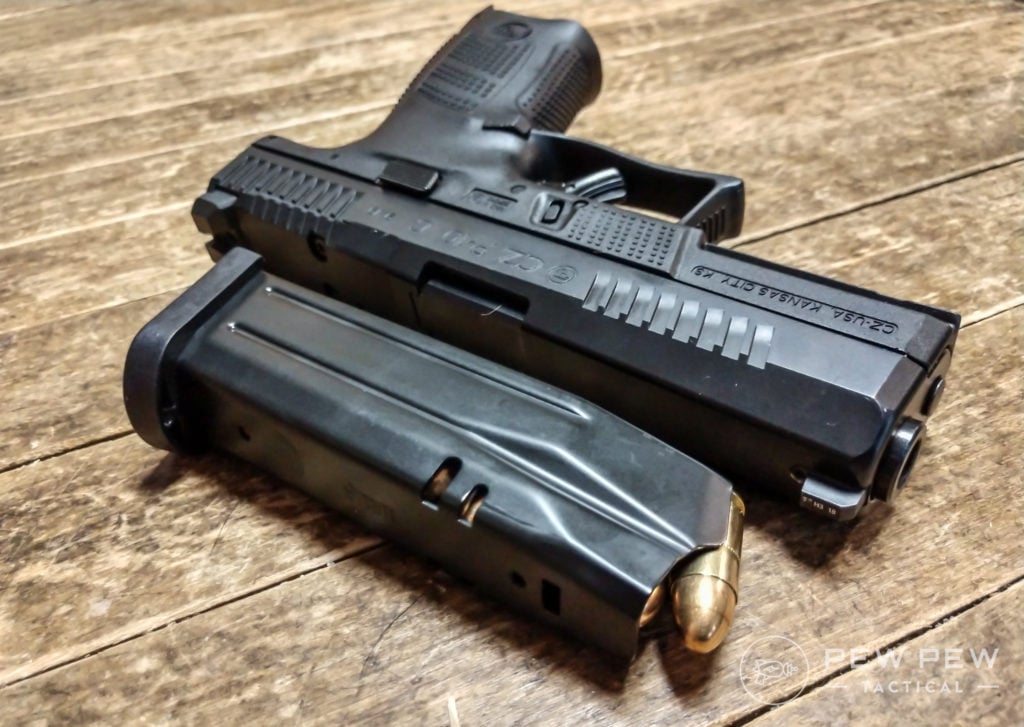 Oh, and the sights are made of metal — not plastic.
Glock still has CZ licked in simplicity and magazine prices as CZ mags are pricey. While the P10-C can be upgraded with new controls, triggers, etc., the Glock is still the easier gun to work on.
Even so, the P-10C offers more features, better ergonomics, and more configurations, and they do so for about the same price as a Glock 19.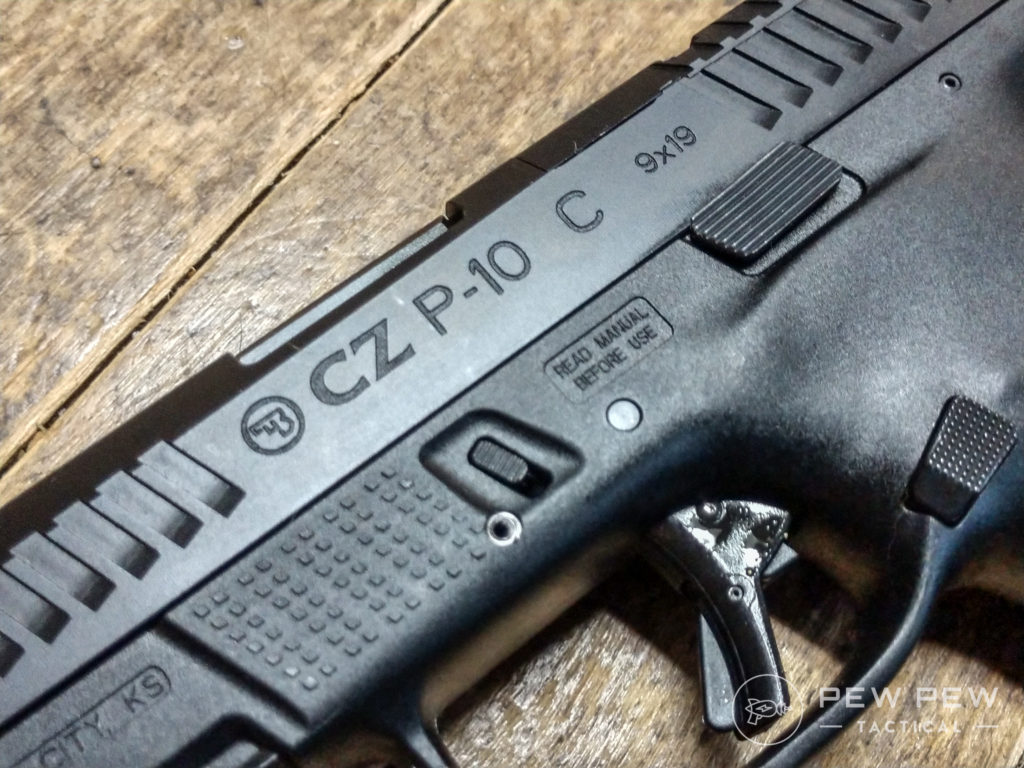 Want to learn more? Check out our review of the CZ P-10C.
2. Walther PDP Compact
PDP might as well stand for Pretty Damn Perfect because Walther blew it out of the park with this gun. The PDP is a successor and evolution of the PPQ.
It's the first pistol I know of designed with the use of red dots in mind.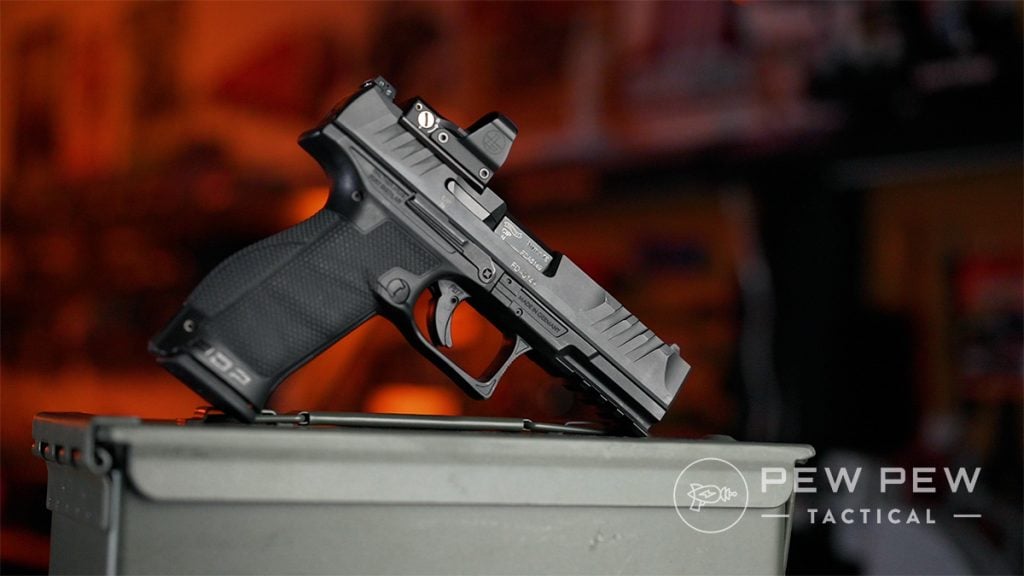 That said, of course, it's red dot ready and outfitted with a plate system superior to the Glock MOS system in design.
The PDP compact features a 4-inch barrel, a width of 1.34 inches, and a magazine capacity of 15 rounds.
Walther designed the gun's grip ergonomics around using a red dot, which shows.
Finding the dot and completing a good presentation of the gun makes it easy to find and quick on target. That by itself is innovative and makes the PDP Compact stand out.
Like the PPQ, the PDP features an amazing trigger. In fact, it's even better than the PPQ with a shorter travel and a tactile reset you can't miss.
Hot dang, the ergonomics of the PDP are awesome, and the gun feels so good in the hand. Besides feeling gun, the grip texture and the slide serrations are aggressive and sticky.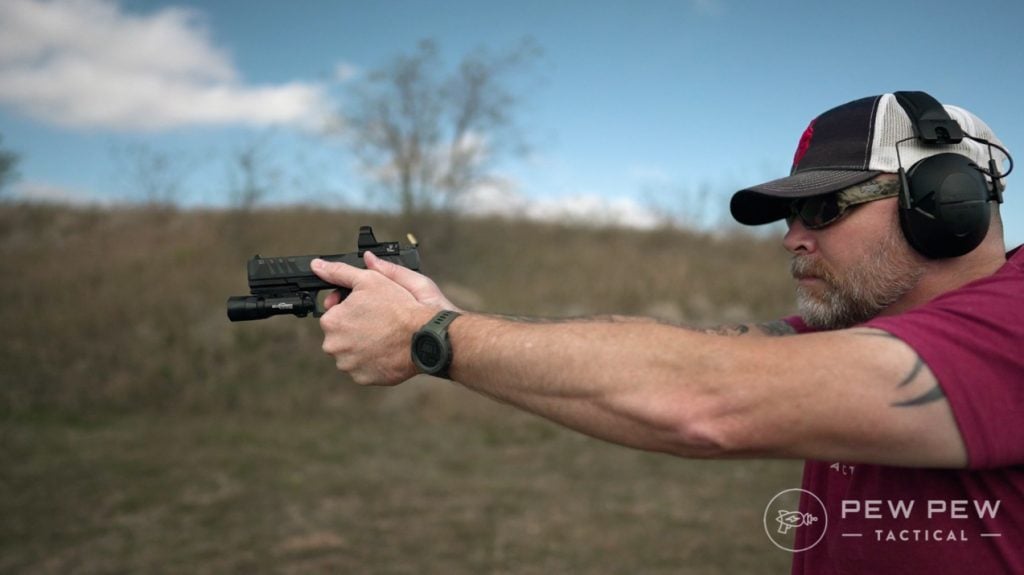 All the controls are large and easy to engage, especially the slide lock. Walther also allows you to swap frames and slides to create numerous gun configurations.
Glock does come in cheaper at both gun and magazine prices, though.
The Glock MOS series provide the plates to the shooter, while the PDP forces owners to order their free plate from Walther. Glocks are also easier to find and widely available.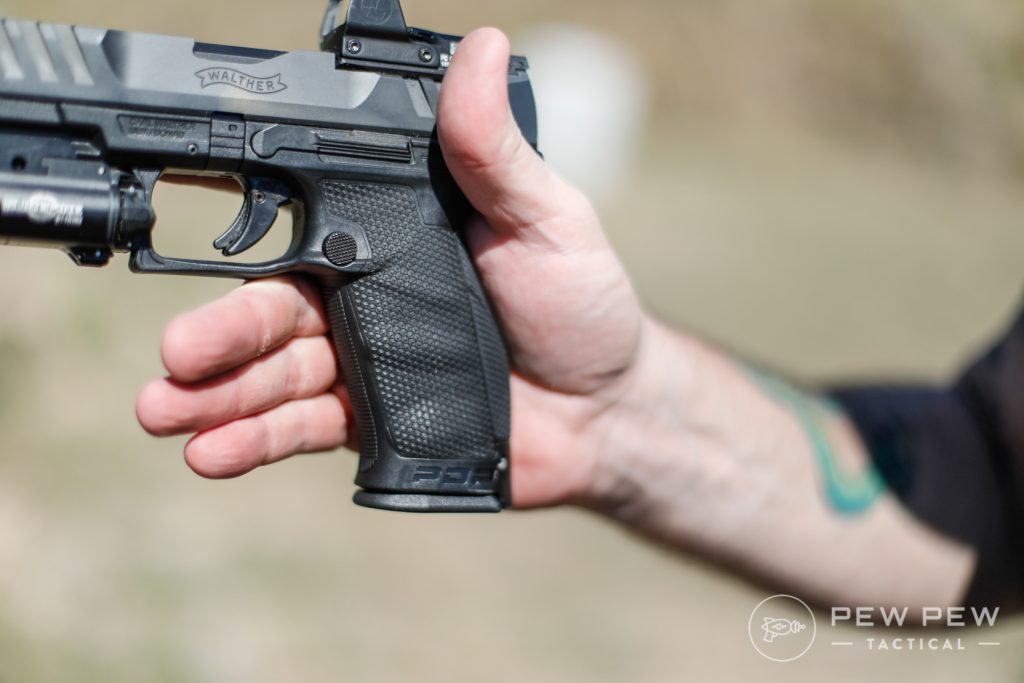 The Walther PDP continues Walther's tradition of being very underrated and under-appreciated.
In most respects, Walther's Compact model blows the Glock away and is an awesome gun.
Want to learn more? Check out our written review here or watch the video review below!
3. Sig Sauer P320C
If one gun has been eating Glock's lunch, it's been the P320C.
Every day it seems like law enforcement departments are adopting the P320 — and we can't forget the military's adoption of the pistol.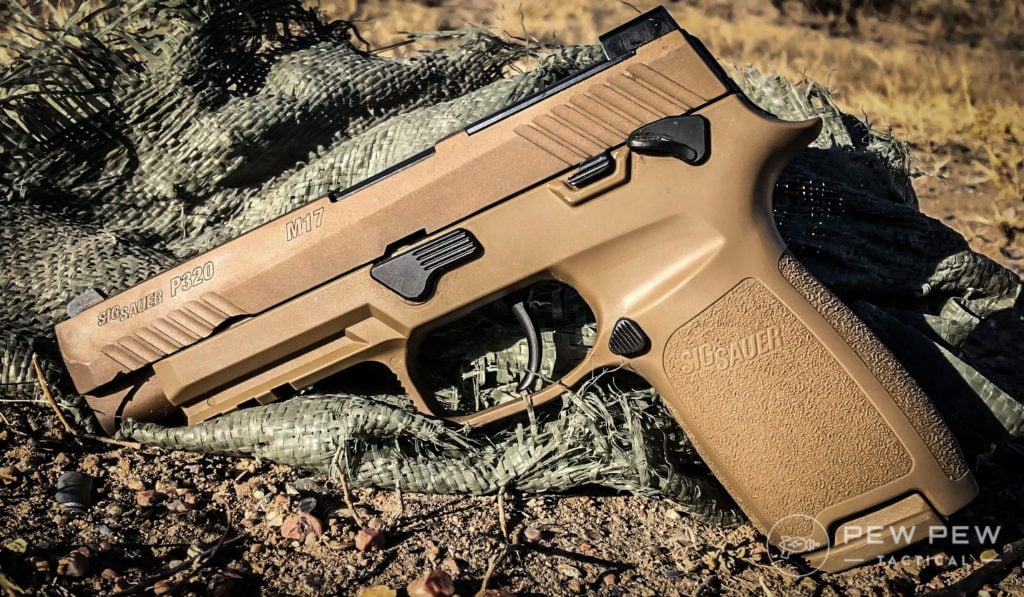 I'll give you two guesses at what the C in P320C stands for, and here is a hint, it doesn't stand for cat. The compact variant hits us with 15-round magazines, a barrel length of 3.9 inches, and a width of 1.4 inches.
Sig loves to make a variety of configurations, and the P320C comes in seemingly half a dozen different variants.
The standard model is what we'll be referencing today. The gun's main draw will be its modularity.
The internal FCU is the actual "gun" portion. So this lets shooters easily remove the FCU and swap grip modules and slide sizes. I use a number of grip modules with my P320C, including one that allows the use of P365 mags.
Besides that, Sig includes real, all-metal sights that are almost always Sig LITE night sights. They also offer numerous optics-ready models, ambidextrous or reversible controls, and that 1911-like angle we all adore in the good ole US of A.
What does Glock do better? Provides magazines at a decent price point.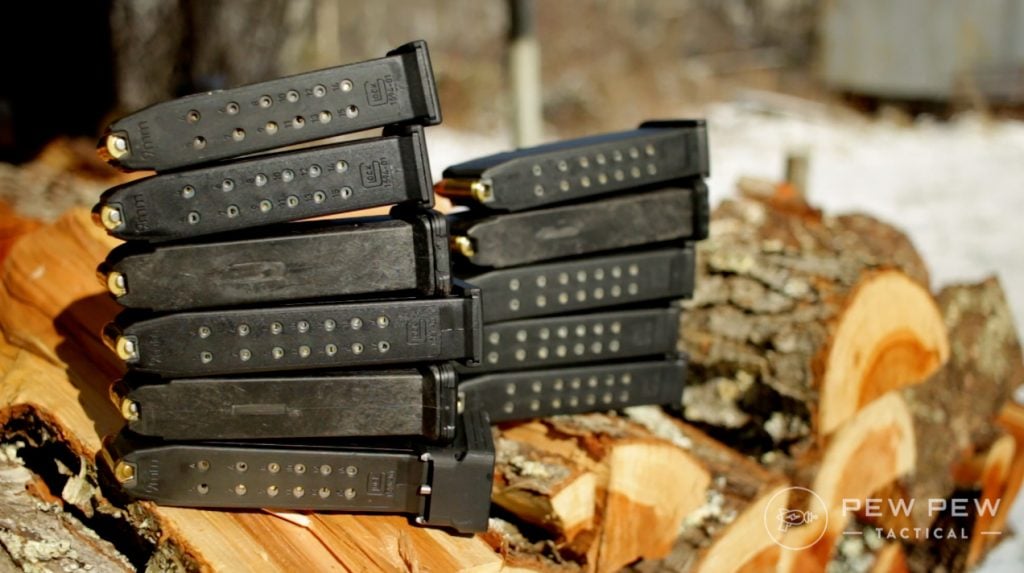 Sig is quite proud of their Italian-made mags. Beyond that, it's tough to justify the Glock 19 in favor of the P320C.
I'm hoping guns like the Sig Sauer P320 force Glock to innovate and release those innovations to us. (Where's the Glock 46 Gaston?)
4. HK P30
I will defy the article I'm writing by introducing a DA/SA hammer-fired gun instead of a striker-fired model.
The P30 doesn't have a "compact" designation but fits the bill. HK gives us a 3.9-inch barrel, a width of 1.37 inches, and 15 rounds of 9mm in the magazine.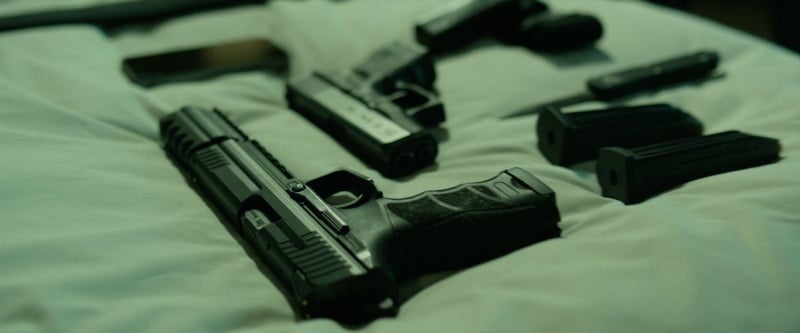 The DA/SA action of the HK P30 means the gun's outfitted with a decocker. It's not a conventional decocker, but it's one of my favorites. HK placed it at the rear of the gun, right by the hammer, for easy engagement.
It also offers an awesome European magazine release that sits on the trigger guard — ambidextrous and easy to manipulate. The controls, in general, are massive and easy to engage.
This is one of the few pistols I can shoot with a thumb's forward grip without pinning down the slide lock.
On the ergonomic front, a gun with replaceable backstraps is nothing new. However, HK went a step further with replaceable backstraps and side panels.
You can definitely customize the gun to fit your hand beyond what Glock offers.
Thankfully, HK got rid of their proprietary rail and gave us a true Picatinny rail.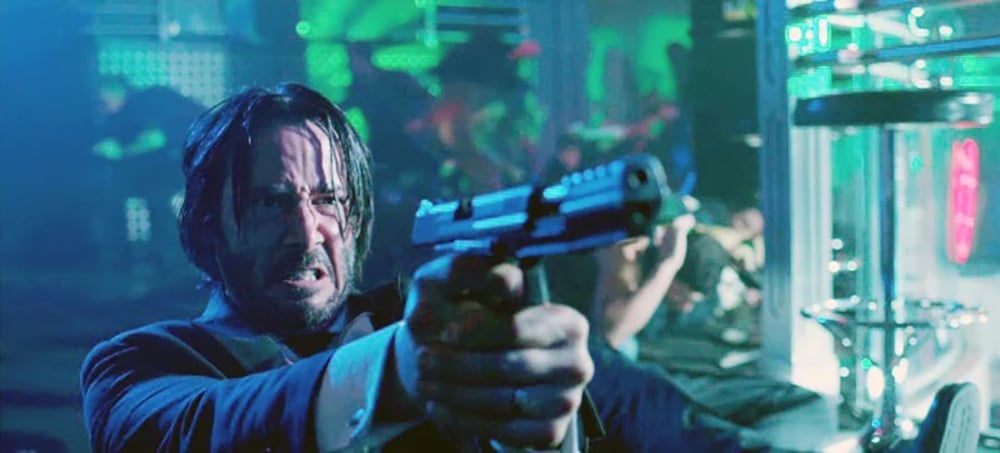 Beyond that, Glock does a few things better. Like the magazines, which is a recurring theme. Also, Glock makes an optics-ready model — HK doesn't do the same with the P30.
The HK P30 differs slightly with its DA/SA design, but it's a fantastic firearm with interesting ergonomics. It might not appeal to everyone, but it's a winner in my book.
5. Beretta APX Centurion
Poor Beretta deserved a lot more recognition for the APX series. It's easy for striker-fired pistols to get lost in the mix, but the APX presented a fantastic pistol.
The Centurion model uses 15-round magazines, a barrel length of 3.7 inches, and a width of 1.3 inches.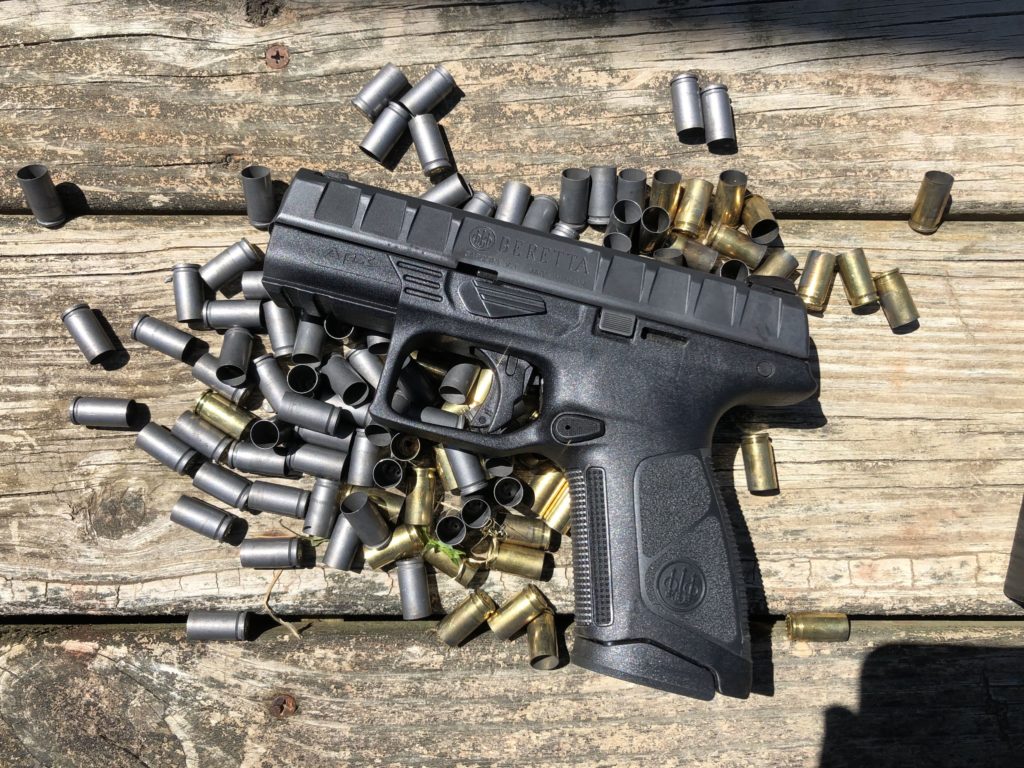 This model delivers the closest we get to a compact pistol in this lineup. (Beretta's actual compact APX is more of a subcompact.)
The APX was Beretta's entry into the MHS trials and, like the P320, uses an integral chassis from easy-grip swaps.
Beretta released a few different frame sizes and frames with finger grooves and without. APX Centurion owners can swap the back strap, which also changes the side panels of the grip.
The APX trigger might be average and on par with Glock, but holy crap is it an accurate and controllable gun.
This little fella is super easy to shoot accurately and quickly. The APX ergonomics and configuration make it easier to control with more accuracy than I expected.
Size-wise it's a little smaller than the Glock 19 and easier to conceal, but we still get a rail system.
The RDO model allows the shooter to top it off with a red dot on demand, and the ergonomics lend themselves well to adding a red dot.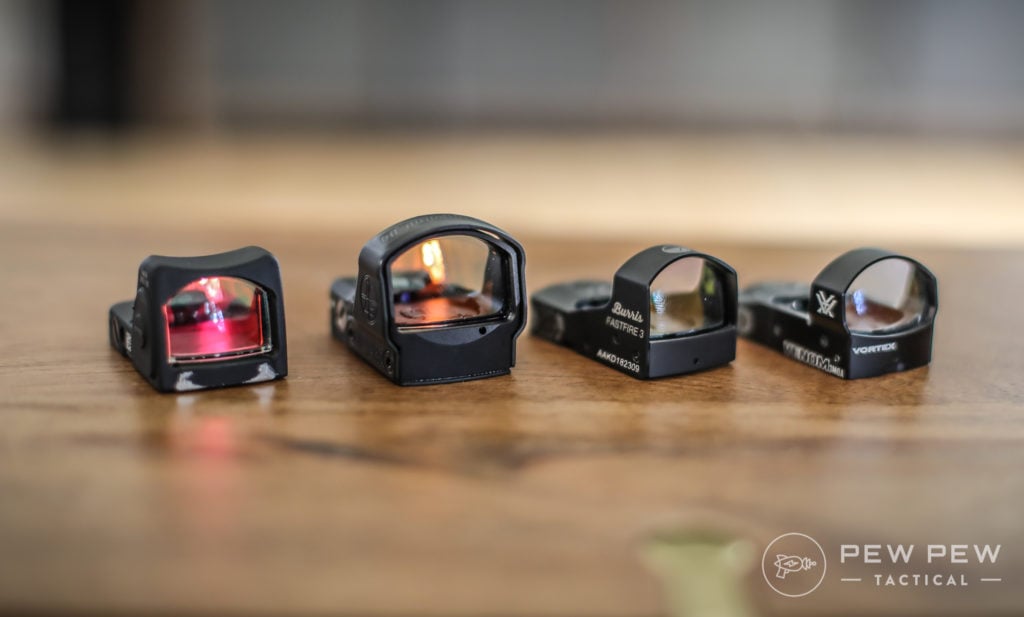 Glock's G19 still…you guessed it, makes magazines cheaper. And the Glock 19 is much more readily available. Finding the APX Centurion can be tough, and finding the RDO model can be even tougher.
Beretta makes them…allegedly.
The APX Centurion is a top-tier Italian stallion; believe it or not; it's one of the most affordable pistols on this list.
Right now, you can purchase it for less than $400 — that's a lot of guns for such a low price.
6. Sig Sauer P365 XL
You may claim the Sig Sauer P365 XL isn't a compact pistol. You might be right, but then what is it?
The P365 XL has a 3.7-inch barrel, a 15-round magazine, and a width of 1.1 inches. It's smaller than the Glock 19 but still meets the dimensions of a compact pistol.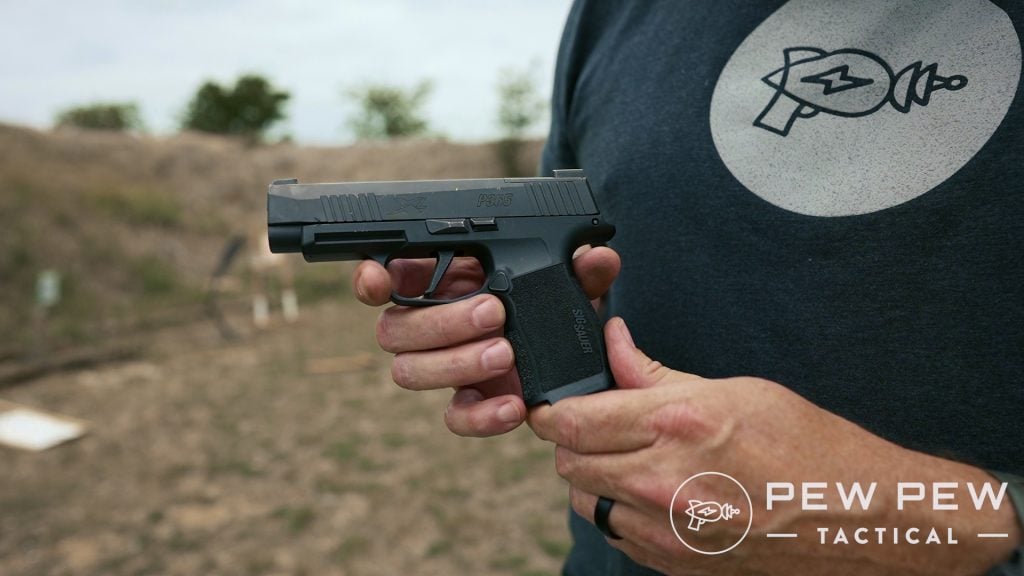 This gun packs a rail…even though it's proprietary, it can mount a TLR 7 SUB. Don't forget, you can also attach a red dot, and every P365 XL is optic ready.
The main benefit is that the P365 is much thinner than the Glock 19. It easily pulls double duty as a self-defense handgun and a concealed carry pistol.
Not to mention, it conceals easier…and that matters to a lot of smaller shooters.
Besides being a little smaller, it packs the same style of FCU the P320 does. You can use multiple grip modules from Sig and the aftermarket to get various grip sizes, terrains, features, and more.
Heck, I have an all-metal grip for my P365. What's not to love?
Besides being optics ready, we also get great Sig Day/Night sights, a great trigger, an ergonomic grip, and multiple options for magazines. The 15-rounder fits, but so do 12-rounders which shrink the gun.
What Glock does better, besides magazines, is control. The larger, wider grip offers better control over the gun, making it easier to fire faster and more accurately.
The Sig Sauer P365 XL redefines a compact handgun and offers an option for someone who might prioritize concealment more than control.
7. Glock 48 MOS
So, for those who MUST have a Glock but still want to scoot around the Glock 19…check out the Glock 48 MOS.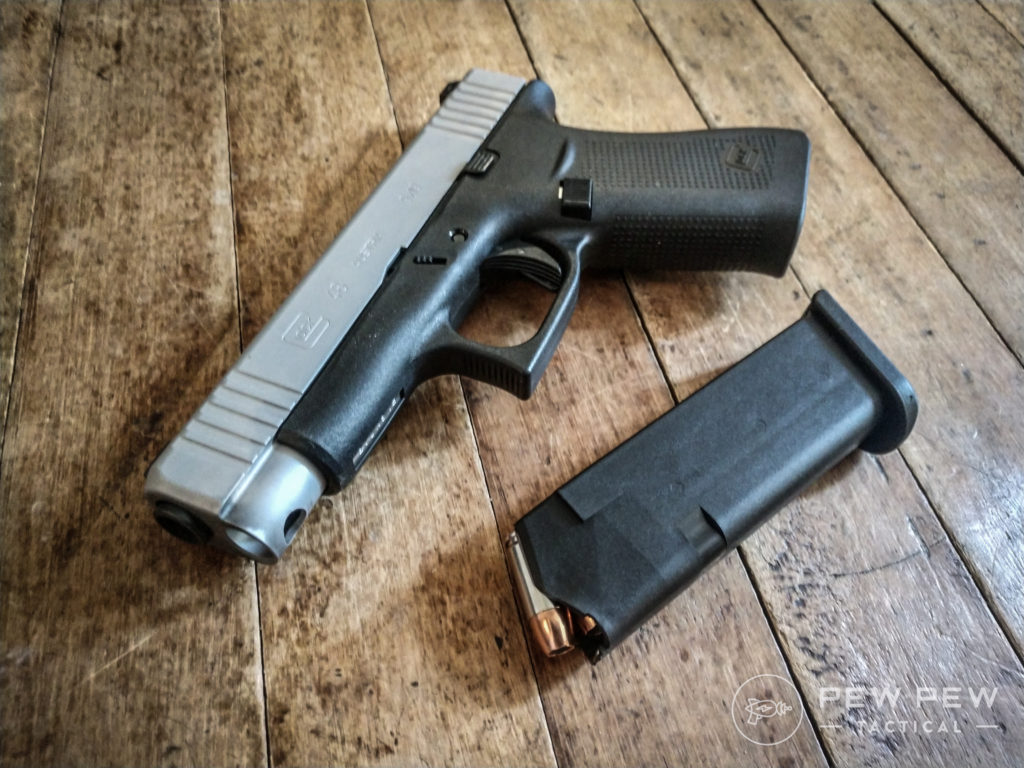 It's basically a single-stack Glock 19 in size – with a slightly longer barrel at 4.17 inches but a width of only 1.1 inches.
The stock magazines only contain 10 rounds, but a company called Shield makes a flush-fitting 15-round all-metal magazine that gives it Glock 19 capacity.
The MOS model tosses on an optic's cut and a rail for mini lights like the TLR 7 SUB.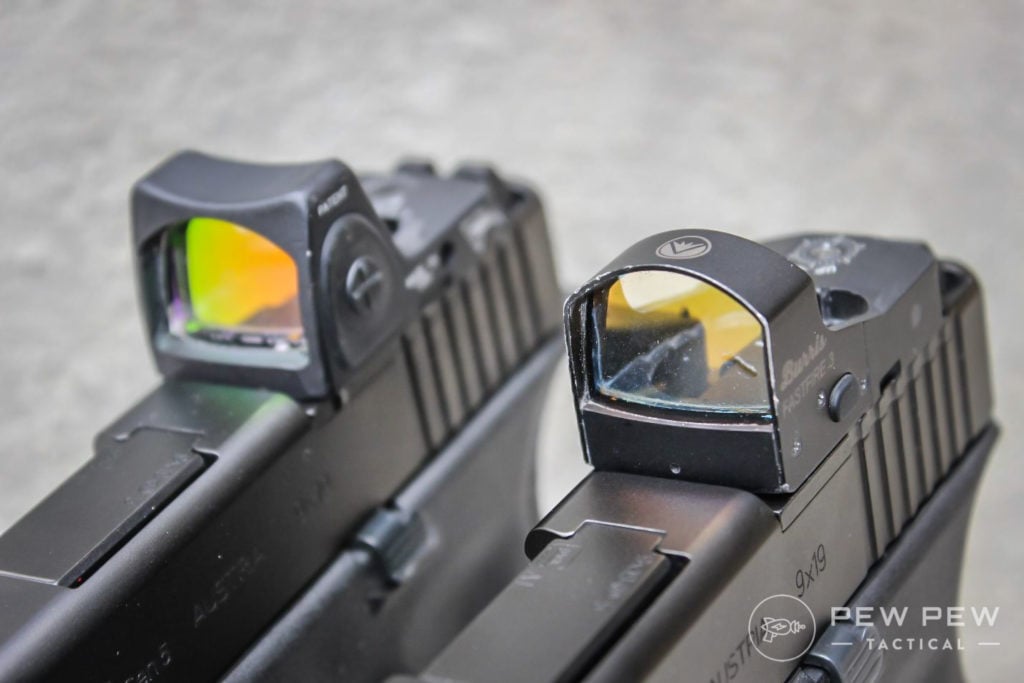 Basically, this version, alongside Shield mags, gives you a Glock 19 that's smaller than the Glock 19.
The main thing the G48 does better is concealment. It slips under clothes very easily and makes the gun-friendly to carry. Even though it's more carry-friendly, the hand-filling grip makes it easy to control and manage.
Like the Glock 19, the Glock 48 is simple, reliable, and robust.
It's customizable, and numerous companies produce magazines for the weapon. However, the Shield mags are the only option that offers you compact capacity with a flush-fitting design.
Final Thoughts
Though the Glock fanguys and girls will lament the fact that I'm suggesting anything other than Gaston's Glory, the PPT team likes options.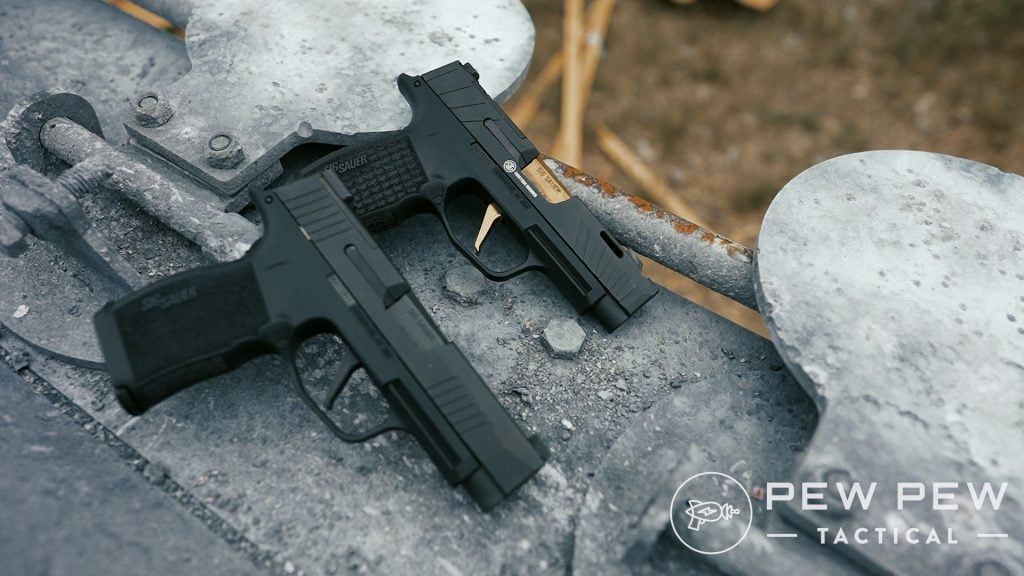 So, when you want something that's just as good (or even better…yeah, I said it) than Glock, check out the options above.
Which gun do you think out Glocks the Glock 19? Or have I committed sacrilege even suggesting such a thing? Let me know below. If you need a Glock, check out our list of the Best Glock Models or the Glock Clones we think are worthy of your attention.