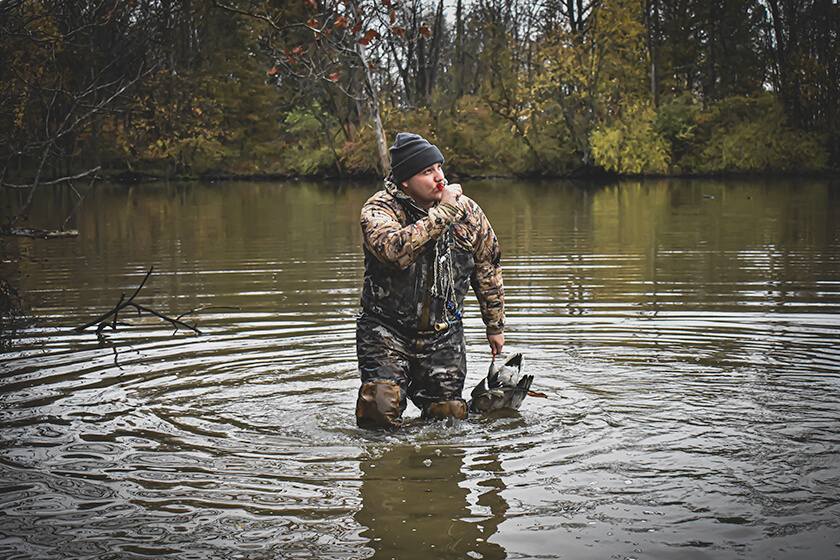 Last Flight Calls – Imposter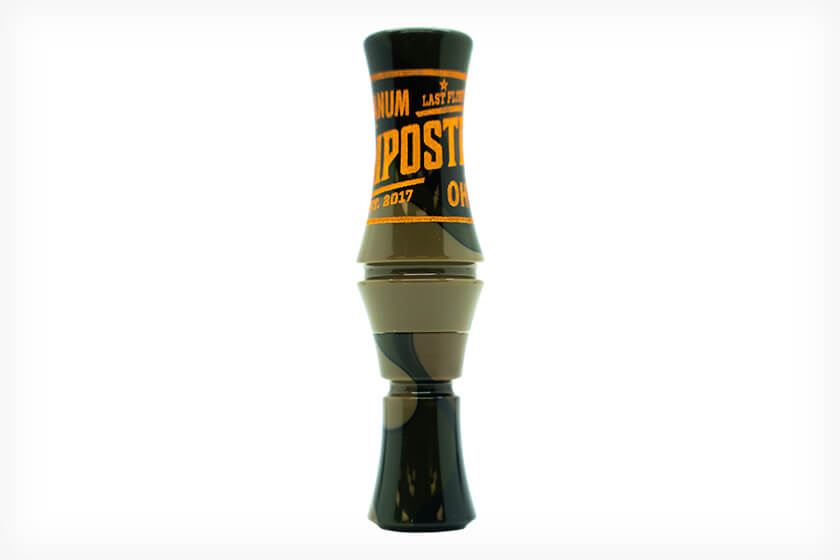 We all know that the decoys are pieces of the puzzle when waterfowl hunting, but to finish the puzzle, the Imposter duck call turns those fakes into the real thing. The Imposter duck call is Last Flight's double-reed call and the newest in their line. Slightly quieter than its big brother the Illusion, don't let this double-reed fool you, it can still get loud when you need it to. While the Imposter can cover the full range of duck sounds required to finish them tight, where it excels is in its ability to get nasty in the low-end ranges perfect for sweet talking in tight holes or the timber. Duck-worthy features include an O-ring fit insert, .410" exhaust bore, and a medium hold. It is available in acrylic, Delrin, and a hunter series all varying in price, hunter's choice.
$120 Acrylic | lastflightcalls.net
Echo Calls – Open Water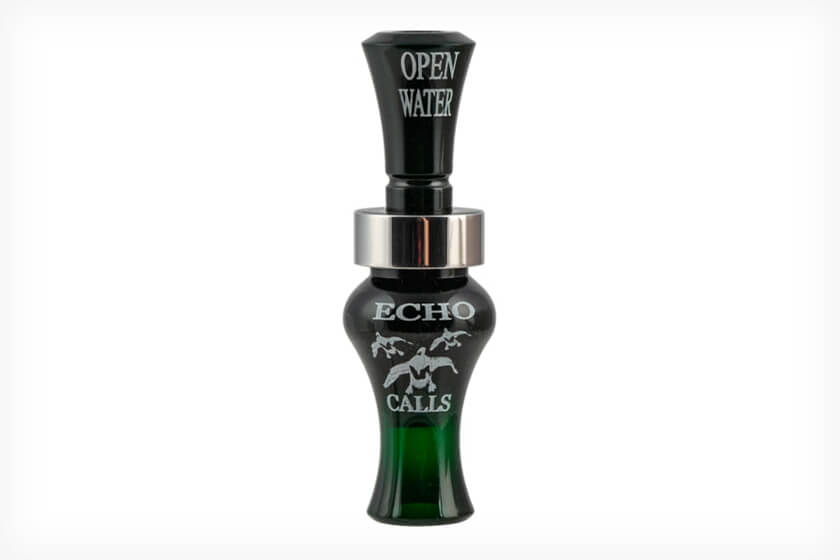 Echo's open water duck call is simply a classic waterfowl call that every waterfowler either has, or will own at one point. Yes, it is that good and functional. While the name implies that it should be used on big water, no surprise there, don't let the name fool you. While the Open Water is at home on big water or open fields, it can also perform dual-purpose, with a little user finesse, on small water and in tight quarters when you need it to. Sure, if you need to ring out an ear-ringing hail call, it can certainly up the decibels, but it can also get soft and ducky when the birds get close. It is available in both acrylic and in Bois D' Arc, bocote, and cocobolo wood configurations.
$140 Acrylic | echocalls.com
Duck Commander – The Flash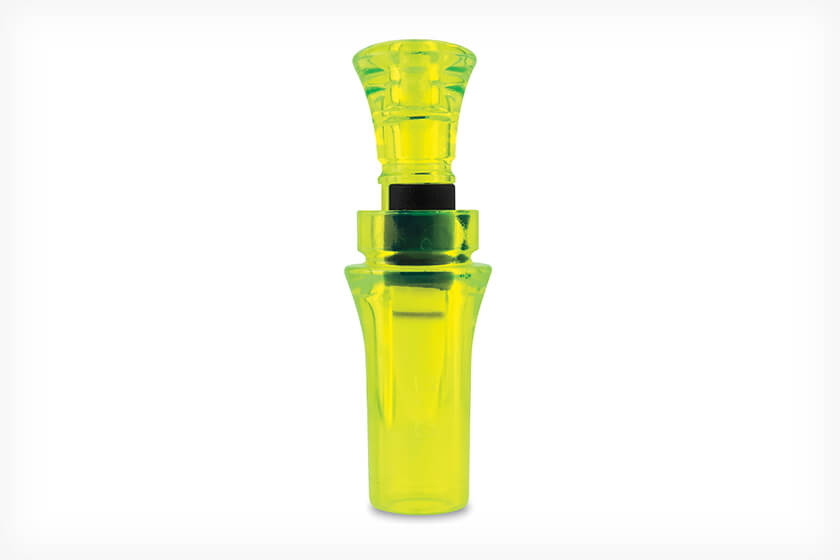 Price isn't the only indicator of awesome, and the Duck Commander Flash proves that statement correct. Singing a smooth, silky tone that the greenheads can't resist, the Flash can go from soft to loud in well, a flash! It utilizes Jase's Pro series modified reed system to resist sticking like the water rolling off a duck's back and has a double-reed design that uses the air pressure of most single reeds. It is extremely easy to blow, but also serves novices and professional callers by being able to produce the full range of duck-worthy sounds. Just when you thought it couldn't get any better, it has a short barrel for easier hand manipulation for those of us that don't have the hand size of an offensive lineman. Oh, and if you want it personalized, Duck Commander can engrave 15 characters for that special occasion.
$35 | duckcommander.com
Zink Calls – ATM Green Machine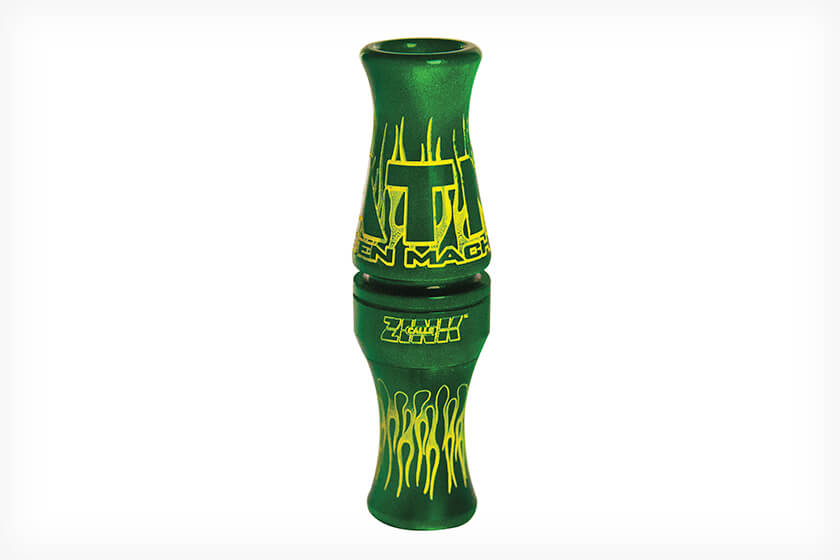 When you think about an ATM, you automatically think about collecting money, am I right? Well, instead of greenbacks, Zink's ATM Green Machine was designed to allow hunters to cash in on their favorite green, green-headed mallards that is. Using a double reed design and featuring the smooth, hen mallard sound callers want, the ATM provides greater volume and a radically improved bottom-end feed chuckle to suck them into range. This innovative call features Zink's Z-cut, no-stick tone channel—a ground-breaking design that permits a huge range of tones while virtually eliminating reed lock, even for heavy spitters. Each call is hand-tuned and ready to rock right out of the box so, if you are looking to cash in, put the ATM on your lanyard, no transaction fees required!
$150 | zinkcalls.com
Pacific Calls – PCD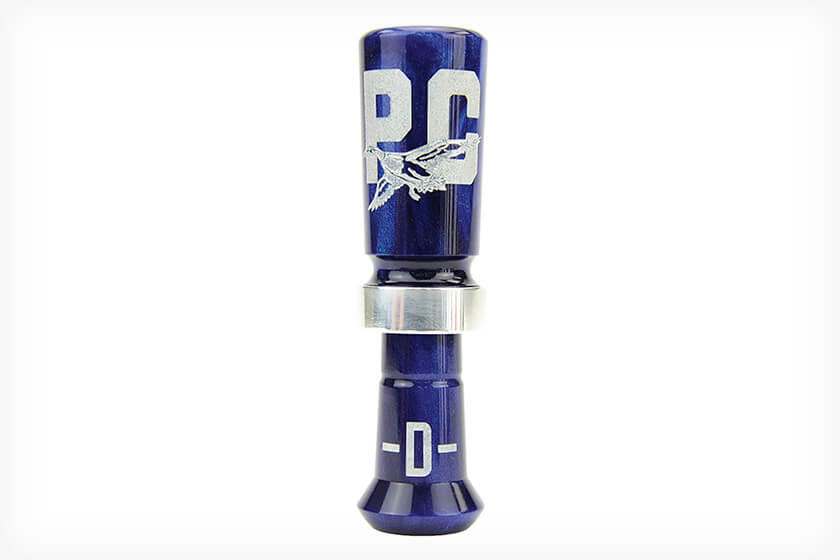 The PCD duck call from Pacific Calls is their loudest, most aggressive duck call they have ever built. Simply put, if you need to break them down from stratosphere, this call will hit them at the moon, at least, maybe further, they are still waiting for the sound to rebound. The PCD is lean, mean and ready to both break them down and finish them in the hole for your viewing pleasure. While it creates high hails like a thing of beauty, it is also at home creating those messy feeds and snotty, raspy hen sounds that the ducks eat up when they get close. Versatile is an understatement for describing the PCD, and if I had to create my own description for the PCD acronym, I would say it stands for Pure Chronic Duck.
$130 | pacificcustomcalls.com
Elite Duck Calls – Edge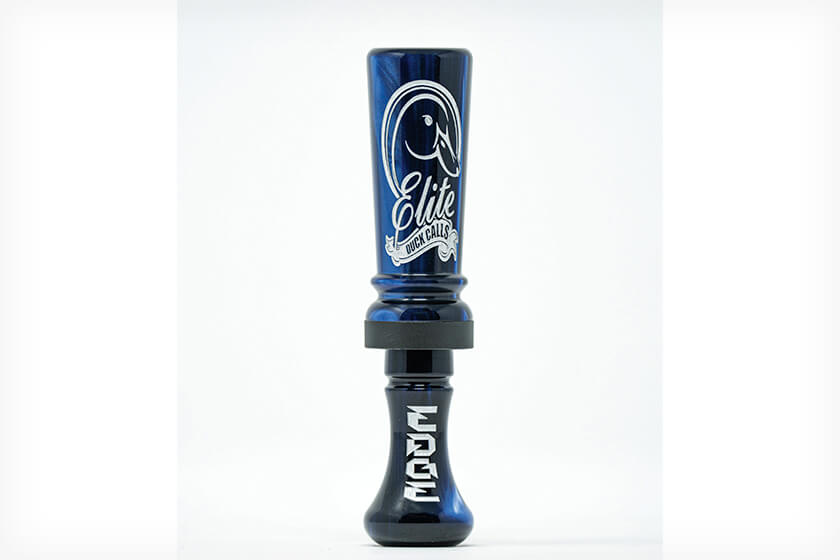 As classy as it is pure duck, Elite Calls Edge duck call not only looks good on the lanyard, it produces the guttural sounds that ducks can't resist. The Elite Edge is a double reed call that combines great volume and range with ease of operation. The Edge has a deeper tone and is raspier than other double reed calls, creating classic ducky sounds usually only found in single reed calls. While many hunters still covet single reeds for their unique tone, the Edge looks to change the game by bringing single reed sound to an easy blowing double-reed. If you are looking for a unique color combination to mix it up on your lanyard, check out the ice/black variation for some real eye appeal and get ducking.
$140 | elitecalls.net
Big Lake Outdoors Products – T-Rex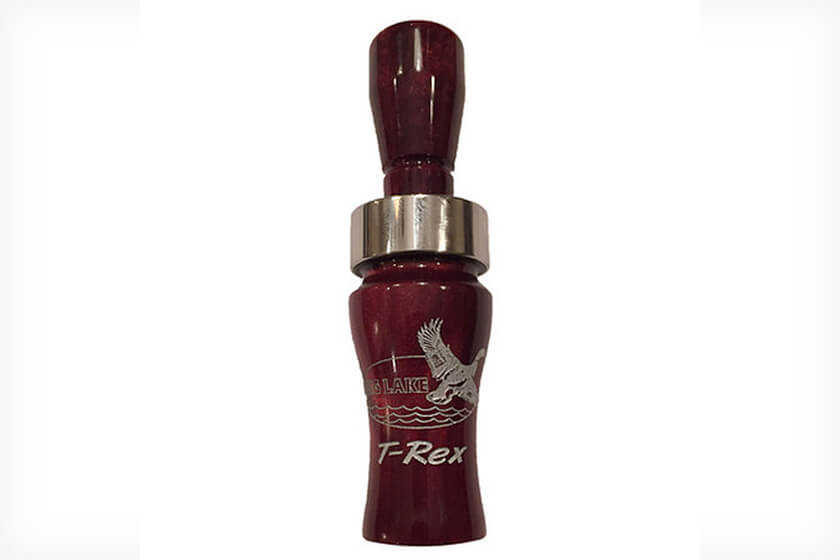 The T-Rex offers a unique approach to the typical duck call. Big Lake Outdoor Products adds both a metal and a mylar reed in the T-Rex call. This produces the ease of calling that is so well liked in a double reed. But the metal reed produces exceptional raspiness. The T-Rex is built on an open water insert that also allows more air volume. So unlike most double reeds, the T-Rex produces amplified calling characteristics.
$110 Acrylic, $50 Dymond wood | biglakeoutdoorproducts.com
Jargon Game Calls – Live Duck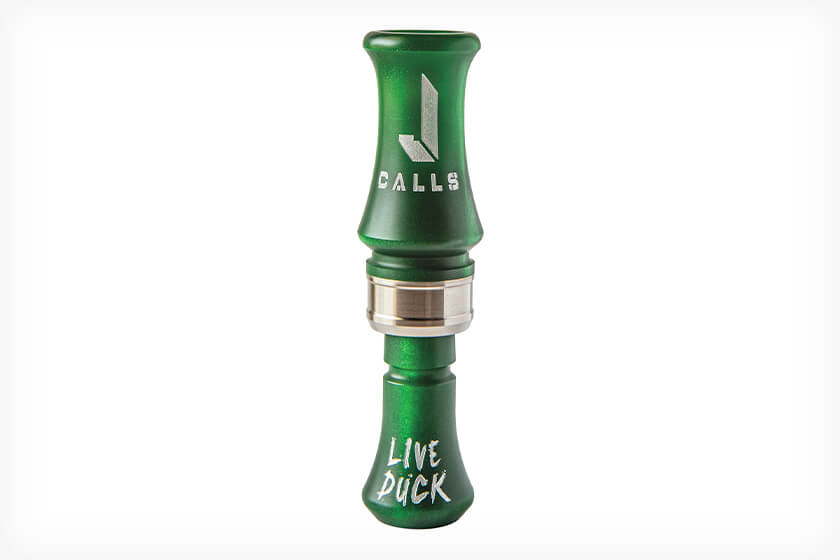 Jargon's Live Duck wasn't designed for the stage, per say, but it was designed to replicate the real thing, hence the name. The Live Duck can articulate the complete vocabulary of the hen mallard, from the softest scratchy quacks to those loud, nasally quacks that separates the women from the girls. It features a large exhaust port with great hold that blends in a perfect amount of back pressure into every call. These features make the call extremely easy to blow but still allow for advanced note articulation by both novice and professional callers alike. If you need a call for hunting the gamut of waterfowl scenarios, or need one to refine your live duck style contest calling skills, JARGON's Live Duck may just fit the bill, pun intended. This call will not disappoint you.
$140 | jargongamecalls.com
Haydel's Game Calls – H2CC Cajun Cutter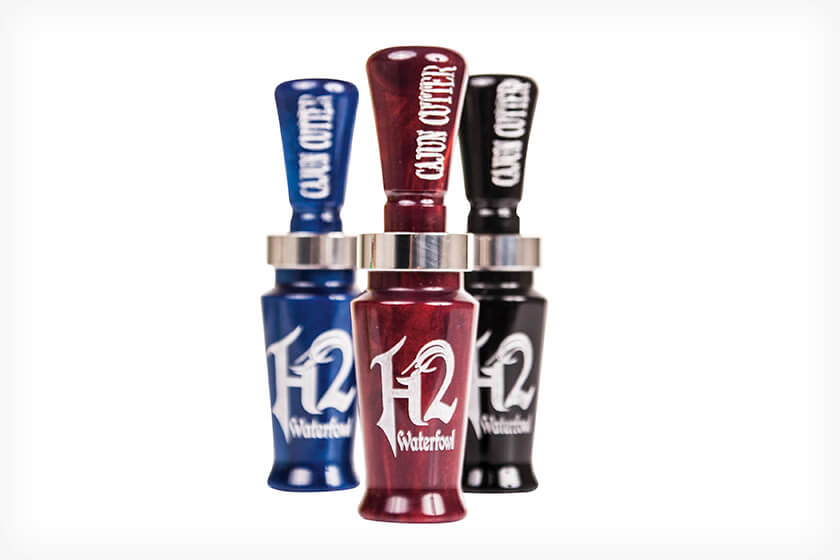 Saying that Haydel's re-invented the Cajun Cutter with their new H2CC variant would be an understatement. Instead, let's just say that the H2CC puts a new look on a classic, making the attributes of the original not only better, but more versatile. Staring with a J-frame, the acrylic H2CC features a polished steel band and is tuned with maximum hunter versatility in mind. It is offered in both single and double reed configurations and has a small exhaust hole to allow easy control, producing a great natural tone that will produce the fabled Cajun Cutter "squeals." It is designed and tuned to be lights out on the finesse side and ideal for callers looking to bend those notes to entice those call shy birds. The H2CC is just plain ducky, for hunters who are into that that of thing.
$140 | haydels.com
RNT – Daisy Cutter Xtreme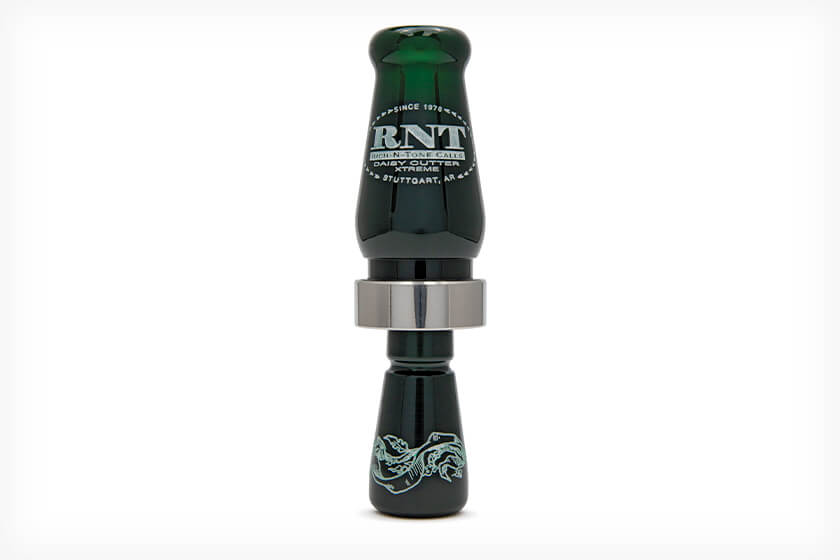 You know these guys. Rich-N-Tone's original Daisy Cutter duck call, simply put, is a classic that likely every waterfowl hunter surely knows by name. The Daisy Cutter Xtreme, or DCX for short, is simply a higher-octane version of its predecessor that is still capable of producing those sweet hen sounds that gets the mallard drakes drooling. By modifying the original Daisy Cutter's design, RNT slightly turned up the volume and enhanced its aggressive nature while maintaining a perfect balance of backpressure all while pushing the calls rasp to an Xtreme jaw jarring new level. If you like raspy, this one has enough rasp for you, your neighbor, and the guy two streets over! It is available in both acrylic and cocobolo or grandillo wood versions, all sure to sweet-talk those greenheads into range.
$145 Acrylic | rntcalls.com
DJ Calls – LLC Cut-Down Kit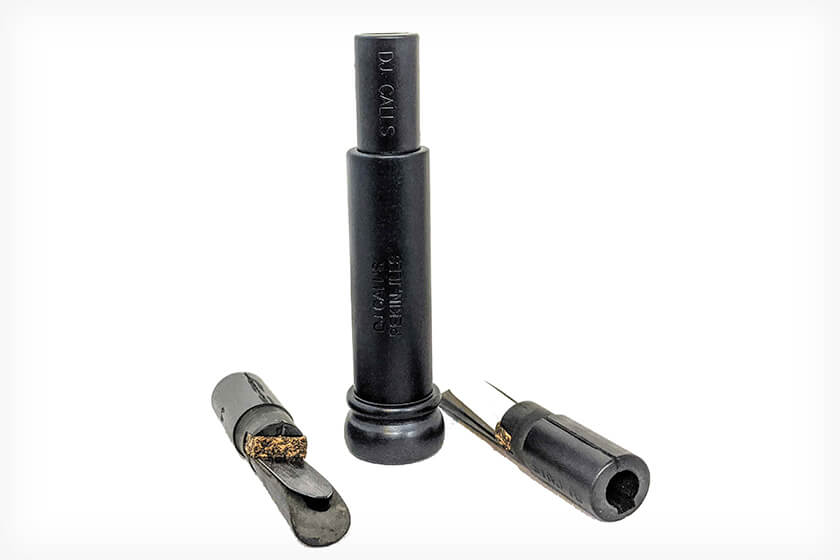 Don't cut down your classic Olt duck call! Instead check out DJ Calls Cutdown Kit. Their Cutdown Kit is a blasted black acrylic barrel with three different tonals, each cut differently. The tonals are made of hard rubber, just like the original Olts used to have back when they made their hard rubber keyholes. Like the Olts, DJ Calls also has the keyhole, for maximum versatility. The three tonal cuts include: Arkansas, Louisiana, and Quincy styles with .015" reed thickness on the Arkansas and Louisiana and a .020" tapered shave on the Quincy. Consequently, the Quincy is slightly harder to blow, but this is the original cutdown call design. While the blasted black acrylic replicates the original to a "T", DJ Calls also has other variants to spice things up.
$180 | djcalls.com
Big Lake Outdoors Products – Pintail Passion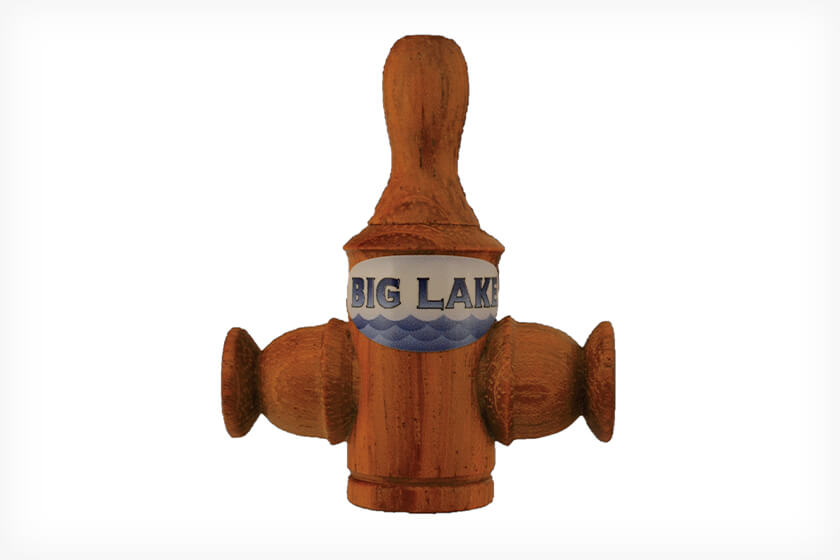 Pintails are one of the most alluring of all duck species and special attention to quality and sound is deserved with a pintail whistle. Big Lake Outdoor Products offers the well-known "Maurilio" whistles that provide exceptional sounds. The Pintail Passion has a roller ball that produces the beautiful trills and peeps of pintails and wigeon. This jatobe wood call has two ports that allow you to alter the sound from high-to-low to mimic more than one duck.
$40 | biglakeoutdoorproducts.com
Wingert's Wood-Works – Duck Whistle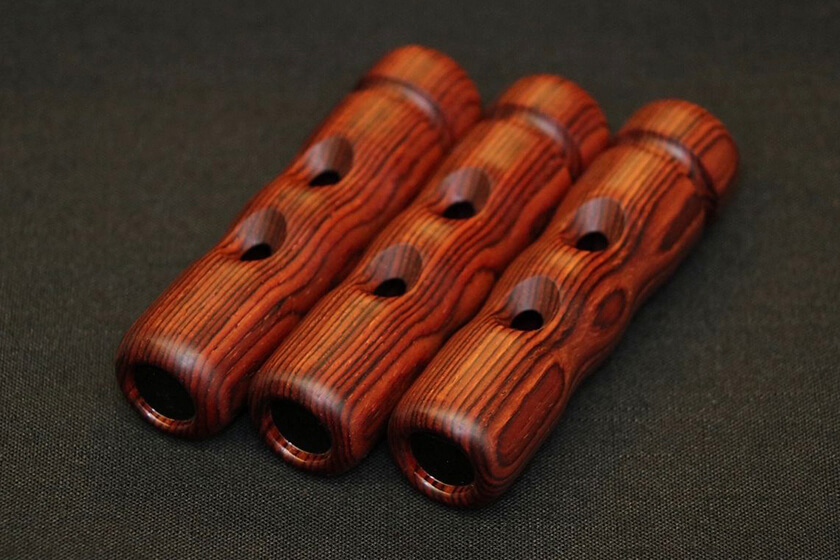 They don't have contests for duck whistles, but they probably should. Truly custom pieces of duck art, each Wingert's call is one part hunting function and one part conversation piece. Duck whistles are the most underrated calls on a hunter's lanyard, and not just for hunting pintails or wigeon, but every species. If you don't already own one, you are truly missing out on a game-changing apparatus for your lanyard. This is where Wingert's comes in. Their whistles are available in wood, acrylic, and many other variations including stabilized spalted wood and burls and even micarta. While they all serve the same purpose, you are definitely missing out of you don't go with one of the more custom and unique choices, as these calls are heirloom quality and do not disappoint. And hey, GQ fashion in a duck blind is a thing, isn't it?
$75 | wingertswoodworks.com