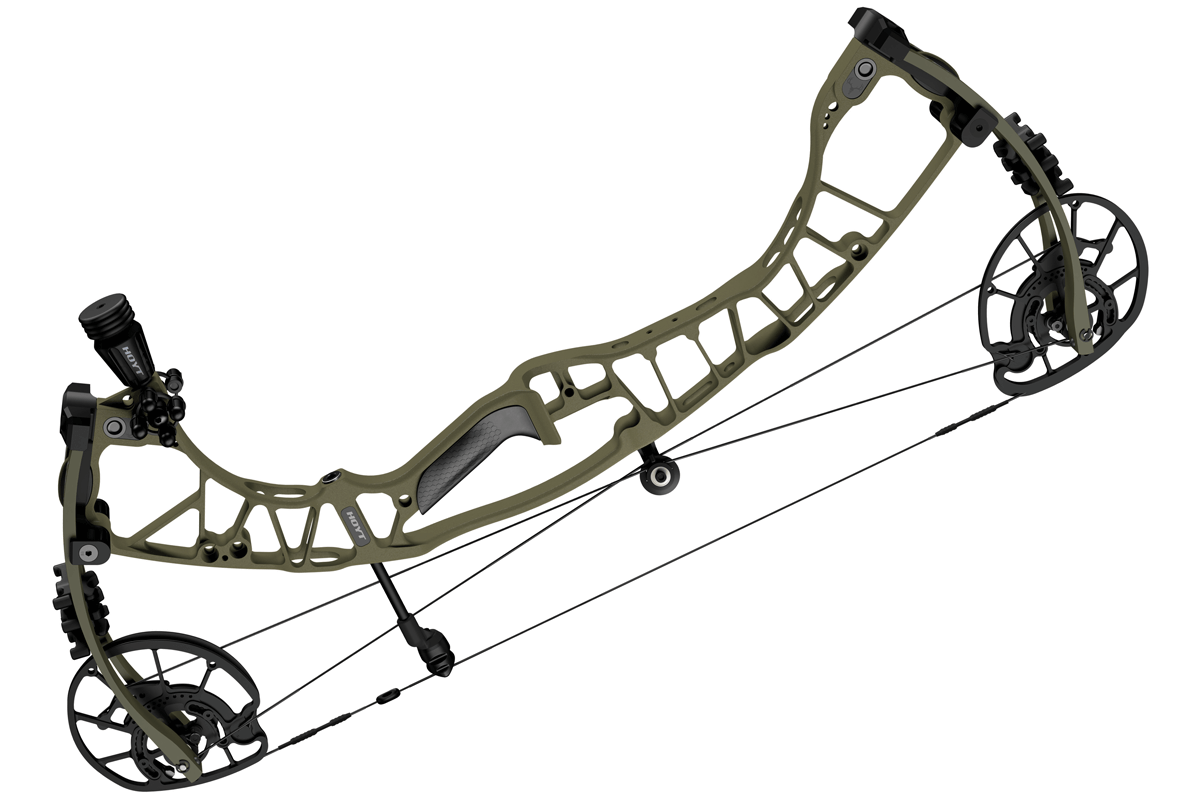 Happy 90th, Hoyt! That is an impressive anniversary, and the company has done a remarkable job carrying Earl Hoyt's passion and drive through the decades.
Hoyt pushes the envelope on innovation year in and year out and has been awarded nearly 50 patents. It's been an impressive run, and judging from the lineup for 2021, it looks like they have no intention of letting up. Let's look at one of their most anticipated new models, the Ventum 30.
The Ventum 30 features an all-new cam system in the HBX Hoyt Binary Cams that work with the Hybrid EXT split limbs to generate an advertised IBO speed of 342 fps. The Tec riser, with its open design, is home to Hoyt's In-Line sight mount, Integrate Rest mount, compact roller guard, vibration dampeners, XACT grip and In-Line Short Stop Stabilizer.
Tricked Out Hub
The riser is home to many features and technologies, starting with the Tec riser design. A section of the riser loops behind the grip to create the Hoyt Tec-Lite structure, which channels vibration away from the main body of the bow, bypassing the grip and shooter's hand. It also adds strength and gives every Hoyt bow instant brand recognition.
In addition to the typical sight mounting holes on the side of the sight window, you'll find two on the front and a section of Picatinny rail in the box, which creates the company's new In-Line Sight Mount. By anchoring the sight in line with the riser, balance is enhanced and the overall fit is streamlined. With the same goal in mind, Hoyt outfits their new rig with an Integrate Rest Mounting System that uses a machined dovetail on the back of the riser to attach one of QAD's Integrate arrow rests. Once locked down, the Integrate system creates a solid and consistent platform for adjustments and tuning. A standard rest mounting hole is still available. Even the compact Roller Guard cable-management system sits in a recessed pocket and protrudes rearward to keep it in alignment with the riser.
The Ventum 30 is equipped with two forward-facing, stainless steel stabilizer mounting inserts — one in the traditional location just below the grip and another near the end of the riser by the lower limb pocket. The bottom mounting location's position lowers the center of gravity and places it on the reflexed portion of the riser where it extends forward. The new location results in a 2-inch stabilizer having the same reach as a 6-inch one, which means you get the same or better benefits from a shorter, lighter stabilizer. Hoyt includes its 2.25-inch Short Stop Stabilizer with every purchase. A special SL SideBar Attachment is also mounted lower on the riser to increase effectiveness with a smaller and lighter side bar. The molded polymer XACT grip, a set of Shock Pods and a string stop complete the riser package.
New Cam
The HBX Hoyt Binary Cam is not a re-engineering of an older model — it's a completely new design never before available. Described as binary, this three-groove, dual-cam system links the cams together through two control cables that attach only to the opposite cam. When pulling back the bow, you're pulling against the cams, not the limbs as you would a yoked system attached to the outside of the limbs. This configuration is said to automatically correct for system imbalances caused by string stretch, timing, etc. The HBX covers a draw-length range of 25-30 inches using two rotating modules — 25-28-inches and 28.5-30 inches. All bows ship at 85 percent letoff; however, they can be adjusted to 80 percent without the need for a bow press.
Bunker Beast
Hoyt's Hybrid EXT split limbs have a reputation for being built like a bunker. These multi-layered, laminated and machined limb designs are subjected to 1,000 full-on dry fires, with the bow set to an 80-pound draw weight and 30-inch draw length. Additionally, the bow design is advertised to withstand one million cycles. The company's Uniform Stress Distribution process and Split Limb Technology create durable, wide-stance limbs that demonstrate exceptional torsional and lateral stability. Hoyt outfits the Ventum with a set of precision machined, tight tolerance limb pockets to handle the critical interface between limbs and riser.
Impressions
This is one of my favorite Hoyt bows of all time — all-around good performance with hardly any shock and no detectable vibration felt at the shot. Noise followed suit, with very little report from the Ventum 30 when fired. If there is a drawback, it's the 4.6-pound bare bow mass weight. However, there are benefits to that mass as well. Hoyt is known for producing bows with smooth draw cycles, and the Ventum is one of their best. The XACT grip was comfortable and positioned my hand/wrist consistently.
The Specs
Manufacturer: Hoyt, 801-363-2990, hoyt.com
Model: Ventum 30
Riser: Machined aluminum, reflex
Grip: XACT, molded polymer
Limbs: Hybrid EXT, split
Draw Weights: 40, 50, 60, 65, 70 and 80 pounds peak
Cam System: HBX, Hoyt Binary
Letoff: 85 percent, with 80 percent option (advertised); 83.1 percent (tested)
Draw Lengths: 25-30 inches, in half-inch increments; modular
String: Fuse Custom, BCY X99, 57.9 inches
Cables (x2): Fuse Custom, BCY X99, 33.75 inches
Brace Height: 6.125 inches
Axle-to-Axle Length: 30 inches
Weight: 4.6 pounds (advertised and as tested)
Finish: Film dipped Realtree Edge and eight other options
Advertised IBO Speed: 342 fps
MSRP: $1,199
Comments: High performance marks across the board.