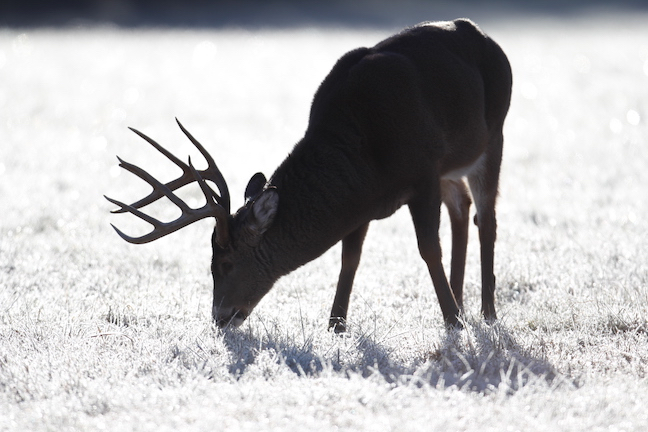 Here's our guide to filling your tag on Iowa public land deer hunting this season.
When we talk to hunters across Iowa, whether chasing after spring turkeys or looking for a chance to fill that deer tag, public land hunting is challenging.
It's not impossible to fill a tag if you hunt public land; however, there are some key components that will help you as you make plans for the coming season.
We'll provide you insights from not only the Iowa Department of Natural Resources, but also from hunters that have been successful on public lands.
It goes without saying that many of the deer that are harvested and recorded annually come from privately held land. In many cases, it's not even the landowner who harvests the deer but rather a hunter who has asked for permission or maybe a group that has leased some private land.
I am one of those hunters who have the privilege of hunting on private land where only a handful of hunters are allowed. However, public land is where I took my first steps as a bowhunter in search of my first deer.
The IDNR's wildlife management staff manages over 356,000 acres that are available for public recreational use every day of the year.
All of these areas are managed with revenues from the sale of hunting, fishing and trapping licenses that are purchased by residents and non-residents.
The funding sources used to manage these areas ensure that they are managed to provide habitat for Iowa's native wildlife species and those species that migrate through our state.
Developing and restoring wildlife habitat to ensure that wildlife species have a safe place to breed, rest and feed is the objective.
RESOURCES
With popular destinations, a challenge anglers face is the pressure on the fishery. The same holds true for public land hunts. There certainly is no shortage of land, but the biggest challenge hunters face is going to be pressure.
Technology resources for scouting have become readily available to every hunter in the state of Iowa. The IDNR's atlas features more than 600,000 acres of public land area owned by the state, county and federal governments.
It's a prime example of how we can now use mapping apps before we even set foot on the ground.
The Hunting Atlas located on the DNR website is an interactive map that shows you all the public hunting lands, making it easier for hunters to locate areas more accurately.
Zooming in to an area that you'd like to visit as a possible hunting location will give you the boundaries and size of the hunting area, type of habitat and what species may be found. In some cases, a map in PDF form will be available for you to download and print. With a little extra time and effort you can narrow your starting point down to some very potential possibilities.
Now with the new IHAP access program areas we have across the state, there's a level of untapped resources. IHAP is the private lands program in which landowners ask for help from the Iowa DNR in managing that land. A management plan is drawn up and implemented by the forestry division.
These properties then become available to hunters for a set period of time: three, five or 10 years. These properties give the feel of a piece of privately held land, which they are, and are typically smaller than a WMA, so you feel a little more "on your own" hunting in these smaller areas. These IHAP areas are now listed on the Iowa DNR hunting atlas, as noted above.
"Iowa has a wealth of quality public areas for hunting deer, many of which have the potential for a fun and successful hunt," said IDNR wildlife research biometrician Tyler Harms. "Deer utilize a variety of habitats in Iowa, but typically associate with forested areas because they provide the best cover. Hunters interested in pursuing deer on public lands should seek areas with a relatively high amount of forest cover."
Estimates following the 2016 hunting season indicated deer populations were highest in south-central and northeast Iowa, noted Harms.
"Populations have remained relatively stable statewide since 2013. Hunters should be able to find deer on public areas with the proper habitat across the state."
WHERE TO GO
"When it comes to hunting on public ground, it really depends upon the type of hunt you want," said IDNR wildlife biologist Jim Coffey. "Some of our areas that are larger like Yellow River State Forest (Clayton County) or the Sedan Bottoms (Appanoose County) can be intimidating. They can offer great day-long experiences and also some remoteness."
Some of the smaller areas like Mink Run in Cedar County can have high usage, but may allow for a shorter, quick hunt when time is critical. "I try to tell people not to overlook our grassland areas in the northern part of the state. In many cases these may be some of the larger blocks of habitats in the area," added Coffey.
The deer adapt well to laying out in the tall grasses, and this can make them very difficult to hunt. There are some great resources in the western part of the state as well. The public lands around the Loess Hills can be quite rugged. This allows for some great escape routes offering deer another year to get older and bigger.
DUE DILIGENCE
When it comes to hunting public land, it may take a bit more time and scouting to find areas where deer have made it a home. Scouting these areas is your best bet for making decisions that will lead you to a successful hunt on opening day.
We've already mentioned the IDNR hunting atlas, and this can be an excellent tool for pre-scouting an area before you even hit the ground.
With the advent of new technology, we have topographical maps and digital satellite imagery that can help you narrow down your search to what may be productive areas, making the best use of your time before you head out to set up trail cameras or just to search for active deer sign.
"I've hunted public land for years," said Mark Wagner, the general manager of Archery Field & Sports. "I hunt a lot of spots down in southern Iowa, areas like Hooper and Stephens State Forest. There is a ton of public land even though Iowa probably has the smallest amount out there, but there are still some really great public spots."
There are challenges to hunting on public land. During the bow season you're less likely to run into other hunters, though it's not completely out of the question. As the seasons progress and change, more and more hunters will be out using public lands.
"One of the things I think hunters need to consider is where they set up on public land. Walk farther back in to the hunting areas instead of setting up say 20 yards off the road," advised Wagner.
Another aspect of hunting public land is to go where no one else will go. Let's face it, we live in a society where we are used to driving up to a speaker, ordering a sandwich and a drink, and by the time we get to the window to pay, we have lunch.
When it comes to public land hunting, though, we have to take that extra step and effort to go beyond the drive-up window. Deer are naturally attracted to water and food sources.
Many of the water sources we have on public land are small creeks and rivers, which for most of the hunting season are pretty shallow. Instead of stopping at the creek (the window), cross that creek or river and look for deer sign on the opposite side that leads to that water source. Cross the barrier.
"You've got to walk back in to an area and get away from where other hunters may stop. I'm not saying you have to walk the farthest, but find good spots deeper into an area — looking for pinch points and terrain features that funnel deer," said Wagner. "Go look at the property, get maps and walk them, especially early in the year. You may run into hunters out there during the season; just be respectful of one another when you are putting stands up or find a stand in the area you wanted to hunt."
POST-SEASON
Another effective yet underutilized technique for scouting public land is to do it after the season is over — like right after it's over.
In Iowa, the deer season typically will end the second week of January. Hunters are packing up and putting things away until it's time, for many, to start scouting again in the summer. But what about right after the season?
This is a time when deer trails can be clearly visible because you don't have much ground cover. Rubs will still be visible, and you can mark these areas on a map. There are mapping apps where you can make a note, or you can purchase a GPS unit that will allow you to create waypoints.
By taking time to scout right after the season you can also find areas where hunters have been — maybe a tree stand that is still up or a blind.
Move past these areas and follow those trails as you look for signs that active deer have been in an area beyond where others have hunted.
Once the scouting is done and you're satisfied with your research €¦ mum's the word! Social media is a great place to talk about successful hunts and show your harvests, but don't spill the beans on recent scouting trips or you'll find new neighbors in your hunting area.
RESPECT THE RESOURCE
It's important as hunters to remember that public land is there for everyone's use. Not only for deer hunters, but for all outdoors enthusiasts.
There will be times that you're out hunting in an area where you are sure no one will walk by, yet a family of three with a four-legged friend will do just that. It may end your day, but it's not the end of the season.
The IHAP program allows you access to private land. These landowners have opened up their "homes" and are giving you the opportunity to help in deer management.
Pack out what you take in, know where you are hunting and be respectful of the property. Your goal should be to leave the area in better shape than you found it. And if you have a chance, thank the owner for the opportunity. It will go a long way in improving access in the future.
"There's a lot of good deer that are on public land that a lot of hunters will overlook," noted Wagner. "I've known hunters who have harvested 200-inch deer off public property. My biggest deer came off public land. The deer are there €¦ you just have to get out and hunt."
Don't forget to pass along the torch to the next generation of hunters and stewards of the resources we have here in Iowa. Good hunting!