In recent years companies like Polaris, Arctic Cat, Can-Am, Suzuki and Kawasaki tried the concept of putting different-sized motors in a shared chassis to save development time and cost. The machines were basically the same, except for the cc and price. Yamaha was doing it, too, with their Grizzly 550s and 700s. This year Yamaha is trying something totally different by building two 4×4 machines using the same size engine and frame. However, that's where the similarities stop. One machine is the flagship Grizzly, which we tested in the November issue, and the second is the 708cc Kodiak, which we will take a look at here.
This will now be Yamaha's lowest-cost utility 4×4 ATV. The rest of the lineup has disappeared for now. The Kodiak has a retail price of $6999 for the base model and $8199 for EPS and $500 more for camo. $1200 might sound like a lot for EPS, but Yamaha's electric power steering system is probably the best out there. The EPS model comes with an extra handlebar-pod-mounted headlight and digital instrument panel. The Kodiak line will target the same customers as the Polaris Sportsman 570 and 550 SP, the Honda 420 Ranchers and the CanAm Outlander 570L.
ALL-NEW ENGINE The engine is not just a hand-me down from the old Grizzly. Yamaha actually developed an entirely new, dual-overhead-cam four-stroke that can be tweaked and used in multiple platforms. So far the exact same powerplant is used in the Wolverine SxS, the Grizzly and now the Kodiak. This is not the motor out of the Raptor or older Rhino, and when we asked Yamaha if this powerplant might find its way into a sport 4WD quad, they would not deny that fact. We can only hope.
Specifically, the engine is 708cc with dual overhead cams, four valves, electronic fuel injection (44mm) using a single cylinder mated to a CVT transmission. Yamaha claims, compared to the older 686cc Grizzly engine, peak horsepower is up 6 percent and the torque is increased a full 10. To get the power to the ground, the Kodiak relies on Yamaha's Ultramatic CVT system, which still uses a centrifugal clutch to keep constant belt tension at idle, and a sprag clutch always produced great engine braking. As with most Yamahas, this Kodiak is super easy to service with access panels to check the oil and a tool-less foam air filter access, which is under the seat. To keep an eye on engine operation, a digital instrument panel holds all the warning lights, fuel levels, speed, distance and diagnostics.
To keep prices down, Yamaha's On-Command 4WD is not found on this machine. However, there is a selectable 2WD/4WD system lacking front diff-lock. For traction the Kodiak is equipped with 25×12-inch Maxxis tires exclusively spec'd by the Yamaha R&D team.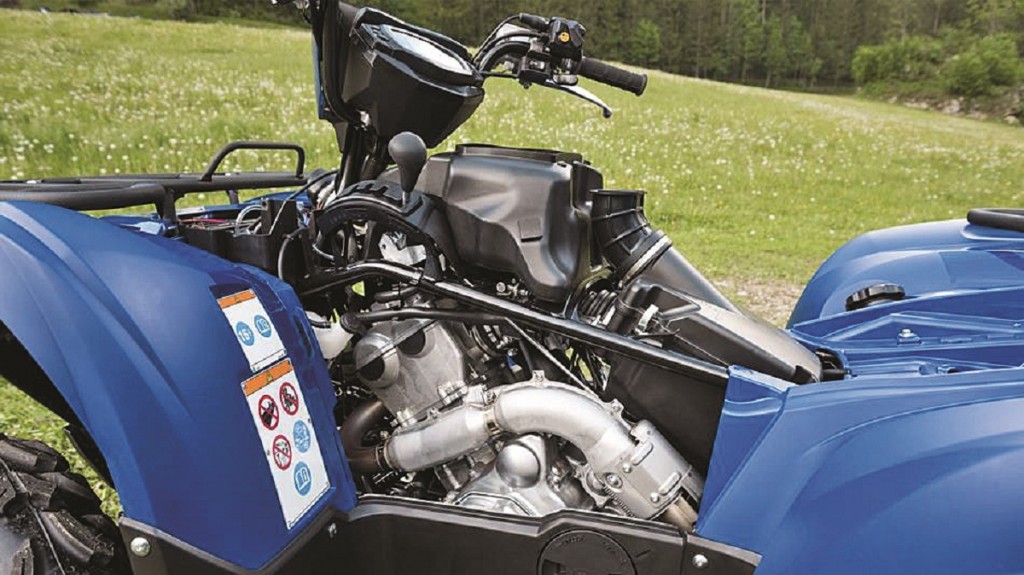 BIG CHASSIS CHANGES Yamaha built the Kodiak's suspension system using independent A-arms on all four corners to sit 2 inches narrower than the Grizzly. Suspension travel is also slightly reduced. Up front, 7.1 inches of travel is provided via five-way preload-adjustable shocks. Out back, wheel travel is increased to 9.1 inches, and again five preload settings are provided depending on your specific needs. At the outer edge of those front A-arms, disc brakes are used. The rear end has a multi-plate sealed braking system. Ground clearance measures 10.8 inches, and the curb weight is 677 pounds, which is about 15 pounds lighter than the Grizzly. Overall, the center of gravity stays low thanks to locating the fuel tank to under the seat and the intake in front of that. New for Yamaha, a center-mounted headlight pod (EPS model only) in the handlebars should add a lot of additional light paired with the two solid-mounted lights below the front rack. Also, the racks are the same dimensions as the Grizzly, but the bodywork is trimmed up considerably for better visibility and to narrow the machine up a little.
TEST RIDE We know Yamaha built this machine as a work/utility machine first and a recreational machine second. That's not exactly how we ride, though. It's the opposite; our work is trail riding, and for a full complete test, we also do some ranch chores with machines from time to time. And, it's easy to say the Kodiak performs great at both. Our first 50-mile test ride was done at Windrock Park in eastern Tennessee. This amazing place is full of wide utility roads connected by awesome, tight and technical trails, so it was a great place to feel the Kodiak work. On the easy-going trails the Kodiak is smooth, quiet and a breeze to pilot. The power steering works perfectly, but for casual trails, we don't think you even need it. Even when in four-wheel drive the steering was not at all heavy or twitchy. Engine power is super smooth and mellow. The power characteristics are similar to the old-generation Grizzly engine. The power doesn't wear you out or jerk your arms out of their sockets, even with the throttle pinned. In rough rocks, EPS was a plus, helping with steering damping and controlling kickback. Even at high speeds over rocky trails we never experienced the bars wanting to come out of our hands or even feel twitchy.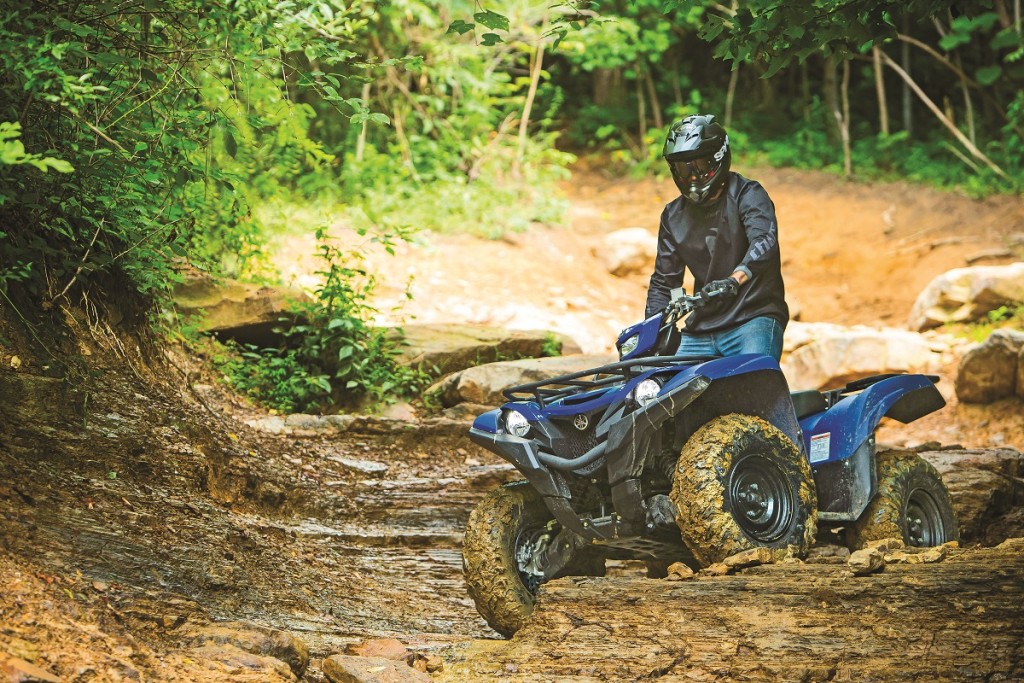 We liked how low to the ground the machine was when riding in ruts or off-camber trails with steep cliffs on the sides. There was the one occasion when we got hung up in a rut; a front diff-lock would have come in handy, but we easily put the machine in reverse and backed out. Since the machine has no diff-lock, we wish Yamaha would have tightened up the front limited-slip differential slightly. On the good side, you feel really comfortable at all times riding the Kodiak. The quad doesn't feel small, but it can get into some very tight places. We did scrape the bottom on a couple of big rocks, but that action was rare. However, with any quad, if you are riding over extremely rocky terrain, replacing OEM plastic skid plates is a must.
FINAL THOUGHTS Back home when we rode the Kodiak on our trails and worked it a little on the farm, we again loved the way it was tuned. It's very mellow on take-off if you want it to be and is good for hauling or towing. It's a given that when we use a quad for work some items on the racks won't be tied down, and if you have a jerky take-off, you will spill any load. Having the low rack heights did help loading things like straw bales and trash cans. We still wish the racks had more spots to hook tie-downs, though. On the good side, we really appreciate the new storage box in front of the rider where a gas tank would normally sit. Overall, it's a perfect package that does nearly everything well. Starting under $7000, the 2016 Yamaha Kodiak 700 is going to give competitors like the Honda Rancher 420 Auto at $6699, the $6599 Polaris Sportsman 570 and Can-Am's $6799 Outlander 570L a run for a similar investment. To make the buying decision a little easier, we will compare them for you as soon as possible and give you our conclusion.
SPECS 2016 YAMAHA KODIAK 700 Engine…………..Liquid-cooled, DOHC, single-cylinder, 4-valve, 4-stroke Displacement……………………………708cc Bore & stroke……………103mm x 85mm Compression ratio…………………….10.1:1 Starting………………………………….Electric Fuel delivery…………………….44mm EFI Fuel capacity………………………4.76 gal. Transmission…………….Fully auto CVT Final drive………………………………..Shaft Suspension/wheel travel: Front……………….Dual A-arms w/ 7.1" Rear……………….Dual A-arms w/ 9.1" Brakes: Front………………..Dual hydraulic disc Rear………………..Multi-plate wet disc Tires: Front…………………………………….26×8-12 Rear…………………………………..26×10-12 Length/width/height..81.5"/46.5"/48.8" Seat height………………………………..33.9" Turning radius……………………………126" Ground clearance……………………..10.8" Claimed weight……………..677 lb. (wet) Rack capacity………………110 lb. (front)/ 198 lb. (rear) Colors…………………….Green, blue, red, Realtree Xtra Camo Price…………………..$6999 (base model); $8199 (as tested Contact……www.yamaha-motor.com