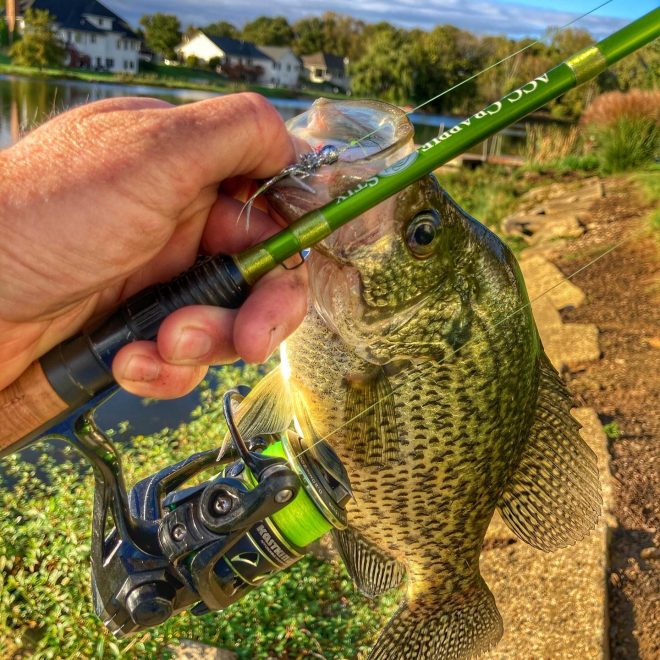 By Greg McCain
Modern crappie fishing is most often associated with anglers using a variety of presentations to pursue fish in a boat.
The use of the boat provides various advantages that can lead to more fish in the livewell and eventually in the frying pan. One major problem exists with this idea: Not everyone owns a boat. Even those who do possess a vessel of some sort choose the alternative at times. Certain crappie fishermen love to fish from the bank.
The ordinary bank fisherman and the crappie bank fisherman are not exactly synonymous. Most bank fishermen are happy with just about any species that bites. Crappie fishermen, however, have a definite purpose in mind. They use whatever means necessary, often developing innovative approaches and traveling great lengths, to pinpoint a quality crappie bite. The allure of the thump is real whether an angler fishes from a boat or from the bank.
"Most certainly, I love to fish from the bank," said YouTuber and ACC Crappie Stix pro staff member Caleb Hensley of Texas. Caleb (903 Fishing on YouTube) goes on to explain that he fishes from a boat at certain times of the year. That opportunity doesn't stop him from exploring the bank fishing potential available in his region of east Texas.
In a state far to the north, another YouTuber creates content as he explores the lakes of central Illinois while crappie fishing from the bank. Jake Byerline (Jiggin' with Jake on YouTube, Facebook, TikTok, and Instagram) chooses from a variety of fisheries that produce crappie just about year-round.
"I have some excellent bank-fishing options," Jake said and then rattles off a lengthy list of fisheries in which he pursues slabs.
While the majority of crappie enthusiasts use a boat to pursue their limits, others take advantage of what's available in their local area. Consider the tips and tactics of Caleb and Jake and up your bank-fishing-for-crappie game.
Hit the Texas creeks for crappie
As the weather gets progressively colder in east Texas, Caleb considers his options. He can dunk a minnow in 25 feet of water or he can explore some of the creeks that run into Lake Palestine and Lake Tyler. He also fishes the Neches River, which feeds Palestine.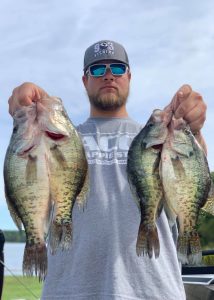 "The crappie are not in the creeks just yet," he said earlier this week. "When the water temp hits about 55 to 60 degrees, I start scouting those creeks. Usually once that first big cold front and that first big rain, the crappie will start moving toward the creeks.
"Right now, our creeks are still warm and low. They are not dried up, but when that water comes up and the water temperature gets right, those crappie will shoot up the creeks."
He specifically targets northern-entry tributaries and uses map study – Fishing Hot Spots Maps are his favorite – to identify likely locations. On the map, he looks for certain attributes, mainly focusing on creek bends that often result in deeper holes loaded with crappie.
"The water temperature in the creeks will stay warmer than the water found on the main lake," he said. "It's shallower and will heat up. The crappie will hold in those deeper pockets in the creeks."
Caleb later continued, "There's one specific area that I fish where the creek is generally only two or three feet deep. When you find those bends in the creeks and it floods, those log jams will occur. Those bends are great places to find crappie, literally a hole much deeper than surrounding water. The depth is about six to eight feet in the bend around the log jam. When the water is deeper like that, the crappie will move up and sit in those holes waiting on baitfish."
Caleb catches fish with one of two presentations, both of which involve the use of a slip cork. On certain days, the crappie eat a jig while they demand a minnow on other occasions.
"I typically fish with my 8' ACC rod whether I am on the lake (fishing from a boat) or in the creeks," Caleb said. "If I'm specifically crappie fishing, then I am going to use the 8' ACC with the super grip. Just throw it out there — you have to find the right depth, of course — but find where the crappie are holding and use the bobber stop to put the bait at just the right depth. Throw it out there, pop it a few times, and then bring it back in slowly."
Caleb said the presence of structure always attracts more fish although he added that he's not always sure what is present underneath the surface. The log jams in the bends of the creeks are a visual cue that crappie might be present.
"You definitely want some structure," he said. "Those log jams are the structure that you can see, but you never know what might be under the water. Just because you can't see structure doesn't mean there's not a stump or two or logs underneath the water. If you think there's any chance that crappie might be there, give it a try."
Caleb doesn't confine his bank fishing to the creeks. He finds plenty of shallow crappie around the shoreline in the spawning period of late winter/early spring.
"As far as lakes go, I look for grassy structure or any other structure along the shoreline, fallen down trees, rocky areas, anywhere those crappie can make a bed and feel safe and protected at the same time," he said.
Even so, he said, "The creeks are loaded sometimes in the spring. Some crappie will move up in the creeks to spawn and others will stay in the main lake and head toward the shoreline.
"In the fall, they are going one of two ways. They will move up in the creeks shallow or they will go deep on the main lake. They will be 25 feet deep in the lake or four to eight feet in the creeks."
Caleb pairs a Shimano Sienna 500 series reel with the 8' ACC rods. He normally uses a 1/16th or 1/8th jig head adorned with plastics from Dead River Baits Company (www.deadriverbaits.com).
Check out Caleb's fishing adventures on YouTube. Whether he's bank fishing or not, his content is filled with good info about fishing in general.
"I like to show people how to catch fish without LiveScope," he said. "I have a lot of tips and tricks to help people catch more crappie."
Target drops, bridges for Illinois crappie
Jake suggests an idea that applies to both boat and bank fishermen.
"My approach to bank fishing depends on the time of year," he said. "In the fall and winter time, I'm looking for drop offs, preferably with a lot of riprap. I also have a lot of power plant lakes around me. Those plants are pumping warm water in the waterways around me, and if you can get near the warm-warmer discharge, then you are typically going to find schools (of crappie) if you can find the shad."
Even close to the bank, Jake finds water up to about 30 feet deep "fishing the dam edges of some of the lakes. There's a pretty sharp drop off just 15 or 20 feet off the bank."
Another option for deeper water involves bridges. Targeting deep spots, Jake fishes the bridge pylons that he can reach with a cast from the bank, working a jig around and between the concrete structures.
Favoring the 7'6" ACC split grip casting rod, Jake spools a spinning reel from Kast King or from Piscifun with six-lb. mono from Reaction Tackle. He almost exclusively fishes jigs for crappie, using plastics from Brushpile Jigs and hand-ties from Rocky Mountain Custom Jigs.
"I cast them and reel slowly with a few twitches of the rod tip," he said. "I am picking apart the water. Start with a six count and keep going deeper and figure out where in the water column the fish are holding."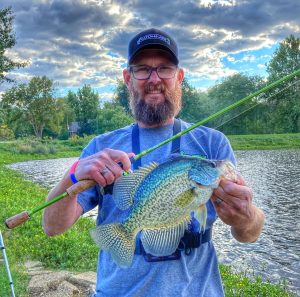 On other occasions, mainly in low light early or late in the day, he uses a double-jig rig under a pear-shaped slip cork. He ties two 1/32nd jigs and casts to crappie that have pushed baitfish up tight against the bank in the low-light conditions.
Much like Caleb in Texas, Jake finds spawning fish shallow in the spring.
"It gets a little easier," he said. "You just start picking apart any brushpile or laydown that you can find."
Finding the quality bite is not always convenient. Jake said he travels up to an hour to find a hot crappie bite from the bank. Lake Clinton is about his longest trip, but he fishes there regularly through the coldest months because of the warm-water discharge. Other potential central Illinois destinations include Sangchris, Springfield, and Taylorville.
He offers a final bit of advice for anyone braving a cold Illinois fishing trip in the fall or winter.
"Layer up," Jake said. "It's going to be cold in the Midwest, but it's my favorite time of year to fish. I look forward to it. Hands down, it's my most successful and favorite time of year to fish."
Check out Jake's YouTube videos for a variety of fishing content. He not only fishes for crappie but also for catfish on occasion.