The Gamo Big Cat 1250 air rifle has the word "Big Cat" in its name, implying that there is something special( and nasty!) about this gun. After reviewing it carefully, I am confident to say that no matter what your shooting skill is, this air gun will take you to the next level (or should I say supersonic level?)
Gamo Big Cat 1250's Gun type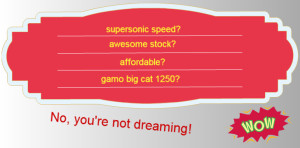 The Gamo Big Cat 1250 is a spring powered air rifle. For each shot, the spring inside is compressed by the cocking action. When you pull the trigger, the spring decompresses, causing the piston to move forward. The piston in turn makes the pellet go down range due to propellant force from compressed air. All of this happens in the fraction of a second. With this springer, you don't need to pay for on-going expenses such as CO2 cartridges or pumping equipment like other air rifles.
The barrel of the Gamo Big Cat 1250 is not a smooth bore but a rifled barrel with grooves inside. Unlike the smooth bore, the rifled barrel makes the pellet spin. Spin stabilizes the pellet, improves its accuracy and enhances the shooting range. Moreover, this barrel is fluted (fluting means cut out materials from the cylindrical surface), so it is lighter (since the materials are removed) and dissipates heat quicker. But it dissipates heat rapidly not due to increasing surface area as conventional wisdom states. The real reason is the air inside the barrel is able to reach the surface quickly, then equalizes with the outside temperature at a fast rate. As a result, the bore is cooled off faster than the normal barrel. This unique feature of the Gamo Big Cat 1250 allows you to shoot for long hours without worrying about an overheated barrel.
The Gamo Big Cat 1250 uses a break barrel, single-cocking system. As the name suggests, in order to cock , you have to break the barrel, pivot it toward the stock, insert the pellet (with pellet's tip facing forward and pellet's skirt facing you), swivel the barrel to its original position and you're ready to fire. It may seem complicated at first but when you get used to it, you can execute the cocking action without a second thought.
Stock
The Gamo Big Cat 1250 features black, all-weather synthetic stock .While a wood stock is heavy and readily affected by the environment like moisture, the synthetic stock is lighter and provides you extreme climate protection with free maintenance. Therefore, this air gun is extremely suitable for: shooters who don't want to put lots of time and effort into preservation of a single air rifle, people who live in places of high humidity and people who go on long hunting trips and are exposed to rain, snow, etc. The Gamo Big Cat 1250 always gives you the confidence and assurance for shooting while you know that your stock is not affected by any weather conditions.
Using a non-slip texture design in the grip and fore arm, this air rifle increases friction between your palm and the gun's surface, adds more stability to your arm when shooting, prevents slippage from shooter's sweat and saves you money since you don't have to buy shooting gloves anymore.
The Gamo Big Cat 1250 has the twin cheek pad, makes it convenient for both left-handed and right-handed shooters. There is no difference whether you shoot with your left hand or right hand. This air rifle also has a ventilated rubber recoil pad, provides a pleasant feeling for your arm, and helps absorb recoil up to 74%. Without the recoil pad, you might hurt a little since the kickback level for a spring air gun is quite high.
Ammo
The recommended pellet for the Gamo Big Cat 1250 is .177 PBA platinum pellet. The manufacturer has provided a sample of 50 rounds in the package. Many customers complain in reviews section that they are unable to find the PBAs. Since the pellets are placed in the small piece of the foam, you have to look carefully at the box to find it or you may throw it away without knowing that.
So, what's exactly a PBA, you ask? Well, PBA is short for Performance Ballistic Alloy pellet. It's domed and weighs 4.7 grains. As the name implies, it is made from alloy (material made from combining 2 or more metallic elements), lead-free and environmental friendly so you can shoot thousands of rounds in your property without concern about the threat of dangerous chemicals. The PBA pellet is 50% harder and 30 % more accurate than a conventional lead pellet. Hence, it has more knockdown power, is more stable when it travels toward the target, and has more ability to kill varmints quick and clean with only one shot. You can use PBA ammo for target shooting, plinking, small hunting, and small and large pest control.
Another thing to consider is that although PBA pellets generate more velocity and are more accurate than other lead pellets, its price is a little bit expensive. For 15 dollars, you only can buy 100 rounds of PBA. If you don't want to pay much for the ammo of your air rifle or if you want to try different types of pellet , you can buy other cheaper .177 pellets such as Crosman destroyer, Crosman Primiere (Hollow or domed), Gamo Raptor, Gamo pro magnum, Gamo rocket, and so on.
Velocity, penetration power and accuracy
The velocity of the Gamo Big Cat 1250 is 1250 fps (feet per second) with PBA platinum, 1000 fps with lead pellet. Since the speed of sound is about 1100 fps (may vary with altitude and temperature), this air gun has achieved supersonic velocity and makes it belong to magnum class of air rifles. This is definitely not a toy and must be handled with care and attention.
Now, we will take a look at the FPE (or muzzle energy, the kinetic energy of the bullet when it leaves the muzzle) of this gun. For you who don't know what the heck FPE is, here is the brief explanation: FPE (Foot pounds of Energy) is a meter measuring how powerful the air gun is. The higher the FPE, the more potent the air rifle. FPE is calculated by the formula: FPE = Velocity (fps) x Velocity (fps) x Pellet weight (grain) / 450240. With 4.7 grains PBA and 1250 fps, this gun has more than 16 FPE. With 5.4 grains pellet with 1000 fps, FPE is 12. With 7.9 grains lead pellet and 1000 fps, this gun has 17.6 FPE. It's obvious that the Gamo Big Cat 1250 can take down squirrels, starling, opossum, raccoon and other small varmints in one clean shot since the FPE recommended to deal with these animals is less than 15 FPE.
This video below gives you some ideas about the accuracy and power of this air rifle:
With the heavy duty power and supersonic velocity, you can have the shooting range up to 100 yards. Most customers have no problem getting close shooting groups up to 40 yards or taking care of varmints in 40 yards or less. Some even can shoot an apple at the distance of 60 yards. In conclusion, the accuracy of this air gun depends a lot on your shooting skill and level.
Optics
The Gamo Big Cat 1250 is equipped with 4×32 rifle scope including rings. 4 is the magnification capacity of the scope. It magnifies the picture 4 times bigger than the picture you see in your own eyes without the scope. And 32 means the objective lens (the front lens) has a diameter of 32 millimeter. This 4×32 scope has crosshair so you can see clearer, aim better and shoot more precise at long distance.
While researching the product, I found 2 opposite trends of thoughts in customer reviews about this 4×32 scope. Some people find it great and accurate while some find it horrible and buy another scope instead. There are several possible explanations for this phenomenon. First off, the user manual is very specific and thorough about how to mount the scope for this air rifle. If you don't follow the user manual strictly or don't tighten all the screws carefully, there is a chance that you may have hard time trying to zero in your target. Besides, some shooters require a more sophisticated scope for extremely long range shooting (up to 100 yards), and want to utilize the maximum potential of this magnum springer. That's why they switch from 4×32 scope to more powerful scopes with extensive magnification ability.
Accessories
The Gamo Big Cat 1250 only has 1 rifle scope as an accessory. If you want more shooting kit and equipment, Gamo has plenty of choices for you to choose from such as: cleaning oil, gun bag, gun case, paper target, etc.
Noise
 The Gamo Big Cat 1250 is loud with PBA pellet, and quiet with other lead pellets. Why is that? Because when you shoot this rifle with PBA, the pellet travels at the speed of 1250 fps – which is higher than the speed of sound (about 1100 fps). This causes the loud crack sound due to the fact that the pellet's velocity breaks the sound barrier. When you fire with other lead pellets, the gun is quiet since the bullet's speed is subsonic. If you live in isolated area, you may want to buy some ear protection while shooting this magnum air rifle with PBA. If you live in populated region and don't want your neighbors to report gunshots, you can shoot PBA at a sound-proof place like your basement or garage, or you can use any other .177 lead pellets that have lower speed and don't break the sound barrier.
Shooting range and intended use
This air gun is intended for target shooting, small game hunting, small and large pest control. The effective shooting range for this air rifle and 4×32 scope is up to 40 yards. If you want to shoot at a range longer than 40 yards, you may want to equip another scope with better magnification ability.
Gamo Big Cat 1250 Specification
Propulsion method: spring powered
Cocking method : Break Barrel
Stock : all-weather synthetic
Caliber : .177
Safety: Manual
Weight: 6.1 lbs
Trigger Pull: 3.74 lbs
Length: 43.3
Handedness: Ambidextrous
Velocity : 1250 fps with PBA, 1000 fps with lead
Optic: 4×32 scope with rings
Warranty : 1 year.
This air gun weighs 6.1 lbs, which is lightweight and easy to carry for everyone, from teenagers to adults. You don't need to buy a sling to handle this. The trigger pull is only 3.74 lbs – the average trigger pull for every air gun. It's not too soft and not too stiff either. The cocking effort is 30 lbs, which is pretty hard for the shooter at first but when you get used to it over time, it will become second nature.
Pros
Great ammo
Supersonic velocity, high penetration power
Synthetic stock protects for all weather
Useful non-slip texture and recoil pad.
Effective rifled and fluted barrel
Great scope for less than 40 yards shooting range.
Lightweight, easy to use
Cons
Loud noise
A little bit expensive PBA pellet
Scope is not suitable for extreme long range shooting (40 yards and above)
Warranty
As of this date, Gamo Big Cat 1250 has a one year limited warranty from the date of purchase.
Gamo Big Cat 1250 Price
The price for Gamo Big Cat 1250 is very cheap. It is about 100 bucks for this heavy duty air rifle and you can enjoy the supersonic velocity, magnum power of this awesome springer with scope for long range shooting.
There are a couple of different listings on online sites with different prices but the listing I found with the lowest price is even cheaper than the price on manufacturer's site or the prices on other e-commercial sites like PyramydAir, Walmart, AirgunDepot.
=> Click here for the lowest price
Customer Rating
There are lots of customer reviews about Gamo Big Cat 1250. I've covered all important factors in this Gamo Big Cat 1250 review.
Conclusion
          The Gamo Big Cat 1250 is an impressive air rifle with supersonic velocity, scope, high power and accuracy. It is more than what you can expect from an air gun for 100 dollars. I highly recommended it for people who want to own high-power rifle, take part in small game hunting and want to take care of varmints in the clean and quick manner.