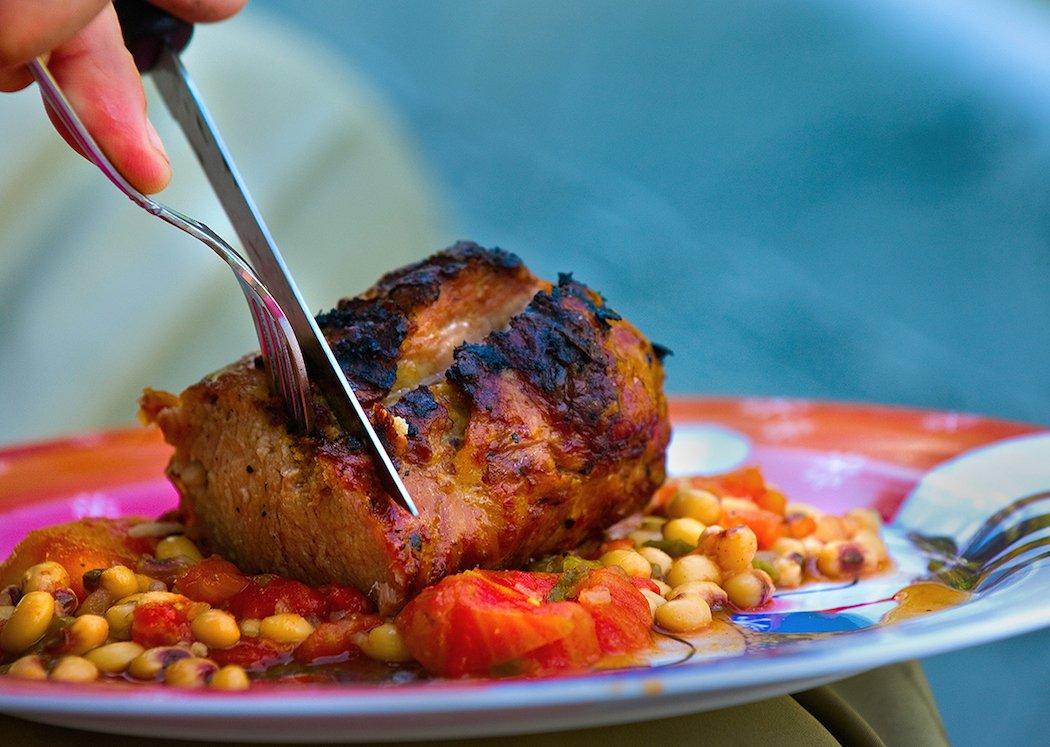 One bitter cold January morning, I found myself in the duck blind of a good friend, an older gentleman with the title to a prime piece of Pamlico Sound saltmarsh. About mid-day, my breakfast was wearing thin, and I wondered aloud if there were any snacks to be had. My pal pointed me to a cooler in the stern of the boat. It's loaded, he said. Help yourself. I opened up the lid. Inside I found a bag of chips, a jar of salsa, and enough canned beanie weenies for a small expeditionary force. Perhaps you have never wondered what ice-cold beanie weenies taste like in a 22-degree saltmarsh. Methinks you never should.
I thought of that day this past spring as I was loading up for a quick, two-day canoe camping trip along the Roanoke River. I'd volunteered to handle dinner duties, so I knew what sort of food would be desired. The cooler held 24 dove breast fillets, fresh Parmesan cheese, olive oil, garlic, chopped parsley, and other things rarely found in a two-man canoe. My buddy, Scott, was packing breakfast. I didn't know what he had up his sleeve. But I knew Scott…and I knew it wasn't instant grits and Pop Tarts. If I'm cooking breakfast, he'd told me earlier, then make sure you pack plenty of stove fuel. I could feel my arteries hardening already.
So here are some recipes to take your shore lunches and riverside dinners to a new level. They're easy. A few call for wild game, but you can substitute your favorite cuts of meat. Most can be prepared with a single skillet, and all are designed for a backpacking stove. These recipes will make you forget all about beanie weenies.
DOVES CARBONARA
On my last canoe-camping trip, we feasted on this little bit of Italy deep in the swampwoods of eastern North Carolina. The hardest part about cooking this dish is not eating the dove breast fillets right out of the pan.
One dozen dove breasts, filleted
2 garlic cloves, minced
12 ounces uncooked, thin spaghetti noodles
¾ cup grated Parmesan cheese
2 tablespoons finely chopped fresh parsley
1 cup milk
3 eggs
2 tablespoons butter
½ teaspoon black pepper
AT HOME: Fillet dove breasts, and place in plastic baggie. Chop parsley. Break eggs, and combine with milk; store in small water bottle.
IN THE FIELD: Cook spaghetti noodles and drain. Melt butter in large nonstick skillet. Sauté dove breasts and minced garlic for one minute. Reduce heat to low, and stir in noodles, cheese, parsley, and pepper. Pour egg-milk mixture over noodles, and cook about four minutes, stirring constantly, until sauce thickens.
NO SWEAT ASIAN VENISON
This is a one-pan wonder. It's cheap, easy, filling, and fast, and makes its way to my home table a couple of times a month in various interpretations. Replace the venison with shrimp and the beef-flavored noodles with shrimp-flavored noodles, and have an entirely different taste.
12 ounces uncooked, thin spaghetti noodles
2 garlic cloves, minced
¾ cup grated Parmesan cheese
2 tablespoons finely chopped fresh parsley
1 cup milk
3 eggs
2 tablespoons butter
½ teaspoon black pepper
1 pound venison, cut into strips
2 teaspoons dark sesame oil, divided
1 12-ounce package of broccoli slaw
1 cup sliced green onion
2 packages of beef-flavored ramen noodle soup
1 ½ cups water
2 tablespoons soy sauce
AT HOME: Slice green onions into half-inch pieces. Slice tenderloin into thin slices.IN THE FIELD: Heat one teaspoon sesame oil in a skillet over medium-high heat; add venison and onions, and sauté about one minute. Remove to a separate plate. Heat remaining oil until hot; add broccoli slaw, stir-fry one minute. Add to plate with venison and onions. Add water to skillet and bring to a boil. Add noodles from both packages and seasoning packet from one package. Cook until most of the liquid is absorbed, stirring frequently. Stir in venison, onions, and slaw, add soy sauce and combine.
FISH FRIED RICE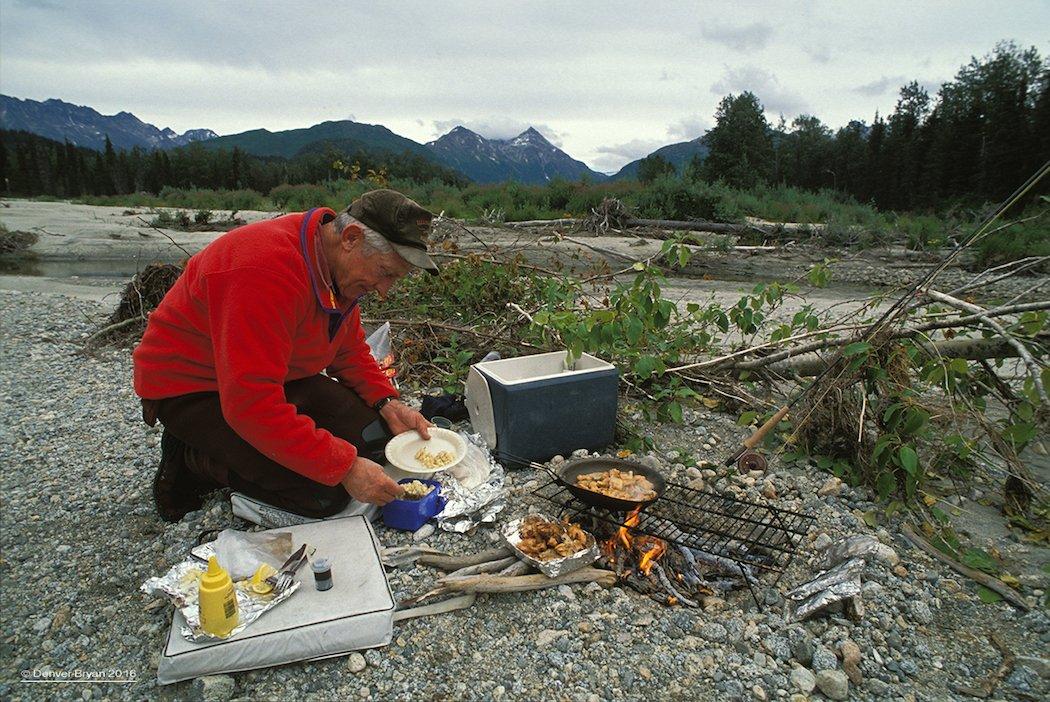 Stir-frying cold rice prevents the grains from clumping. Add to the mix bite-sized chunks of fresh fish—the firmer the flesh, the better—and here's a meal you can cook in one pot quickly. Use 1½ pounds of fish fillets, cut into bite-sized pieces.
4 tablespoons soy sauce
1/8 teaspoon minced ginger root
1/8 teaspoon ground red pepper
2 tablespoons vegetable oil, divided
1 cup canned peas
1/3 cup green onions, sliced
2 packages boil-in-bag rice, chilled
2 tablespoons fresh parsley, chopped
3 eggs
AT HOME: Mince ginger root, and mix with red pepper and soy sauce; store in small plastic bottle. Chop parsley. Chop green onions into ¼-inch pieces. Cook rice, then store in plastic baggies.IN THE FIELD: Heat one tablespoon of vegetable oil in large skillet over medium high heat. Stir-fry fish fillets one minute. Add peas and onions, stir-fry 2 minutes. Add soy sauce, stir well, and remove the fish mixture from pan. Heat one tablespoon of vegetable oil, and add the rice and chopped parsley. Stir-fry one minute. Scrape mixture away from center of pan, leaving a softball-sized hole. Add eggs and scramble. Mix with rice and fish.
CHOPPED DUCK SANDWICHES IN CHERRY BARBECUE SAUCE
I first tried these sandwiches during the peak of the striper run on the Roanoke River. Almost forgot to fish. This is an excellent barbecue sauce for chicken, so make a double portion and freeze the leftovers. You can find the ancho chilies in specialty food stores and fine grocery stores.
1 cup apple cider vinegar
1/3 cup ketchup
1/3 cup chopped onion
1/3 cup dried tart cherries
1/8 cup water
1 ½ tablespoons molasses
1 large dried ancho chili pepper
1 garlic clove
½ teaspoon ground coriander
pinch of ground cloves
2 pounds duck meat, chopped
4 large kaiser rolls
AT HOME: Grill or sauté duck breasts or whole ducks, then chop the meat. Remove stem and seeds from ancho chili pepper. Combine all ingredients (except for duck) in a medium saucepan. Bring to a boil, then reduce head to medium-low, cover, and simmer until cherries are tender (about 20 minutes). Let cool, then puree the mixture in a blender. If needed, return sauce to pan, and simmer uncovered until sauce thickens to consistency of tomato-based barbecue sauce. Add chopped duck.IN THE FIELD: Load up the buns and eat.
CAJUN FISH WRAPS WITH SLAW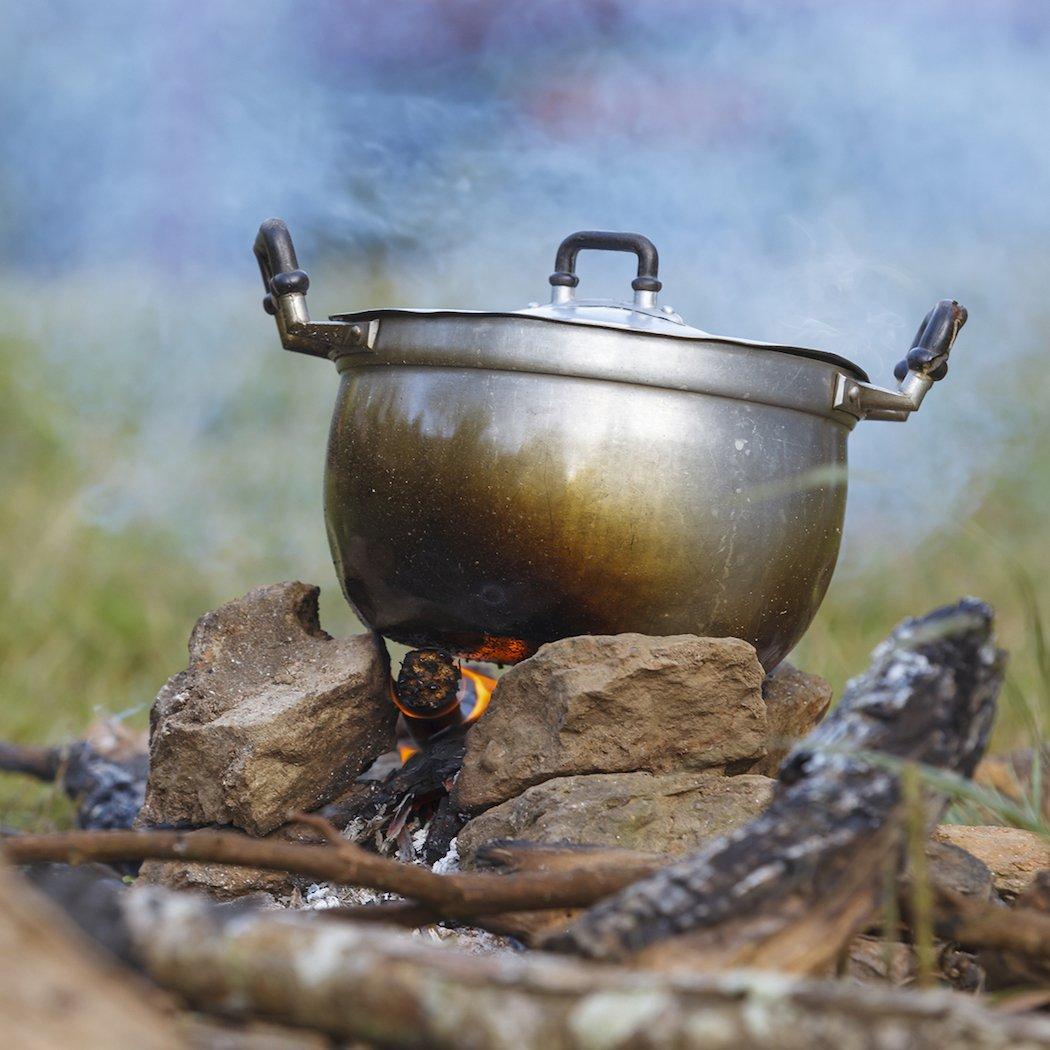 This is easier than falling off a mossy log. To make it even easier, buy cole slaw from your grocer, but you'll miss the apple punch of the cider vinegar. A great thing about wrap sandwiches is that you can eat them with one hand, leaving the other hand free to grab a rod and set the hook.WRAPS
1 tablespoon all-purpose flour
6 tablespoons Cajun seasoning powder
4 half-pound fish fillets
1 tablespoon butter
4 8-inch flour tortillas
SLAW
3 ½ cups thinly sliced red or green cabbage
¼ cup mayonnaise
1 ½ tablespoons cider vinegar
½ teaspoon sugar
AT HOME: Make the slaw by combining all four ingredients in a bowl, cover, and chill in a plastic baggie.IN THE FIELD: Catch fish, fillet fish. Mix flour and Cajun powder in a plastic baggie, add fillets one at a time, and shake until covered. Melt butter in a skillet, and sauté fillets until done. Place one fillet in a flour tortilla, top with slaw, roll up and eat.
GRILLED VENISON TENDERLOIN SANDWICHES WITH SUN-DRIED TOMATO MAYONNAISE
Cold, thinly sliced venison is the finest sandwich meat ever made. I've packed these sandwiches into duck blinds and on paddle trips for years. One of the secrets is good bread. I don't know what's better—the sandwiches, or the looks on the faces of my pals as they stare into yet another PB&J.
½ cup soy sauce
½ cup Italian dressing
1 to 1 ½ pound venison tenderloin
4 tablespoons prepared sun-dried tomato pesto, such as Bella Cucina
4 tablespoons mayonnaise
8 leaves Romaine lettuce
8 slices onion
4 hearty grain sandwich rolls or 8 slices of bread such as sunflower or nut grain
AT HOME: Combine pesto and mayonnaise; store in refrigerator. Combine soy sauce and Italian dressing; marinate tenderloin overnight. Slice onions into 8 thick slices, with all rings intact. Grill tenderloin and onion rings. Prepare each sandwich with: sliced tenderloin, 2 tablespoons sun-dried tomato mayonnaise, and two onion slices. Place lettuce leaves in separate plastic baggie.IN THE FIELD: Add lettuce to sandwiches. Keep an eye on the bobber.