I'll be the first to admit, when looking at the specs of a bow the first detail I want to know is how fast can she send 'em. Although many would argue other factors like a smooth draw cycle, noise, vibration, forgiveness and overall shootability are what really matters when it's time to shell out the cash for a good compound hunting rig, we still find it hard to overlook arrow speed. Let's face it, speed is kind of cool, and with the ever-increasing advancements today's bows are sporting, you can often have the best of both worlds.
So what's fast in the compound bowhunting space? Well, I can remember a time not too long ago when anything breaking 300 fps would be considered a screamer. However, that wouldn't even get a passing glance today. Fact is, if the advertised speed isn't breaking 330 fps, there doesn't seem to be much interest. Today's bowhunters expect more, and they really should with the price tag many bows carry. The good news is, with technologies advancing every year in the compound bow hunting arena, it's money well spent. There seems to be no shortage of "speed bows" to choose from, and these are the top advertised contenders this season.
Xpedition Smoke — 370 fps
Topping this esteemed list is the limited edition Smoke from Xpedition Archery. Heralded as the fastest bow they have ever developed, it comes in with a reported IBO rating of 370 fps, which is an impressive number considering their Maco X from a couple of years back held the title at 360 fps. Equipped with a handsome "smoke" finish, the new Smoke features an ultra-smooth but aggressive hybrid cam system with a rock-solid back wall so you can really lock in. Draw lengths range from 28 to 30 inches and are cam specific, meaning there are no modules for adjusting draw length. This speed demon has a 32-inch axle-to-axle design, comes in at 4.4 pounds, and is equipped with Xpedition's stable X-Lock limb pockets and their ETS (Energy Transfer System) cable system to ensure overall better performance and efficiency with each drop of the string.
APA King Cobra DG — 365 fps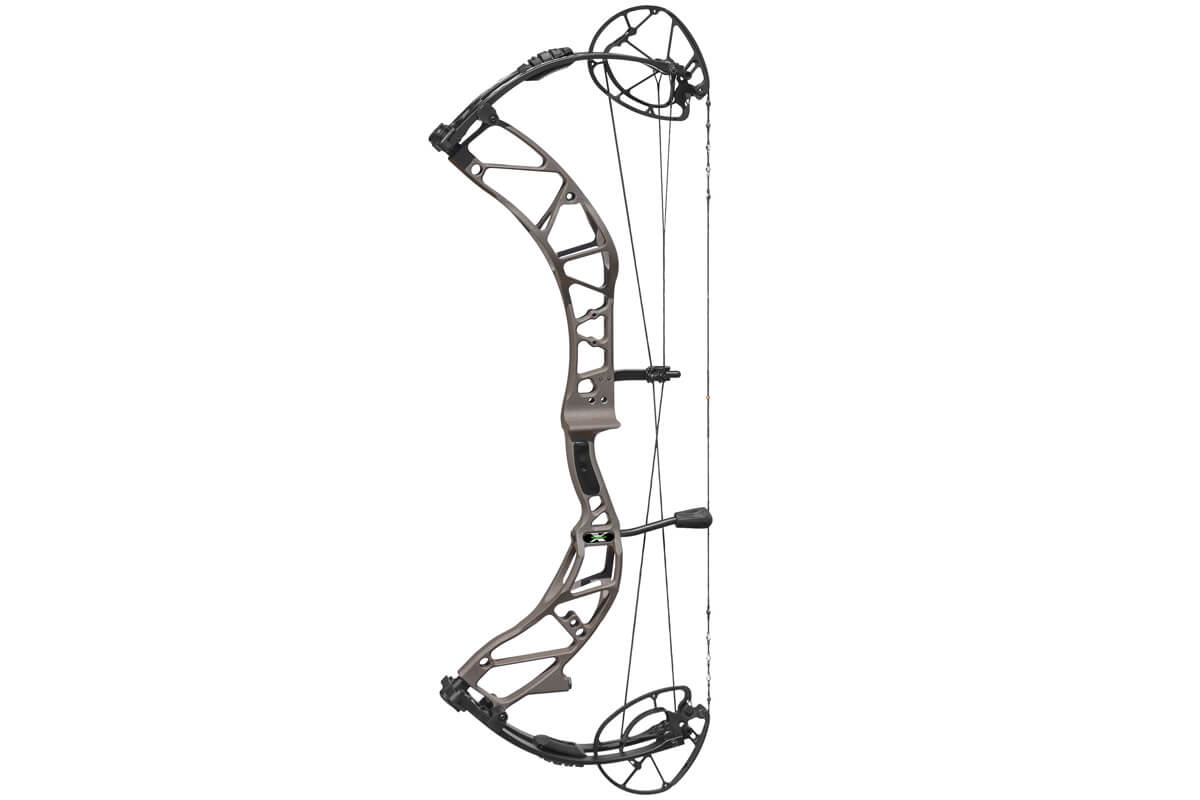 Easily the fastest bow in their lineup, APA launches the new King Cobra DG this season. Designed with dangerous game (DG) in mind, its reported IBO speed touched 365 fps so it can certainly pack a punch with heavier arrows. That said, don't let its "DG" moniker scare off the average whitetail bowhunter. It sports an axle-to-axle length measuring nearly 33 inches and weighs just 3.9 pounds, making it an excellent crossover option for a guy wanting a bow for all types of game. Building upon APA's past successes, the King Cobra's new platform is lighter, stronger and more stable than previous models. It features a slimmed-down Fang Riser, and by taking advantage of its Mass Transfer Module and Weight Distribution System, you can find the ideal balance by adding customizable disc weights in key locations. Another nifty feature is its built-in tool center in the riser that includes a broadhead and nock wrench, as well as a blade sharpener. Plus, with APA's innovative Cam Lock Technology, shooters can replace cables and string and make other adjustments without a bow press.
PSE Expedite NXT — 360 fps
Another flame thrower with a reported IBO speed topping 360 fps is the Expedite NXT from PSE. Initially launched in 2021, it's been a favorite among speed freaks in the bowhunting community, but it's far more than just a fast rig. Combining the original Xpedite's speed with PSE's EVO NTX platform, it offers a steadier hold and reduced vibration to ensure overall consistent accuracy. The muscle behind its magic is PSE's symmetric Evolved Cam system combined with 5 1/2-inch brace height, which is not only smooth and holds well at full draw for a fast bow, but you don't seem to lose very much forgiveness with the shallower brace height either. Plus, with the cam's proven tunability, 80 to 90 percent letoff, and draw length adjustments ranging from 24.5 to 30 inches, shooters can dial it in. Other notable features that make the Expedite NXT a top contender is the built-in suppression system, a pair of stabilizer ports so you can achieve the best balance possible and multiple sight mounts.
Bowtech SR350 — 350 fps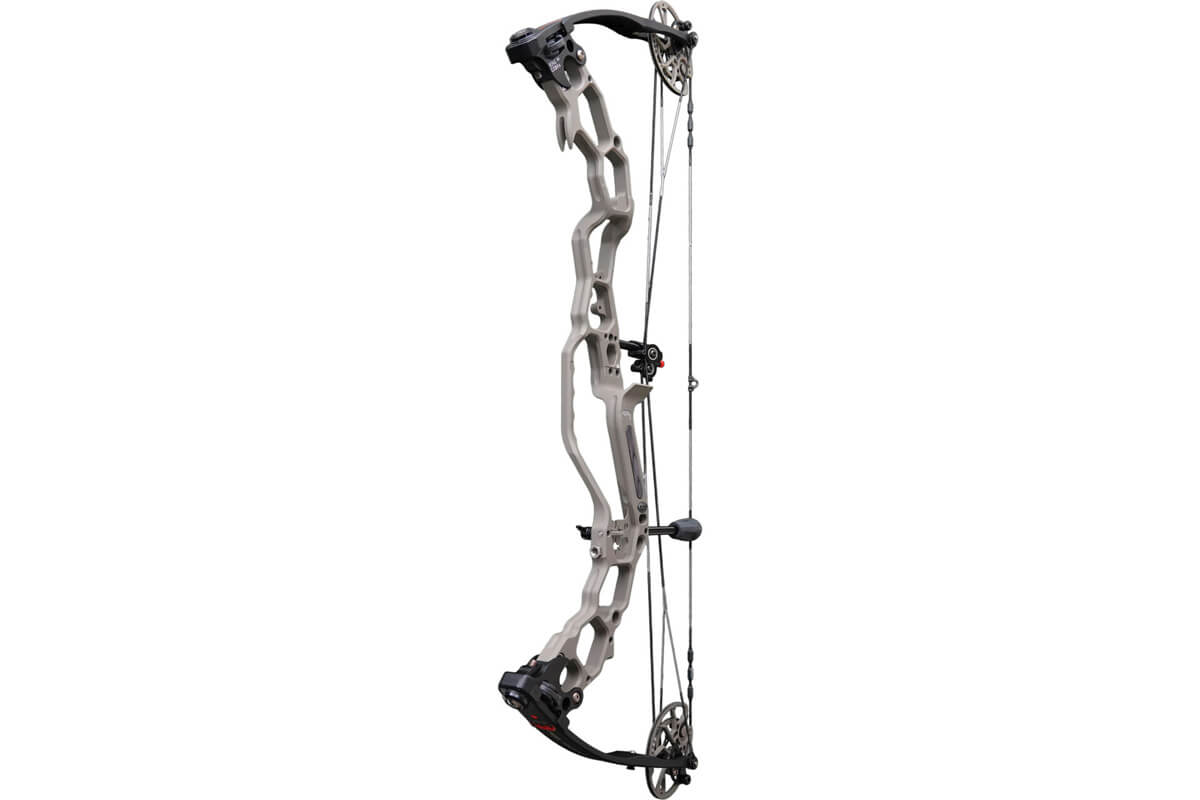 Sure to be a barn burner for the Bowtech faithful this year, the new SR350 is not only the fastest bow they have ever designed, but it's also engineered to be the most accurate and comfortable speed bow out today. Powered by their optimized DeadLock Cam System, this forgiving, 33-inch axle-to-axle gem generates an IBO speed rating of 350 fps. In addition to its blistering speed, the DeadLock Cams are the most tunable and reliable Bowtech has ever developed. When you consider its silky smooth draw, you'll be comfortably slinging arrows with tick-driving accuracy before you even break a sweat. The SR350 accommodates draw lengths from 25 to 30 inches and is also equipped with Powershift Technology, which allows shooters to choose between "comfort" or "performance" draw cycles simply by flipping the modules. And like previous Bowtech hunting compounds, the SR350 is equipped with a pair of Orbits at the top and bottom of the riser to absorb vibration.
Hoyt Carbon RX Twin Turbo — 350 fps
Building upon the popularity of their Carbon RX platform, Hoyt did some tweaking to design the Carbon RX Twin Turbo. Producing speeds up to 350 fps, it's certainly the fastest carbon rig on the planet, and with an axle-to-axle length of 33 inches, overall mass weight of 4.45 pounds and brace height of nearly 6 inches, it's an appealing option for the speed freak looking for a level of forgiveness not found with other speed bows. Hoyt's new HBX Twin Turbo Cam not only cranks out screaming speeds and devastating kinetic energy, but it also provides smooth operation with an adjustable draw length of 25 to 30 inches. It sports the new VitalPoint Grip that is designed to produce a better hold for consistent accuracy, and with Hoyt's In-Line System, which incorporates a sight rail, Integrated rest mount and optimized quiver mount with lowered stabilizer port, shooters can achieve the best possible balance.
Prime Nexus 4 — 345 fps
Although I have been super impressed with Prime's Inline series for several months now, last year's Nexus 4 still takes top honors when it comes to speed. With a reported IBO speed rating of 345 fps, it's a real screamer, but there's more to the Nexus series than just fast arrows. Designed with Prime's Century Technology, it offers enhanced alignment and balance, enabling shooters to get on target faster and stay there longer. Plus, with Prime's ROTO Parallel Cam system, the draw cycle is not only silky-smooth, but the rotating modules sport draw lengths stretching from 23.5 to 30.5 inches (in half-inch increments), while also sporting setoff ranging between 70 and 90 percent. Other notable features are the new Nano Grip with integrated space age aero gel overlays for enhanced insulating properties on those cold November mornings, and with all Prime rigs, original owners also enjoy free strings and cables for life.
Darton Maverick XT — 345 fps
One speed demon flying below the radar is the new Maverick XT from Darton. Not only does it spit out arrows up to a reported 345 fps, it's also easy on the wallet at less than $900 off the shelf making it both fast and a bargain in the speed bow category. The muscle behind its speed is the new 7075 cam design, which not only has the smooth drawing advantages of its predecessor, but also sports a module so draw lengths can be easily adjusted from 25 to 30.5 inches. Designed with an updated grip that settles in nicely, the Maverick XT sports an axle-to-axle length of 33 inches, brace height of 6 inches and an overall mass weight coming in at 4.6 pounds.
Bear Refine EKO — 342 fps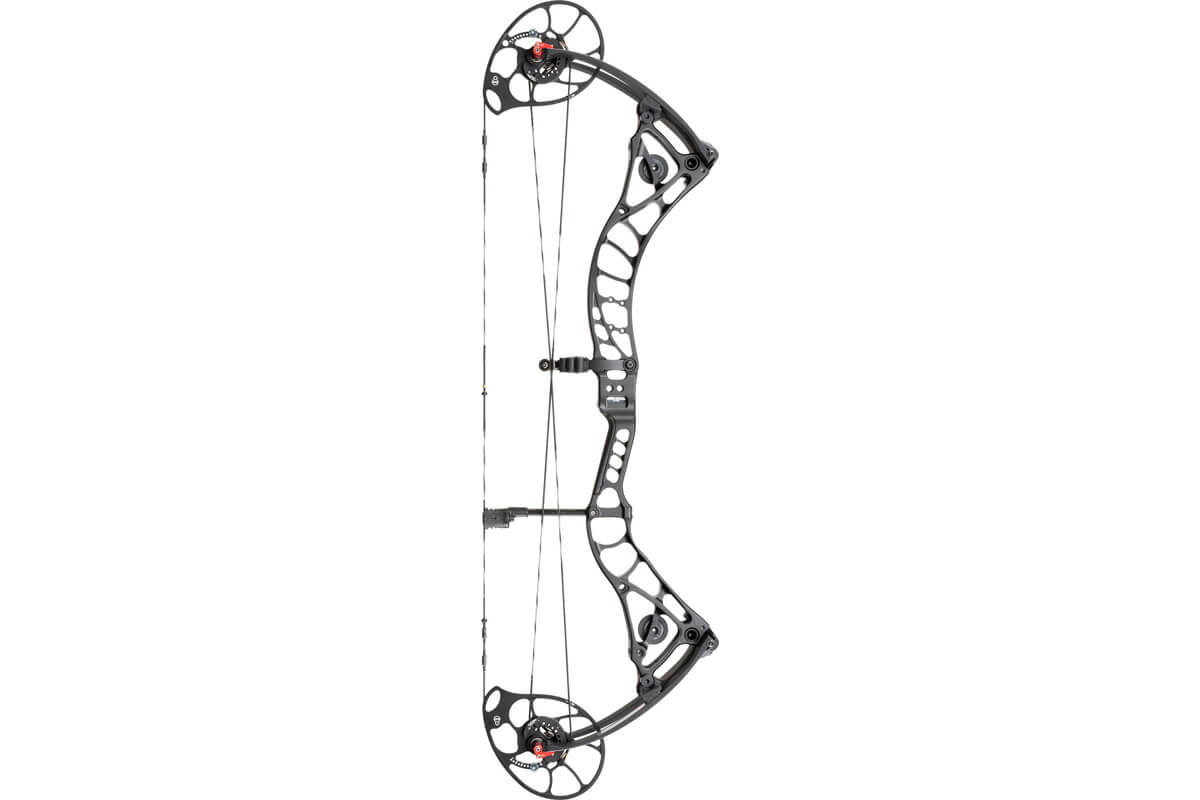 Another fast bow coming in under a grand is the Refine EKO from Bear Archery. Touted as their flagship model this year, it produces a reported IBO speed rating of 342 fps, which is plenty fast, and with its all-new Vibration Reduction System with KillerWave limb dampeners, it is the quietest, dead-in-hand compound bow Bear has ever produced. With the EKO cam system, draw lengths can be adjusted from 26.5 to 30.5 inches while also offering letoff adjustments between 75 and 90 percent. Plus, with the bow's overall weight topping 4.4 pounds, an axle-to-axle length of 33 inches, and the new and more comfortable GRIZgrip TM grip, the Refine EKO is also a pleasure to shoot.
Mathews V3X — 340 fps
Although it's not the fastest bow in the Mathews lineup at speeds topping out at 340 fps, the new V3X 29 is certainly a more rounded option for the bowhunter looking for plenty of zip and the very best that Mathews has to offer. Building on the success of last year's V3, the V3X 29 features Mathews' all-new Bridge-Lock Sight Technology which lets a dovetail-style sight be mounted through the bow's riser, eliminating the side weight of an external mounting bracket. And when equipped with their popular QAD Integrated MX Rest and new tight-fitting LowPro quiver system, which moves arrows 56% closer to the riser, balance is enhanced even more. Rounding out this 29-inch axle-to-axle gem, the V3X 29 accommodates draw lengths from 25.5 to 30 inches and with the innovative Stay Afield System (S.A.S), hunters can safely remove the strings and cables in the field without the use of a bow press.
Athens Vista 31 — 340 fps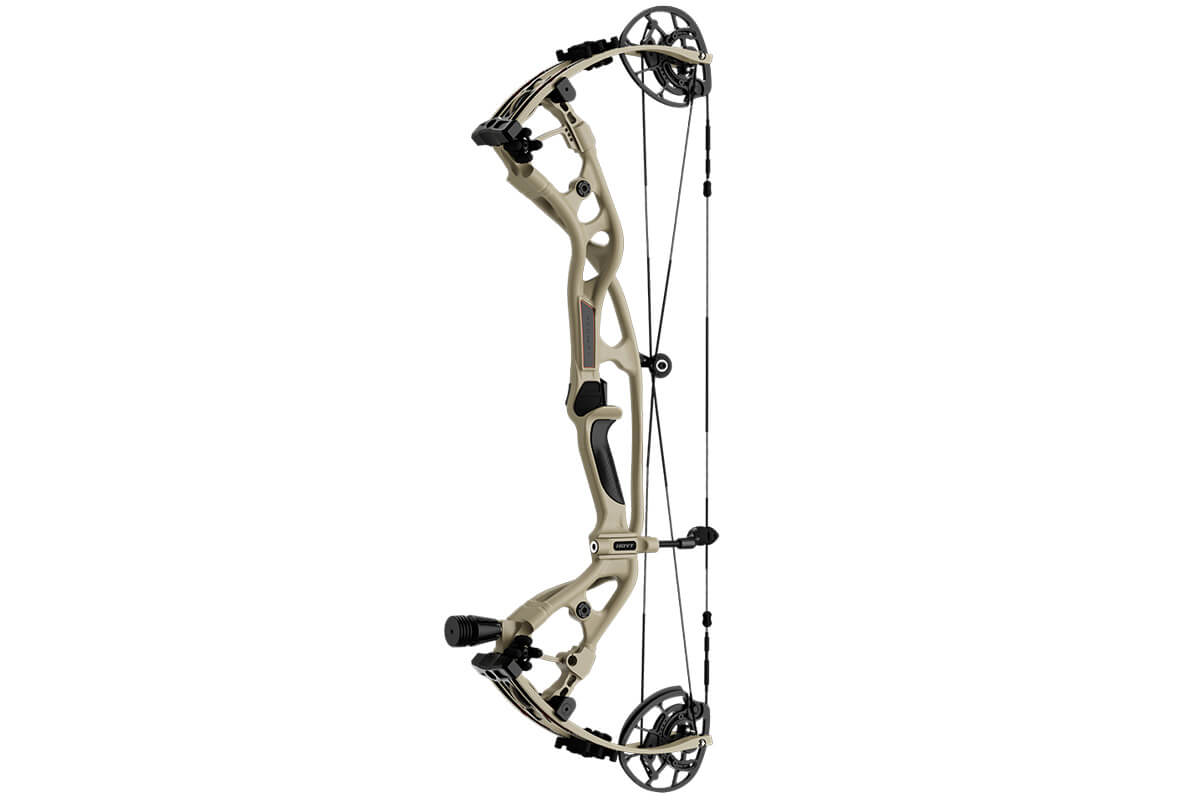 Not only does the new Vista 31 from Athens Archery grab top honors in the speed category with a reported IBO rating of 340 fps, it also grabs the flagship position in their expanding line this year. Driven by their ultra-smooth RT-X cam system, it's touted as their most stable, repeatable and adjustable hunting bow. Not only does this popular cam system flex its muscle with arrow speed, but it also provides adjustable draw lengths for 24.5- to 30.5-inch in half-inch increments, as well as 80- and 90-percent letoff. Adding even more adjustment is their new TCS (Tunable Cable System) roller guard that allows for lateral fine tuning. And with its Limb-Lok limb pocket design, the Vista's new 1-inch limbs are securely locked in place to prevent lateral movement achieving a more consistent platform. Rounding out this 31-inch axle-to-axle gem is the new low-profile X-Out limb dampeners by Mountain View Products which make the Vista 31 dead in the hand and extremely quiet.
Elite EnKore — 340 fps
Touted as the world's most shootable bows, Elite Archery rounds out this lineup with the EnKore. Building upon the success of its popular Kure, the 33-inch axle-to-axle EnKore will satisfy the speed freaks of the Elite faithful, while also still delivering the time-tested performance Elite is known for. With a reported IBO rating of 340 fps, the EnKore incorporates Elite's smooth-drawing ASYM Tri-Track Cam System with their bomb-proof limbs and caged riser design to deliver both speed and must-have stability for consistent 10-ring accuracy. Arrow tuning is made easy with their S.E.T. Technology, and with EnKore's newly designed Performance VersaMod System it delivers 90% let-off while generating more speed than its predecessor.