Camping is a fun activity to do with a group, but sometimes you just need to get away by yourself. Whether work has got you stressed out, or it's just been too long since you breathed some fresh air in a remote part of the world, you know you need to get away.But if you're planning a solo trip, that means you have to take care of everything by yourself, and that includes pitching your tent. To give you a helping hand in our own way, we've laid out some of the easiest tents to set up by yourself. Even if you aren't camping alone, you'll always be glad to have a simpler time putting everything together.
In this article, we'll be looking at the following easiest tents to set up by yourself:
Nemo Dagger 2 Tent – Best Overall
The North Face Stormbreak 3 Tent – Editor's Choice
Sea to Summit Telos TR2 Tent – Most Versatile Tent
REI Co-op Trail Hut 2 Tent – Best Bang for Your Buck
MSR Elixir 2 Tent – Best for Backpacking
Mountainsmith Morrison 3 Tent – Most Durable Tent
Gazelle T3X Hub Tent – Best Instant Tent
Big Agnes Tiger Wall UL 3 Carbon Tent – Lightest Tent
Instant Vs Popup
If you're interested in finding the easiest tent to set up by yourself, you'll probably want to turn your focus to instant tents and popup tents. Both can (typically) be put together in under 5 minutes, with no help from friends or family. However, before you go making any decisions, let's talk about a few key differences between these two types of tents.
Instant Tents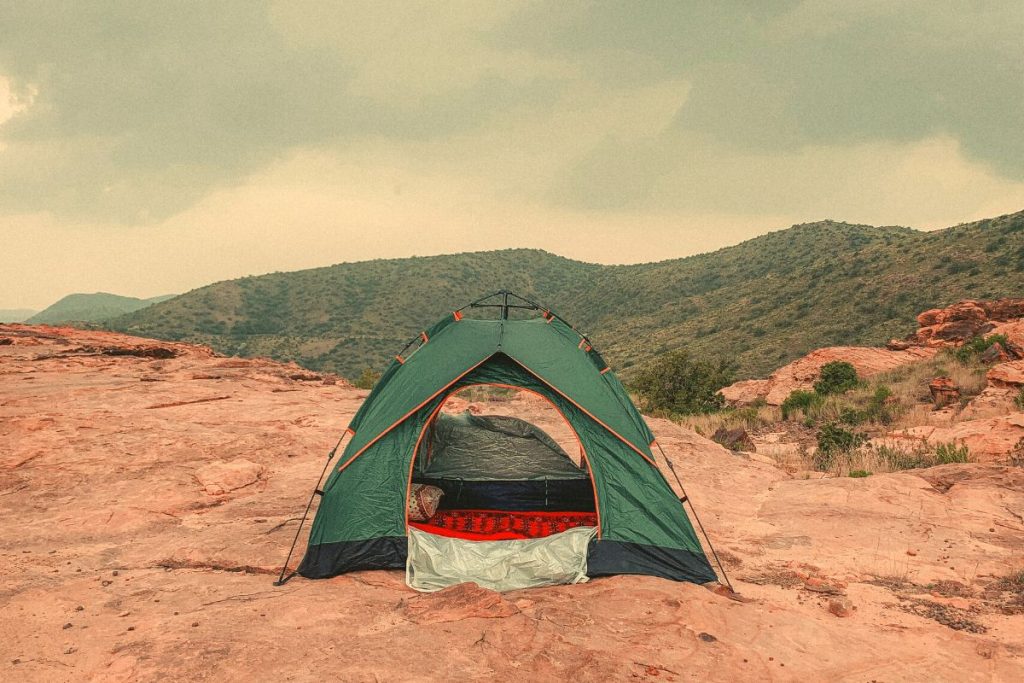 Instant tents come with all of their components pieced together. The poles have already been threaded through the tent sleeves, staying securely attached to each corner and the center joint, which will act as the peak of your ceiling. So once you've rolled out the fabric, all you have to do is lift the center joint, and lock all the poles in place. It's as easy as that!It's the perfect option for those of you who want to pitch a tent all by yourself. Even though they tend to be larger in size, they aren't unmanageable, both for setting them up and tearing them down again.
Popup Tents
You'll often hear the terms "instant tent" and "popup tent" used interchangeably. However, though they are similar, they're also very different things.Like an instant tent, a popup tent comes with all of its components pieced together. But unlike an instant tent, you don't need to manually unroll the material and lock all of the joints into place. Popups do exactly what their name says they will…they pop. That means that once you take it out of the carry case, the tent will spring into its final shape, all within a matter of seconds. The downside with popup tents is that they're often difficult to get back into the carry case. Also, they tend to be less weather resistant than instant tents, and they lack a certain amount of durability. But for ease of setup in a fair-weather environment, they truly can't be beat.
Small Tents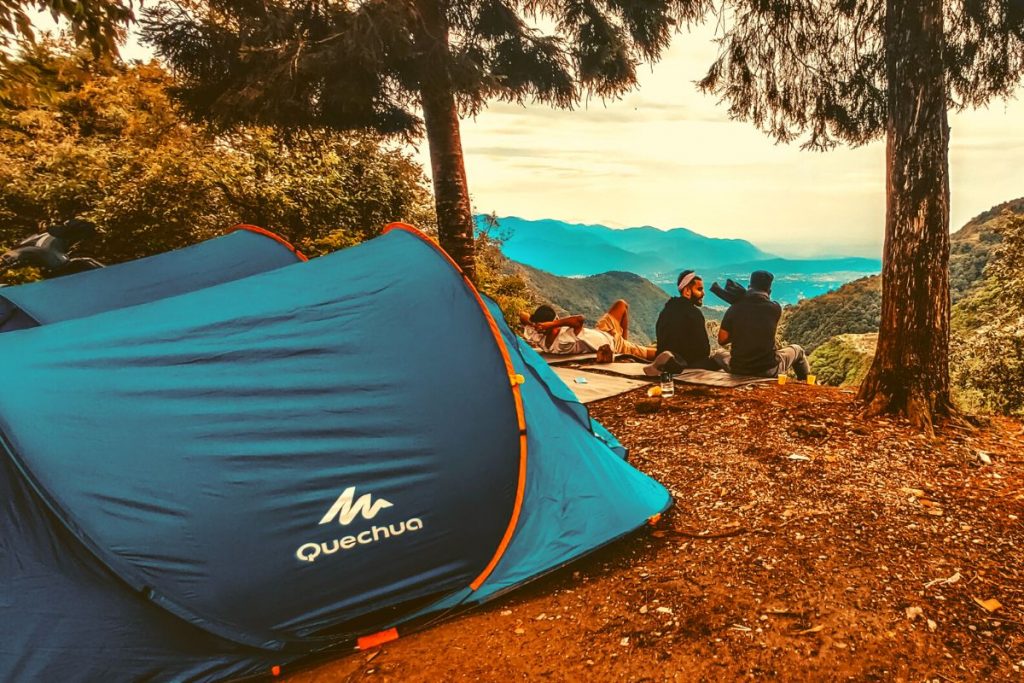 Checking out smaller tents is another pitstop you should make on your journey to find the easiest tent to set up by yourself. Large tents are notorious for being heavy, bulky, and generally difficult to set up alone. But small tents? It's a completely different story.One person tents are obviously going to be the easiest to set up, but there are plenty of two person tents that can also be pitched in a flash. Along with popup and instant tents, we'll also be talking about some of our favorite one and two person tents in the reviews below.
Other Features
Of course, having a tent that's easy to set up isn't enough by itself. You still need to look out for other important features that are vital for creating a safe and relaxing experience. Here are just a few of the major ones that are worth keeping an eye on:
Waterproofing
You might have the easiest tent to set up by yourself, but that doesn't mean anything if you get wet in a rainstorm. Cheap tents (and admittedly, many popup tents) tend to fail miserably in this regard. Either the waterproof coating wasn't applied properly, it was actually water resistant all along, or the seams weren't taped very well. All of these things are pretty common if you're looking at off-brand, inexpensive tents.Sometimes, though, you just get a bad apple. This sort of thing does happen quite frequently, which is why it's helpful if the tent manufacturer has good customer service. Other times, your tent will leak because you didn't put it together correctly. Always make sure your rainfly is taut when it's staked out, otherwise water might pool on it, causing it to become oversaturated. This is a recipe for leakage, especially in heavy rain showers.
Ventilation
A well-ventilated tent is a comfortable tent, so make sure you won't be lacking airflow. Not only will it help air the space out, cooling it off in the process, but the circulation also minimizes the buildup of condensation. Every time you exhale, the water vapor in your breath has to go somewhere. If your tent is completely sealed off from the outside world, that vapor is going to condense on the ceiling. Let it build up long enough, it will start to form little water droplets that will eventually break loose and fall on your face. Trust me, it's not a pleasant way to wake up in the morning.Look for a tent that has windows, vents, massive doors, or some combination of all of those. Keep that air moving so you don't wake up soaked because you were breathing a little too heavily.
Storage Space
You've got plenty of other gear and personal belongings, aside from your tent and sleeping bag. When possible, it's always nice to keep a tidy shelter by storing these items off the ground or outside of the tent. Most tents have mesh pockets and loops that you can make use of, but these are typically on the smaller side, and will barely accommodate your phone, wallet, keys, and lantern.When possible, I always suggest going with a tent that has a massive vestibule (or two). A vestibule is that space outside your tent body that's still covered by your rainfly, making it the perfect place to keep your boots and other large and dirty objects. Even if it rains, everything will still be protected, though I would recommend shaking out your boots in the morning. Who knows what might have crawled in them overnight!
Weight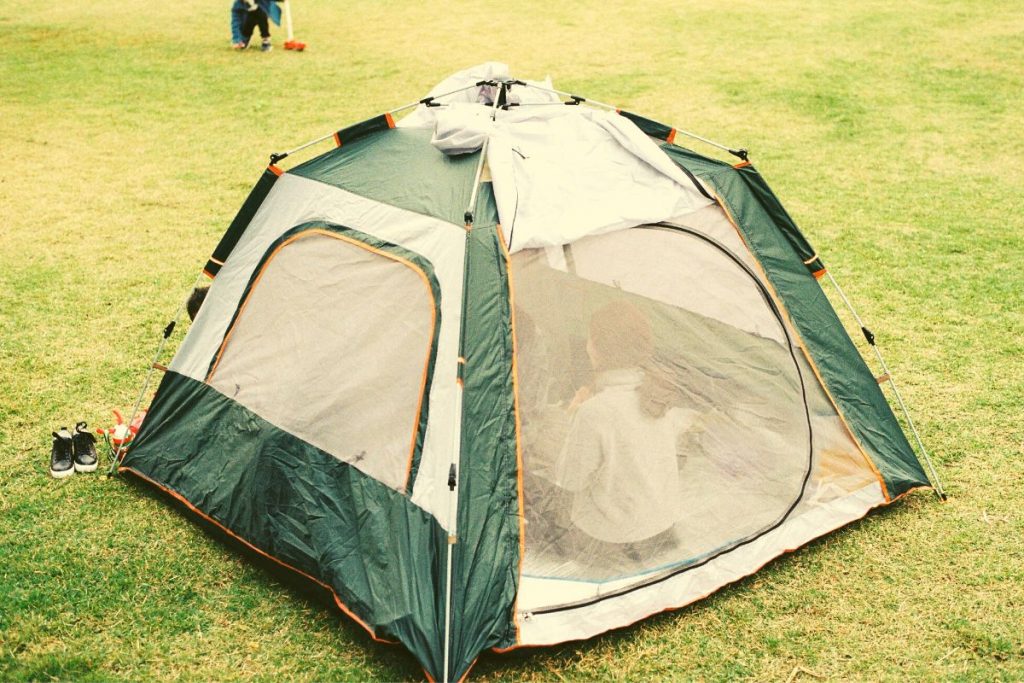 Many of the tents we discuss below are going to be great options for backpacking. However, it's still worth checking out the weight to make sure it falls within your specifications.On a backpacking trip, your tent and sleeping bag tend to be the heaviest items in your pack. So do your shoulders a favor and cut back the weight as much as possible, even if you think you're already doing a good job. A 7 pound tent might sound amazing, but it's still twice as heavy as what you should be carrying for dozens of miles on the trail.If you're car camping, weight won't matter quite as much. However, you will still be lugging your shelter from Point A to Point B, so don't go crazy with it. My mentality is that lighter is always better, as long as you aren't compromising on quality in other areas.
Pole Material
When it comes to pole material, there are really only three that you'll need to choose between.Aluminum is one of the most common, and happens to be my personal favorite. It's lightweight and affordable, as well as incredibly strong and durable, making it one of the best options for backpacking tents. The only downside is that it will rust if you don't take care of it.Fiberglass, on the other hand, will never rust. Unfortunately, that's where the pros run out with this particular material, aside from the fact that it's also pretty cheap. It's heavier than aluminum, and much more likely to break as well. In cold weather especially, you can expect fiberglass to splinter and cause all sorts of problems.Steel is the other material that you'll most commonly find, but it's typically found in larger shelters and instant tents. It's quite heavy, but as you might expect, it's also the strongest pole material that you'll find.
Easiest Tents to Set Up by Yourself – Reviewed
Nemo Dagger 2 Tent
Tent Material: Nylon
Pole Material: DAC Featherlite
Weight: 4 Pounds
Peak Height: 39 Inches
Number of Doors: 1
Comes with Footprint: No
Imagine having a 2 person tent that actually weighs about the same as many 1 person tents. Sounds like a scam, or something too good to be true, right?Well, not anymore, because the NEMO Dagger has done just that. Weighing in at 4 pounds, it should come as no surprise that this is one of the easiest tents to set up by yourself. With such a slim frame and lightweight design, you could definitely take this with you on a solo backpacking trip.However, if you've ever owned a lightweight tent before, you know that they tend to come with their own set of problems. In an attempt to cut back on weight, the manufacturers usually make the tent walls and poles thinner, reducing their overall durability. Tears and punctures are a lot more likely to occur, but you can still get a lot of life out of the shelter if you take proper care of it. Don't intentionally pitch it on top of sharp rocks, and reduce the amount of time it spends it direct sunlight. If you do these things, the Dagger will take care of you for many years to come.Pros:– Extremely lightweight- Easy to put together- Nemo has a great warranty- Sleek design- Very waterproofCons:– Lacking in durability
The North Face Stormbreak 3 Tent
Tent Material: Polyester
Pole Material: Aluminum
Weight: 5.5 Pounds
Peak Height: 43 Inches
Number of Doors: 2
Comes with Footprint: No
When you think of The North Face, you probably picture their extensive catalog of apparel. Personally, I've gotten a lot of use out of their coats and boots in my life, but did you know that they also make tents?Just like their clothing options, The North Face Stormbreak tent is well designed and keeps the same level of quality that we know and love from the brand. There are two vestibules to go along with the two doors, giving you plenty of outdoor space to stash your gear when it's not being used. And between the generous use of mesh for the walls, and the large doors, getting good airflow will be the least of your concerns.You'll also be happy to know that it's an easy tent to set up, generally taking around 5 minutes by yourself, if you know what you're doing. It's certainly a handy feature when you see a storm (or nighttime) approaching, and you need to put together your shelter quickly. And once that rain does arrive, you'll stay dry all night, thanks to the 3,000 mm polyurethane coating. I'd just recommend purchasing a groundsheet for it as an extra layer of protection, since one isn't included with the package.Pros:– High-low ventilation system for airflow- Holds up well against the elements- Plenty of pockets for storage- Very affordable- Roomy vestibules for gear storageCons:– Doesn't come with a footprint- A little on the heavy side
Sea to Summit Telos TR2 Tent
Tent Material: Nylon
Pole Material: Aluminum
Weight: 4 Pounds
Peak Height: 43.5 Inches
Number of Doors: 2
Comes with Footprint: No
After testing and reviewing dozens of tents, I have to admit, there are few that have impressed me more than the Sea to Summit Telos. It's just so multifunctional, especially when you look at how the rainfly was designed. Not only can it cover your entire tent like a normal rainfly, you can also roll it back to the tension ridge if you still want some protection while stargazing. Alternatively, you can convert it into a semi-open shelter that's affectionately been referred to as "hang out mode."The cool rainfly aside, though, I love how Sea to Summit designed the walls. With a unique pole design, you get more internal space thanks to the vertical walls – a feature you usually only find in larger, cabin style tents. Even the doors are larger than normal, so big guys like me can get in and out without too much trouble. On top of that, so much of the tent is made from mesh that airflow is not going to be a problem at all.Unfortunately, it doesn't come with its own footprint, so you'll have to purchase one separately. Not only will this help keep the water out in torrential rain, but it will also reduce any abrasions to your tent floor.Pros:– Rainfly can be used in multiple ways- Lightweight and durable- Vertical walls provide more space- Very tall doors- Great ventilation- Fun "hang out mode" functionalityCons:– Doesn't come with a footprint
REI Co-op Trail Hut 2 Tent
Tent Material: Polyester
Pole Material: Aluminum
Weight: 5 Pounds
Peak Height: 40 Inches
Number of Doors: 2
Comes with Footprint: Yes
The REI Trail Hut is one of those cheaper options that didn't skimp out on quality where it counts. It's certainly not as fancy as some of the other tents in this review, but that's okay – sometimes simple is best.It's a two person tent, but it's really big enough for one person to fit comfortably, and two people to fit snugly. At 5 pounds, most backpackers would scoff at the suggestion that they could take this with them on a trek; however, for shorter hikes, I think it's a perfectly reasonable weight. Not all of you are hoping to use this for backpacking, though, so let's take a look at it from a car camping perspective. Highly insulative and durable, it's a beast in rough weather, repelling rain, sleet, wind, and even snow. In fact, the insulation is so impressive that you could continue using it into the beginning of winter, if you wanted to do so. And with two large vestibules, you won't have any problems finding enough storage space, especially if you've decided to go out on a solo adventure.It would be nice if the doors were bigger, but that's a fairly small problem in the grand scheme of things. The lack of reflective properties also makes it difficult to see at nighttime, but as long as you don't wander off too far, you shouldn't need that feature anyway.Pros:– Affordable- Durable- Strong against bad weather- Can withstand some winter conditions- Two large vestibulesCons:– A bit heavy- Doors can be difficult to get through
MSR Elixir 2 Tent
Tent Material: Polyester
Pole Material: Aluminum
Weight: 6 Pounds
Peak Height: 40 Inches
Number of Doors: 2
Comes with Footprint: Yes
More than anything else, it seems like MSR really wanted to make a shelter that was easy to put together, and durable enough to handle almost any type of weather. With an emphasis on making things user friendly, the Elixir has color coded poles, webbing, and clips. Even the vestibules are red (in contrast to the gray color everywhere else), so you know exactly which way the rainfly is supposed to go on.If you look closely at the poles in the picture, you may also notice that they form an "X". This is a pretty sturdy design, meant to be able to stand up against strong winds and other environmental pressures. However, due to the unique strain put on the poles using this design, they can start to split if they aren't assembled properly. Generally speaking, you'll be okay. But even if you aren't, the exceptional warranty program will make sure your tent gets repaired without any additional money out of pocket from you.The waterproofing on this tent is also second to none. You could find yourself in a few inches of standing water, and still remain dry inside the shelter. It might take a little more effort to put together than some of the other products in this review, but for something that acts like a tank in rough weather, it feels worth it.Pros:– Strong in bad weather- Durable- Easy to put together- Waterproof- Great warrantyCons:– Poles may split if assembled incorrectly
Mountainsmith Morrison 3 Tent
Tent Material: Polyester
Pole Material: Aluminum
Weight: 6 Pounds
Peak Height: 48 Inches
Number of Doors: 2
Comes with Footprint: Yes
It's not every day I get to say this, but let me present to you the Mountainsmith Morrison – a three person tent that can actually hold three people comfortably! That alone makes me favor this tent more than many others, though as you might expect, you will sacrifice a little when it comes to weight. Still, 6 pounds for a three person tent? You could certainly do worse.Despite the massive interior, it's one of the easiest tents to set up by yourself. It's no glamping shelter, but it gets the job done nicely, and still has all of the features you'd expect to find in a tent that's twice the price. The bathtub floor and footprint ensure that water stays on the outside of your tent where it belongs. You've also got some nice aluminum poles that are both strong and lightweight, so you can feel comfortable in the midst of a storm.On the inside, you've got your choice of internal pockets and a gear loft to store your belongings. On the outside, there are two large vestibules that are perfect for keeping your dirty gear. Overall, I doubt you'll manage to use up all the space this tent provides!Pros:– Very simple to set up- Durable- Waterproof- Extremely large interior- Lots of storage space, inside and outsideCons:– A little heavy
Gazelle T3X Hub Tent
Tent Material: Polyester
Pole Material: Fiberglass
Weight: 28 Pounds
Peak Height: 68 Inches
Number of Doors: 2
Comes with Footprint: No
It's hard to find decent instant tents on the market. Many get the "instant" part of it down pretty well, but don't put enough effort into all of the other areas that make a tent a true shelter. The Gazelle T3X managed to take care of all these features, giving you a tent that can be assembled in 90 seconds, without compromising on durability and weatherproofing.The unique hub design makes setup as simple as unrolling the fabric, popping out the walls, and pushing up on the roof panel. Unfortunately, there is a tradeoff you have to make in order to experience such convenience. The T3X doesn't fold down very small, coming in at about 5 feet long when it's stored away in its carry case. It's certainly not something you'd use while backpacking (the weight alone proves that much), but if you don't mind the bulkiness, it's a tent that will take good care of you.The massive doors and windows open up to create unmatched ventilation. And on the inside, there are so many storage options that you won't even notice the lack of vestibules. Between the side pockets and gear loft, you shouldn't have any problem finding places to stash your belongings.Pros:– Instant setup- Plenty of internal storage options- Durable- Holds up well in bad weather- SpaciousCons:– Heavy- Doesn't pack down very small
Big Agnes Tiger Wall UL 3 Carbon Tent
Tent Material: Dyneema
Pole Material: Carbon Fiber
Weight: 1.75 Pounds
Peak Height: 42 Inches
Number of Doors: 2
Comes with Footprint: No
Made from a material that feels thinner than paper, you might wonder how durable and weather resistant the Big Agnes Tiger Wall could possibly be. It's one of the few shelters you'll find that's made from Dyneema – an ultralight building material praised for its durability and waterproofing, despite how thin it is. For a three person tent, the Tiger wall is still lighter than most one person tents, simply because of the Dyneema and the carbon fiber poles. You'll pay a premium price for these rare and expensive materials, but they're definitely worth it. For backpackers especially, you'll be amazed by the quality and strength of the tent, considering how light it will feel in your pack.It's all very impressive, but Big Agnes does warn that this tent isn't for everyone. These special materials require more care and attention than you might be used to, so you'll have to be extra careful with it, to increase longevity and overall durability. Definitely grab yourself a footprint to reduce abrasions to the tent floor, and keep the thin material away from sharp objects as much as possible.Pros:– Ultralightweight- Waterproof- Multiple gear loops and an oversized ceiling pocket- Hubbed, single pole setup- Good sized vestibulesCons:– Very delicate- Ventilation needs improvement
At Untamed Space, we're passionate about helping you have the best camping experience possible. Our team of experts have experience camping and backpacking all over the world, allowing them to provide insightful and relevant content to guide you in your outdoor pursuits.All of our reviews are based on a combination of firsthand experience, extensive research, and an analysis of customer feedback. We are an independent website and do not receive payments or incentives from manufacturers to promote their products, and we continuously update our content to provide new information based on product availability. Wherever you are in your journey, whatever gear you're searching for, you can be sure to find unbiased and up-to-date reviews for all of your needs.
FAQ
Conclusion
There are enough things to concern yourself with on a camping trip. Don't add another burden to your shoulders by getting a tent that's difficult to set up, whether it's too complex or just requires more than one pair of hands to make it work.But don't forget – even the easiest tent to set up by yourself should still meet a few other basic requirements. It needs to be strong and durable, have good waterproofing ability, and offer plenty of storage for your gear. With those things in mind, our favorite shelter is the Nemo Dagger 2 person tent. It checks all of these boxes and more, giving you the best bang for your buck.
Related Posts:
16 Camping Tips and Hacks That Will Change Your Life
The Best Blackout Tents for Late Risers
Best Tent Waterproofing Spray to Restore Your Shelter