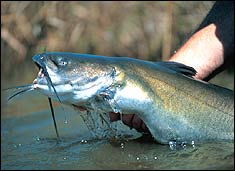 By Walt Tegtmeier
Missouri's catfish can attain gigantic dimensions. And given the number of waters gracing the Show Me State that are known to have bona-fide trophy potential, it's little wonder that no state record is ever really safe.
Our state is blessed with what is arguably the finest complement of big catfish waters in the entire country. Add together the hundreds of miles of slow-moving rivers, both large and medium-sized, that span Missouri from north to south and east to west and the hundreds of thousands of surface acres in its mammoth reservoirs, and you'll readily see how it can be that no citizen of the Show Me State lives more than an hour or so from trophy cat water; a lot of us have it right in our backyards.
The term "trophy" is tricky. Today, it's not used for the catfish of our youth, many of which were just average stocker channel cats abiding in Missouri's farm ponds or suburban lakes. Sure, some of those small-water dwellers reach impressive sizes – but we're talking about the serious giants of the channel, flathead and blue cat world, specimens that may eat more meat than you do in a typical day. To become such a creature, it must live in big water – rivers like the Missouri, Mississippi and Osage, and reservoirs such as Truman, Table Rock and Lake of the Ozarks.
The largest of our Big Three species is the blue catfish. Back when the big rivers ran wild, blue cats were probably even bigger. Historical records and anecdotal evidence appear to support such a claim. In his book, Steamboating: 65 Years on Missouri's Rivers, a boat pilot named William Heckman wrote of a giant 315-pound blue catfish that was reportedly taken from the Missouri River in Gasconade County just after the Civil War. State archives contain an 1879 shipping invoice for a 150-pound blue catfish purchased at a St. Louis fish market. The sender was one Dr. J.G.W. Steedman, then chairman of the Missouri Fish Commission; the recipient was the U.S. National Museum of Natural History, now part of the Smithsonian Institute.
Suffering through the advent of channelization, commercial fishing, dam construction and pollution, Missouri's big cats nonetheless survived. Catfish of all sizes thrive in Missouri's waters today, in some part thanks to efforts on the part of modern humanity to soften the effects of its frantic activity, but mostly because of the whiskered creatures' ability to adapt to altered habitat.
The largest Missouri specimens in the modern era's records have all been caught in the past quarter-century, with two of the Big Three catfish state records being set as recently as the 1990s – and most serious catmen and trophy hunters around the state believe that all three records have been unofficially topped at least once since they were set.
For a variety of reasons, a lot of potential record catfish are never certified by the Missouri Department of Conservation. Lack of a certified scale, failure to photograph the fish, no witnesses to the catch or the weighing process, release prior to proper measurement – all can contribute to a would-be record's being a non-starter. Then there are the monsters caught by anglers who seek no record and/or eat or release the fish without any clue as to the rank it might merit. And, of course, a few would rather not publicize a record catch for fear of drawing attention and pressure to their trophy venues.
The fact is that many enormous cats are caught in Missouri each year. And as more anglers pursue the big beasts each year as well, it shouldn't surprise anyone to see any record fall in the near future – perhaps even a number of times.
Moving from smallest to largest, let's examine Missouri's Big Three catfish species, along with the standing state records and the likelihood of their being broken.
Channel catfish, the most abundant and widely distributed of the three species, are present in practically all our state waters, from small ponds and creeks to mighty rivers and, seemingly, in every type of water in between. Of the three species, channels are the least dependent on large bodies of water for them to reach record size. Hefty specimens can exist in any waterway so long as an ample supply of food and appropriate habitat are available. Many bodies of water fitting that description are sited in this state – too many to count.
The record for a channel cat taken on pole and line is the longest-standing of any for the three species. Gerald Siebenmorgen's 34-pound, 10-ounce record fish was taken from 970-acre Lake Jacomo in suburban Kansas City in 1976. Where and when will this one be topped? It could fall anywhere, at any time. In fact, some folks are quite sure that the record's been broken numerous times since 1976 by outsized channels mistaken because of similar size, shape and color for average blues.
Reports of channels in the upper 20s being caught crop up every year in Missouri, and a 35-pounder likely swims some Show Me pond or lake or stream or river. Statistics would suggest that it probably resides in big water, such as Lake of the Ozarks or Truman, or below their dams on the Osage River, but don't discount smaller lakes like Jacomo, Hunnewell and countless MDC lakes that provide growing channels lots of room and plenty to eat.
Flathead catfish are also widely distributed around the Show Me State. They inhabit most of the small- to medium-sized rivers in Missouri, and are especially plentiful both in the Missouri and Mississippi rivers and in most of the state's larger reservoirs.
Even a medium-sized flathead will dwarf the largest channel cat in Missouri – and there's no confusing the two. The current pole-and-line record, 77 pounds, 8 ounces, was taken out of the Missouri River near St. Louis by Darrell Hudspeth in 1997. (The alternate-method record, a 94-pounder from the St. Francis River, has stood since 1971.)
"Flats" in the 70-pound range are frequently caught in the big rivers each year, but most are taken on trotlines and limblines and by means of other setline methods. The flathead can be a discriminating feeder; rather than scavenge like channels or a blues, they almost always hunt live prey. They also feed predominantly at night and tend to lie dormant during cold weather. What's more, flatheads love to bury themselves in or under the nastiest cover imaginable. For these reasons, many anglers find it difficult to sit and wait for a plus-sized flathead to bite, choosing instead to go the setline route. However, the size potential is definitely there,
and it's probably only a matter of time before someone tops 77 pounds. Look for it to happen in either the Missouri or the Mississippi.
Next to the prehistoric paddlefish, the blue catfish is the state's largest aquatic denizen. It's also the most habitat-dependent of the Big Three, requiring a combination of deep water, the freedom to move across large expanses, shelf-like bottom structure and, ideally, plenty of current. These demands prevent it from prospering in most small rivers and impoundments, but it does marvelously well in the Missouri, Mississippi and Osage rivers and in several of Missouri's large reservoirs. Blues are also stocked in some MDC lakes in the northern half of the state.
The current pole-and-line record for blue catfish, weighing an even 103 pounds, was caught in the Missouri River by Clarence Kerr of Fairfax in 1991. The alternate-method record is a 117-pound giant from the Osage River; that mark has stood since 1974.
Like the flathead, blue cats at near-state-record sizes seem to be showing up around the state more and more frequently, especially around the big river towns. Renowned catman Virgil Agee of Chamois has personally landed four blue cats over 100 pounds on rod and reel; three of those were weighed but not confirmed by state officials, while the fourth was only measured prior to being released, and exhibited the characteristic proportions of a 100-pounder.
The biggest blues are usually big-river fish, so the odds are high that the next record will come from the Osage, Missouri or Mississippi River. However, the new official world-record blue – at 121 pounds, 8 ounces an absurdly huge leviathan – came from Texas' Lake Texoma, a reservoir. So perhaps the next state record currently lurks in one of the Show Me State's impoundments.
Whether any or all of Missouri's three major catfish records will be broken anytime soon is anybody's guess. But there need be no guessing as to whether the state ranks in the top tier for big catfish. South Carolina reigns supreme for channel cats, Ohio and Kansas have the biggest flatheads, and Texas now has the blue cat crown. Still, Missouri anglers can boast of sizeable specimens of all three species. Who knows? Maybe one of them will "show us" a new state or world record this season!
Discover even more in our monthly magazine,
and have it delivered to your door!
Subscribe to Missouri Game & Fish