Under the National Firearms Act, shotguns have to have a barrel of at least 18-inches.
That's unfortunate because there are actual practical purposes to having a shotgun with a shorter barrel.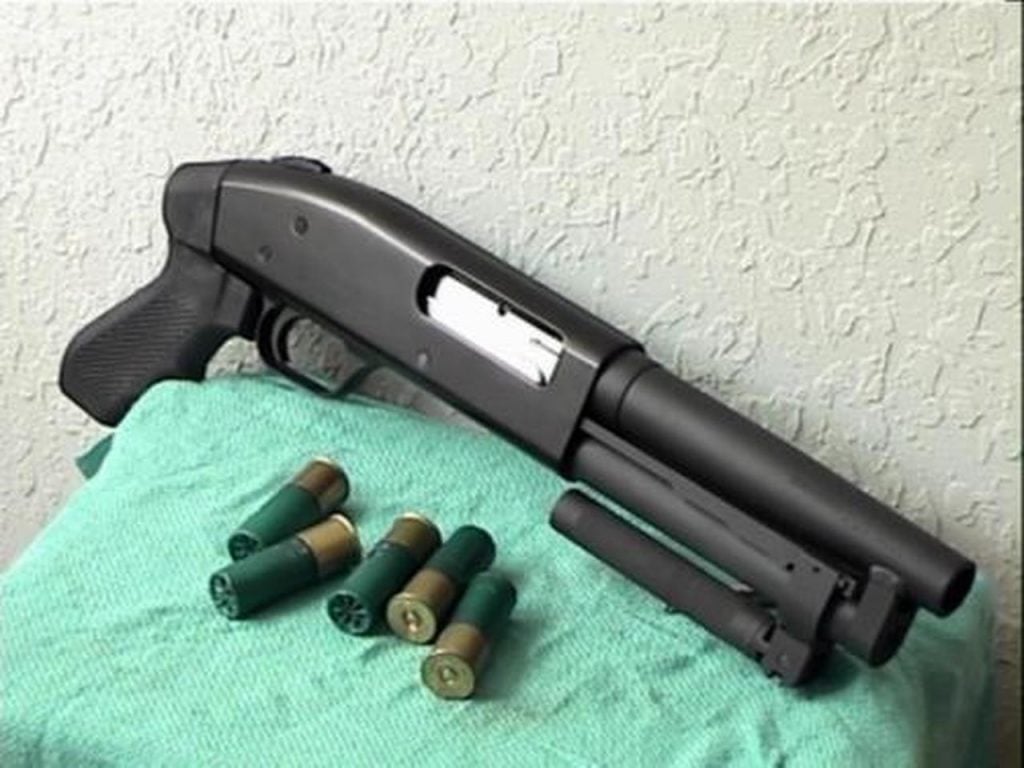 They're more maneuverable in small spaces and more portable in general.
This makes short-barreled shotguns great for home defense, pest control, and for protecting livestock.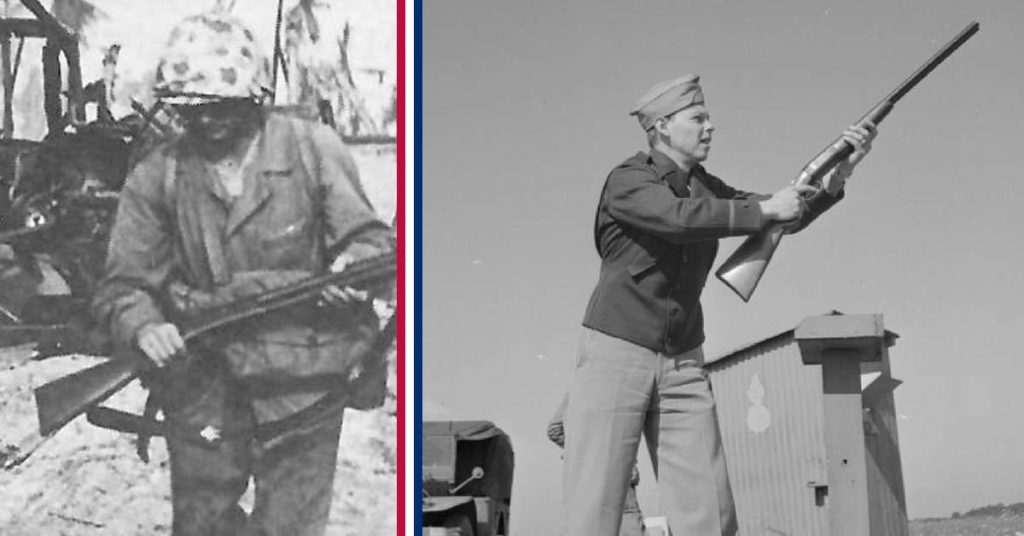 They're also just fun to shoot.
But fortunately, you don't have to jump through NFA hoops like the extra cost, time, and paperwork to shoot shotgun shells out of a shorter barrel.
You see, 2.5-inch long .410 bore shotgun shells will fit in a .45 Colt chamber.
And under the NFA, a gun has to have a smooth bore to be legally considered a shotgun.
So since revolvers and pistols have rifled barrels, they don't qualify as shotguns even if they are capable of firing .410 shells.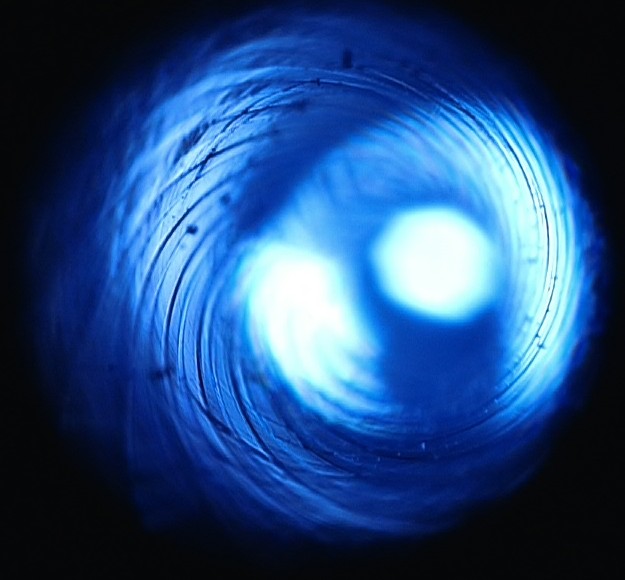 But not just any .45 Colt handgun can shoot .410 bore, even if the gun can chamber it.
There are a few different handguns, though, that have been made to do just that. They've been growing in popularity over the past 15 or so years.
In this guide, we'll be talking about .410 revolvers in particular.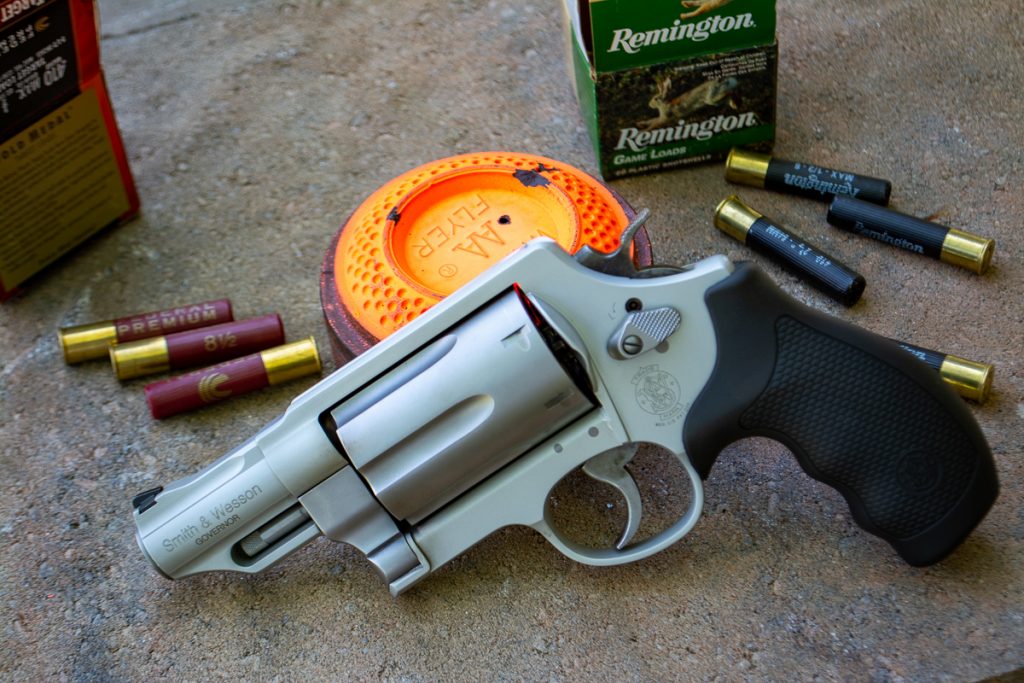 I'll tell you why you might want one in the first place, then give you the lowdown on a few of the best .410 revolvers on the market.
So let's get to it.
What Is a .410 Revolver for Anyway?
Most .410 handguns are marketed as self-defense weapons, which is actually quite controversial.
.410 self-defense applications are pretty hotly debated, but I tend to be against it.
For one, it doesn't penetrate deeply. Your attacker will mostly get surface wounds without damage to anything too important.
Realistically, those wounds will probably still be painful enough to deter most attackers…but I'm not a big fan of qualifiers like probably and most when it comes to defending myself and my family.
You never know if this will be the time where the attacker is particularly determined.
There tons of better options for self-defense than .410.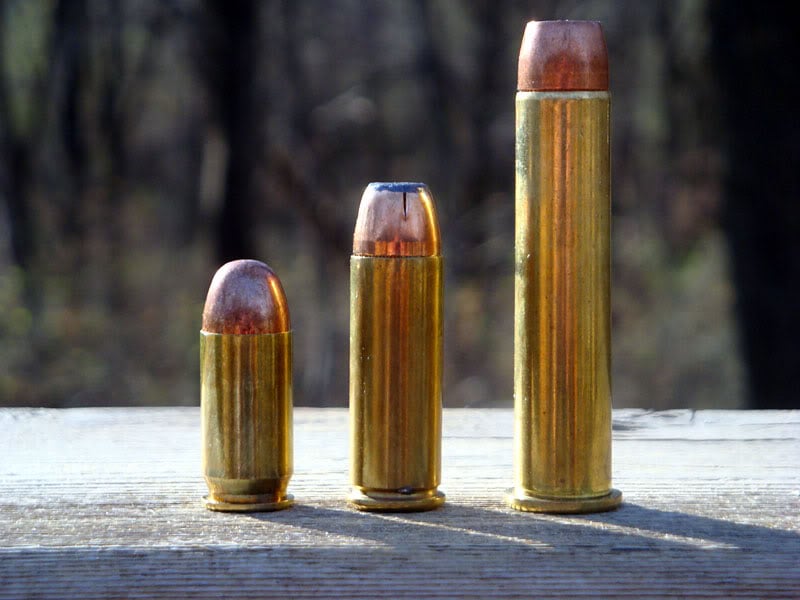 Secondly, to balance shooting both .45 and .410, .410 revolvers have to make sacrifices for each.
That means that they're typically not as good at shotgun things as a shotgun, nor as good at revolver things as a revolver.
Accuracy is one such place that is most evident.
Compromise isn't something you want out of a self-defense gun. With so many dedicated self-defense weapons available, there's really no reason not to go with one of those.
Ok, so what's a .410 revolver really for then?
Practically speaking, pest control — especially in close quarters where a shotgun would be impractical.
That covers clearing rats and squirrels out of a barn or storage shed. It's also decent for medium-sized varmints as well.
And if you're out hiking on your property or on a trail, a .410 revolver makes for a good snake gun.
Finally, .410 revolvers are a novelty and I am a firm believer that's a good enough reason to get a gun.
Shooting a shotgun round from a revolver is just plain fun. For a particularly good time, take one of these guns to shoot clays.
Keep reading to see which models we recommend…
Best .410 Revolvers
1. Taurus Judge
The Taurus Judge is perhaps the best-known .410 revolver on the market.
In fact, its introduction in 2006 likely kicked off the interest in .410 handguns — though Bond Arms' .45 Colt/.410 bore derringers didn't hurt either.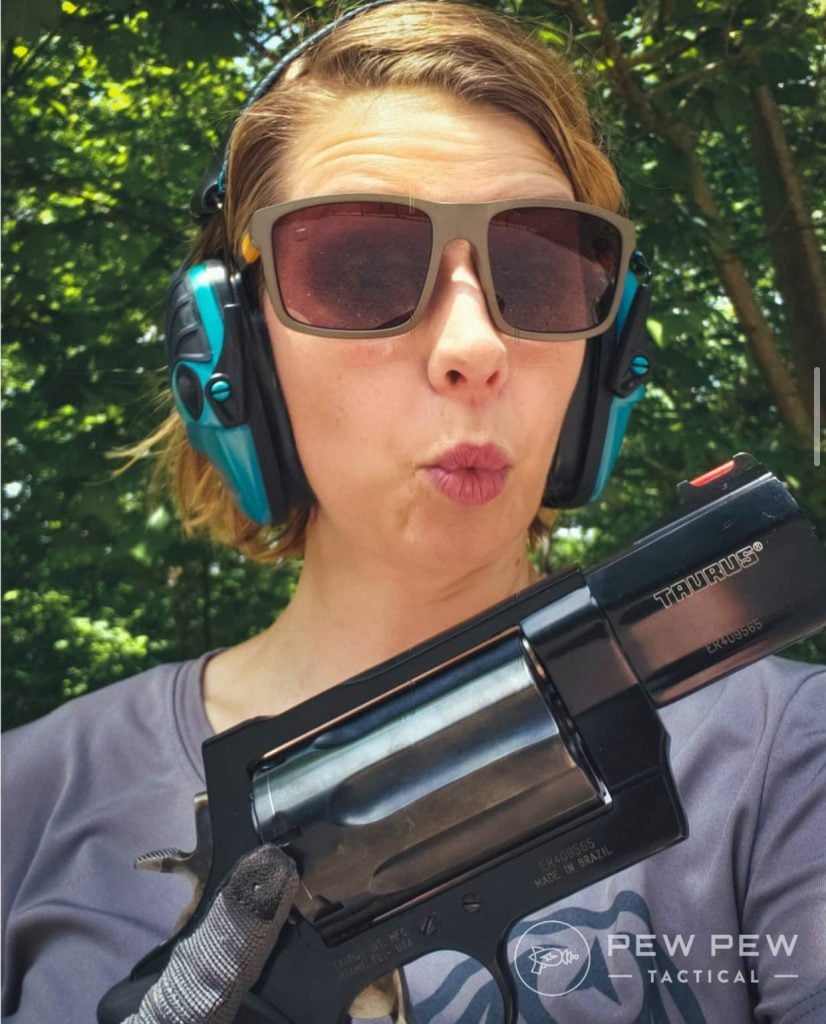 Though marketed for self-defense, the Judge actually shines as a recreation and pest revolver.
I and other reviewers have found accuracy leaves something to be desired beyond the very close range.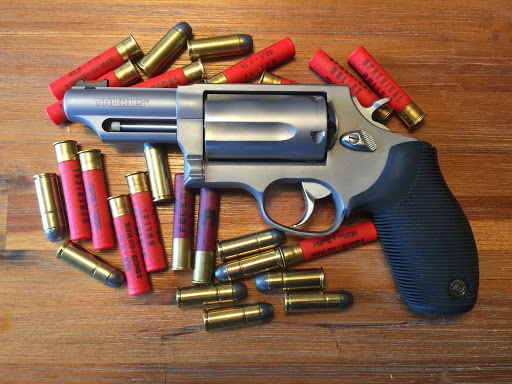 I also wouldn't say it's my go-to trail gun because this thing is fairly hefty.
The Judge is available in 3-inch and 6.5-inch barrel options, but even the 3-inch barrel version weighs 29-ounces and measures 9.5-inches long.
The 6.5-inch barrel version adds another 3-ounces and 3-inches.
And sure, revolvers tend to feel heavy in general, but Taurus makes a lightweight variant on the Judge that's better suited for carrying around.
We'll get to that in a minute.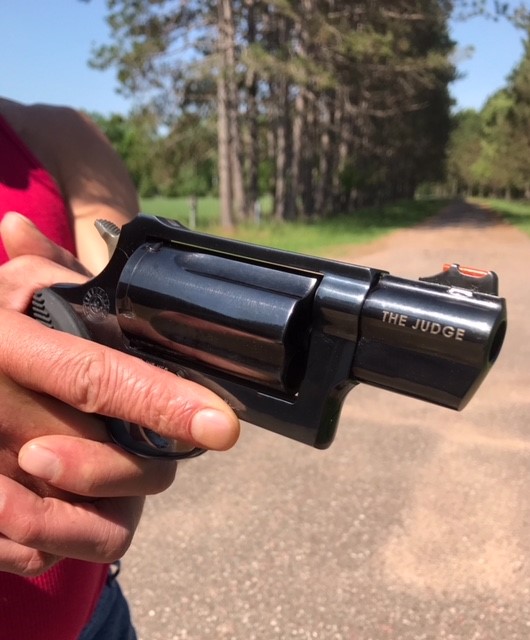 Aside from the barrel length, both versions of the Judge are the same. They each have a 5-round capacity, a single/double action, an extended ejector rod, and a transfer bar safety.
They also each have a fiber optic front sight and fixed rear sight.
Each version comes in matte stainless steel or matte black oxide finish.
Both finishes feature a black rubber grip. I have to say, it's not great looking, but does its job well.
The Judge has a good bit of kick, but the grip goes a long way in helping you control it.
Aside from the base model Judge, Taurus also makes a few different variants on it.
Taurus Judge Public Defender
The Taurus Judge Public Defender is a more compact variation of the Judge. It's shorter, both in height and length than the standard Judge and uses a 2.5-inch barrel.
Taurus markets the Public Defender as a concealed carry option, but I think it makes a better snake gun for the trail…especially if you go with the polymer frame version.
It's available with a steel or polymer frame. The steel frame version weighs 28-ounces while the polymer frame version shaves off one more ounce.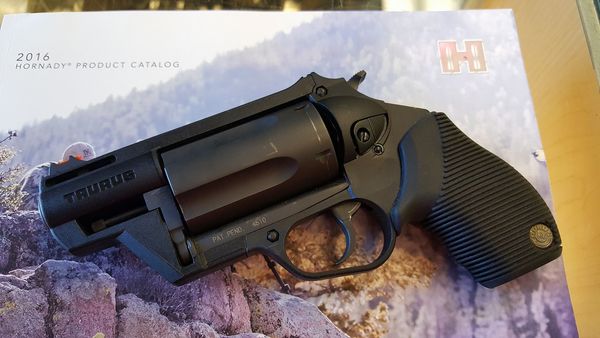 The only other real difference between the two frame types is that the Public Defender Polymer has an adjustable rear sight. The metal frame Public Defender's rear sight is fixed.
No matter the frame, the cylinder, trigger, and hammer are all metal. You can choose between the stainless steel and black oxide finishes again.
Other than that, the features of the Public Defender are pretty much identical to that of the Judge.
Taurus Raging Judge
If the Public Defender is the Judge's kid brother, then the Raging Judge is the tough older brother that spends maybe too much time at the gym.
If you want to carry it around, you might need to spend some time at the gym too.
The Judge is weighty, but the Raging Judge makes it look scrawny in comparison.
You know the Good Samaritan, Hellboy's revolver? It reminds me of that.
Like the Judge, the Raging Judge comes in a version with a 3-inch barrel and a version with a 6-inch barrel, but the Raging Judge has a much larger frame.
It's almost half an inch wider (1.9-inches compared to-1.5) and almost an inch and a half taller (6.5-inches compared to 5.1-inches.)
The Raging Judge's larger cylinder, which has a dual cylinder lockup system, also allows it to carry an extra shot…
…This brings me to a related difference: like the other revolvers on this list, the Raging Judge can be loaded with .45 LC or .410 bore shells. But it can also be used with .454 Casull.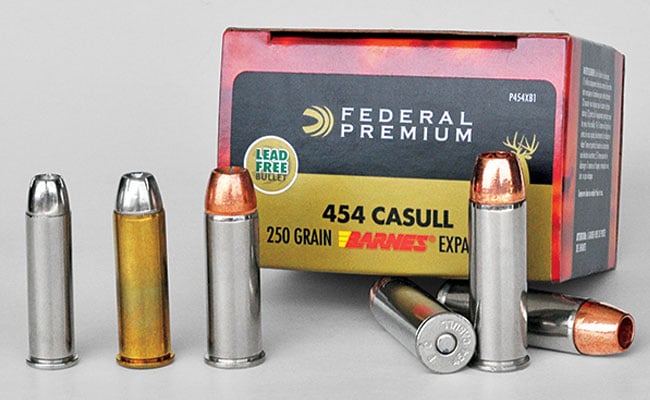 This would make it an effective trail gun since .454 can take down pretty much anything you can reasonably expect to come across on a hike anywhere in North America…if it weren't for the weight.
Even the 3-inch barrel Raging Judge weighs a whopping 61-ounces, or almost 4-pounds. The 6.5-inch barrel version weighs 73-ounces, or just over 4.5-pounds.
The fact that .454 Casull has a hell of a kick is another mitigating factor.
Fortunately, Taurus did take this into consideration when designing the Raging Judge and added a cushioned backstrap to help you maintain control of the revolver.
Again, similar to the Judge, but also can be used with .454 Casull, a six-round capacity, and the red Raging Judge backstrap to give you some extra cushioning.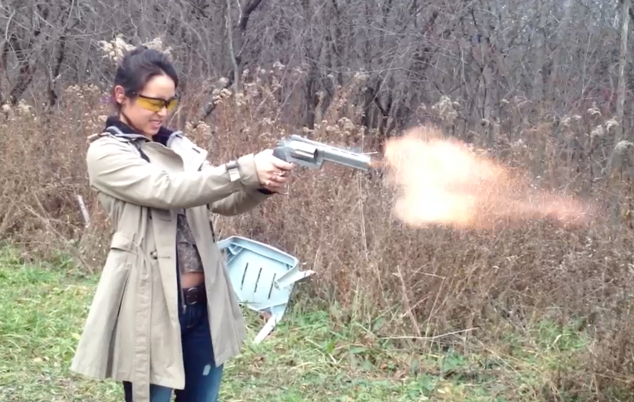 If you're able to handle .454 Casull's recoil, the Raging Judge makes a solid hunting revolver.
The 6-inch barrel version even has a scope mount to help with that.
The Raging Judge is only available with a matte stainless steel finish.
2. Smith & Wesson Governor
Our next pick comes from Smith & Wesson, and I think we can all agree S&W knows revolvers.
The Smith & Wesson Governor is a fairly compact snub-nosed revolver with a 2.75-inch barrel and a single/double action.
It's not quite as long as the 3-inch barrel Judge, but it stands a bit taller and wider.
It weighs a bit more than the smaller Judge, at 29.6-ounces, but that's in part because it has a larger cylinder with a 6-round capacity.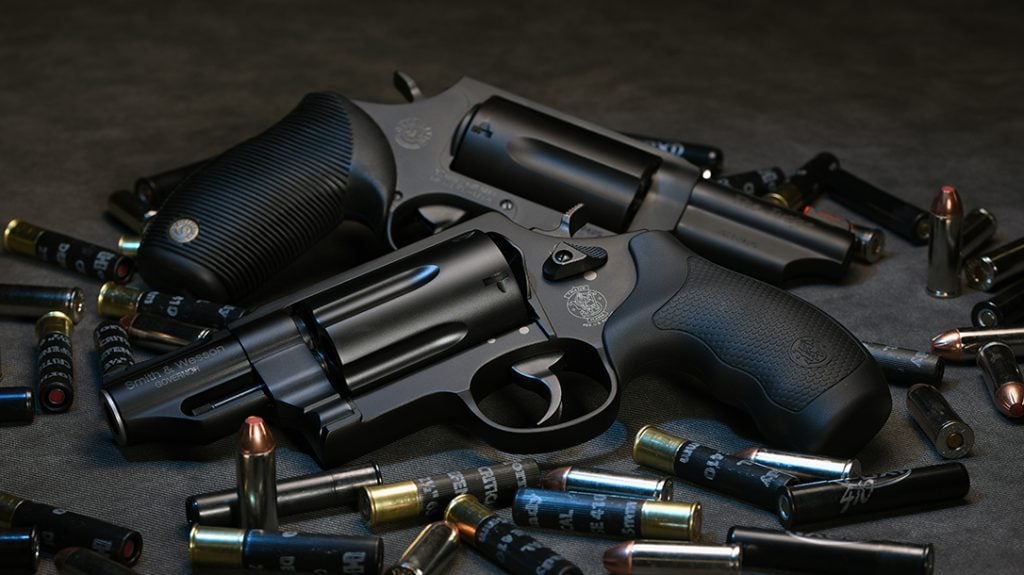 What sets the Governor apart is that it fires not just .410 and .45 Colt, but also .45 ACP. You just use moon clips since .45 ACP is rimless.
Fortunately, the Governor comes with two 6-round moon clips and three 2-round moon clips.
You could even load a combination of the three in if you wanted.
This makes it one of the more versatile revolvers on the list, but it's still limited to short ranges considering the diminutive barrel.
The Governor has a synthetic grip to help you manage recoil that I think looks a lot nicer than the grip on the Judge.
The frame is made from scandium alloy, the barrel from stainless steel, and the cylinder from stainless PVD.
All visible metal bits have a matte black finish to match the grip. This revolver also has a dovetailed tritium front sight and a fixed rear sight.
3. Magnum Research BFR
Last up is the Magnum Research BFR.
"BFR" officially stands for "Big Frame Revolver" though Magnum Research will also call it their "Biggest Finest Revolver."
You'll also sometimes hear it called by the official title but with a different f-word.
And no offense to the other revolvers on this list, but this is the best one.
All of the mechanical bits move smoothly and are highly reliable. The BFR feels just like a revolver should…just bigger.
The BFR weighs 4.5-pounds, the same as the larger Judge. But it doesn't appear as bulky because the weight is distributed on a longer, taller frame.
It's 6-inches tall and 15-inches long.
In addition to stabilizing the recoil, the 7.5-inch barrel also helps provide the BFR with greater accuracy…though that's still only relative to the other revolvers that we've talked about.
It also comes in at about the same price point as the Raging Judge. I personally think the BFR gives you a better bang for your buck as long as you're not too caught up in being able to shoot .454 Casull.
The one other slight disadvantage is the 5-round capacity.
It comes with a black rubber grip, which is effective for helping manage recoil but is also understated.
That combined with the brushed stainless steel finish gives you a pretty classic-looking, though large, revolver.
The BFR has a single-action, transfer bar safety, and 4- to 5-pound trigger pull with a fixed front sight and adjustable rear sight.
What do you think of the BFR? Rate it below!
Honorable Mention — Bond Arms Derringer
Yes, we know derringers aren't revolvers. But we would be remiss if we didn't at least mention Bond Arms when talking about .410 and .45 Colt options.
If you aren't married to the idea of a revolver, take a look at Bond Arms.
This company provides a bunch of .410 handguns! A few of our favorites include the Snake Slayer and the Ranger II.
These derringers also tend to be more lightweight than the revolvers listed above, making them a great trail gun option.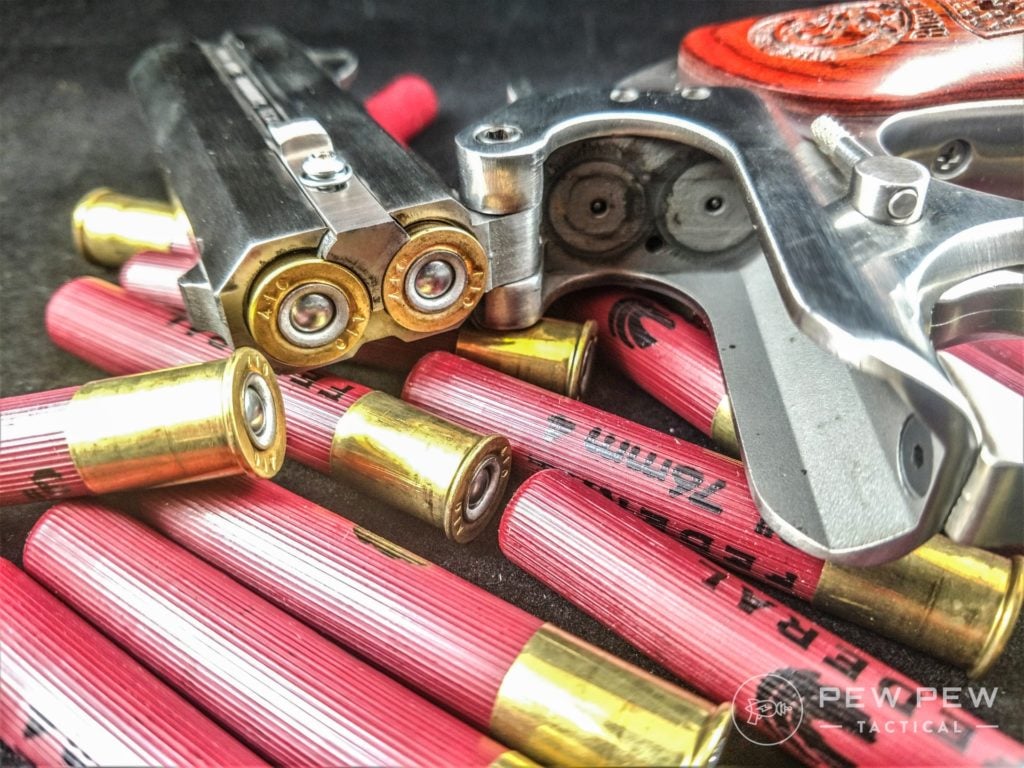 Conclusion
Though .410 revolvers aren't as popular as other revolver chamberings, these nifty wheelguns make excellent hiking and pest guns.
While the Smith & Wesson and Taurus are both great options, the Magnum Research BFR stands above the rest.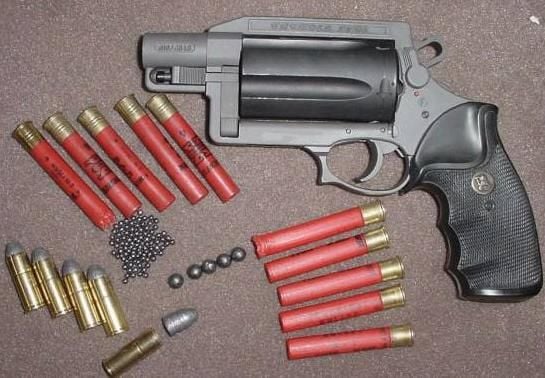 Which model is right for your next hike?
Well, that comes down to budget and gear. How much you want to spend and how much weight you want to carry. But, these options all excel at keeping pests and snakes at bay.
Now, what are your thoughts on .410 revolvers? Let me know in the comments. Looking for more revolvers? Check out our recommendations for the Best Beginner Revolvers and Best Concealed Carry Revolvers.