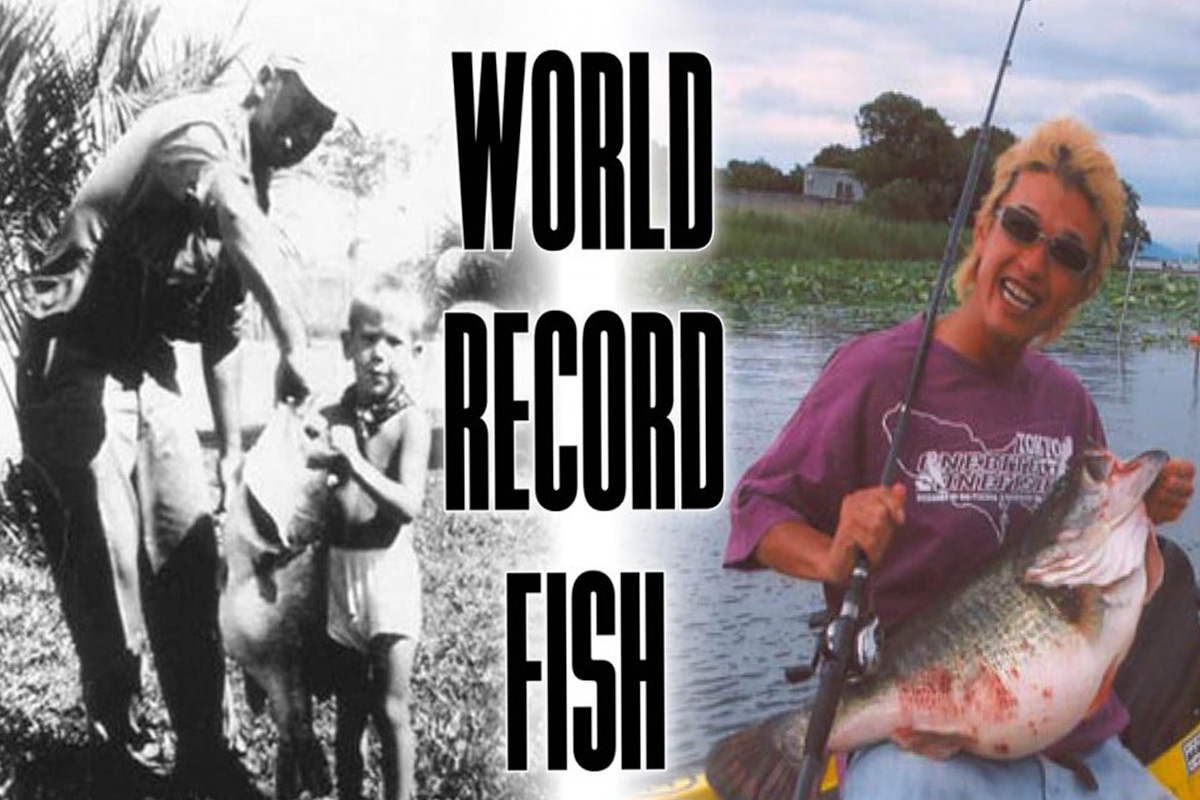 In recreational angling, the largemouth bass is king. No other species has an international following as massive and as dedicated as that of the largemouth bass.
Their global distribution, accessibility to anglers of all socio-economic levels, and renowned game fish characteristics have morphed the largemouth bass from simply a fish to a globally recognized icon of recreational angling.
Due to the historic and widespread popularity of the species, it should come as no surprise that obtaining a world record largemouth bass is nearly impossible. Nearly.
The following catches represent the biggest, most impressive and envied world records ever granted for largemouth bass.
George Perry | Montgomery Lake, GA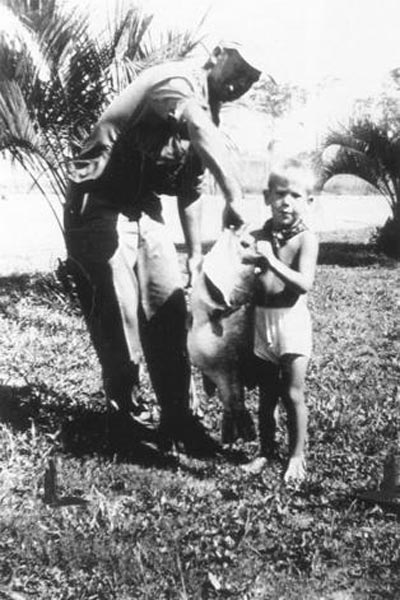 The All-Tackle record for largemouth bass is the most sought after game fish record in the world. It is the "holy grail" of fishing records. George Perry has held this prestigious title for nearly 83 years, since he pulled his massive 22-pound, 4-ounce fish from Montgomery Lake, Georgia on June 2, 1932.
Perry, a 20-year-old farmer at the time, decided to go fishing with longtime friend Jack Page. The two were taking turns with a single rod and reel, casting a Creek Chub Fintail Shiner from the wooden Jon boat Perry had built.
An interview from 1973 recorded Perry saying, "I thought I had hooked a log, but then the log started moving."
After skillfully playing the fish out of a half-submerged treetop, Perry finally boated the fish which was bigger than anything he or Page had ever seen.
The two immediately beached the boat and headed for town. Later that day, the fish officially weighed in at 22 pounds, 4 ounces and soon after became the new benchmark for record chasing anglers around the world.
Seventy-seven years would pass before a fish comparable to Perry's monster would be caught, but it has still yet to be surpassed.
Manabu Kurita | Lake Biwa, Japan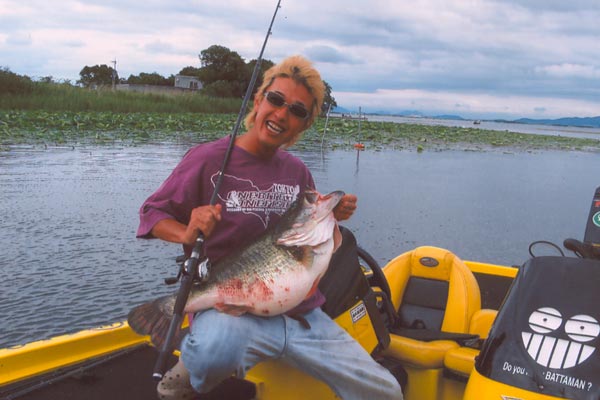 However, Perry's sole ownership of this most prestigious record came to an end on July 2, 2009 when Japanese angler Manabu Kurita pulled his own 22-pound, 4-ounce largemouth from Lake Biwa in central Japan, after it ate a live bluegill that he had on for bait.
Although it occurred halfway around the world from where Perry's fish was landed, news of the historic catch spread like wildfire through the angling world. And as word spread, so did the doubts.
After all, landing a fish that millions of anglers had pursued for nearly a century is not something to be taken lightly. As such, every detail of the catch and its submission was done under a microscope.
The IGFA and Japanese Game Fishing Association (JGFA) even went as far as to administer a polygraph test on Kurita to ensure the catch and submission was done by IGFA rules.
After months of rigorously reviewing the application, the IGFA granted Manabu Kurita his share of the "holy grail" a tie for the coveted All-Tackle largemouth bass world record with George Perry.
Raymond Easley | Lake Casitas, CA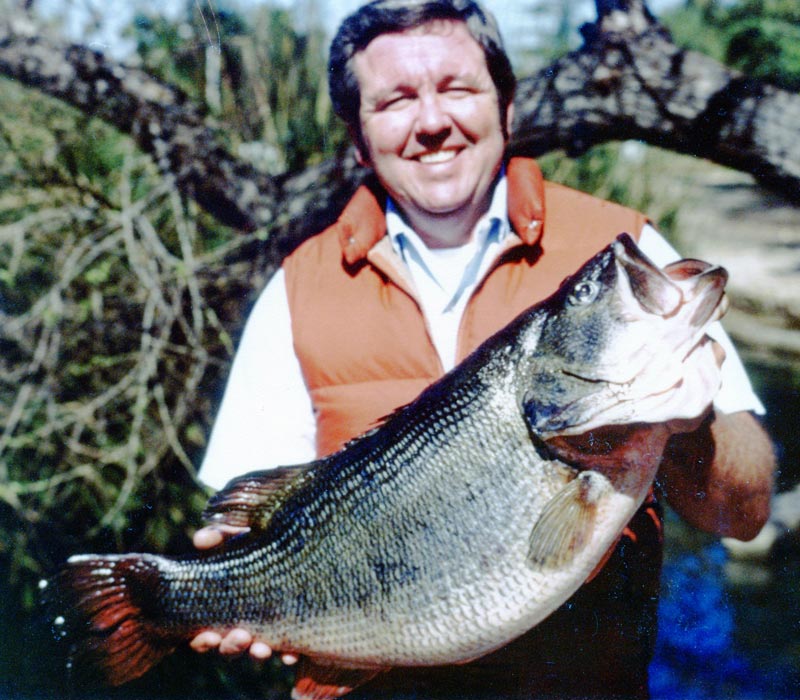 When Raymond Easley caught his historic 21-pound, 3-ounce largemouth on March 4 1980, it was the largest bass anyone had recorded since George Perry's All-Tackle monster in 1932.
On that morning, Easley was fishing Lake Casitas, California with a few buddies who were inexperienced anglers. While demonstrating how to properly fish a live crawfish in the relatively deep water, Easley's bait got crushed and he came tight on the fish of a lifetime.
After a quick fight, Easley had the fish weighed in on a certified scale not far from the lake. Shortly after, the catch became the men's 8-pound line class world record a record that still stands today.
At the time of the catch, Easley's fish was the second heaviest largemouth ever recorded, trailing only Perry's All-Tackle record.
The catch sent shockwaves through the angling community and renewed the hopes of anglers everywhere about having a chance at catching the next world record largemouth, especially anglers in southern California.
Robert Crupi | Castaic Lake, CA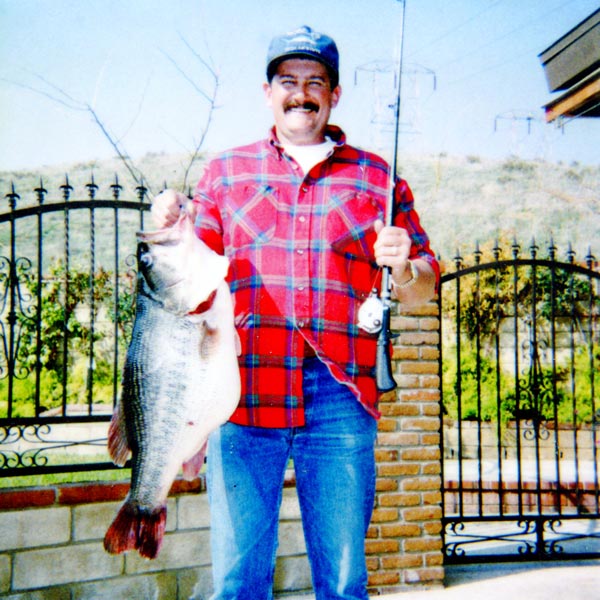 While George Perry's name is revered and envied among bass anglers, and rightfully so, there is one angler whose name deserves equal respect and recognition Robert Crupi
Most bass anglers dream of a chance at catching just one world record in their lifetime, Crupi has four to his name. Not to mention that three of those records were caught in just a year's time! Not a bad year at all.
Crupi's first world record largemouth would be the fish of a lifetime for any other angler a 21-pound lunker that he pulled from the renowned Castaic Lake in Southern California on March 9, 1990.
Crupi, now a retired LA policeman, has been a regular on Lake Castaic since 1977.
In fact, Crupi fished the same spot in the lake for five days prior to landing this fish, which he coerced with a live crawdad he was fishing in 36- to 40-feet of water.
Although he had caught several large fish in his life, Crupi had never seen one this big. The fish was successfully landed, weighed-in, and shortly after became the men's 12-pound line class record.
At the time, this was the third heaviest largemouth ever recorded by the IGFA. And Crupi was just getting started.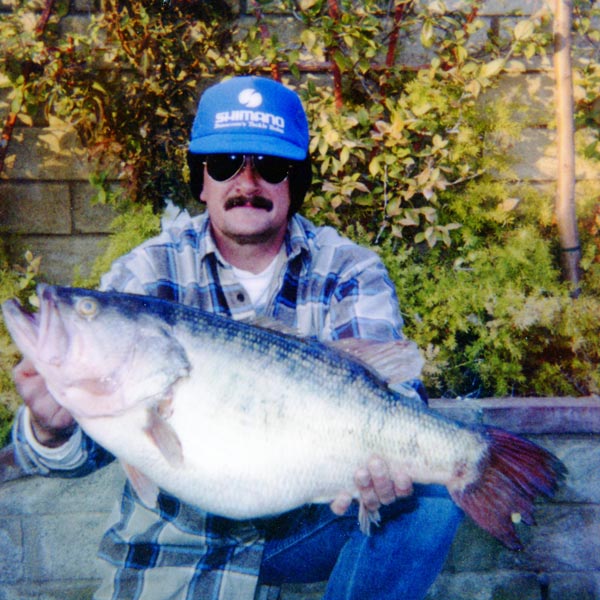 Christmas came three days late for Robert Crupi in 1990. On the morning of December 28, 1990, Crupi was fishing his usual spots on Castaic Lake, working a crippled herring jig in about 40 feet of water after marking some fish on his electric paper graph (an old school sounder).
After catching several crappie and smallmouth bass, Crupi dropped the jig down again, but this time he hooked something big. The fish effortlessly stripped the 4-pound monofilament off his reel, and stayed deep for approximately 15 minutes.
Finally, the fish surfaced about 50 yards from the boat and Crupi realized what he had been fighting. Fishing alone, Crupi managed to net and land the fish by himself, which became his second world record, this time in the men's 4-pound line class category.
A couple months later and almost exactly a year after landing his first world record largemouth Crupi was back on Castaic Lake the morning of March 12, 1991.
This time he pulled an incredible 22-pound lunker from the lake using a live crawdad and utilizing the same technique he had employed for the record fish he caught the year before.
Crupi only needed three minutes to land the fish, which he netted himself as he was again fishing alone. Immediately knowing he had something special, Crupi put the fish in his livewell and raced back to the docks, later to be weighed in at a nearby deli & liquor store on a certified scale.
Noticing that the fish was a spawning female and full of eggs, Crupi returned the fish to the livewell after it was officially weighed in, and eventually released the fish at the same spot he pulled it from the water earlier that morning.
This catch earned Crupi the men's 16-pound line class record, and once again, the third heaviest bass ever recorded by the IGFA to this day.
Dan Kadota | Castaic Lake, CA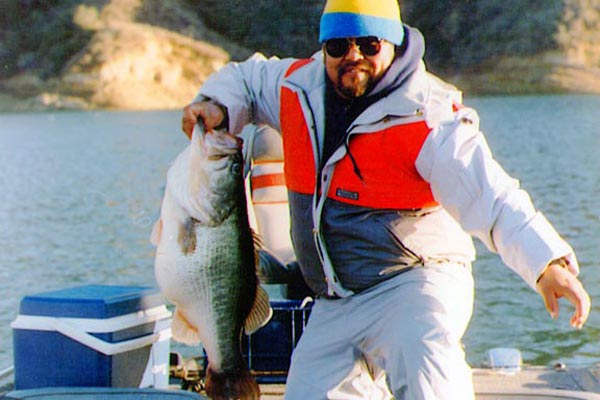 Robert Crupi isn't the only angler that has capitalized on the incredible largemouth fishery of California's famed Castaic Lake.
In fact, Dan Kadota pulled his 19-pound monster from Castaic a year before Crupi began his stretch of incredible record catches. On the chilly morning of January 8, 1989, Kadota struck out early with hopes of catching big largemouth. And he was not disappointed.
While fishing a live crawfish along the bottom, Kadota hooked into his record catch, which he netted and boated approximately five minutes later.
The fish eventually became the men's 20-pound line class record, where it still remains today.
Larry Kuroaski | Castaic Lagoon, CA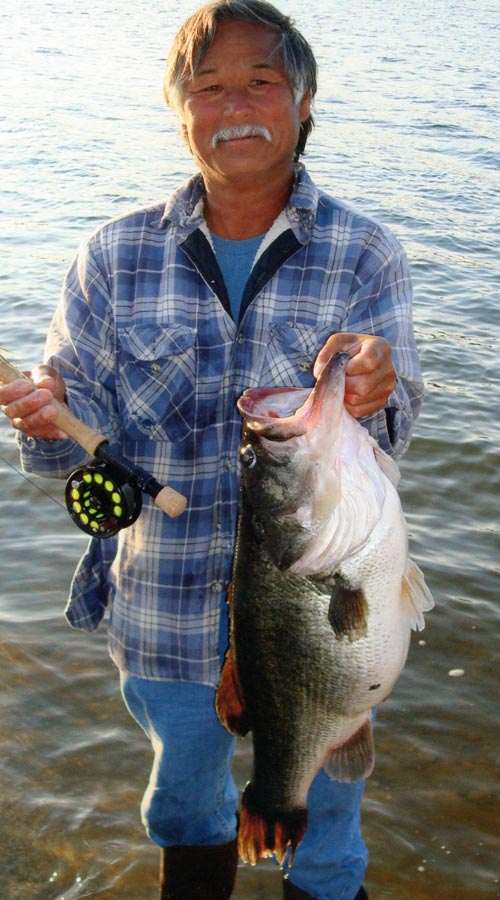 Angler Larry Kurosaki caught a 16-pound, 12-ounce lunker while fishing Castaic Lagoon on the morning of February 26, 2009.
While a largemouth of this size is certainly noteworthy, the impressive fact about Kurosaki's record is that it was caught on fly tackle.
In fact, Kurosaki's 16-pound, 12-ounce fish is the largest fly caught largemouth ever recorded by the IGFA. Kurosaki coerced the fish to bite a custom tied minnow fly, and skillfully played the fish for five minutes before he landed what would become the men's 8-pound tippet class record.
Kurosaki was prepared with a portable certified scale, and quickly weighed and documented the fish on shore, before he released it alive.
Mackenzie Hickox | Daytona Beach, FL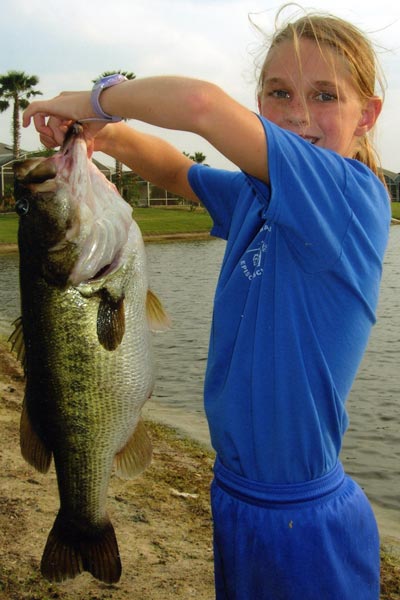 Although the majority of the current world record largemouth bass have come from southern California, Florida is still one of the best places in the US to target trophy largemouth bass.
Places like Lake Okeechobee and Lake Toho are known by bass anglers everywhere, but the largemouth potential in Florida is not limited to these famous haunts.
Any freshwater body of water in Florida has the potential of producing quality bass, due to the climate and the strain of largemouth found in the state.
In fact, Mackenzie Hickox caught her 15-pound, 12-ounce female Junior angler record from the shoreline of a man-made pond, not far from her house in Daytona Beach. Hickox, just 11-years-old at the time, was fishing a Strobe Spinner on May 8, 2006 with her parents, sister and a friend when she hooked into the massive bass.
Once landed, the fish was measured and weighed on a portable scale, which read an incredible 16 pounds. The fish was then released alive to grow even bigger.
Cody Pierce | Lake Murray, CA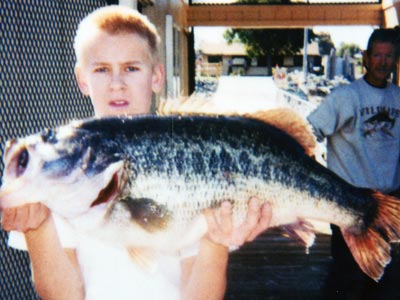 Fourteen-year-old Cody Pierce's Junior Angler world record largemouth, a 17-pound trophy, is a perfect example of the importance of the "last cast".
On the morning of March 22, 2000, Cody skate-boarded down to the nearby Murray Reservoir outside of San Diego, to sneak in some fishing before heading off to school.
After catching several smaller bass and about to call it a day, Cody made his "last cast" from the shore line and immediately got a bite, but couldn't stay connected. Realizing that his rubber worm had been cut in half, he quickly put a fresh lure on and re-cast to the same location.
This time, Cody hooked up and stayed connected to his 17-pound fish which he weighed in at the nearby ranger station, with the help of some older anglers fishing nearby.
Even more impressive is that Cody made the decision to release the fish alive so it could make even more bass for people to catch in the future.
Never give up!
All of these catches, but especially the last two, are exactly why bass fishing is so popular. These young anglers were fishing from shore, close to their homes, with tackle that probably cost no more than $20. The largemouth bass is the "people's" fish. Sure there are those anglers that spend way too much money on boats that go way too fast, and gear that is way too expensive. But that is not required.
You don't need big boats to travel hundreds of miles. You don't need expensive tackle and elaborate rigs.
All you need is a rod and reel, and you too could find your name listed alongside Perry, Crupi, Kurita, and the other anglers lucky enough to catch a world record largemouth bass.