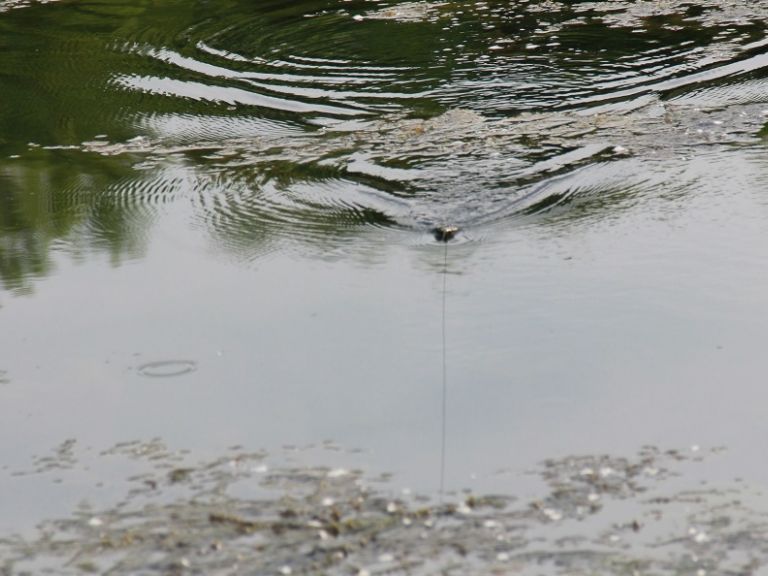 Topwater frogs offer anglers an incredible opportunity to catch big bass out of some of the nastiest cover that is present on a lake or river, and many times the topwater frog is the lone possible lure option for anglers to rig up when fishing this nasty vegetation.
During the summer months, bass position themselves underneath these mats of vegetation to take cover from the direct sunlight.
As the weather cools and the fall transition has taken place, the bass are in this vegetation for its warmth. Not only does this keep bass in feeding mode, but that warm water will attract more aquatic insects and in turn baitfish or bluegills, which bass are looking to feed on during the fall, before the big winter temperature dips.
BASS HOLD IN VEGETATION
As the air and water temperatures begin to drop during the fall months, the vegetation that was so abundant during the months of July, August and September will gradually begin to die off and the areas bass will position themselves in the vegetation get fewer and fewer as the fall progresses.
The same locations that were filled with vegetation during the summer are still possible locations to search out bass in the fall, but the keys for me in locating key stretches of bass at this time of year include looking for the greenest vegetation, proximity to deep water that is in relation to a shallow water feeding flat and the presence of frogs.
By searching out the greenest vegetation that you can find on the lake or river you are fishing means you are fishing in areas that still have a good amount of oxygen in the water. This is critical as the areas with more of the brown, dying or dead vegetation will have low amounts of oxygen in it and not attract the baitfish, which is an absolute must for fall fishing as that is what bass want in the fall…FOOD!
READ RELATED: COLD WEATHER FROGGIN' | TIPS FOR THE EARLIEST FROG FISH
BAITFISH AND OTHER EASY BASS MEALS
As I mentioned above, bass in the fall have food on their mind and to grab a meal in effective manner, bass will push baitfish up on shallow flats or shallow points. This will corner the bait and give the bass an easy meal.
Early on in the fall, any shallow flat or point could hold feeding bass, but as the temperatures continue to drop and fall progresses, bass will use shallow flats or points that are close in proximity to deeper water. The reason for this is that when (not if) that strong cold front pushes through, they can quickly slide back down into the deeper water.
If you are close to shore or an island, keep your ears alert to the noises near shore, as this time of year bullfrogs will be croaking up near land and this in turn calls in bass!
Yes, bass do eat real life frogs and in the fall, these amphibians are active and close to the water's edge; thus presenting an easy and filling meal for a big bass.
FROG COLORS THAT ATTRACT FALL BASS
When selecting the colors of my frogs during the fall, I keep it simple. If I'm fishing areas that the bass are pushing bait up along or underneath the vegetation, then I'll use a white-colored frog to replicate their color pattern in the water. For me, the Snag Proof Sexy Shad or Purple Kush are my choices.
When I'm up shallow and I can hear frogs or toads croaking up on shore, I want to make sure I'm using a natural-colored frog as the open water pockets on the shoreline will give the bass a clear view of my bait. A natural brown or Bullfrog pattern frog is my top choice.
FALL FROGGING STYLES
I'll keep several different frog styles rigged up. Depending on the weather conditions and the cover I'm fishing, I'll want to be able to present my frog in the most effective manner possible.
Standard Go-To: My standard go-to frog that I'll begin the day with is either the Snag Proof Bobby's Perfect or Ish's Phat Frog. These frogs walk-the-dog with ease and offer a compact profile for the bass to key in on.
Active Presentation: If the vegetation is scattered, the bass want more of an active presentation, or there are signs of bass actively feeding on the surface, I'll use a frog that shines in open water as a topwater bait as well. These frogs would include the Poppin' Phattie, which can be fished like a traditional topwater popper or a Bobby's Perfect Buzz, which fishes very similar to a buzzbait.
Grouped on Matted Vegetation: If I find an area where the bass are grouped very tightly on a small section of matted vegetation and need some extra motivation into coming up to the surface, I'll use the Guntersville Frog, as this bait is very compact without any legs on it and has two loud rattles in it. This frog is also a great choice if the bass are short striking my other frogs; again this frog is very compact and easy for a bass to swallow.
FROGGING EQUIPMENT
A key piece of the equation to fall fishing with frogs is covering a lot of water until you find the right forms of cover and a school of actively feeding bass. To do this effectively, I'll first use the LakeMaster chip and my Humminbird HELIX units to highlight the key depth range I want my boat to be in and then set my shallow water highlight to the depth of water I'm looking to be casting to. This will help me look at the lake or river I'm fishing and see the potential areas I want to fish with a quick glance.
I'll stay on my Minn Kota Fortrex trolling motor and move quickly down the flat or along the point making long casts, as I don't want to spook the bass. Once I find a key stretch I want to fish more thoroughly or I hit the jackpot and find a school of feeding bass, I'll deploy my dual 12' Minn Kota Talon's, so I can stay in one spot and make the most out of that area I've located.
Frog Fishing Gear:
Rod – Wright & McGill Tessera Series Frog Rod (7'2" Heavy action that drives the hook home, but has a soft tip so I can impart action to my frogs) Reel – Wright & McGill Victory II high-speed (allows me to pick up the slack quickly and has a good drag system) Line – Seaguar Smackdown 65-poun-test braided line (cuts through the vegetation, has no stretch and allows me to make LONG casts)
As you hook up the boat and head to your favorite lake or river this fall, be sure to grab your frog box, be prepared to cover a lot of water and have that camera ready to snap some photos of some big fall bass!
For more information check out glennwalkerfishing.com or on Facebook at facebook.com/glennwalkerfishing.