SUMMERSVILLE, W.Va. — A Pennsylvania man came to West Virginia for an annual fishing get together with buddies and he almost bailed due to the weather, but was glad he didn't when he hooked the new state record common carp.
Ayden Minick of Mt. Pleasant, Pennsylvania was due to attend a "fishing social" put together by his buddy Derrick Williams on Summersville Lake. The event was Saturday May 7th, but the rain poured and much of West Virginia was dealing with flooding. It did not look good for a fishing event, but Minick and his buddy didn't want to disappoint their host.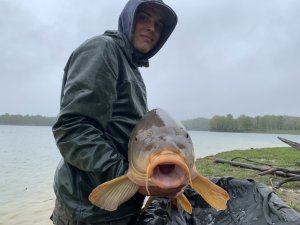 "It's a get together for carp anglers and we've had it planned for about a month. We were getting later in the week and we could see it was going to rain, but we didn't want to cancel on him, that wouldn't be right. But man did it rain. It was crazy," he laughed.
Minick was fishing in an area where conditions were rapidly changing. "The water was coming up fast. Where we pulled up there was a rock sticking about a foot out of the water. By the time I got everything set up, which takes about a half hour, the rock was underwater. It was coming up fast and the water temperature was rising fast too," he explained.
Minick was fishing at a drop-off right at the end of a mud flat. His bait was something called 'pack bait".
"It's kind of like a big dough ball, but when it hits the water it disperses around your hook bait. The hook bait was a single piece of fake corn. It's on a hair rig and just sits above the hook," he explained.
Rising water and temperature seemed to put the carp into a mood to feed. According to Minick they spawned a day later, but on this day they went into a pre-spawn feeding frenzy. He had already caught two carp, one about 19 pounds and one over 26 pounds, when the big one hit.
Here's video of Ayden Minick of Mt. Pleasant, Pa. releasing the big carp he caught last weekend at Summersville Lake. Once paperwork clears, it will be the new record for length in WV at 41.2 inches. pic.twitter.com/V2mtC2e5Iq

— Chris Lawrence (@WVOutdoors) May 13, 2022
"I caught it right around noon. It was a real slow take. I picked up and the rod doubled over and it was slowly going and I couldn't get it to come up at all. It took about 15 or 20 minutes because it just kept pulling. I never saw it and usually when they stay down, you know it's going to be a pretty good fish," he said.
Initially they weighed the big carp and it was at 47 pounds. Minick said that wouldn't have been a record where he fishes back in Pennsylvania, but it was a nice fish. He set the beast back in the water to release when his buddy, who is from West Virginia stopped him.
"I had it in my hands and had it down in the water. He said, 'Hold up, hold up…you have the new state record right there in your hands. Don't put that back in the water.'" Minick explained.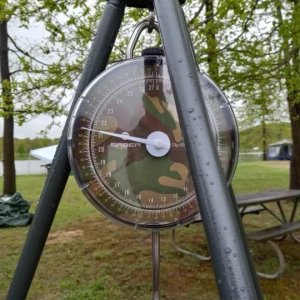 Instead they put it in a special cradle used just for carp and kept it in the water until DNR Biologist Aaron Yeager could make the long trip from his home in Belington to Summersville to examine the fish. It's the second time this year Yeager has come out on his day off to certify a record fish. It turned out it officially weighed 45 pounds having lost a couple of pounds while waiting to be certified, so it missed the weight record which remains 47 pounds. However, the fish was 41.2 inches and set the new record for length. The old record of 41 inches was caught in 1988 at Stonecoal Lake.
"I was just dumfounded. You never expect something like that to happen until it happens, you know!" said Minick.
The fish will be certified when the paperwork is submitted and processed. Minick also asked that we mention anyone interested in getting more involved in carp fishing could learn more from the American Carp Society and the American Carp Angler's Group.