You know why a lot of people don't have the best ice fishing flasher? It's because they don't understand how to use them.
In fact, it took me well over 10 years to buy one of these for the first time for that very reason. Today, I feel like they're simpler than fish finders in a lot of ways.
My favorite is the Vexilar GP1812 because it has a 12-degree sonar beam, a simple LCD display, and long-term battery life.
In this article you'll learn why these features are important, what benefits to look for, and how to read these bad boys.
Grab a coffee, water, beer, or all three (I don't know what you like to do).
This is the guide many of you have been waiting for, let's do it!
Our Top 3 Ice Fishing Flashers
BEST OVERALL
Vexilar GP1812 FL18 Genz Pack 12 Degree Ice-Ducer Combo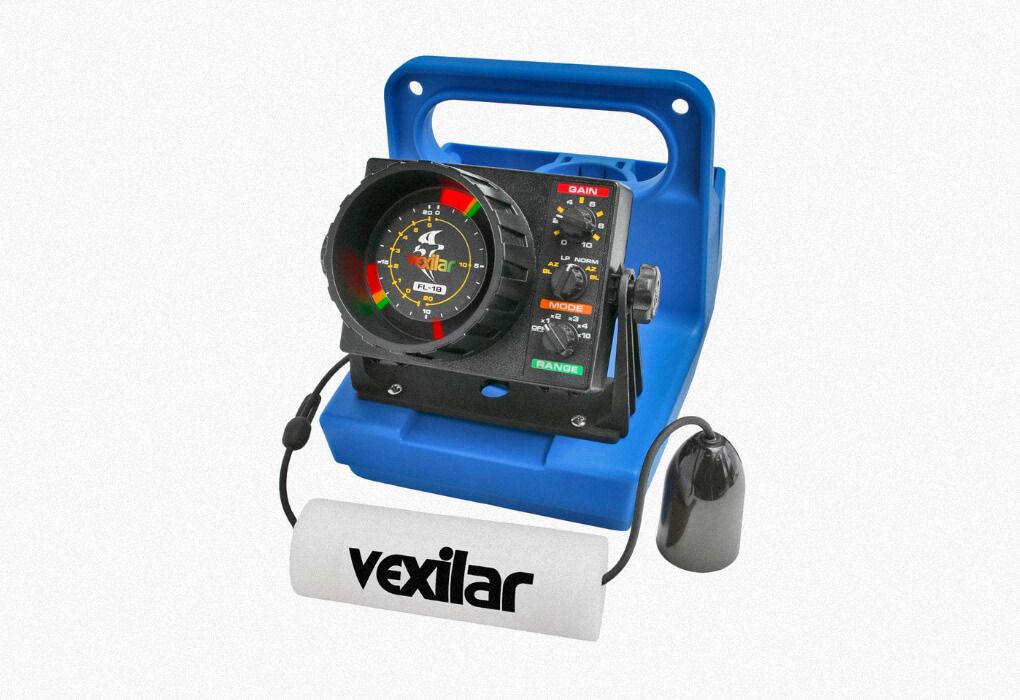 Specs
Target Separation: 1-inch
Depth Range: 20-120 feet (6 total)
Price: $$$
Standout Feature: 12-degree cone
Why We Chose It
The Vexilar FL 18 is known in the ice fishing community as one of the most stable and reliable ice fishing flashers on the market.
This one has been around for decades with slight modifications every few years but it continues to be the go-to standard for most people.
This is because it offers a 12-degree cone with variable water depth at six different ranges. If you don't understand what that means, don't worry.
I break everything down in the buying guide section below. Head straight down there if you're confused.
Essentially, the more narrow the cone, the better accuracy you'll get on your reading. It's similar to how fish finding sonar works. Besides the cone you also get six different depth readings.
In this ice fishing flasher review, the goal is to find units with the highest number of readings because it will allow you to identify fishing opportunities in different sections of the water column.
Let's be real about one thing, using a flasher isn't the simplest thing and a lot of people don't get it so they simply move past them and get an ice fishing fish finder.
This one is pretty easy to use though because it uses a basic three color system.
Red indicates the bottom or a strong fish reading, orange is a medium strength target, and green is a weak target and often your lure as well.
If you want to start experimenting with ice fishing flashers, this is the one to get. Don't think about it too hard, you might change your mind!
RUNNER-UP
Vexilar PP1812D FL18 Pro Pack II 12 Degree Ice-Ducer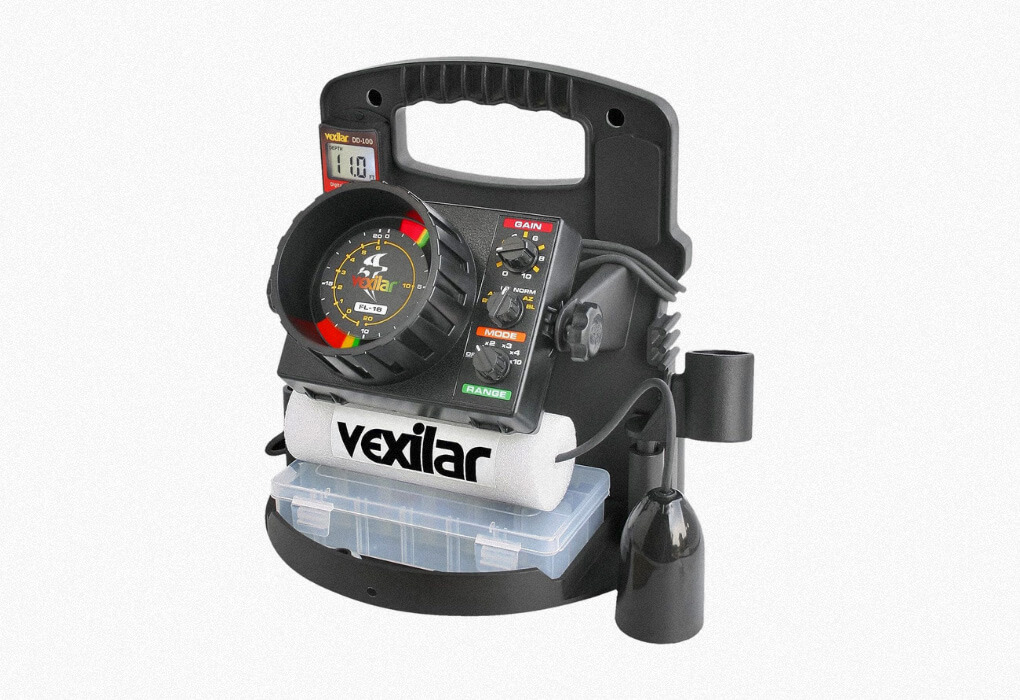 Specs
Target Separation: .5-inches
Depth Range: 20-200 feet (5 total)
Price: $$$$
Standout Feature: Half-inch target separation
Why We Chose It
The Vexilar PP1812D fell just short of the GP model for two primary reasons.
First, it only offers five depth ranges and you will find out at some point why that's so crucial.
This one doesn't allow you as much versatility and options when it comes to identifying fish at various ranges in the water column.
Second, the price tag contributed to a lower rating as well. This one is over $150 more in price without really offering much.
Many ice fishermen will tell you that this is their flagship product and the one that really drives sales, but I don't care about that.
My concern is providing you with honest and unbiased information and this is not the best Vexilar ice fishing flasher for sale.
Now, onto the good stuff. It offers an auto-zoom mode that automatically takes you to the bottom six feet of water so you can start there and work your way up or stay there.
The advantage is that you know you're right at the bottom six feet which is great for bottom fishing.
The big selling point on this guy is the half-inch target separation which is awesome.
You'll see that phrase used a lot. Target separation is the minimum distance between two things that allows the radar to identify it as two separate things.
If a flasher has a high target separation it means that two fish need to be far apart before the flasher can figure out that it's two fish and not one.
In the case of this flasher, they only need to be a half inch apart for the flasher to realize that it's two fish and not one.
I'm a big fan of these Vexilar flashers to begin with and they've really set the standard for engineering these things.
If you're smitten on getting this one, perhaps see if you can find some ice fishing flasher deals on eBay.
Most of them seem to be about the same price so you might do better with shipping and quality on Amazon or Bass Pro Shops though.
BEST ICE FISHING FLASHER FOR THE MONEY
MarCum M Series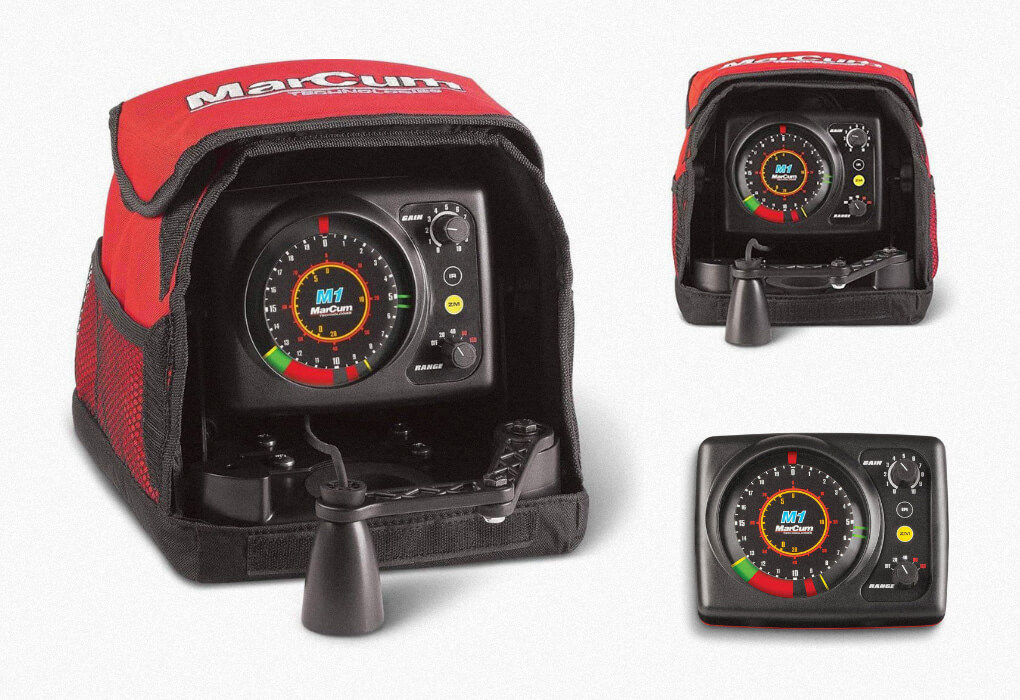 Specs
Target Separation: 2-inches
Depth Range: 20-160 inches (4 total)
Price: $$
Standout Feature: Split-screen zoom
Why We Chose It
Marcum is another big name in the ice fishing electronics realm and while they've developed a really strong reputation, I've just never been a fan of their products.
I've used a few of their underwater fishing cameras and just never felt that they had the quality of their competition.
Their prices generally skew lower than the rest and there could be a reason for that.
Putting my opinions aside, it's a solid cheap ice fishing flasher. It comes with a split-screen zoom which is the standout feature.
The LCD screen allows you to zoom in on a single target while keeping a more broad view on the other side.
The bonus here is that you can identify potential fishing opportunities while currently fishing a spot you believe there to be fish already.
The Marcum offers a nice crisp display with bright colors so you can be sure to tell the difference between targets, structure, and vegetation.
It comes with a 20-degree ice ducer which is a bit more spread out than I typically like but some people prefer a wider cone.
Where this gives you a major advantage is in shallow water where pinpoint accuracy may not be as important as spreading yourself out across the bottom.
Keep in mind that target separation is two inches so even though you're able to spread the reading out, you'll still have a hard time identifying the same number of fish as you would with another unit.
Overall, if I didn't say this was a "budget" ice fishing flasher, you may not have even realized it.
Marcum puts together a lot of great products for the ice fishing community and I must say, this flasher definitely impressed me. I give it my seal of approval! (trust me, that means a lot…..okay, maybe not).
BEST DISPLAY
Humminbird ICE-55 Portable Flasher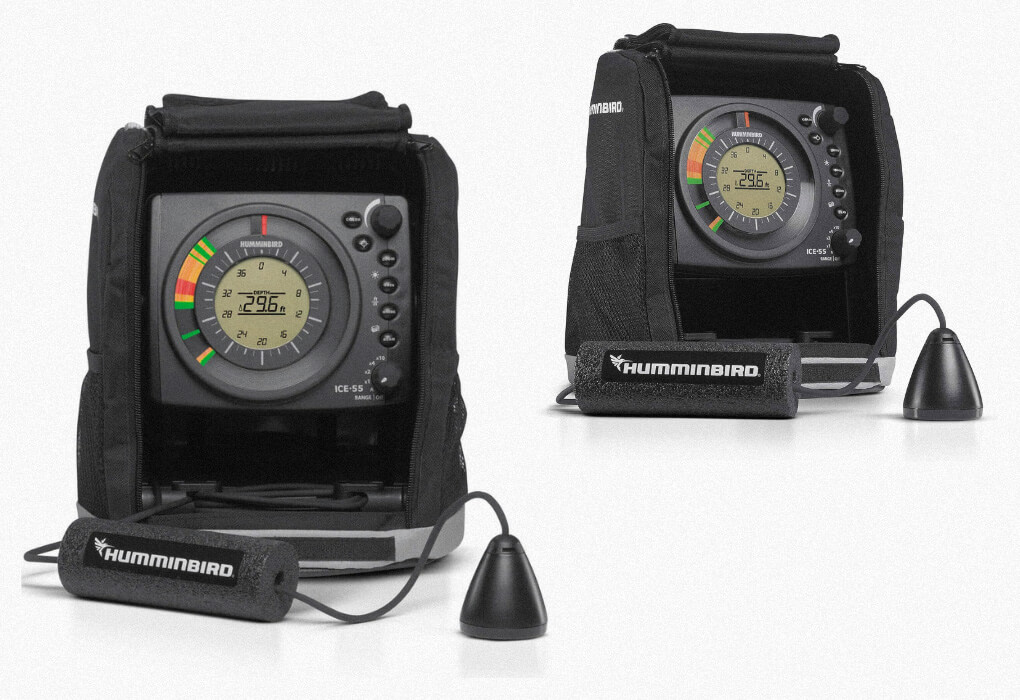 Specs
Target Separation: 2-inches
Depth Range: 20-200 (7 total)
Price: $$$$
Standout Feature: 6-color fiber optic display
Why We Chose It
With great features comes great complications. But, I'll try my best to be positive in this review. Is this the best flasher for ice fishing? It might be.
I love Humminbird. I'm a huge fan of this brand and if you know me you know that I stand by the brands I love when it comes to fishing gear.
It offers some really expensive features at a price that stays within reason.
The biggest feature is the incredible 6-color fiber optic display with purple target line. What this means is that you can set a target depth and remain at that depth for as long as you want or until you change the target.
So, if you detect a fish at a certain range and you want to remain there for the rest of the time you're fishing, you can do that.
The only thing that could make this feature even better is if the target rose and fell based on the contour of the bottom but that would probably jack the price up another $1,000.
The dual-frequency sonar is another feature I have yet to see in an ice fishing flasher but they probably took a page out of the fish finder book for this one.
The dual-beam sonar system gives you the choice to narrow down your ice fishing sonar cone or spread it out depending on how accurate of a reading you want.
For example, if you're just scouting the water to figure out where to drill with your ice fishing auger, you might want a wide range cone to scope out a large area at once.
When you've narrowed down your choices and you're ready to drop your jig, you can narrow it down and get an accurate reading of what is happening directly beneath you.
It even comes with a 2X zoom feature so you can narrow it down even further.
I am seriously impressed by this flasher and while it lacks a few details that prevent it from being the top choice, it's pretty darn close.
I'd recommend it to ice anglers who may be a bit more tech-savvy because the added features and functionalities can make it more complicated to use.
BEST ICE FISHING FLASHER WITH CHIRP SONAR
Garmin ECHOMAP UHD 63cv Ice-Fishing Bundle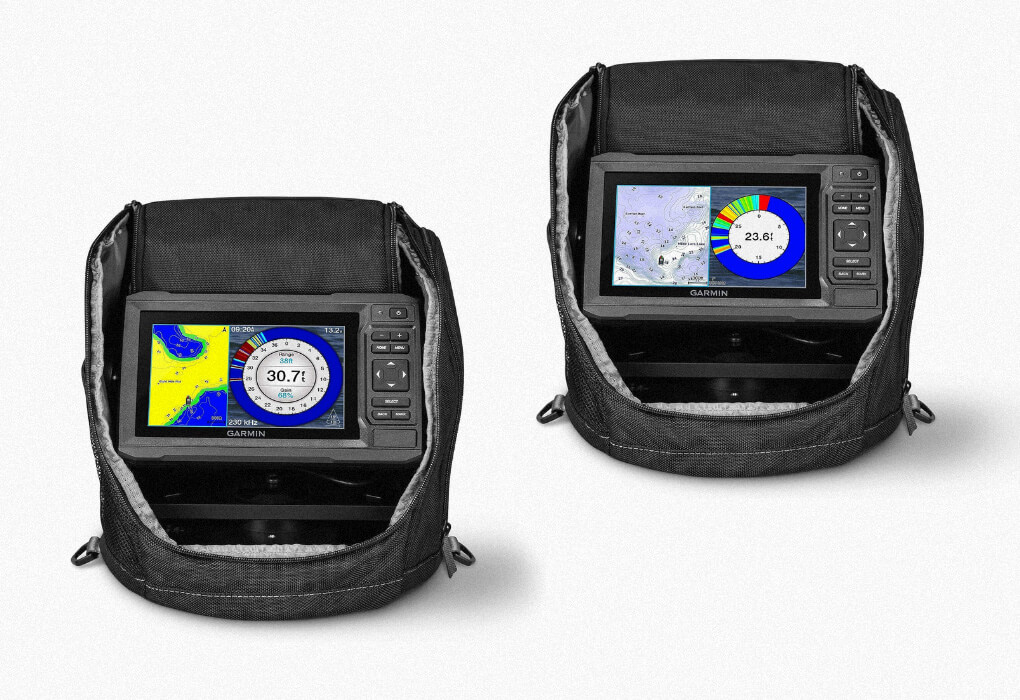 Specs
Target Separation: 1-2 inches
Depth Range: Up to 200 feet
Price: $$$$
Standout Feature: Fish finder and flasher combined
Why We Chose It
Some might say I'm a hero…but I don't know if I'd say that. For those of you who can't decide if you want a flasher or a fish finder, I've brought you both in the same wonderfully fishy package.
The Garmin Echomap UHD ice fishing bundle brings everything you're looking for together in a zipped-up bag that you can bring with you on your ice fishing sled to the ice hole. Here's what you get.
You get a six-inch screen with CHIRP sonar unit so you can identify fish targets while pinpointing the exact location of the fish in comparison to structure on the flasher side.
If that wasn't enough, you can also reap the rewards of Garmins technology with the LakeVu basemap feature and access over 18,000 lakes across the continental United States.
This will not only help you identify ideal fishing locations but you can save them as well as waypoints to revisit which is super important in cold weather, especially for beginners trying to catch fish on the hard water.
Hang on…wait…there's more. (gasping for air)
The Echomap also supports SideVu sonar so it's a great option for warm weather fishing as well.
So, now you're not only stuck with something you can use for ice fishing but instead, you can use it for kayak fishing, a summer fishing trip, and other warm weather conditions.
Best of all, it comes at a price tag that's about the same as the best ice fishing flasher in this guide. Folks, don't think too hard. Just go for it.
If you want to dive deeper, check out my full Garmin Echomap UHD review, where I am breaking down every model and all of their features.
MOST IMPRESSIVE
Vexilar FLX28 Sonar Flasher Ultra Pack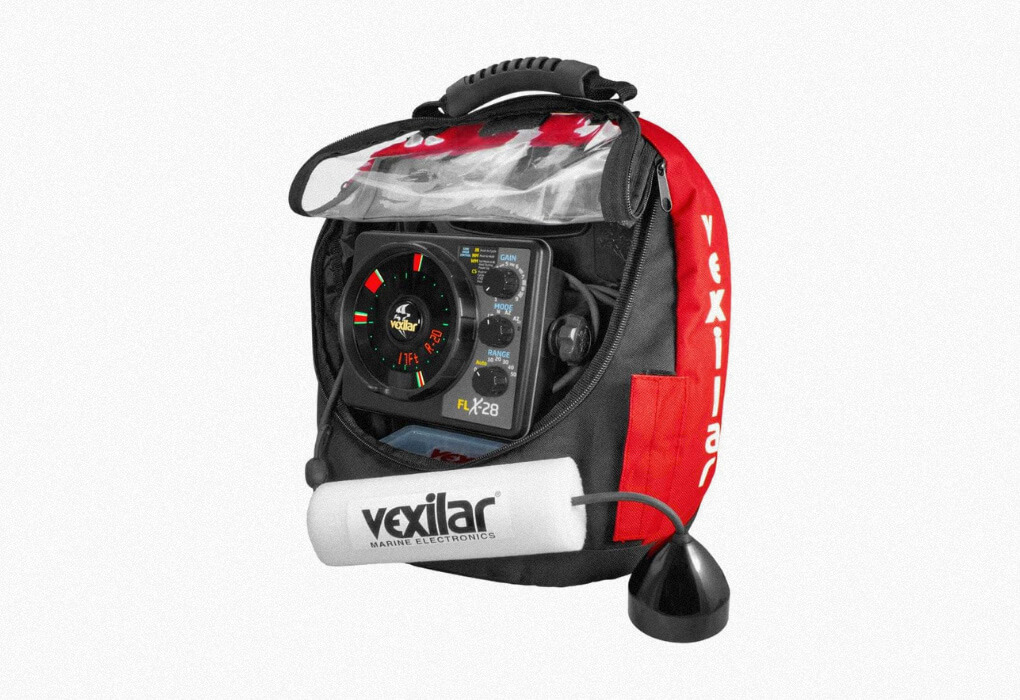 Specs
Target Separation: .5-inches
Depth Range: 5-300 feet
Price: $$$$$
Standout Feature: 20-setting interference rejection
Why We Chose It
Not everyone is on a tight budget and if you're the type of ice fisherman who always has to have the best of the best, here it is.
The Vexilar FLX28 Ultra Pack comes loaded with a 12V 9A lithium battery enclosed inside the case so you don't have to disconnect it.
It also boasts a five-color display with half-inch target separation and quarter-inch target identification.
Shall I continue?
It comes with a 6-12 foot auto-zoom so it automatically zeros in on targets once they're identified and the 20-setting interference rejection ensures that no one else's sonar or flasher interferes with your readings.
I'm a huge fan of the self-leveling ice transducer that ensures you get the most accurate position. This is important because if it's off even just a little it can have an impact on your reading.
Basically, if you can think of it, this ice fishing flasher has it.
The only thing it doesn't have is an affordable price tag but believe me, there are plenty of features to make up for it.
How We Tested
Accuracy: To ensure the accuracy of our ice fishing flasher testing, we employed a systematic approach that encompassed real-world ice fishing scenarios. We meticulously calibrated each flasher unit prior to testing, using standardized methods to eliminate any potential deviations.The ultimate goal was to evaluate the units across varying conditions.
Features: Our evaluation of ice fishing flashers' features aimed to provide readers with a comprehensive understanding of the capabilities and functionalities each unit offered. We scrutinized the user interface, evaluating the ease of use, intuitiveness, and customizability of settings. Testing the various display modes, such as traditional flasher mode, graph mode, and zoom mode, allowed us to assess the adaptability of the flashers to different fishing styles and preferences.
Depth Range: Evaluating the depth range of ice fishing flashers involved a multi-faceted approach. We assessed the accuracy and reliability of depth readings across a range of depths, from shallow to deep waters. Our testing locations included varying depths of frozen lakes and reservoirs, allowing us to ascertain the flashers' performance across different scenarios.
Transducer Cone: The transducer cone is a critical component of ice fishing flashers, as it directly affects signal accuracy and coverage. Our evaluation of transducer cones involved analyzing the beam angle and coverage pattern in different ice fishing scenarios. We conducted tests to determine the flashers' ability to detect fish and bottom structures within the designated cone area. We evaluated the cone's performance in various ice conditions, water depths, and target locations.
Understanding the Ice Fishing Flasher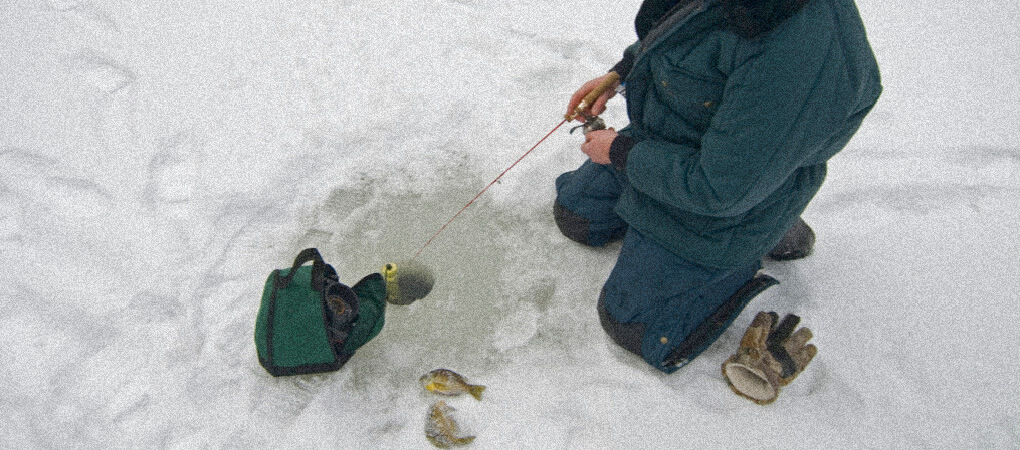 I realize that ice fishing flashers are a bit complicated to understand.
They look like something a civil or environmental engineer would use to take a reading on the soil or water but in reality, they're much simpler than they look.
To make an informed buying decision, it's important that we first understand what we're looking at and how it works.
The following sections should clear up any confusion you have so you can settle on the best ice fishing flasher for you.
How Does an Ice Fishing Flasher Work?
At its core, a flasher is a type of fish finder. The main purpose of the device is to identify fishing opportunities directly beneath the hole you're fishing.
They work best for vertical fishing which is what we do when we ice fish.
Flashers can identify the bottom of the water, any structure, vegetation, fish, or ice fishing lures in between there and the surface.
Your average fish finder on the other hand works by using a large cone of sonar that scans a large area around the boat. Once the fish finder identifies something, it's generally indicated as an "arc" or a graphic of a fish.
When the ice fishing flasher finds something, it's indicated as a color bar of either red, orange, yellow, or green. Keep in mind that the technology used is the same, it's just used in a different way.
Both fish finders and flashers used similar sonar technology. The reason people choose a flasher over a finder is because of the more accurate nature of the one-dimensional reading.
A flasher will do a better job of giving you a precise location directly underneath you. This is exactly what you need for ice fishing.
In addition to helping you identify the location of fish, the depth readings on flashers are important as well.
Since the flasher can pinpoint specific depth ranges usually between 20-200 feet, it can help you better figure out where your lure is in accordance with the location of the fish.
For example, if you're getting a reading on the display of 21.5 feet and the ice fishing graph is showing that your lure is right around there, you can conclude that the lure is around 21 feet and work up or down from there.
To get a deeper understanding of this topic our article fish finders vs flashers goes far more in-depth.
How to Read an Ice Fishing Flasher?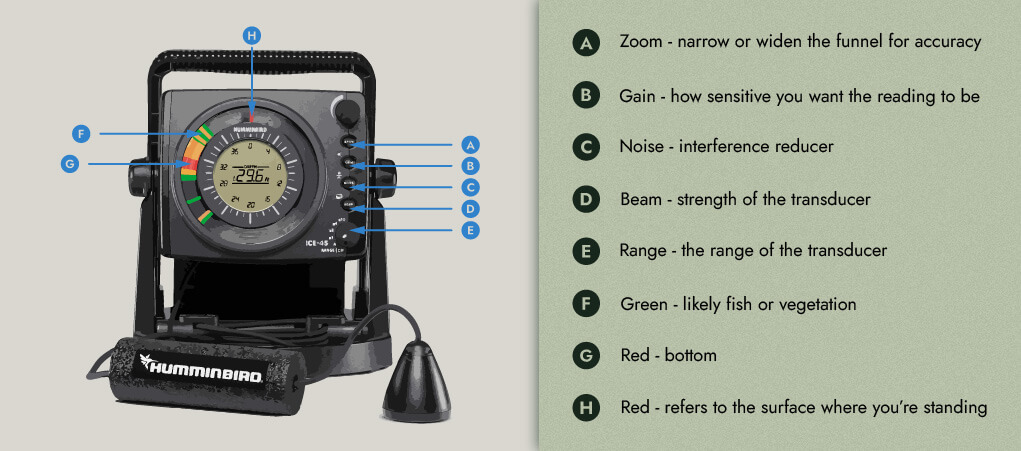 The display on your ice fishing flasher uses colors to indicate the location of different things.
In addition to just indicating them, the flasher will use different tones and shades of a color to tell you the strength of whatever it's identifying.
A hard bottom with a lot of rock will return a bright and defined red color on the unit. A soft and loamy bottom will return a fuzzy or lightly colored red or green.
The same will apply with fish readings. If the flasher is unsure about the fish or if it's very small, it will return a light green or yellow color.
If it's absolutely certain that there is a large fish coming for your lure, it will return a deep red or orange color.
One reason that a lot of people like flashers is because they act in real-time. So as you're watching the flasher, you'll see the fish move towards your lure and you can even anticipate when they're going to strike it.
Because of the various colors, you can figure out what depth the fish are at and present your lure at the same depth.
Buying Guide: How to Choose the Best Ice Fishing Flasher
Now that we have a general understanding of how ice fishing flashers work, let's dive into more of the factors used to actually purchase one.
Keep in mind that it's okay to not fully understand how they work. No article on the planet is going to make you suddenly get it.
This is one of those things you need to use a few times in person to really make sense of it and that's okay. Let's talk about some of the factors I considered when choosing my favorite ice flashers.
Depth Range
The depth range is a unique feature of ice fishing flashers. It refers to how far you can read with the unit but more importantly, it will also tell you how many levels you can read at.
The difference between a fish finder and an ice fishing flasher in this scenario is that a fish finder is sending a constant wave of sonar through the water.
This allows the finder to read at various levels without requiring you to do or change anything.
With a flasher, you're only able to take readings at specific depths throughout the water column. This has some pros and cons.
First, a pro is the fact that it's generally more accurate because you're limiting yourself to a certain area. Anytime you narrow down the range that you're trying to read, it increases the overall accuracy of the reading.
When you spread it out wider, it decreases the accuracy but increases the range.
A con would be that you're limiting yourself to a certain number of specific depths. Most flashers will read around 5-6 different depths ranging from 20 feet to 200 feet.
Some offer more and some offer less. My goal is to find a flasher that offers the highest number of depth readings without compromising on my budget or some of the other features I'm looking for.
Target Separation
Target separation is something you hear about in most fishing technology from fish finders to flashers alike. It refers to the amount of space needed in between two objects for them to be identified as two objects.
Think of it like this. If two fish are on top of each other swimming through the water, does the fish finder know that it's two fish?
Of course not. The same goes for your flasher.
Most flashers have around a one-inch target separation. This means that you need at least one inch between two fish for the unit to identify the fact that there are two fish.
There's a bit of a caveat when it comes to flashers though.
Since the best ice fishing flasher can only read vertically, that means it will identify target separation on a vertical scale in the water column.
So, your chart might read two deep red lines under or over your lure. That means that your flasher is picking up on two fish directly beneath you at different depths in the water.
It will not pick up on two fish that are beside each other only above or beneath each other.
Transducer Cone
Okay, so I've given you my story a time or two on the cone angle but I want to dive a little deeper into it. For those of you who missed it, here it is again.
The wider the angle of your cone the less accurate the reading will be but the more ground you'll cover so you can potentially identify fishing opportunities and then zero in on the target later.
A narrow cone will help you focus on a specific target but won't be the best choice if you're not sure where the target is.
There's more to it than that. If you're fishing shallow water, a wide-angle cone is actually better because you don't need to be as picky about the accuracy of the reading because there isn't as much water to read.
If you're fishing water of 100 feet or deeper, the angle of the cone will be far more important because you'll need that extra depth to be able to actually find anything.
Another reason the transducer cone matters is because it can actually interfere with other people next to you. This is where "interference rejection" comes into play.
You see this advertised a lot as well. The goal of interference rejection is to prevent other fish-finding sonar from compromising the accuracy of your reading.
When you're on the ice with 15 other people, you'd be surprised what can happen.
If I had to choose anything for ice fishing, I'd choose a narrow beam ideally in the 12-14 degree range. This offers the specific accuracy that you need to get a good idea of what is happening underneath you.
Ease of Use
Let's be real for a second, most of us don't really understand how these work. Be honest with yourself.
All the technical jargon and everything is great but in reality, we put the transducer on the ice and hope it tells us something that can help us catch a fish.
What I'm looking for in terms of ease of use is good instructions, limited colors, as few knobs and buttons as possible, and no reason to sign up for anything to be able to use the device.
A lot of the Lowrance, Garmin Striker, Marcum LX-7, Helix 5, and Humminbird Ice Helix products will require you to register the unit before you can use it but that doesn't seem to be the case here.
You'll likely have to register it if you want to qualify for the warranty but other than that, you should be fine.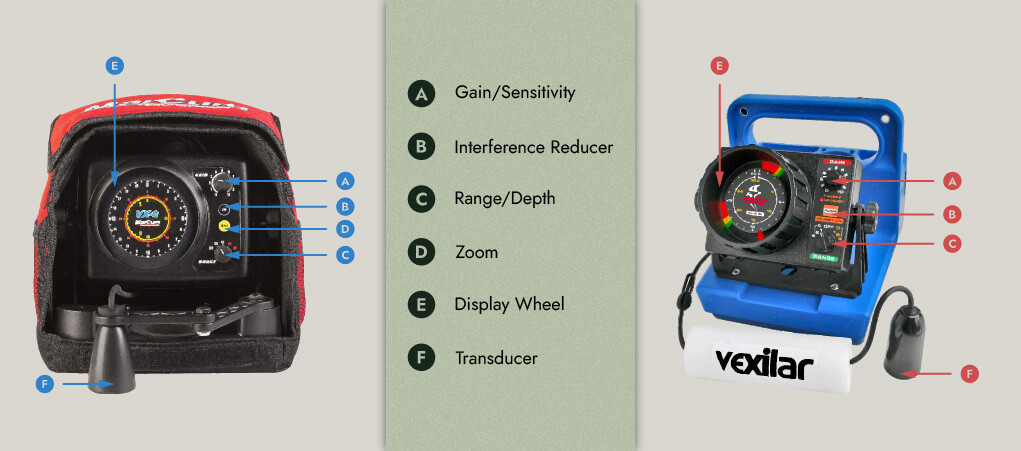 As for actually operating the unit, you'll likely deal with a handful of knobs as indicated in the photo above.
You can increase the sensitivity of the reading, increase or decrease the range, and play around with the zoom if you feel like you've zeroed in on your target and you're preparing for the strike.
Outside of that, there's not much else to worry about.
If you don't know how to read a fish finder you may struggle with using a flasher. But again, my biggest recommendation is:
Don't worry about understanding everything so much. Your best bet is to get one and just figure it out as you go. Reading and researching it to death won't make it any easier.
You'll Also Need
I've always said that ice fishing is an investment but a worthwhile one if you know what gear to buy and you have a reason behind it.
The cost can add up quickly if you're just going around and purchasing everything someone online tells you to.
Since we're talking about luxury technology, let's take a look at some other things that can make your fishing experience more comfortable.
Ice Fishing Camera – If you're not sold on an ice fishing flasher, perhaps a camera would do the trick? The best ice fishing cameras will also supply you with an accurate representation of what's happening underneath the ice.
The only problem is, you can't use them until the hole is already drilled.
Ice Fishing Shelter – An ice fishing shelter is something that few people should have to brave the ice without.
Believe me, I did it for years and once you get a shelter, you never look back. Whether you're fishing alone or with a group, consider getting an ice fishing shelter.
Ice Fishing Heater – While you're at it, why not get an ice fishing heater to go inside or outside your shelter? These are a nice luxury to have and they really open up ice fishing to some people who may not be as comfortable with it.
Final Thoughts
Understanding how to use the best ice fishing flasher isn't as complicated as it looks. If you want the best value for the best quality go with the Vexilar GP1812 FL18.
It offers everything you want at a price that doesn't break the bank.
Personally, the Garmin ECHOMAP really won me over as I thought more about it. It's a solid flasher and fish finder in one so there's not much more you could ask for.
You get the best of both worlds and you can use it all year long.
At the end of the day, sitting here and pondering the right choice won't get you anywhere.
Choose your favorite, pick it up for yourself, and get fishing.
Good luck out there!